'Tis the greatest time of the year! When it comes to the holiday season, my usual minimalist tendencies take a backseat to everything holiday. Being with my closest friends and family means I go all out in celebrating my time with them, and for me, that always means gathering around food. Between quick weeknight dinners with family friends and holiday gatherings, I'm always looking for fun new ways to add a special element to time spent with those I love. And during this time of year, adding extra cozy holiday vibes with a hot chocolate board feels ultra special.
There are so many holiday cookies and treats around this time of year, so when I think about having dessert, I'm almost not interested. I know, it's blasphemous for me to even admit that because my sweet tooth is almost unmatched. That doesn't mean I'll skip dessert, but it does mean I want to open up my options for an evening treat. A mug of hot chocolate feels indulgent and sweet without being over the top. Rich cocoa that's piping hot feels like the perfect nightcap that satisfies a chocolate craving in the most cozy of ways—especially when you just can't look at another Christmas cookie. It's even better when you make the hot chocolate mix yourself!
This is my formula for a stellar holiday hot chocolate board:
Hot Cocoa Mix (see recipe below!)
While you can have cocoa ready to go on the stove, it's also fun to keep a jar or large bowl of cocoa mix on or near the board with a kettle of hot milk/water ready to go. Then people can serve their own mugs of hot chocolate fresh and piping hot.
Marshmallows
There are tons of marshmallow options out there these days. From vegan options to chocolate coated and even flavored versions, the choices are endless. And now is the time to grab all the favorites! I opted for a variety of sizes and shapes for this board to not only add visual interest, but let people deck out their mugs of cocoa exactly how they like. From packed to the brim with classic mini mallows, to my friends who prefer just one large marshmallow to melt into their cocoa, everyone will be ecstatic to mess around with the options.
Sauces
Having sauces and whipped creams as a component of the board really takes your cocoa over the top. Drizzle chocolate sauce into the bottom of mugs for an extra dose of chocolate, or drizzle the rim of the mug with salted caramel for something out of wonderland.
Peppermints and Candy Canes
Not everyone agrees that mint and chocolate goes together. I am firmly in the peppermint chocolate camp and welcome all to join me. Hanging a candy cane on the side of your mug also makes this feel like a special occasion, plus they work as drink stirrers.
Cookies and Chocolates
These are more for filler. As much as I love a cookie and candy board for this time of year, keep them minimal here. They should function as a secondary option to the cocoa. Think chocolate coated tuiles that work as drink stirrers and truffles that can be popped into a mug of cocoa for a double dose of chocolate.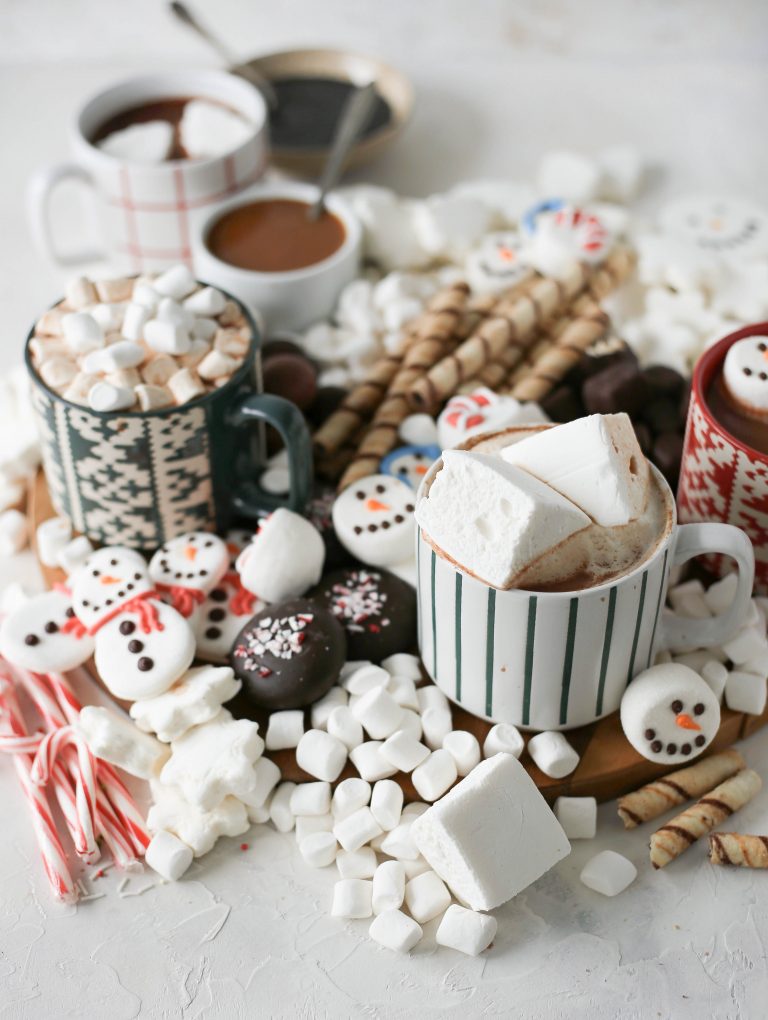 Cozy up with a hot mug of cocoa, and be sure to save some for Santa this holiday season!
---
Ingredients
1 cup of powdered sugar
1 cup of really good cocoa powder
1 cup of chopped semisweet dark chocolate
1/3 cup of milk powder (optional)
1 tsp of salt
---
Instructions
In a mixing bowl, add all of the ingredients and stir until combined. Store in an airtight container until ready to use. I keep mine in the fridge for weeks after making.
To prepare a mug of hot chocolate, add 2 - 3 heaping tbsp of hot cocoa mix to 8oz of piping hot milk/water. Stir until combined and top with desired toppings. Enjoy!