No matter how low we're running on groceries, there's one thing you'll always find in the bottom drawer of my freezer: a gallon-sized ziploc of homemade muffins that are just waiting to be rewarmed and devoured. Muffins are one of those foods that have a short shelf life: if they don't get eaten in the first couple days, they start to dry out and are just not worth it anymore. In an effort to cut down on food waste and make my baking work overtime, I started freezing half my batch of muffins as soon as they're cooled, and I've never looked back. So, how to freeze muffins so they stay moist and just as delicious as when they first came out of the oven? Scroll on for my tried-and-true method, plus my three favorite healthy muffin recipes to practice it on.
So, how do you freeze muffins?
First, you want to make sure your muffins are completely cooled before you wrap them—any steam trapped in the bag will create condensation that will then freeze inside the bag—not good. After they've cooled, you can either wrap in a double layer of plastic wrap and aluminum foil or do as I do and pop into a freezer-safe gallon-sized Ziploc bag. You'll want to use your hands to remove all the air out of the bag before sealing for optimum freshness.
Tips for storing and organization:
I use a sharpie to label the contents of the bag, along with the date, on the outside of the Ziploc. If you're going to be serving them to friends or family, you may want to note any common allergens—I've been known to thaw muffins a month later and not remember if I added dairy or nuts. Muffins should keep for about two months for the best flavor and texture. That said, the best test is to just taste them! If they're over the hill, they'll taste dry and lacking in flavor, and you'll know it's time to toss.
How do you thaw frozen muffins?
In the oven: I wrap the muffins in foil and pop them into a 350-degree oven for about 10 minutes until they're warmed through. Pro tip: my mom recommends opening up the foil for the last couple minutes of cooking time to get the top crusty and crispy.
In the microwave: Unwrap completely, and cook on 50% power for about 1 1/2 minutes, until warmed through.
Warming up your muffins up is a game-changer—they taste almost just-out-of-the-oven fresh. Though I have also been known to pop a still-frozen muffin in my kids' lunchbox, and by the time they eat the thawed muffin at lunch, they'll still happily gobble it up.
Which muffins freeze best?
The good news is most muffins freeze really well. You want a muffin that has plenty of moisture so that the inside almost steams when you rewarm it. Here are three of the best homemade muffin recipes for freezing:
There's something so meditative about the banana bread-making process plus, what better use for those overripe bananas sitting on the kitchen counter? This vegan version has a nuttier flavor with the addition of tahini in the batter, a part flour-part almond flour blend, and a nutty topping of sesame seeds, sliced almonds, and oats. Plus, the texture is out of this world fluffy and moist.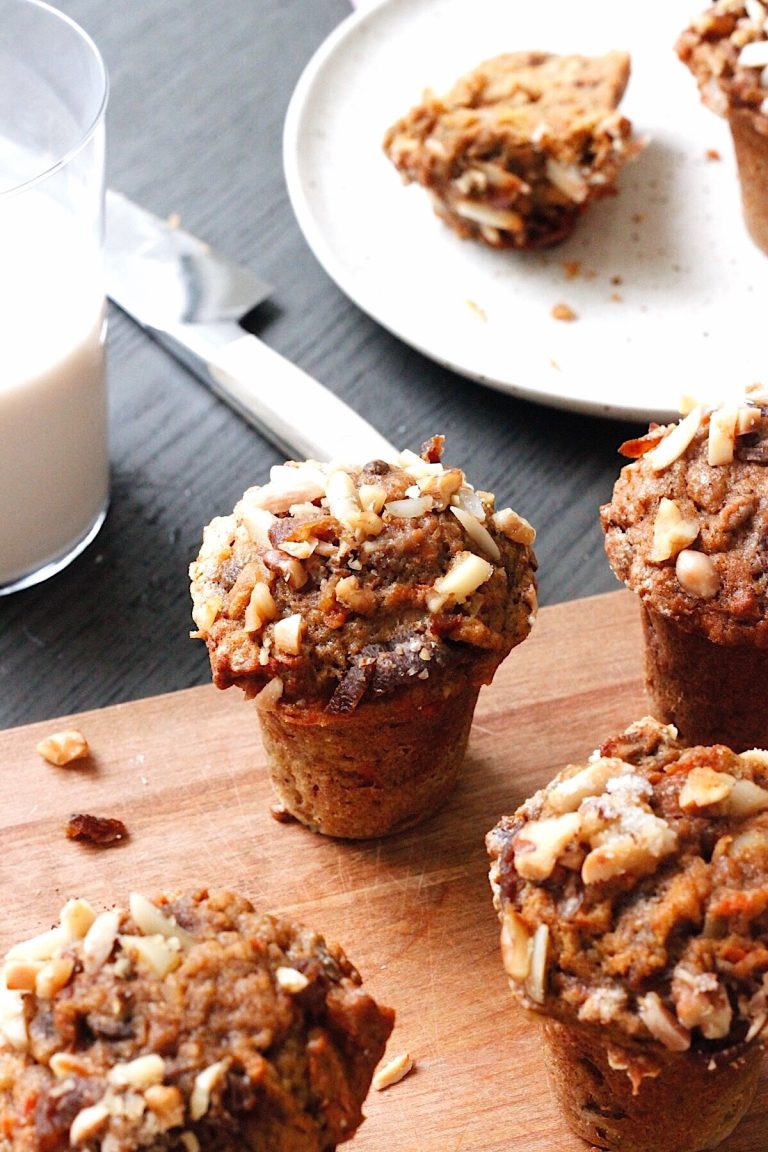 I've made so many iterations of Morning Glory Muffins through the years, and I've yet to find one that beats my mom's classic recipe. But when it comes to baking projects in the fall, only pumpkin bread rivals my passion for Morning Glory Muffins, so I couldn't help myself from trying to merge my two loves into one perfect muffin. And I have no regrets because these are ridiculously good—the perfect chilly morning breakfast, cozy afternoon snack, or slathered with a little butter and sea salt for my kinda dessert.
These gluten and dairy-free blueberry muffins are a delicious breakfast or snack. They're from Chef Lani Halliday, of Brutus Bakeshop in Brooklyn (read our interview with Lani here!) These come together fast and are a great grab-and-go breakfast—and the perfect school lunch, too.
Wondering about the best blueberry muffin recipe on the internet? Us too. Click through to find out the winner of our very official Blueberry Muffin Bake-Off.