Sometimes I wish I was the type of person who could just grab a bite to eat without feeling like a high-maintenance eater. A night out would be so much simpler if I didn't have to ask about gluten-free alternatives or meatless versions on the menu. But, ultimately, after years of trial, error, bites, and swallows, I've learned what makes my body feel (and look) better. And as it turns out, my body thrives when my meals are centered around low-carb high-protein vegetarian recipes.
While there are definitely more options in the restaurant world today, I always prefer cooking at home and discovering recipes that meet my nutritional needs (not to mention tailored tastebuds!). Which, admittedly, is still a bit of a challenge. 
So, when I was asked to share my favorite low-carb high protein vegetarian recipes I welcomed the opportunity to take a good look into my eating archives. As a vegetarian, I've found that recipes often tick two out of three boxes for me: super low carb and plant-forward but little to no protein or they're vegetarian with heaps of protein, but a total carb fest. As I said, it's a challenge, but a delicious one.
Before we roll into the low-carb high protein vegetarian recipes I found, I wanted to share a cheat sheet with a few of my go-to vegetarian protein sources that might help you on your plant-based eating journey:
Chickpeas: almost 11 grams protein / 35 grams carbohydrates per cup (cooked)
Paneer (an unaged Indian cheese made from curdled milk and acid): 21 grams protein / 3.5 grams carbohydrates per 3.5 ounce serving
Tofu: 8 grams protein / 3.5 gram carbohydrates per 2 ounce serving
Black Beans: 19 grams protein / 40 grams carbohydrates per cup (cooked)
Lentils: almost 18 grams of protein / approximately 40 grams carbohydrates per cup (cooked)
Eggs: 6 grams protein / 0.6 grams carbohydrates per egg (cooked)
Tempeh (a fermented soybean product): 34 grams of protein / 13 grams carbohydrates per cup
Halloumi (a brined cheese that originated from Cyprus): 7 grams of protein / 0 grams carbohydrates per one-ounce serving
With all of that in mind, here are my favorite recipes from around the internet (you'll see lots of the proteins listed above). Think: 1) high in protein, 2) low in carbs, and 3) all vegetarian. Be sure to tell us in the comments below about your favorite vegetarian protein sources, too. Sharing is caring!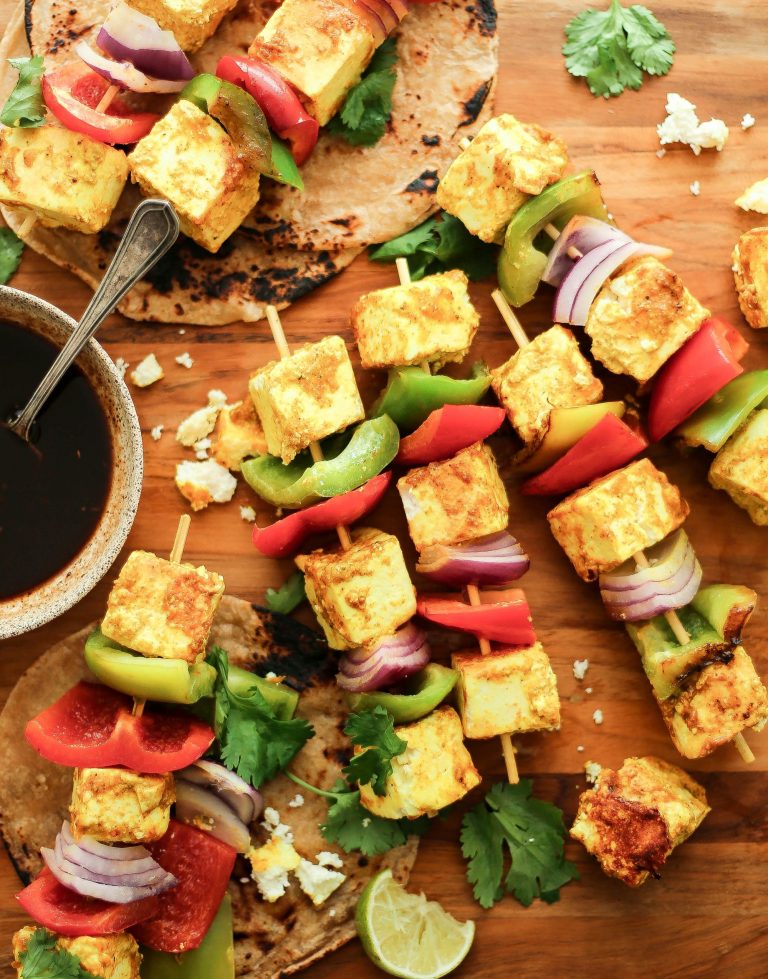 Paneer Tikka Kebabs
Why We Love It: Think kebabs are just for summer outdoor hangs? Think again. These paneer tikka kebabs can be assembled quickly, and the garam masala, cumin, and chili powder add delicious, spicy interest.
Hero Ingredient: Paneer adds a protein punch.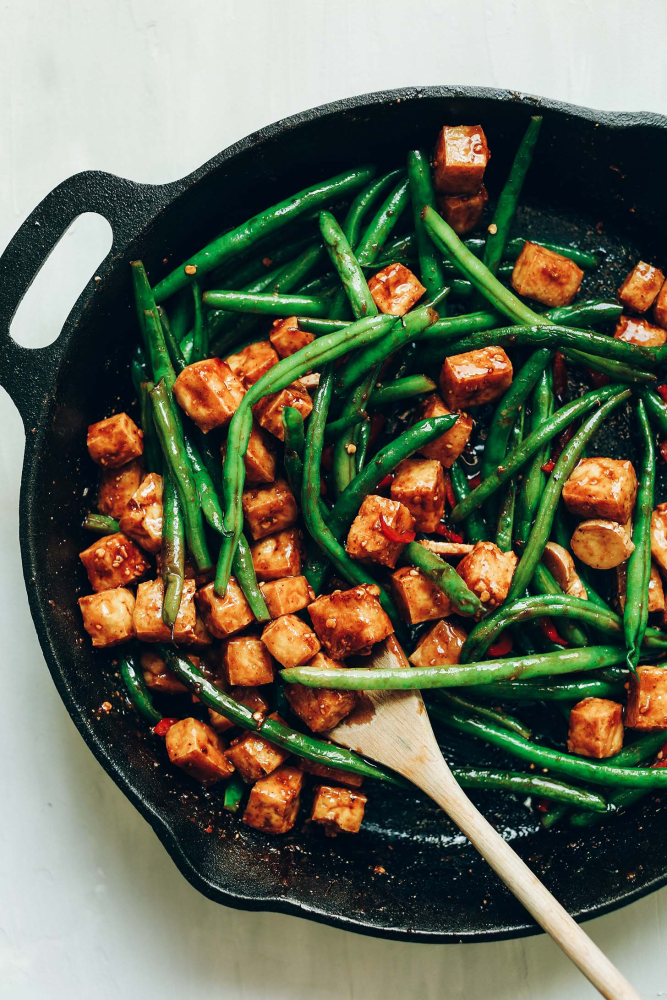 Healthy Almond Butter Tofu Stir-Fry from Minimalist Baker
Why We Love It: Sure, any vegetarian has had their fair share of tofu stir fry, but marinating the tofu beforehand in a gorgeous mixture of sesame oil, maple syrup, tamari, lime juice, and almond butter sets this dish apart.
Hero Ingredient: The almond butter adds a rich earthiness.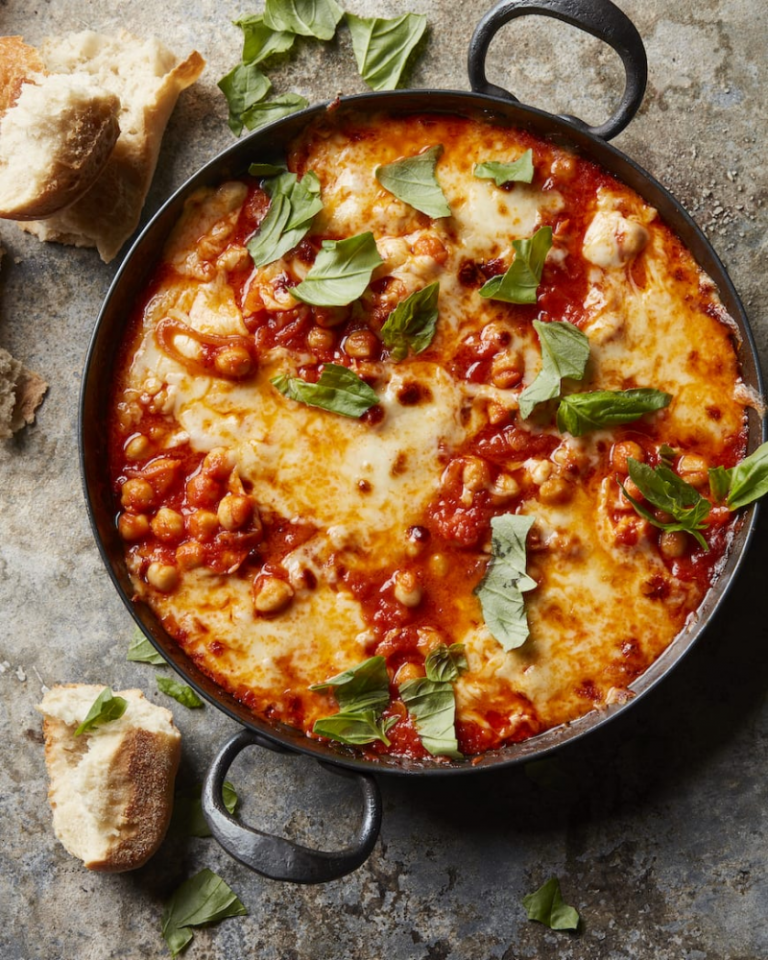 Skillet Cheesy Chickpeas from What's Gaby Cooking
Why We Love It: This super simple recipe gives allll those pasta night vibes without the complex carb hangover.
Hero Ingredient: The basil garnish at the end adds the perfect amount of freshness.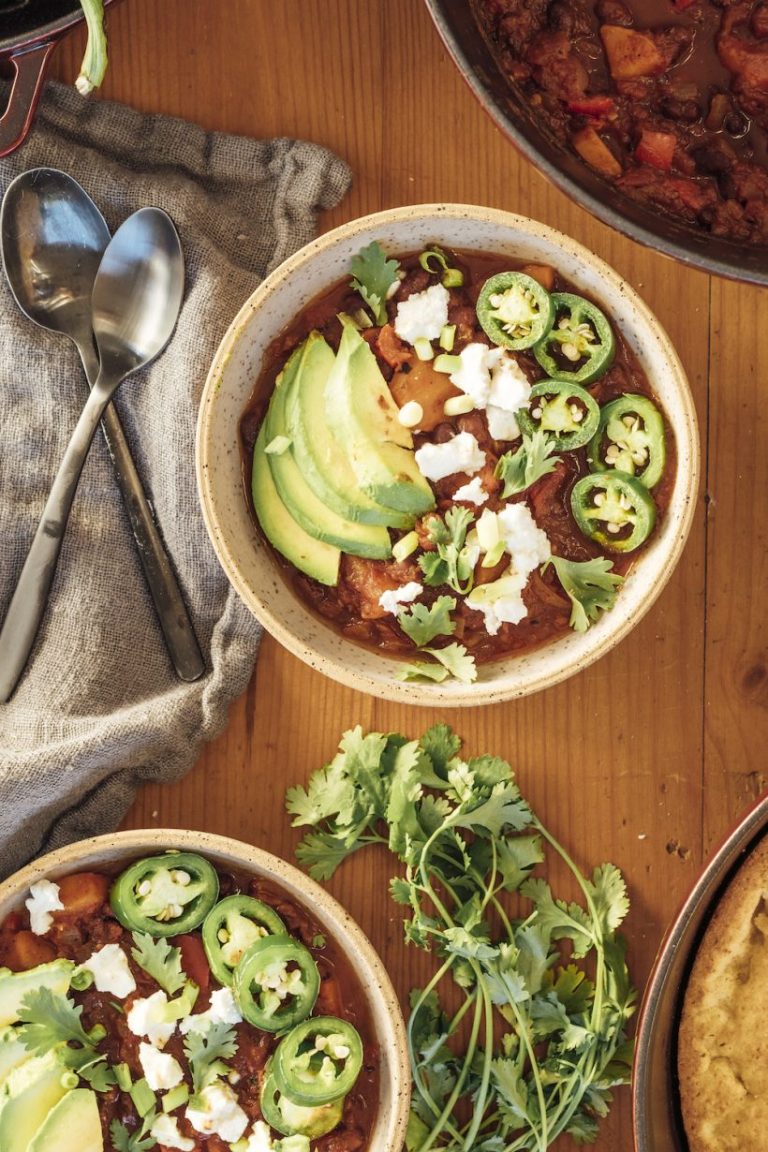 Vegetarian Black Bean & Sweet Potato Chili
Why We Love It: There's nothing quite like a hearty chili to warm your bones on a cold day. We love how the sweetness from the honey and sweet potato perfectly complements the spicy kick from chili powder.
Hero Ingredient: It's all about the toppings. Stick to radish, grated cheese, avocado, and herbs if you're wanting to keep the carbs on the lowdown.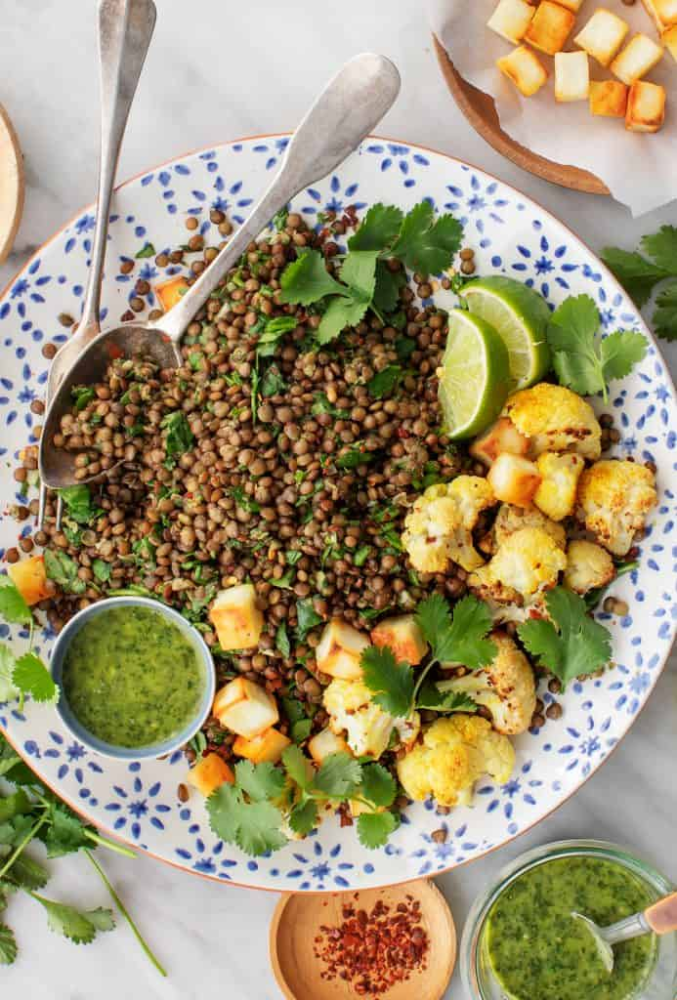 Curried Lentil Salad from Love and Lemons
Why We Love It: A gorgeous unexpected mix of lentils, paneer, cauliflower, and fresh spinach all topped with a spicy serrano chili cilantro lime dressing. It's a far cry from the boring curried lentils you've eaten out of the bag from Trader Joe's.
Hero Ingredient: The cilantro lime dressing brings the zing.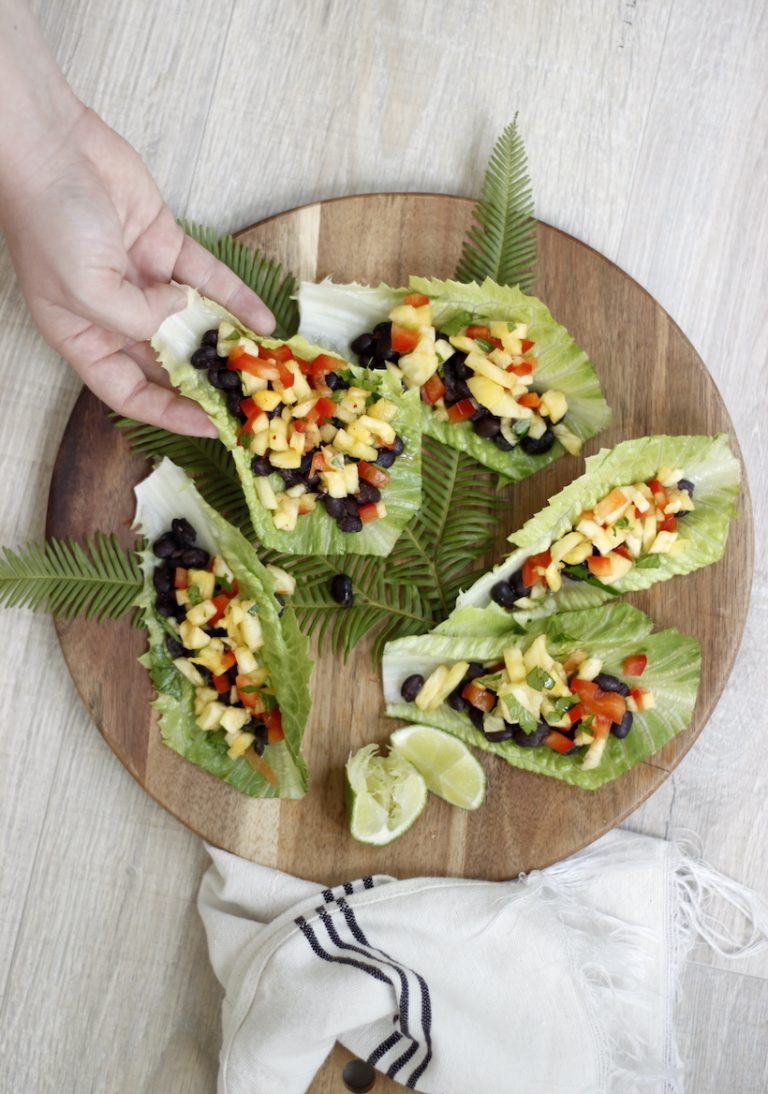 Black Bean and Pineapple Salsa Lettuce Boats
Why We Love It: A protein and fiber-packed meal, snack, or app, toss together a few simple ingredients like a can of black beans, red bell pepper, cilantro, and the key to the dish, sweet, juicy, pineapple.
Hero Ingredient: Adobo chipotle sauce adds a smoky, spicy twist to the dish.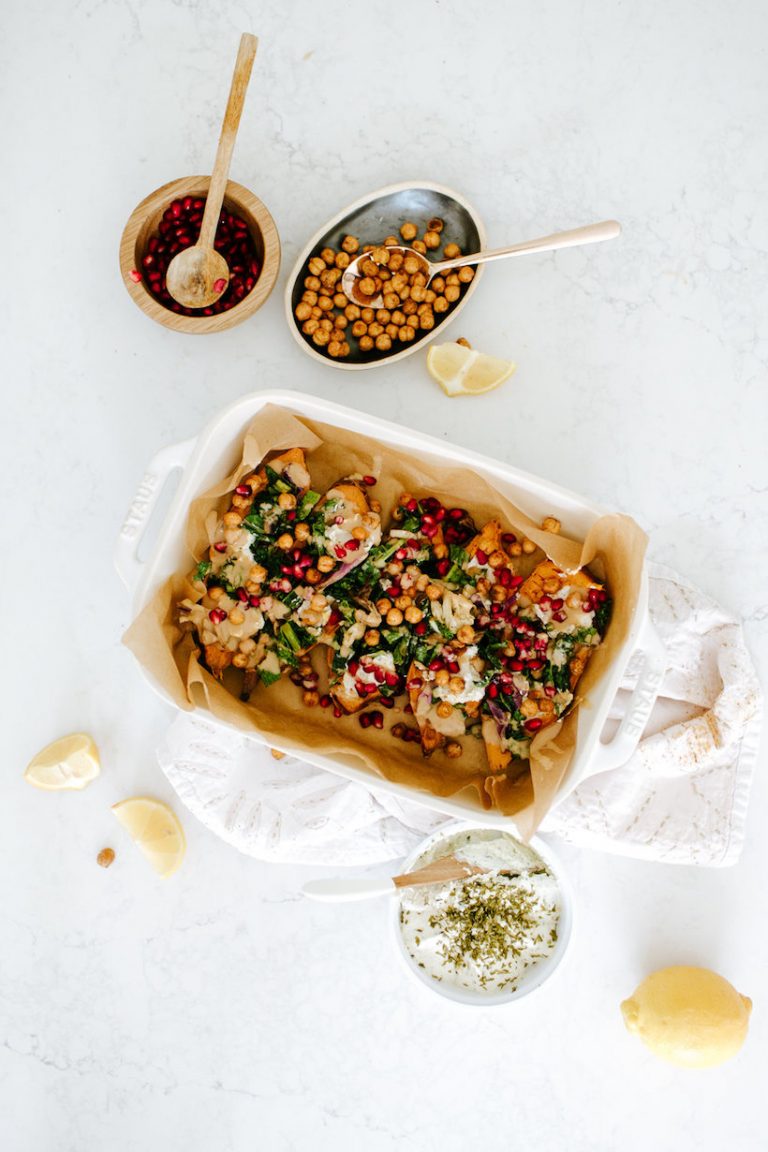 Autumn Stuffed Sweet Potatoes
Why We Love It: Straying away from your usually boring one-note sweet potato recipes, this one from Camille truly shines with the unique additions of goat cheese, pomegranate seed, and tahini sauce. And okay, sweet potatoes aren't exactly the lowest in carbs, but with the high-protein additions from the chickpeas and tahini, we decided this recipe needed a spot on the list.
Hero Ingredient: A squeeze of lemon right before serving—perfection.
Sweet Potato & Black Bean Chili
Why We Love It: The perfect comfort food for a night-in that requires so little effort, thanks to a trusty can of black beans. Camille tells me even her kids love this recipe! Oh, and it also freezes really well.
Hero Ingredient: A radish garnish just before serving adds crunch without carbs.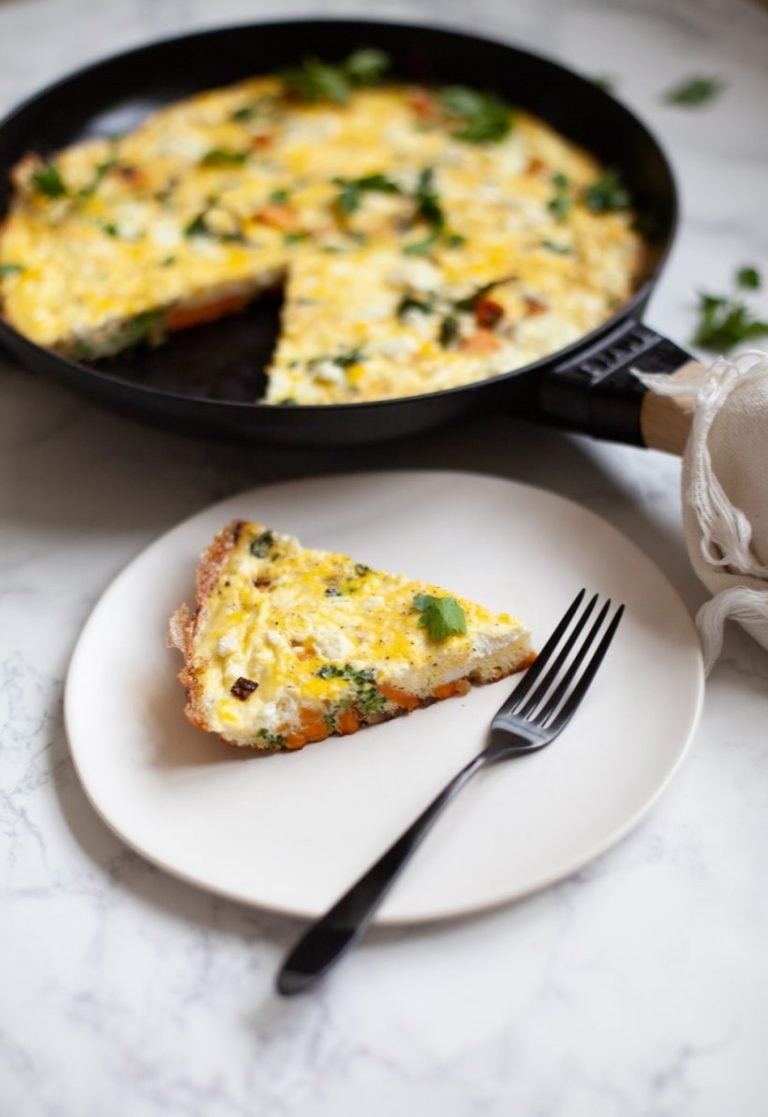 Vegetable Drawer Goat Cheese Frittata
Why We Love It: Breakfast: it's not just for breakfast, anymore. Satisfy your craving for a hearty meal with this low-carb everything-but-the-kitchen-sink vegetable frittata mixed with creamy goat cheese.
Hero Ingredient: The incredible, edible egg: high protein, low carb at its finest.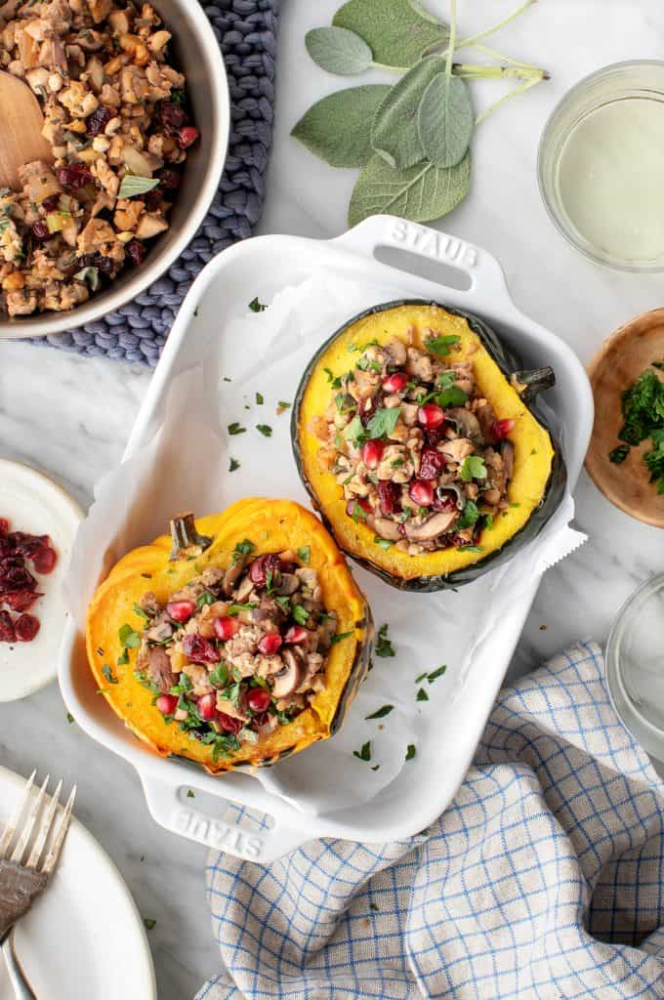 Stuffed Acorn Squash from Love & Lemons
Why We Love It: Roasted acorn squash stuffed with earthy sage and rosemary, plus dried cranberries, walnuts, mushrooms and tempeh makes this veggie dish a total showstopper.
Hero Ingredient: Tempeh, a fermented soybean product that takes on the flavorings of the dish. Great for those who want a vegan protein but aren't cray for tofu.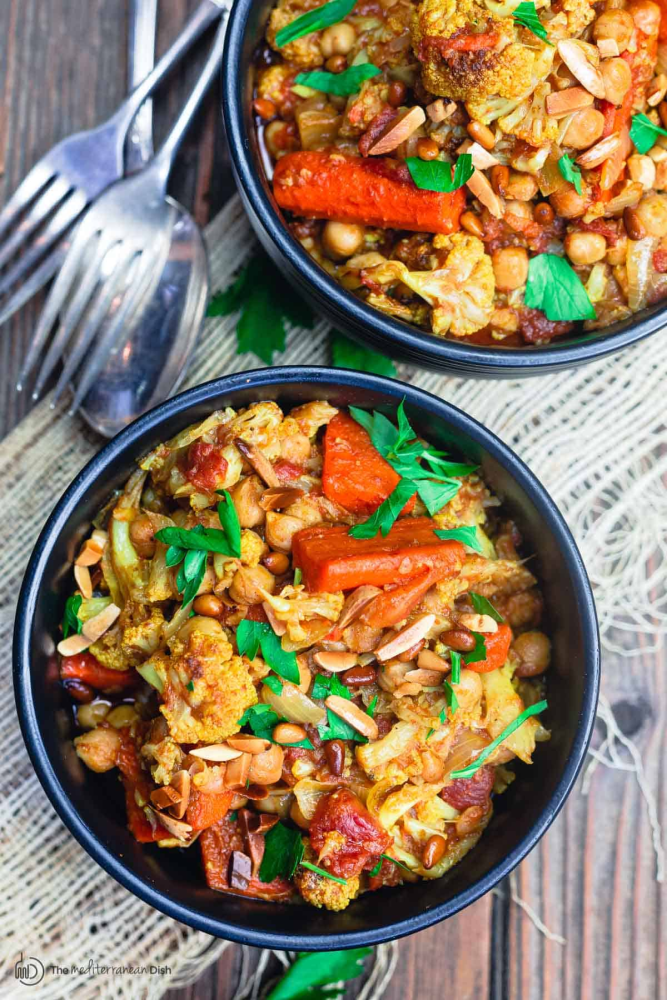 Roasted Cauliflower & Chickpea Stew from The Mediterranean Dish
Why We Love It: Not quite a soup, not quite a chili, this roasted cauliflower, and chickpea stew is comforting, warming, and oh-so-hearty for the nights when a green salad just won't do.
Hero Ingredient: A toasted nut garnish adds crunch and a bit of earthiness.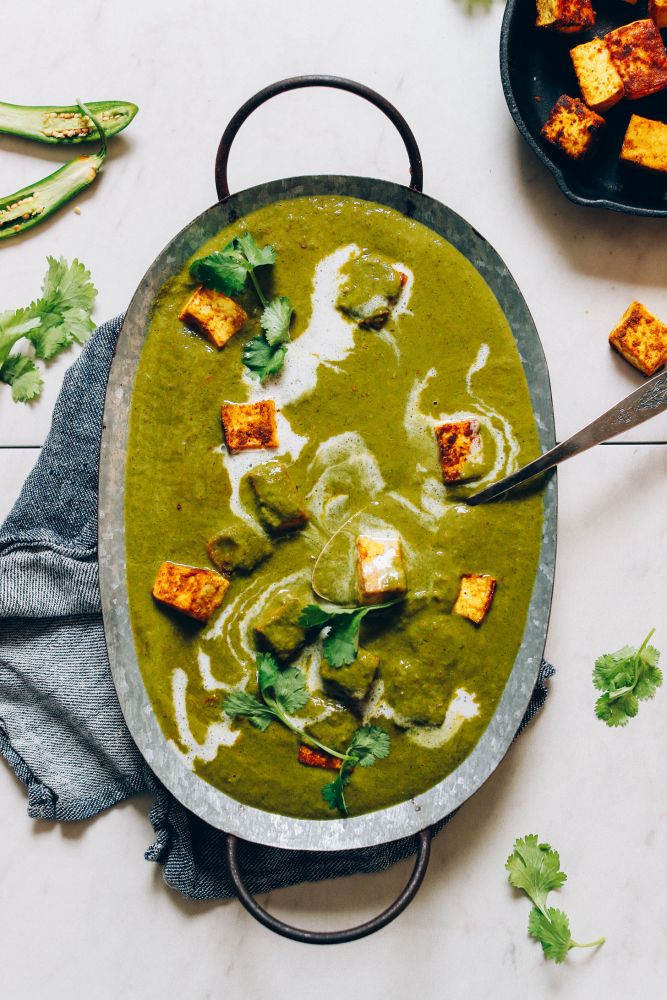 Vegan Palak Paneer With Curried Tofu from Minimalist Baker
Why We Love It: While this dish doesn't come together as easily as tossing a couple of cans of beans and tomatoes together, the extra effort is well worth it.
Hero Ingredient: Coconut milk is rich and creamy without all the dairy.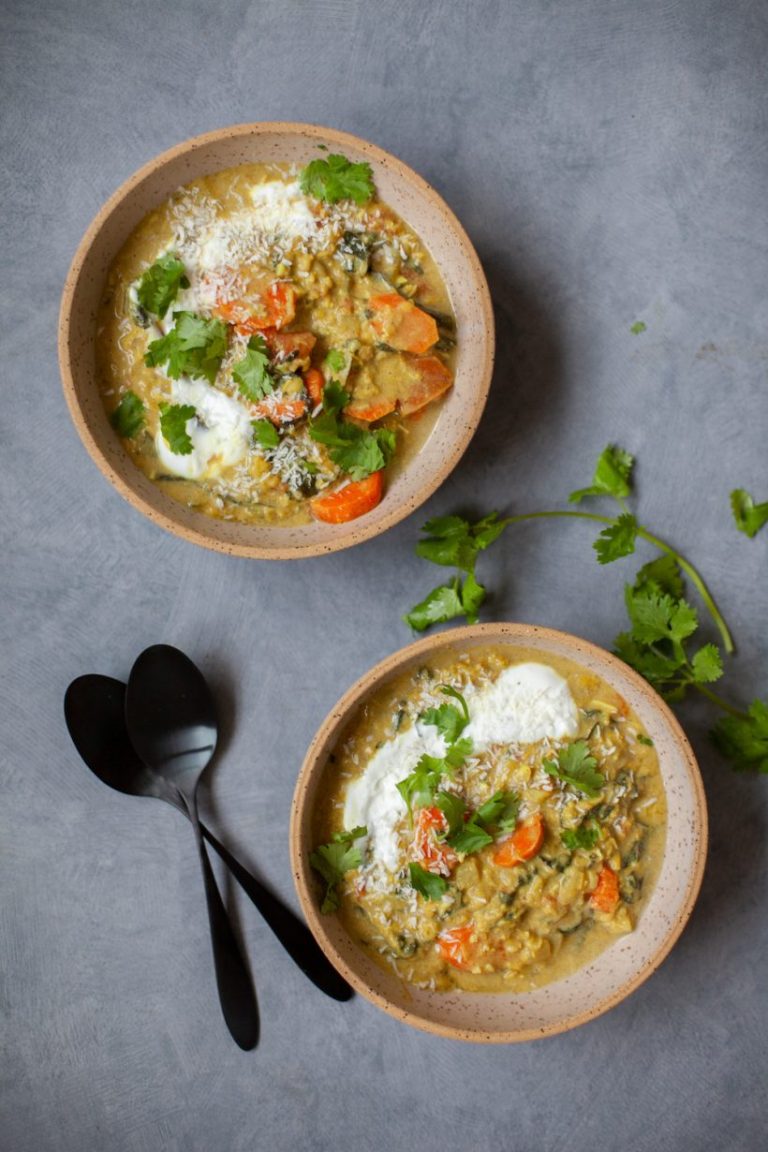 Coconut Curry Red Lentil Soup
Why We Love It: I first tried this recipe during a Camille Styles cleanse a few years ago. It's hearty enough to fill you up, thanks to the protein-packed lentils. Oh, and it tastes delicious!
Hero Ingredient: The kale and carrot. They ensure that this soup feels like soup (and not like a big bowl of lentils).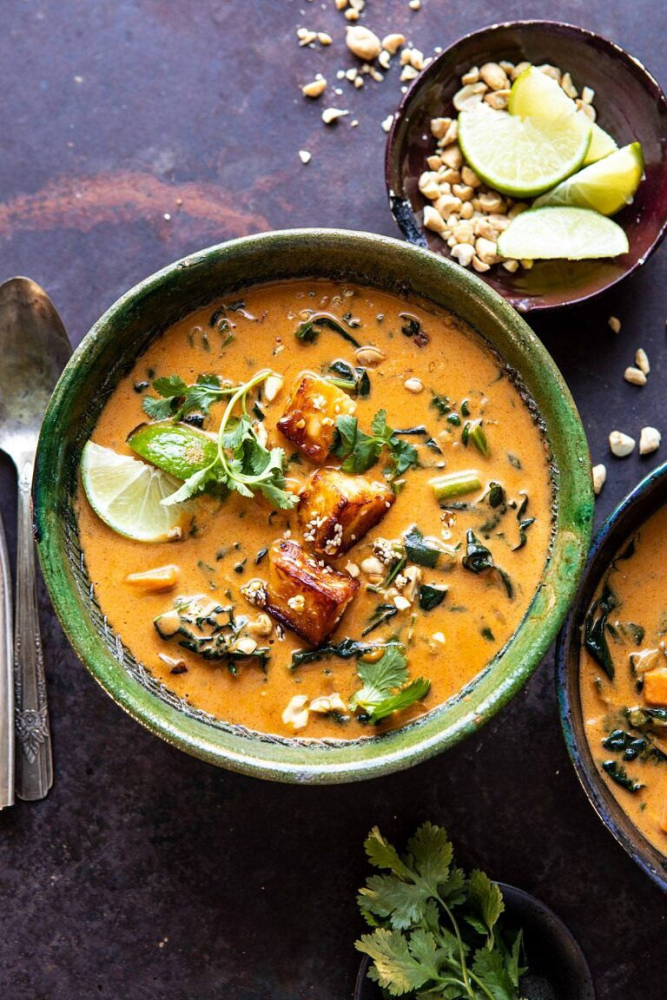 Spicy Peanut Soup With Sesame Halloumi from Half-Baked Harvest
Why We Love It: Another hearty soup thanks to a unique combo of peanut butter and halloumi that is satisfying and oh-so-easy to make.
Hero Ingredient: The rich and creamy peanut butter adds a vegetarian protein punch.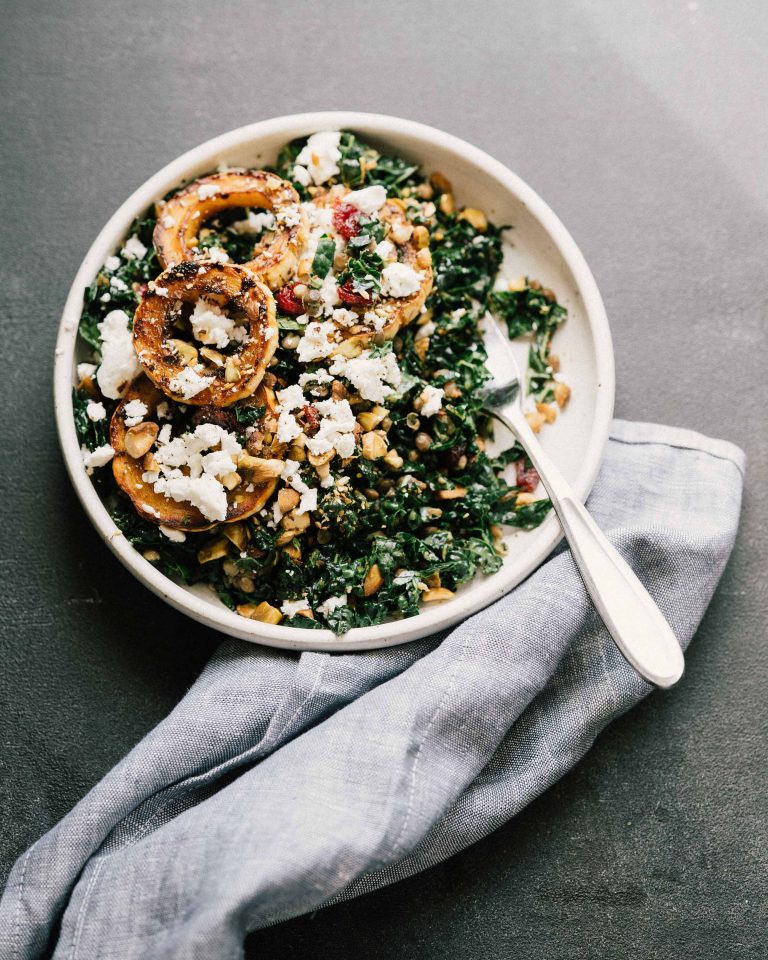 Delicata Squash Salad With Pistachios and Marinated Lentils from Sprouted Kitchen
Why We Love It: The perfect blend of warming spices (think cinnamon and chili powder) with a cooling salad base.
Hero Ingredient: Roasted delicata squash—still warm from the oven. Heaven.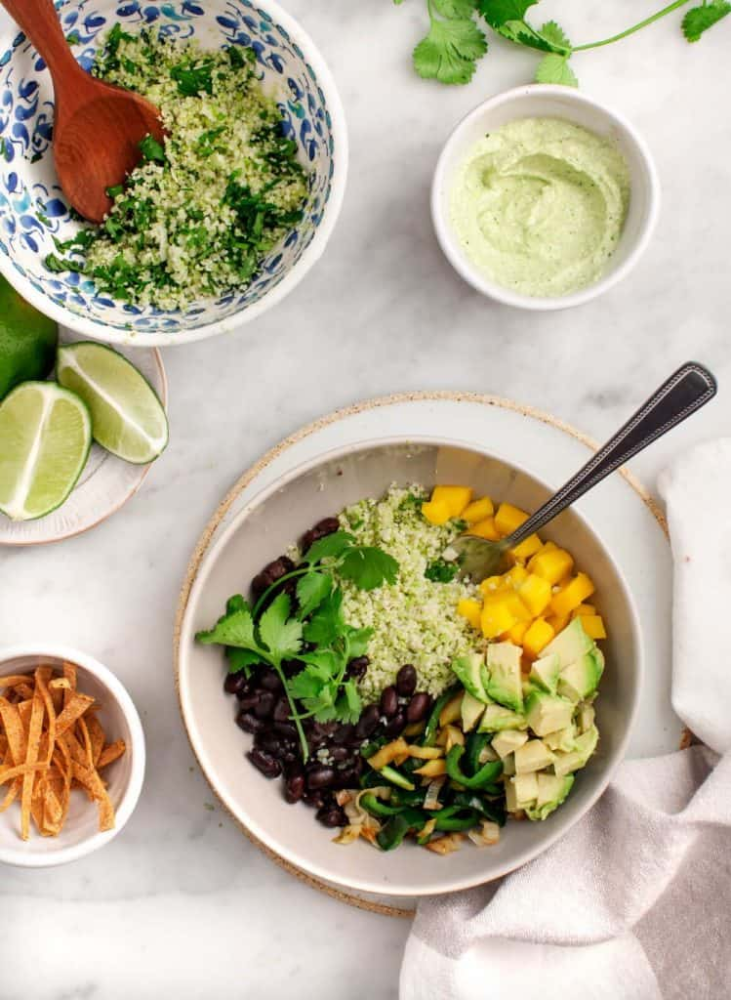 Cauliflower Rice Burrito Bowls from Love & Lemons
Why We Love It: Imagine a bowl of rice with beans, but with the volume turned up. Cauliflower rice adds texture—minus all the carbs—and black beans add protein and fiber, while the mango adds a touch of natural sweetness.
Hero Ingredient: The creamiest vegan cashew and green chili sauce is the kicker here. We suggest doubling the recipe and keeping it in your fridge all week long.