It's a language of love, delicious in all forms, and a simple way to treat to yourself, any time. Dessert is one of life's gifts. And though baking is a bit of an exact science, these make-ahead desserts have one thing in common: ease. Why wait until the oven timer dings to infuse a bite of joy into your day…when you can have it on demand? Stocking your kitchen with tasty confections you've already prepared is an act of self-love that I firmly believe we should engage in this summer. Suns out, buns out… or muffins, cobblers, you name it. We've got it all.
Featured image by Suruchi Avasthi.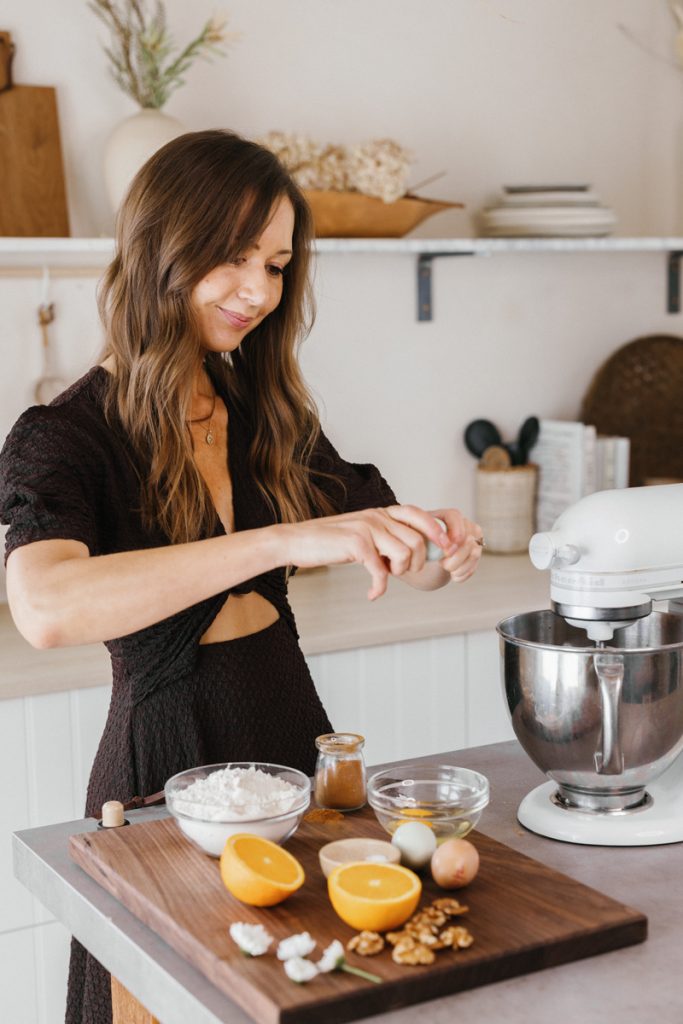 31 Make Ahead Desserts to Enjoy Anytime
Make ahead desserts are magical for a variety of reasons. For me personally, they're great to make when I have an itch to bake something, but not enough people around to enjoy it. Instead of letting my creations go to waste, I can pop them in the freezer to be enjoyed at a later date.
Another reason to love make ahead desserts is that you can get a jump start on any party prep you have on the horizon. With all that goes into hosting, you shouldn't have to worry about preparing a freshly baked dessert day-of. Instead, you can bake something in advance and jazz it up just before your guests arrive. Or, if you like to have something sweet on hand at all times (I wholeheartedly stand with you), you can use these make ahead desserts as your stock.
Whatever your prerogative, these sweet treats are guaranteed to infuse more joy into your life. Just don't hate me when your freezer is filled to the brim with tasty treats—you've been warned. Check out these 31 make ahead desserts for your enjoyment, anytime.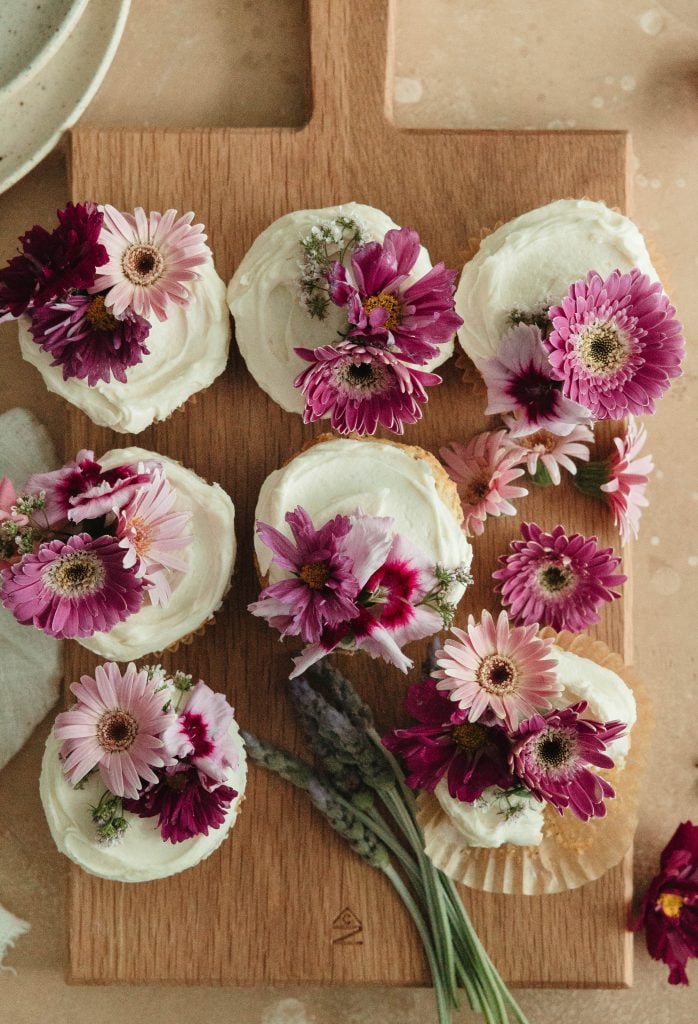 Why We Love It: Rich olive oil mixes with tangy lemon zest and the subtle sweetness of honey to create the most delicious little muffins. This recipe is a unique and refreshing take on a classic muffin that will leave you craving for more. Plus, these little guys are so easy to store in the fridge or even freeze for muffins on demand.
Hero Ingredient: Poppy seeds! They give these baby cakes just the right amount of texture and bite.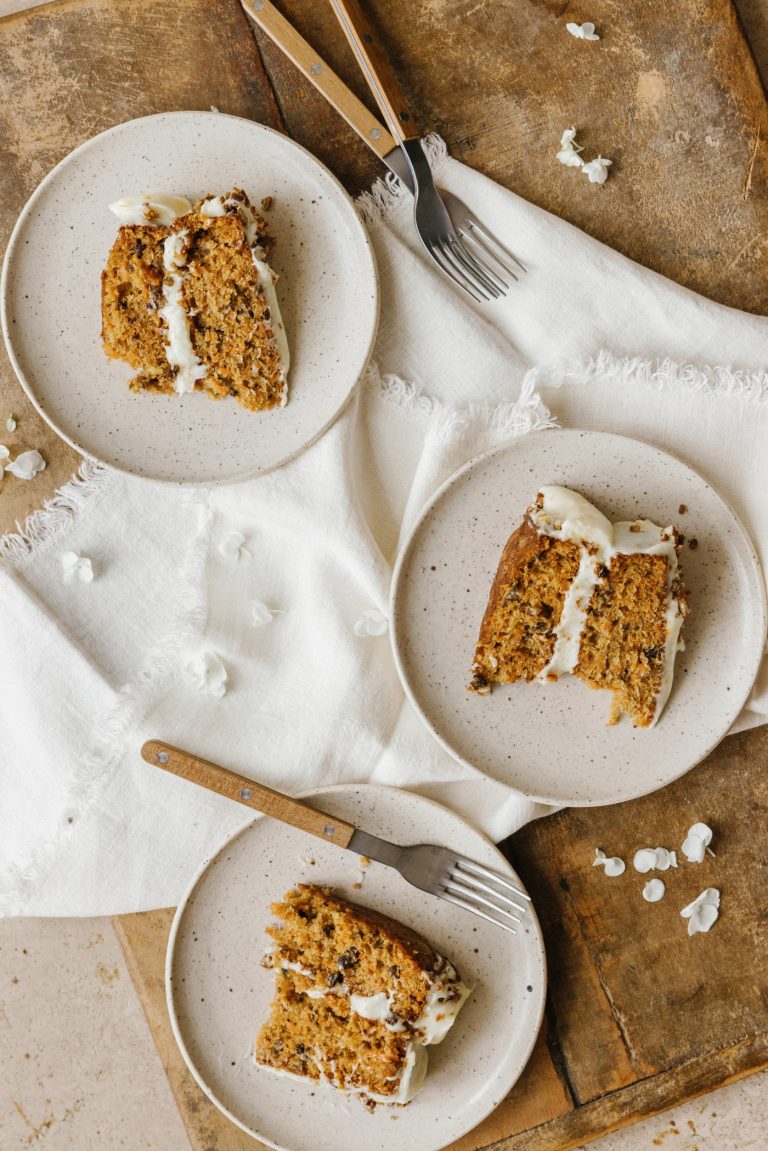 Why We Love It: Get ready to indulge in a cake that's bursting with brightness and zest. This isn't your mom's carrot cake—it's something even better. The addition of orange zest and extract infuses a refreshing orange flavor into the cake and frosting. Plus, toasted pecans laced throughout the cake is a masterpiece in and of itself. This one keeps and freezes well, so you can make it days in advance and enjoy all week(s) long.
Hero Ingredient: The cream cheese frosting is nothing short of dreamy. It brings a velvety smoothness to every bite that you just can't beat.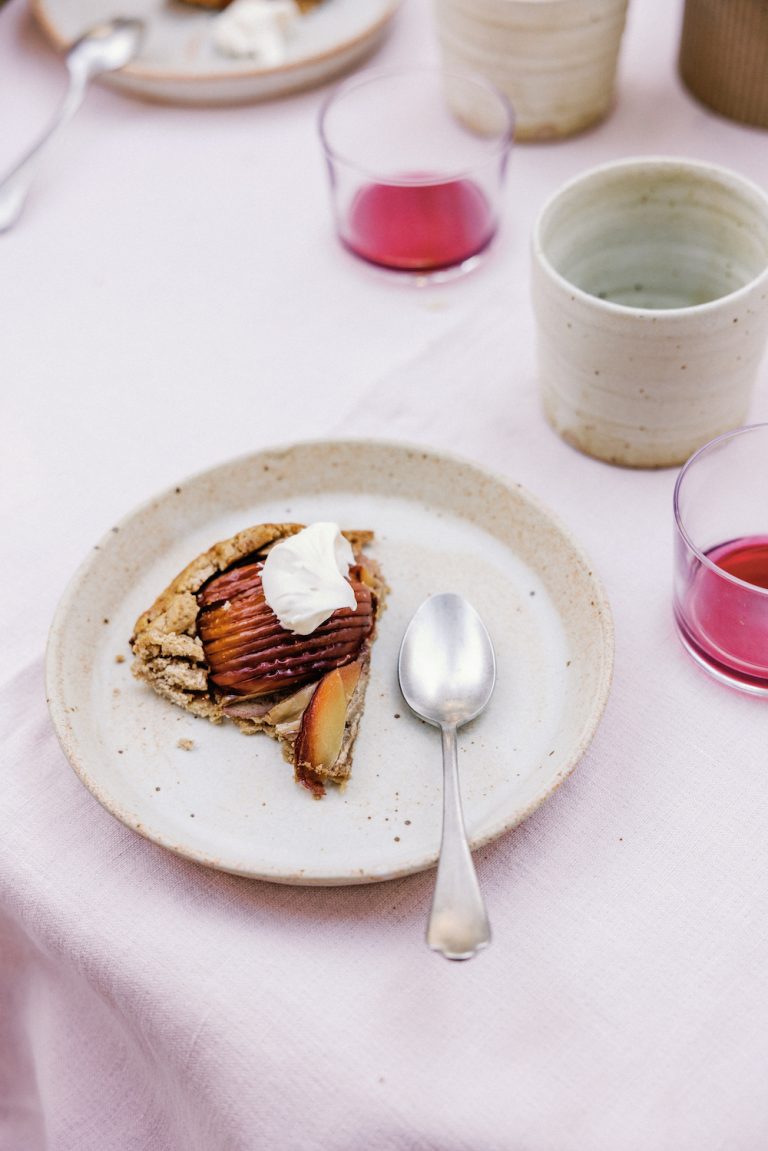 Why We Love It: Bursting with juicy sweetness from the pluots (a plum and apricot hybrid), this pluot galette is just as delicious as it is beautiful. It starts with a golden-brown crust, generously layered with pluots, and topped with silky crème fraiche. With a sprinkle of cinnamon and a touch of honey, this galette is a fruity masterpiece with many buttery, flaky bites to be savored. It also keeps well on the counter or in the fridge.
Hero Ingredient: The pluot is truly an untapped fruit. It carries the perfect amount of sweetness and lower acidity than your typical plum thanks to the apricot relation.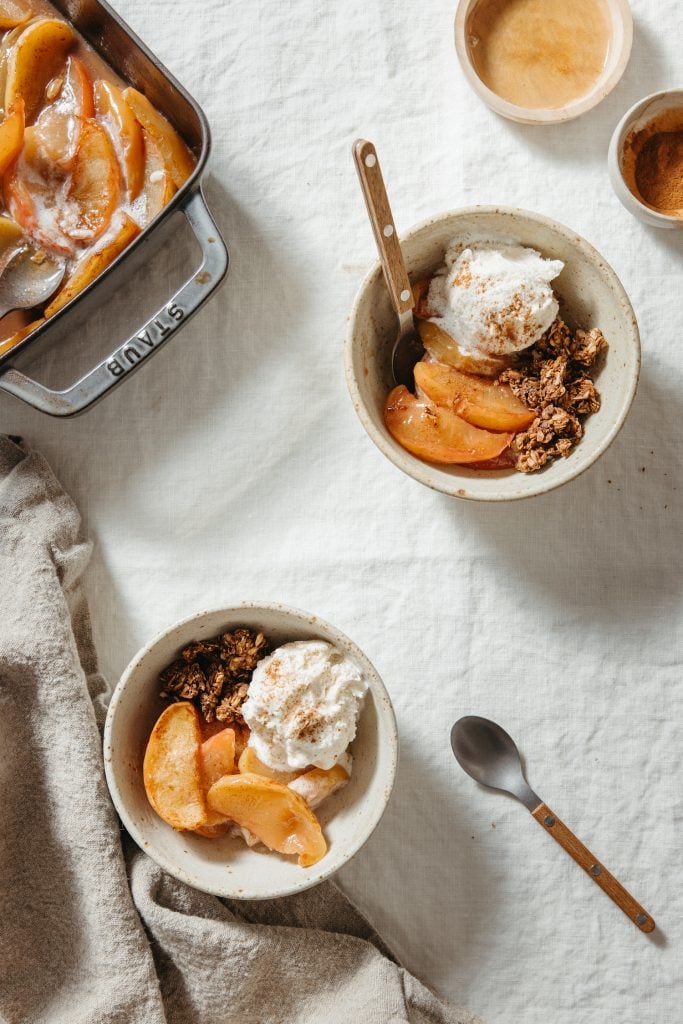 Why We Love It: A warm and cozy dessert that's delicious year-round, these cinnamon baked apples are the epitome of comfort. It's like sinking your teeth into a tender, caramelized apple slice infused with the aromatic spice of cinnamon. Not only do these baked apples taste amazing, but you get to fill your kitchen with their fragrant aroma. Combine all that with a dollop of creamy vanilla ice cream on top? Dessert heaven. It's a simple and truly irresistible treat—don't say we didn't warn you.
Hero Ingredient: Hero method! The great thing about baked apples is that they keep really well (are you detecting a theme here?). Frozen or refrigerated, simply pop these bad boys in the microwave and you'll have a warm dessert in seconds.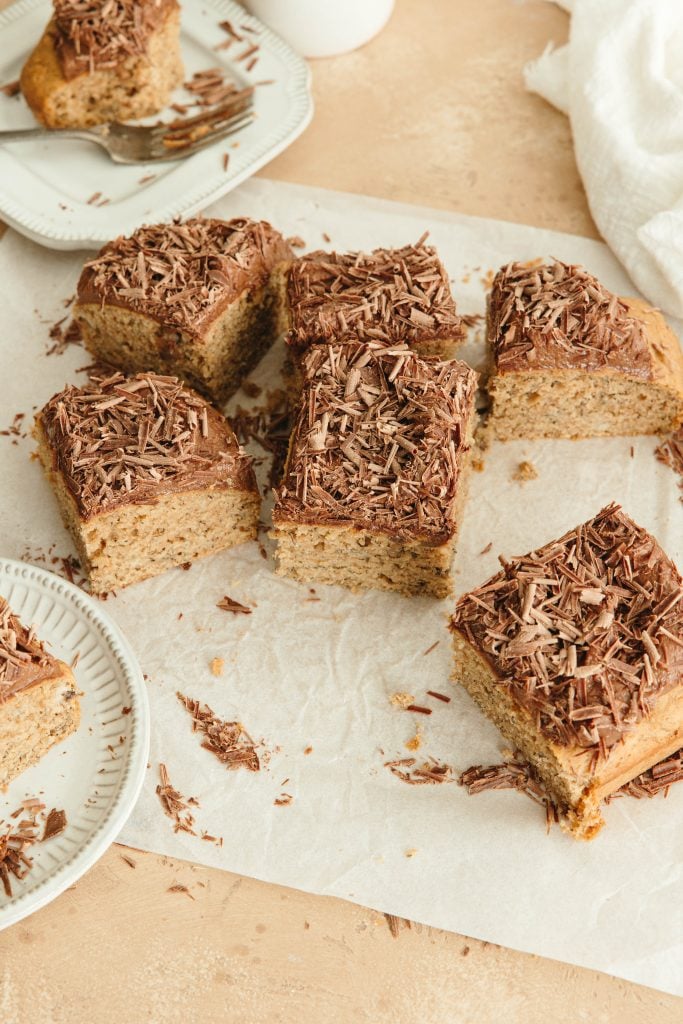 Why We Love It: The perfect treat to satisfy your dessert cravings, this peanut butter banana snack cake is a grown-up take on a PBB sandwich. Moist, fluffy cake flavored with rich peanut butter and ripe bananas is simply to die for. Whether you enjoy it as a dessert, as a snack, or as both, you won't be disappointed. Again, this one can withstand a few days on the counter, in the fridge, or in the freezer so you can enjoy it whenever, wherever.
Hero Ingredient: I'm a sucker for some good old-fashioned peanut butter. It's impossible to beat.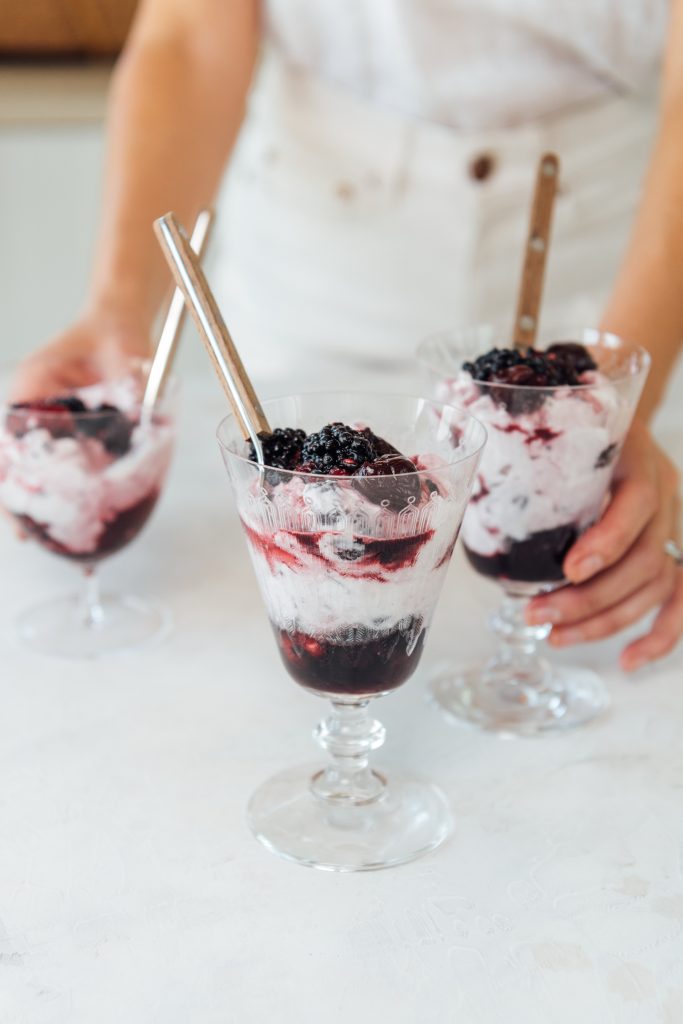 Why We Love It: These refreshing summer fruit fools are nothing short of incredible. Akin to a trifle without the cake/cookies, this combination of velvety whipped cream and juicy seasonal fruit gives each spoonful a burst of sweetness and tang. With their stunning presentation and vibrant taste, these fools are the ultimate summer treat to beat the heat and elevate your dessert game. To make them ahead of time, keep your whipped cream in the fridge alongside your macerated berries. That way, all that's left to do is layer and savor.
Hero Ingredient: If you've got it on hand, a sprig of fresh mint is never a bad idea.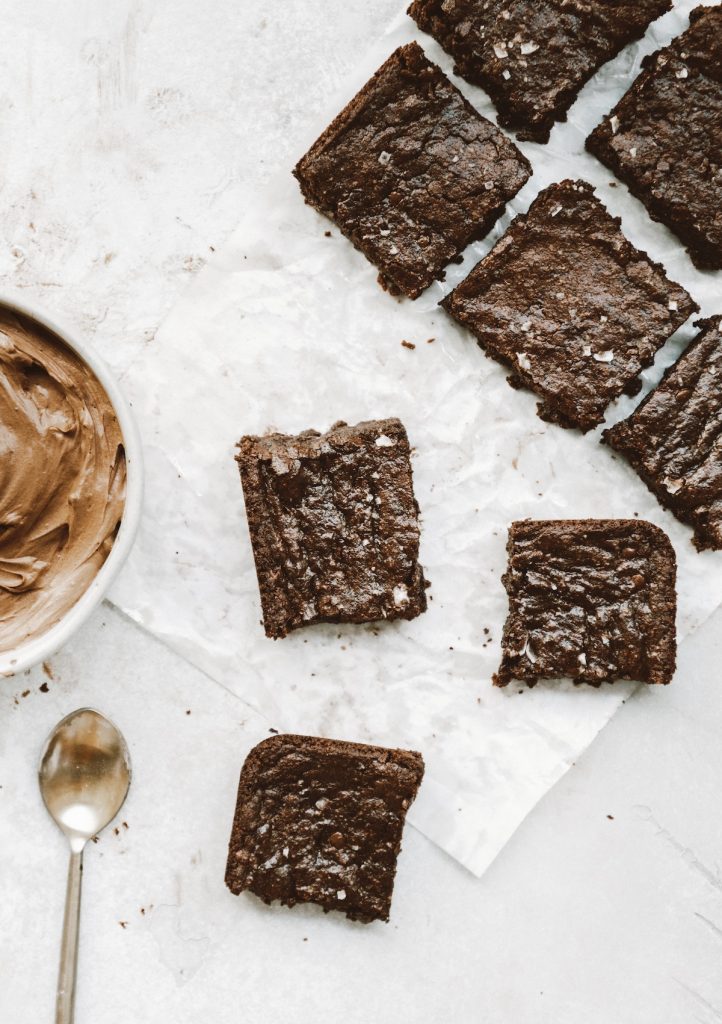 Why We Love It: Chocolatey paradise is calling, and these brownies are the answer. It's safe to say that these heavenly bites are proof that you don't need gluten or dairy to enjoy a mouthwatering dessert you'll want to come back to over and over again. To satisfy the make ahead desserts category, these keep well on the counter or in the freezer for enjoyment at a later date. My personal favorite method is to bake these at the beginning of the week, freeze, then pop them in the microwave for just a few seconds to reignite that ooey chocolate goodness.
Hero Ingredient: Whether you're team chocolate chip in a brownie or not, these will have you sold. Melty bits of pure chocolate layered throughout is nothing short of perfection.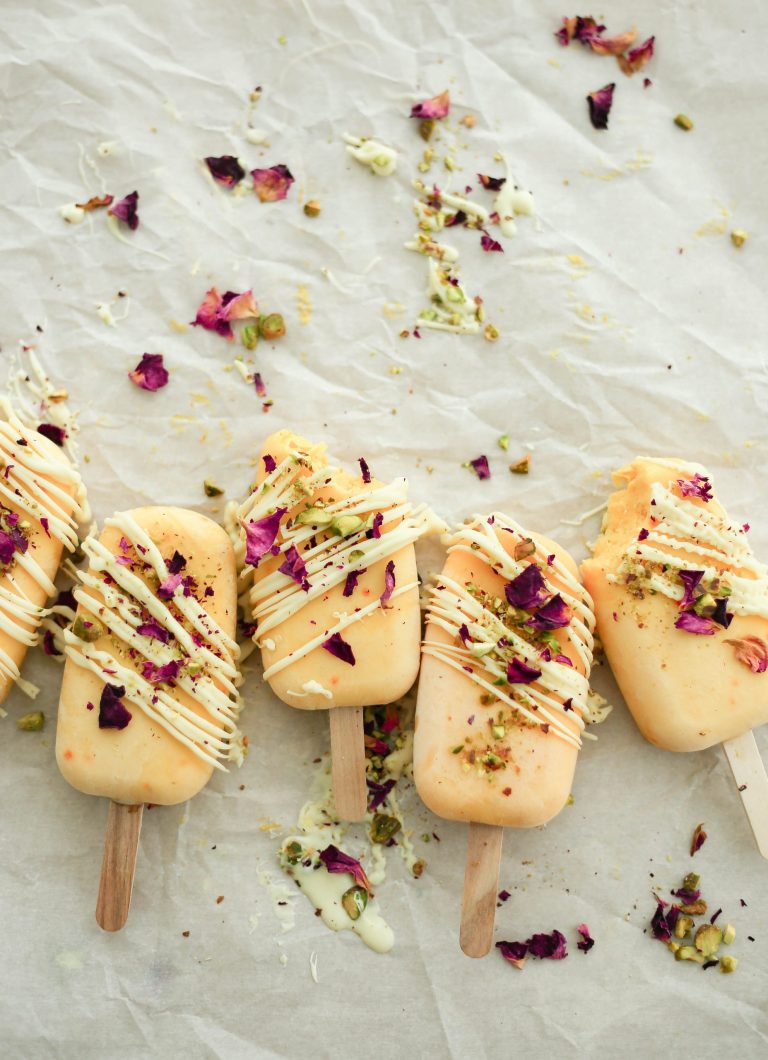 Why We Love It: On the flip side, these mango lassi popsicles are like vacation on a stick. They're loaded with refreshing flavors and cooling sensations that wake up each and every taste bud. The best part? These obviously keep incredibly well in the freezer. They're a delightful twist on a classic Indian beverage—perfect for beating the heat and enjoying a taste of summer on demand.
Hero Ingredient: With a hint of cardamom and a generous squeeze of lime, these refreshing flavors are off the charts.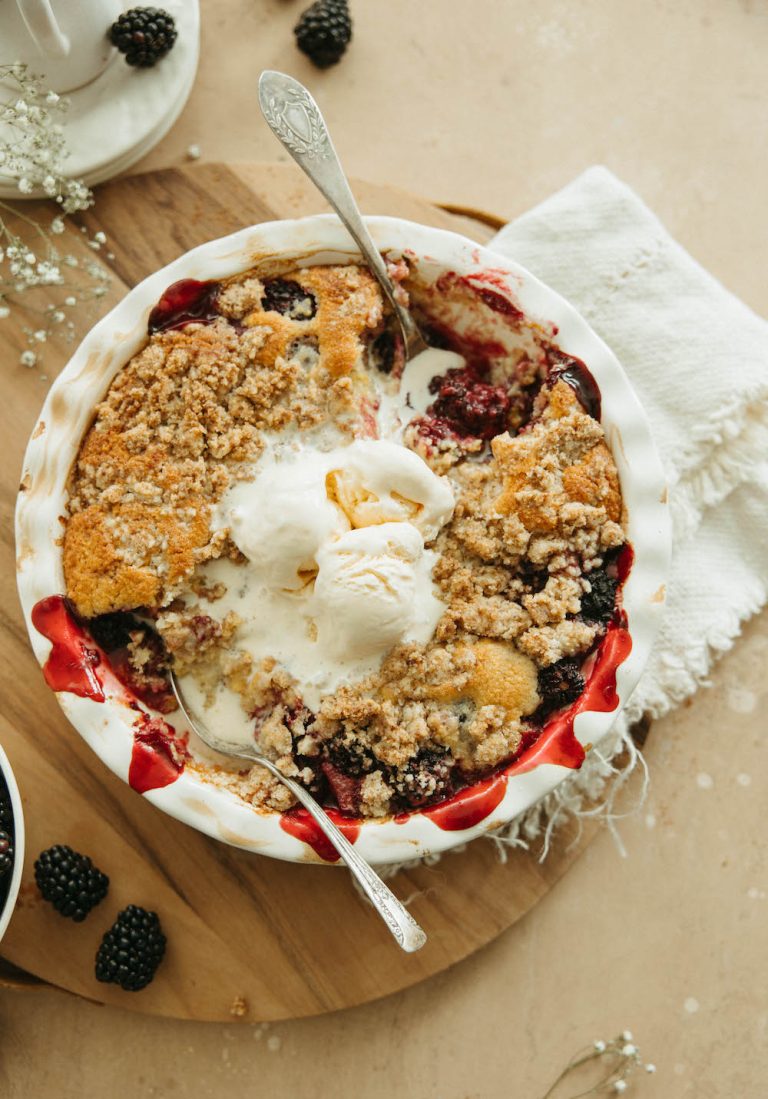 Why We Love It: A warm and irresistible dessert, this easy blackberry cobbler is chock full of comforting and seasonal flavors. Sweet and tart blackberries nestled beneath a buttery, golden crust is a heavenly treat you might have a hard time staying away from. Like all cobblers, this one thrives in the fridge or freezer. When you're ready to serve, pop it in the oven to crisp up the topping and enjoy.
Hero Ingredient: Who would we be if we didn't mention the luscious vanilla ice cream scooped over top? It's sheer perfection.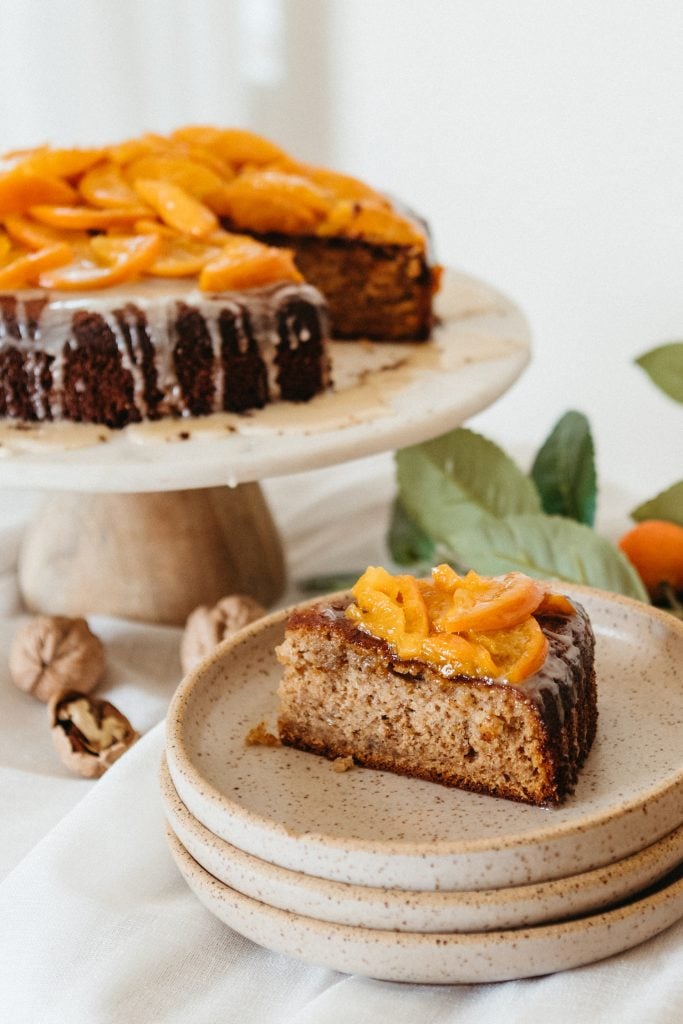 Why We Love It: Imagine a golden, fragrant cake infused with the richness of olive oil and hints of citrus zest. With a subtle sweetness and delicate crumb, this cake is equally enjoyable with a cup of tea or as a dessert. It's a truly delightful and unique treat that's perfect for making ahead. It holds well on the counter or in the freezer as you can easily thaw before serving again. That is, if it lasts that long!
Hero Ingredient: Topping your cake with candied oranges not only looks gorgeous, but the citrus provides a candy-like tang that's just delicious.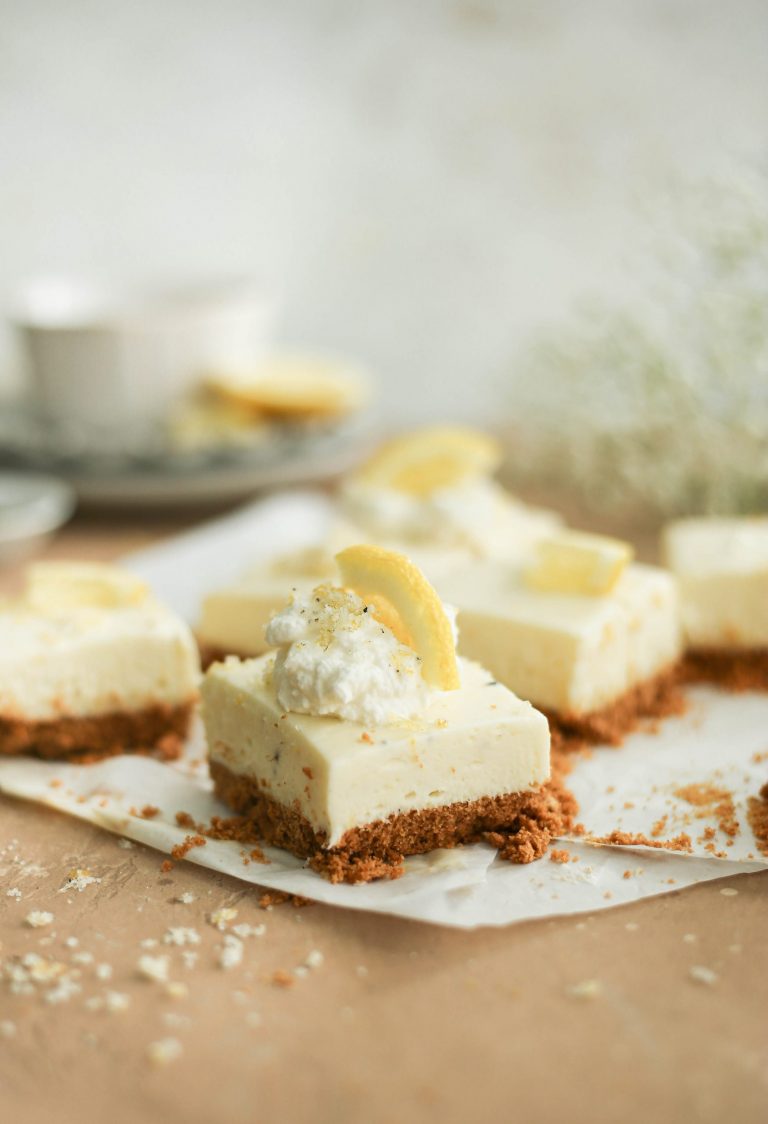 Why We Love It: Like a burst of sunshine in each bite, these lip-puckering lemon slices are filled with the exotic and aromatic flavors of cardamom. Nestled atop a buttery graham cracker crust, each bite boasts a refreshing zing and silky texture that you'll love. Once again, they're perfect to keep in the fridge until you're ready to enjoy.
Hero Ingredient: Yes, you could use pre-ground cardamom. But buying whole green cardamom cloves and grinding them yourself is such an elevated addition. It allows you to fully experience the spice's spicy-sweet flavor and aroma.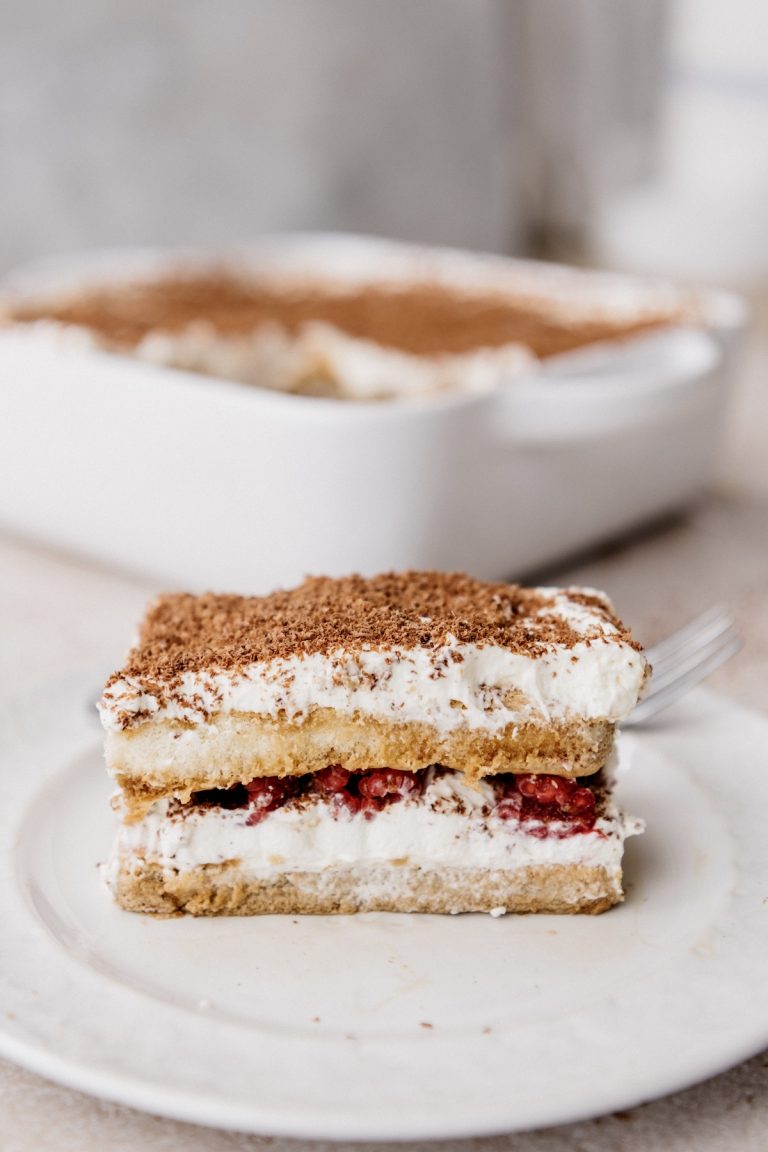 Why We Love It: This berry-filled twist on a classic dessert is nothing short of perfection. Personally, I love tiramisu in all forms, which is why this raspberry variation is the ideal summer treat. It combines all the lovable elements of traditional tiramisu with tart raspberry goodness. Each bite is a harmonious blend of sweet, tangy, and velvety flavors that will transport you. If you make this one in advance, let it hang out in the fridge until you're ready to serve. It'll be waiting patiently for your enjoyment.
Hero Ingredient: Raspberry liqueur in the soaking liquid drives home that fresh fruit flavor.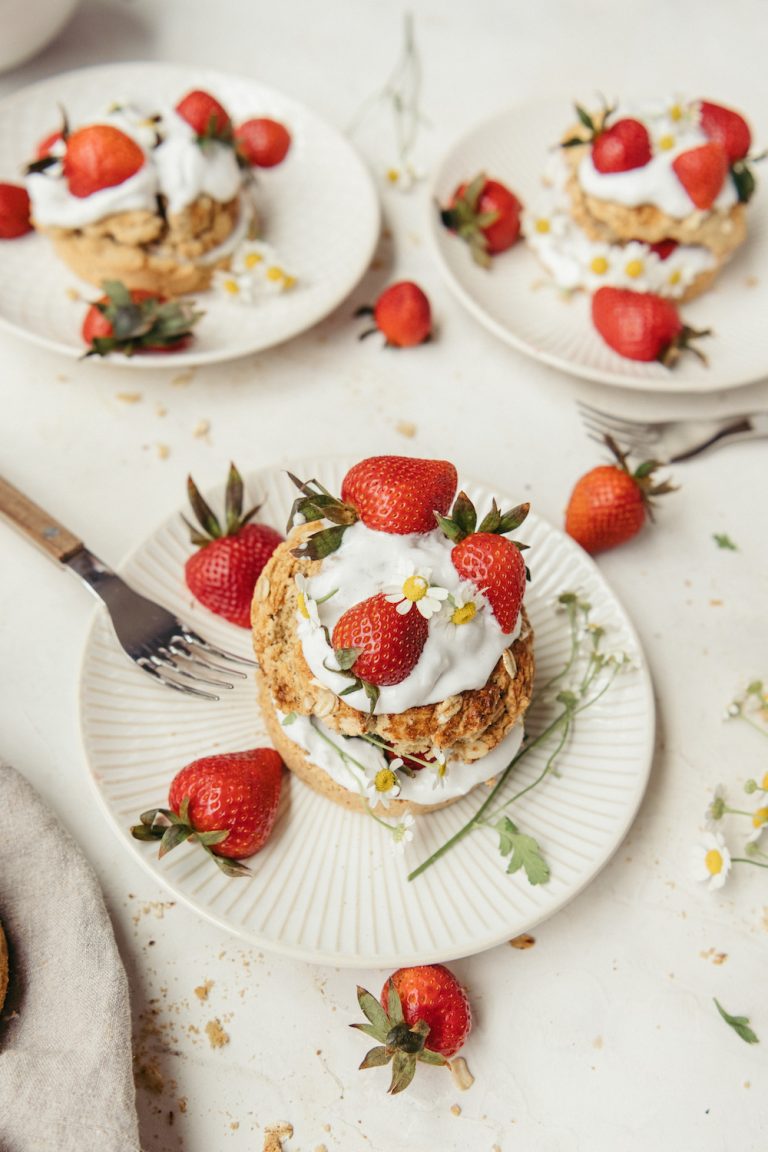 Why We Love It: What better way to celebrate summer than with a strawberry shortcake? Another delicious twist on a classic that accommodates dietary restrictions without sacrificing flavor, these strawberry shortcakes are edible gold. Juicy, sweet strawberries enveloped by fluffy whipped cream all sitting atop a light and tender biscuit is the perfect way to ring in the season. To make these ahead of time, seal your biscuits away in a Ziploc bag and let your whipped cream and macerated berries chill in the fridge. When you're ready to assemble, you have all the makings ready and at your disposal.
Hero Ingredient: You might just want to make extra dairy-free whipped cream for your own sake. I like to eat it straight out of the bowl, but you can probably come up with more creative uses if that's your jam.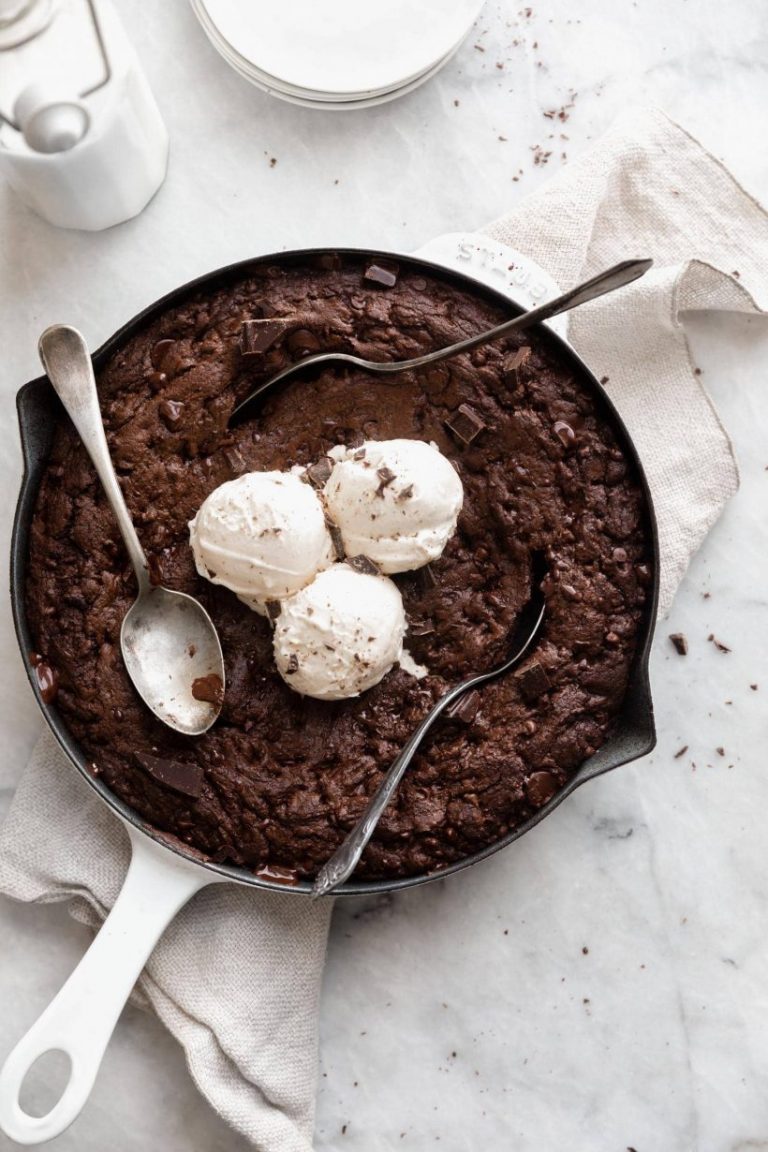 Why We Love It: Gooey, chocolatey wonderland is what's in store with this skillet cookie. It's a dessert that's just as irresistible as it is Insta-worthy. A warm, rich, and melty cookie baked in a cast-iron skillet with pockets of melty chocolate chunks throughout is just what the doctor ordered. It's pure indulgence that deserves to be savored at any time, so you can absolutely bake it in advance and reheat when it's time for the spoons to dig in.
Hero Ingredient: A bit of espresso powder in the cookie dough wakes up all of the chocolatey goodness in store.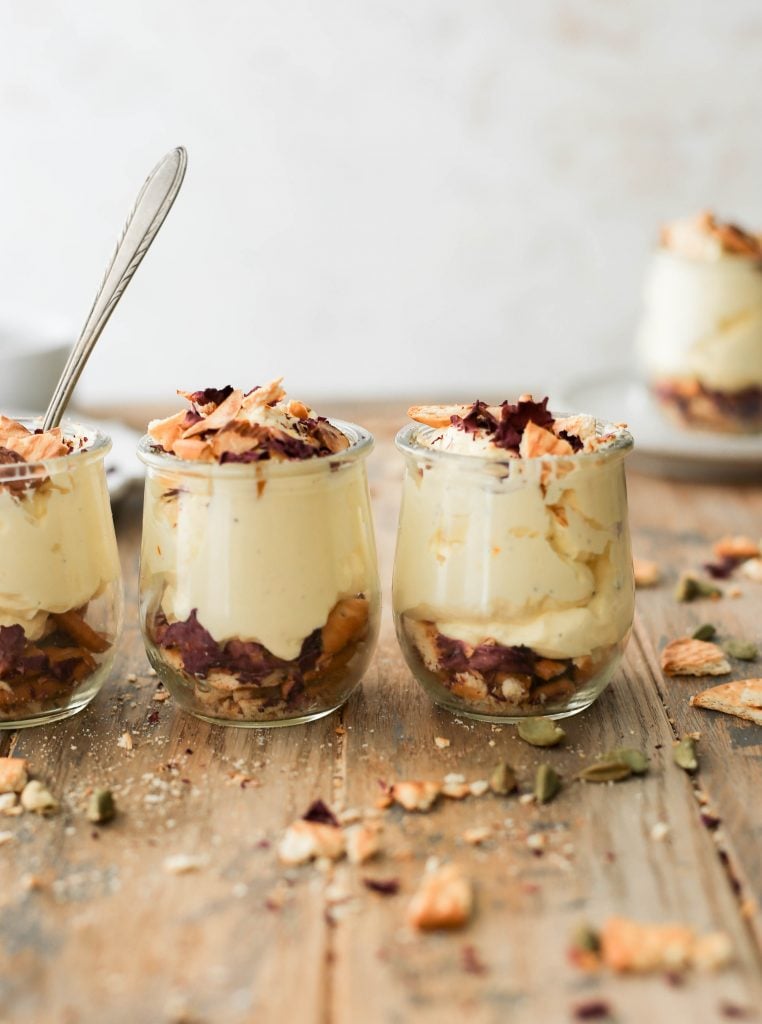 Why We Love It: Cardamom is really having a moment here and for good reason. Its aromatic spice coupled with floral saffron crafts the perfect flavor profile for this yogurt-y dessert. With a silky texture and delicate flavor, each spoonful of shrikhand is a delightful journey through the rich culinary traditions of India. Whether you enjoy it as a dessert or a sweet accompaniment to a spicier meal, this recipe is a true gem that you'll want to come back to for seconds. To make it ahead of time, whip everything together in a bowl and let it mellow out in the fridge. Just be sure to save your toppings for showtime so everything is fresh and fragrant.
Hero Ingredient: Little biscuit bits crumbled over top give this dessert just the right amount of texture.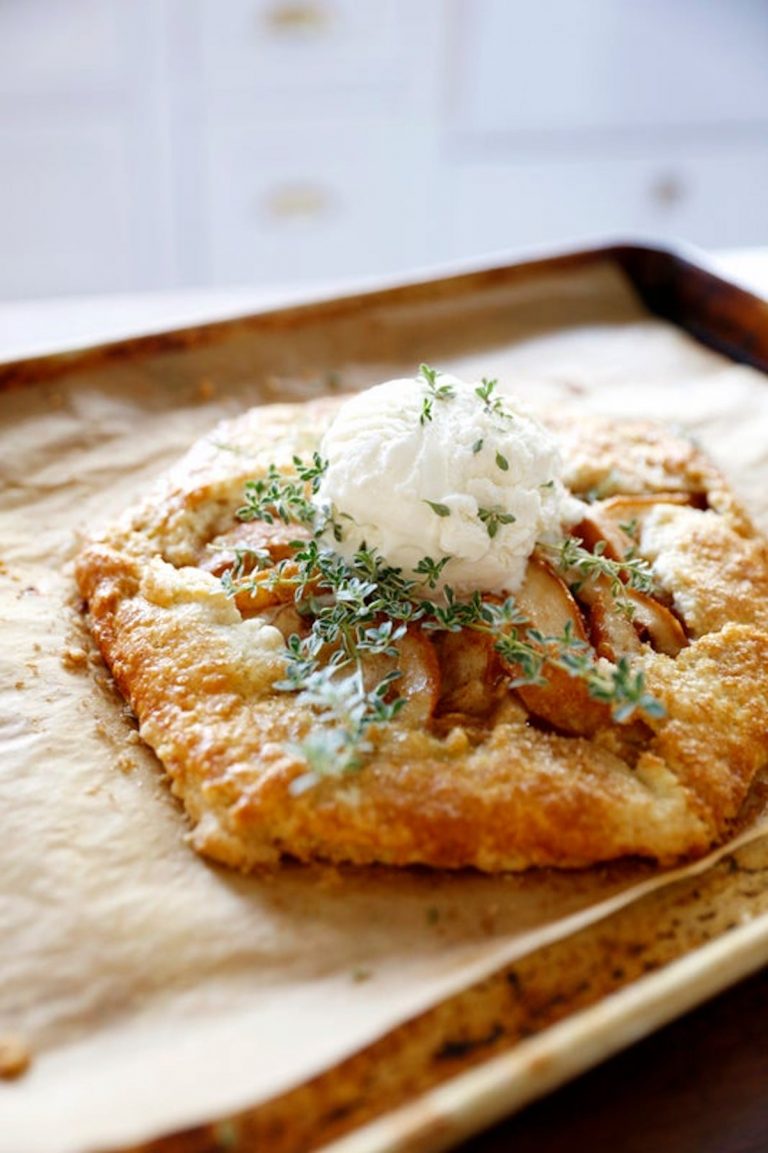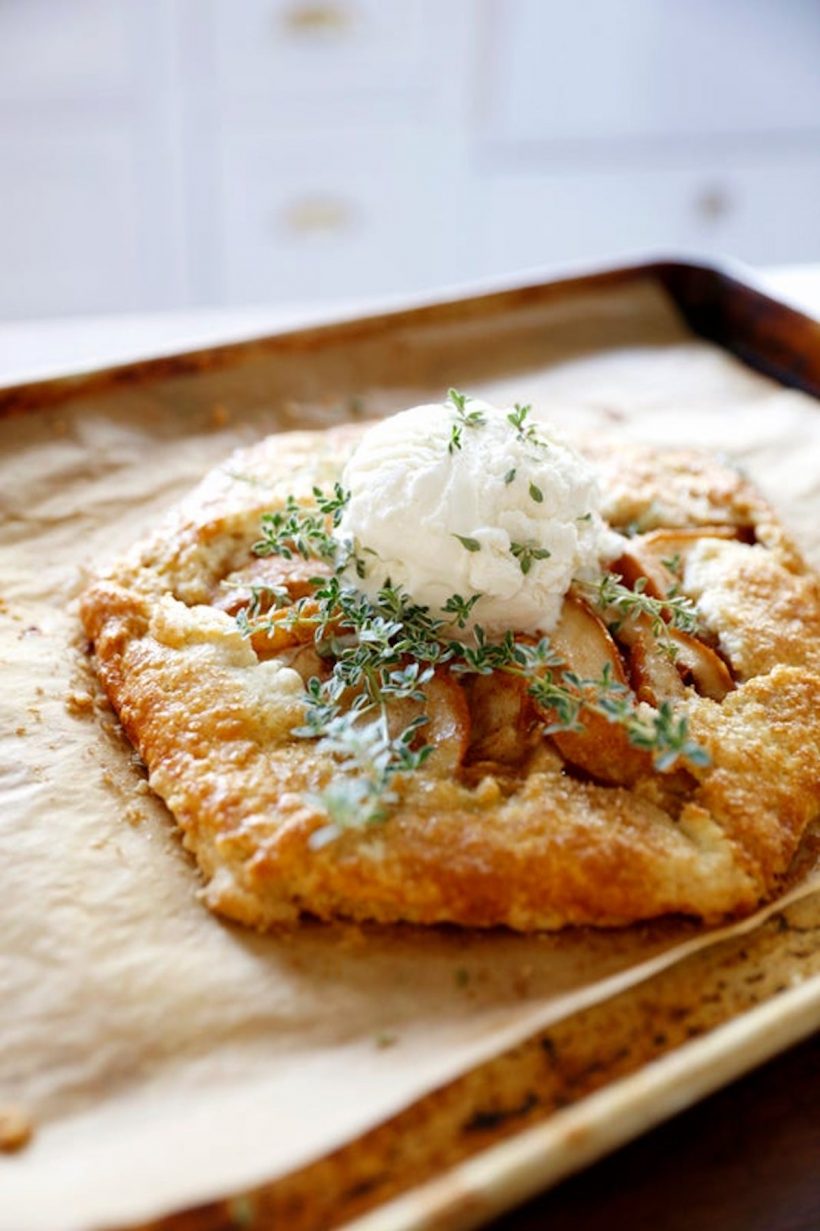 Why We Love It: Another beautifully delicious pastry, this pear galette is a work of art in all regards. Not only is it visually appealing, but it's a harmony of flavors helmed by ripe, juicy pears and elevated with a sprinkle of cinnamon. This one makes a stunning table centerpiece for your next gathering, so keep that in mind for your hosting needs! To make it ahead of time, I'd recommend keeping your elements separated until you're ready to bake. By doing this, you're allowing the galette to maintain its flaky integrity and jammy filling.
Hero Ingredient: Fresh thyme over top adds a dose of herby bliss.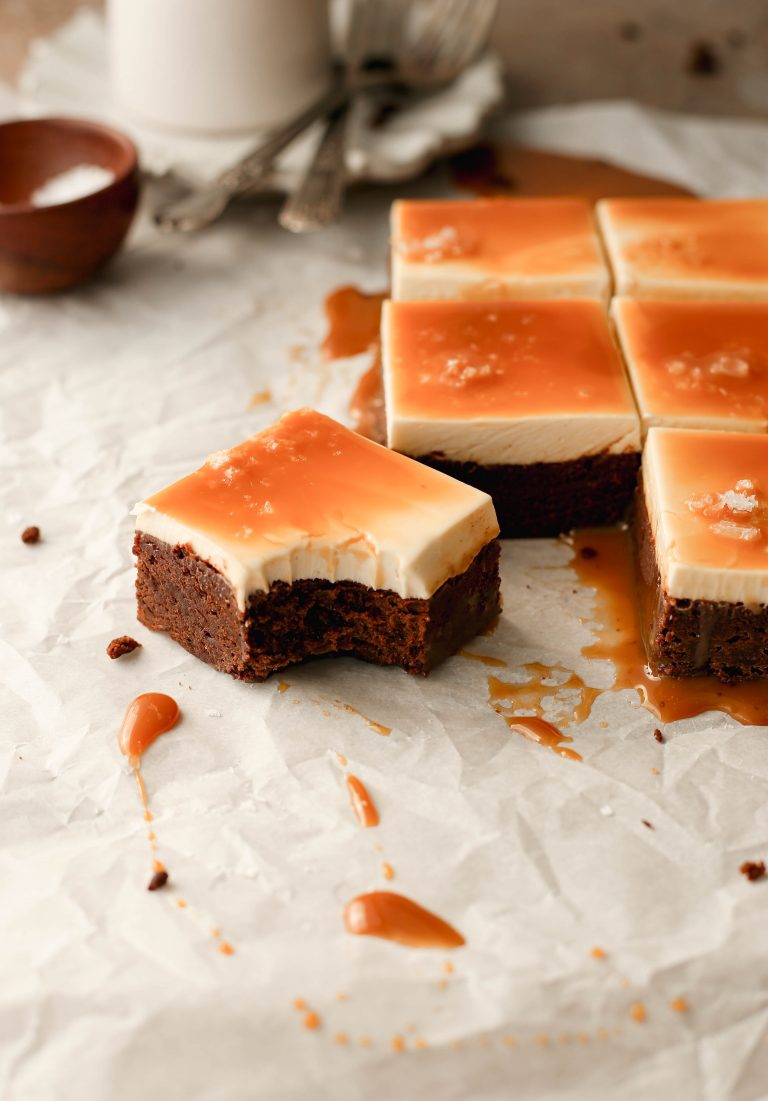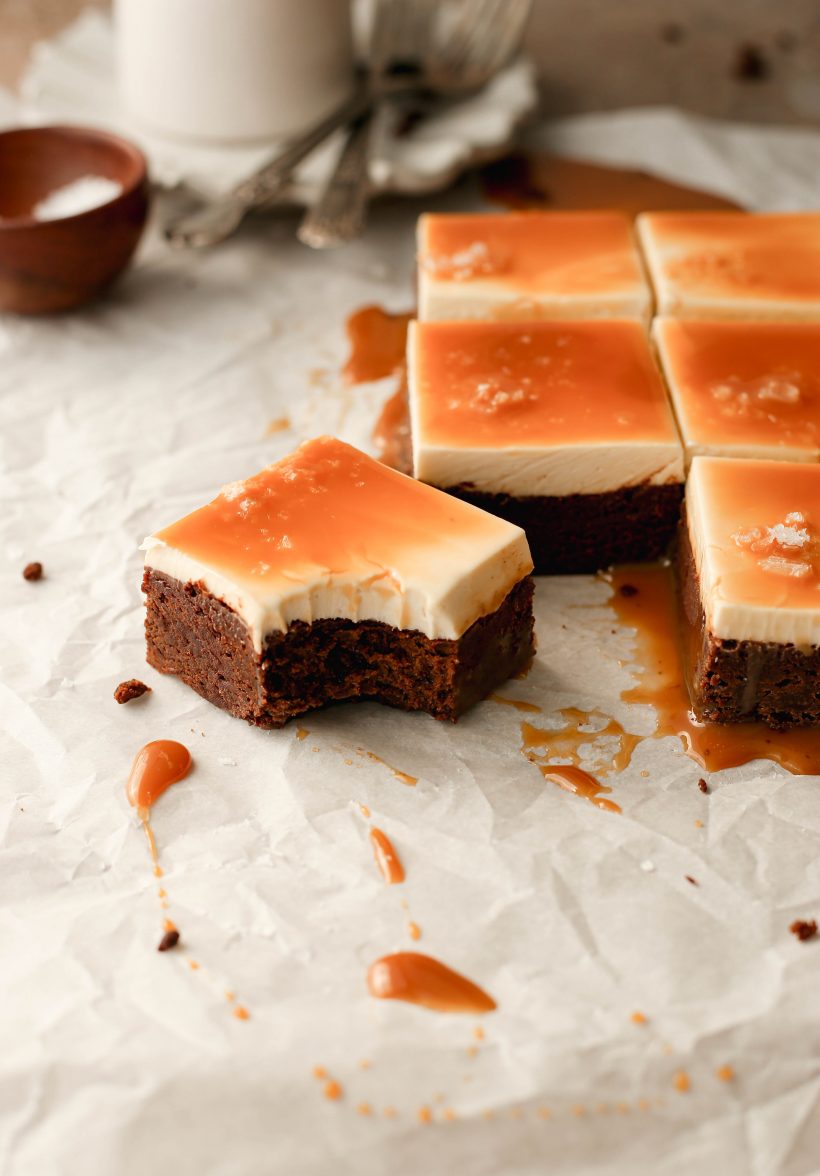 Why We Love It: To put it plainly, this is the ultimate dessert mashup. You're getting salted caramel, cheesecake, and brownie all wrapped up in one—say less. With a fudgy brownie base, luscious cheesecake, and gooey salted caramel over top, each bite is a decadent combination of desserts. You can fully assemble these and let them chill in the fridge until your dessert cravings come calling.
Hero Ingredient: The salted caramel sauce is not to be overlooked. Not only does it grace the top layer of this masterpiece, but it's swirled into the cheesecake layer as well.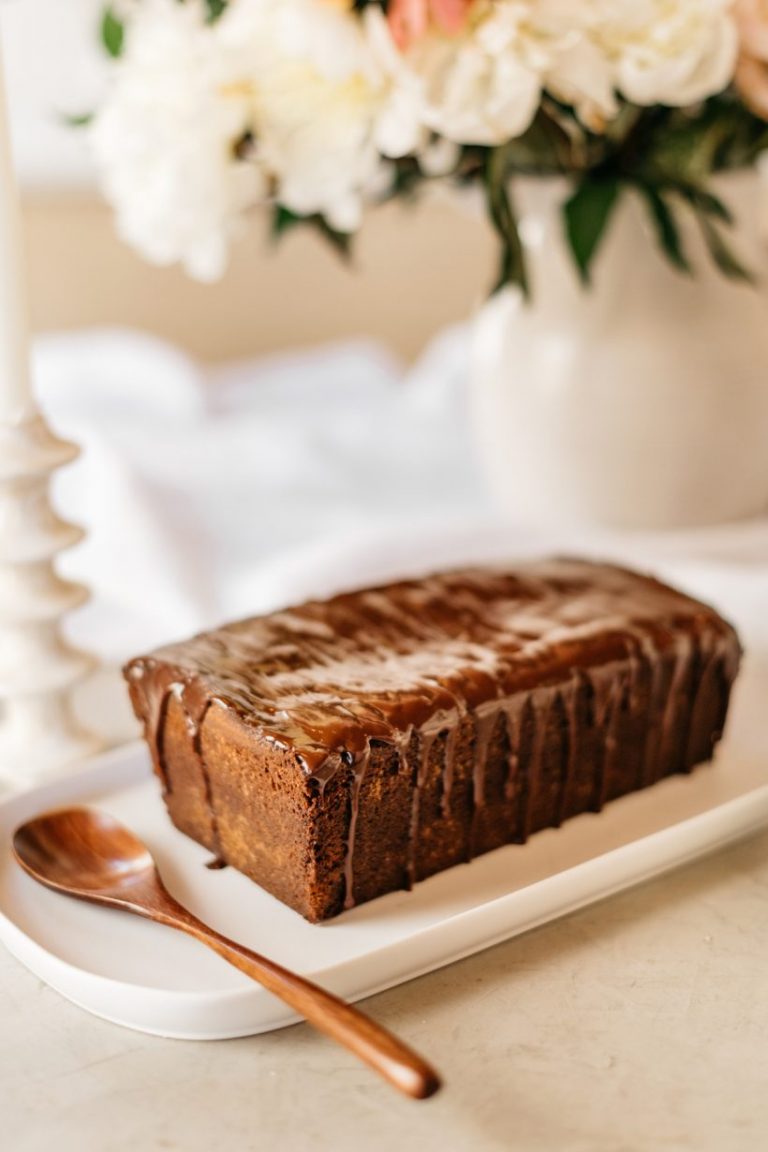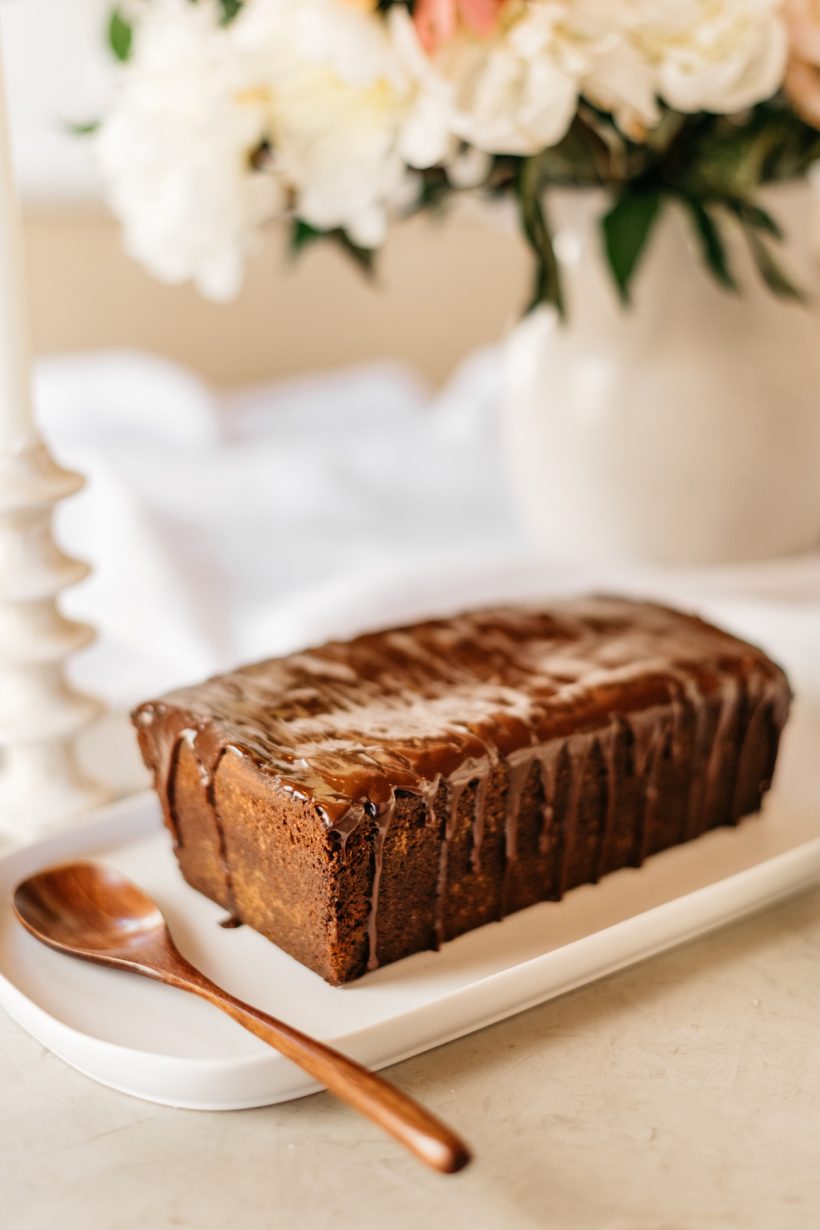 Why We Love It: A chocolate lover's dream, this cocoa creation is a twist on the classic pound cake we all know and love. It's perfect to enjoy after dinner, gift to a neighbor, or stow away in the fridge/freezer for a later date. Pound cake is a timeless classic that never fails to bring a smile to your face. With melted chocolate incorporated into the batter, you get a delicate chocolatey flavor infused throughout.
Hero Ingredient: Did I forget to mention the chocolate ganache glaze? Oh yeah. It's incredible.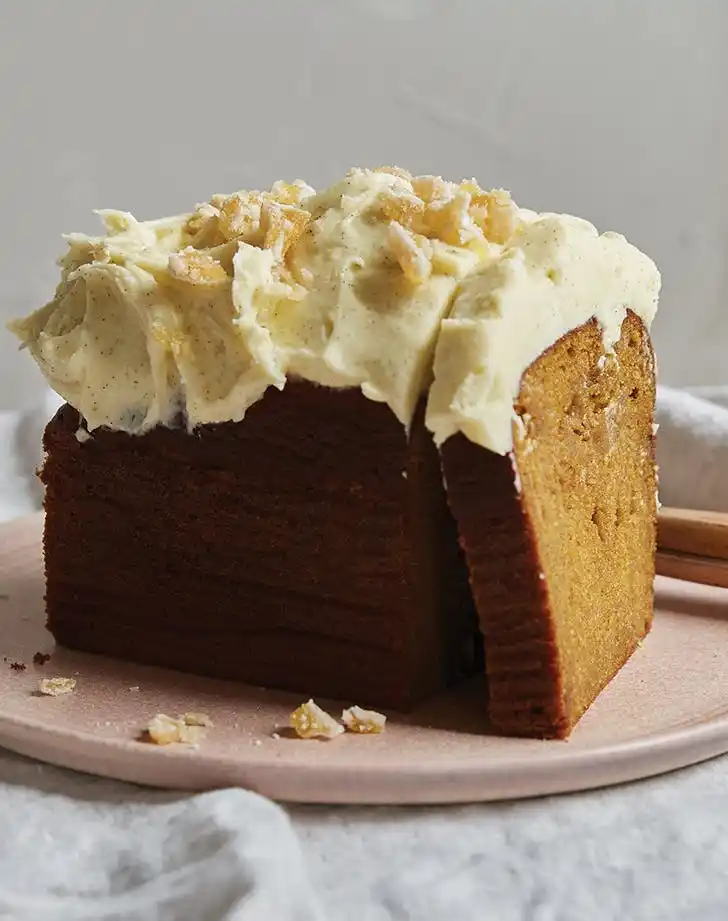 Why We Love It: A spicy/sweet treat that's delicious year-round, this sweet potato cake might surprise you. With aromatic spices like cinnamon, nutmeg, and ginger, you really can't go wrong. To top it all off, the tangy cream cheese frosting almost steals the show. To make this one ahead of time, you can fully assemble it and let it hang out in the fridge or freezer. Or, for a slightly fresher dessert, you can freeze the cake and make the icing separately. Either way makes for a show-stopping sweet that your guests will love.
Hero Ingredient: Fresh vanilla bean gives the batter a light floral vanilla flavor.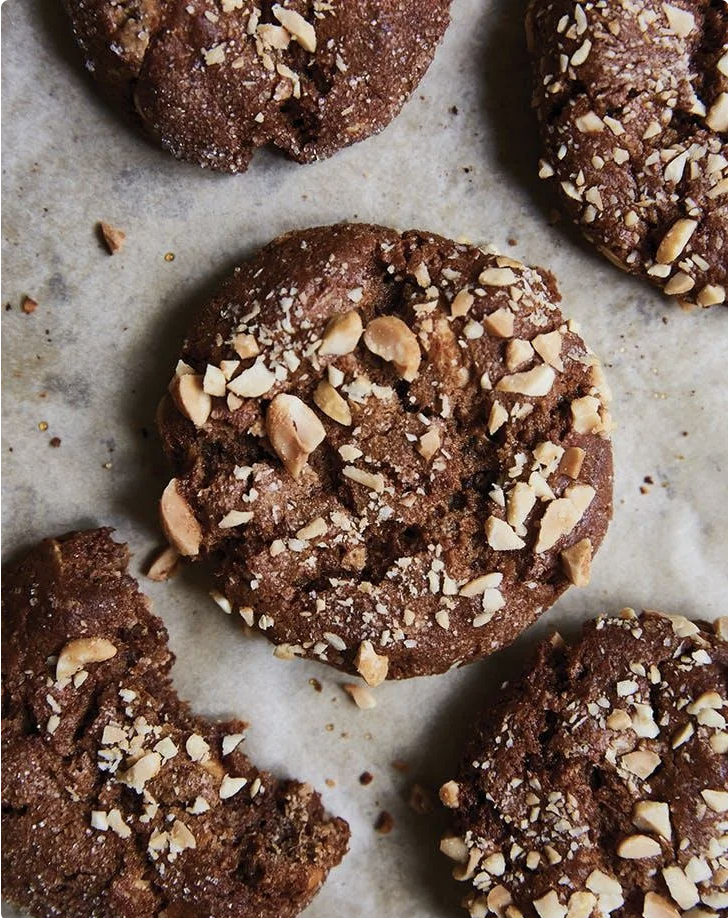 Why We Love It: More peanut butter banana is never a bad thing. In these gluten- and refined sugar-free cookies, you get a taste of salty and sweet in each delicious bite. These cookies are a guaranteed crowd-pleaser, and you'll find yourself reaching for one (or two, or three!) every time you pass by them. There are so many great ways to make these ahead of time—the possibilities are practically endless. You can freeze the dough, or bake and store on the counter or in the freezer. When the clock strikes dessert, you'll be covered.
Hero Ingredient: You're getting peanut flavor twofold here. Coarsely chopped peanuts stud the dough alongside creamy peanut butter.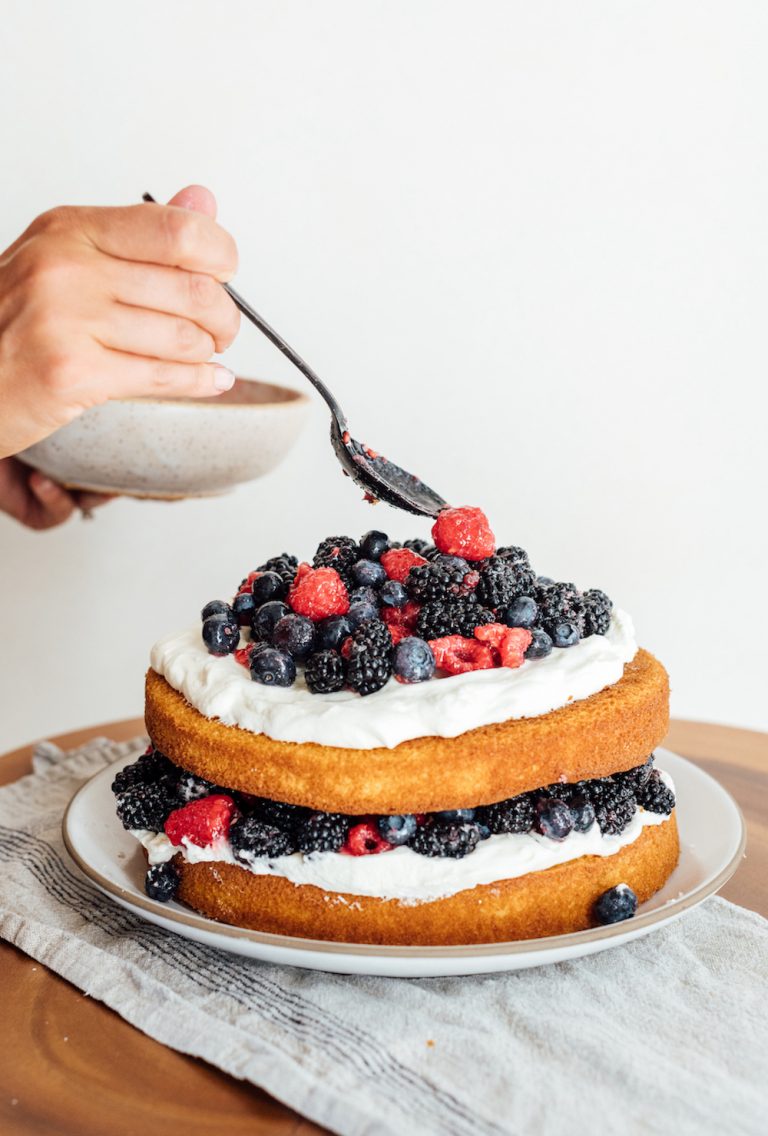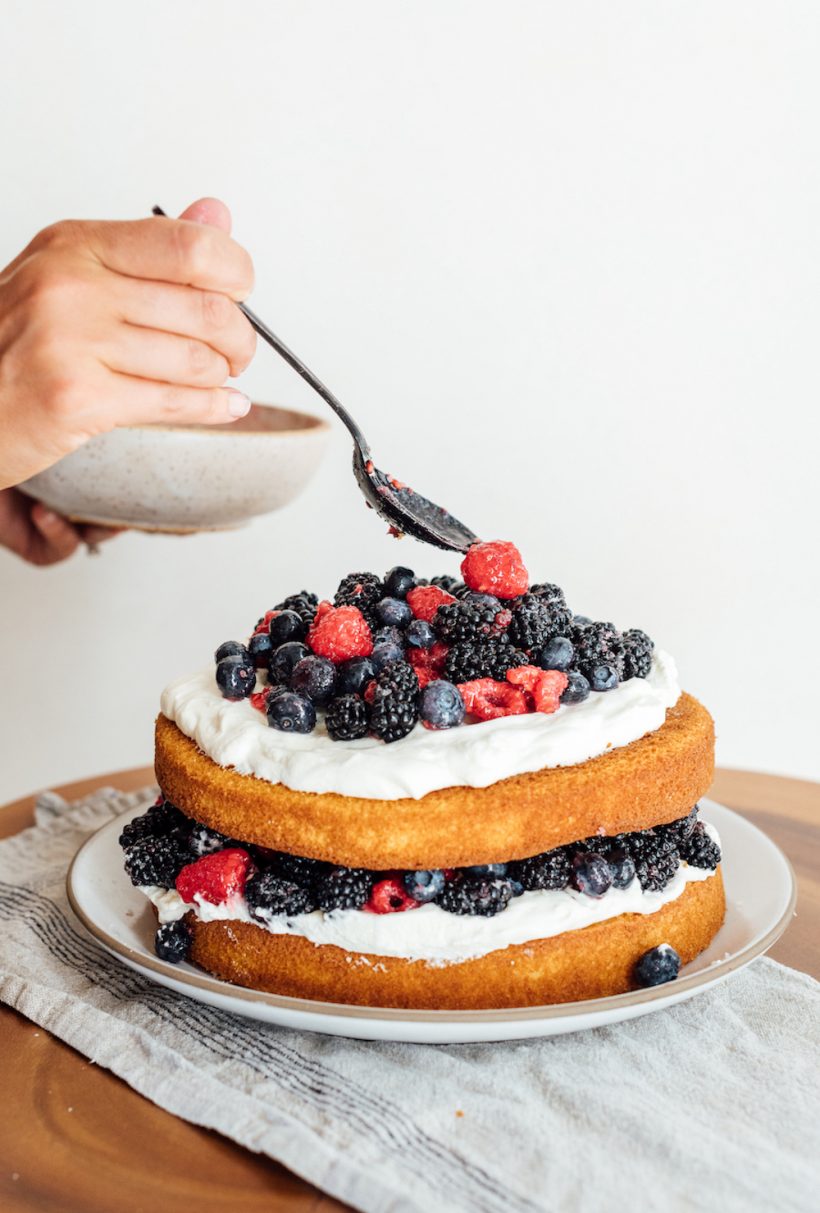 Why We Love It: A layer cake is the perfect celebratory dessert. It's stunning, easy to make with the right tools, and always delicious. And the great thing about this one is that you don't have to worry about the traditional fanfare! There's no crumb coat, no icing woes, and no piping needed. Instead, all you need is layers of cake, icing, and a few seasonal berries to nestle between each gorgeous tier. If you're making this one ahead of time, you can fully assemble and let it hang out in the fridge. When you're ready to serve, let it come to about room temperature and slice accordingly.
Hero Ingredient: Summer means seasonal berries galore. This cake is perfect for using them to their fullest.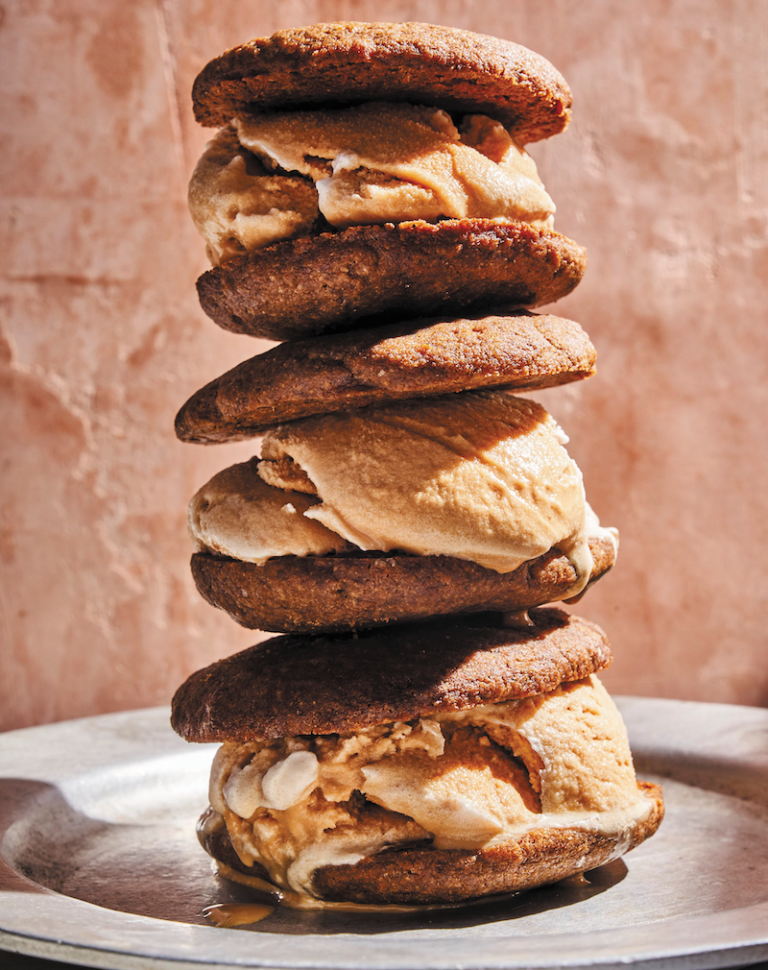 Why We Love It: Add a kick of spice to your cookie jar with these spicy molasses sandwich cookies. With just the right blend of sweetness and heat coupled with malt ice cream, these are full of pure enjoyment. The cookies maintain a crackly exterior and tender interior, with cooling ice cream sandwiched in between. To make these ahead of time, you'll want to keep the parts separated. Your cookies can chill out in the freezer baked or unbaked right alongside the ice cream. When you're ready to serve, simply make the two halves a whole and dig in.
Hero Ingredient: The cookies' spices deserve their own spotlight. Warm cinnamon, ginger, and cloves flavor the cookies to perfection.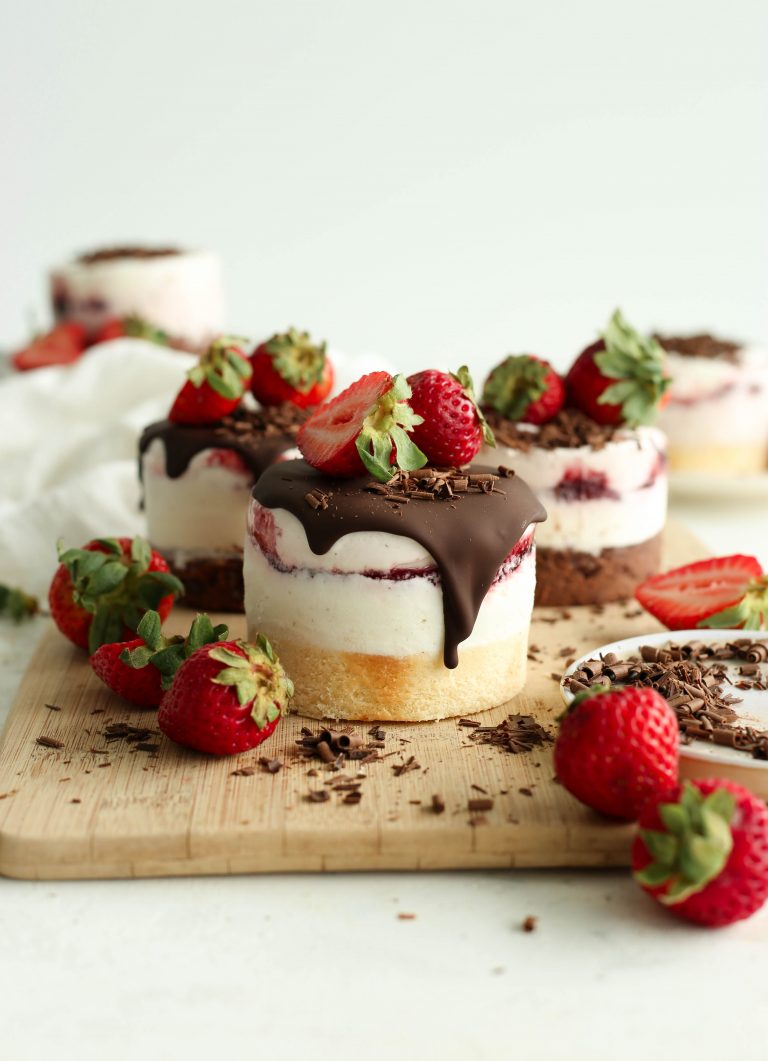 Why We Love It: These adorable mini ice cream cakes are the ideal make ahead dessert. Layers of creamy ice cream sandwiches between soft, cakey layers—all coated in a silky smooth chocolate ganache—make the most delicious, bite-sized dessert. The best part? They look much more labor-intensive than they actually are. In fact, it qualifies as a no-recipe recipe that could pass as an impressive feat. You can make these little gems entirely ahead of time to stow away in the fridge or freezer for sweet tooth satisfaction at the drop of a hat.
Hero Ingredient: The jam layer is not to be overlooked. A touch of tartness is the secret ingredient that makes this dessert absolutely addicting.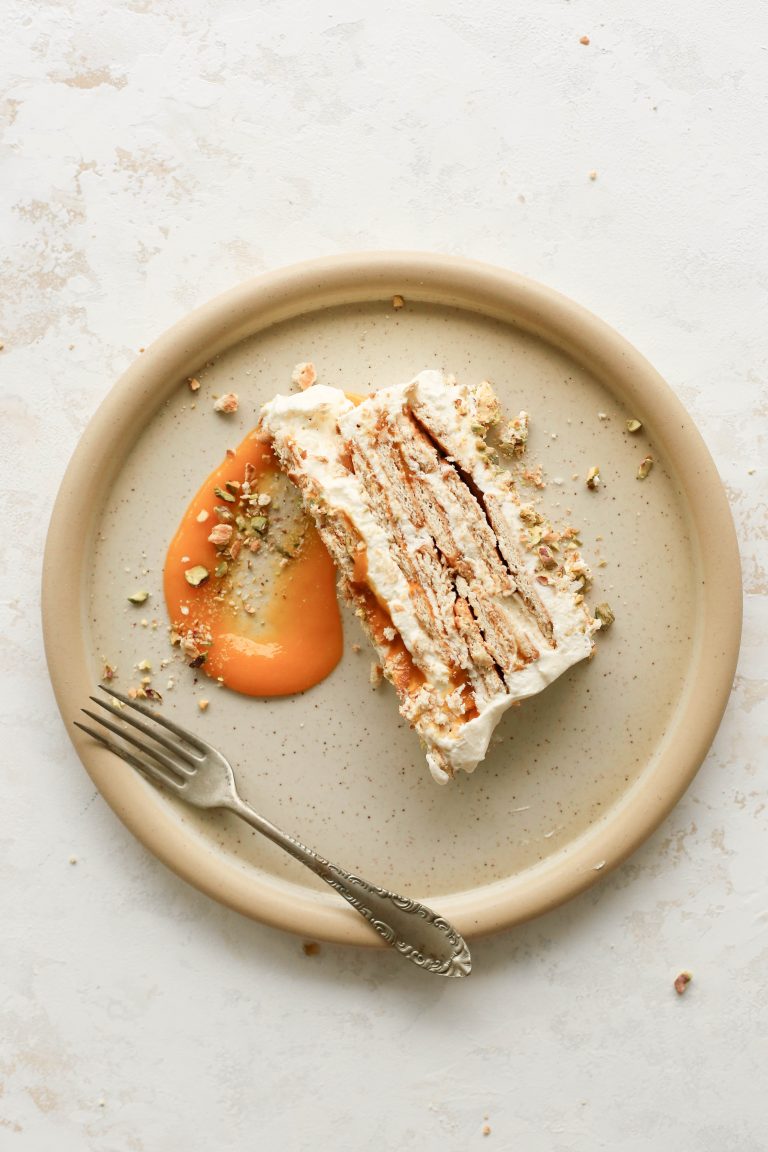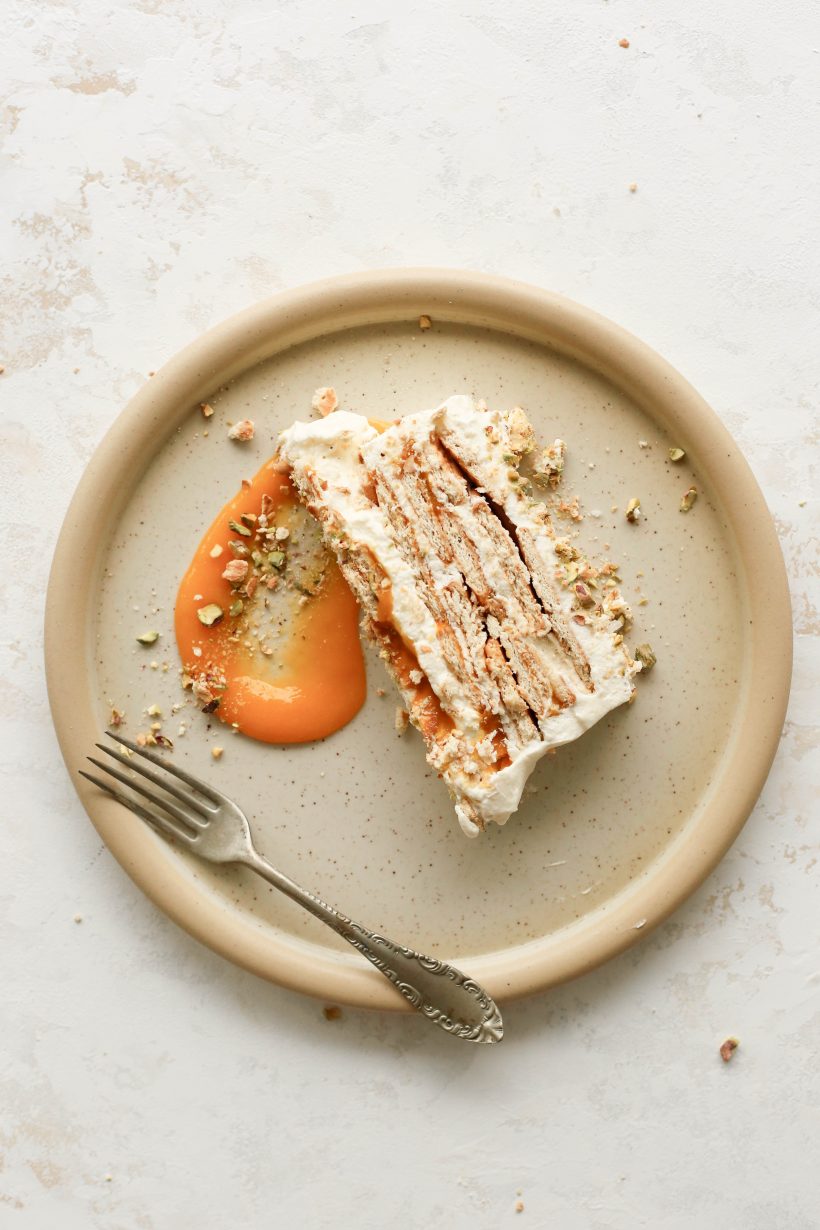 Why We Love It: Icebox cakes might be a little 80s, but this mango and cardamom version is proof of the tasty timelessness of retro desserts. It all starts with layers of luscious whipped cream flavored with the aromatic depth of cardamom. That whipped cream is nestled between layers of delicate mango slices and crisp graham crackers. Need more convincing? The salty pistachio crumble will change your tune.
Hero Ingredient: About that crumble, it combines chopped roasted pistachios with the leftover biscuits and flaky Maldon salt. It's simply fantastic.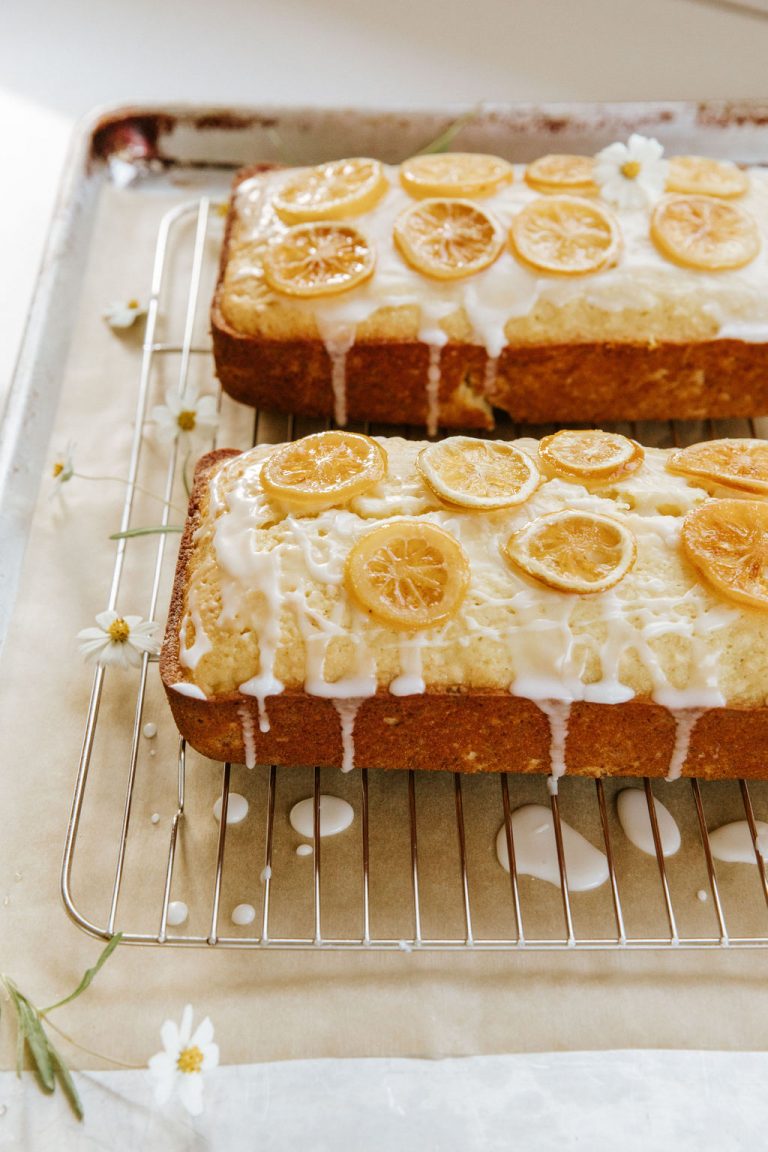 Why We Love It: Like the chocolate pound cake above, this lemon ricotta version is another elevated twist on the classic. Not only does it celebrate a bright lemon flavor, it also uses ricotta cheese to introduce a creamy richness that's different, but much appreciated. Each slice is home to citrusy goodness that's equally enjoyable as breakfast, an afternoon treat, or a proper dessert. Like the other make ahead desserts on this list, this one freezes really well if you'd like to make it in advance.
Hero Ingredient: The ricotta's creaminess is something you'll probably find yourself coming back to over and over again in this pound cake.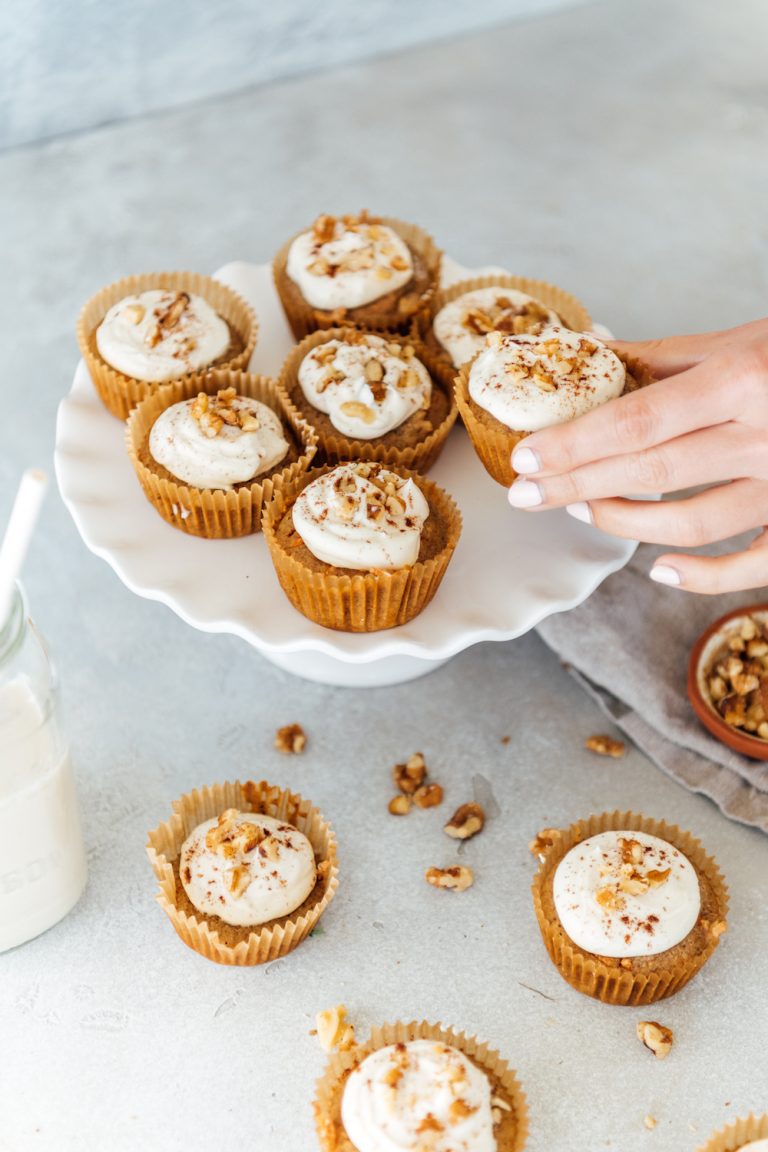 Why We Love It: Another carrot cake superstar, these mini versions deliver all the lovable flavors in the cutest package. They're the perfect size for enjoying with your morning coffee, after lunch, or later at night. Make them ahead of time, pop them in the freezer, and thaw when you're ready to enjoy. Or, these bad boys can hang out on the counter for a couple of days. Whichever way you prefer, these tiny cakes are endlessly enjoyable.
Hero Ingredient: To limit the sugar content, applesauce, coconut sugar, and maple syrup are the main sweeteners here.
Why We Love It: Like a crumble, this crisp is full of syrupy fruit and crisp, buttery topping. It celebrates seasonal peaches and tart cherries to create the most gorgeous fruit filling. With an oat crumble sprinkled over top, this one is a real winner. Top it off with a few scoops of vanilla and you'll be surprised by how quickly the whole thing vanishes. If you'd like to make this one in advance, you can bake it, freeze it, and pop it back in the oven when you're ready to serve.
Hero Ingredient: The cinnamon crumble is composed of oat flour, coconut oil, coconut sugar, cinnamon, and a pinch of salt. It's spectacular.
Why We Love It: On the more unusual side, this pineapple crumble is a real treat. With the addition of black pepper, the pineapple's sweetness fully shines. Cardamom joins the picture to provide a fresh, floral warmth—balancing the flavors out beautifully.
Hero Ingredient: If, like me, you're team crust, you'll love this one. It has an almost equal ratio of crisp topping to fruit filling.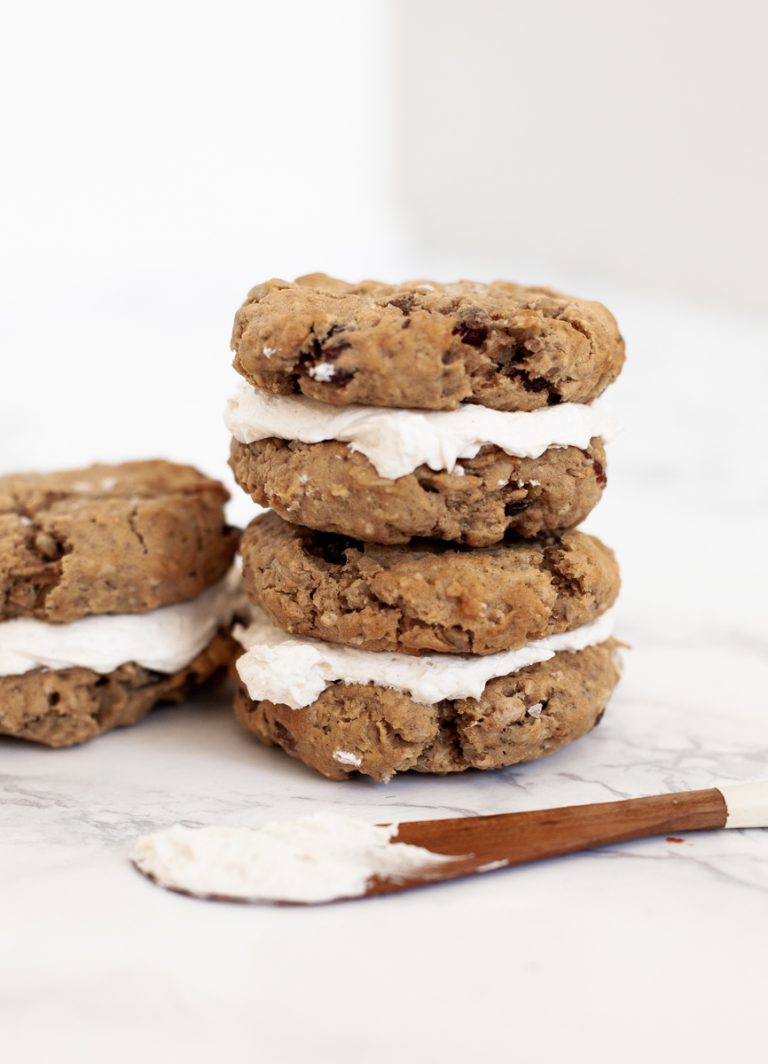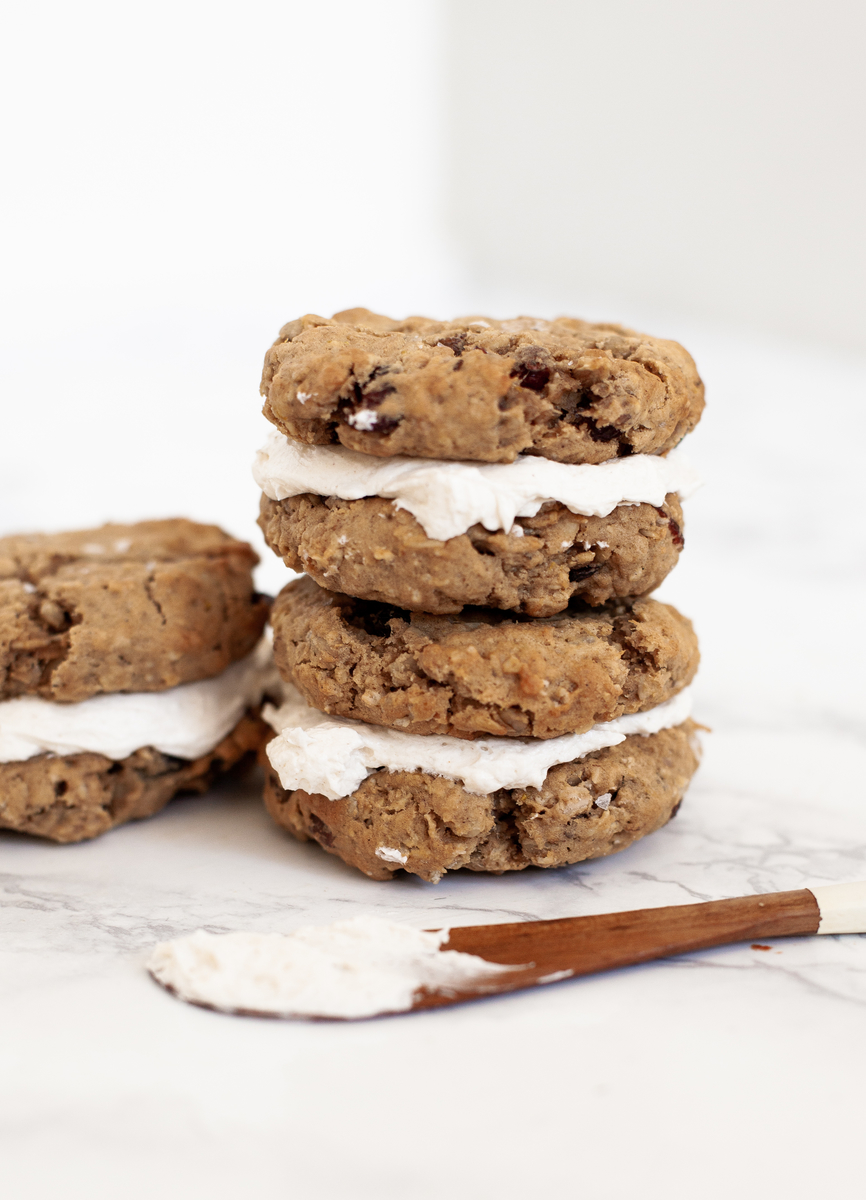 Why We Love It: Talk about a classic! These grown-up oatmeal cream pies are perfect in every regard. Some of my favorite childhood memories occurred with an oatmeal cream pie in hand, so I can't wait to whip up a batch of this upgraded version. These keep beautifully, letting you freeze a batch to be thawed and enjoyed on a dime.
Hero Ingredient: Cinnamon buttercream… dig it.
Why We Love It: A collaboration of two fan-favorite desserts, these s'mores cookies are packed with nostalgia. Mini marshmallows laced throughout the batter melt in the oven for plenty of ooey, gooey goodness. If you make these ahead of time, zap them in the microwave before taking a bite. That way, you'll get all the enjoyment of melty marshmallows and soft chocolate chips.
Hero Ingredient: A generous handful of cornflakes provide just the right amount of crunch to the cookies. It's magic.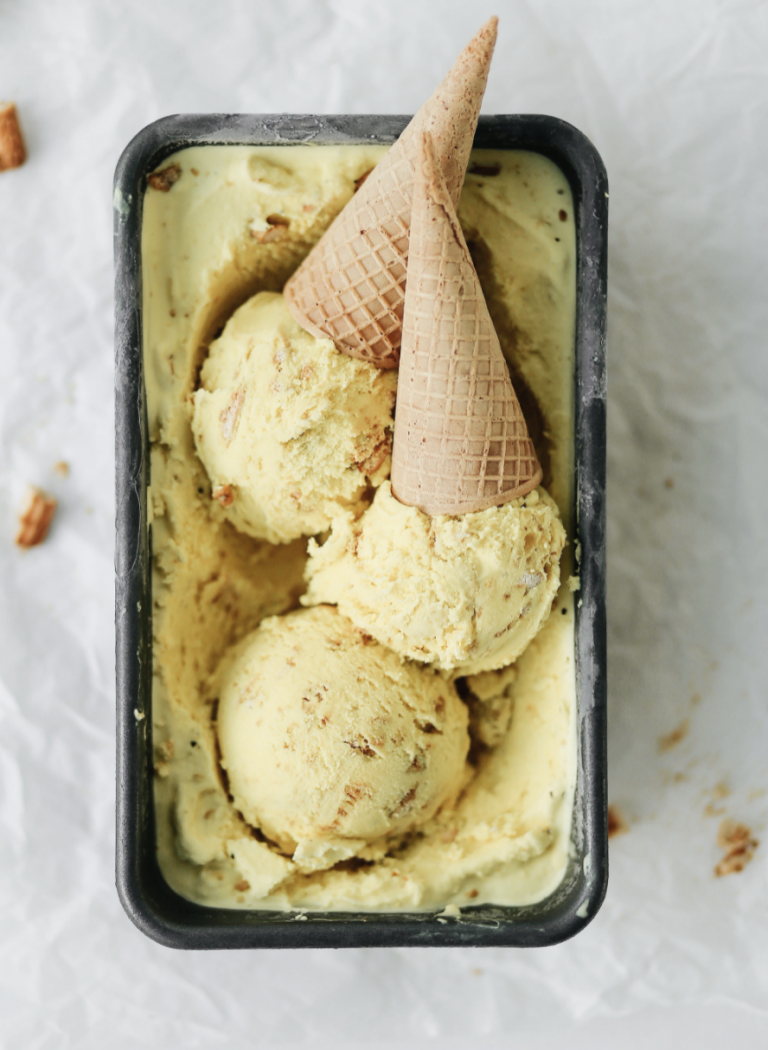 Why We Love It: Ice cream is the perfect make ahead dessert. And this version proves that you don't have to sacrifice flavor for ease. An ode to a classic golden milk latte, this haldhi doodh ice cream is the no-churn, no-frills dessert you need this summer. With notes of chai, black pepper, and candied ginger, you'll want this in your freezer at all times.
Hero Ingredient: Don't forget about the mix-ins! Crushed biscuits bring the crunch, candied ginger brings the punch, and freshly ground black pepper packs a subtle heat that complements the ice cream beautifully. It's a beautiful flavor combination to behold.