If you haven't noticed: Mother's Day is rapidly approaching! It's time to give back to the women in our lives—or take this opportunity to treat ourselves! And because sweets are the language of love, we've rounded up several Mother's Day desserts to help you celebrate accordingly. Each dessert on this list is studded with springtime senses and is easy to make. To show love to all the mommas out there, choose a favorite or two from this list and get baking!
Featured image by Michelle Nash.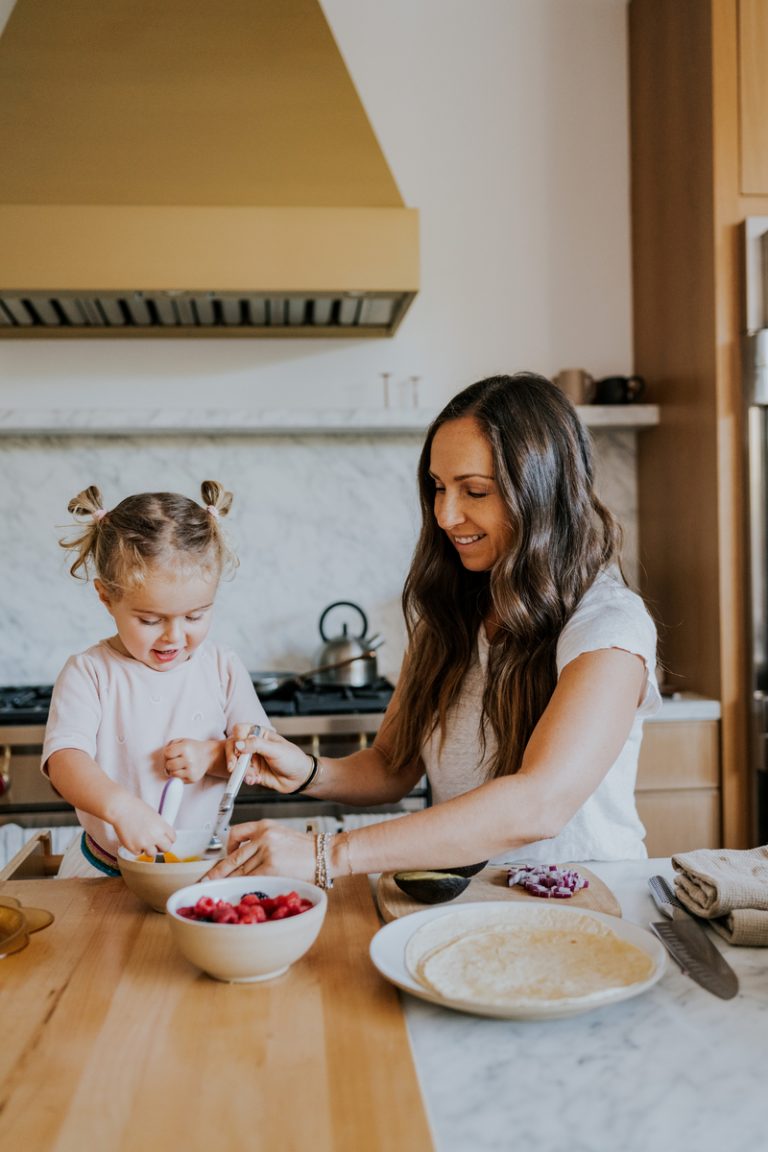 15 Mother's Day Desserts as Sweet as Mom Herself
Does anyone else feel like time is flying lately? I was slightly shocked to receive a call from my local florist earlier this week asking if I wanted to send my mom flowers again this year. All I could think was, "how can it already be Mother's Day?"
I quickly got my bearings and geared up for the excitement of the holiday. Because, let's face it, there's nothing like celebrating the most special women in our lives, and I can't wait to show my mom some love.
I've learned a lot of life lessons from my mom—everything from dressing for an occasion to navigating a tricky friendship. It's these lessons that continue to inform my life choices and guide me in the right direction—which I have my mom to thank for. And I'm sure many of you out there feel the same way, which is why it's only right that we celebrate them accordingly! From cake to tiramisu and everything in between, this list of Mother's Day desserts is sure to help you give back to the number one woman in your life.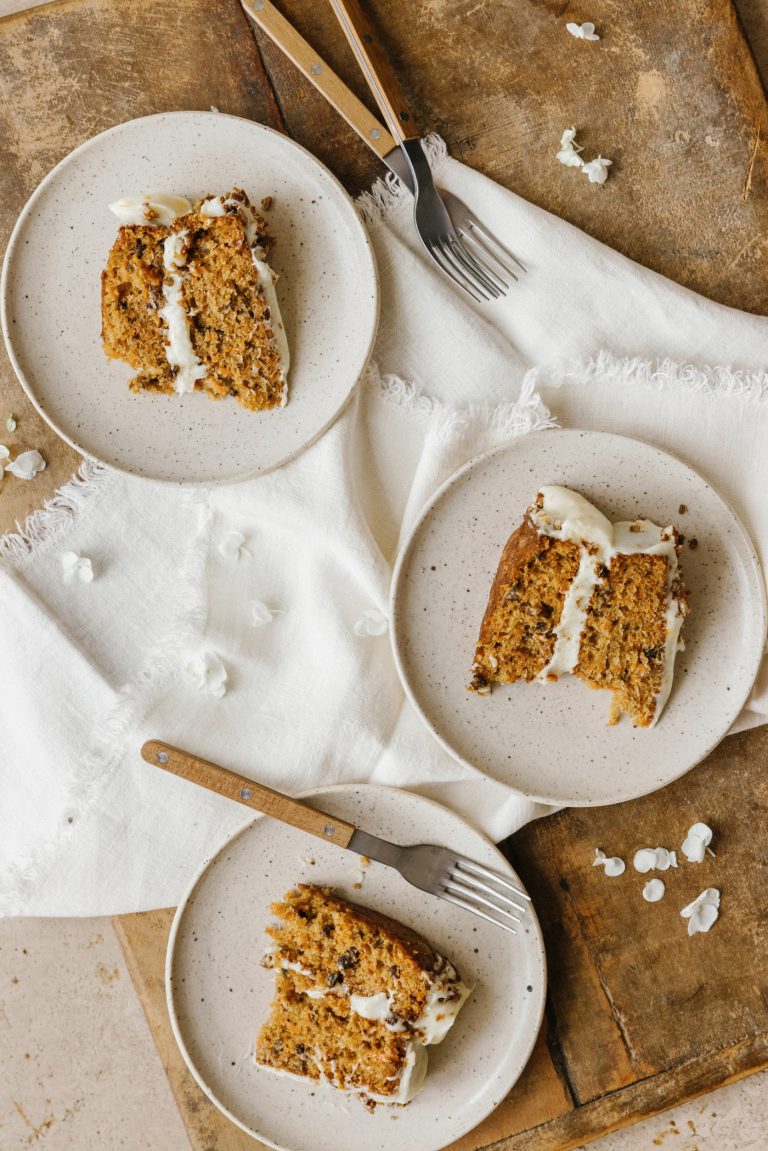 Why We Love It: Nothing screams "spring" quite like carrot cake. It's subtly spiced and bursting with spring colors that feel celebratory in their own regard. While it boasts all the traditional carrot cake elements, this recipe has a secret flavor weapon that brightens up the cake. Orange zest and juice keep things light and springy. Perfect for mom.
Hero Ingredient: Toasted pecans laced throughout the cake give it the perfect amount of nuttiness and crunch.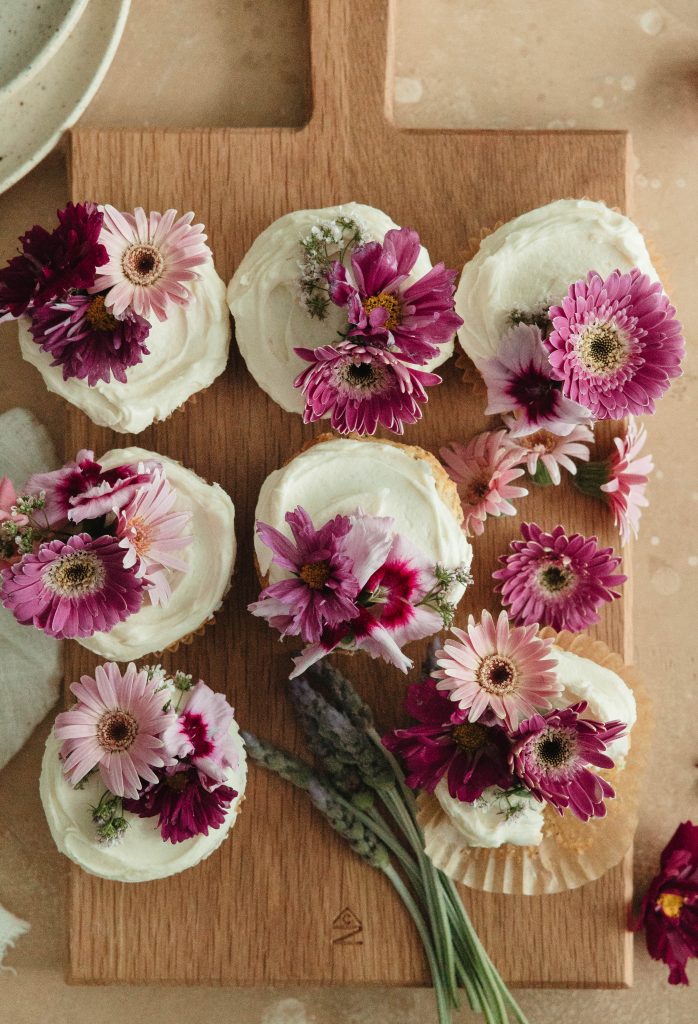 Why We Love It: It's safe to say that we're kind of muffin enthusiasts around here. In this particular selection, lemon, orange, and poppy seed come together to create the springiest muffin there ever was. The key to success, however, is the olive oil in the batter. Use the good stuff here because you can definitely taste it! The olive oil keeps this muffin nice and moist while highlighting each gorgeous citrus flavor.
Hero Ingredient: Our eyes eat first, which is why real flowers take the cake. Be sure to check out the recipe for tips on how to safely enjoy their beauty.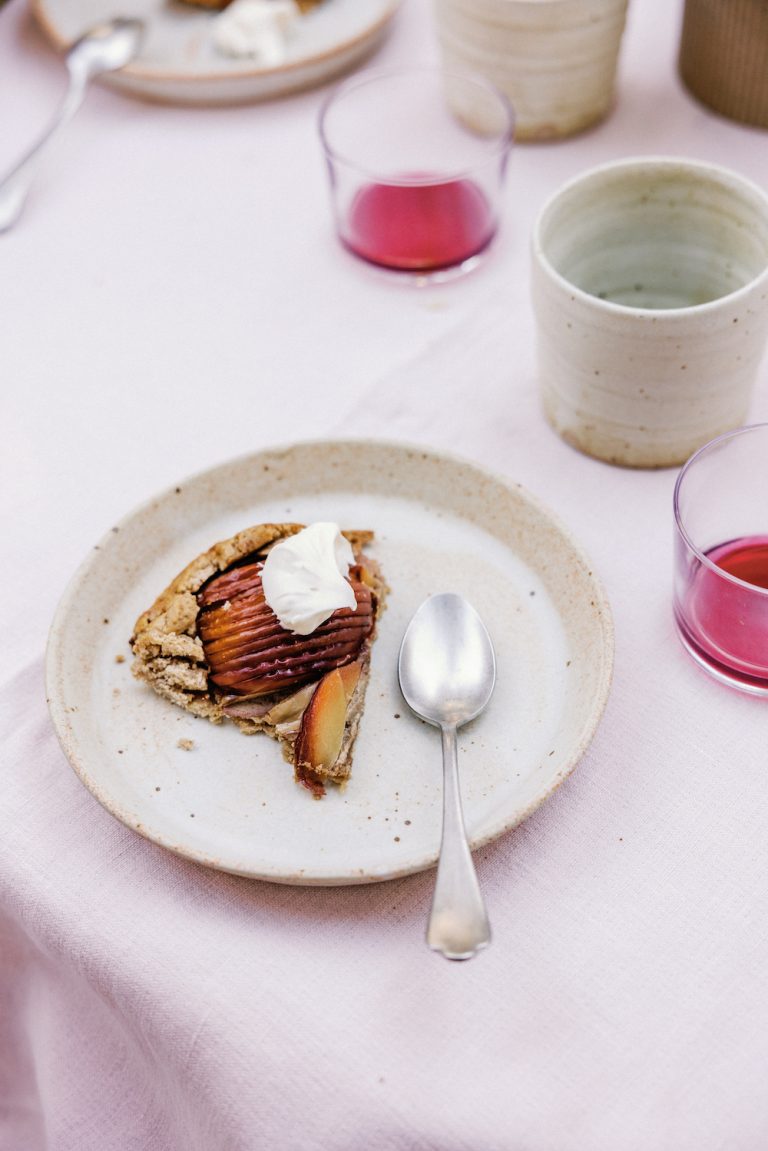 Why We Love It: A rustic pastry layered with pluots and crème fraiche is the perfect gift to mom. The fresh fruit filling introduces just the right amount of sweetness to the tart, while the crème fraiche keeps things light and refreshing. In case you're unfamiliar (as I was), pluots are sort of like a plum/apricot hybrid. They retain all the sweetness of a plum, albeit some of the bitterness. Basically, they're delicious and lovely and deserving of the spotlight.
Hero Ingredient: The key to success with this recipe is brushing your pastry with egg whites before adding the fruit. That way, the pastry stays flaky without getting bogged down by too much fruit juice.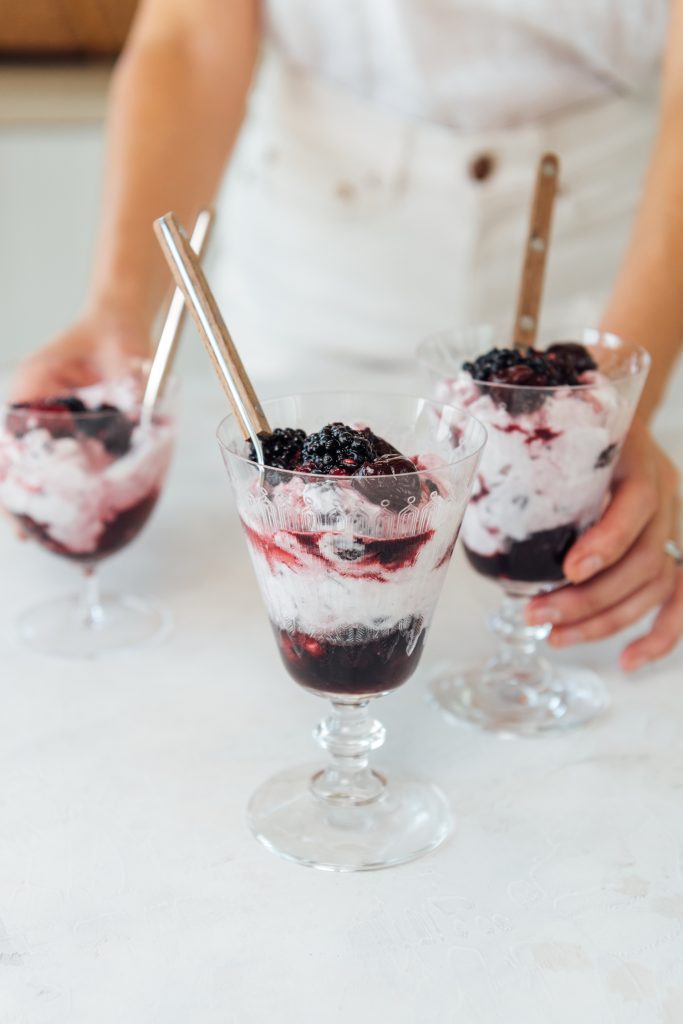 Why We Love It: Four ingredients and a picturesque serving vessel are all you need to bring these gorgeous fools to life. Paying homage to a classic parfait or trifle, fools are one of the simplest desserts out there. The basic idea is whipped cream, macerated fruit, repeat. Seem easy enough? I think yes. Oh, and the best part? You can make everything in advance and let it hang out in the fridge for a bit before you're ready to serve. Easier than pie.
Hero Ingredient: You better bet we're using citrus here. A bit of lemon juice and zest wake up all those lovely natural fruit flavors.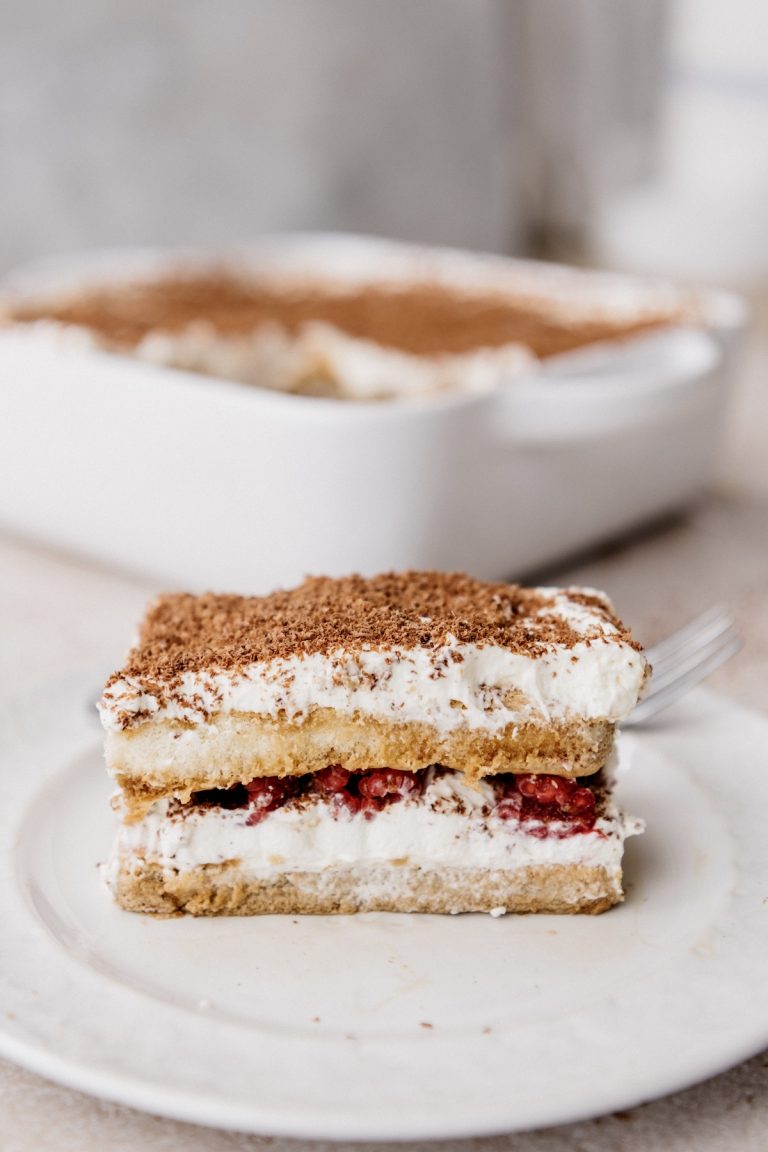 Why We Love It: My mom and I share a special love for tiramisu—as we do for coffee. So the sponge-y ladyfingers soaked in espresso are a match made in heaven for us. Couple that with creamy mascarpone, tart raspberries, and chocolate shaving to top it all off? Sold. The addition of raspberries and raspberry liqueur also brighten up the dessert and elevate it to new heights. Plus, it's a no-cook dessert, which means you can enjoy it in the upcoming summer heat.
Hero Ingredient: The chocolate shavings are truly the pièce de résistance. Sure, you could use cocoa powder, but I'm team chocolate all the way.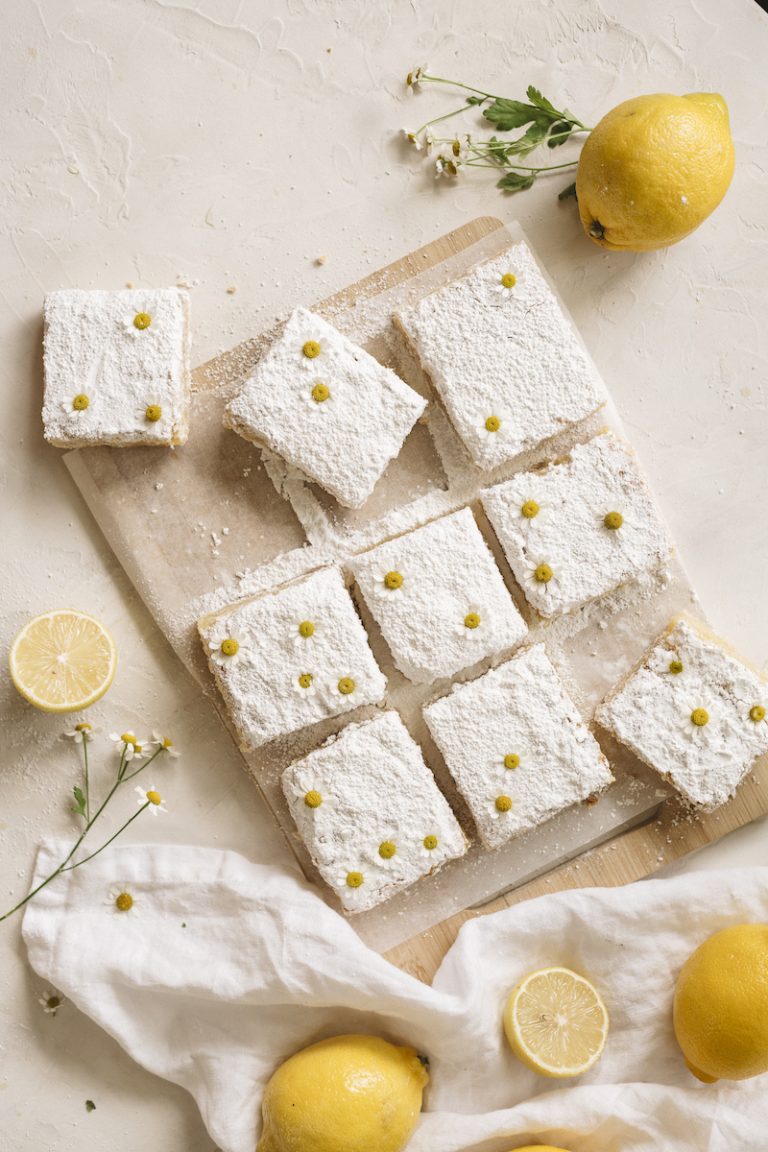 Why We Love It: Lemon bars are a staple for springtime. The tartness from the lemon filling, the butteriness from the pastry, and the sweetness from the powdered sugar are my personal dream collab. You just can't beat the indulgence. Plus, this gluten-free variety is the real deal. For those who are gluten-free, this is your calling card.
Hero Ingredient: Cold butter is absolutely essential to make the pastry as flaky as possible. I like to cube it up in advance, then store it in the fridge until the last possible moment!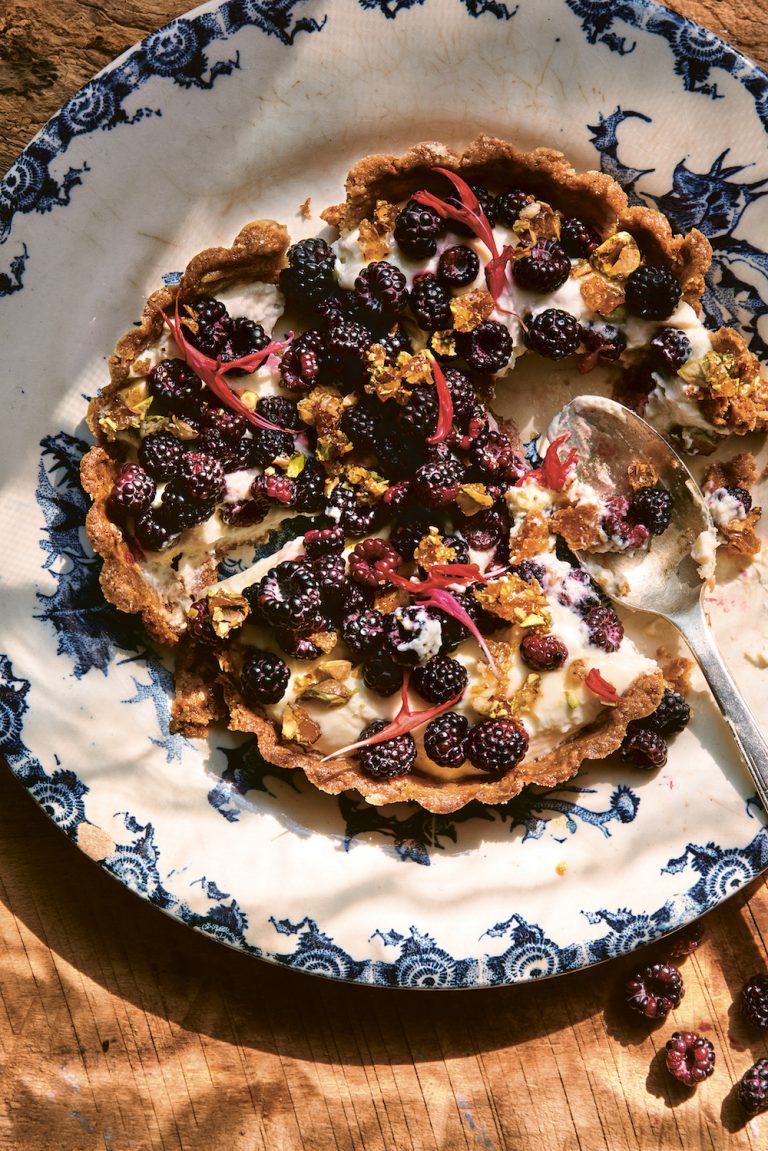 Why We Love It: You can never have enough berries this time of year. They're in peak season, which means each is as juicy and sweet as possible—making them the perfect addition to your Mother's Day desserts. These tartlets are a little more involved than some of the others on this list, but don't let that scare you away! You can make some of the components up to three days in advance.
Hero Ingredient: The pistachio praline sprinkled over each tartlet is simply magical.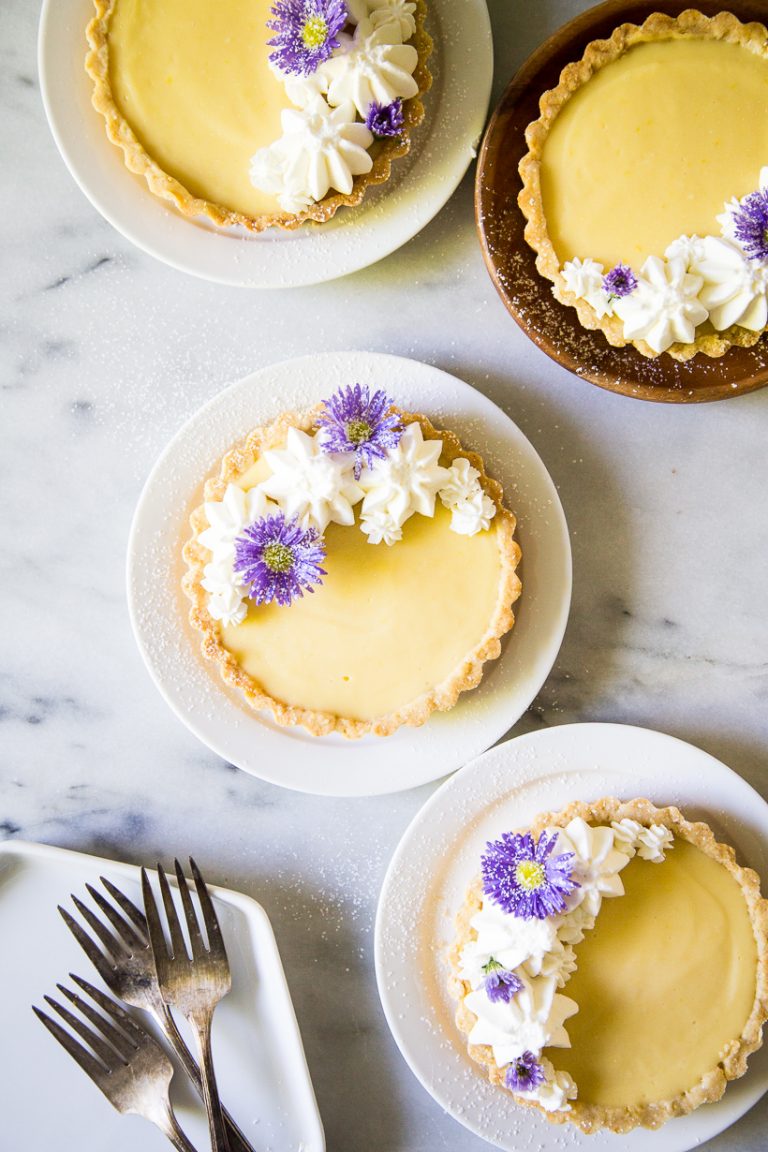 Why We Love It: We've covered gluten-free, but this one is for all you dairy-free friends out there. These lemon tarts with orange blossom whipped cream are to die for. And if you thought it wasn't possible to make a delicious lemon curd without heaps of butter, think again. With the perfect combination of coconut oil and egg yolks, the golden curd comes to life in the most satisfying way.
Hero Ingredient: About that orange blossom whipped cream… it's incredible. Using heavy cream, orange blossom water, and a squeeze or two of honey, it might become your new favorite dessert topper. You've been warned.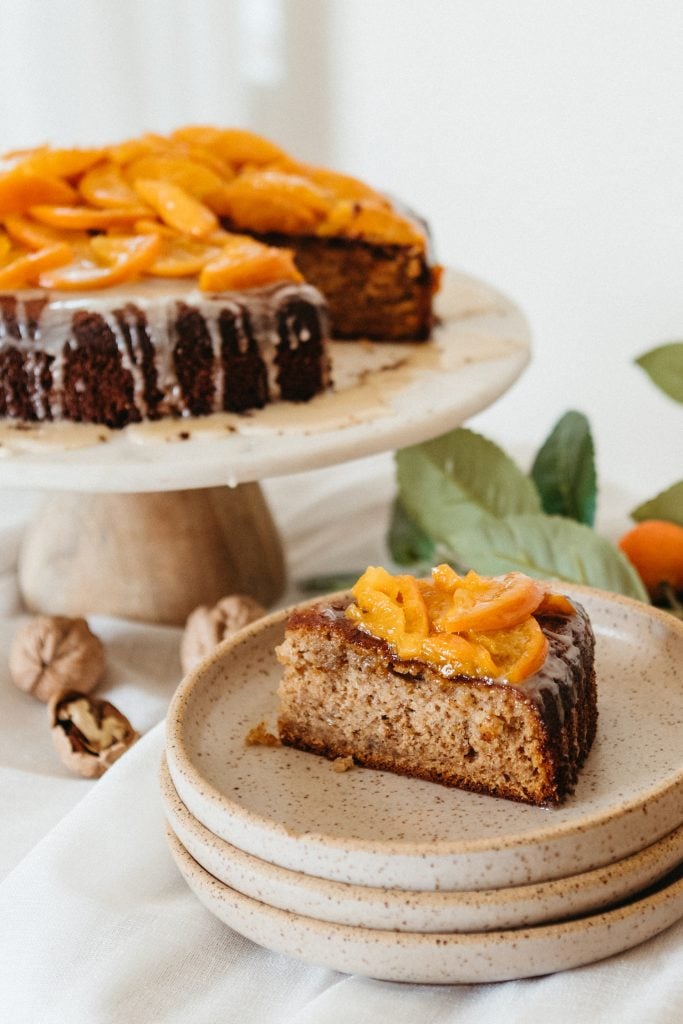 Why We Love It: If you're unfamiliar with the term "snacking cake," prepare to be amazed. A snacking cake is a cake that you can serve after dinner as dessert, then keep on the counter for all-day snacking throughout the week. I dare you to try walking past this olive oil cake without cutting yourself a slice. It's that tempting. It's also a cozy companion for your morning coffee. With orange notes throughout, nutty walnut flavor, and a simple glaze to top it all off, this one is a gem.
Hero Ingredient: I'm not saying this cake is healthy, per se, but let's chat about the health benefits of walnuts! Just one ounce of these nuts provides you with four grams of protein, two grams of fiber, and 45 mg of magnesium. They're great for stabilizing blood sugar and keeping you fuller longer, which is definitely worth highlighting.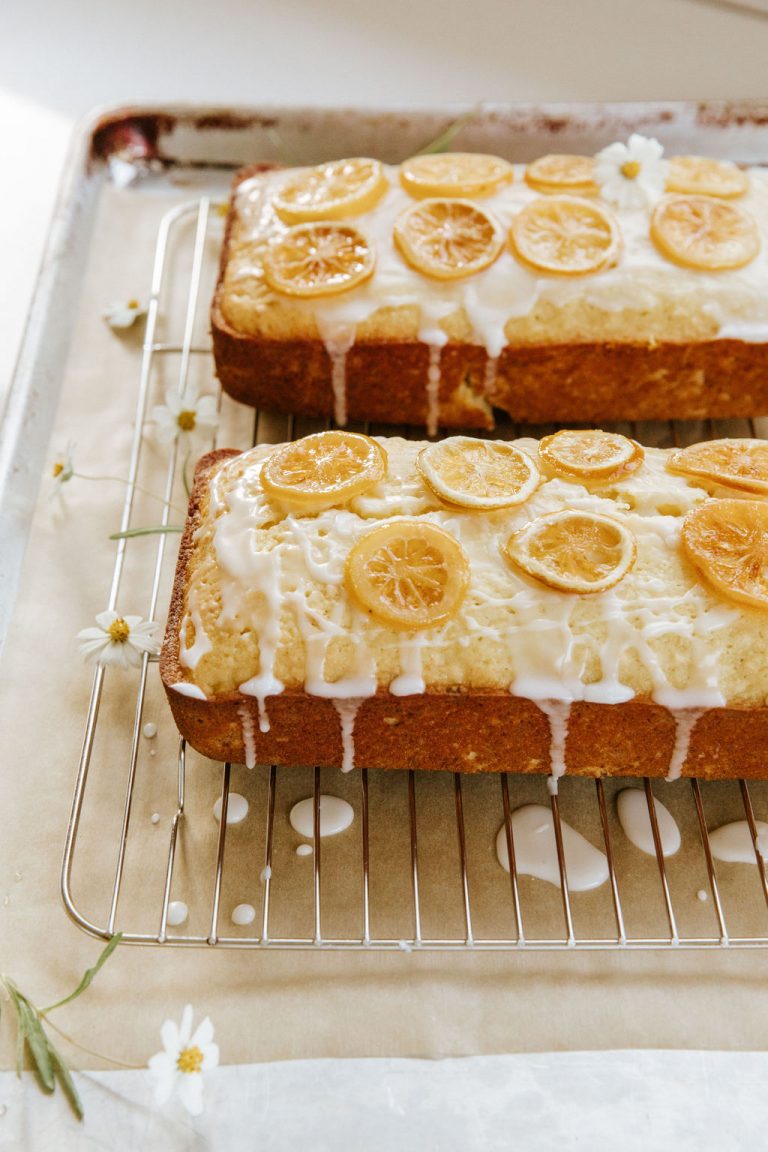 Why We Love It: Pound cake is another classic that, like many of you probably understand, reminds me of my mom. For any family gathering, celebration, or neighborly gift, my mom would whip up a classic pound cake to give out. It's one of those desserts that you can't mess up, which makes it perfect for keeping in your back pocket. In this recipe, it gets an upgrade with homemade ricotta and lots of lemon-y goodness. This one is all about the process, so be sure to embrace the methodical slowness along the way!
Hero Ingredient: Candied lemon slices are like, well, candy. Not only do they make the cake look stunning, but they drive home the fresh lemon flavor.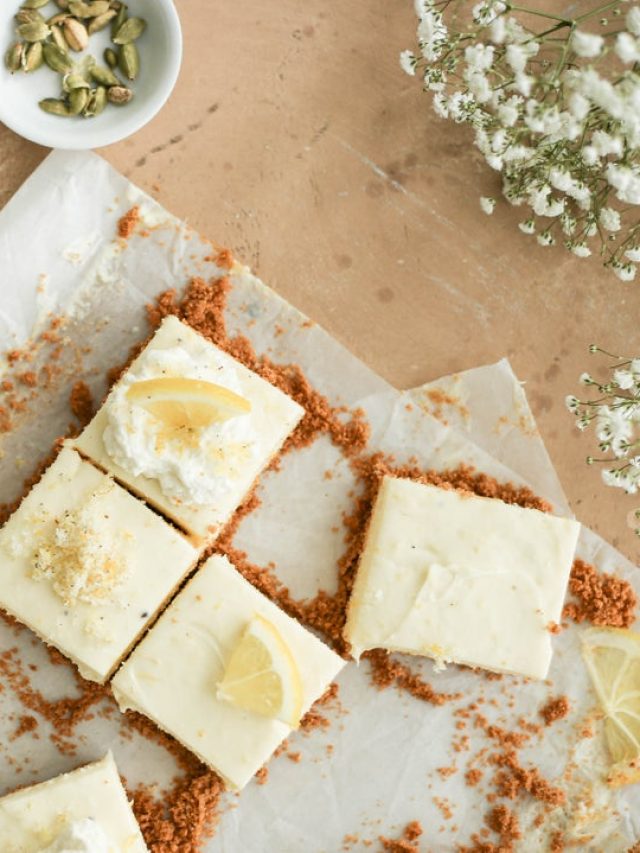 Why We Love It: Our food editor, Suruchi, claims these lemon cardamom slices as her greatest creation to date. And I couldn't agree more. The addition of freshly-ground cardamom is the secret ingredient that makes the most flavorful difference. The flavor profile from the cardamom is floral, warming, and a tad bit minty in the best way. Then, white chocolate, cream cheese, and lots of lemon create a luscious filling that sets to perfection.
Hero Ingredient: When has a graham cracker crust been anything less than amazing?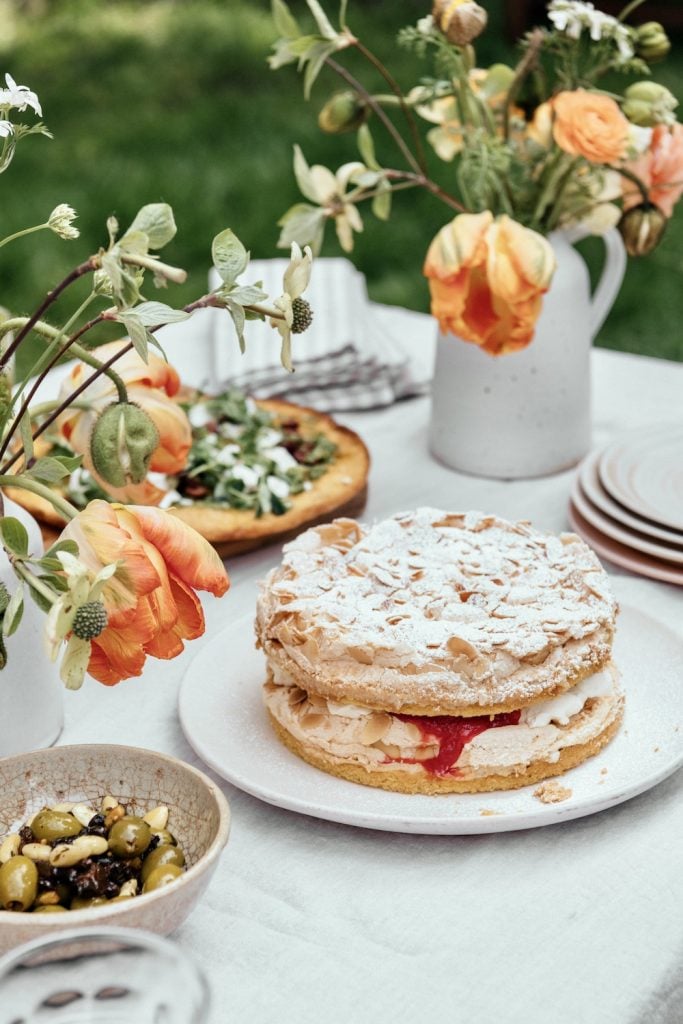 Why We Love It: A meringue cake may seem a little intimidating, but it's easier than you might think! Plus, it's absolutely stunning and makes a beautiful centerpiece for your table. This one is composed of rhubarb compote (hint: you can make this ahead of time), fresh raspberries, whipped cream, and delicate meringues. Sliced almonds over top lend a slight crunch and nutty flavor to the cake that's so delicious. This is a Mother's Day dessert that elevates any table.
Hero Ingredient: The rhubarb compote is quite simple, but you can definitely make it in advance to take one thing off your plate in terms of day-of prep. All you have to do is combine rhubarb, orange juice, vanilla extract, and honey in a saucepan and simmer until smooth. You might even make a little extra to have on hand for toast, pound cake, or oatmeal uses.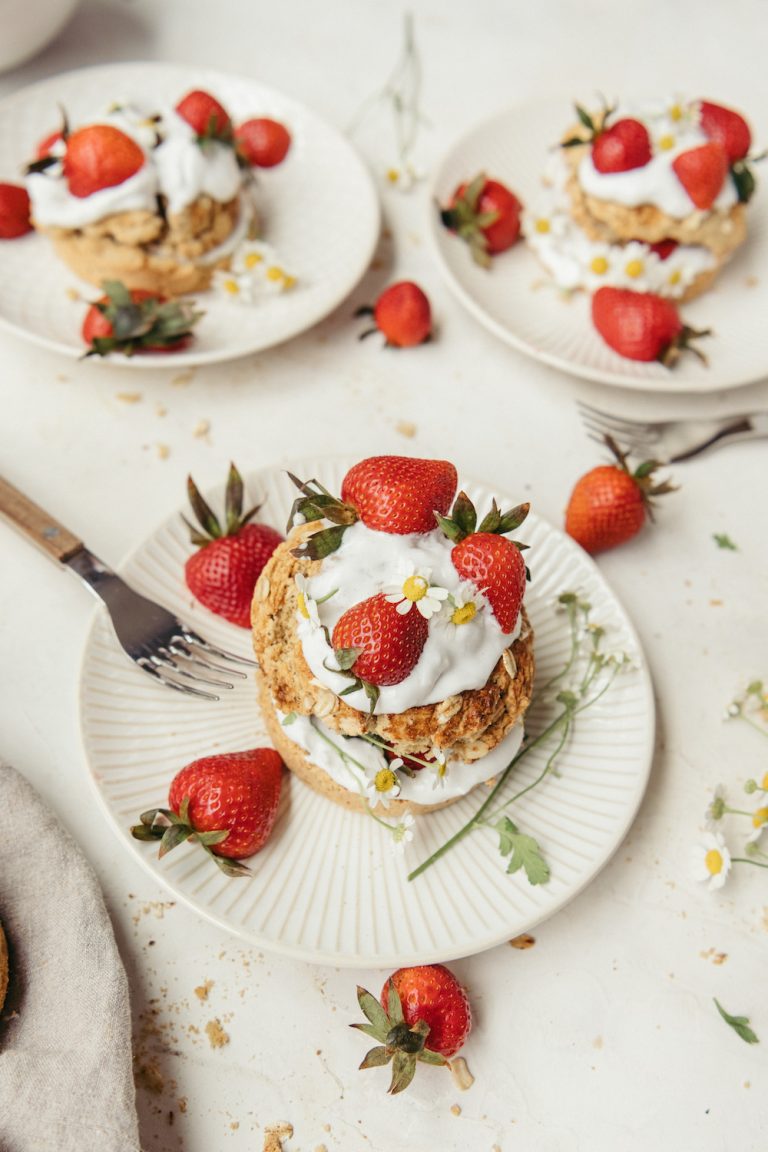 Why We Love It: These strawberry shortcakes are bursting with springtime joy. And they couldn't be easier to make! Once you've baked your gluten-free shortbreads, you'll simply layer on the macerated strawberries and whipped coconut cream. The hardest part is waiting until your shortbread is completely cooled, but I won't tell if you sneak a bite straight out of the oven with butter slathered over top. You do you.
Hero Ingredient: Strawberries in peak season are truly something to marvel.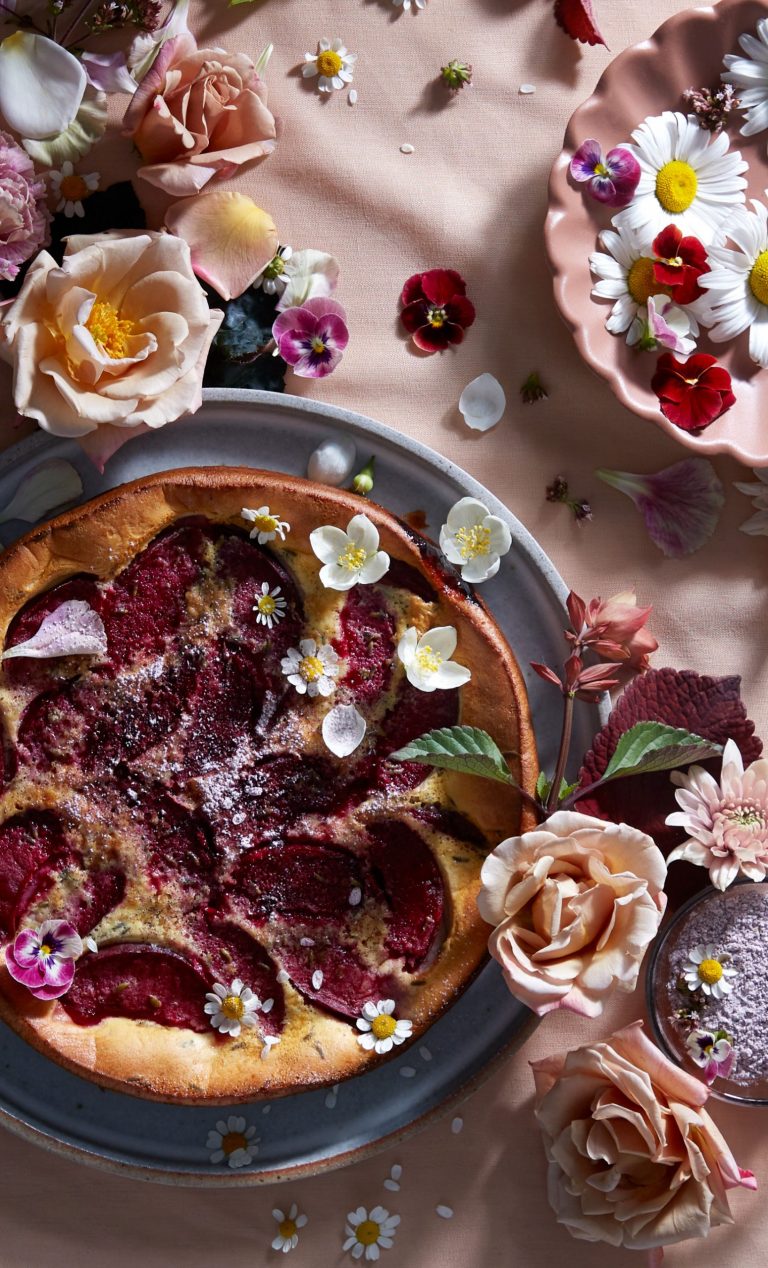 Why We Love It: Ease and elegance come together to create the most picturesque Mother's Day dessert there ever was. It's a celebration of all there is to love about spring, with seasonal fruit and flowers coming together in style and taste. Rich plums meet a light cake-like base with crushed lavender leaves and a stunning rose salt to finish it off. This is another gorgeous table centerpiece that will have your guests in awe.
Hero Ingredient: You'll want to assemble the rose salt about a week in advance. That way, the floral rose petals can scent the salt to the fullest.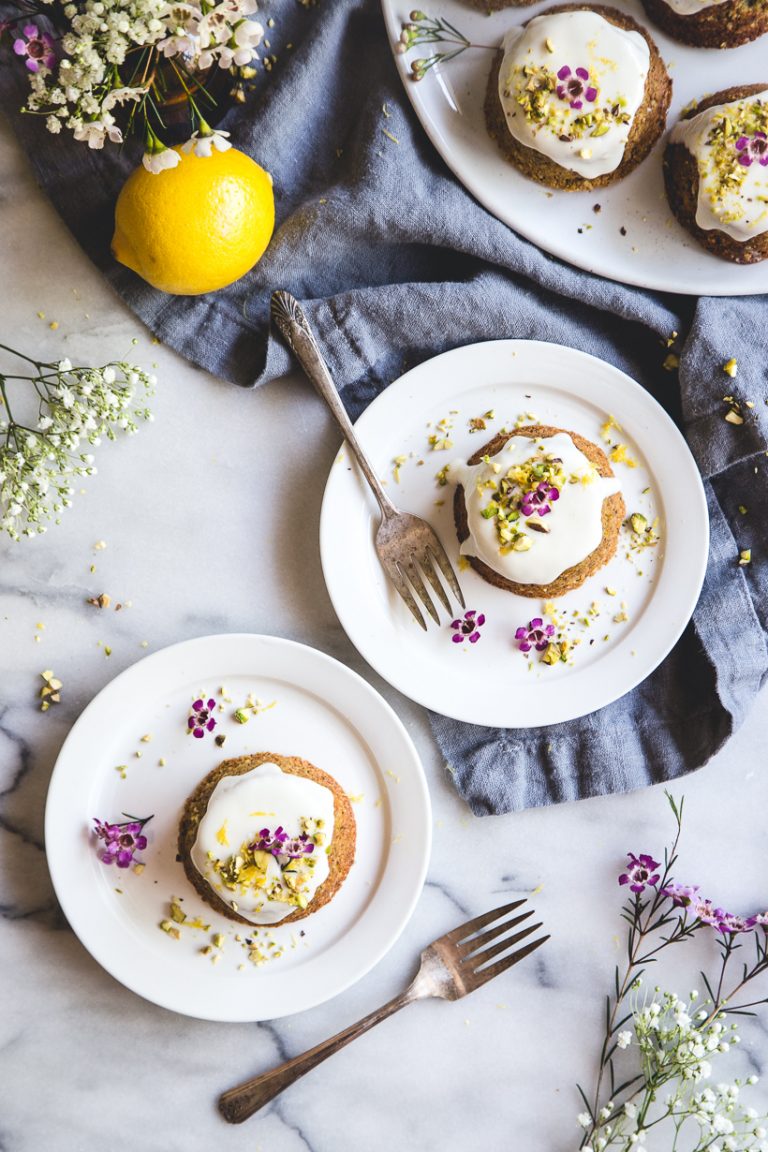 Why We Love It: Another gluten-free masterpiece, these flourless pistachio cakes are the cutest little cakes to serve for Mother's Day. With freshly ground pistachios and almonds, they have a perfectly nutty and buttery texture. From there, a Greek yogurt glaze laced with honey and lemon introduces just the right amount of sweetness and lemon-y tartness. Plus, they're individually portioned for each guest at your table, so you don't have to worry about slicing and serving.
Hero Ingredient: Bits of pistachio on top give these the best bite.