It's hard to believe that fall is around the corner, and I'm already dreaming up ways to use my favorite autumnal ingredients—pumpkin, apples, and of course, squash of all kinds. From butternut to acorn to delicata, squash is incredibly versatile and can take many forms throughout the season. Need a main course? A side dish? A dessert? Squash has you covered. Out of all the ways to serve it, one of my favorites is a simple roasted delicata squash recipe that's low effort, major flavor. If you haven't tried it before, delicata squash is slightly sweet, caramelizes perfectly, and is the perfect canvas for so many of my favorite flavors.
How To Choose and Prep Delicata Squash
Nothing makes me happier than walking into the grocery store and seeing the produce aisle filled with fall squash. While shopping at my neighborhood Randalls® this week, these cuties were calling my name. To pick a good delicata squash, look for squash that is smooth with unblemished skin. It should feel firm in texture. I've tried delicata squash with dark green stripes and those with orange stripes, and I find that both work well, though some say green striped are better.
The best part of delicata squash over other varieties is how easy they are to prepare. We all know the struggle of prepping a butternut squash, but because delicata squash have a thinner skin and are less bulky, the prep is much easier.
To prep for roasting, slice the delicata squash into rings. Using a spoon, just scoop or cut out the seeds from the center of the rings. You can keep the skin on when roasting as well, so all you have to do is toss with your oil and spices.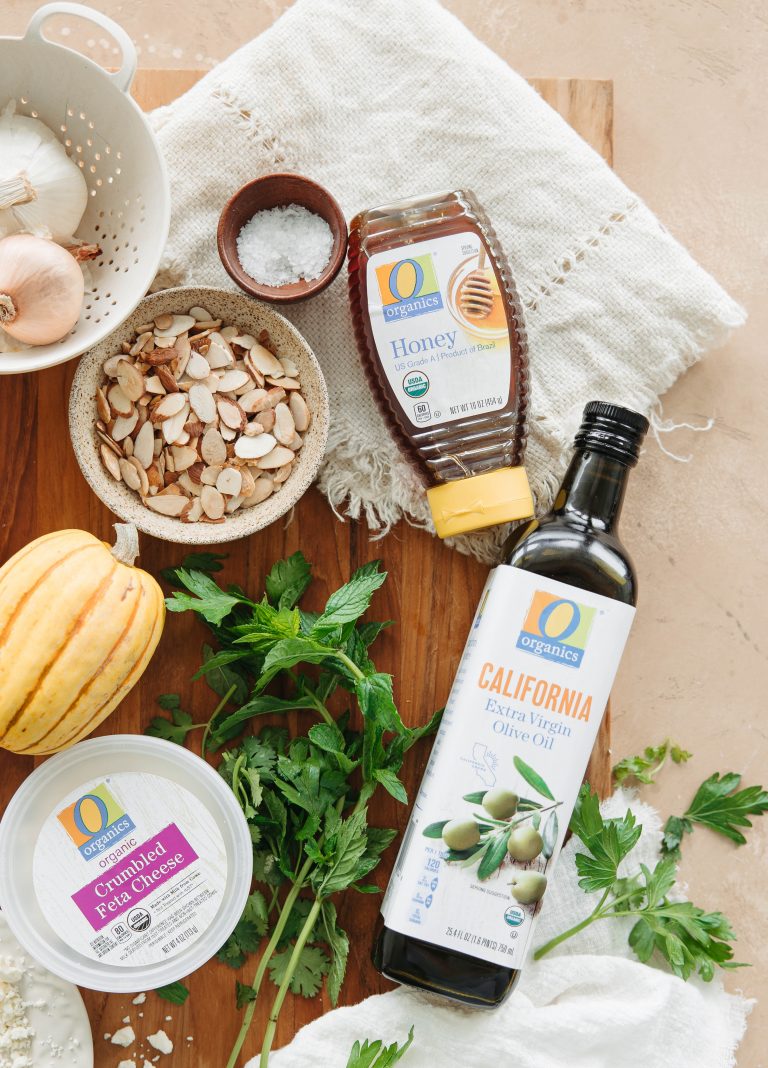 Use Fall Spices to Enhance the Flavor of This Roasted Delicata Squash
Because the options are endless when it comes to flavoring an ingredient like squash, I turned to the Randalls® Fall Into Flavor content hub for some recipe inspiration. Thanks to their seasonal and easy-to-shop recipes, Randalls® is a great resource for when you need fresh ideas for how to use up all that fall produce. I leaned into the sweet and savory flavor of squash using honey, olive oil, feta, and a heavy hand of spices, all from their exclusive O Organics® brand.
The honey helps caramelize the natural sugars in the squash, and the spices really bring to life the cozy feeling of fall when tossed together with caramelized garlic and shallots. Everything gets warm and toasty in the oven, bringing all the flavors together into a delicious dish.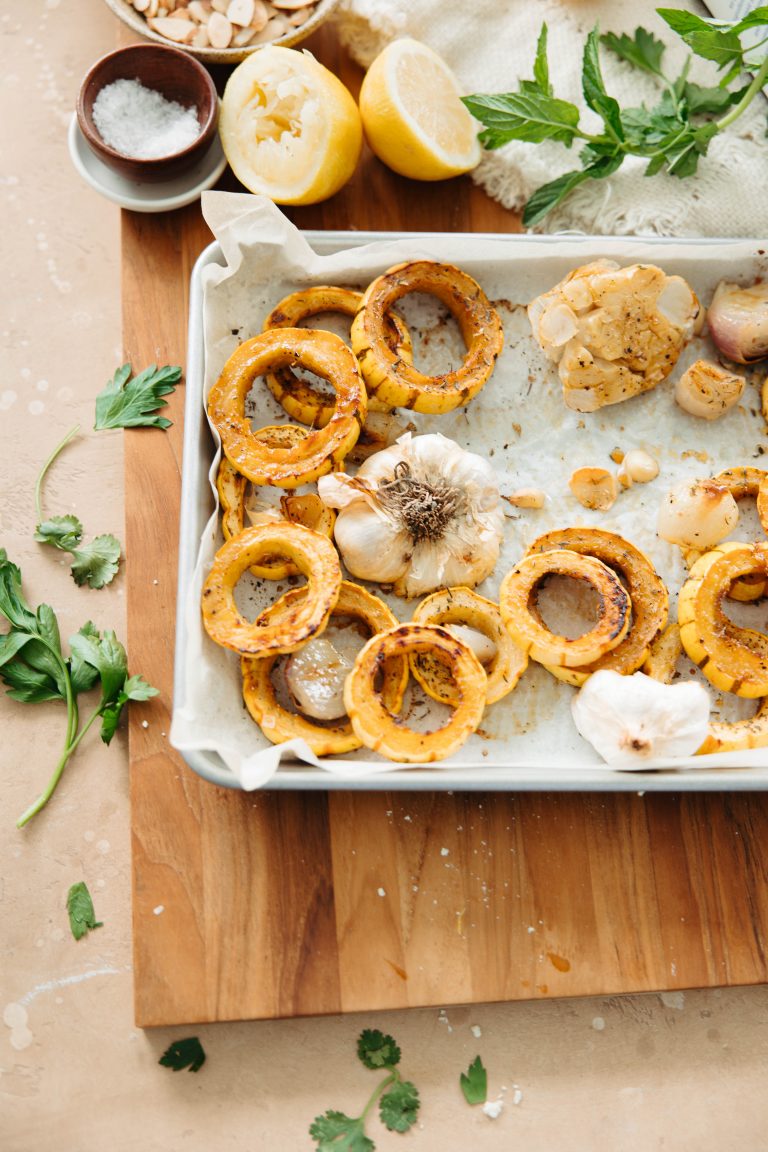 How to Serve Roasted Delicata Squash
While the sheet tray of vegetables is already packed with flavor, to make this squash a complete meal, I love serving the delicata squash with an easy dressing and lots of toppings.
The dressing uses a similar blend of ingredients that the squash roast in, but with the bright zing of lemon juice to elevate and add some brightness to the recipe. Adding finely chopped fresh herbs to the recipe also adds an element of freshness that roasted vegetables and any dish that cooks in the oven will always benefit from. In addition to the dressing and herbs, a simple trick will take this vegetable to the next level. Think of any recipes that you really love. What do they have in common? In addition to great flavor, it's all about texture.
To add some crunch and creaminess, I used almonds and crumbled feta cheese. The almonds play off the caramelized squash beautifully, especially when they're toasted to golden brown. The feta gives saltiness and tanginess, plus a welcome creaminess that makes the dish feel satisfying and complete.
Can I pair this recipe with anything else?
I've eaten this squash recipe on its own for dinner as a complete meal thanks to the mix of textures and flavors that make it feel hearty enough to stand on its own. You can absolutely serve this over rice or quinoa, or as a side with chicken and a green salad. And yes, it will feel right at home on the Thanksgiving table!
This squash will last a couple days in a sealed container in the fridge, so with leftovers, I just quickly heat it up in a pan if I want to add some squash rings over a bowl or into a fall salad.
Find more recipe inspiration and sign up for Virtual Cooking Classes with Celebrity Chefs at www.randalls.com/fall.
This is a sponsored post written by me on behalf of Randalls®.
Ingredients
3-4 delicata squash, cut into 1/4 inch rings
1 head of garlic, sliced lengthwise into two halves
2-3 shallots, chopped into large pieces
3 tbsp olive oil
2 tbsp honey
1 tbsp apple cider vinegar
1 tsp salt (more to taste)
1/2 tsp fresh ground black pepper
1/2 tsp cumin
1/2 tsp coriander
1/2 tsp red chili powder (more or less depending on heat preferences)
1/2 tsp dried thyme
juice of 1/2 lemon
chopped cilantro, mint, and parsley
1/4 cup sliced and toasted almonds
1/2 cup crumbled feta cheese
Directions

---

Ingredients
Preheat oven to 425 degrees F and line a large sheet tray with parchment paper.
In a large bowl mix the olive oil, honey, apple cider vinegar, and spices in a bowl until combined. Add the sliced delicata squash and toss with a spatula until the rings are coated. Place the rings onto the sheet tray, spaced out. Add the shallots to the leftover spiced oil and honey, tossing to coat. Add the shallots and garlic to the sheet tray. Drizzle over any leftover oil from the bowl.
Bake for 35-45minutes until the squash is golden brown and tender. Remove from oven.
To serve, add squash, shallots, and garlic cloves squeezed out from the skin after baking to a large bowl. Chop up the garlic and shallots if you prefer.
Drizzle with lemon juice, additional salt and pepper, and add fresh herbs, crumbled feta, and sliced almonds. Enjoy!
---
Instructions