Simple ingredients, minimal kitchen appliances, and less than 30 minutes to make? I sure do love a quick dinner recipe, especially in the summer. These days, evenings are coveted family time: I force pause on my inbox, swoop up my toddler, grab a sun hat, and head out the back door. It's my favorite part of the day. My husband and I chat about everything (or nothing) and disconnect from the demands of work. By the end of our walk, we're all starving.
Enter: this easy, colorful shrimp skewers recipe. These are light, delicious, and celebrate the beauty of summer produce. With seasonal eating in mind, I let the vegetables shine. From summer squash to cherry tomatoes, any variety will do (just aim for veggies that char well and hold their shape). While I didn't add any fruit to these kabobs, sliced pineapple or peach would be lovely as well.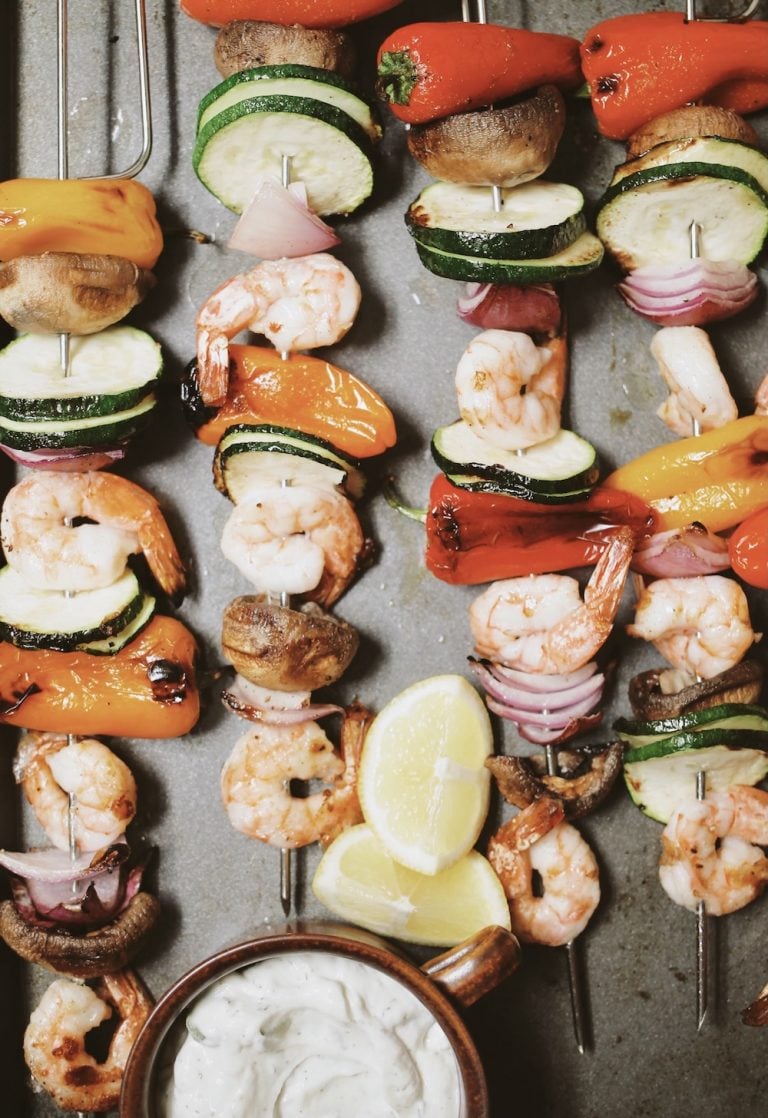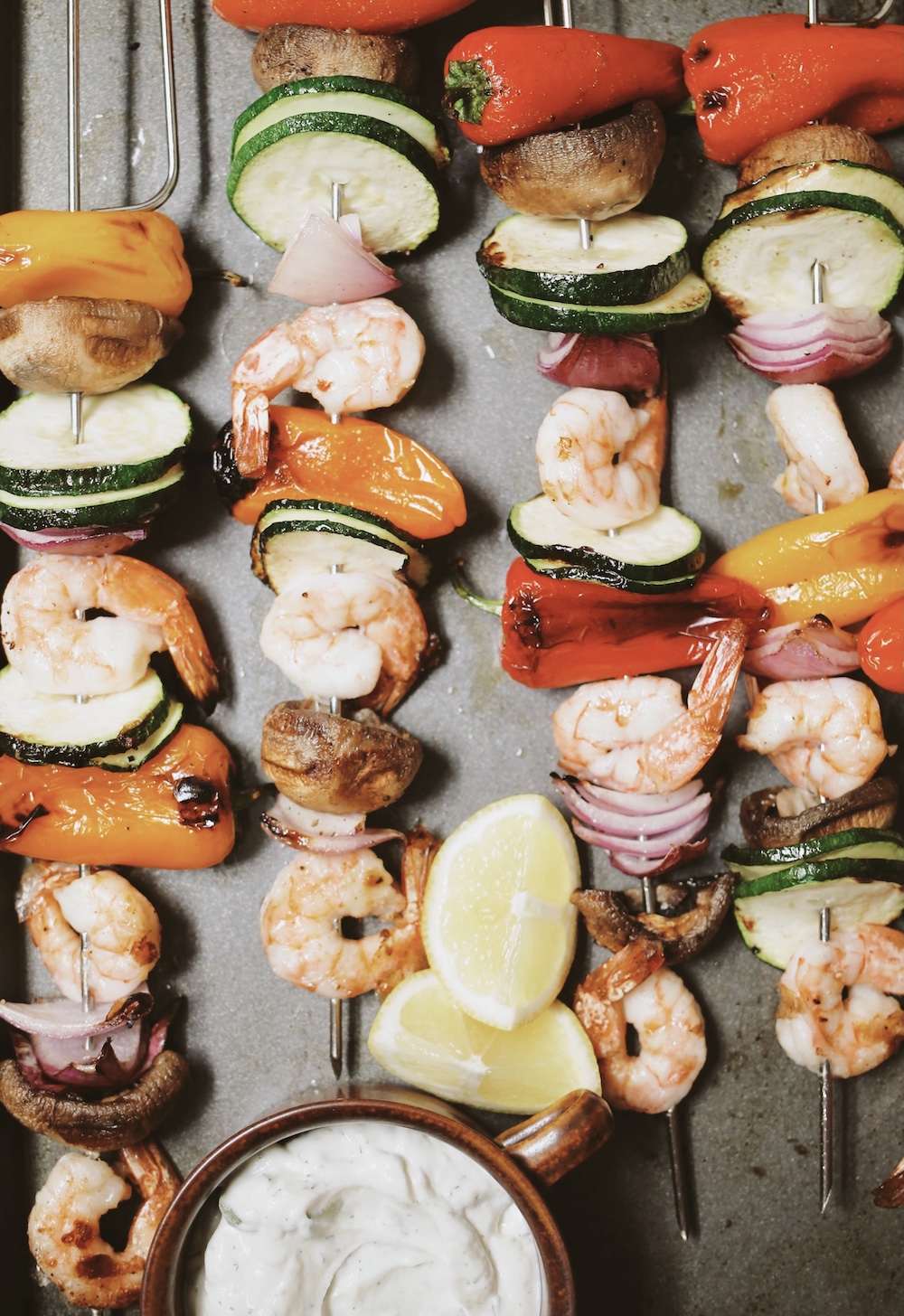 A few tips—when threading your veggies onto the skewers, leave a bit of space between pieces. That way, the heat can circulate. Additionally, if you only have wood or bamboo skewers on hand, make sure to soak them in warm water for 10-30 minutes beforehand otherwise they can burn easily over a hot grill. Soaking the wood will prevent the skewers from cooking along with the food. Lastly, the fresher the ingredients, the better. When possible, stock up on produce from the farmer's market (or look for 'local' signs at your grocery store). 
With shrimp, it's preferable to buy them frozen. Finding fresh shrimp is rarer—especially if you live in a landlocked state—and the shelf-life of thawed shrimp is only a few days. Shrimp stored in the freezer retain their quality for several weeks. When grabbing a bag of frozen shrimp, make sure they don't have black spots or melanosis on their shell (which can indicate the meat has started breaking down).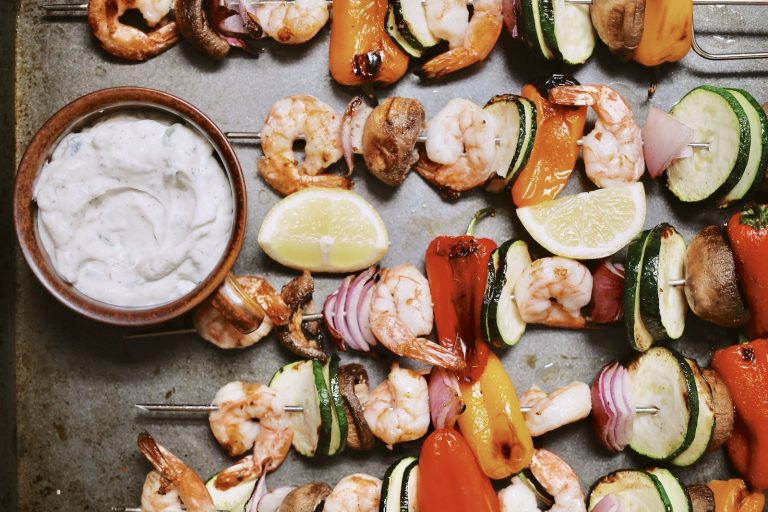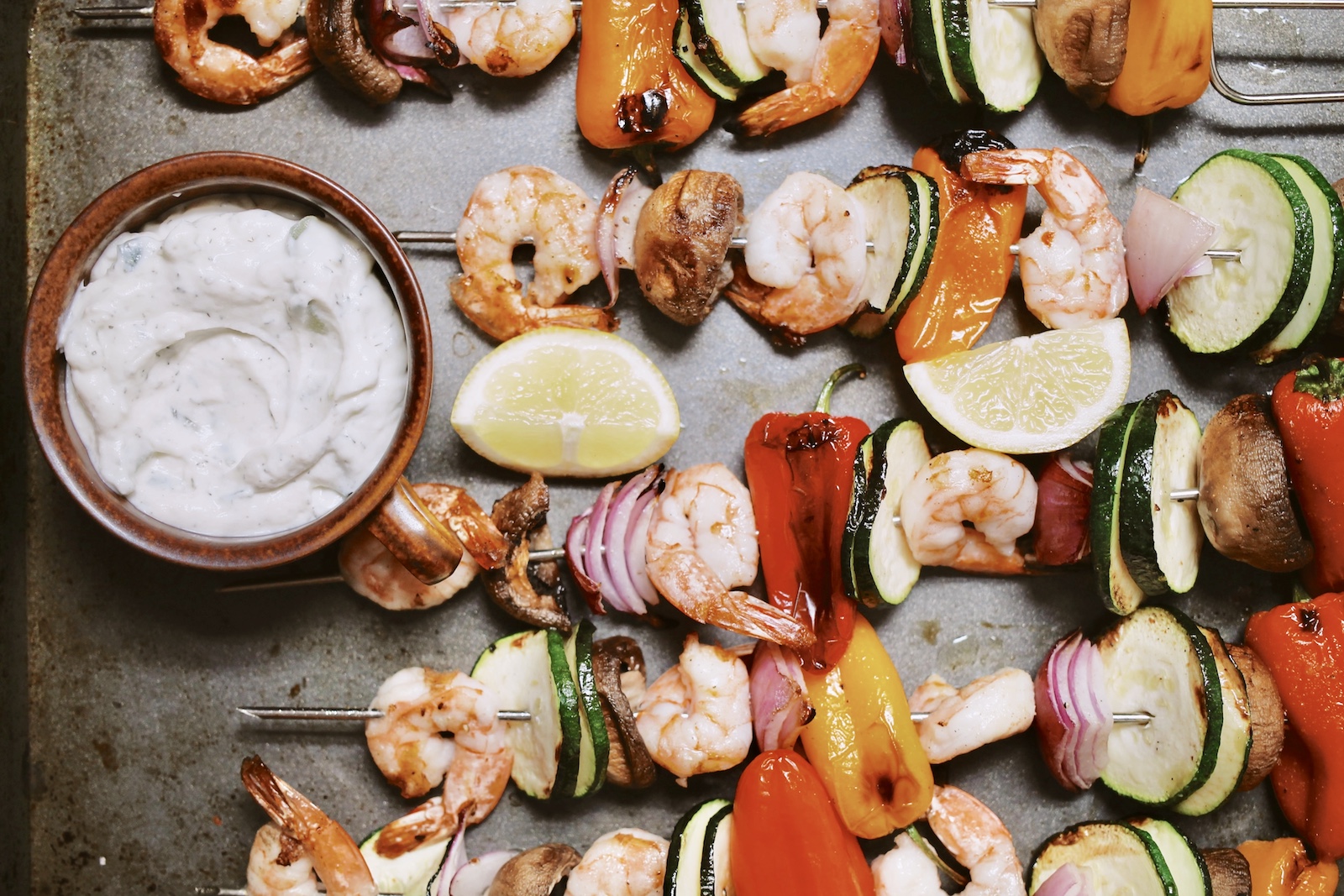 Although there are over 3,000 different species of shrimp, many are not sustainably caught. When purchasing, look for pink shrimp from Oregon, prawns from the Pacific Northwest, brown, white, and pink shrimp from the Gulf of Mexico (except Louisiana), and shrimp from northern Atlantic waters in the U.S. or Canada. Luckily, shrimp contain low levels of mercury across the board. 
Because this shrimp skewers recipe is low in carbohydrates, I prefer it alongside a bowl of grains. These skewers pair best with fluffy rice, couscous, or pasta. If you have room on the grill, throw on a few more veggies—like eggplant—and this pasta salad brings everything together: protein, healthy fats, complex carbs, and fiber. Best of all, it feeds a crowd. A nutritious and satisfying dinner is just a BBQ away.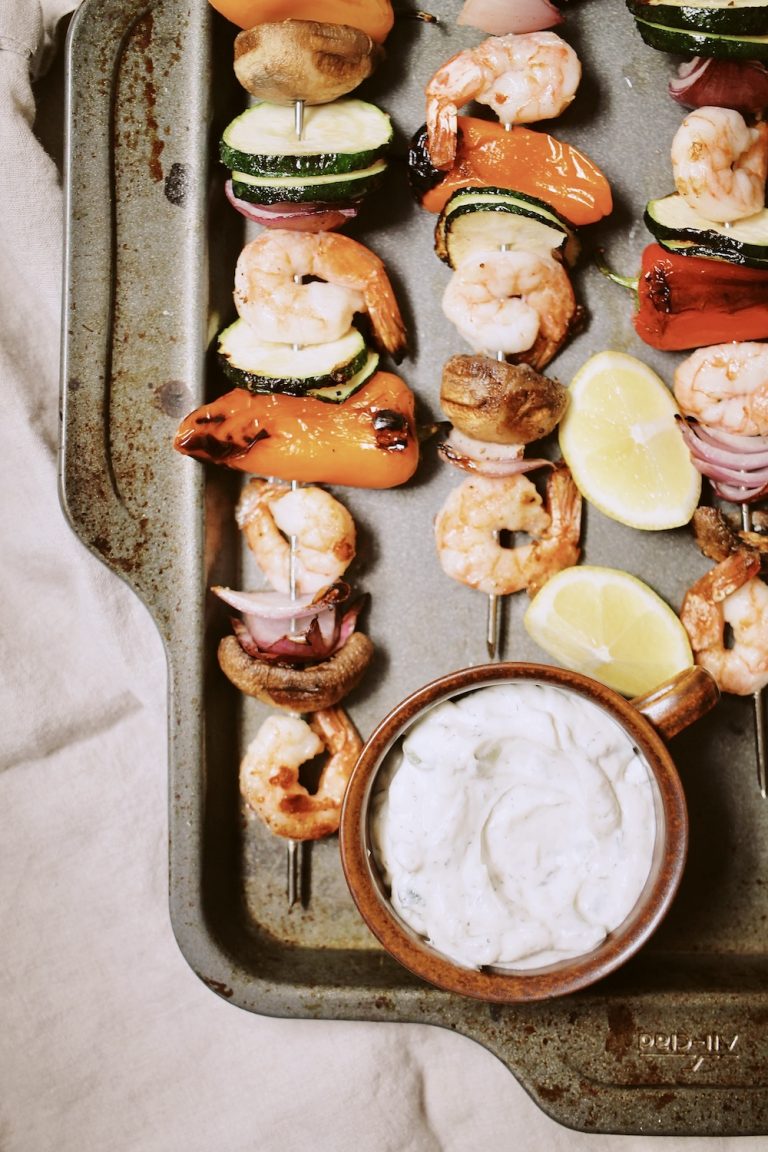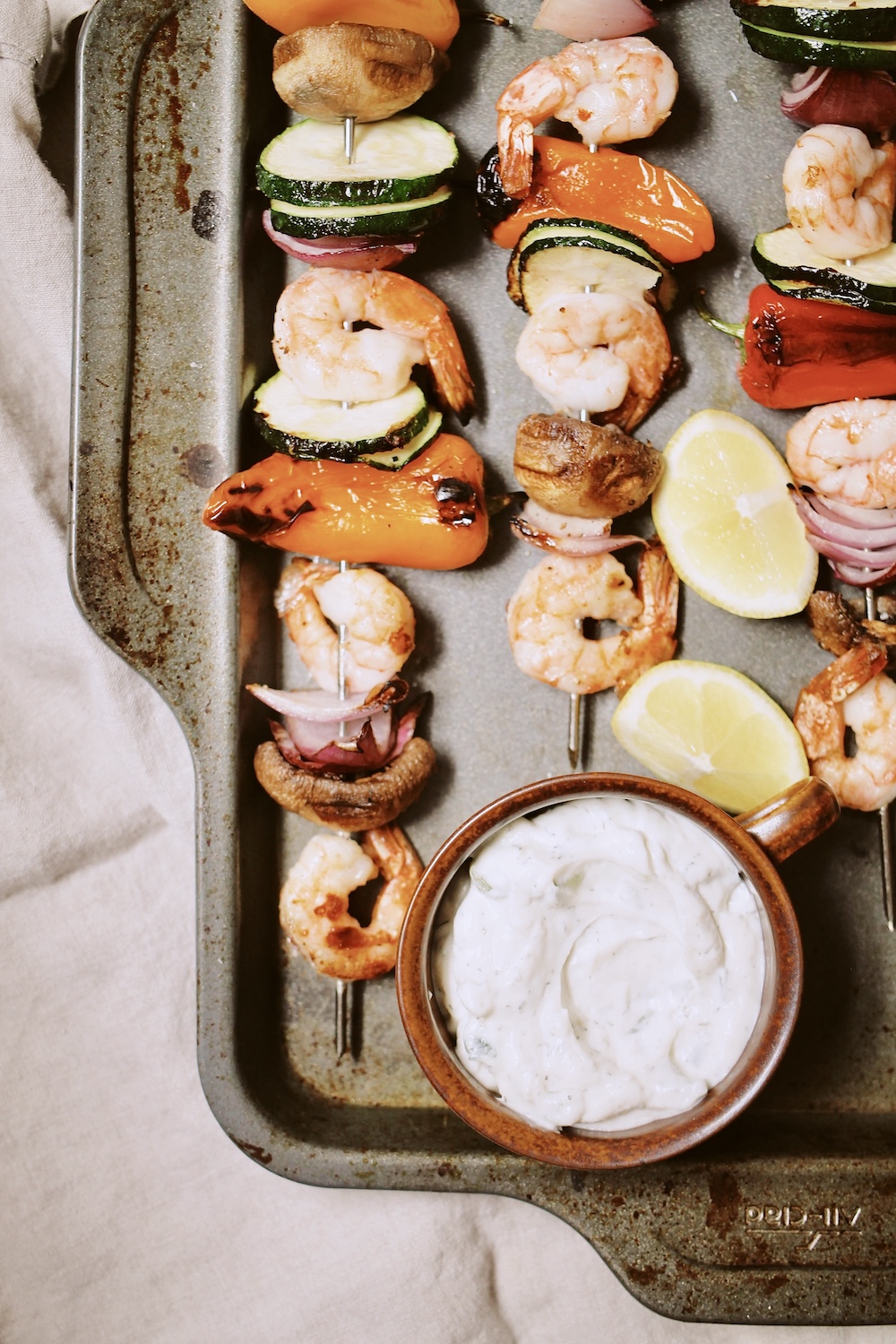 Oh, and if you're a grilling newbie, don't fret, I'm far from an expert. Just master a few basic grilling techniques, and you're good to go. Once the skewers are on the grill, they're ready in a jiff. And although chopping the veggies isn't time-consuming, I like to prep the skewers an hour or so ahead of time. That way, I'm less frazzled getting dinner on the table. Last but not least, this recipe is best with a side of tzatziki. Its fresh tanginess is the perfect dip for charred, lemony shrimp.
---
Ingredients
for the skewers
5 metal skewers (10-12 inches long)

15 peeled deveined shrimp (jumbo are best, but any size shrimp will work)

8-oz package of white mushrooms (also known as button or champignon mushrooms)

10 mini bell peppers

½ large zucchini 

½ large red onion

1 lemon

2 teaspoons garlic powder

Sea salt and pepper to taste

Avocado oil spray
to serve:
---
Instructions
Oil grill with avocado oil spray. Turn the grill on to medium-high heat (approx. 350 degrees Fahrenheit).

Place a piece of tin foil on a baking sheet.

Use a dry cloth or paper towel, wipe off excess dirt from the mushrooms. Remove the stem from the mushrooms (so only the caps remain).

Thinly slice zucchini into rounds.

Peel the skin from the onion. Place the onion on a cutting board with the cut sides facing down. Cut the half in half, continuing until you have layered wedges.

Begin threading one skewer. Start with any vegetable, alternating every few vegetables with a shrimp.

Place skewer on tin oil. Repeat four more times.

Spray both sides of the skewers, fully coating all ingredients. 

Sprinkle all ingredients with lemon juice, garlic powder, sea salt, and pepper.

Place skewers on the grill, grilling for 3-5 minutes on one side. Using an oven mitt, flip skewers and grill for another 3-5 minutes, or until the shrimp is pink and veggies are charred.

Serve immediately with tzatziki.