When it comes to healthy and quick dinner recipes, oftentimes, I'm on the hunt for something of the assembly-only variety. Yes, this sometimes-lazy-cook (particularly during the summer heat) slaps together a sandwich—or, if I'm feeling particularly in need of a few veggies, a salad. But ask me to turn on the oven, (or gosh, the stove!) and my eyes glaze over with intimidation. Because after all, following a long day of work, my creativity often runs dry.
But in this new era of digital inspiration at our fingertips, thankfully, healthy and quick dinner recipes (I'm talking 30 minutes or less), are in abundance—and I know that I'm not alone in hunting them down. Even the most avid home chefs can occasionally draw a blank. Sometimes, you fall into a rut and just can't think of any new ideas for what to cook (obviously, I'm guilty of that). Of course, in an ideal world, we'd all have plenty of time each evening to craft delicious, wholesome meals for ourselves and our loved ones, but alas, that just isn't the reality most nights.
Featured image by Michelle Nash.
That's why I'm always on the lookout for healthy and quick dinner recipes to turn to when I need a little push in the right direction. So, when the task came about to round up the easiest, fastest, and most delicious Camille Styles recipes, I eagerly volunteered.
Most of the healthy dinner ideas in this group can be created with items you already have in your fridge and pantry. We've included a varied assortment of recipes with all kinds of ingredients to ensure that you can work with what you've got. They're also highly customizable, so you can swap out a few things here and there and replace them with whatever you have stocked in your kitchen. The following recipes include a mix of veggie, gluten-free, and meat options—there's truly something for everyone regardless of dietary restrictions.
So, pick up some seasonal ingredients, load up on your pantry staples, and prepare to be seriously wowed by these healthy and quick dinner recipes. Because getting a delicious and good-for-you meal on the table shouldn't take hours—or cost you an arm and a leg.
Read on for 15 favorite healthy and quick dinner recipes!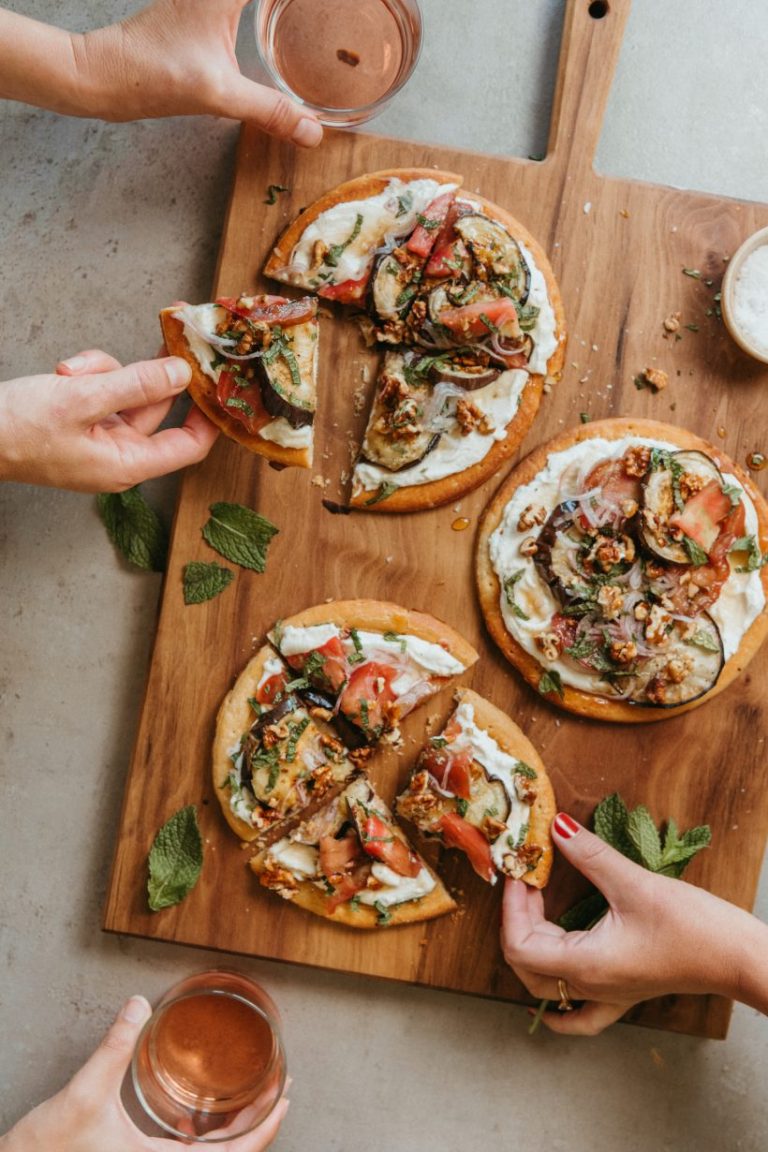 Why We Love It: If you're looking for a way to make the most of your abundant, end-of-summer produce, this is the most delicious answer you'll find. These flatbread pizzas are loaded with all your warm-weather faves: eggplant, tomatoes, sliced red onion for heat, and a garnish of mint for fresh-tasting bites. If you're serving dinner for the whole family, trust me: even your kiddos will be asking for seconds.
Hero Ingredient: A pre-made pizza or flatbread crust makes this recipe a total breeze to whip up. Exactly what your Tuesday night needs.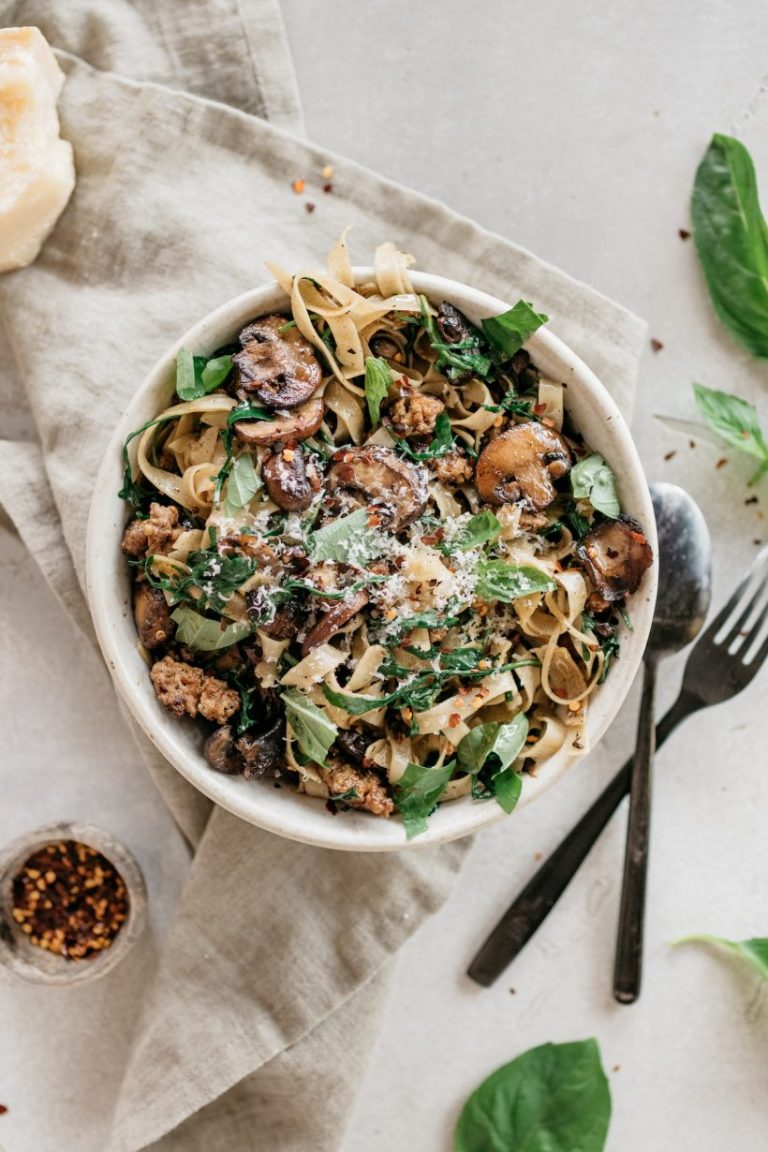 Why We Love It: Pasta recipes, like salads, are brilliant because you can incorporate your protein and veggies all into one bowl. But this isn't just an easy way to fulfill all your nutritional needs. The variety of color and flavor this simple pasta packs in is unbeatable: the sausage and parm bring richness while arugula lends a little spice to each forkful. The citrus zest (lemon or lime—you choose) seals the deal.
Hero Ingredient: I love that this recipe calls for sliced baba bella mushrooms in addition to the sausage. While you're still getting a healthy dose of animal protein, the mushrooms round out the heartiness while working even more veggies into the mix.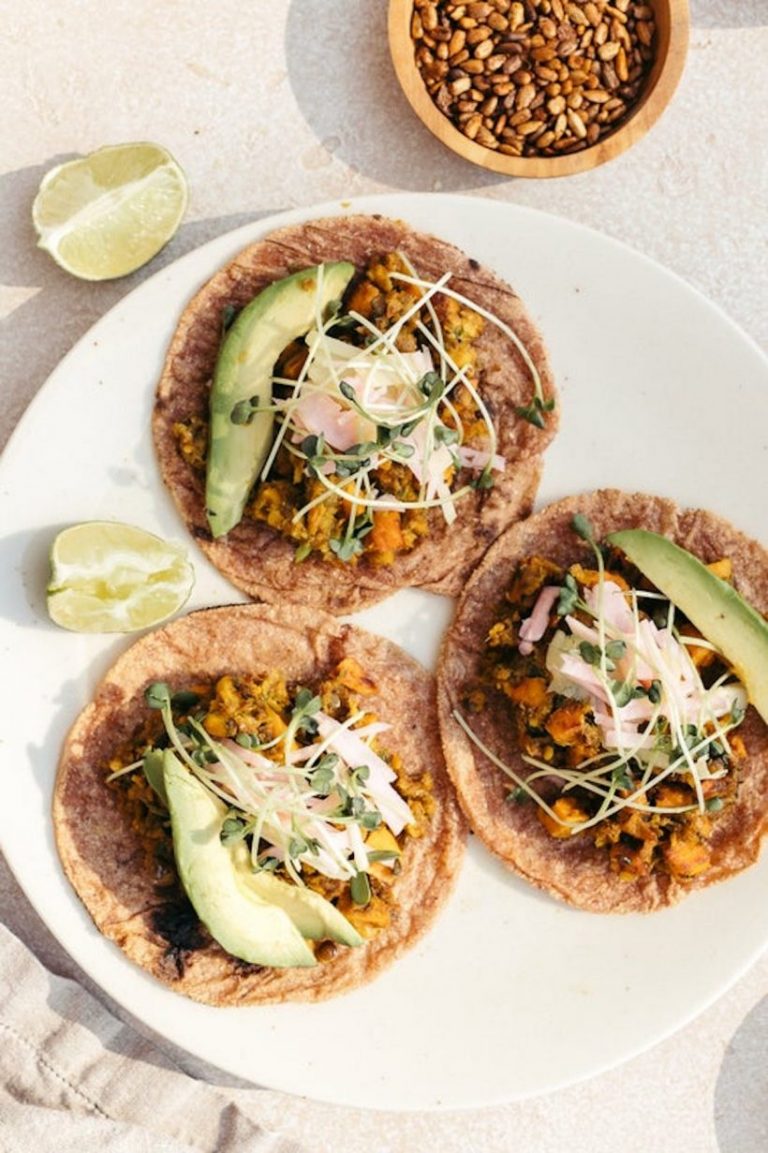 Why We Love It: When I heard the news that our Wellness Editor, Edie, was tasked with making a vegan taco recipe, I started salivating with excitement. Edie's recipe is inspired by The Well, an Austin-favorite locale for all things bright, vibrant, and healthy food. With under 10 ingredients, these tacos deliver plenty of plant-based protein. They're every wellness lover's dream come true.
Hero Ingredient: This vegan chorizo is pure plant-based magic. It starts with combining chickpeas and lentils in the food processor until a chunky mixture forms. And while the other mix-ins give the blend plenty of flavor, it's the tablespoon of cayenne that really sends this home. If you're not a fan of heat, start with half the amount and add to taste.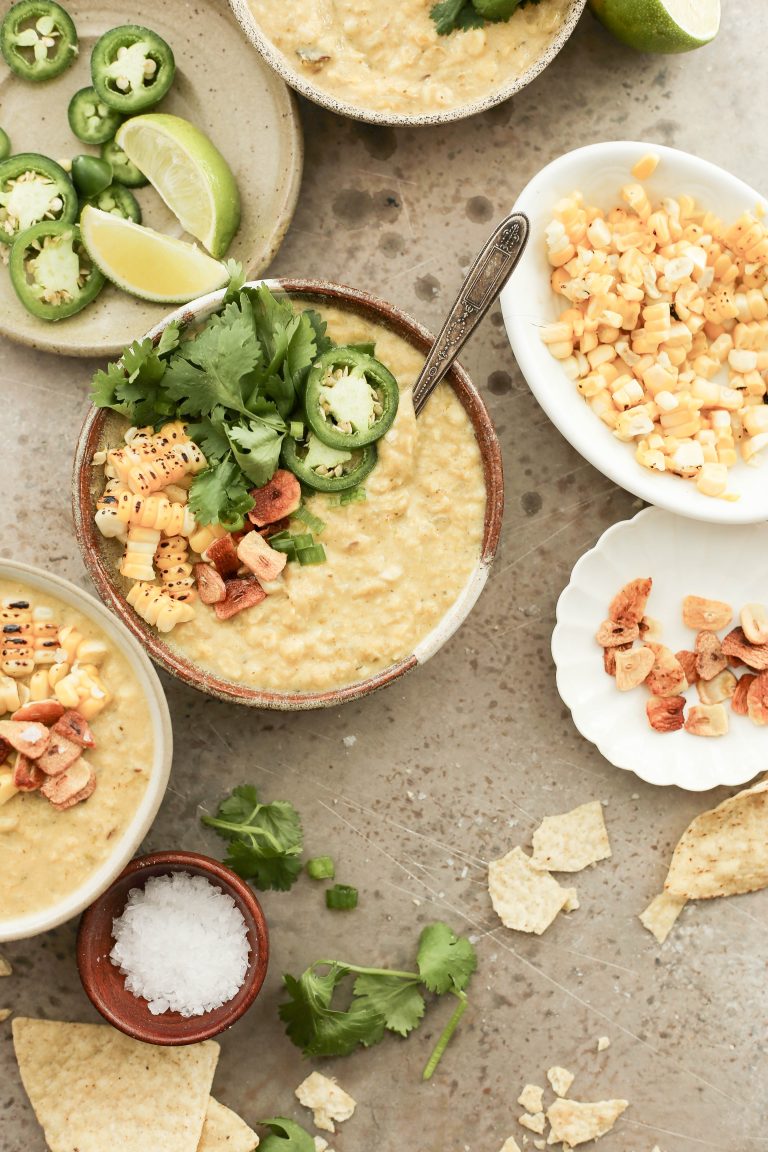 Why We Love It: This might be one of my favorite soup recipes Camille has ever come up with. It's perfect for bridging the gap between summer and fall cooking, as it's comforting and cozy while still making the most of summer's abundance of corn. And while its golden-yellow, homogenous hue might suggest a one-note flavor, this soup is anything but basic. Chopped jalapeño, garlic, cumin seeds, lime, and even sriracha make for a hearty, flavorful dish.
Hero Ingredient: Mild in flavor, the poblano peppers balance out this soup's heat with a delicious bit of complex warmth. The perfect complement to the sweet, juicy corn.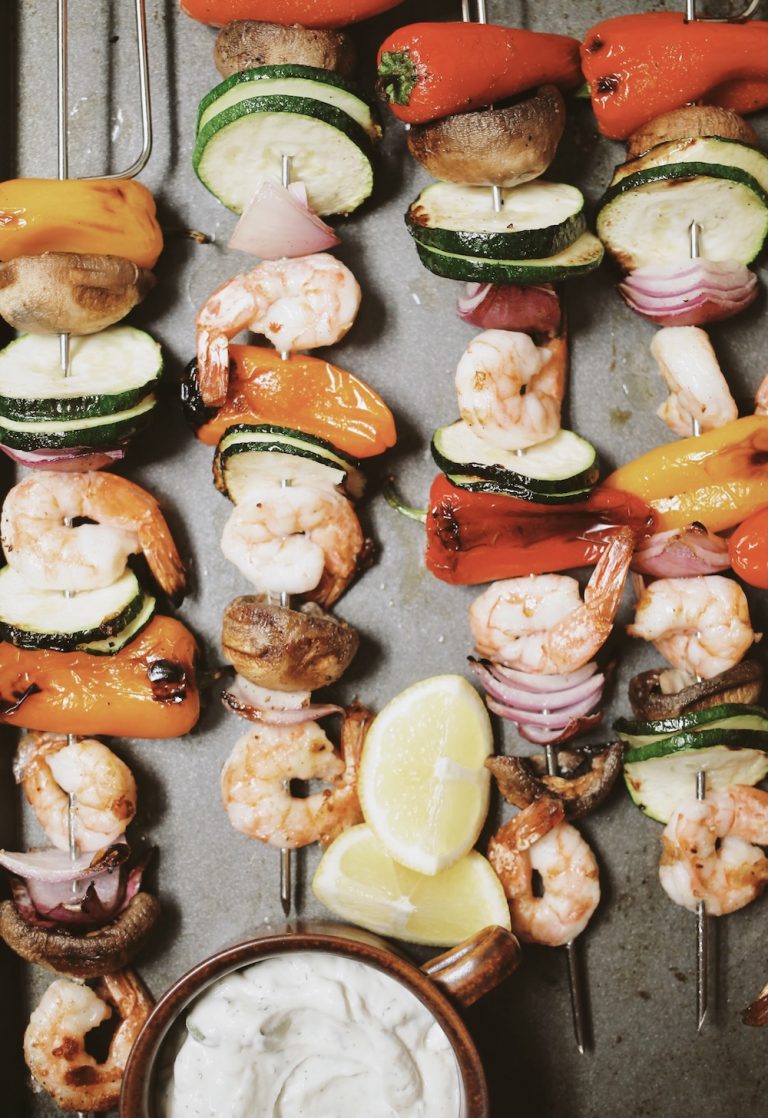 Why We Love It: Shrimp is a great, go-to protein for when you're trying to whip up a quick meal. It's the perfect base for a couldn't-be-simpler kebab recipe. All you have to do is fire up the grill, prep and slice your veggies, assemble, and cook. And be sure to buy your shrimp deveined. While it can be a meditative task to do when you have time, it's not ideal when you're trying to get a healthy, weeknight meal on the table, stat.
Hero Ingredient: Sprinkling your ingredients with lemon juice gives the perfect bite of bright, fresh flavor to each individual component. Yum!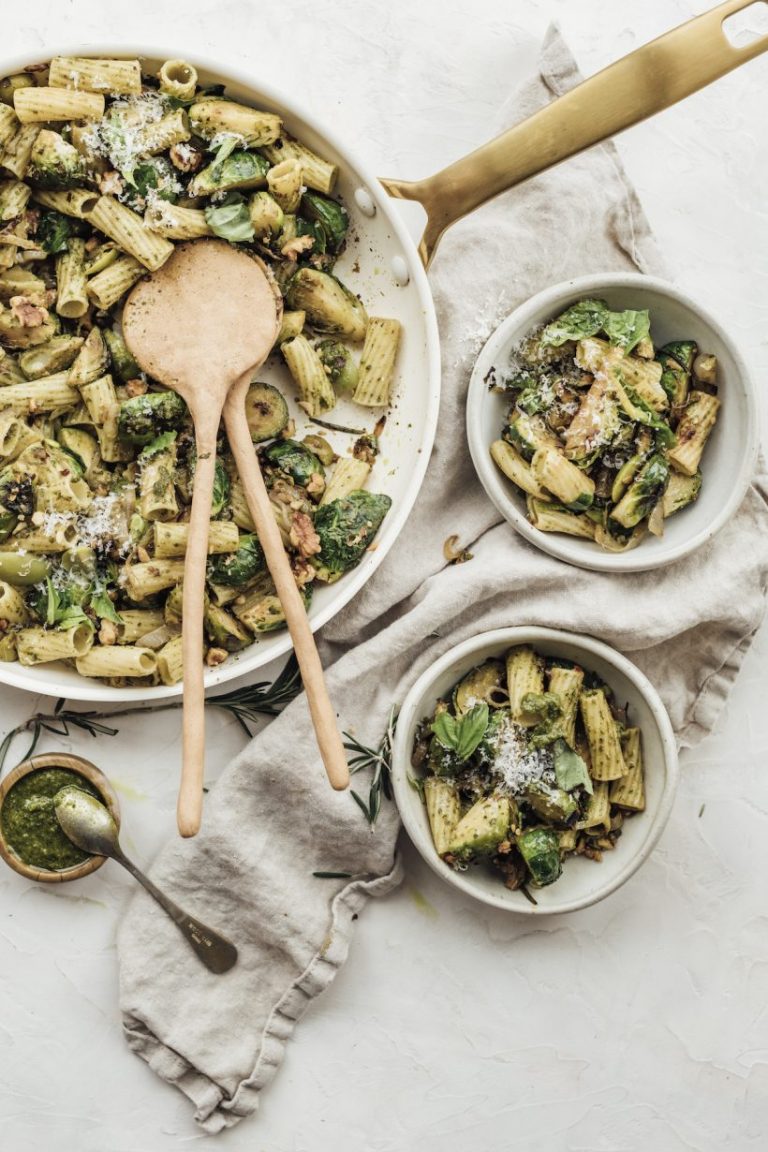 Why We Love It: While traditional pesto calls for pine nuts, parm, basil, and olive oil, this spin makes the most of the OG superfood (kale) to work in a lot of dark leafy greens without, you know, eating the world's largest salad. I love this vegan spin on the classic pesto, because not only does it pack in plenty of nutrients thanks to the kale, nutritional yeast, walnuts, and olive oil, but it has a rich, hearty flavor that coats the rigatoni beautifully.
Hero Ingredient: Topping your bowl of pasta with toasted walnuts and blending them into the pesto make this healthy dish taste particularly indulgent.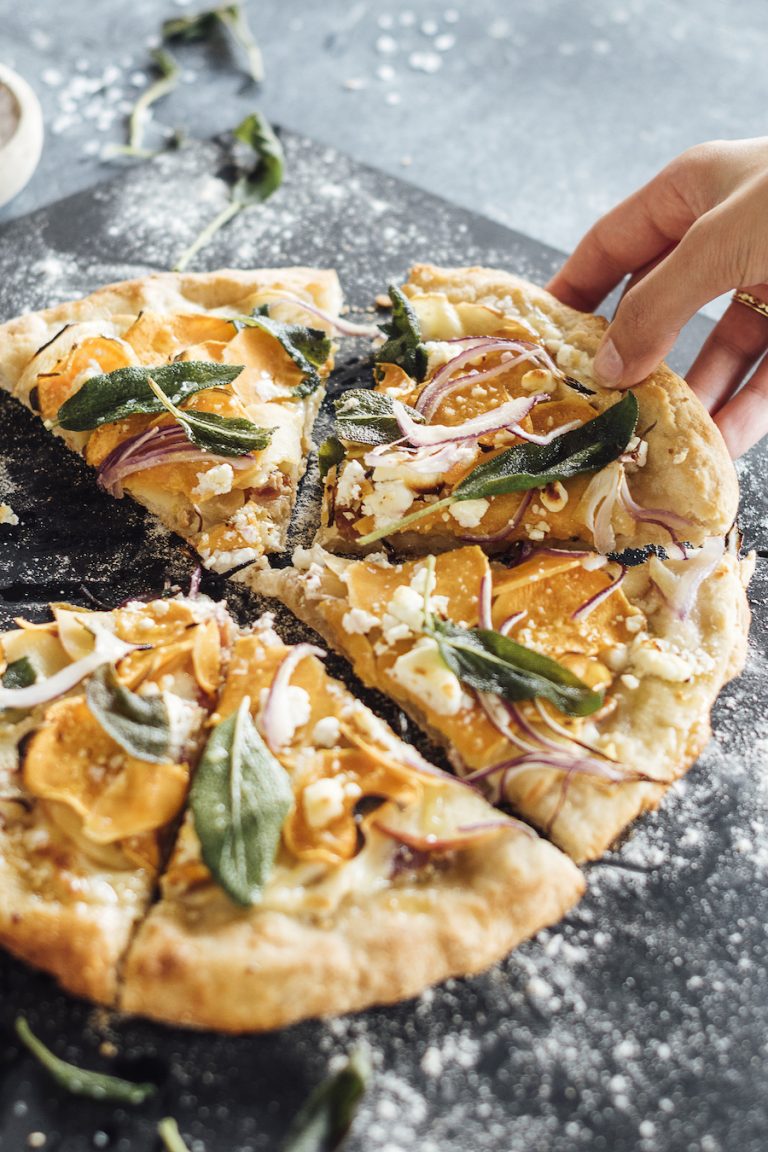 Why We Love It: I'm of the mind that pizza shouldn't be reserved for weekends. This easy recipe is proof that you can throw together a pie any night of the week, no matter your schedule. It starts with Camille's simple homemade pizza dough that can be made in advance. (In fact, I've been known to double the recipe on the weekend, divide into balls, and store in the freezer for easy thawing and pizza-making on a whim.) Once you have your crust, it's really just a matter of shaping your dough, piling on your ingredients, and letting the oven work its magic. Of course, don't forget about the feast to follow.
Hero Ingredient: It's the crispy sage for me.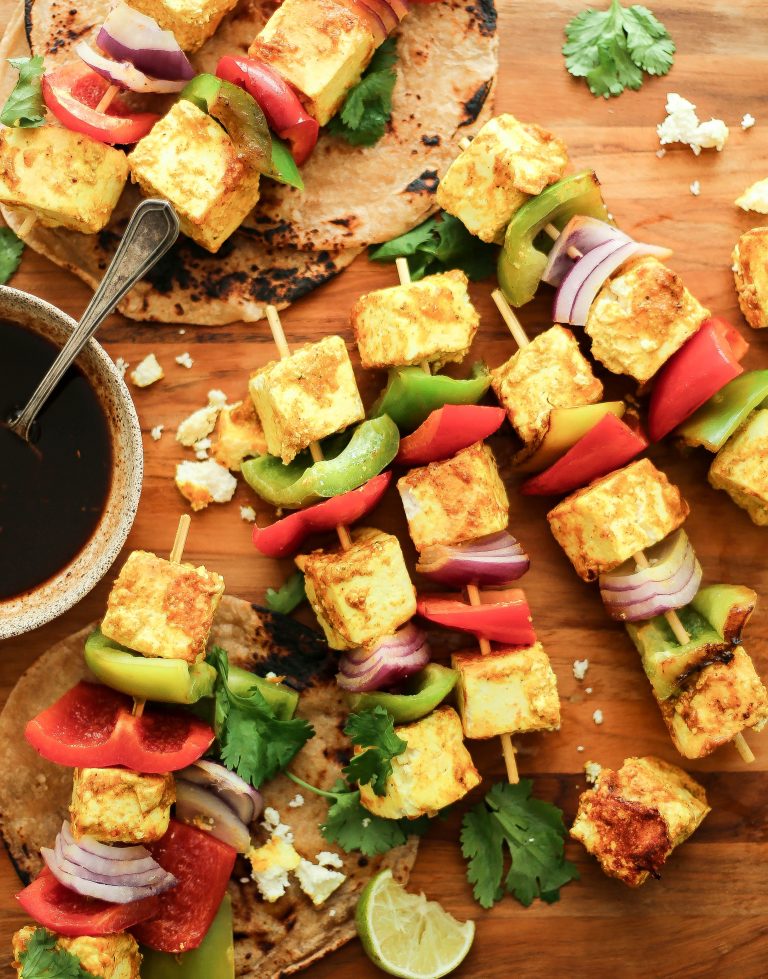 Why We Love It: Don't these kebabs look like an absolute feast for the senses? Using the same method outlined in the shrimp kebabs above, this spin requires the tiniest bit more prep in marinating the cubed paneer. Thankfully, all of that can be done the night before (and really, how long does it take to mix a little yogurt, spices, and cheese in a bowl?).
This tasty vegetarian dish comes together in under thirty minutes, and if you have a well-stocked spice cabinet, it's likely that you'll have almost all the ingredients already on hand. And if paneer isn't in your typical weeknight rotation, there couldn't be a better excuse than this to stock up.
Hero Ingredient: How gorgeous are these colors? While the array of ingredients covers the entire rainbow, it's the spice blend (turmeric, chili powder, black pepper, coriander, cumin, and garam masala) that gives the paneer its show-stopping hue.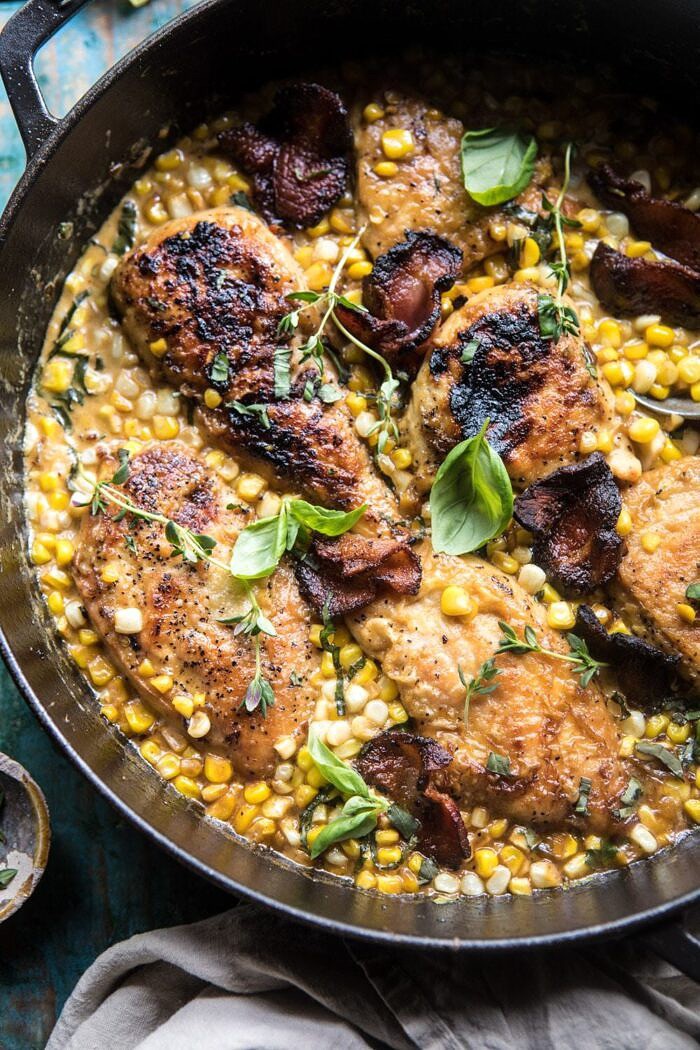 Why We Love It: When Tieghan of Half-Baked Harvest fame shared this recipe with us, we knew we were in for a treat. And when we learned it came together in just 30 minutes, we were truly floored. As we start transitioning into the cozy season of comfort food cooking ahead, you'll need to make sure this easy recipe is at the top of your to-make list. And while it does lean on the heavier side with its combo of chicken, heavy cream, and parmesan, don't we all need a little late-night indulgence from time to time? Plus, it's the perfect thing to serve to guests the next time you host a casual Thursday night dinner party.
Hero Ingredient: The tablespoon of freshly-chopped thyme gives a wonderfully earthy and citrus-laced savoriness that balances out the dish's creamier, heavier flavors.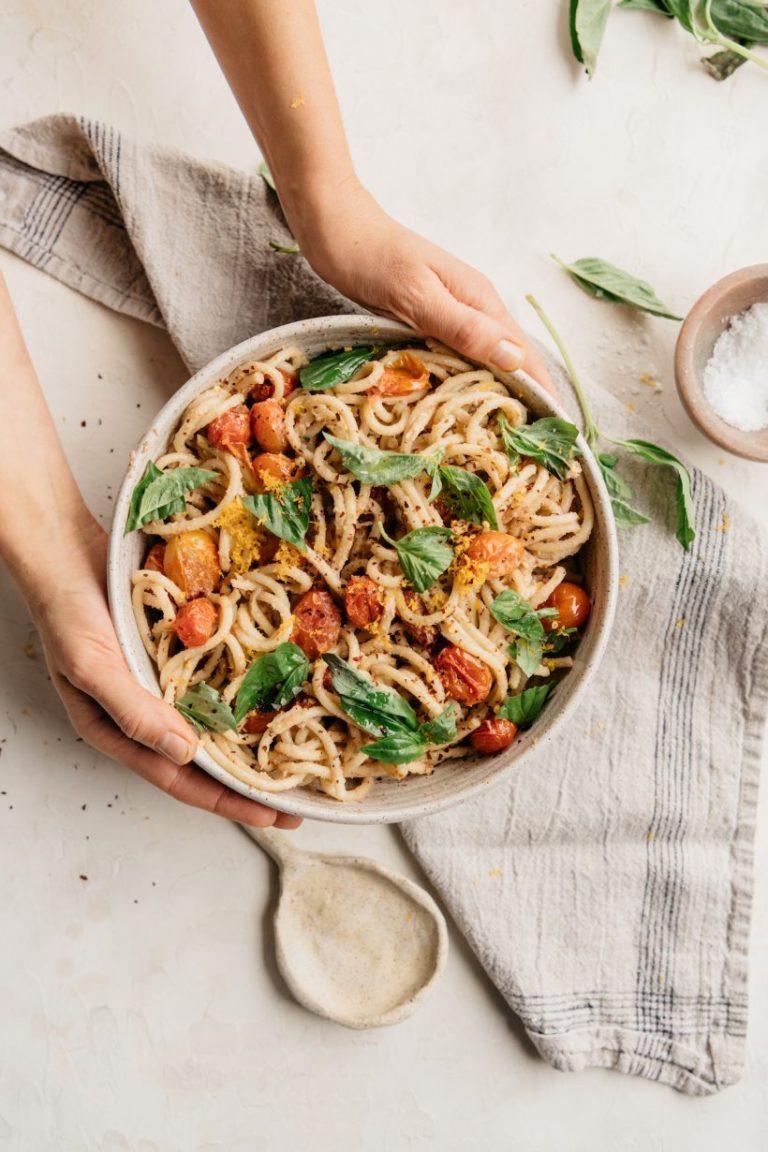 Why We Love It: If you've never seen "creamy" and "vegan" thrown together in the same recipe title, prepare to be amazed. This pasta covers the trifecta of all healthy and quick dinner recipes: it's super fast to make, deliciously indulgent, and surprisingly light. It makes the most of the classic basil and tomato pairing, while the option to add lemon zest and red chili flakes boost the flavor all the more. And that sauce, well… prepare to eat it by the spoonful.
Hero Ingredient: Walnuts are the star of this creamy, silky sauce. By soaking them in water for a couple of hours or overnight, they'll be super soft when it comes time to blend them with your other ingredients. A delight for every diner, regardless of any dietary restrictions.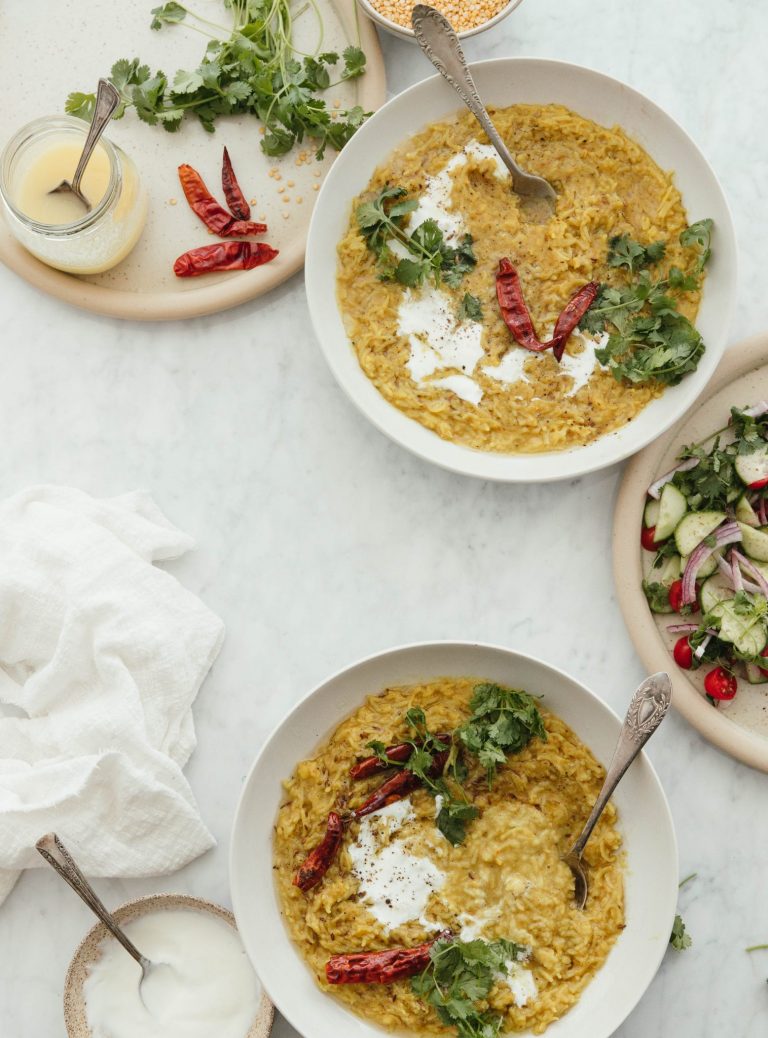 Why We Love It: Kitchari is the ultimate intersection of comforting, flavorful food and nutrient-packed goodness. It's so quick to whip up on a busy weeknight and as we near cold season, the perfect way to ward off any sickness. Our Food Editor, Suruchi, swears by it, even calling it one of her favorite healthy and quick dinner recipes that she makes at least once a week. While you're more than welcome to make it now, I'd also recommend bookmarking it for late-fall cooking—the mix of spices will warm you up and makes the entire dish oh-so-satisfying.
Hero Ingredient: Of all the good-for-you ingredients this kitchari recipe packs in, I'd have to call the ghee my favorite. And I'm definitely putting Suruchi's recommendation to practice: top your bowl with an extra tablespoon or two for added creamy comfort.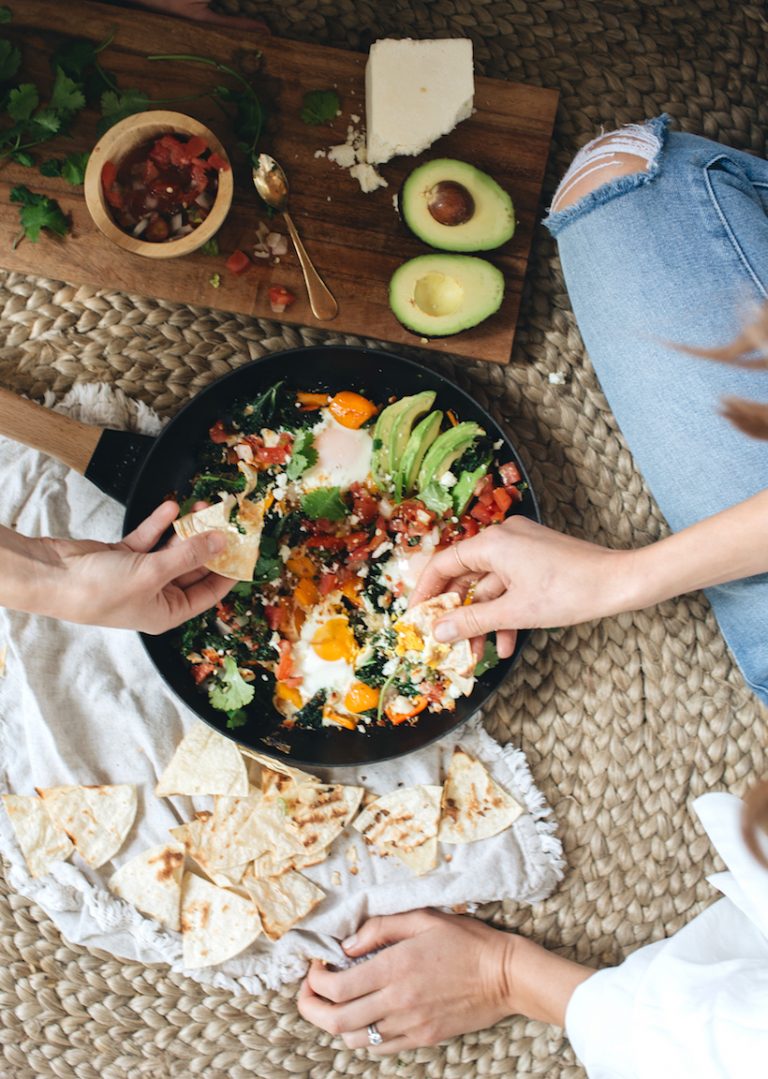 Why We Love It: Who doesn't love breakfast for dinner? These baked eggs put a spin on a traditional shakshuka and are incredibly tasty. They cover all your nutrient needs with eggs, kale, bell peppers, and olive oil. And of course, where there are healthy, colorful ingredients, there's plenty of flavor. The pico de gallo makes sure of that.
Hero Ingredient: Sprinkling crumbled cotija or feta on top of any spicy egg dish is always a good idea.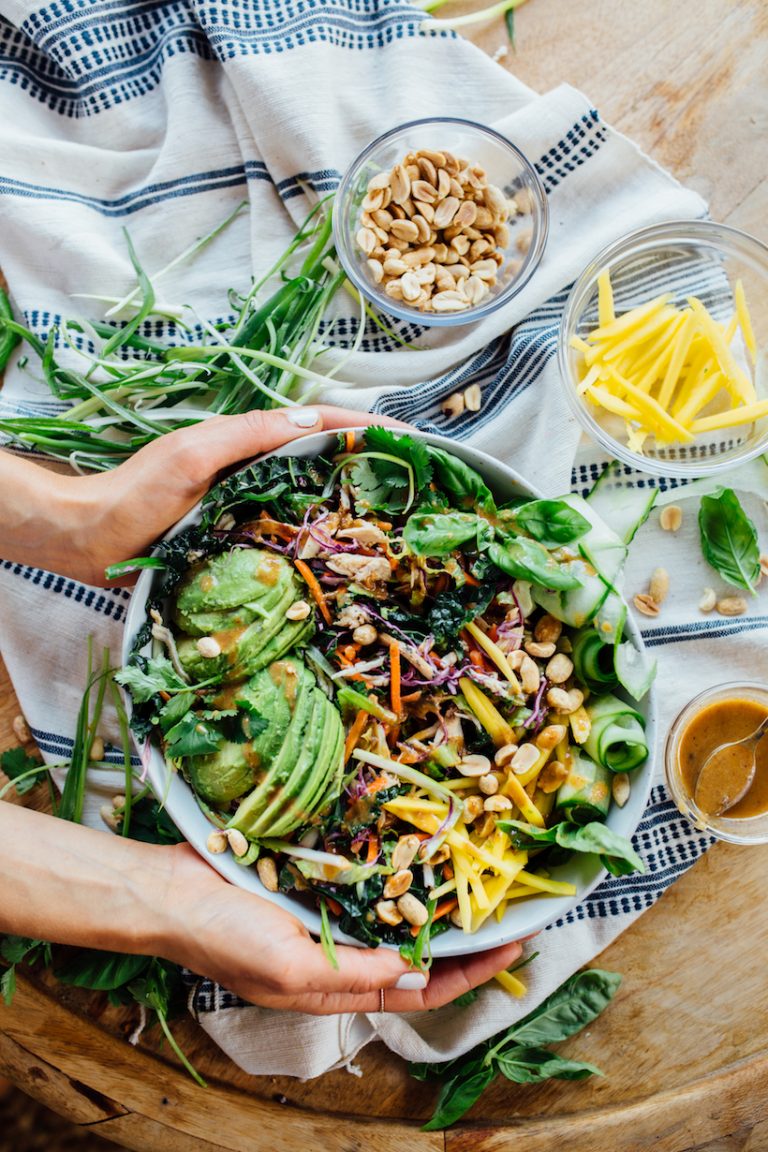 Why We Love It: There are chicken salads and then there's this rainbow-hued Thai Chicken Salad recipe that redefines simply, healthy cooking. Camille swears by her easy kitchen hack of buying a rotisserie chicken at the beginning of the week and using it to add protein to bowls, sandwiches, and salads like this one here. It's the simplest, tastiest shortcut that'll help dinner come together in a delicious flash. And alongside the colorful mix of fruits, fats, and veg, well, what's not to love?
Hero Ingredient: Use a heavy hand when you drizzle your spicy peanut sauce on top. You won't be sorry.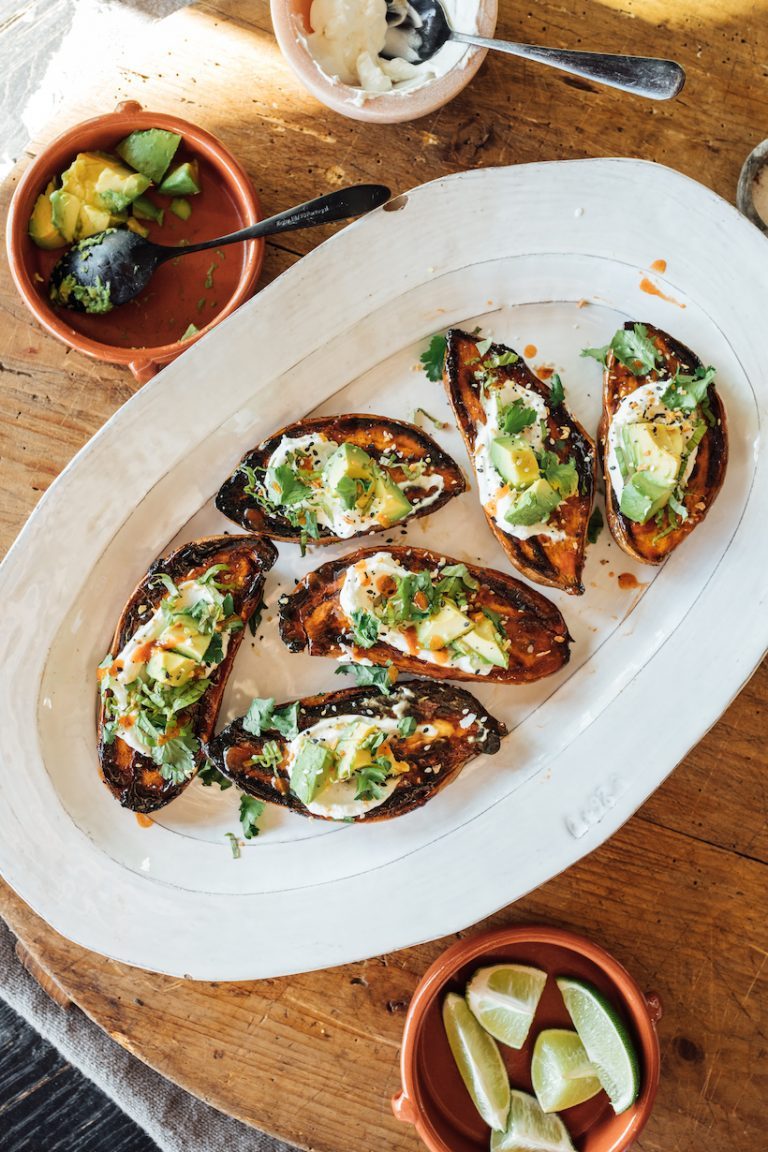 Why We Love It: We're passionate about our sweet potatoes here at Camille Styles, and these crispy roasted tubers might be my favorite take we've come up with yet. They're perfectly creamy on the inside, while the slow roast in the oven gets their skins wonderfully crispy. And sure, given the time they spend in the oven, these sweet potatoes do take a bit over 30 minutes to make. However, they require only five minutes of hands-on time, so while they roast to perfection, you have time to unwind, relax, and prep for the delicious meal to come.
Hero Ingredient: You have free rein when it comes to choosing your toppings. I often swap between going sweet or savory—Greek yogurt and honey for the former, while herbs, sour cream, some avocado, and sriracha make these a dream of a dinner option as well.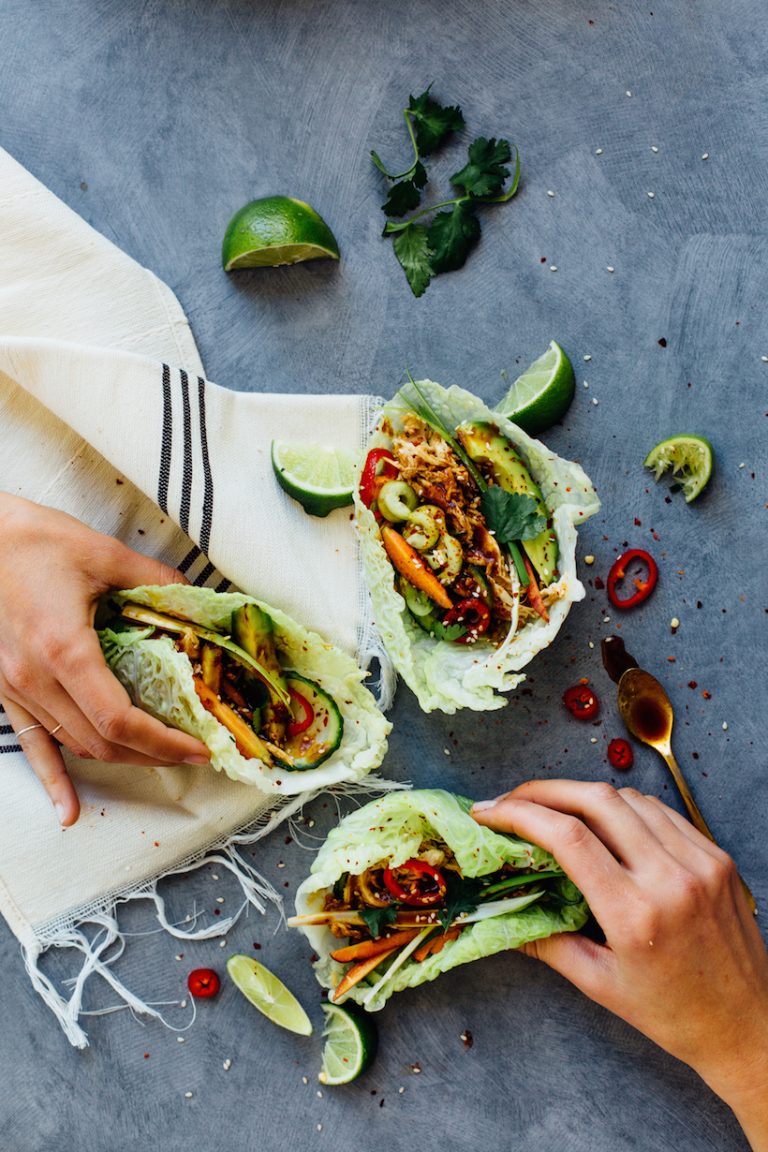 Why We Love It: If you're looking for a healthy dinner recipe that leans on the lighter side, this is a great option. Once I started subbing in leafy veggies (cabbage, hardy lettuce, or collard greens) for a grain-based wrap or taco, well, I haven't looked back. They're the perfect way to work in some extra veg to your meal without going the salad route, and one look at the ingredients list in this recipe, and it'll quickly be clear that this dish definitely satisfies.
Hero Ingredient: A jar of hoisin sauce not only helps these tacos come together in less time than it takes to devour them, but it gives them a nice sweet-and-salty flavor that, for the uninitiated, is akin to barbecue sauce—but IMO, is so much better.
This post was originally published on June 18, 2021, and has since been updated.