Even the most avid home chefs can occasionally draw a blank—sometimes, you fall into a run and just can't think of any new ideas for what to cook. Of course, in an ideal world, we'd all have plenty of time each evening to craft delicious, wholesome meals for ourselves and our loved ones, but alas, that just isn't the reality on most nights. That's why I'm always on the lookout for healthy and quick dinner recipes to turn to when I need a little push in the right direction.
Most of the healthy dinner ideas in this group can be created with items you already have in your fridge and pantry. We've included a varied assortment of recipes with all kinds of ingredients to ensure that you can work with what you've got. They're also highly customizable, so you can swap out a few things here and there and replace them with whatever you have stocked in your kitchen. The following recipes include a mix of veggie, gluten-free, and meat options—there's truly something for everyone regardless of dietary restrictions.
So, pickup some seasonal ingredients, load up on your pantry staples, and get ready to be seriously wowed by these healthy and quick dinner recipes. Getting a seriously delicious and good-for-you meal shouldn't take hours–or cost you an arm and a leg.
Read on for 15 favorite healthy and quick dinner recipes!
Who doesn't love breakfast for dinner? These baked eggs put a spin on a traditional shakshuka and are incredibly tasty.
How gorgeous are the colors in these chicken fajitas?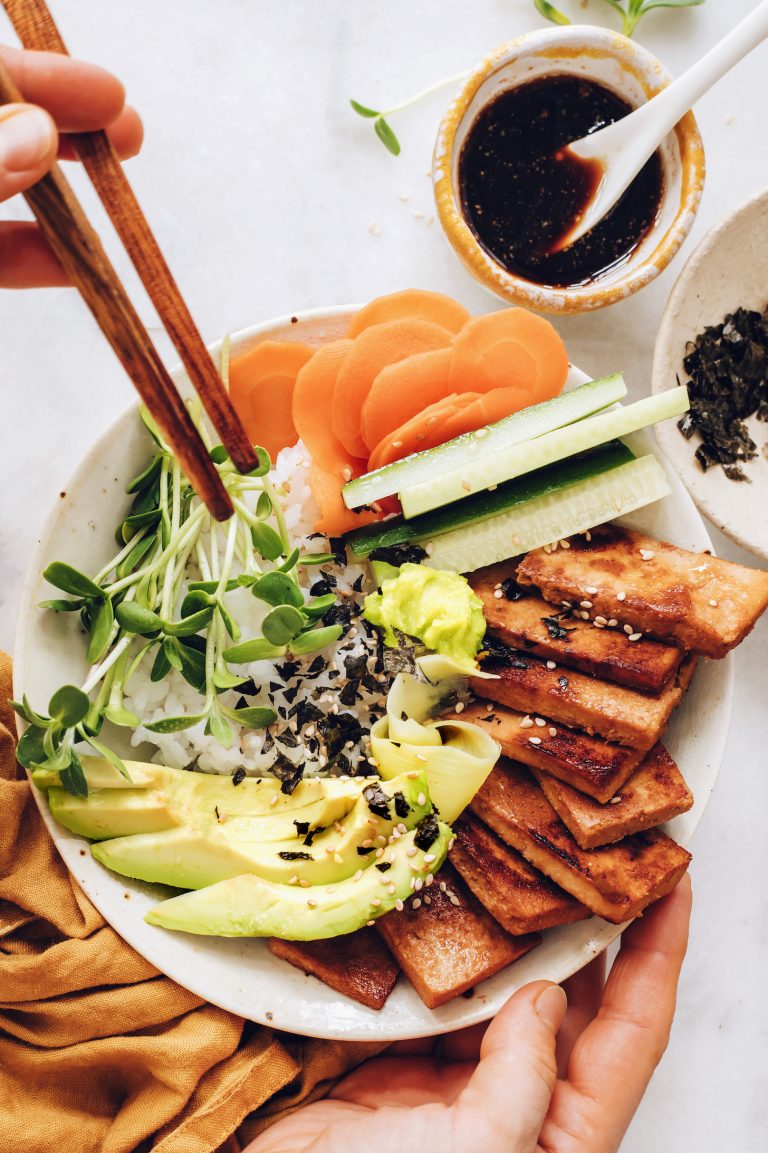 With only 10 ingredients required, this plant-based and gluten-free dish is so satisfying.
It doesn't get much easier than throwing a few sweet potatoes in the oven and then topping them with some delicious goodies like avocado and sour cream. It is one of our favorite healthy and quick dinner recipes!
Doesn't this look like an absolute feast for the senses? We guarantee it will become your new weekly go-to.
Throw together this absolutely delicious lettuce wraps next time you're under a time crunch but craving serious flavor. It's a great easy, healthy dinner idea.
This refreshing and satisfying grain bowl is packed with nutritious veggies and is a breeze to make. It's also perfect for meal prep—it's guaranteed to become one of your go-to quick and healthy dinner recipes.
Kitchari from Minimalist Baker
Get those vitamins in you with this comforting and nourishing dish. It is so quick to whip up on a busy weeknight and you'll get all the nutrients you need, too.
I am of the mind that soup is for all seasons, so this quick and healthy recipe is next on my list.
You'll never believe this hearty and healthy meal was cooked in just 30 minutes!
This tasty dish comes together in under thirty minutes and can be made using simple ingredients you probably already have stocked.
Load up on protein and healthy fats with this hearty, flavorful dish. The tender tofu is sweet and citrusy while the white beans are creamy with a touch of zest thanks to a pesto marinade. Yum!
This salad is just as pretty as it is healthy and delicious. If you're unsure about putting strawberries in your salad, just make it and thank us later.
Shrimp are great when trying to whip up a quick meal since they cook up so fast. It's a super flavorful meal that is full of nutrients.
Few things are as refreshing as a gazpacho on a warm summer's eve, and this delightful green recipe is as good as it gets.