I've never been one to buy into claims that "healthy" dinner hacks taste better than the original. I'm sorry, no one actually believes that zucchini noodles taste better than real pasta! Sure a zucchini dupe for pasta can be tasty in its own right, but I'll never consider it an equal substitute, nor should it have to be labeled as such. And that's why today, I'm not going to tell you that this stuffed bell peppers recipe, acting as the shell for samosa stuffing, tastes better than real samosas.
*Spoiler* Nothing is better than a deep-fried and dunked-in chutney samosa, especially at my favorite restaurants or wedding reception. But… that doesn't mean these stuffed bell peppers aren't just as delicious as their own separate entity. While this recipe takes inspiration from one of my favorite fried foods, they're definitely a little lighter and an easy weeknight dinner.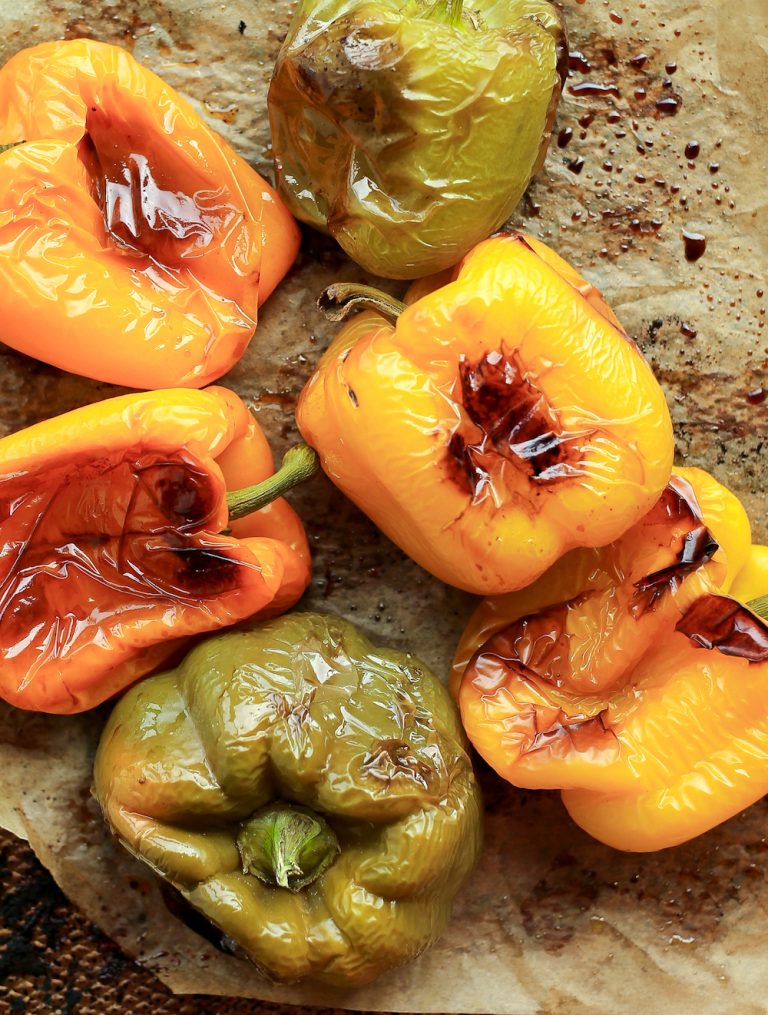 Another spoiler, we didn't grow up actually making samosas at home. They were a treat reserved for pick up from our favorite Indian shops in Houston, stacked in a little white box and sandwiched between greasy parchment paper (which my brother and I would inevitably break into before we even got home or to be scarfed down at weddings drenched in chutney before the reception dinner). So because I didn't even have a recipe to reference for this from my mom, I resorted to trying a few different blends and ratios of spices with my potatoes to try and emulate the soft and spiced stuffing of a samosa.
It's actually super easy to make the filling for these and I think it would make a delicious filling in pastry dough when making actual samosas. But today, we're taking our spiced potatoes and stuffing them into roasted bell peppers. I think the combo actually works really well. The savoriness of the potatoes pairs perfectly with the sweet char from the bell peppers, and with a little squeeze of lime juice and a drizzle of chutney, it's almost like magic.
The easy hack that I'm loving? Microwave your potatoes. I know, microwaving isn't really seen as highbrow, but after listening to a recent episode of the Recipe Club podcast with Priya Krishna and David Chang, they both wholeheartedly agreed that microwaving totally has its place in the kitchen. (Have you seen their new book?) My mom always microwaved potatoes for dishes like Pani Poori and Chaat, so I'm doing no different. It's so easy to microwave the potatoes, let them cool while you heat up the spices with the onion in the oil, mash the potatoes (leaving them chunky), and then adding to the spices. So perfect, and no giant boiling pots of water necessary.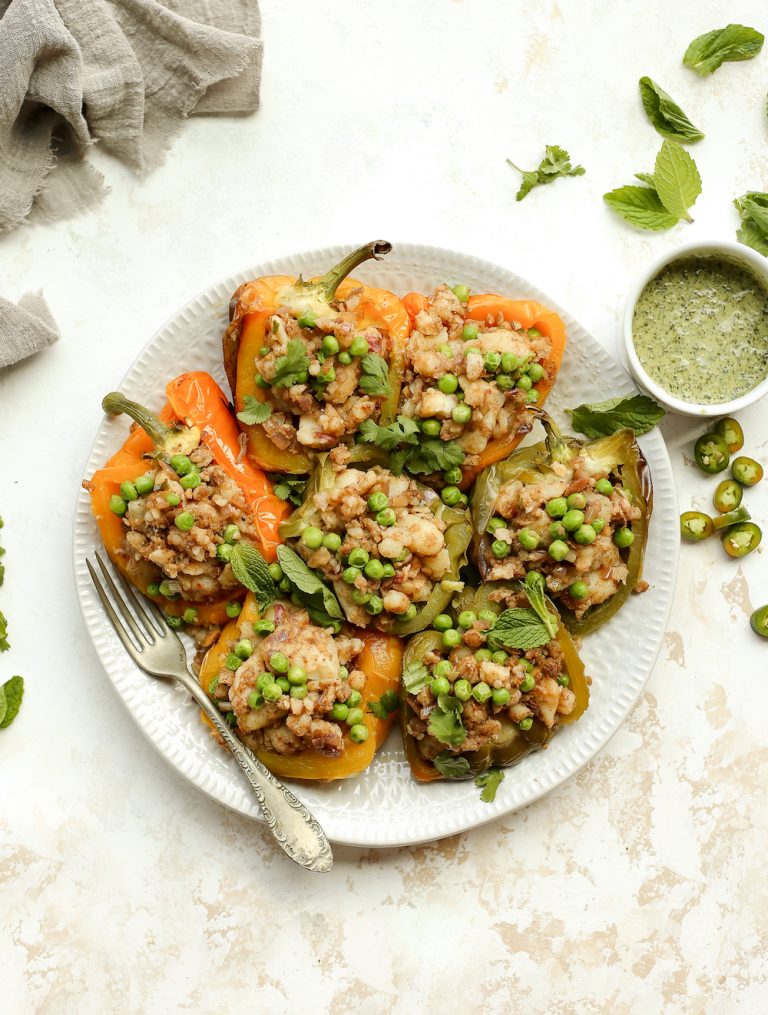 And for the bell peppers… technically, you can follow any roasting method you prefer on your bell peppers. I've seen a few different ways to do this online:
Slice off the top of the pepper, deseed, stuff with filling, put the top on, and roast until blistered.
Roast the peppers whole, until charred and soft. Peel the skin and deseed, stuff with filling after baking.
Slice peppers in half, deseed, roast cut side down until cooked, stuff with filling.
There really is no right or wrong way to do it. Having tried all three methods, I think the first one yields the least amount of mess post-baking, though I prefer the soft sweetness that the second and third methods result in from the peppers. If you care more about the presentation, option one is perfect. Otherwise, the other options work great. Take your pick!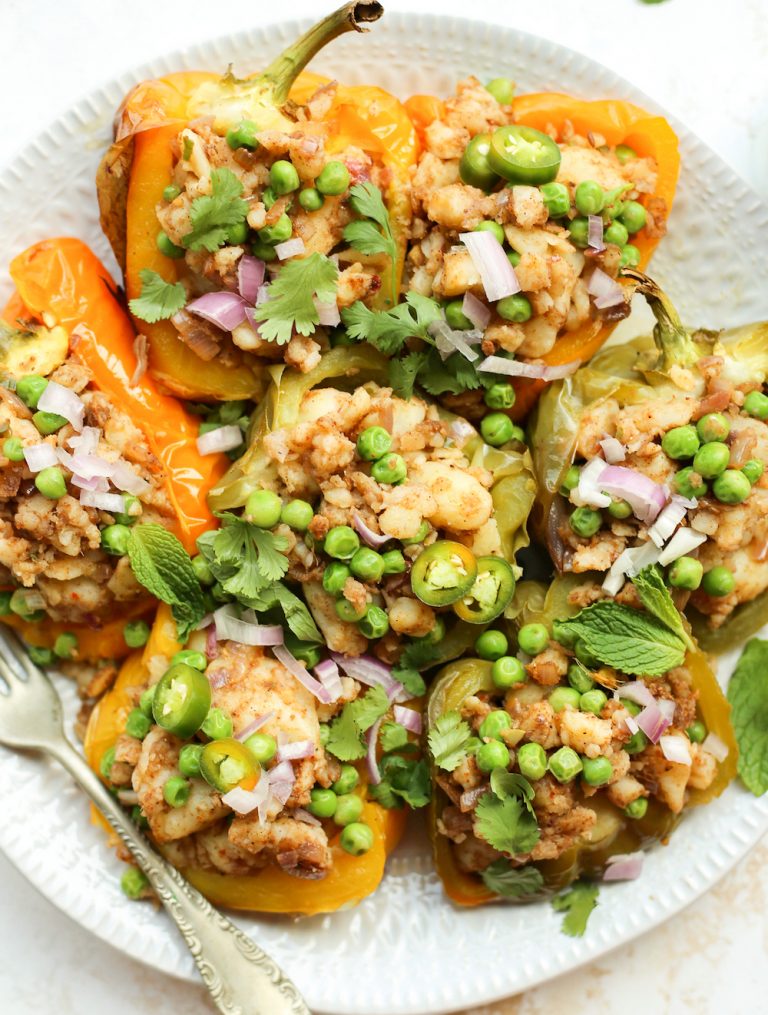 This also makes for a super easy make-ahead dinner, as the stuffing will keep overnight. So you can cook your potatoes on the stovetop for the filling, set aside until ready to cook, and you've got an easy dinner with minimal effort. Plus, when you drizzle over some chutney, tamarind, or a tangy mint and cilantro chutney, it's just so delicious. Top with extra fresh herbs, maybe a drizzle of yogurt, some fresh red onions, and you've got a flavorful plate that is actually pretty good for you too. Enjoy!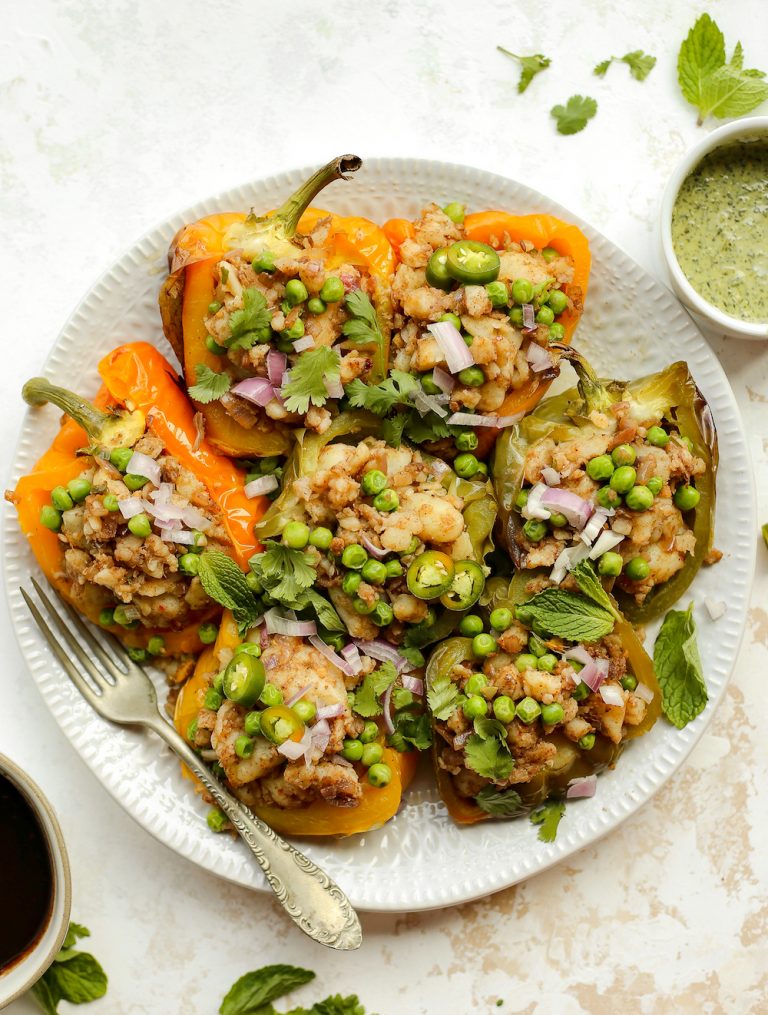 ---
Ingredients
7 - 8 small red potatoes
1 - 2 heaping tbsps of ghee or oil
1 large shallot, peeled and chopped
1 inch of ginger, peeled and chopped
1 small serrano chili pepper, seeded and chopped based on heat preference
1/2 tsp mustard seeds
1/2 tsp chili powder
3/4 tsp cumin powder
2 tsp garam masala
1 tsp salt
1/2 cup frozen peas, thawed
1/2 tsp chaat masala
juice of 1/2 lime
4 - 5 bell peppers
to top: chutneys, fresh herbs like cilantro or mint, chopped red onion, yogurt, etc.
---
Instructions
Prep the filling (can be made ahead)
Poke holes in the clean potatoes (skin on) with a fork and place in microwave. Microwave on potato setting until soft. Let cool, then peel the skins of the potatoes off. Place peeled soft potatoes into a large bowl and mash with a fork, leaving enough texture. You do not want the potatoes to be smooth, there should be some chunks. Set aside.
In a large stove top pan, add the ghee/oil and bring up to a medium heat. Add the shallot and ginger and cook for about two minutes until the shallots start to become translucent. Add the serrano, all the spices and salt, and cook for a few minutes until the spices become fragrant. If the mix feels dry, add another tbsp of oil.
Add the potatoes to the spices and remove from heat. Stir to coat the potatoes and add the peas, chaat masala, and squeeze of lime juice. Taste and adjust salt and spice as needed. Set aside.
Preheat oven to 400 degrees and prep the bell peppers. Slice off the top and deseed the peppers. Coat with a drizzle of olive oil.
Place the peppers standing up in a baking dish and fill each pepper with the potato filling. Place the top of the pepper on top and place the baking dish in the oven. Bake for about 45 minutes to 1 hour until the peppers are cooked through and slightly blistered.
Remove from oven, let cool slightly, then serve with toppings of choice. Enjoy!