Consider this a love letter to smoothies. Not only is a smoothie the perfect breakfast item, but it makes an equally satisfying lunch or mid-afternoon sustenance. The best part? Smoothies are a perfect summer treat that's also healthy! So easy to throw together, full of blended fruits and veggies, and as close as you can get to dessert that's socially acceptable for a meal. Are you sold yet? If not, allow me to up the ante. I'm talking about summer smoothies, people! AKA, smoothies full of summertime produce that are your one-stop shop for beating the heat.
As we're closing the book on June (crazy, I know), I hope everyone's mind is on summer produce. I'm talking peaches, watermelon, cucumber, blueberries, cherries, and all of the other fabulous fruits and veggies that define the season. If you're not using them already, or if you're looking for more ways to incorporate them into your diet, allow me to introduce you to a few summer smoothies that make the most of those incredible ingredients at your fingertips. But first, why smoothies?
Featured image by Teal Thomsen.
Image by Michelle Nash.
Why do summer smoothies make the perfect meal?
I probably don't need to tell you the health benefits of smoothies, but I'm going to anyway. While it does depend on the contents of your cold creation, smoothies are generally a simple and healthy way to incorporate more fruits and veggies into your diet while optimizing your nutrient intake. Specifically, fruits and vegetables like cucumbers, berries, and apples play key roles in gut health and metabolic function. Cucumbers, for example, can help alleviate bloating due to their high water content, while berries and apples are rich in fiber—helping to keep your digestive health on track.
Another health benefit of some smoothies comes in the form of their unsung hero: yogurt. Yogurt is packed with probiotics, which is a bacteria that's essential for gut health and can even boost your immune system—yes please! And while all smoothies are made differently, they're generally a very healthy way to incorporate these benefits into your diet and have fun while doing it. So, let's explore five summer smoothies that are easy to make, celebrate summer produce, and incorporate healthy benefits into your daily diet.
5 Summer Smoothies to Shake Things Up This Summer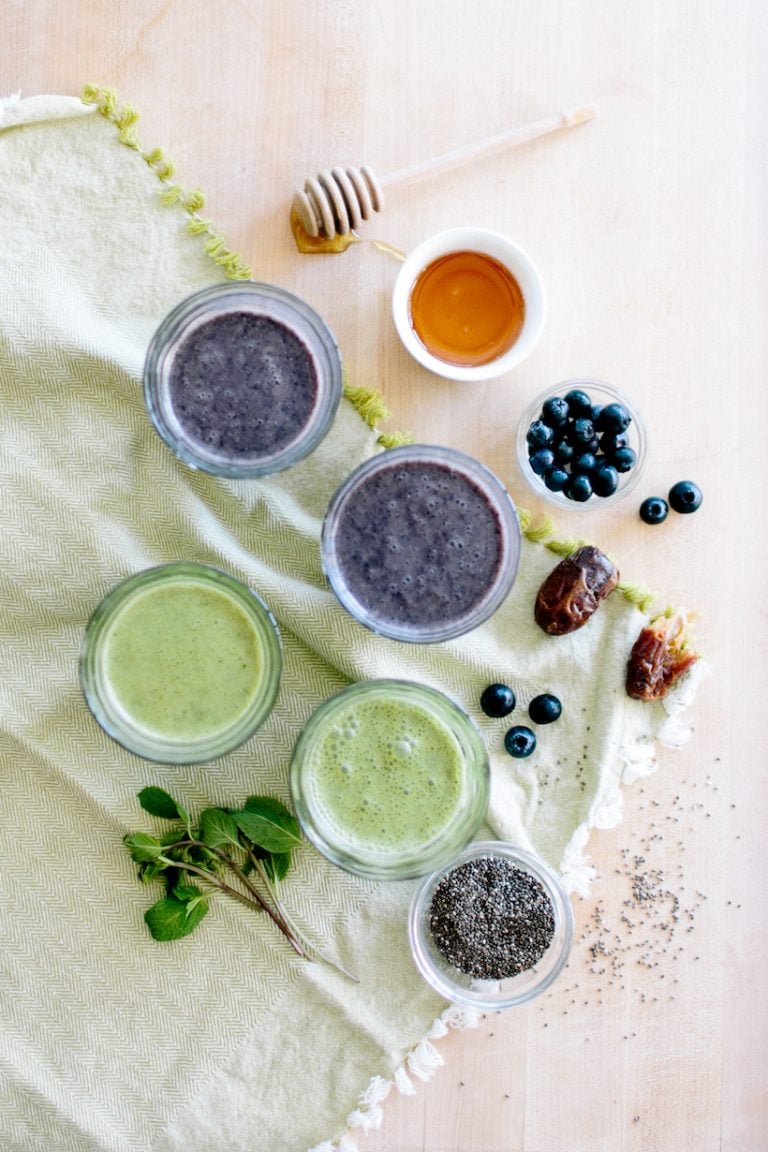 Why We Love It: Six ingredients are all that stand between you and a refreshing, antioxidant-rich summer smoothie. We're talking banana, blueberries, chia seeds, honey, almond milk, and a handful of mint. That's it! And believe me, it's all kinds of delicious.
Hero Ingredient: Chia seeds are the small-but-mighty heroes of this smoothie. Like the blueberries, they're full of antioxidants, fiber, and can even reduce the risk of heart disease. Thank you, chia seeds—you're welcome to the party anytime.
Why We Love It: I'll admit, I'm not one to jump at the thought of a cucumber. While I acknowledge they're versatile, refreshing, and definitely good for you, I've never cared much for the green giants. But in this smoothie, they cruise right along with that pineapple, banana, and lime juice and lend just a hint of earthy flavor that brings refreshment full circle. I'm about it.
Hero Ingredient: Pineapple is welcome in my smoothie any day. You just can't beat that citrusy sweetness.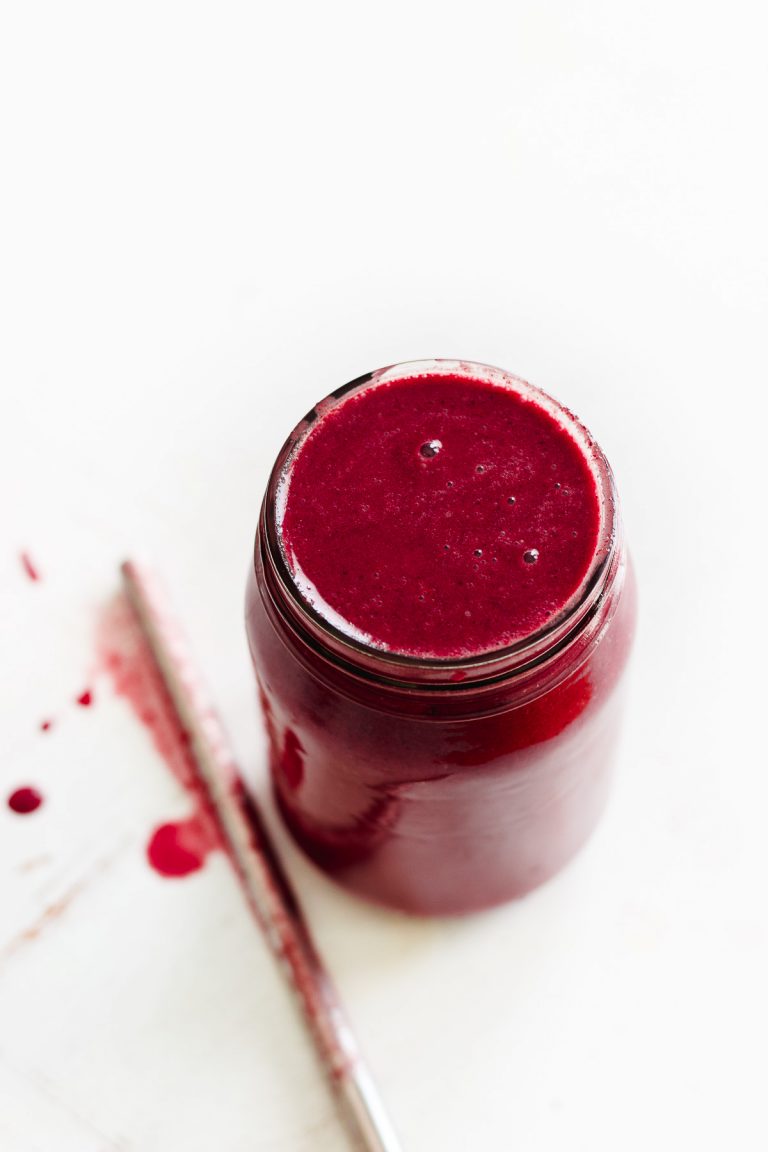 Why We Love It: Don't run at the sight of "superfood." Apple cider vinegar, pink Himalayan salt, turmeric, ginger, black pepper, chia seeds, and MCT (or coconut) oil are the superfoods in question here, which are all things you probably already have in your pantry. An accessible and flavorful approach to health? Sign me up.
Hero Ingredient: Let's not forget about the namesake fruit here. Use any berries you have on hand to complement all that healthy goodness. Personally, I'm a fan of the classic blueberry/strawberry crossover, but raspberries and blackberries make an equally delicious team.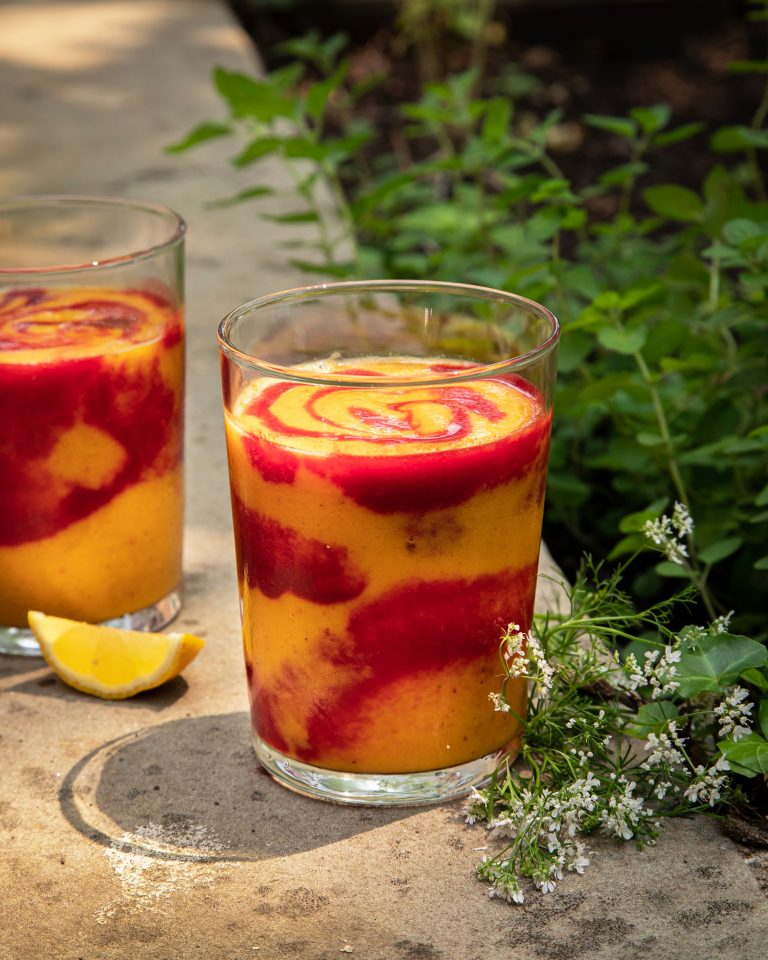 Why We Love It: Golden peach sunrise sounds like summer in a glass. And not only are peaches a focus ingredient in this summer smoothie, but raspberries, orange, carrot, and ginger make a glowy appearance as well. To top it off, turmeric, sea salt, black pepper, vanilla, and lemon juice add depths upon depths of flavor and nutrients.
Hero Ingredient: Talk about superfoods, turmeric is a superfood-above-all-superfoods. It has anti-inflammatory properties, can help improve memory, and can even reduce pain. When it's combined with black pepper (like in this smoothie), turmeric is more easily absorbed by the body. Do I hear win-win?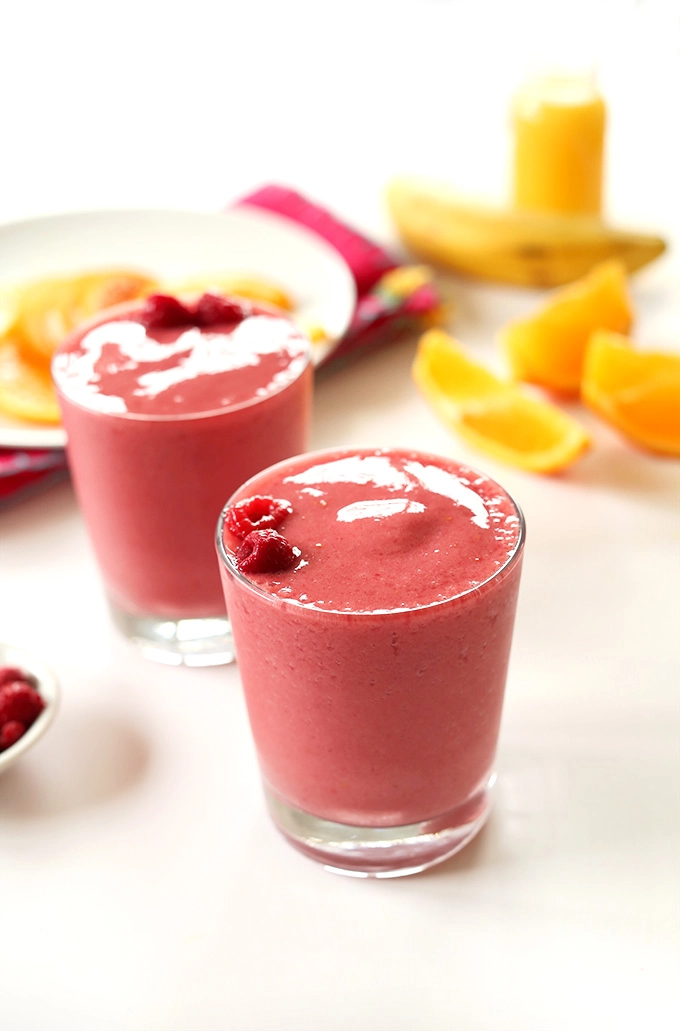 Why We Love It: This one is just raspberries, banana, orange and pomegranate juices, and almond milk, so it literally comes together in less than five minutes. Perfect for on-the-go or at-home, and you can measure your fruit beforehand to store in the freezer. Grab and go or sit and savor—the world is your summer smoothie.
Hero Ingredient: Pomegranate juice boasts antioxidants, vitamin C, digestive health properties, and a slew of other good-for-you qualities that would be too much to read. You'll just have to take my word for it.
What are your favorite summer smoothies? Link in the comments or sound it out!