Growing up in a vegetarian household, I've come to develop a pretty great relationship with vegetables. Sure, it helps that my mom makes my favorite Indian food in the world that is brimming with varied spices and interesting flavor. Even outside of the daal and sabzi made in the kitchen, my parents were just really great about having a variety of meals that we loved. Except when it came to school lunches.
I could've made my parents lives easier by agreeing to bring a container of saag paneer or thermos of curry in my lunch bag, but as a sulky middle schooler who just wanted a PB+J uncrustable and some gummy fruit snacks to eat, I wasn't going for it.
In college, my lunchtime rut continued as all the quick sandwich spots on campus had rows of turkey and rye, grilled chicken, and tuna salad sandwiches, which left me with a soggy Mediterranean vegetable sandwich or egg salad. Don't get me wrong, I love egg salad sandwiches, but there's a limit to how many one can consume in a week. While working at one of my weekend jobs in downtown Austin my senior year of college, I was again back to perusing the shelf of sandwiches at the to-go cafe down the street, scanning past the egg salad and peanut butter and jelly, and coming across one labeled "sweet potato." It was an unexpected sandwich filling, and I was intrigued enough to try it. It turned out to be an absolute game changer.
Now it may at first sound weird to put a potato on a sandwich, but as a vegetarian who's seen the same sad portobello mushroom or weird soy meat substitutes to add some extra heft to a sandwich, this was a welcome shift. When paired with other vegetables and toppings, the sweet potato makes for a surprisingly sweet bite that's become my go-to sandwich for years now.
Today's sandwich recipe has been slightly altered over the years based on my regular grocery haul, and the combination of ingredients has never let me down. With fall in full swing (at least up here in the Midwest!), I've got sweet potatoes and other root veggies around all the time, making it so easy to toss this sammie together. It's basically all of my favorite things smushed between two pieces of bread and it's incredible.
Obviously any great sandwich starts with the bread. I love a good sourdough, sliced sandwich style if I'm bringing my sandwich into work or baguette style for at home when I don't mind that extra chewy bread and the risk that comes with it of filling going everywhere. Then I add a big swoosh of hummus, the creamier the better. Top with slices of sweet potato and beets that have been roasted with a healthy drizzle of olive oil and lots of salt and pepper and add some avocado because is any meal really complete without it? Use your greens of choice and then spread on some soft goat cheese that's been mixed with lots of lemon juice and zest, fresh herbs, and pepper. With a veggie sandwich, it's really about adding flavor where you can, so pick a nice and flavorful hummus, salt and pepper your roast root veggies generously, and load up the goat cheese with that zesty and tangy lemon.
You could of course switch out the veggies based on what you have on hand, some radishes would be great, I've added sliced cucumbers before, and just this once, I might even let some sautéed mushrooms slide.
Print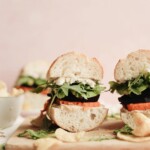 Roasted Sweet Potato Sandwich
---
Description
The Only Veggie Sandwich You Need to Make This Season
---
For the roast veggies:
1

large sweet potato

1

large beet
olive oil
salt and pepper
For the goat cheese spread:
1

8

–

ounce

package of goat cheese, softened at room temperature

1 tablespoon

fresh chopped chives

1 tablespoon

of fresh chopped basil
zest of

1/2

lemon
juice of

1/2

lemon
salt and pepper to taste
For assembly:
hummus (homemade or store-bought)
avocado, sliced
greens of choice (I like arugula or sprouts)
sandwich bread of choice
---
Instructions
Preheat oven to 425 degrees F.
On a foil lined sheet tray, place your cleaned sweet potato and beet in the center of the sheet. Drizzle on olive oil to coat and sprinkle with salt and pepper. Place on the center rack of your oven and let roast for 40 – 45 minutes, until sweet potato and beet are tender. Remove from oven and let cool.
To prep the goat cheese, place all of the ingredients in a small mixing bowl and combine until smooth and spreadable. Set aside until ready to assemble.
Peel the cooled beet and slice. Set aside.
Slice the sweet potato and set aside, I leave the skin on but you can peel if you like.
To assemble, build your sandwich by spreading hummus on one slice and the goat cheese on another slice. Add ingredients of choice and enjoy!