There are two types of people in this world. Those who mourn the end of summer and those who rejoice, I am the latter. As soon as a slight cool breeze sweeps through my hair, I'm trading in the linen shirt for the soft cozy sweaters. My cooking hardly changes–though seasonal, I still bake bread and cakes and pies all year round. But there are some things that are saved for the glorious Autumn season, like this Brown Butter Bourbon Apple Crisp.
This was my first year to ever go apple picking. The stunning orchards in Austin remind me of the dry farm lands of southern Italy. Rows and rows of apple varieties begging to be plucked and savored at home. Gala and Honeycrisp are sweet and hold their shape which means great texture, and it means your dessert won't become a pile of mush. Macintosh and Granny Smith give that classic saucy thick texture, plus a splash of tartness. When baking with apples, I always mix a variety of sweet and tart as well as those that melt into a syrupy stew and those that keep their bite. Who doesn't want the best of both worlds?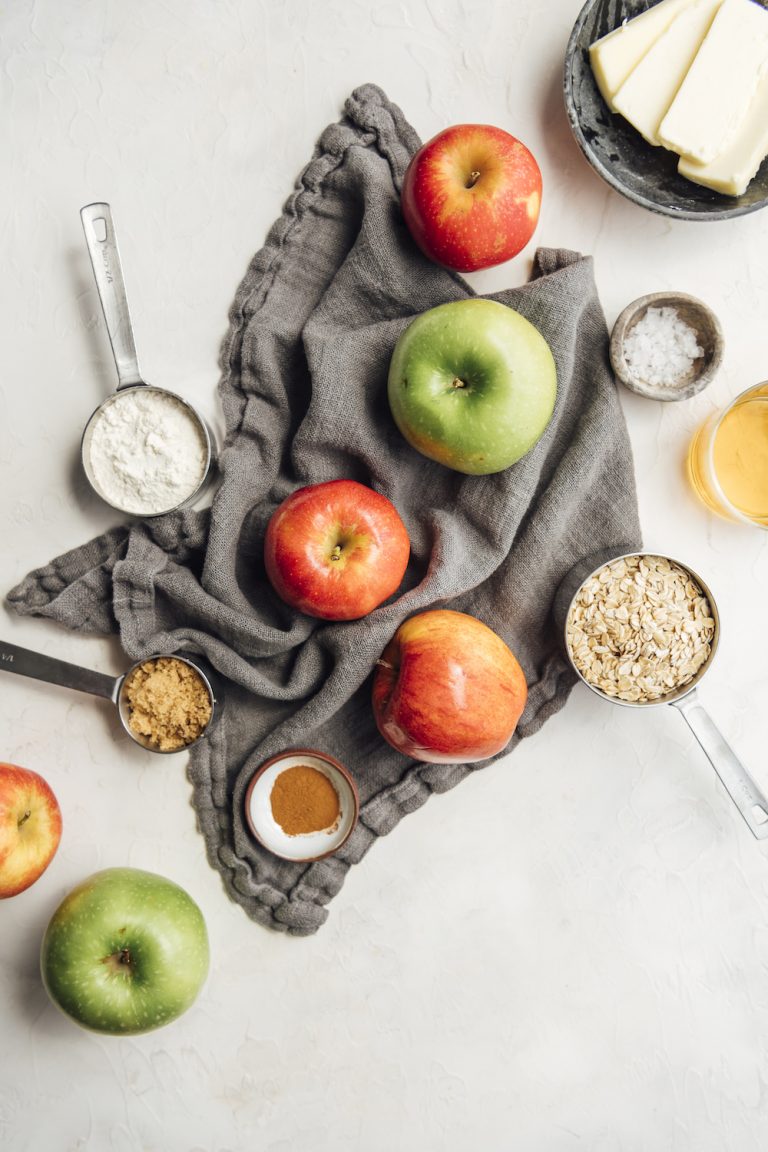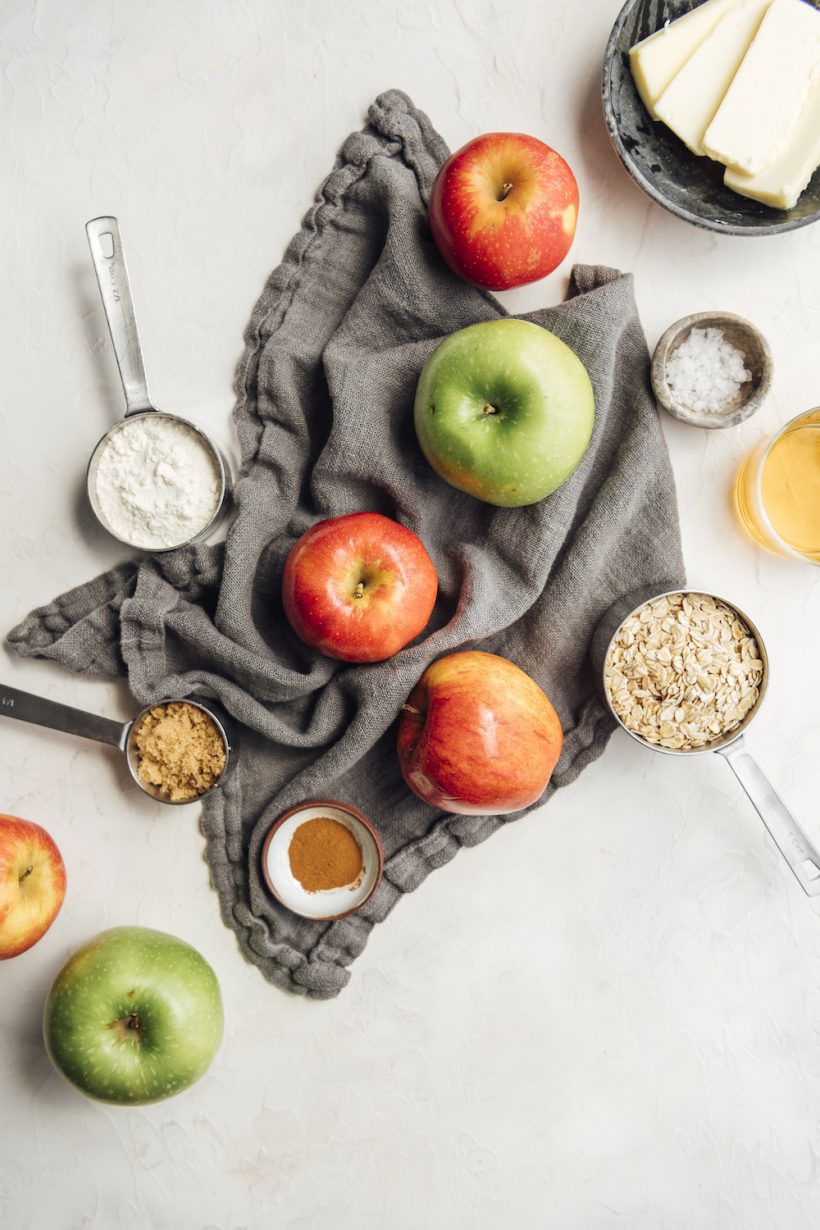 I like to lean into the tart and syrupy with lots of texture. Which is why my go to are Granny Smiths and Pink Ladies/Gala with a 2:1 ratio. It's also important to keep in mind the size in which you cut your apples: those that break down, I tend to cut larger chunks and those that keep their shape, I cut a little smaller. Varying the sizes also gives a great mouth feel. This recipe takes note of these varieties and cooking time doesn't affect the end product. You'll know when your crisp is done when the topping is golden brown and the filling is bubbling to the sides.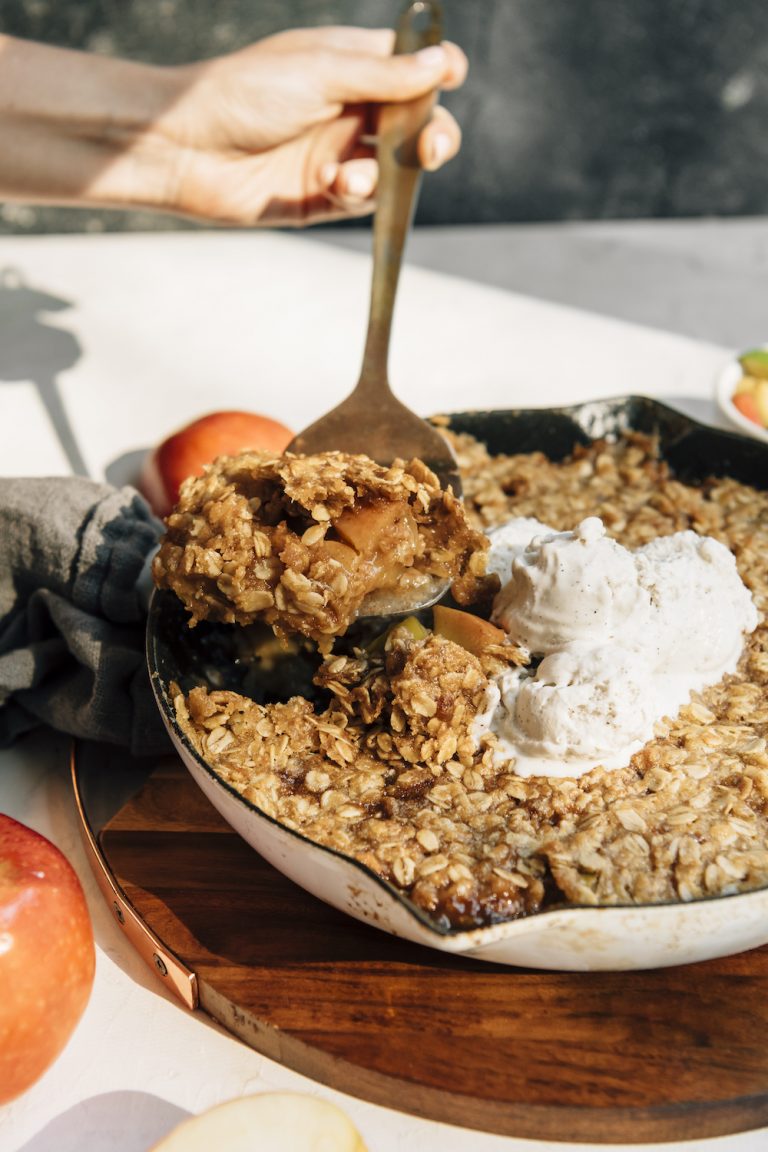 Apple crisp is a yearly treat—once you get the fundamentals it's so easy to make and customize. I often add frozen berries for extra tartness and a pop of color. This Brown Butter Bourbon Apple Crisp recipe is my tried and true, classic Autumn dessert that properly welcomes the transition from warm to cool weather. For no-alcoholic drinkers, you are welcome to omit the bourbon, though the alcohol is cooked out when baked. It's there to add a warmness and sweet honey-like aroma. The brown butter though I will not skip. It compliments the apple, oat, and cinnamon and adds richness to the filling and beautiful specs of nutty toasted browned butter. This dessert has less than 10 ingredients and is a must try for a low-key Saturday baking project or for your holiday dessert table.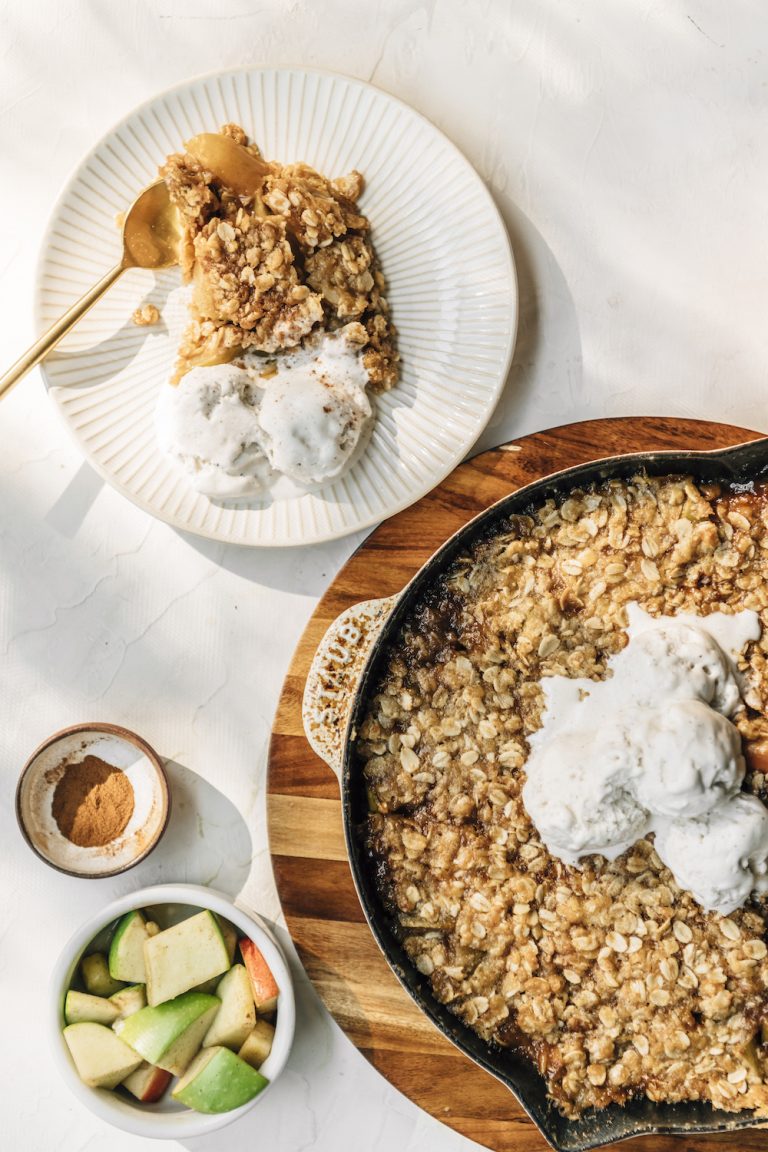 ---
Ingredients
For the topping
1 cup oats

1/2 cup flour

1/4 cup brown sugar

1 teaspoon of cinnamon

Pinch of salt

8 tablespoons (1 stick) butter, melted
For the filling
 3 each Granny Smith and Gala/Pink Lady apples

3 to 4 tablespoons bourbon

1/2 cup brown sugar

1 tablespoon cornstarch

1 ½ teaspoon cinnamon for filling

Pinch of salt

Juice of a lemon, about 2-3 tablespoons

Half stick butter (4 tablespoons) to brown for filling
---
Instructions
For the topping
Preheat oven at 350 degree F.

In a medium sized bowl mix oats, flour, sugar, cinnamon and salt until combined. Pour melted butter and stir until dry ingredients are coated and resemble the texture of wet sand. Set aside.
For the filling
In a small saucepan or frying pan over medium low heat, melt butter. Constantly stir with a heat proof spatula until butter starts to brown, the butter will have small foam like bubbles on the surface with dark brown milk solids on the bottom and will emit a nutty aroma. About 5 minutes. Set aside.

Peel, core and chop apples into ½ to 1 inch sized pieces. Add bourbon, brown sugar, cornstarch, cinnamon, salt and toss. Let apples marinate in the bourbon mixture for at least 10 minutes. Once marinated, pour browned butter over the apples.
In a cast iron skillet or preferred baking pan*, add apple mixture and sprinkle the topping. Bake crisp for 55-60 minutes or until the topping is golden brown and the filling is bubbling on the sides.
*Note: Baking dishes must be at least 3 inches in depth and baked in a circular or square 6-7 inch baking dish.