In the world of imaginative food substitutes, cauliflower can do no wrong. It can lighten up your favorite gnocchi recipe, add creamy decadence to your morning smoothie, stand in as an insanely crispy pizza crust, and even hold its own in a wrap (thanks, Trader Joe's). But where its magic really shines? Cauliflower rice, of course. I can happily make rice the base of any meal. Spooning out some curry? Add rice. Got a medley of vegetables about to expire? Rice makes them a meal. To inspire some next-level takes on making the grain substitute a part of your everyday diet, I shook the internet upside down for the best vegan cauliflower rice recipes for every meal. 
This year, I've been focusing on adding in more of the good stuff (greens, beauty-boosting fruits, and plant-based proteins) than getting bogged down by what I'm leaving out. Subbing in cauliflower for your grains is a shining example. I love knowing that I'm getting tons of fiber and antioxidants from this one single swap. 
So if you're worried about missing rice in your meal, know that you have nothing to fear. Keep scrolling for all the best vegan cauliflower rice recipes that prove you can have your comfort food—and eat your veggies, too.
17 Vegan Cauliflower Rice Recipes To Try This Week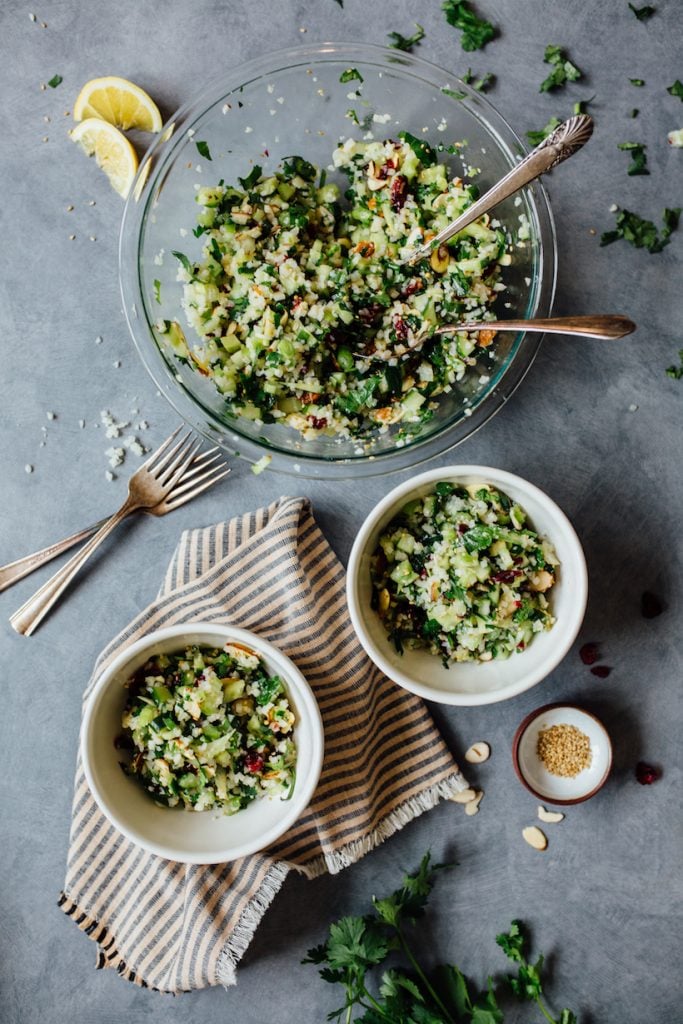 Why We Love It: Packed into a pita or enjoyed on its own, tabbouleh is a lunchtime (and really anytime), staple. This recipe swaps out the bulgur for, you guessed it, cauliflower rice. While you don't get the expected nuttiness from the bulgur, this take is full of tons of veggies (cucumbers, celery, parsley, cilantro, and green onions), so you're not missing out on any flavor.
Hero Ingredient: Sesame seeds sprinkled on at the end is the epitome of chef's kiss.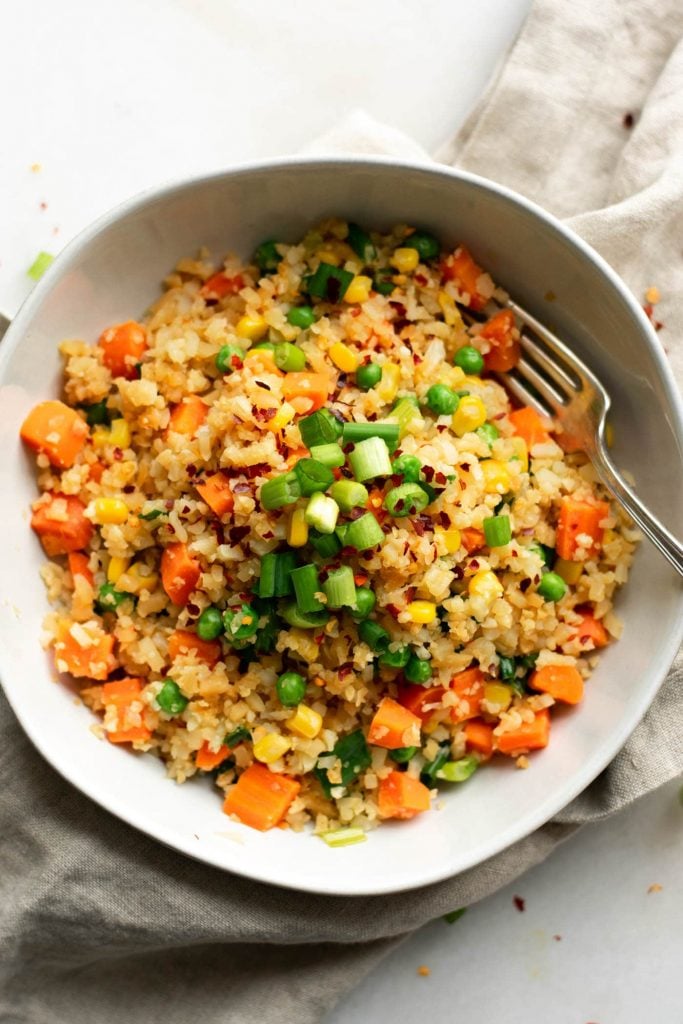 Why We Love It: When I need something hearty and filling (and my fridge is packed with veggies that are about to go bad), fried rice is my jam. This version lightens things up while still managing to pack in 15 grams of protein per serving. If you want to up the protein content of this dish even more, stir in or top your plate with baked tofu or tempeh.
Hero Ingredient: Classic fried rice flavor, courtesy of soy sauce. If you want a low-sodium, soy-free substitute, coconut aminos is a great solve.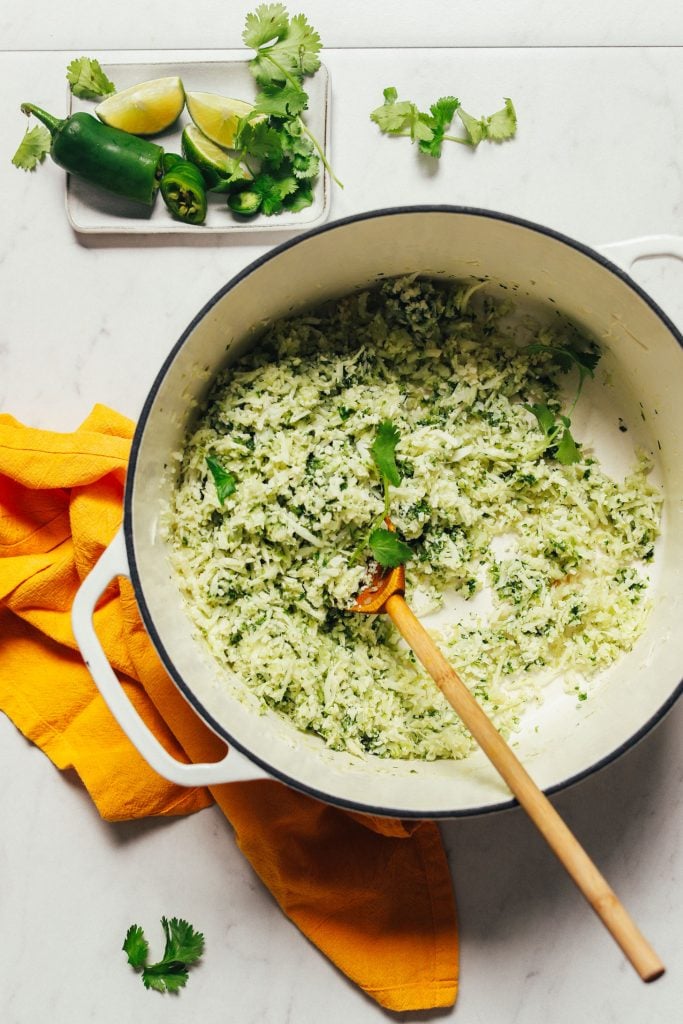 Why We Love It: There's something about seeing a plate full of green components that instantly cues me to the fact that I'm about to do beautiful things for my body, mind, and mood. When you pull this recipe together (it only takes 20 minutes!), the result is beyond vibrant. It gets all of its green goodness and flavor from a pesto-like mixture of jalapeño, cilantro, and lime juice.
Hero Ingredient: Nothing brings the heat like jalapeño.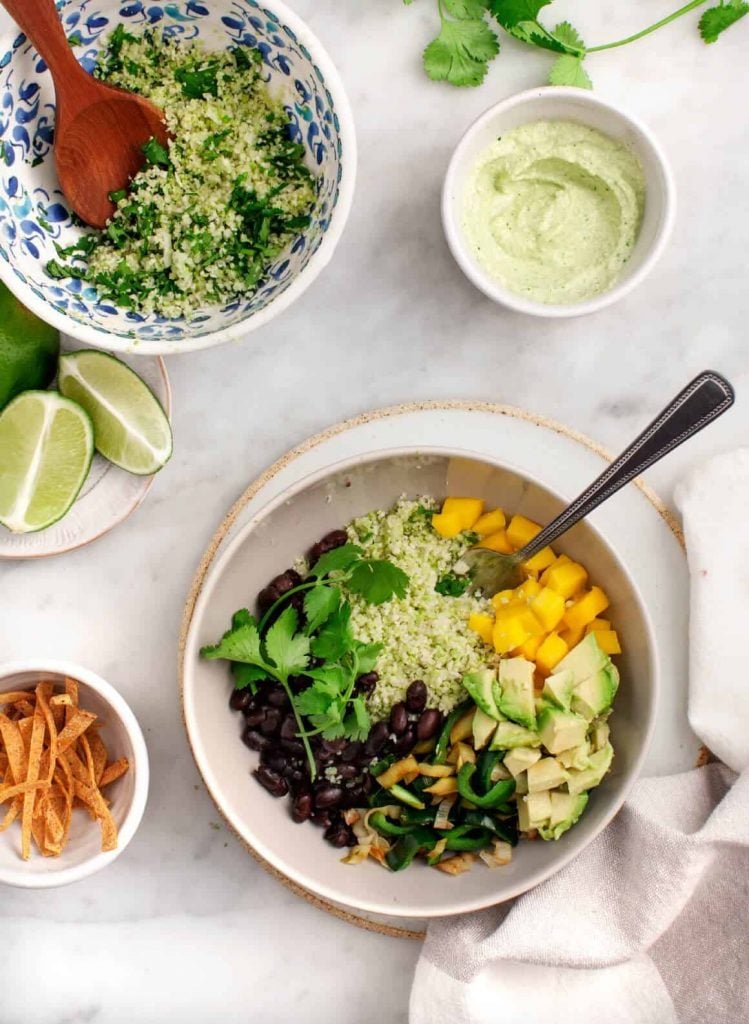 Why We Love It: Like your go-to Chipotle burrito bowl order, but it'll make you feel energized (and not like you want to curl up on the couch for the rest of the day). There's so much packed into this bowl that gives it amazing flavor. Fajita veggies, mango, avocado, and the dreamiest cashew green chile sauce. Consider your lunch plans canceled for the foreseeable future.
Hero Ingredient: About that cashew green chile sauce. It's thick, creamy, and exactly what I want to spoon on top of… everything.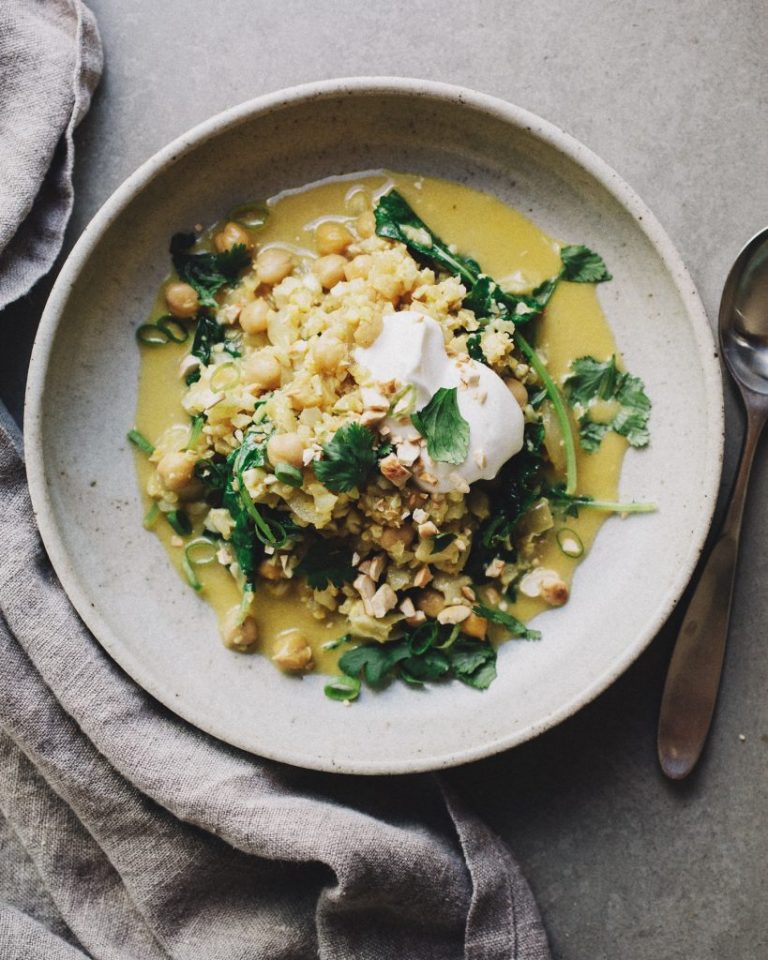 Why We Love It: Chickpeas and cauliflower rice go together like PB&J, and this recipe does the pairing justice. There's texture, there's protein, there are greens—there's everything. I love curry's complex heat and the coriander brings just a little sweetness to keep everything balanced. This is a level of heat that just about everyone can handle.
Hero Ingredient: Everything's fair game in this recipe, but when the ginger hits your sauté pan, magical things happen.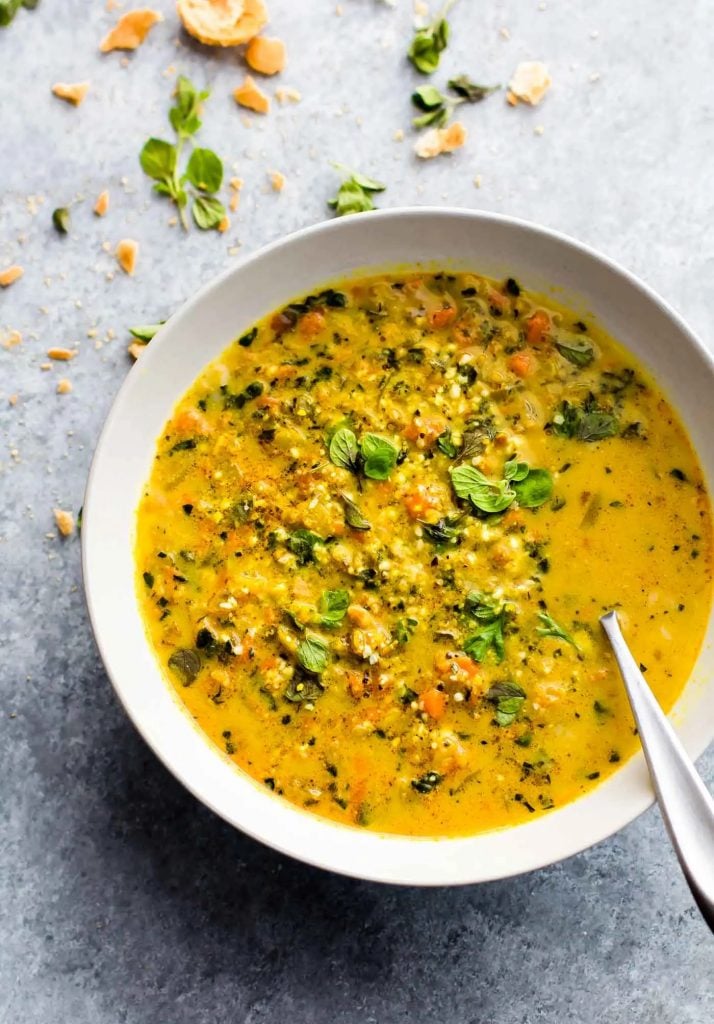 Why We Love It: Never underestimate the power (and crave-worthy factor) of a good kale soup. While it sounds detox-y, the taste is anything but. It's comforting, warming, and yes, full of key nutrients we could all use a little more of. This recipe is real food done right.
Hero Ingredient: It's not an expression I use often, but when a recipe calls for two to three tablespoons of curry powder, it's go big or go home.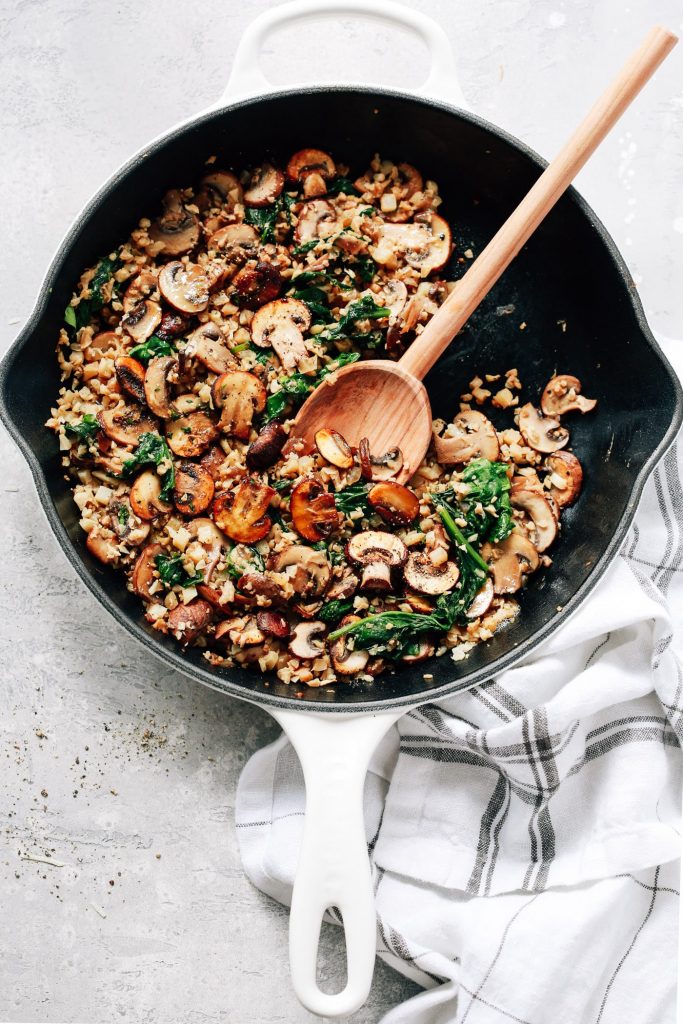 Why We Love It: It only takes 20 minutes to have a plate of this perfection ready to devour in front of you. It's a one-pan recipe whose ease-to-deliciousness ratio alone is enough to convince you to make it every night of the week. It's the perfect base for a bunch of my favorite vegetables. If you want to add a little something extra, it makes a great side dish as well.
Hero Ingredient: Parsley is the perfect herb for any recipe that's heavy on the mushrooms.
Why We Love It: Stuffed peppers are a weeknight classic. But with rice, cheese, and sometimes meat packed in, it can be hard to make it through a whole pepper without giving up. Cauliflower rice comes to the rescue in this recipe, retaining all the flavor and comfort of the stuffed peppers we all grew up with without having to worry about a subsequent food coma.
Hero Ingredient: I love a little (or, when necessary, a lot) of salsa in my stuffed peppers. It lends some zest to these packets of cheesy, hearty deliciousness that kids and adults alike will devour.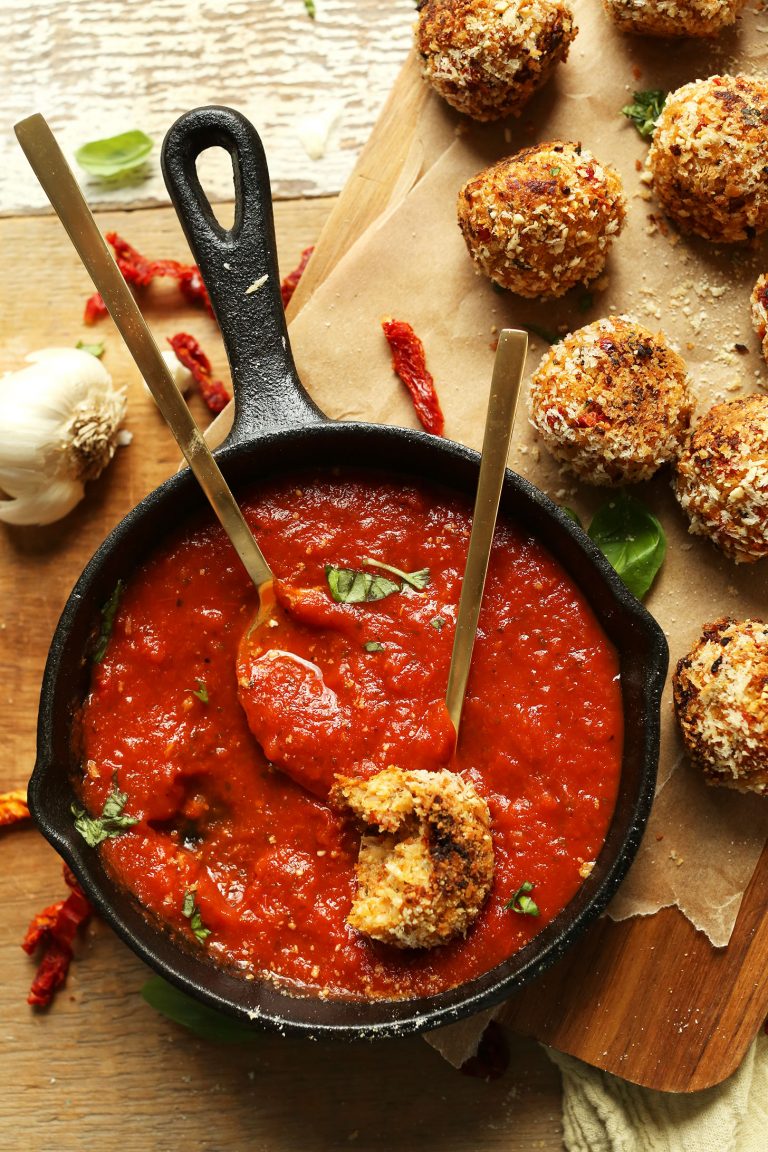 Why We Love It: What's arancini, you might ask? It's an Italian dish that features rice balls stuffed with cheese, coated in breadcrumbs, and deep fried to GBD—yum. In this ten-ingredient vegan version, cauliflower rice takes center stage alongside vegan parmesan, sun-dried tomatoes, fresh basil, garlic, and panko breadcrumbs to get those crispy brown edges just right.
Hero Ingredient: Be sure to serve your arancini alongside a marinara sauce. It's reminiscent of mozzarella sticks and marinara sauce in the best ways.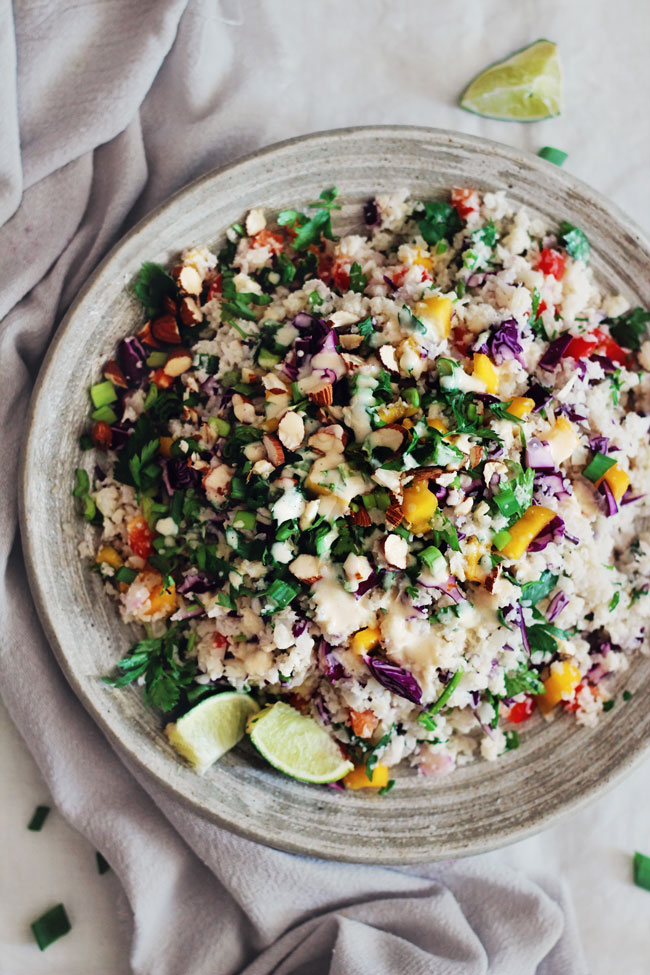 Why We Love It: This cauliflower rice salad is bursting with color and flavor. It features mango, bell pepper, spring onions, and chopped almonds to round out all that flavor and texture. And don't even get us started on the ginger peanut sauce. It's layered with peanut butter, fresh ginger, lime juice, honey, and a big pinch of sea salt. Once you drizzle it over your salad, you'll never want to stop.
Hero Ingredient: The mango brings a sweetness that's unexpected, but appreciated. It's a nice contrast to the savory elements in the salad.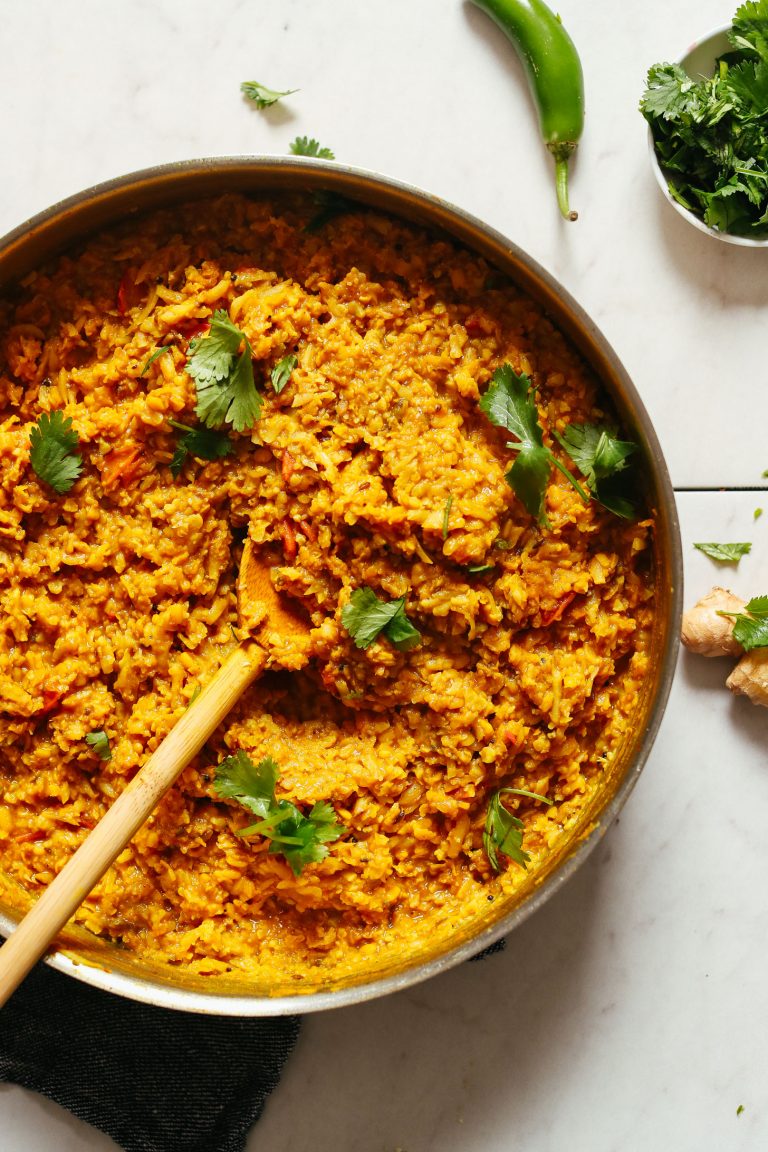 Why We Love It: We love kitchari here at Camille Styles, and this cauliflower rice take is no exception. Instead of basmati rice, you're using cauliflower rice as a flavorful and functional substitute. You can enjoy your kitchari as-is, over a bed of greens, or atop a roasted veg medley. Any way you serve it, it's delicious and downright comforting.
Hero Ingredient: You have a lot of control over the heat here. If you want more, leave the seeds in the serrano peppers. Or, to keep things on the mild side, remove those seeds and forge on!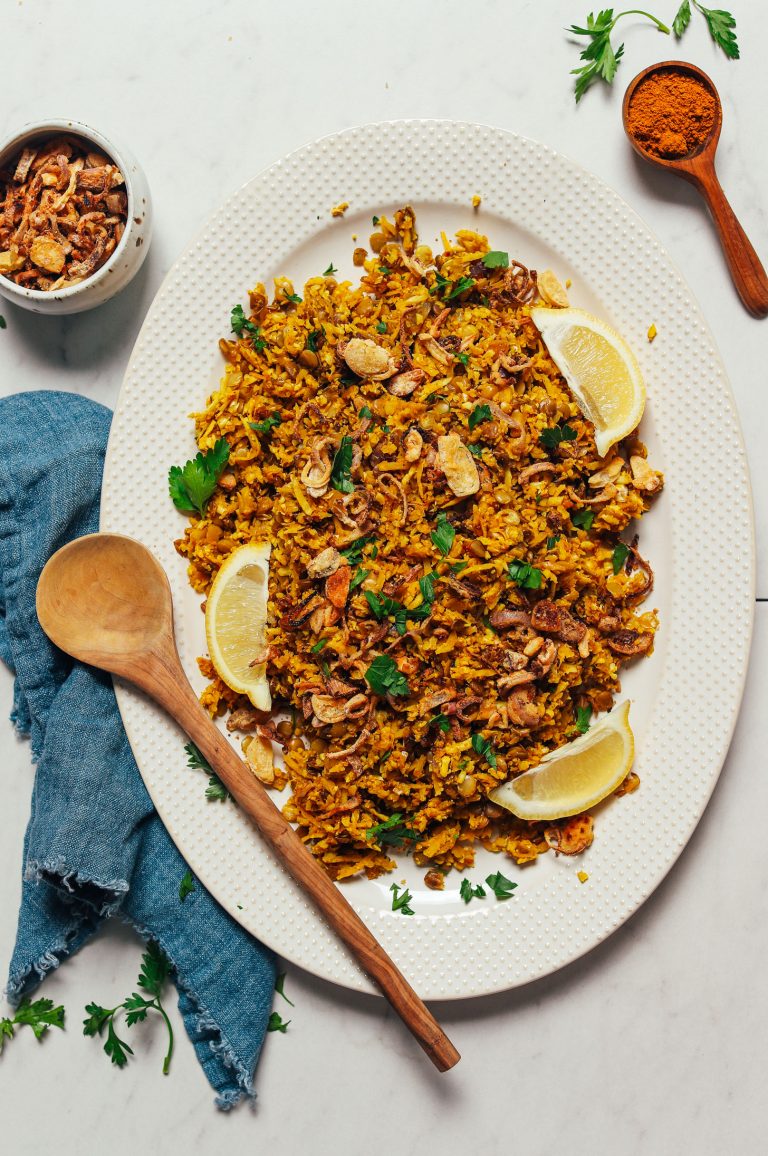 Why We Love It: In terms of vegan cauliflower rice recipes, this one packs a healthy dose of protein. With lentils in the mix, you're getting protein, fiber, and a whole slew of vitamins and minerals. Once you have your lentils cooked, all that's left to do is sauté everything together, garnish, and enjoy!
Hero Ingredient: Serving this rice with a few pomegranate arils livens up the dish in a refreshing and mouth-watering way.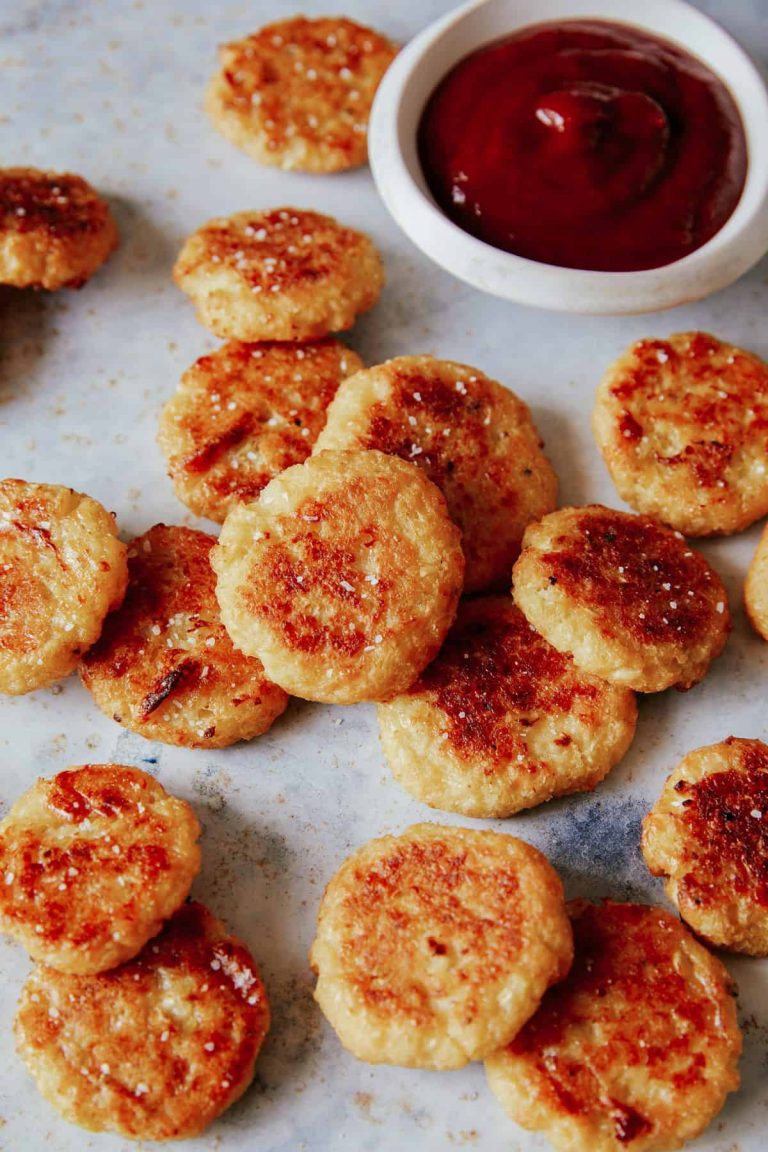 Why We Love It: Who doesn't love a little tot in their life? These cauliflower tots have a lot to make you feel good about. First, they're baked, so you don't have to fret about unwanted oils saturating things. Also, they're made with cauliflower instead of potatoes, so you're getting a dose of hidden veggies. Lastly, they're absolutely delicious, nostalgic, and everything you could dream for an afternoon pick-me-up. It's practically impossible to eat these without a smile on your face.
Hero Ingredient: White cheddar cheese in the breading takes things to a whole new level.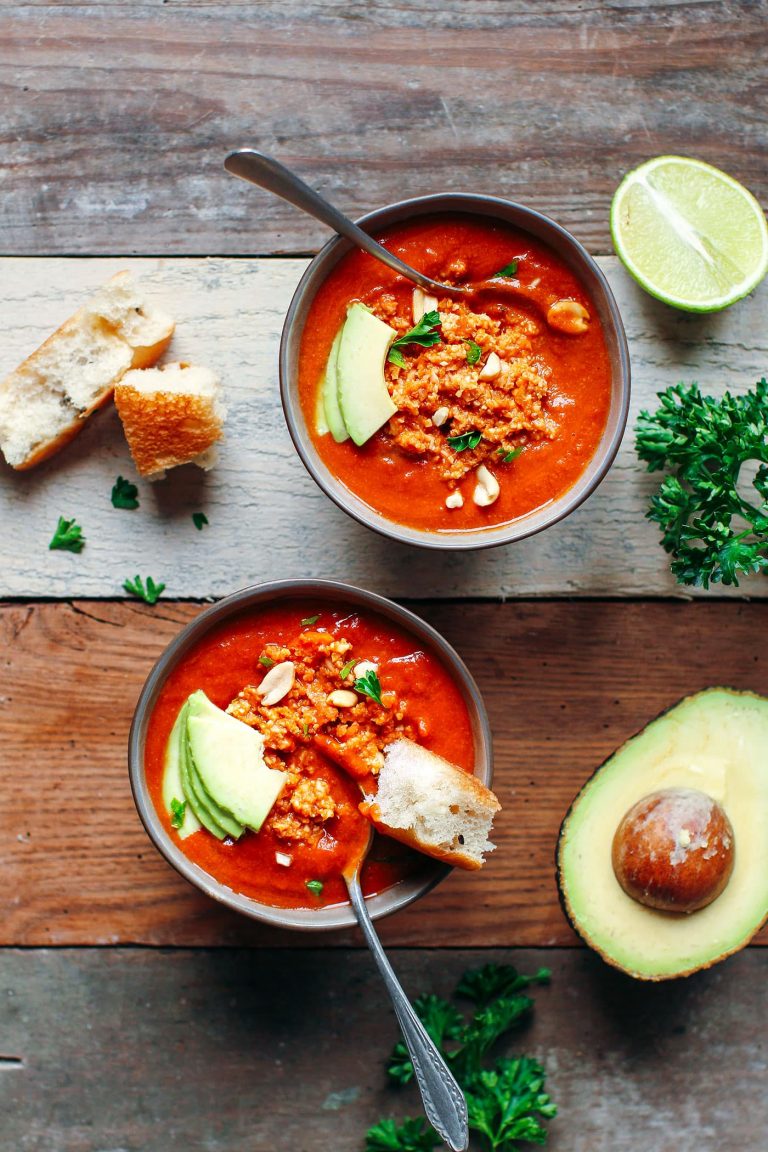 Why We Love It: This may not be your typical game day chili, but it sure does pack a punch. Even though it's vegan, each bowl is full of stick-to-your-ribs sustenance and rounded flavor. The chili is rich, a little spicy, and nutty in the best way. This recipe is also perfect for busy weeknight dinners because it takes 30 minutes or less to go from pot to plate.
Hero Ingredient: Nutritional yeast in the base brings an earthy, umami, cheesy-esque flavor to the mix that's just divine.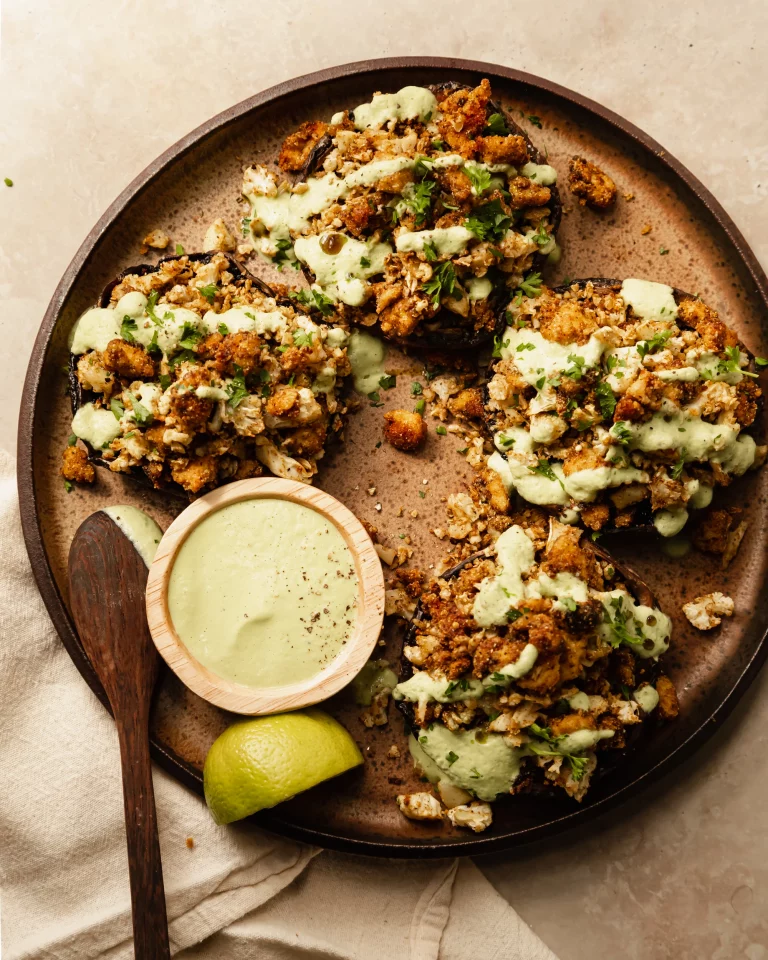 Why We Love It: There's a lot going on in these stuffed mushrooms that make them dynamic, satisfying, and insanely easy to make. They're stuffed with cauliflower rice and spicy tofu bits, then topped off with a poblano cream you'll want to drizzle over everything in sight. These "meaty" mushrooms make for an excellent vegan appetizer, main, or side dish to serve for yourself or guests.
Hero Ingredient: The cauliflower rice is roasted in the oven until caramelized, which gives it the perfect texture to complement those crispy tofu crumbles.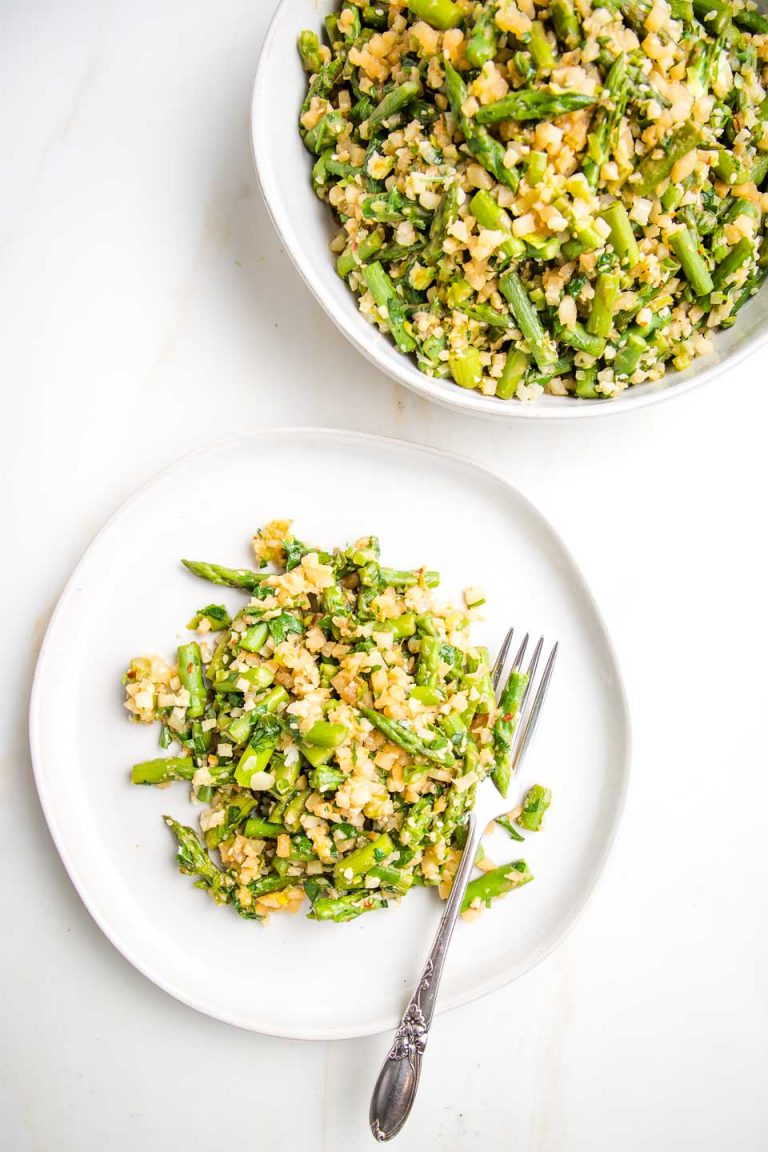 Why We Love It: If you're constantly on the hunt for busy weeknight dinner recipes, this one's for you. This Cauliflower Rice with Asparagus recipe is ready in 15 minutes and is totally satisfying. The asparagus gets sautéed in ginger, scallions, garlic, and crushed red pepper before joining the cauliflower rice. Then, it's finished off with toasted sesame oil and tamari to make everything fragrant.
Hero Ingredient: While the recipe calls for asparagus, feel free to sub in any green (or non-green) vegetable you have on hand. Empty those produce drawers, people!
Why We Love It: As a one-pan wonder, this cauliflower rice bowl is both flavorful and filling—and perfect for a new take on Taco Tuesday. Once you've riced your cauliflower, simply sauté it with onion, garlic, jalapeño, tomato paste, and lots of spices until all those flavors are developed. Serve it up with red cabbage, vegan cheese, ripe avocado, lime juice, salsa, or anything else you can dream up.
Hero Ingredient: Lots of fresh lime juice over top is key. Don't be shy with the squeezes!
This post was originally published on January 12, 2022, and has since been updated.