Let's face it: there are more Thanksgiving stuffing recipes floating around the Internet than one could ever make in a lifetime, especially considering how simple it is. Plus, it's hard to improve upon the classic version my dad makes with onions, celery, Pepperidge Farm stuffing mix, and tons of sage. However, I've been wanting to create a really delicious vegetarian cornbread stuffing recipe that will add a fresh take to the Thanksgiving table this year. So, since there are only so many ways you can reinvent the original, I decided to go back to the drawing board and reimagine it altogether.
This vegetarian cornbread stuffing streamlines the usual process by omitting that first step of baking a loaf of cornbread, then crumbling or chopping it up before folding in the mix-ins. This one is more of a cornbread/stuffing hybrid: you make an awesome cornbread batter and fold all the toppings and seasonings right into the mix, then bake it all together. Not only does it make the entire process quicker start-to-finish; I love the rustic look of serving it right from the cast-iron pan it bakes in, especially with the vivid shades of red onion and kale crowning the top. This is a true one-pan dish, which means fewer pots and pans to clean (always a plus on Thanksgiving!) and fewer steps to get to the final beautiful result. So, let's see how this skillet vegetarian cornbread stuffing with kale and caramelized onions comes together…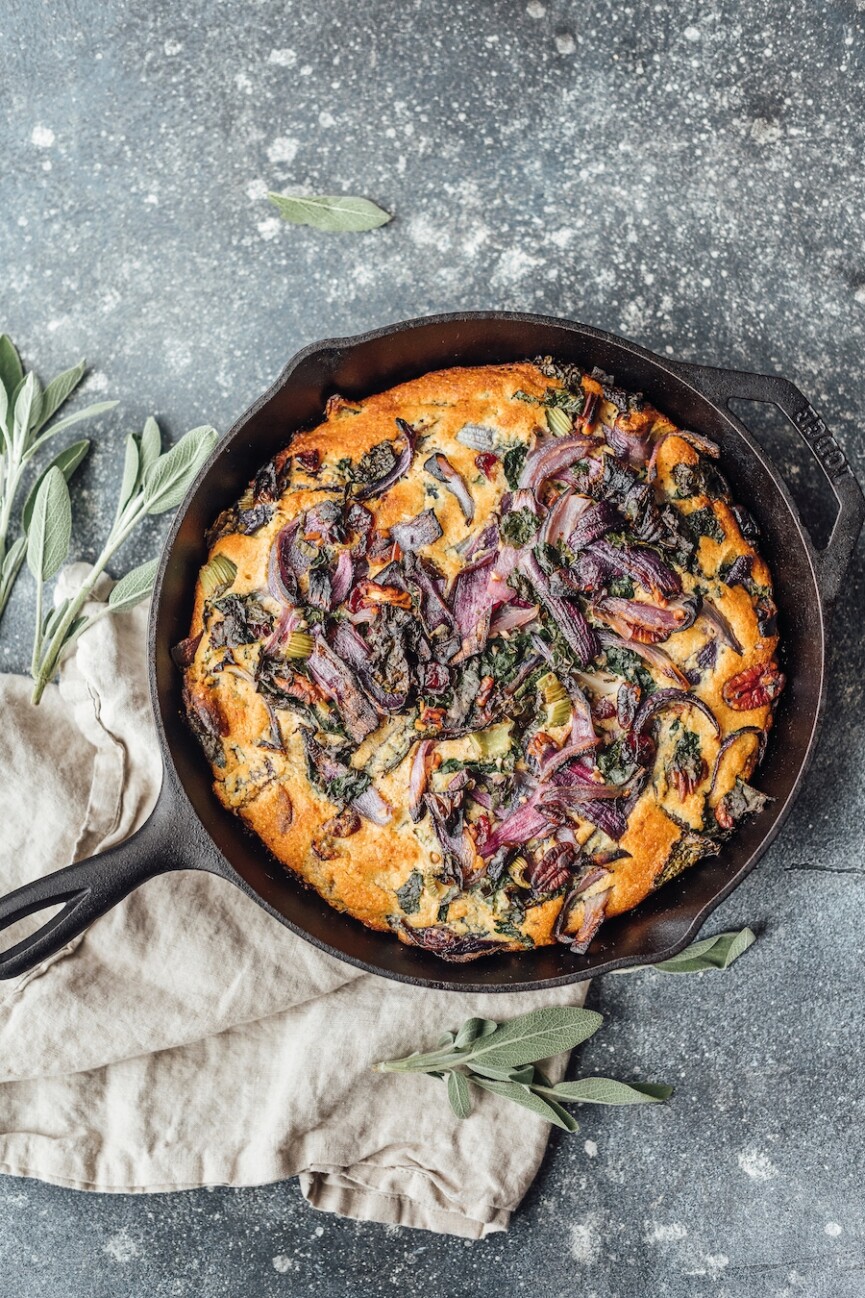 First, you're going to grab a big cast iron skillet and sauté thick red onion wedges with lots of chopped celery and garlic. In goes the sage (bringing the Thanksgiving vibes) and torn kale leaves.
Transfer the mixture to a big bowl, where it gets sweetened up with some cranberries and a handful of toasted pecans—all my favorite flavors at this time of year. Meanwhile, your skillet goes right into the oven to get nice and hot before you pour the batter into it—hello, golden-brown crust!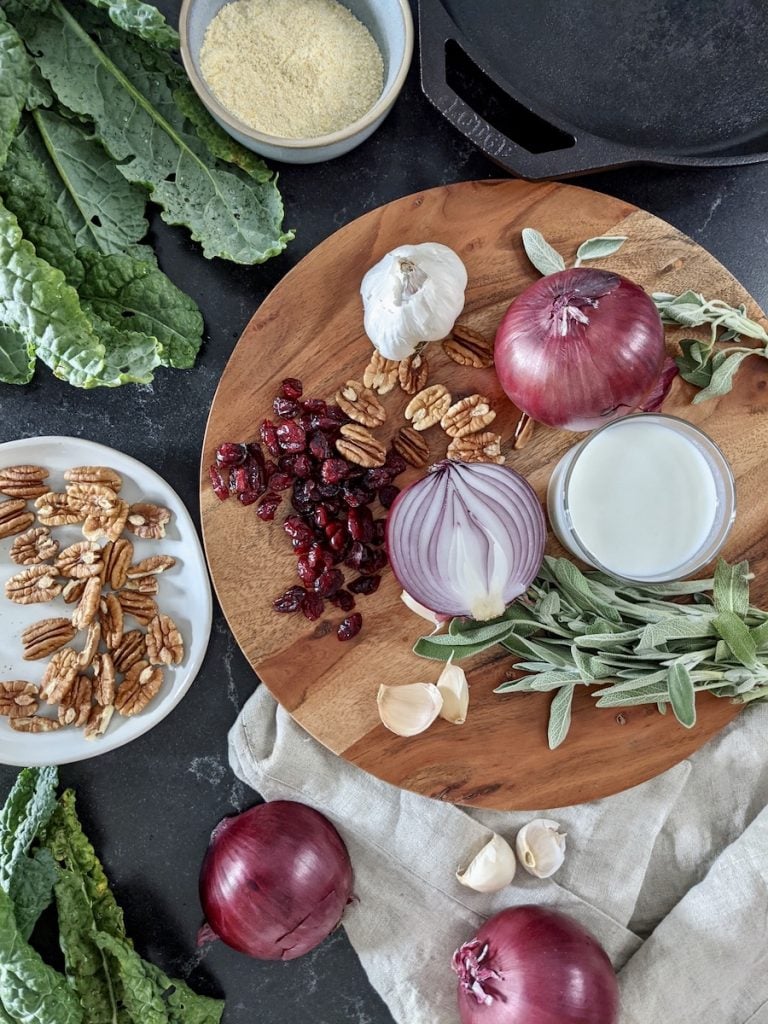 Next, you're going to make the wet mixture that'll hold it all together. Whisk an egg with buttermilk, honey, and olive oil (keeping it dairy-free, plus I love the flavor that the olive oil imparts. Fold in the cornmeal, baking soda, and salt, and then you'll add 2/3 of the onion mixture.
Once your batter gets poured into your preheated skillet, it gets topped with the rest of that beautiful onion-kale mix so it can all get baked to a delicious golden brown.
Heck, this skillet of goodness could almost count as your bread and your stuffing in one hybrid dish, eliminating the need for rolls or another loaf on the table. But, then you'd miss out on this focaccia… so maybe not. Scroll on for the recipe for my vegetarian cornbread stuffing with kale and caramelized onions, and be sure to tag us on Instagram if you give this one a try!
Skillet Vegetarian Cornbread Stuffing
Serves 1 skillet
This Skillet Cornbread Stuffing with Kale and Caramelized Onions is so good, you won't notice it's vegetarian. Add to your Thanksgiving menu now.
---

Ingredients
1/3 cup + 3 tbsp olive oil
3 red onions sliced into wedges
4 stalks chopped celery
6 chopped garlic cloves
3 tablespoons chopped sage
1 bunch of Tuscan kale
1/2 cup toasted pecans
1/2 cup cranberries
1 egg
2 cups buttermilk
1 tablespoon honey
1/3 cup olive oil
2 cups yellow cornmeal
1 teaspoon baking soda
2 teaspoons kosher salt
---
Instructions
Preheat oven to 450.
In a large cast iron skillet, warm 2 tbsp olive oil over medium high. Add the red onions sliced into wedges, chopped celery, and chopped garlic cloves for 8 minutes. Add the chopped sage and Tuscan kale, stems removed and leaves torn. Season with salt and remove from heat.
Transfer mixture to a bowl, then add the toasted pecans and cranberries. Wipe out skillet, and place in oven to preheat.
In a stand mixer or a large bowl, whisk together the egg, buttermilk, honey, and 1/3 cup olive oil. Add the yellow cornmeal, baking soda, and kosher salt, and stir just to combine. Fold 2/3 of the onion mixture into the cornbread batter.
Remove preheated skillet from oven and pour in 1 tbsp olive oil, swirling to distribute. Scrape in the batter, then top w/ the rest of the onion mixture. Bake until golden brown, about 22 minutes.