ICYMI, we're now on TikTok. I honestly never thought I'd say it, but I'm genuinely excited to have a fresh canvas for creative expression that feels like it doesn't come with as much baggage as some other social channels that I won't mention here (starts with an I, ends with a -gram.) If you're on, follow us! If you're not, hop to it! I have seriously had so much fun diving into a new community where yes, there are a lot of mind-numbing videos, but there are also incredible artists, entrepreneurs, and talented people creating actually inspiring content.
One thing you quickly learn about TikTok is that it is incredibly trend-driven, and those trends rise fast and fall even quicker. When I caught a recent yogurt toast trend on all my foodie accounts, I was intrigued since I have been slathering my toasted Ezekiel Sesame bread with full fat greek yogurt for years. Other people do this? I thought. "I feel seen!" Well, not so quick–the TikTok'ers bake their yogurt toast forming a custardy topping which, I'm sorry, kinda grosses me out.
So, in the spirit of jumping on the TikTok yogurt toast trend but doing it on my own terms, behold my extremely simple yet ridiculously delish Yogurt Toast with Peanut Butter, Banana, and Yogurt. Yes, it's a no-recipe recipe, but one that you may not have thought of yet–and trust me when I say that it's likely to become a new go-to breakfast or lunch in your rotation.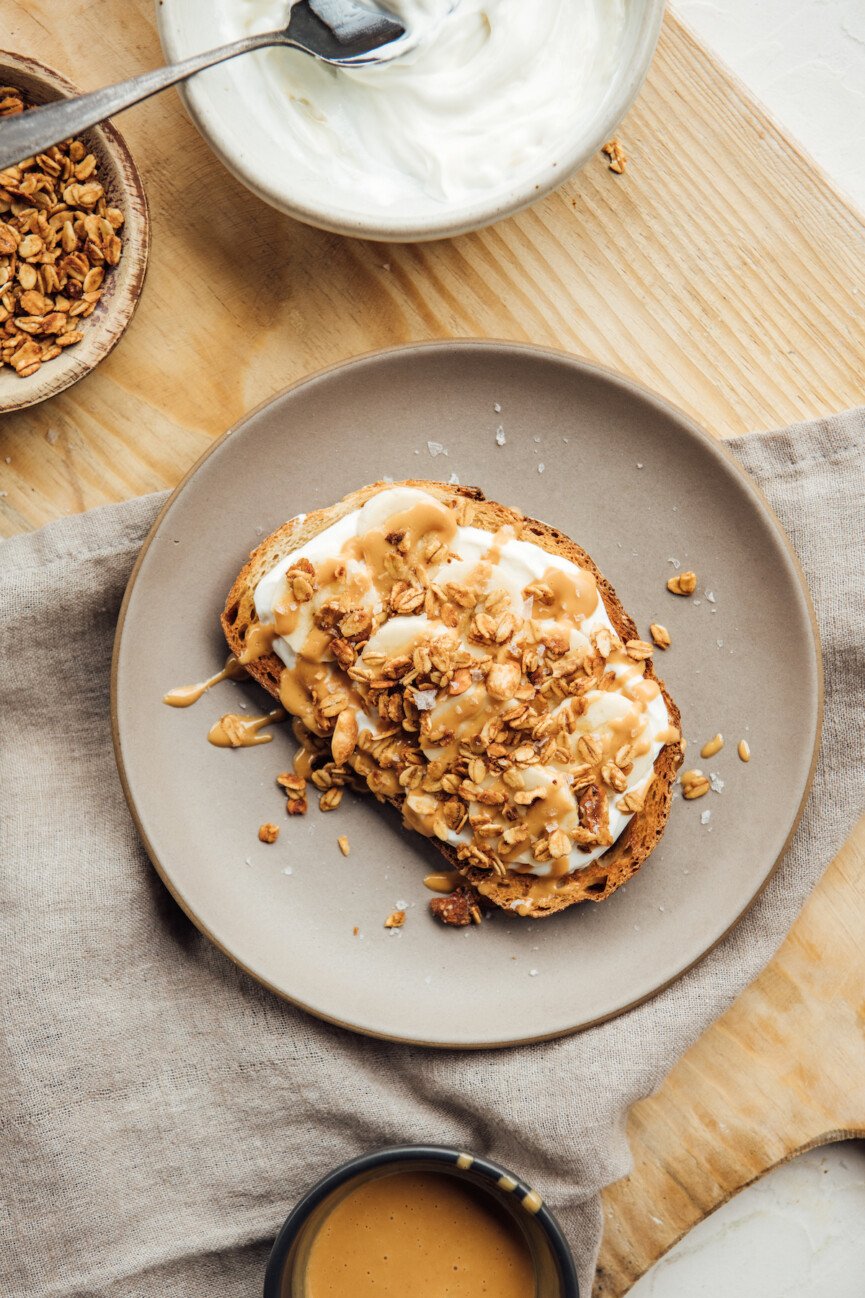 Peanut Butter & Banana Yogurt Toast. It's a thing.
First, let's talk about those peanut butter and banana toppings, or PBB as it's referred to in our house. Maybe it's the nostalgia factor that does it for me. (One summer when I was 16, I worked as a restaurant hostess and ate a PBBH (honey) sandwich every single night when I got home from my shift. If I wanted to really amp it up, I made it on toasted raisin bread. Highly recommend.) All these years later, there's something about the flavor combo that is endlessly satisfying, and nowadays I like to add crunch with a handful of granola and a pinch of flaky salt.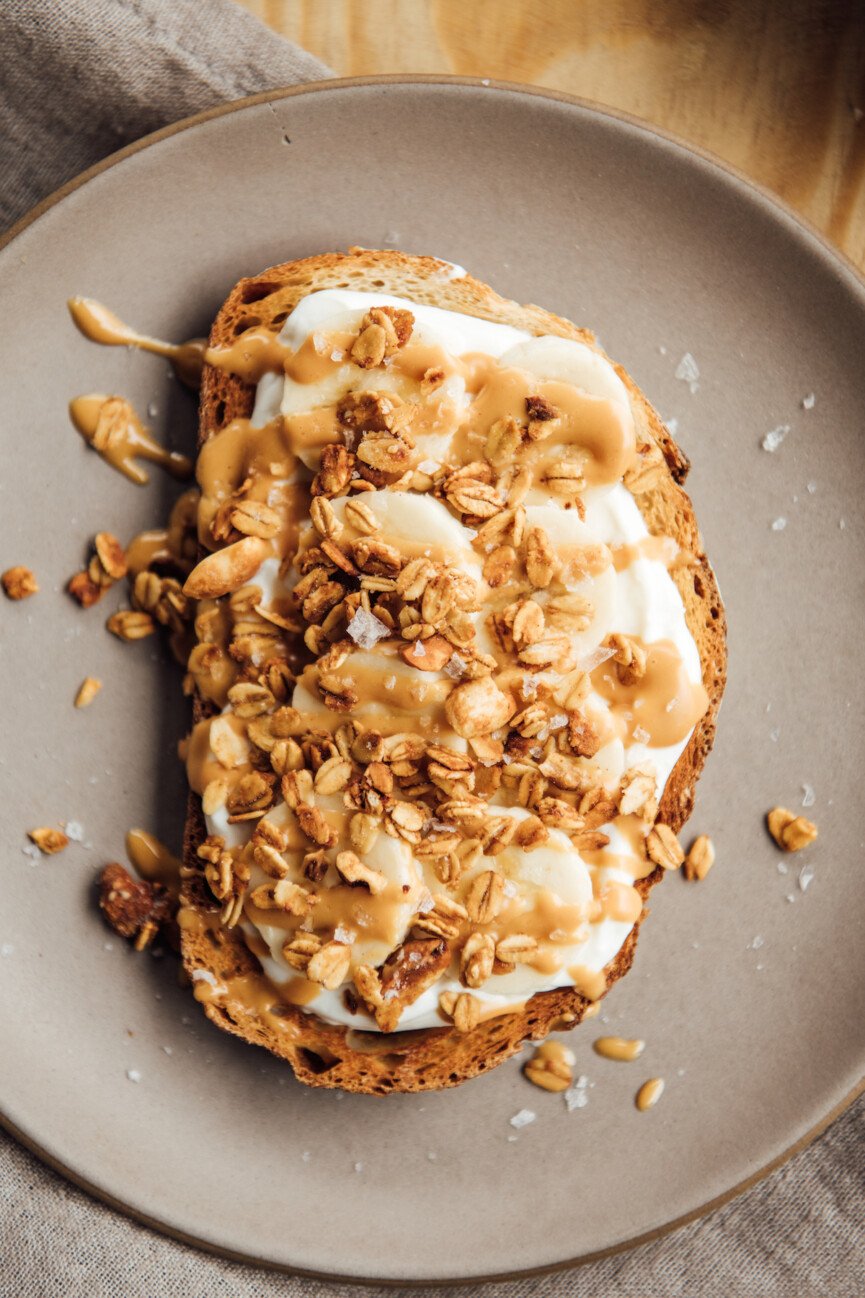 How do you get the peanut butter to drizzle like that?
To give peanut butter that drizzly consistency, just scoop a couple spoonfuls in a tiny bowl and zap it in the microwave for 5 – 10 seconds. Really, that's it. Peanut butter is transformed into a silky smooth "sauce" that drizzles over your toast and then hardens into the perfect bit of PB in every single bite. YUM.
What type of yogurt?
Repeat after me: Full Fat Plain Greek Yogurt. Don't try this recipe with low-fat, no-fat, dairy-free, or non-greek. Maybe you could get away with an equally thick yogurt like Icelandic, but anything that's the slightest bit thin or watery will immediately turn your toast into mush. I like to drain any liquid off the top of the yogurt so that you're left with the most thick and custardy texture possible, perfect for scooping and spreading over your toast like frosting.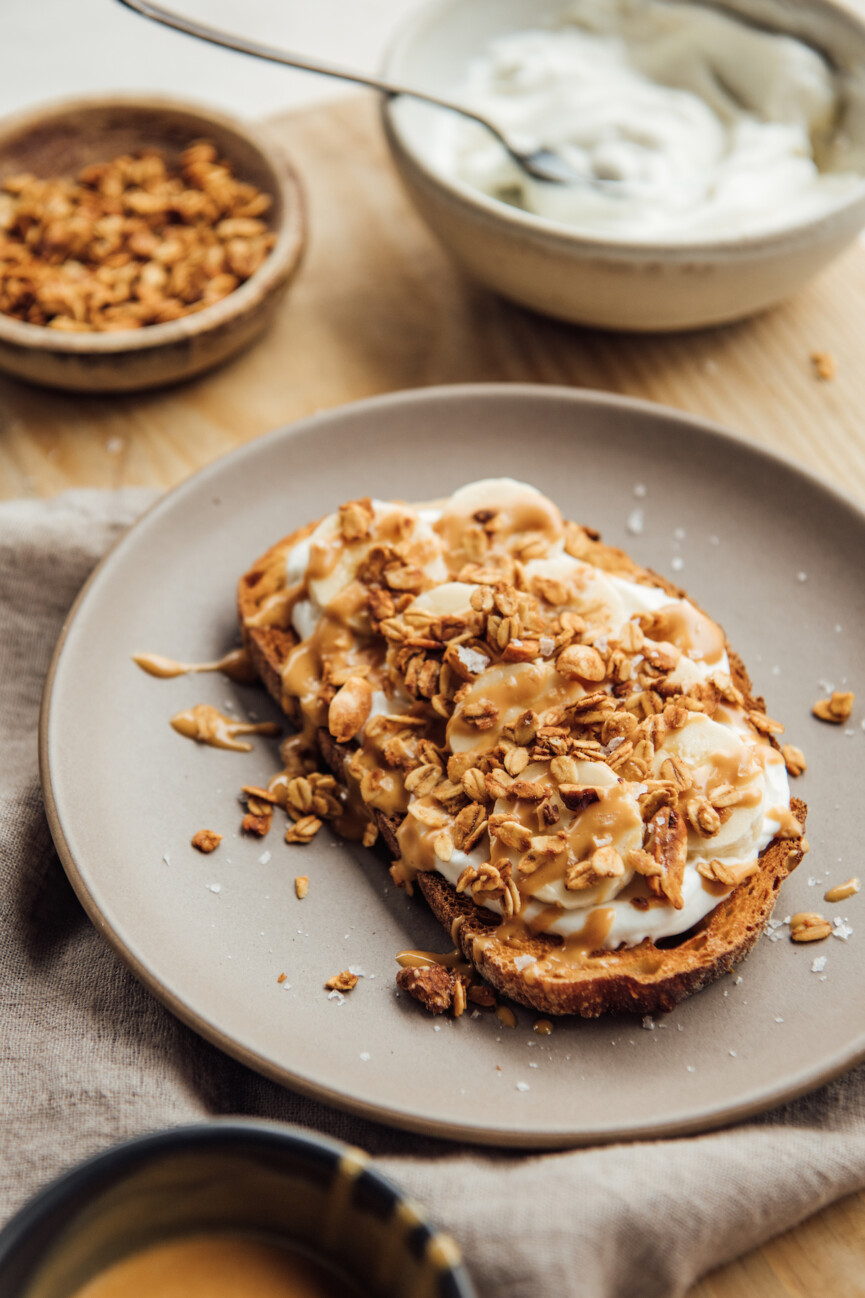 Any other ideas for topping yogurt toast?
I thought you'd never ask. When you're making your own twist on the yogurt toast trend, just remember this formula: yogurt + fruit + sauce + crunch. Here are some of my favorite combinations to top my toast. I enjoy all of these frequently.
Yogurt + Raspberries + Chocolate Sauce + Granola (hello, kinda healthy dessert!)
Yogurt + Sliced Pear + Toasted Walnuts + Flaky Salt
Yogurt + Strawberries + Almond Butter Drizzle + Toasted Sliced Almonds
Scroll on for the recipe, and I'd love to hear in the comments if you've given the yogurt toast trend a try. Tag me on IG (or TikTok!!!) if you make this one!
Yogurt Toast with Peanut Butter and Banana
Serves 1
This no-bake take on the trendy yogurt toast is here to stay. It makes such an easy breakfast, snack, or lunch that's just plain delicious.
---
Ingredients
Slice of sourdough
Full-fat plain greek yogurt
Sliced banana
Granola
1 tablespoon peanut butter
Optional toppings: honey and flaky salt
---
Instructions
Toast your sourdough bread
Spread a big spoonful of yogurt over toast and top with sliced bananas and granola
Microwave peanut butter for 10 seconds, or long enough to make it pourable
Drizzle peanut butter over bananas, top with flakey salt and honey, if desired and eat!