Pinterest simultaneously hosts my bucket list, my dream home, my closet goals, and my meal plan. When I have a haircut coming up, I'm on Pinterest picking out a style. When I'm planning a vacation, I'm pinning my way to the dreamiest spots. But most commonly, when I've drawn a blank on what to cook, I track down the best Pinterest recipes that will excite my tastebuds. As someone new to cooking, it always helps when I know that a recipe is well-liked and, well, fool-proof.
I love finding a recipe that looks gorgeous on a plate, has a flavor combination that I wouldn't normally think of, and is manageable to make. 
I love watching cooking shows but often times the recipes can overwhelm me. The recipes on Pinterest however, are almost always achievable for people like me.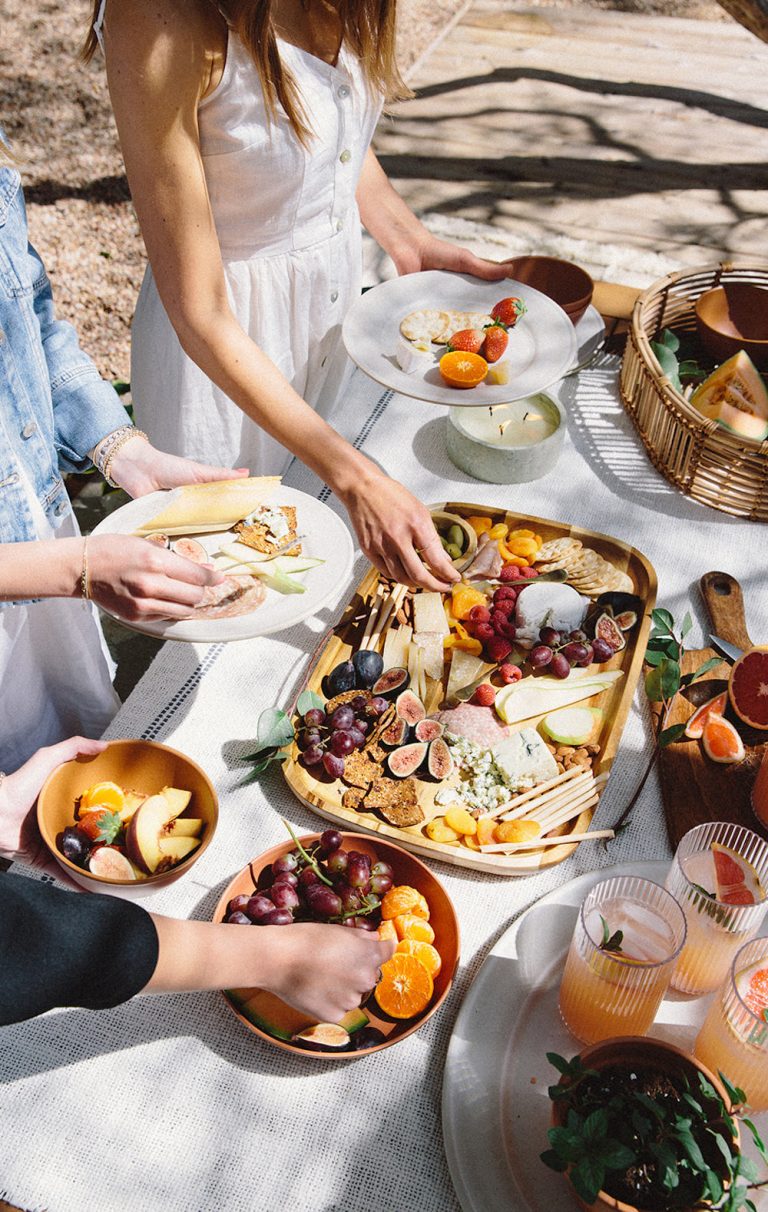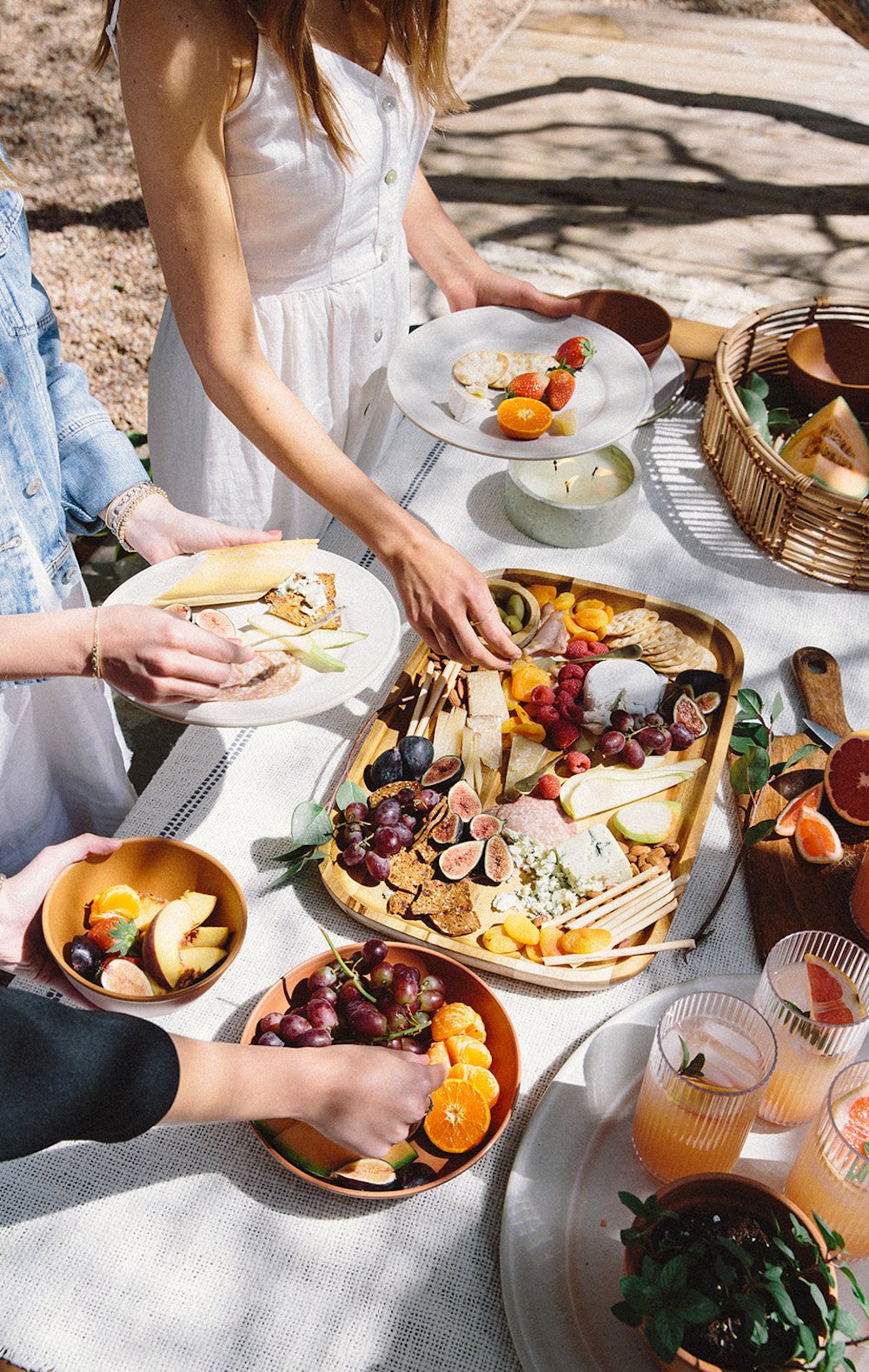 As you know, we are major foodies at Camille Styles HQ (peep the actual photo of us snacking mid-shoot). Our meetings can turn into 30-minute discussions on the best vegan cheese or our go-to brunch spot, which is what inspired us to find out what recipes you're loving right now. Well, the people have spoken: these are the recipes that blew up on Pinterest. 
Why We Love It: This poundcake is a summertime staple that satisfies your sweet tooth, while still being light and fresh. Making poundcakes can seem intimidating, but this one is surprisingly simple. I always appreciate recipes that include both store-bought and homemade alternatives, and while I usually see store-bought ingredients as a time-saver, this is an exception. Homemade ricotta cheese is way easier than you'd think and makes all the difference—especially with instructions like these. Finish the cake off with candied lemon slices and simple icing and you'll understand why Pinterest blew up this gorgeous recipe.
Hero Ingredient: Betty Lou's homemade ricotta cheese… don't skip this step. 
Why We Love It: Mexican Food Night comes around more than once a week for me, and this taco recipe is the perfect addition to my rotation. Sometimes I get distracted by queso and chips and forget to get my veggies in, which is why I love the addition of jicama and carrots in this recipe. Basic, but lime is one of my favorite flavors (I put it on almost everything) so these tacos already won me over with the title. The ingredients yield the perfect bite: a little bit of tang, some protein, a crunch, and a cream. What more could you wish for? 
Hero Ingredient: Chipotle aioli. *Que the mouthwatering*
Why We Love It: Toasted crusty bread spread with kale pesto, rough-mashed avocado, crisp cucumber slices, rich and garlicky oven-roasted tomatoes, chunks of oil-packed tuna, and loads of fresh basil. I mean, is anyone else's mouth watering right now? This toast recipe is your sign to step out of your comfort zone instead of making the same avocado toast every day. For a gluten-free alternative, try it on sweet potato toast. 
Hero Ingredient: Two words. Kale. Pesto. 
Why We Love It: The world is definitely full of cheese-lovers because like our feta roundup, these 20 mouthwatering recipes that use burrata blew up on Pinterest. Camille boldly states that burrata is her favorite cheese, and I'm not going to lie, I'm starting to lean in that direction (goat cheese, you'll always have my heart). There is just something about a dollop of burrata that makes a pasta go from beautiful to drop-dead gorgeous, like this summer spaghetti. I mean, it's basically cheese stuffed cheese—dangerous.   
Hero Ingredient: Better be burrata.   
Why We Love It: I've said it before and I'll say it again, I owe Camille a big thank you for tracking down this recipe. I don't think I've ever met a chocolate chip cookie that I didn't like, but this one is my best friend… and Pinterest seems to agree. This cookie has a balance of nuttiness and chocolatey-ness that makes my heart sing. One of my sisters is allergic to walnuts, so I usually take those out and the recipe still holds strong.  
Hero Ingredient: Perfectly prominent peanut butter. 
Why We Love It: I used to be a huge breakfast girl… and then life got in the way. I count my blessings when I get to sit down and actually have a real breakfast. This gorgeous grazing board, though… the perfect compromise. It has a little something for everyone, is not a heavy meal, and is full of everything you need to start your day. Just looking at it gives me good vibes, so imagine the day you'd have after a breakfast like this. 
Hero Ingredient: Purely Elizabeth's Honey Almond Granola… like Honey Nut Cheerios for adults!
Why We Love It: Our roundup of the 10 best feta recipes on the internet truly went wild on Pinterest, and this baked feta recipe was a hit. Since feta isn't a melty cheese, baking it with olive oil, lemons, and capers just makes it super creamy, spreadable, and flavorful. It's the appetizer of your dreams: "It's incredibly simple, looks impressive, and tastes even better," as Suruchi Avasthi puts it. Serve alone or on a cheeseboard. 
Hero Ingredient:  Feta—Captain Obvious.
Why We Love It: Not only is this roasted chicken Pinterest Picture Perfect, it tastes as good as it looks. One of Camille's roasted chicken tips is to let the sauce make itself, and simply adding tomatoes, lemons, and garlic into the pan truly takes this recipe to the next level. Although you can totally go without the cilantro salsa verde, I highly suggest you make it… 100% worth the extra step. This is what you'll be serving at your next dinner party. Easy on the chef, impressive to the guests, it's no wonder this recipe blew up on Pinterest. 
Hero Ingredient: The cilantro salsa verde, no doubt.
Why We Love It: If I had to choose one food to eat for the rest of my life, it would be an everything bagel. Not the most nutritious thing I could choose, but I'm addicted to the seasoning and this recipe gives me another way to have it (with more nutrition, might I add). While it is not traditional lox, it is still the perfect brunch centerpiece. I love how creative Camille got with this recipe, and it must have paid off since Pinterest loves it too. If you aren't big on salmon, use this recipe as your inspiration to make your own bagel-inspired flatbread. 
Hero Ingredient: The Everything Bagel Seasoning and Capers are neck-and-neck—don't make me choose.  
Why We Love It: Who knew that gluten-free, vegan cupcakes with vegetables inside could taste so freaking good. These carrot cake cupcakes are a true winner when it comes to simple baking. I made these for my family's Easter lunch and everyone, including my nine-year-old twin cousins, gave them a thumbs up. The sprinkle of walnuts and dash of cinnamon on top of the buttercream icing makes them truly Pinterest-worthy.  
Hero Ingredient: The ingredient with the perfect crunch, walnuts. 
Why We Love It: If you set a plate of spaghetti in front of me, I'm going to eat it, but please make it this Spaghetti alla Nerano. Zucchini is one of my favorite vegetables because of the way that it softens and takes on the flavors that it's cooked with. Using zucchini in the sauce is genius in my opinion and gives it that extra Pinterest touch. I think the Camille Styles team should have a field trip to Italy to try out the real thing… You know, for research purposes. 
Hero Ingredient: Zucchini, for making me feel healthy while downing a plate of pasta.
Loved this post? Pin this graphic to come back to it later.