There's way more to wellness than just eating clean, so we're taking a holistic approach to restoring our spaces, minds, bodies, and hearts in small but powerful ways. Introducing The RE:SET Challenge—a 21-day plan to a healthier and happier you. Click here for the full list. Next up, how to improve your gut health to optimize your health and wellbeing, and achieve glowing skin with Carla Oates, founder of The Beauty Chef.
I've struggled with inflammatory skin conditions for most of my twenties. It all started with a little bit of dermatitis, and before I knew it I was dealing with hives and most recently, eczema. At this point, I was already aware I had gluten and dairy allergies, so it was no news to me that our skin is the most telling organ when it comes to revealing deeper issues in our bodies.
While I noticed some improvement after removing other triggers from my diet and lifestyle, I was puzzled that the flare-ups still kept coming back. I kept asking myself, what is my body trying to tell me? In digging a little bit deeper, I realized all signs were pointing to one thing: my gut.
I was grateful to be able to access diagnostic testing through my holistic practitioner and when the results came in, it was no surprise that I had a pretty severe case of leaky gut: when gaps in the gut wall allow toxins and bacteria to leak into your bloodstream that trigger inflammation (in my case, eczema) in the body.
While there are certainly bigger fish to fry than skin problems, this gut imbalance was also wreaking havoc on my focus, mood, and energy levels. It was important to remind myself that access to a holistic doctor was a privilege, and I also owe gratitude to my body for the other many amazing things it does. But I know I'm not the only one who's struggled with inflammation, and let's be real, it's annoying!
Whether it's brain fog, chronic fatigue, stomach discomfort, or moodiness, inflammation comes in many forms and can interrupt the normal flow of our lives.
Fortunately for us, there are people like Carla Oates in the world to remind us that healing starts in the gut. Oates started The Beauty Chef, an inner beauty line of elixirs and supplements for gut health, after struggling with eczema herself. A trailblazer in her field, she became passionate about healing others and shedding light on the link between gut health and nutrition for beauty and wellbeing.
With a background as a journalist and beauty editor, she was well-familiar with the "band-aid" approach many people had with taking care of their skin. When Oates discovered the link between gut health and beauty first hand, she set out to help people look after themselves in a more holistic way. She began by healing her own family members who also experienced eczema and allergies by introducing Lacto-fermented whole foods, teeming with beneficial bacteria, into their diets. Her community took notice of her radiant skin and vibrant energy and her fermented foods were quickly in high demand. It was then that her first product, an inner-beauty powder now called GLOW, was born.
13 years later, The Beauty Chef is still pioneering the inner beauty industry with a line of bio-fermented, probiotic-rich whole food supplements and organic topical skincare products. The brand has a cult following and its products are staples in many of our editors' daily supplement routines.
Since Oates is such a wealth of knowledge in all things inner and outer beauty, we asked her to spill some of her tips for glowing skin and share advice on all things gut health. Scroll on for answers to our burning questions surrounding the microbiome like the benefits of fermented foods and some of the best supplements for gut health. Also, don't miss a delicious gut-nourishing recipe at the bottom of this story!
What is gut health anyway?
If you're new to gut health you can read up on the specifics here. We're lucky to live in an era where conversations about gut health are more prevalent, and recent research on the microbiome is honestly mindblowing. According to Oates, the short answer is that the trillions of microorganisms in our guts help regulate essential processes, and some of these bacteria can be helpful or harmful according to what else is going on in the body.
"Your gut microbiome regulates your gut health, skin health, metabolic health, immune health, and brain health—influencing how we look and feel—so it's important that we look after it," Oates says.
3 of 6
How do I know if I have a gut imbalance?
Oates explains there are many tests you can do to get a basic understanding of the status of your gut. She names a comprehensive stool test, SIBO breath test, food allergy, and sensitivity testing as good places to start. "It's best that you discuss with your health practitioner if they believe that these tests would be of benefit for you when looking at your symptoms." She adds: "Of course, the best test is how you look and feel. As your gut regulates your skin, metabolic, immune, and brain health, if there are imbalances here, then you probably need to work on your gut health and this means focusing on diet and lifestyle practices." 
How do I get rid of leaky gut?
Oates authored The Gut Guide which offers comprehensive steps on how to improve gut health and re-balance your microbiome. "It takes you through four stages—healing, weeding, seeding, and feeding," Oates explains. When we asked her how strict of an approach is needed for leaky gut, she said "it really depends on how profound your gut imbalance is, whether you are experiencing many food intolerances, allergies as well as digestive discomfort." We're all different, and she recommends working with a health care practitioner to find a plan that suits your needs. 
What are ways to improve gut health naturally?
Remove triggers.
"Take it slow, first by eliminating trigger foods and calming the gut."
Oates says the number one mistake people make when it comes to gut health is doing too much too quickly. "Sometimes introducing numerous fermented foods, various different vitamins, supplements, lots of prebiotics, postbiotics all at once can send your body into havoc."
Oates names some of the main offenders: processed and sugary foods—white bread, white pasta, ice cream, pizza, cake, processed foods, non-fermented dairy. The best way to rebalance your gut is to feed it with ingredients that will help repair the gut lining like our GUT PRIMER inner beauty support as well as foods like organic bone broths rich in gut healing amino acids." The Gut Guide includes some of Oates's favorite gut-nourishing recipes, and scroll to the bottom for the recipe for her delicious cauliflower gnocchi!
Eat real food.
"Organic, antioxidant and fiber-rich fruit and veggies, seeds, nuts, herbs and spices close to their natural state is a good way to keep inflammation at bay."
"Your gut bugs feed on fiber, ferment it and create anti-inflammatory compounds called short-chain fatty acids that help to support gut, immune, metabolic, skin, and brain health.
Feed your good gut bacteria with probiotics.
"More and more research shows that Microbial diversity is key for a happy, healthy gut."
Oates is a big fan of fermented food. "Introducing fermented, pre and probiotic-rich whole food supplements, such as The Beauty Chef Inner Beauty GLOW Powder or our Cleanse Inner Beauty Powder will assist in supporting your gut microbiome. Probiotic foods help to support a healthy gut microbiome and microbial diversity."
Oates' Top 5 Fermented Foods Everyone Should Add to Their Diet:
Kimchi — a fantastic tangy addition to any fresh salad or as a side to an Asian inspired meal.
Sauerkraut — I love and can eat out of a jar! Delicious with most meals or on top of avocado on sourdough toast.
Kefir — coconut kefir is delicious and I add it to smoothies, my granola, desserts, etc.
Miso — great for a salad or vegetable dressing! I also love putting it into smoothies and desserts.
Tempeh — fermented soy makes a great addition to vegetable fritters, curries, stir-fries.
Focus on a balanced lifestyle. 
"Exercise, mediation, relaxation, and good sleep are vital to supporting a healthy microbiome and happy gut."
While our lifestyles right now might be different than usual, striving for balance and rest is important. "There is no doubt that lifestyle factors play a very important role in the health of your gut microbiome," Oates reminds us. "Moderate, regular exercise has shown to help increase levels of short-chain fatty acids in the gut which are anti-inflammatory compounds. Studies show that stress can compromise the integrity of the gut wall and interruptions to the sleep cycle can disrupt the body's ability to maintain a healthy microbiome."
What are the best supplements for gut health?
Since The Beauty Chef creates some of the best supplements for gut health around, we asked Oates to spill her faves: 
GLOW Inner Beauty Essential:

 it's your daily all-rounder—your skin, gut, and wellbeing support product. It boasts

18 Certified Organic and bio-fermented whole foods including maqui berries, queen garnet plum, Dunaliella salina, as well as vitamin C to help boost collagen production and zinc to support healthy hair and nails. It also contains provitamin A for cellular skin renewal, from microalgae grown organically in Australia, broad-spectrum B vitamins for healthy skin structure and energy metabolism, from sprouted quinoa. It contains loads of polyphenols from ingredients including pomegranate peel extract, these are potent antioxidants that not only help protect collagen but also help support a healthy microbiome. And last but not least, our new Supercharged GLOW contains even more probiotics and postbiotics than before,  thanks to our more potent fermentation process in our own state of the art fermentation plant. This delicious berry-flavored blend promotes luminous skin—from the inside out as well as gut health and overall wellbeing. 

 

Collagen Inner Beauty Boost:

 which is packed with bio-fermented berries, papaya, pomegranate, grapeseed extract, vitamin C, all of which help to protect and promote collagen synthesis as well as zinc, which contributes to normal skin structure and the maintenance of normal hair and nails.

Omega Elixir:

 every cell in our body needs essential fatty acids. And this delicious vegan citrus-flavored oil not only supports gut health but skin health and overall wellbeing. It contains a balanced ratio of omega 3, 6, 7, and 9. And contains ingredients like high GLA evening primrose oil to help relieve dry irritated skin and smooth and soothe inflamed skin, as well as bio-fermented algal oil, rich in omega 3's and DHA, which helps with inflammation, supports both eye health and nervous system health. Plus, it contains skin and health-promoting ingredients like sea buckthorn berry oil, black cumin oil, and astaxanthin.
To learn more about Carla's story and gut health, follow The Beauty Chef website and Instagram.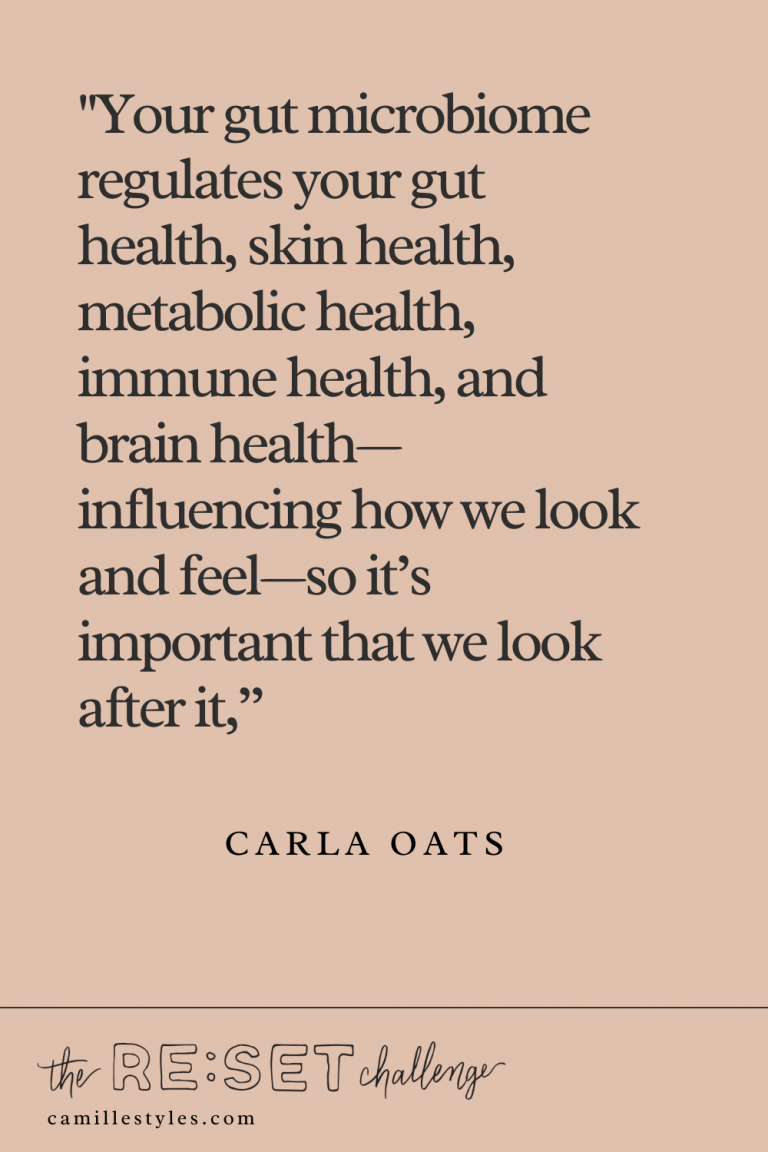 Categories
dairy-free, gluten-free
---
Ingredients
For the gnocchi:
400g cauliflower stalk & florets, broken into large pieces
50g ground almonds
2 tablespoons arrowroot, plus additional for rolling 15g nutritional yeast flakes
1 free-range organic egg white (optional)
1 teaspoon psyllium husk
1/2 teaspoon sea salt
2 tablespoons ghee or extra-virgin olive oil
For the Creamy Pesto Sauce:
125ml tinned coconut milk
125ml almond milk
90g chunky pesto (We love the Pumpkin Seed & Herb Pesto on page 244 of The Beauty Chef Gut Guide)
Fresh basil, finely shredded, or micro herbs (optional), to serve
Freshly ground black pepper, to serve
---
Instructions
1. Steam the cauliflower for 10 minutes, or until tender. Transfer to a food processor and blend until finely chopped.
2. Put in a medium bowl and add all remaining ingredients except the ghee. Stir to combine.
3.. Line a baking tray with baking paper. Dust a clean kitchen bench, and your hands, with some arrowroot.
4. Divide the gnocchi mixture into quarters. Using your hands, gently roll one quarter at a time into 2 cm (3/4 in) thick logs. Dip a small sharp knife in some arrowroot and cut each log into 2 cm (3/4 in) pieces. Gently squeeze each piece in the centre to give it the classic gnocchi shape, then transfer to the prepared tray.
5. Melt the ghee in a large frying pan over a medium heat. Cook the gnocchi in batches for 1–2 minutes on each side until golden brown. Transfer to a plate and set aside.
6. To prepare the creamy pesto sauce, pour the coconut and almond milk into a frying pan and simmer over a medium heat for 2–3 minutes until reduced a bit and slightly thicker. Add the pesto, stirring to combine, and heat through. Add the gnocchi to the pan and ladle with sauce to coat.
7. Serve the gnocchi in shallow serving bowls scattered with shredded basil and topped with freshly ground black pepper.