Sometimes it feels like we're hit with conflicting stories from all sides. Media tells us to love our bodies no matter our size, while images of thinness (still) prevail. Wellness wisdom fills our inboxes, yet a little sleuthing shows it's often commercialized and commoditized. And when it comes to growing older, making a midlife pivot grabs headlines but ageism is still corrosive. Our heads spin as we try to find the honest path.
We are clear-headed and capable, though. We can find the truth. I've found that for every fickle and contrived narrative, an iconoclastic woman is marching against it, pouring light down a new path that is utterly inclusive.
Featured image by Christie Graham Photography.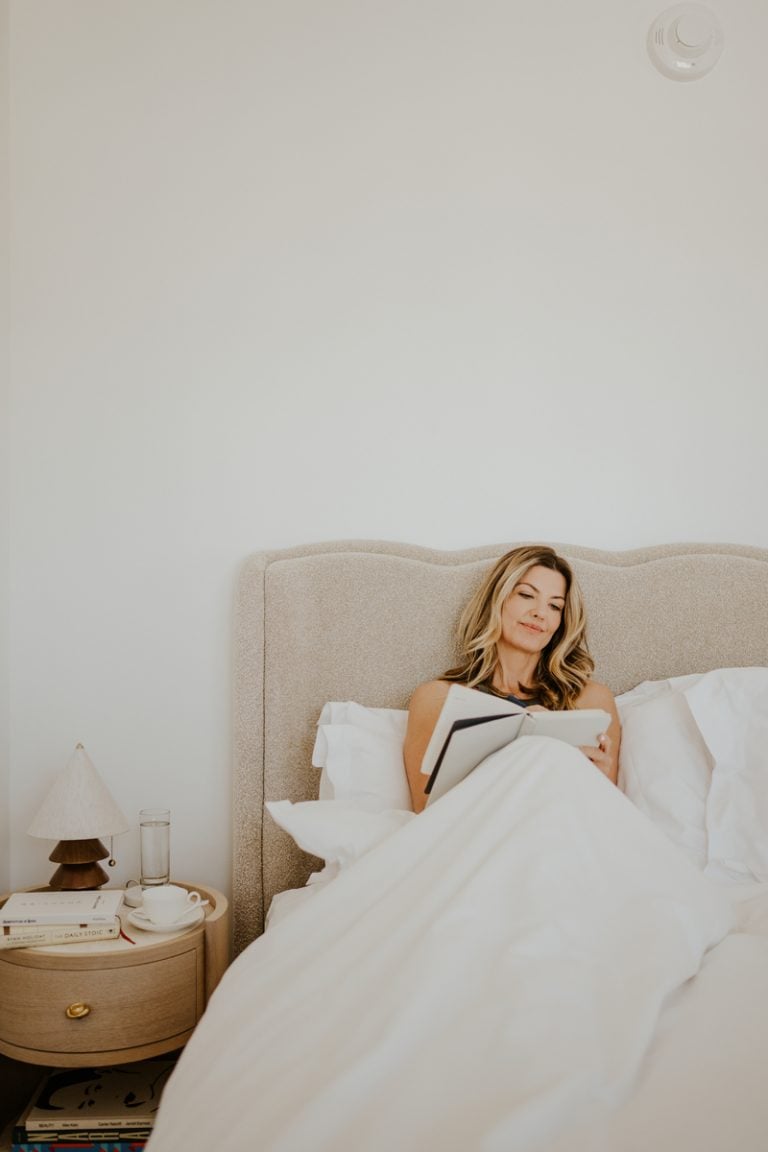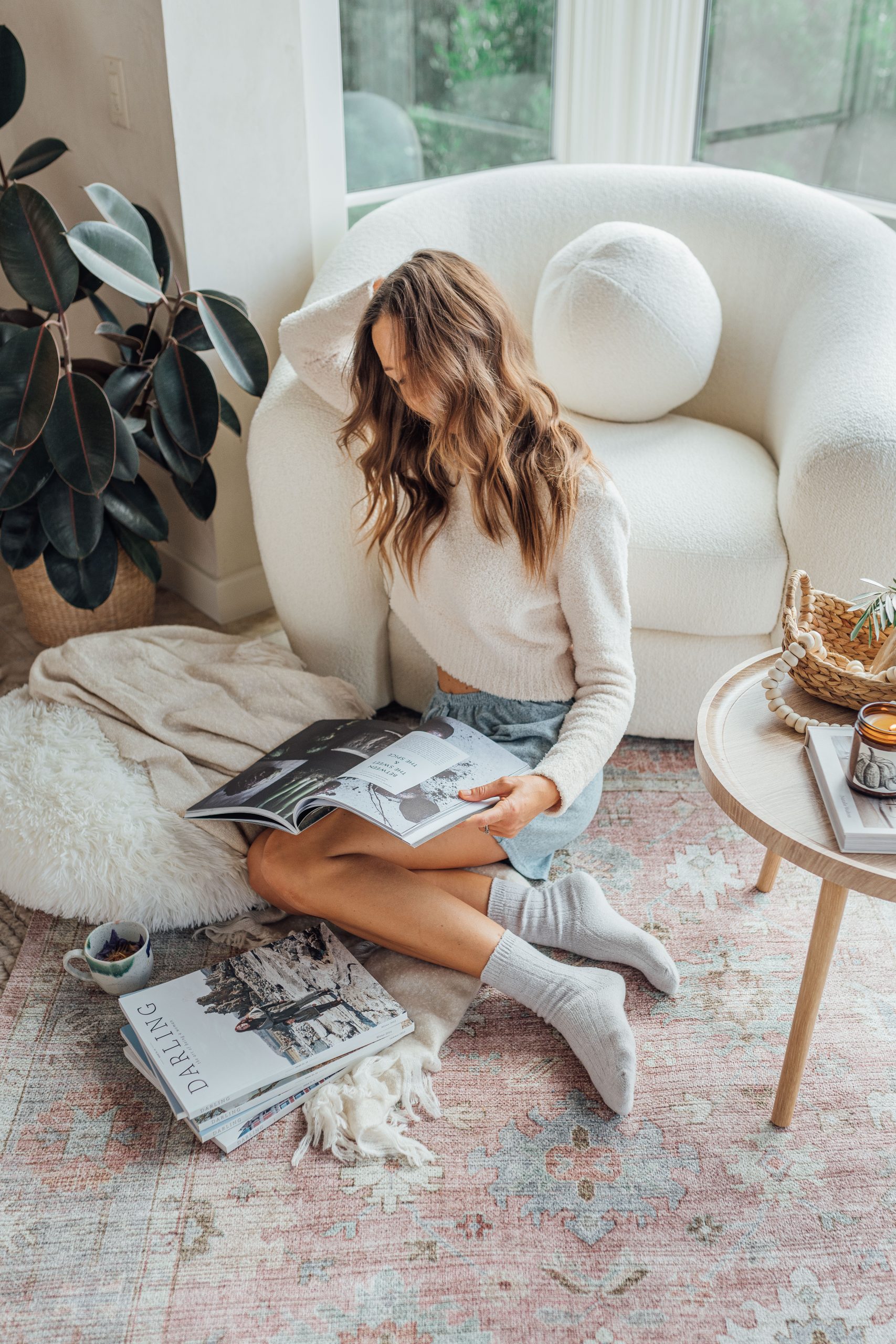 Subscribe
Get Breathing Space
A twice-monthly note from me to you. What's currently on my mind, in my cart, on my plate, and more. Drop your email to subscribe.
Thanks for Signing Up!
Oops!
Looks like you're already signed up or your email address is invalid.
Oops!
Looks like you unsubscribed before click here to resubscribe.
3 Successful Women on What It Takes to Make a Midlife Pivot
Since I've become passionate about changing the narrative around aging, I've discovered countless women who embody the truth that it's never too late to go after what you want. I spoke to three—Heena Patel, Lesley Jane Seymour, and Stephanie O'Dell. They've each navigated a midlife pivot, taken roads barely traveled, and wildly reinvented themselves—all after 50.
The coolest part is they advocate for other women to do the same. And that's what we need: Clear, strong, no-holds-barred proof that age has nothing on our careers and dreams. O'Dell says it best: "One of the key tools is finding someone that looks like or sounds like you."
So here are three powerful examples of women owning their dreams and their advice for how we can grab our own. Nothing is conflicting here—these women's words are only proof that marching against the tide is the only way.
"The more generous you are, the better off we all are." — Lesley Jane Seymour
Lesley Jane Seymour: Founder and CEO of Covey Club
Lesley Jane Seymour has made incredible use of her career. As one of the most respected magazine editors-in-chief of our time (she's heralded Marie Claire, Redbook, and MORE, to name a few), Seymour's writing and editing have touched millions of pages and readers. (That's not to mention the activism that's fueled her days: In one of her adventures, she traveled to Asia with First Lady Michelle Obama to spotlight the launch of Let Girls Learn.)
Today she's running a new mission: Covey Club, a warm, inclusive space that aims to support women in business and personal growth through education, events, workshops, and inspiring content. Seymour also hosts the inspirational podcast, Reinvent Yourself with Lesley Jane Seymour. She's living proof that second—or third, or fourth—acts look damn good.
You've interviewed hundreds upon hundreds of women who have reinvented themselves and made a midlife pivot. What has been a key asset in going after one's dreams?
For the 'Reinvent Yourself' podcast, I've interviewed nearly 200 people. Everybody comes from different angles: They have money or no money. Connections or no connections. A big job, a small job, or no job. What holds everybody together is mindset. Having an open mindset with the idea that there is something else out there for you, that you can envision, places you on the path to success. Now, I did not always believe in this. But I will tell you, it works. At Covey Club, we do vision board classes, where you create a vision board and look at it every day. It helps you focus so you know you know where you're headed. That's what mindset does.
These days it seems like the conversation around aging is becoming more inclusive, but there's still a lot of fear-based narrative around it. What's your take on this?
That's the sadness about American culture. When I was growing up, I'd see articles about the 25-year-old doctor who also wrote a bestselling book and who also sings on Broadway. And you would read these things and you'd think, Well I'm just a failure. But when you poke your head up and you listen to all the different twists and turns that very accomplished people have made, it is a lifetime of moving and changing lanes, taking a bad detour, coming back onto the highway, getting knocked down, and getting up again.
The more generous you are, the better off we all are.
There are times when you get knocked off the mountain and you must decide to stay down or get back up again. I got knocked off a couple of times, some in horrible ways. And what could I do about it? I could go home and cry, but I decided I had to continue doing what I do and help women have a voice out there and find their path. That's what Covey Club was designed to do: to help anybody in that drifting, stuck, unsure moment of their career or personal life. I always love to say, 'It ain't over until you say it's over.'
What is one thing we can do today to help a fellow woman who is facing the challenge of wanting to make a midlife pivot but feels held back?
Be uber generous. Whether this means giving somebody a contact or sharing a book you read or a podcast you follow, be your most generous self. If you are generous with other people, they will be generous with you back. Women need to be more generous with each other because the patriarchy has been telling us that there's only one seat at the table for women and the rest is for men. This has been a good way to distract us and keep us from organizing and fighting the patriarchy. So the more generous you are, the better off we all are.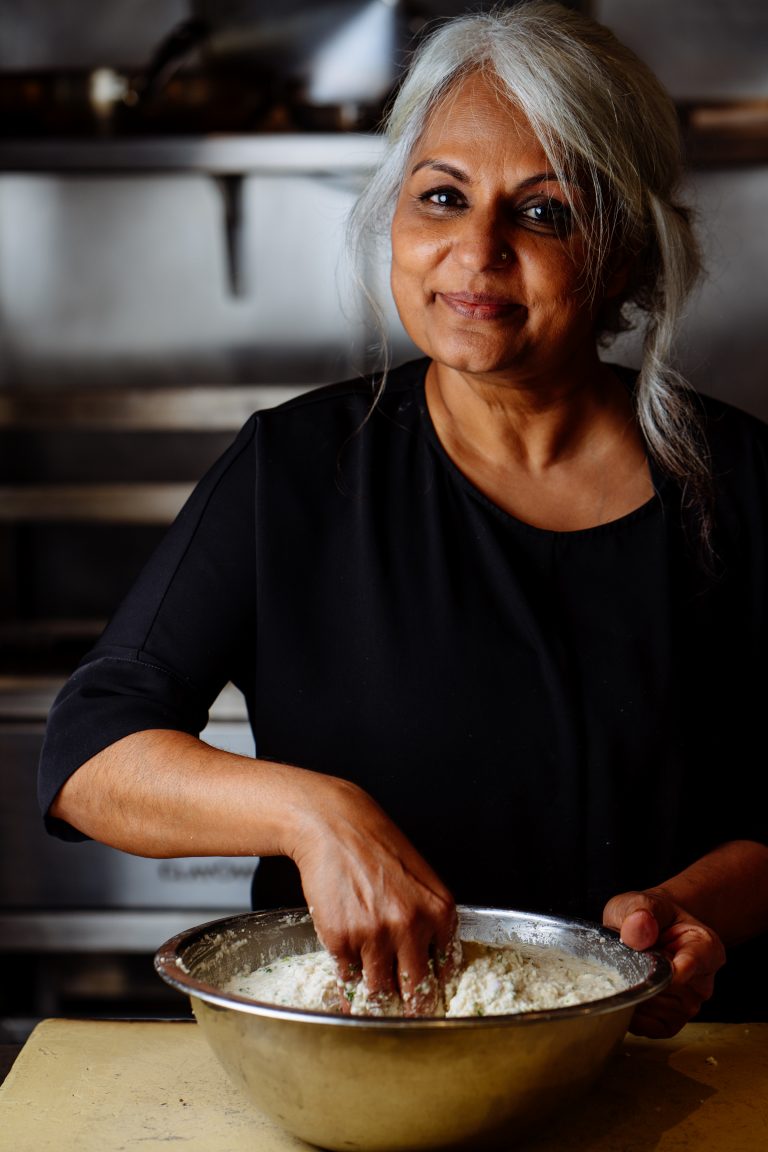 "I can be your example. I always wanted something more than what was expected of me. If I can do it, you can too." — Chef Heena Patel
Chef Heena Patel: Chef and Co-Owner of Besharam
If you only have one night in San Francisco, go to Besharam, the sensational Gujarati restaurant tucked in the city's trendy Dogpatch neighborhood. The food is stellar. The name—which translates to "shameless"—iconoclastic. But what makes this bold restaurant riveting is Patel and her gumption for flavor and owning her dream. From her youth growing up in India to her time living in London and then the US with her family, spices and flavor have always captivated Patel. She held lauded positions in the culinary world, including a residency at Bay Area culinary incubator La Cocina.
But dreams of her restaurant fueled her. In 2018, Patel took the plunge, owning her midlife pivot by opening a restaurant of her own that showcases her talent for pushing the boundaries of cooking while honoring her heritage. Just last year the James Beard Foundation Awards recognized her as a Best Chef California semifinalist.
You say at 56, you are shamelessly pursuing the dream you've always had. What gave you the gumption to make a midlife pivot and go after it?
Cooking has always felt like a form of self-expression. I'm my truest in the kitchen. I feel free and fearless. There's something magical about creating and serving a dish to someone, and that feeling initially inspired me to begin cooking professionally. Going after my dream was possible because of the support I received at La Cocina, as well as mentors like Traci Des Jardins and Stuart Brioza, and Nicole Krasinski. They helped give me the confidence to find my culinary voice and share it with a larger audience.
I'm my truest in the kitchen. I feel free and fearless.
Over the years, cooking has become like a language to me; a way to connect with my guests, with my team at Besharam, and with my community and other immigrants. I feel a duty for my food to represent generations of women in India who haven't had the same opportunities to be so bold. I'm filled with gratitude every day that I walk into Besharam. I have nothing to prove, and everything to celebrate.
Now that you own and run your dream business, what keeps you motivated?
Opening and running a restaurant is hard, and I didn't have a template to follow when I first started. I learned as I went, following my intuition and what felt right and true to me. I run my restaurant the same way that I cook: with feeling, color, touch, and texture. This is the first time I am following my path, which feels fulfilling because it's my course to chart. There's always more to learn, and my passion to continue growing keeps me motivated. Seeing a guest enjoy a dish, and seeing one of my team members excel—it's the best feeling in the world. We're creating impact. There's nothing better.
Many women want to go after their dreams but feel held back by age. What do you say to this?
How bad do you want it? With every opportunity you have, work to the best of your ability and that will lead you toward your goal. Passionate dreams have no age or deadlines—but they need perseverance.
What is your advice to the woman who wants to lean into a midlife pivot but feels she still needs to conform?
I can be your example. I always wanted something more than what was expected of me. If I can do it, you can too.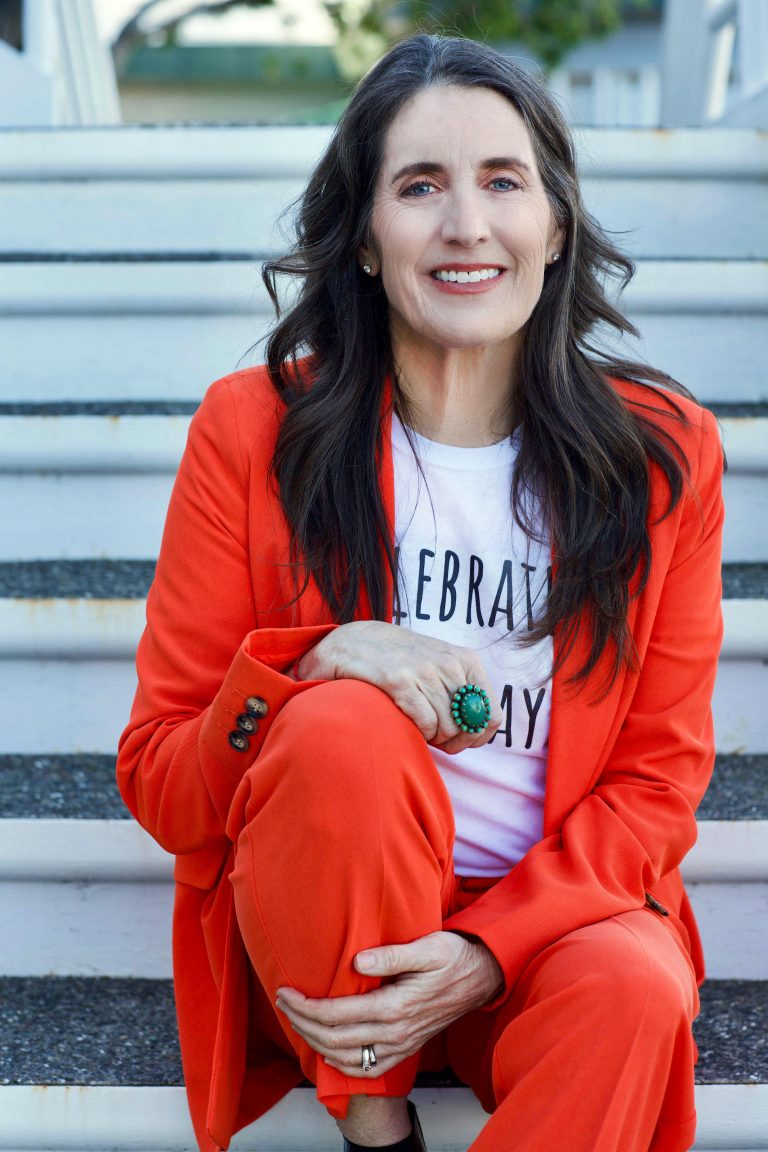 "I love telling a younger person that I'm 60 and that I found my passion and purpose in my 50s." —Stephanie O'Dell
As a sought-after stylist, Stephanie O'Dell saw the same image of women—over and over—in the media: thin, young, and white. Rare was the true photo of a woman over 50. So, O'Dell set out to change this. She has built a community of like-minded women who wanted to see themselves in ads and stories. This ultimately grew into Celebrate the Gray, a platform that offeres representation, consulting, education, and advocacy for women 50 years and older. With one of the largest cohorts of models and influencers embracing midlife and beyond, Celebrate the Gray is proving that beauty never grows old. O'Dell is creating exactly what she sought: Visual representation of realness and power, midlife and beyond.
You represent and advocate for women over 50. What have you found to be a tool in fighting age adversity and owning a midlife pivot?
I like to peel back the layers and help women understand where their aging stories are coming from—like dye your hair, cut your hair, stop wearing this or that—and give them permission to set their standards and define their aging journey. The industry is starting to do a better job representing positive aging, but we still have a long way to go.
For the woman who feels that her age is an obstacle to the giant leaps she wants to take, what do you say?
Take a small step and see what happens. Sometimes we let our lack of knowledge, experience, or education dictate what the possibilities are for ourselves. Don't be afraid to ask for help, find a mentor, take a class, read a book or volunteer. It also helps to find a community of women that see the version of yourself that you see.
Years ago, I was interested in fashion styling but didn't have any experience. I let that stop me in the beginning. But then I got a part-time job in the stockroom at Athleta, started volunteering at a non-profit organization Bloom, and helped friends and family with their wardrobes. Slowly I gained confidence in my styling ability and from there went on to open my own styling business, started styling for Athleta, and worked at Stitch Fix. I ended up styling over 6000 women aged 13-90!
This experience led me to ask the question: Why don't we see older women in fashion marketing when they have money to spend? That led to writing the blog, Celebrate The Gray which led to creating and starting our agency and collective. I love what I am doing and feel like I am making a difference in the world. I always say, does the work fill you up? If it does, keep at it!
What is one thing we can do today to positively change the conversation around aging?
Be vocal and visual about who you are, what you are doing, and how old you are. Make sure that you take the opportunity to engage and have conversations with younger and older people. We are living longer and healthier and the perception and reality of aging haven't caught up yet. I love telling a younger person that I'm 60 and that I found my passion and purpose in my 50s.
Next, check out social media and find those women or men that resonate with you. Reach out to them and tell them that you find their aging journey inspiring. Start building a community of like-minded people who see the updated version of you. Don't be afraid of doing something toward that idea, be afraid of not doing something toward that idea. Let that idea that is buried deep in your brain start to grow, and be inspired to think about the possibilities not the limitations of aging. Stop thinking Who am I to think I can do this? and instead think, Why not me?