Even before entering the workforce, the Sunday Scaries was a concept well-cemented in my subconscious. Given its definition as the "feelings of anxiety or dread that happen the day before heading back to work," I have to imagine this is a near-universal experience. Why wouldn't it be? As much as we may love our jobs and feel passion about what we do, returning to structured hours after a few blissful days away can be a struggle for us all. And while a well-curated Sunday routine might not solve all our back-to-work woes, it can help us start the week feeling more grounded, rested, and prepared to do the work that needs to be done.
We've wrapped up the first week of 2023, and it's my hope that this article will help you recommit to your intention of setting supportive routines throughout the week. Routines serve to keep us tracking toward our goals, they can improve our mental health, and they direct our attention to what's most meaningful in our lives. And while we may all be familiar with the benefits of a Sunday routine, it's knowing how to create supportive habits and weave them into our lives that can present a challenge.
Featured image by Michelle Nash.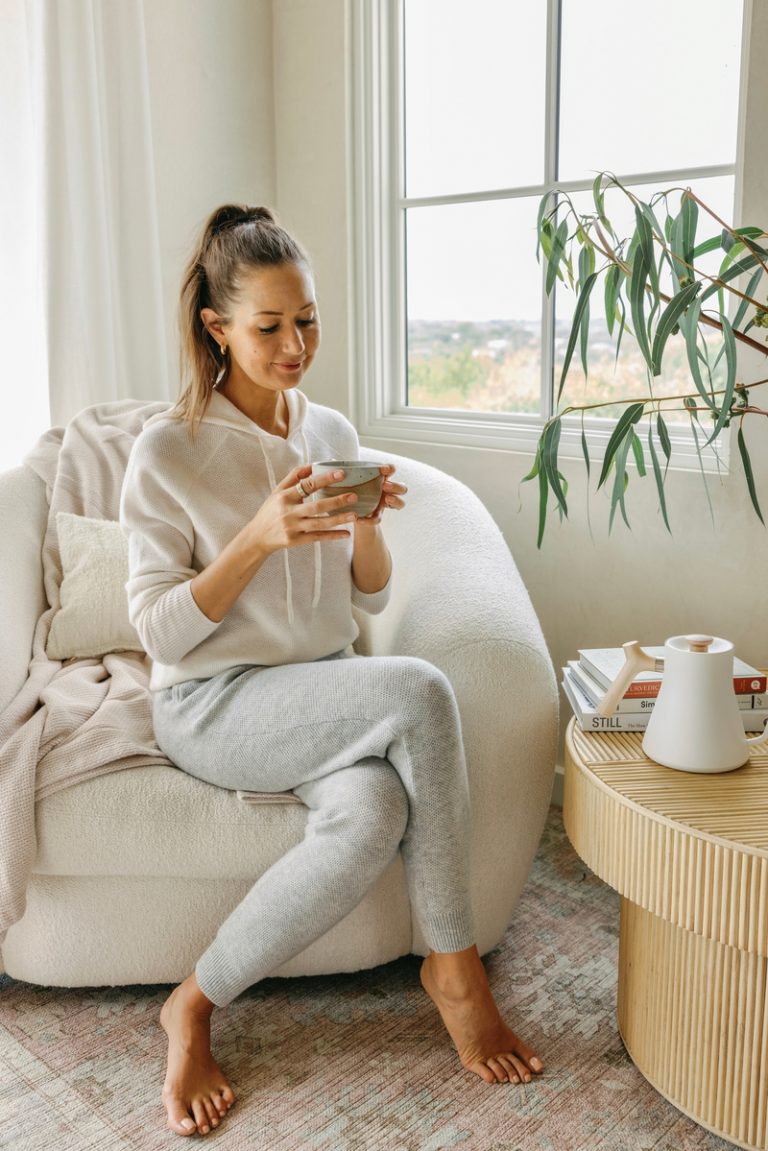 How to Create a Sunday Routine: 9 Game-Changing Ideas
Here's the thing about creating a Sunday routine: it can look however you'd like. The only requirement? The rituals and practices you weave into your weekend wind-down need to support you. So if a yoga flow helps you connect with your body before a stressful Monday, go for it! But if you'd rather connect with your mind through a good book, nothing should stop you from spending hours in literary bliss.
Investing in yourself, your health, and your happiness is key to living a meaningful and aligned life—and you get to decide exactly what that looks like.
But who doesn't love to feel inspired? *Raises hand* To help us all along our Sunday routine journey, I looked to some of the most successful people I know across every industry. Below, I'm sharing the best advice from CEOs, influencers, founders, and more. Keep reading to learn how they spend their Sundays to set themselves up for success in the week ahead.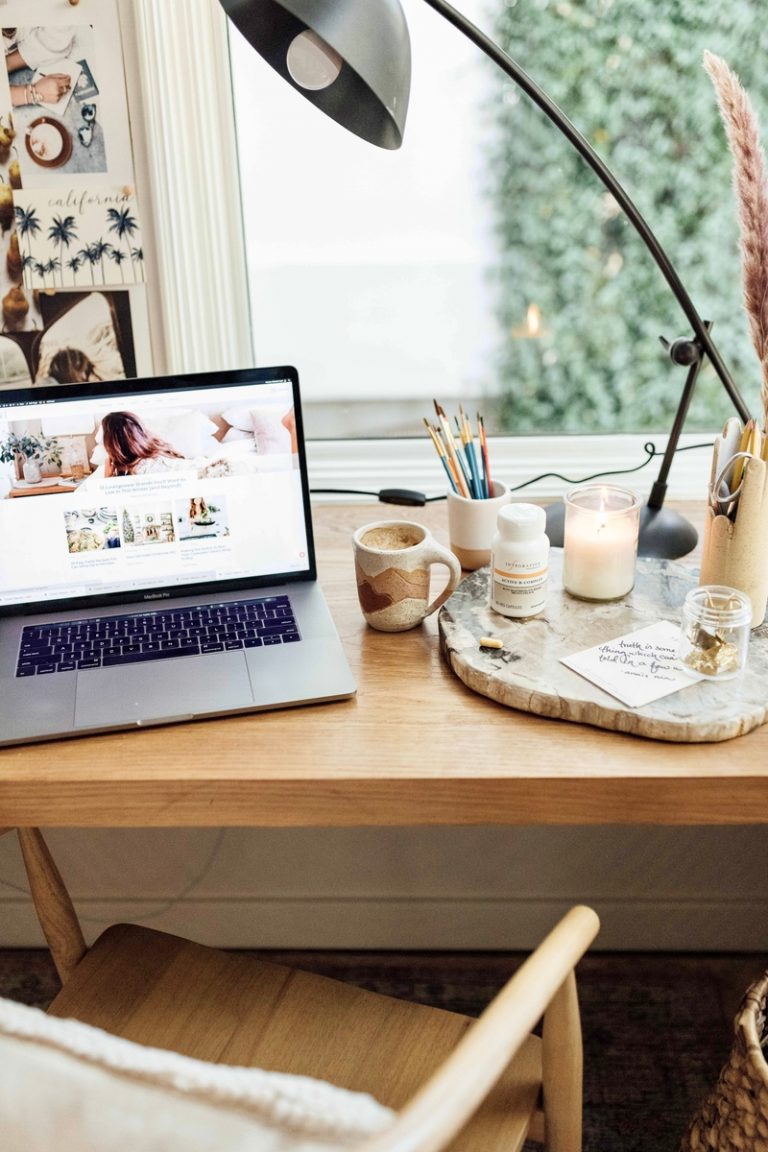 Reframe How You Think About Sundays
"Being open-minded and positive about what's coming next and staying focused on my goals keeps the Sunday Scaries away." — Laura Lee, make-up artist, YouTuber, entrepreneur, and blogger
Create Structure for Your Kids
"[My husband and I] turn down all the lights in the house to remind our kids that it's time for them (and us) to wind down. I actually really enjoy my alone cleaning time—it settles my thoughts for the day and allows me to focus on being present for the last hour my children are awake." — Brandy Joy Smith, content creator, interior designer, and Camille Styles Motherhood Editor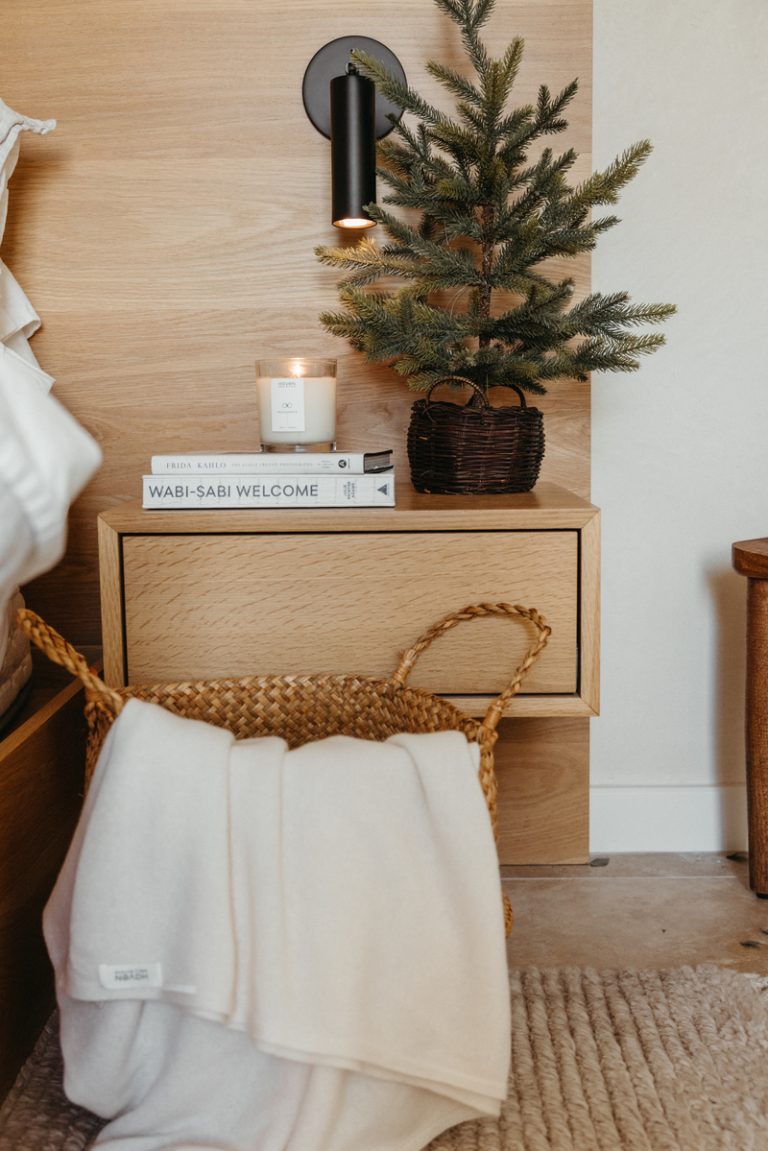 Invest in the Products That Help You Get a Good Night's Rest
"My husband and I both have become addicted to a sleeping machine, this one is our favorite. It really helps us fall into a deep and restful sleep." — Shaz Rajashekar, co-founder of Shaz + Kiks
Let Your Environment Reflect How You Want to Feel
"The first thing I do after the kids are in bed is clear the space, literally and energetically, by putting on some relaxing music, cleaning up toys and dishes, burning some sage, and lighting a lavender orange candle. This completely shifts the energy in the home and I can begin to wind down." — Tiffany Paul, founder of The Slept Life
"After turning on my music, I light a candle and pour a cup of warm tea. Once I've set up an ambient atmosphere, I proceed to tidy my bedroom. This entails sorting my closet and miscellaneous items lying around. Being mindful and conscious of my space and surroundings is essential for my creativity, productivity, and rest." — Stella Simona, co-founder of Haati Chai and Amarilo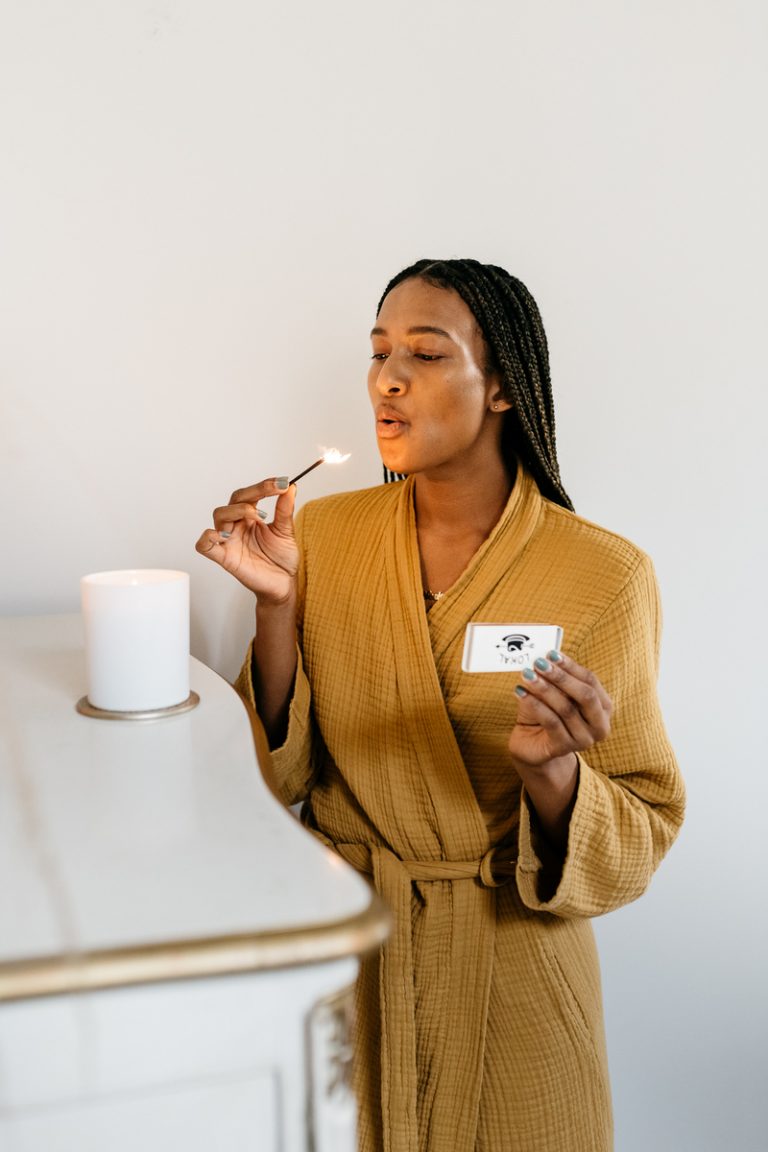 Set a Bedtime Intention
"The last thing I do is hold my amethyst crystal and set my bedtime intention, for example, an intention for deep and restorative sleep. I find the simple act of bringing yourself to the present moment feeling the crystal in hand and setting a positive intention for sleep really helps. If my mind starts racing, I bring myself back to my bedtime intention. Some say crystals have healing or soothing properties but beyond that I just like using them as a tool for mindfulness before bed." — Tiffany Paul, founder of The Slept Life
Let Yourself Indulge in Social Media—Then Turn on 'Do Not Disturb'
"I don't avoid social media, but I do choose to scroll through and focus on some of my favorite socials like TikTok. Around 9 p.m., I put my phone away for the night and I put it on Do Not Disturb mode. At that point, my social time is over until Monday." — Laura Lee, make-up artist, YouTuber, entrepreneur, and blogger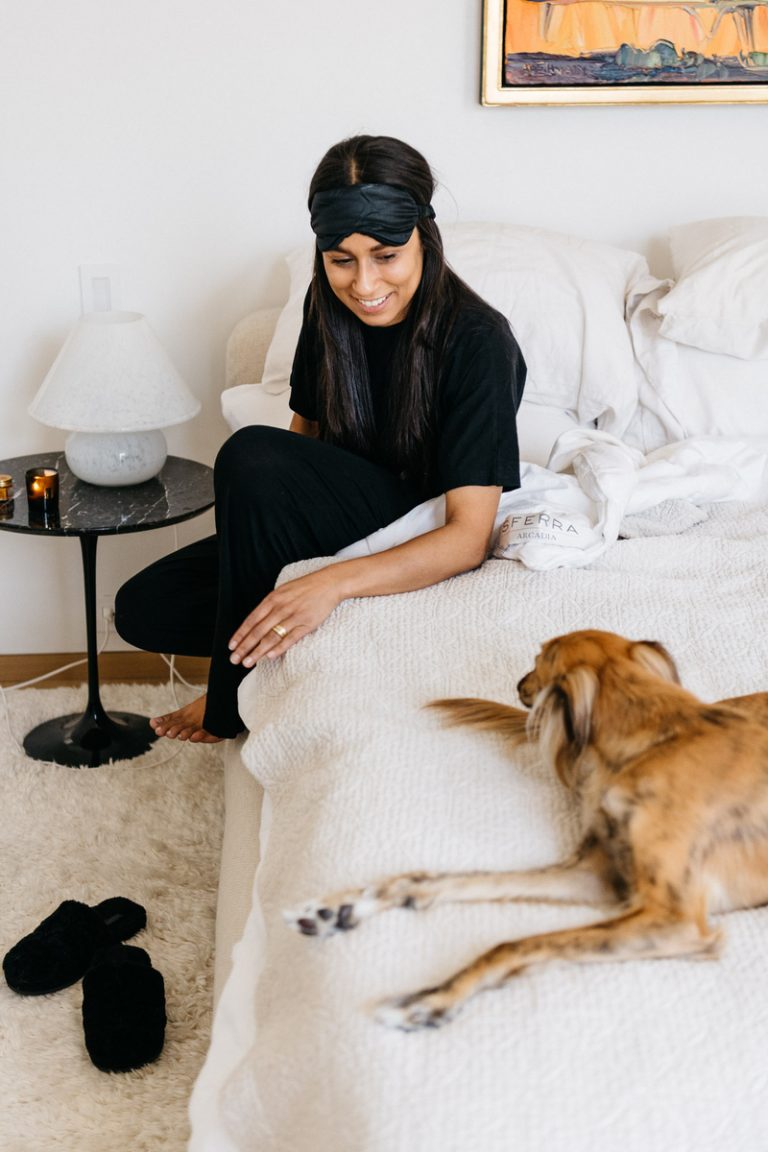 Don't Go to Bed Angry
"My husband, dog, and I always get into bed together and watch funny sitcoms on Sunday nights so we can fall asleep laughing! Our go-to is The Office, of course!" — Kiku Chaudhuri, co-founder of Shaz + Kiks
Take Your Sunday Routine Outside
"Oftentimes, my Sundays are spent with my husband, Jack. If it's sunny, we love spending the day outside. It's so nice to be in nature together, even if it's just a walk through the neighborhood with our dogs. Walking phone-free feels rhythmic and meditative. It allows my mind to think freely with each stride." — Riley Reed, photographer, writer, and founder of Woke Beauty