We're a little (OK, a lot) candle-obsessed around here. It comes with the territory of loving all things comfy and cozy. From the softest slippers to blankets we could snuggle up in for hours—when it comes to making your home a hygge-ified haven, we look first to the accessories. So in the spirit of prepping for the long, mood-lit season to come, we rounded up the best winter candles available on the internet now.
Has there ever been a better time of year to light a decadent candle, draw a bath, and just stay in? We're embracing our full-on homebody habits and setting the vibes to rest, relax, and recharge. So shop our picks below for the best winter candles, complete with scent notes. We've got sandalwood, spice, everything nice… even a few sexy tobacco notes for all you rock and roll types. Trust us: the following roundup brings all the cabin vibes.
Let's keep the list going! Drop your go-to favorite winter candles in the comments below.
Featured image by Christie Graham.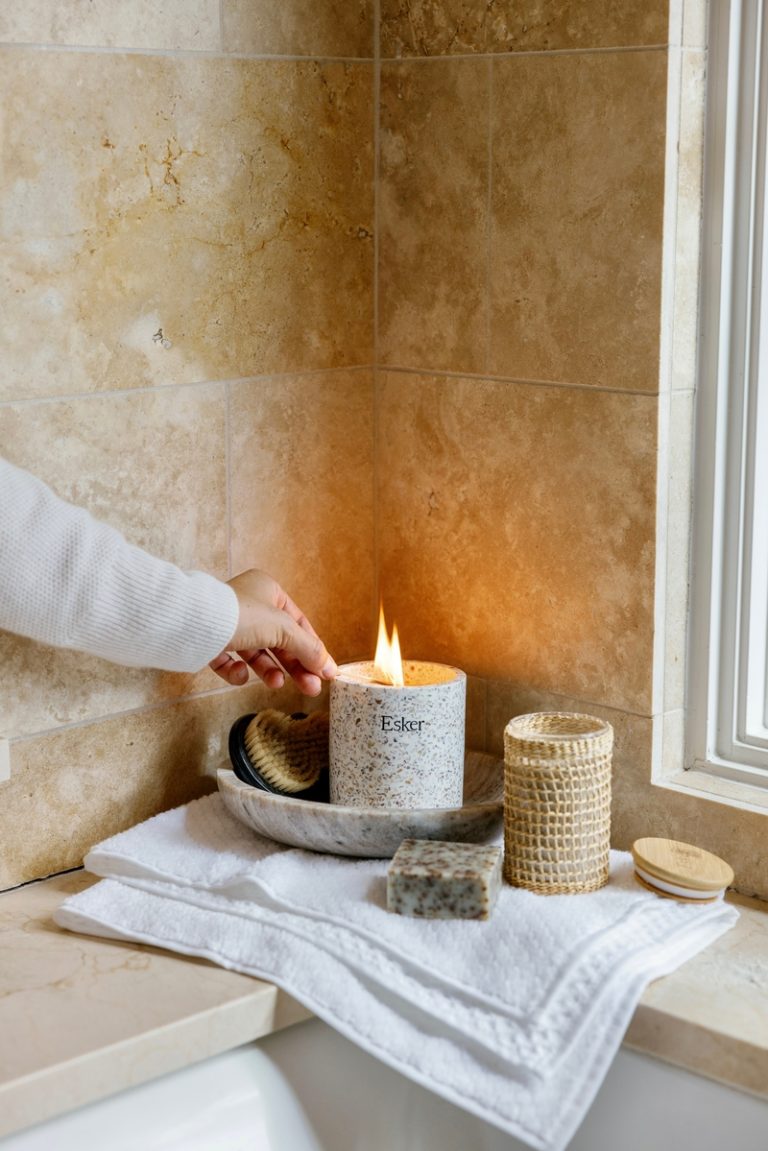 22 Best Winter Candles for Cozy Vibes All Season
Every product is curated with care by our editors. If you buy something through our links, we may earn a small commission at no cost to you.
Take your love of candles to the next level. This four-candle set includes scents designed to support each moon phase. And while you can light each one individually to align with the present phase, they can all be burned together to create a "heavenly" scent. I can't think of a more perfect gift for the aspiring mystics in my life.
Notes:
New Moon: sandalwood, white ginger, yuzu
Waxing Moon: eucalyptus, amber, moonflower
Full Moon: lavender, rose, palo santo
Waning Moon: patchouli, cypress, bergamot
I may be late to the fig game, but I couldn't be more obsessed. I love the fruit in everything from my baked goods to my smoothies—and now, I love that I can take in its comforting scent at all hours of the day. If you haven't fallen for fig yet, expect something akin to the coziness of your favorite fuzzy blanket. You'll love being wrapped in its spicy-sweet scent.
Notes: evergreen, mission fig, and spice
When The Met and the renowned fragrance brand, Le Labo come together to design a limited-edition candle, you're going to want in. "Though a shared appreciation of subtle beauty" the collaboration produces a candle that evokes the wild wonders of nature with soft, floral touches. For anyone who can appreciate a delicately-crafted scent and loves diving into a little art history—this is the candle.
Notes: laurel, rosemary, eucalyptus, thyme, cumin, clove, amber, patchouli, and sandalwood
Newsflash: Sakara doesn't just make your favorite healthy meal kits. Since the brand has blown up and taken the wellness world by storm, Sakara has added a few lifestyle goods to its product line. Among their minimalist merch and buzzy Beauty Water Detox Drops, Sakara now offers one of the sweetest-smelling candles, perfect for crafting a zen vibe at home. The formula is clean, non-toxic, and made with 100% natural essential oils, so you can feel good about burning it in your home. (Psst… this is a limited-edition product, so you'll want to snatch yours up fast!)
Notes: Bright citrus notes in symphony with sensual blooming florals
We recently featured Sophie Collins, co-founder of One Wednesday in our How I Gather series (be sure to give it a read for all her expert hosting tips). Her lifestyle brand is filled with all of our favorite goodies for designing a thoughtful, intentional home—their line of candles included. Cabin is the ultimate winter candle, with notes of fir and fresh eucalyptus supporting your coziest, comfiest self. If you can't break for a vacay in a cabin in the woods, this candle is the next best thing.
Notes: Sandalwood, cedar, fir, eucalyptus
Leave it to Jenni Kayne to create one of our favorite winter candles. As the name suggests, the balsam fir notes match the scents of a ski trip weekend—complete with plenty of time spent at the lodge. With a burn time of 60-80 hours, this candle is a solid, quality buy.
Notes: balsam fir, eucalyptus, cypress, and grapefruit
This 100% soy wax candle is perfect for wintertime. Featuring a pure cotton wick, is has an approximate burn time of 60 hours.
Notes: amber, coco, vanilla, cedar, spice, musk and sandalwood
If you're like me, you've seen these candles all over social media. They're in the homes of our favorite, design-inclined influencers and those who know a well-made candle when they see it. "Fireplace" is fitting too, because one whiff of this candle and you'll immediately be transported to a home in the English countryside, complete with the warm tea and tufted armchairs. Even if the temps reach 80 outside, this candle will make any space a winter wonderland.
Notes: clove oil, chestnut accord, vanilla accord
Boy Smells candles are designed to be chic in everything from the scent to the design. Not to mention, all of their packaging is 100% sustainable.
Notes: firewood, smoke, charcoal, palo santo, and hay
This candle is perfect for any sort of living space, as it is both refreshing and inviting. The glass exterior allows the whole candle to glow when lit.
Notes: vetiver, cedar
The decorative aspects of this candle make it perfect for the holidays. It's also a lovely gift idea for any of your loved ones.
Notes: cedarwood, smoke, heady patchouli leaves, warm vanilla
Diptyque is one of my favorite candle companies, and this scent is definitely one of their best. It is warm, elegant, and woodsy, all at once.
Notes: woods, vetiver, patchouli, spice, incense, cistus and tonka bean
This hand poured candle comes in a gorgeous amber, apothecary-inspired glass, making it a decorative centerpiece. Your guests will be drawn towards both the scent and the design.
Notes: violet, marine, patchouli, cashmere rose, sandalwood, and musk
Coffee lovers, this candle is the solution to curbing your coffee cravings all day long. Besides, isn't the smell of a warm latte one of the best parts?
Notes: coffee, nutmeg, cinnamon, and clove
Kush is Boy Smells's most popular scent (and no, it doesn't just smell like weed). It's simultaneously bright and warm, giving every room a complex and intoxicating smell.
Notes: canabis, brushed suede, sage, eucalyptus, amber, musk
This candle smells exactly how you would expect: like the freshly built tree house of your childhood. Woodsy, cozy, and natural, this candle is also a perfect gift for the men in your lift.
Notes: cedar, bamboo, sandalwood, guaiac wood, leather
This is a Christmas tree in candle form. From the scent to the green glass, it's perfect for the holidays.
Notes: white cypress, juniper berry, mint leaves and evergreen wood
Nothing screams winter quite like a warm glass of spiced cider, and this candle embodies just that.
Notes: Canadian fir base, sparkling berries and grapes, harvest apple, cinnamon, soothing vanilla
One whiff of this candle, and you're guaranteed to be in the holiday spirit. The gold details on this glass also look stunning with every style of room.
Notes: pomegranate, mandarin orange, pine, cloves, and cinnamon with a hint of vanilla and amber
If you could bottle up the feeling of a cold winter night by the fire, it would be this candle. It will fill your home with warm notes of campfires and coziness.
Notes:
A blend of fresh pine, sandalwood, cedar wood, and leather, this candle not only creates a comforting scent, but also a relaxing crackling noise.
Notes: cedar leaf, mountain spruce, pine, patchouli, sandalwood, Virginia cedar wood, frankincense, Amber Myrrh
I know, I know: two Jenni Kayne candles in one roundup? But trust me, it wouldn't be a list of the best winter candles without both of them. If you're spending the colder months in SoCal—or anywhere the temps don't dip too low—make this your winter candle. Notes of green leaves, vanilla, and grapefruit set a seasonal vibe without evoking too much Christmas cheer. This is perfect if you like to take a low-key approach to the holiday.
Notes: green leaves, vanilla, eucalyptus, moss wood, and grapefruit
This post was originally published on February 5, 2019 has since been updated.