We're moving right along with the tour of my house reno (ICYMI, step inside my living room and check out my kitchen.) Today: I've got my bedroom all ready for you. So let's kick off our shoes and get cozy! Considering the fact that we didn't make any structural changes to this space, it sure does feel fresh and new thanks to plaster walls, plush rugs, and new furniture pieces, including the custom-designed bed I've been dreaming of for years. I can't wait to show you guys around and share all my cozy bedroom ideas and inspiration.
If there's anything this last year has taught us, it's that we all need our own safe refuge when the world feels crazy. One where we can breathe easy and enter our own place of comfort, rest, and serenity.
Read on for exactly how I created this space in our home, and hop over to my IGTV for the video tour.
The neutral color palette.
If you know me, you know that I love my neutrals. I prefer surroundings that feel soft and enveloping, never overpowering. So, I started with the walls. As I shared in this post, I fell in love with a product called American Clay that creates a matte, organic-feeling texture. It's a natural earth plaster made in New Mexico, and it provides the soft, organic vibe I was envisioning for our house. I also love that the company is committed to sustainability, and the clay is a non-toxic, environmentally-conscious option for walls.
We used a shade called Forté White, and the final product is so beautiful that I've found myself wanting to keep some of the walls bare, just so that the wall itself can have its own moment. I will say that this is not an easy DIY project; you want to either do your research and practice with lots of test patches or do as I did and hire someone who really knows what they're doing. Our walls required a base coat and two layers of topcoat, with drying time in between. From start to finish, it was about a three-week process.
Textural walls are one of my favorite ways to make the bedroom feel cozy while keeping it light and airy, since it subtly adds dimension and wow factor, without adding any color at all.
The custom-designed wood bed.
I've been pinning images of low-profile wood beds with built-in nightstands for years, but I could never find one that was exactly right. The dimensions were off, or the wood wasn't the color I had in mind, or the built-ins weren't quite what I was envisioning. Since I knew the bed would play a starring role in this project, I seized the opportunity to design the exact bed of my dreams and have it built. And turns out, it really wasn't any more expensive than many of the off-the-shelf beds I'd seen for sale online.
My friend, designer Claire Zinnecker, helped me figure out the plan for the bed and created designs. Then our furniture builders, Petrified Design, used them to create shop drawings. Here's our inspiration, along with Claire's sketches: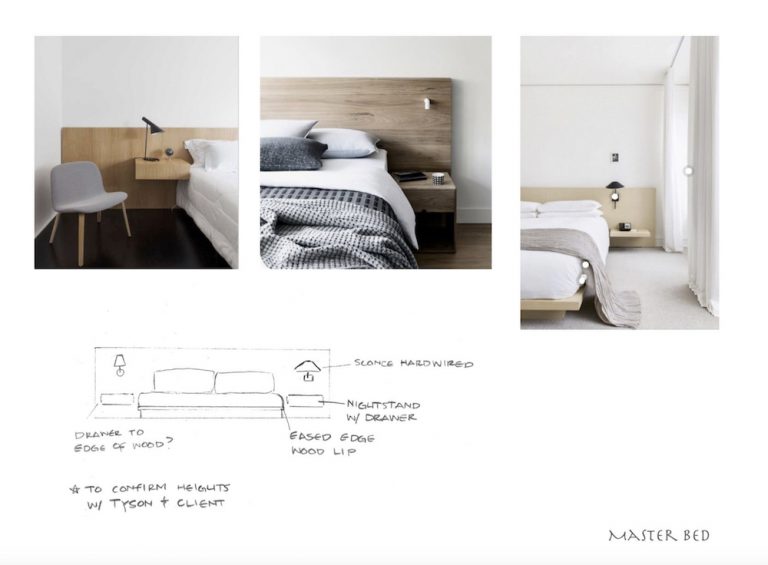 The finishing touches.
For the wood, I wanted a matte, neutral finish that wouldn't be too yellowish and could work with the grey tones we had happening in the room, so we decided to go with an unstained white oak.
Next up, time to choose the light fixtures that got hardwired into the headboard. This was a bit of a tough call because I knew these could make or break the look of our bed, but ultimately I chose these matte black Fjord Spot sconces from Cedar & Moss. And I think they're perfect. The electrical component was challenging: I wanted a super clean look, so my electrician and I had to come up with a strategy for how to conceal all the wires and switches.
Ultimately, he ran the connections between the wall and headboard, then we popped a switch into the side of the nightstand where it would be easily accessible but nearly invisible. We also ran an electrical outlet into the inside of the drawer so I can have a concealed charging station. This means that my phone can charge through the night in the drawer without any blue light disturbing my sleep.
I'm so thrilled with how our bed came together, and it was empowering to bring my vision to life, especially on a big furniture piece like this. It gave me the confidence to do more custom pieces like this on projects in the future!
The cozy reading nook.
I'd been coveting this chair for several months, and after looking for a cheaper version, I finally acknowledged that I liked this one best and it was worth it (it's worth noting though, that this less expensive version was a close second.) So, I made it the centerpiece to the bay window in our bedroom  — the area in our house with the best views of downtown Austin.
We've rearranged this bay window area a lot through the years. It's held a pair of matching chairs, a tall fiddle leaf fig, a daybed… and I've got to say, this is my favorite configuration yet. Taking time to create a private, tucked away nook (even if it's tiny) is a cozy bedroom idea that's sure to make a major impact in any space. The essentials? A plush rug, low coffee table, and lounge-y floor cushions are all you need for a reading/chilling/meditation space. I love the simplicity of this accent table, which happens to be on sale at Target right now.
The softest rugs.
In the past, we've always had natural fiber rugs like jute or sisal in our bedroom because I love the earthy texture. That said, it's not the softest material for bare feet. Now that we have a higher-pile wool rug under the bed, I'm wondering how I ever lived without the feeling of sinking my feet into something warm and plush when I climb out of bed in the morning. It's truly the ultimate luxury, and such a grounding, comforting way to start the day.
The main rug that covers most of the room is the Malawi Oatmeal Wool Rug from Dear Keaton; it's so beautiful, one of my very favorite pieces in our new space. It's handmade from Australian-based company Armadillo&Co, using Fair Trade practices with natural and sustainable fibers.
The smaller rug in the bay window area was a total steal from Target – it's a Moroccan-style plush accent rug that adds just the right amount of neutral color and cozy texture to the space.
The cozy bedroom idea worth stealing? Invest in a super soft rug.
The TV console that doubles as a plant stand.
One of my constant challenges in the bedroom? How to create a comfy space for evening wind-down time (that sometimes includes a movie or TV show) without having an overly visible television that (let's be honest) cramps my décor style. I want my bedroom to feel like the ultimate spa retreat, and TV's don't really enhance that vibe. My answer? A streamlined Samsung Frame TV that displays art (that actually looks like art) along with a design-driven console table holding all my plant babies.
One additional cozy bedroom idea illustrated by this space? Plants are prettier grouped together. Before, my plants were just kind of all over the place – one on each bedside table, one in the bay window, another on the bathroom counter. By gathering them all together and displaying en masse, suddenly I have a "plant area" where they all get great sunlight and make much more of an impact than they did on their own.
***
So, what do y'all think? I'd love to hear your favorite element of my new bedroom, and if you have any questions about the space, drop a comment below!