It is the workhorse of the house. The heart of the home. And, in many ways, the center of our domestic lives. We're talking about the kitchen—the room that literally sustains us. So of course, the kitchen décor trends of 2022 are on our minds as we rely so much on this room.
There's something about the kitchen that pulls at our emotions. (Ever notice the best conversations happen while nibbling at the counter?) But because we demand so much from this room, our expectations for it can make it a hard space to design. The kitchen needs to work, which means the décor needs to hold up to steam and smoke and spills, all while offering a needed much-needed respite from our crazy days. As Pearson Turnbull, owner of Santa Ynez General, tells us below, kitchens this year are becoming places to literally "shut off from the rest of the house."
Considering these multi-tiered needs, the top trends for kitchen design in 2022 look toward optimal impact and intention. There is only room for the efficient, the beautiful, and the dramatic including a large-scale tile backsplash trend that is officially replacing the much-loved subway tile, and upper cabinets will soon be a thing of the past!
Read on for eight major kitchen décor trends interior designers expect to see everywhere this year.
Trend #1: Large-Scale Textured Backsplashes
Photo by Duy Nguyen, courtesy of Studio Ten Interior Design.
It's been a year and a half and then some, and most of us have spent more time in our homes than ever before. Considering this, Lori Sutherland Burns, principal designer and owner of Studio Ten Interior Design, believes we're all "starving for texture and dimension, perhaps because we have spent so much time at home these past couple of years." Burns tells us there's a desire for visual stimulation in the most-occupied spaces of the home—i.e. the place where we cook and eat and gather. Larger, textured backsplashes are one key element to bringing this look into the kitchen fold. "This has historically been reserved for high budget projects, but supply costs and installation costs will likely decrease as it gets more popular," says Burns. To be clear, this does not mean incorporating just any tile, she adds. "Goodbye subway tile…  It's been a good run but you're done!"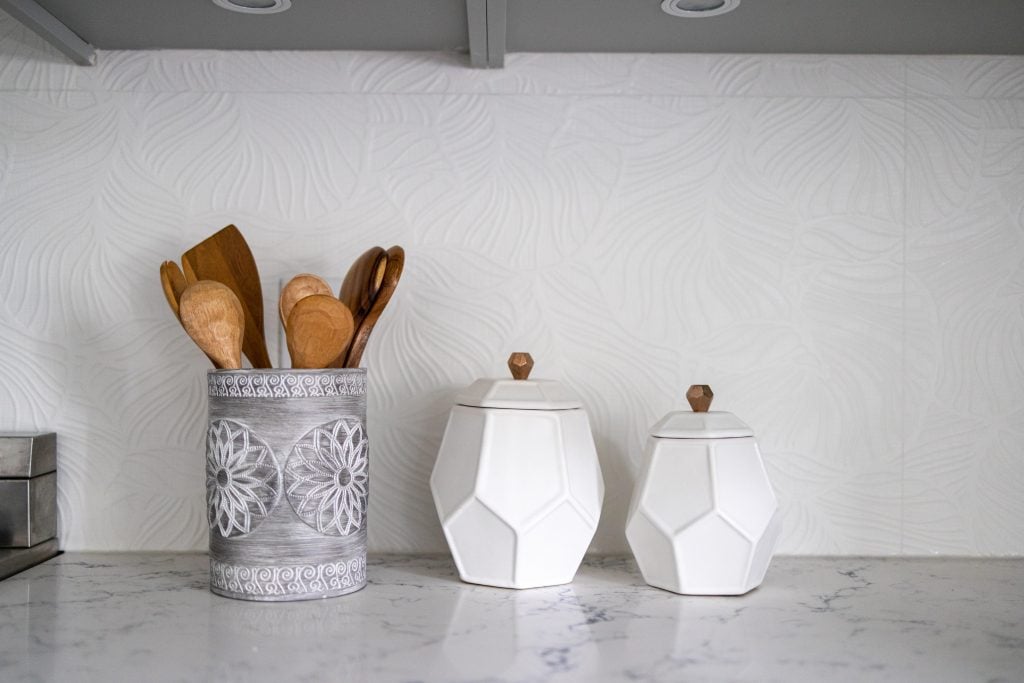 Get the Look:
While Burns has been incorporating textured and larger scale tile and porcelain slash backsplashes into kitchens for some time, she says this look is often reserved for bathrooms—until now. You can incorporate larger tile, such as 16"x40" or 24"x48", to provide a surface with fewer grout lines from countertop to underside of upper cabinets or a slab of striking material. The best part? This is more economical than doing a full slab to match the countertops. Plus, texture on tile or a porcelain slab is easier to clean than one may think—a must for any hardworking kitchen.
Trend #2: A Merger of Beauty and Utility
Photo courtesy of Las Perelli.
Elena and Beatriz Perelli, the sister design duo behind Las Perelli, have a natural proclivity to create kitchens that are functional and warm, which is an approach they see others leaning toward this year. "We believe in creating sustainable and timeless spaces," Elena tells us, who says truly "sustainable" interiors, which people are gravitating toward now, are spaces that respect tradition, meet people's needs, and are "made to last for a generation." If there's one room where this all collides, it's the kitchen. "Now that we have been forced to spend more time at home, we think that society has realized how important it is to find kitchens that are comfortable, cozy, and timeless" and endlessly useful, notes Beatriz.
Get the Look:
To blur the lines between utility and aesthetics, the Perelli sisters decorate with cooking items and kitchen elements that are as useful as they are beautiful. This includes displaying antique crockery, artful kettles, ample cookbooks, and vibrant casserole cookware pieces. Putting these within reach invokes a feeling of appreciation while rising to meet the home cook.
Trend #3: Soothing, Organic Elements
Photo of Kate Zimmerman Turpin's kitchen, seen here.
It is a truth that continues: So many of us are continuing to work from home in 2022 and while this is a privileged ability, it can also take its toll. Turnbull agrees: "We're feeling the effects of juggling all aspects of our life under one roof." Because of this, he believes people are seeking more boundaries and soothing refuge when it comes to the kitchen—a space of respite, and relief from the rest of the home. "Kitchens are moving away from the open concept, back to a space we can shut off from the rest of the house," he adds. We couldn't agree more.
Get the Look:
Think of the kitchen as more of a hideaway sanctuary than a do-it-all space. To honor this, Turnbull forecasts more natural, soothing, organic elements being implemented into kitchens for 2022. There will be a swell of softwood tones, earthy vibes, and clean lines. This can be accomplished with wooden accessories and minimal hardware.
Trend #4: Dramatic Visual Hood Fans
Photo of Nina Dobrev's home by Chris Patey, seen here.
Eliza Fox, lead interior designer at Flow Smart Living, says there is a trend of incorporating more dramatic visual appeal in the kitchens of 2022. A big example of this is the implementation of oversized hood fans over stoves. These—quite literally—give your eyes a reason to look up and your mind a reason to pause. Andrea Rodman, the creative director of Andrea Rodman Interiors, agrees. A hood fan gives a "framed-in look" to the kitchen which can have a very elegant architectural impact."
Get the Look:
Adding a hood fan can be a giant shift in the kitchen. It does require the purchase of a large hood fan, which is readily available at any home improvement store. But if this is beyond your scope, Fox encourages adding other materials and elements, like wood trim, that draw the eyes upward and create a dramatic feel. A large hanging raw rattan pendant also does the trick. We love how Camille transformed the hood in her recent kitchen makeover.
Trend # 5: Ample Pantry Space
Whether we're cooking a meal or making tea, we're working in our kitchens, and ideally, every inch of this space needs to make this easiest. One must? Plenty of pantry space. Andrea Rodman believes a "framed-in look" allows for there to be complementary tall cabinets, which provide needed storage and space to store dry goods, dishes, jarred containers—you name it. Maximizing your kitchen's real estate with additional storage is a way to up the intention and impact.
Photo courtesy of Andrea Rodman Interiors.
Get the Look:
Rodman's forecast of ample storage space can require the need for a contractor, but don't let that deter you from obtaining this look. Considering incorporating a DIY approach with open shelving. Or, if space allows, a standalone pantry.
Trend # 6: Contrasting Old With New
Photo courtesy of Las Perelli.
Much like the (ages-old!) myth that black cannot be paired with navy, a kitchen does not have to adhere to one theme or style. Mixing antique pieces with modern finds is the design essence of Las Perelli, the sisters tell us—an aesthetic they see holding strong into 2022. Merging the soft lines of an antique item with the striking details of a modern accessory provides contrasts for the chosen items, allowing their differences to shine.  
Get the Look:
The options here are essentially endless, but it can be helpful to start with an anchor piece in one aesthetic category. Follow the lead of the Perelli sisters and consider an antique farmhouse table to start, then complement with an eclectic mix of cooking items and kitchen accessories from there.
Trend #7: Warm Creamy Whites
Photo courtesy of Allison Dozier Interiors.
There is an undeniable warmth to a kitchen cast in creamy white. This fresh, neutral palette allows for all the other kitchen details—the cooking accessories, the windows, the lighting—to fully shine. Allison Dozier, principal designer and owner of Allison Dozier Interiors, sees warm whites being huge in 2022 for any room, but especially the kitchen. "A warm white is timeless and flexible and plays nicely with any kind of décor," declares Dozier.
Get the Look:
A fresh coat of paint is one of the most affordable home décor updates that makes the most dramatic difference. Dozier loves Benjamin Moore's White Dove for its accessible warmth and neutrality.
Trend #8: Light and More Light (and No Upper Cabinets!)
Photo courtesy of Jessica Nicastro Design.
That's right: Jessica Nicastro, owner and principal of Jessica Nicastro Design, exclaims 2022 is the year to open up the kitchen. This starts with lighting: lots and lots of it from natural and artificial sources. After that? Free up some room by paring back on upper cabinets. Once thought of as a total necessity, Nicastro predicts upper cabinets may soon be a thing of the past. Do you agree?
Get the Look:
The key is in the layering. Nicastro recommends incorporating a mix of sconces, flush mounts, and table lamps to provide layered beams of light to brighten and open. Windows are best curtain-free to allow for ample natural light to pour through during the day.