When it comes to my kitchen repertoire, there are very few dishes that I keep in rotation. I have my go-to salad recipe, my afternoon snack (that is 10 times better than avocado toast), and a green smoothie that fuels most of my mornings. Everything else I eat is either some kind of experiment or a hodgepodge of ingredients that I can turn into a bowl or is a result of what I'm craving that day. So, when I find a recipe that I make not only multiple times over the course of a year, but multiple times within a month, you know it's got to be a good one. Well, that's exactly the case for my five-ingredient pesto parmesan potatoes.
We are, of course, deep into potato season, and I couldn't be happier. It's all about the fluffy mashed potatoes and caramelized sweet potatoes. But today, I'm here to talk about roasted potatoes. On their own, roasted potatoes are pretty good. The crispy golden brown texture and buttery insides are hard to beat, but when I think about potatoes, it's all about using them as a blank canvas. By using a handful of ingredients that are packed with flavor, these potatoes go from really good, to really freaking great.
Tips For Making Pesto Parmesan Potatoes
The best part of this recipe is that you can use whatever potatoes you have on hand. I used a bunch of different varieties: Yukon golds, fingerlings, and teeny tiny baby potatoes. With a few cutting tricks, all of these will roast together on one sheet tray and be fork tender-ready at the same time. For the baby potatoes, I keep them whole. You can halve them if you like, or halve a portion of them, but I like having the skin caramelize in the oven on these. For the fingerlings, I just cut these into halves by the cross-section so the inside can get crispy on the sheet tray.
And for me, the star of these potatoes is the Yukon golds. Since these are larger than the other potato varieties, not only did I halve them, but I also Hasselback sliced them so the heat could get through the potato easier and cook at the same time as the other potatoes on the tray. Plus, this allows the pesto topping to seep into the potato and add a ton of extra flavor.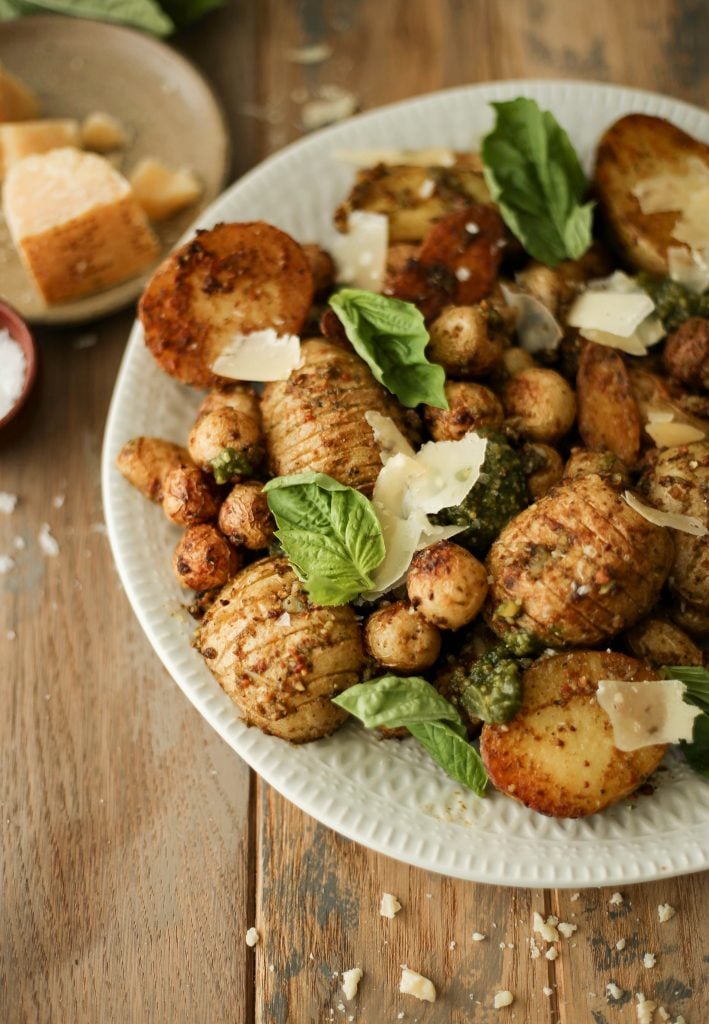 How To Serve Pesto Parmesan Potatoes
Speaking of, let's chat pesto. I used store-bought. Yup, all about a shortcut here. Plus, there are a lot of great pesto varieties out there nowadays that are just as good as homemade. If you make a great homemade version, more power to you, but for the sake of ease here, there's no judgment in using what's in the jar.
To serve, I add some caramelized and roasted garlic paste that adds a subtle sweetness, salty parmesan, and zingy lemon that cuts through the richness of the potato and cheese. I have definitely just stood over my kitchen island and eaten these potatoes straight off the sheet tray for dinner—ain't no shame in that game!
Whether you serve these beside a Sunday roast or on your Thanksgiving table, I guarantee these will be on repeat in your kitchen, too.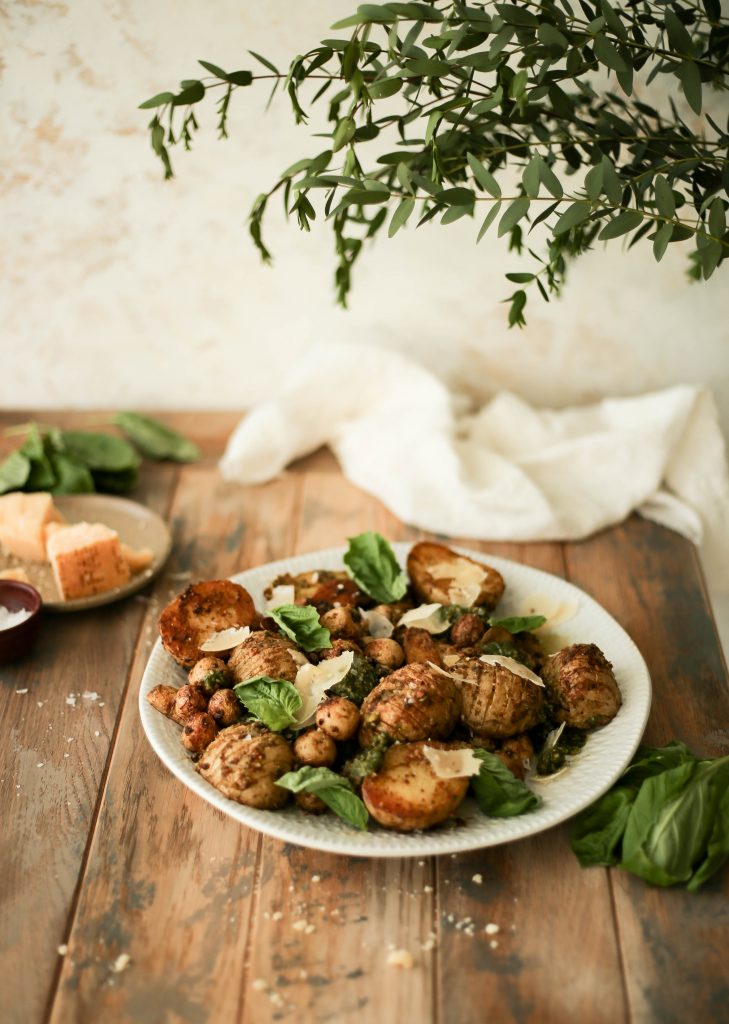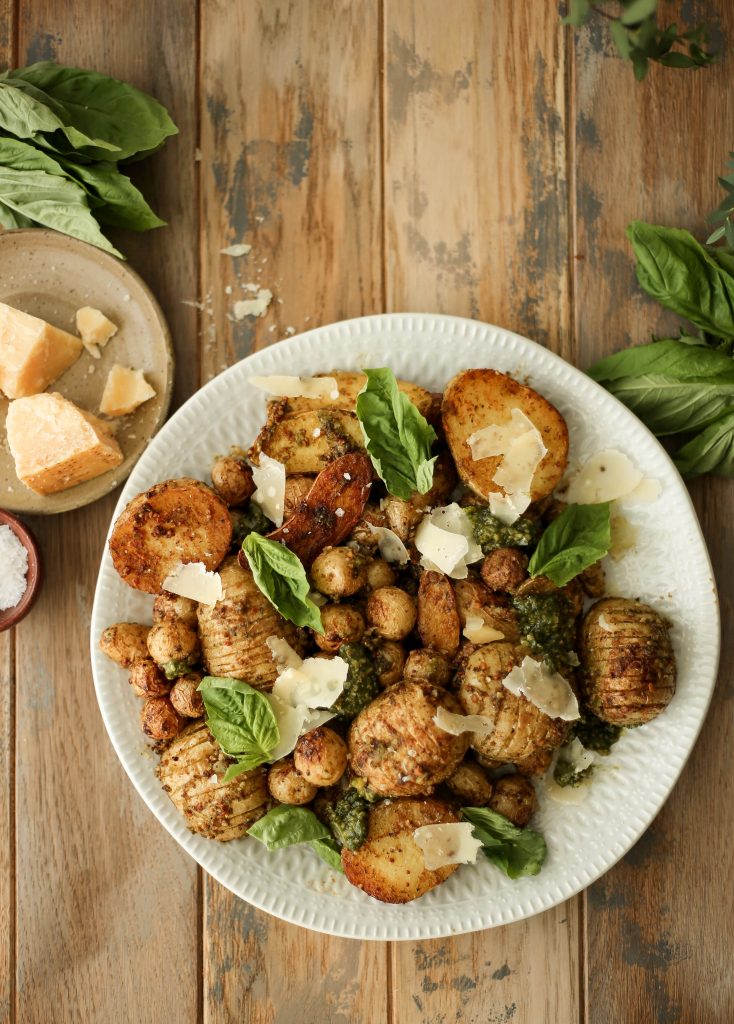 This post was originally published on November 18, 2021, and has since been updated.
---
Ingredients
2 - 3 pounds of potatoes of choice (yukon, fingerling, baby potatoes, etc.)
10 oz of pesto, half for roasting and half for dressing
1 tbsp of olive oil
big pinch of salt and pepper
1 head of garlic
1/2 cup of grated parmesan
juice from 1/2 large lemon
optional: parmesan shavings and basil leaves to top
---
Instructions
Preheat oven to 425 degrees F.
Prep the potatoes. For smaller potatoes, halve them. For larger yukon gold potatoes, halve and hasselback.
Add the potatoes to a large sheet tray - I prefer to roast with parchment paper for crisper edges, but use if you like. Add 1/2 of the pesto, 1 tbsp of olive oil, a large pinch of salt and pepper and stir to coat the potatoes.
Chop the top of a head of garlic off. Place the garlic bulb into a piece of foil, drizzle with a little olive oil and a pinch of salt, and wrap with the foil. Place on sheet tray with the potatoes.
Place the tray in the oven and roast for 45 - 50 minutes. Halfway through, add the grated parmesan and flip the potatoes. Continue baking until crisp and fork tender. Remove from oven.
Take the garlic bulb and squeeze out the cloves. Chop and scrape the garlic cloves into a paste, and mix with the remaining pesto. Toss the garlic pesto over the hot potatoes.
To serve, place warm potatoes into serving bowl, drizzle with lemon juice, add parmesan shavings, and basil leaves. Salt to taste. Enjoy!