Imagine you start your workday feeling energized, clear, and excited about the projects ahead. The set-up around you—a streamlined desk, comfortable chair, inspired art—evokes a sense of ease and an I've-got-this mentality. You look at your screen and see a calendar brimming with possibility. As the hours roll by, you check off tasks with satisfaction. Am I writing about a utopian workday here? Yes, but one that is actually attainable with some wellness-inspired modern home office ideas that'll enhance your productivity.
Good interior design is more than appealing to the eye. It's about creating a room that enhances the entire point of being there. When it comes to our home workspaces, too often we allow a poorly arranged environment hinder our potential. You know how a cluttered bedroom can negate good sleep? A home office lacking inspiration and flow can negatively impact our work—which is something at the forefront of Sarah Barnard's mind. "Functionality and wellness are two sides of the same coin. No matter how beautiful the space, if it isn't functionally supportive, the frustrations will outweigh the benefits," says the interior designer whose work lands at the intersection of wellness and aesthetics.
But like any room in the house, it can be simple to transform a home office into a productive haven—no matter its size. With a few smart modern home office ideas and products, which I glean here from Barnard and interior designer Katie Raffetto, this space can be somewhere you want to inhabit during the day. One that's healthy, bright, and happy.
Feature image by Hannah Haston
Keep reading for 6 modern home office ideas that'll transform your workday (and help you conquer that to-do list!).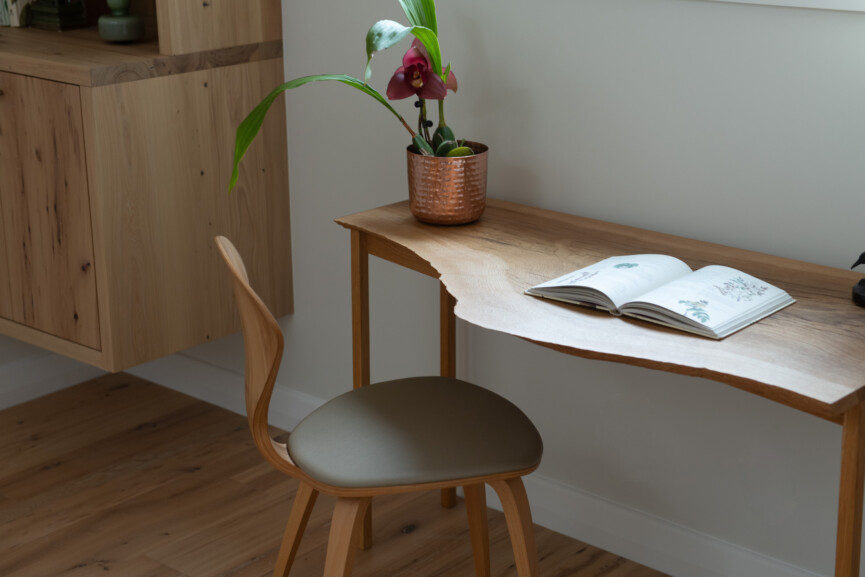 Image by Steven Dewall; courtesy of Sarah Barnard Design.
Why Design Impacts Your Productivity
Before we get to the tips, let's take a macro look at why and how a well-designed office impacts productivity and wellness. Newton's third law of motion—for every action there is an equal but opposite reaction—sums up the crux of this topic: If unnecessary stuff builds, necessary energy will get depleted. We cannot afford to have this in the room where we're supposed to function at optimal levels. "Beyond functionality, design can send us visual cues to encourage positive behaviors or habits," says Barnard. It's critical to have things in place, from a streamlined desk to ample light, so we can focus not on what's in our way but on what we need to accomplish.
The best way to approach creating a healthy, wellness-inspired home office is to think of how you want to feel during the day. Enlivened and clear? Productive and efficient? If these vibes resonate then the goal must be to create an office that is inviting, joyful, clear, and comfortable. Incorporating beauty into a home office can also make time there more appealing, thus improving our daily work experience and performance, adds Barnard.
How to Make Your Home Office Healthier
Consider this: Your home office needs to work for you. Every item must have a purpose and place so it's within easy and comfortable reach—from your pens to your computer to your chair. In this light, think about what you can remove, tweak, shift, or add that will create such a place. From there, look to these tips (and products).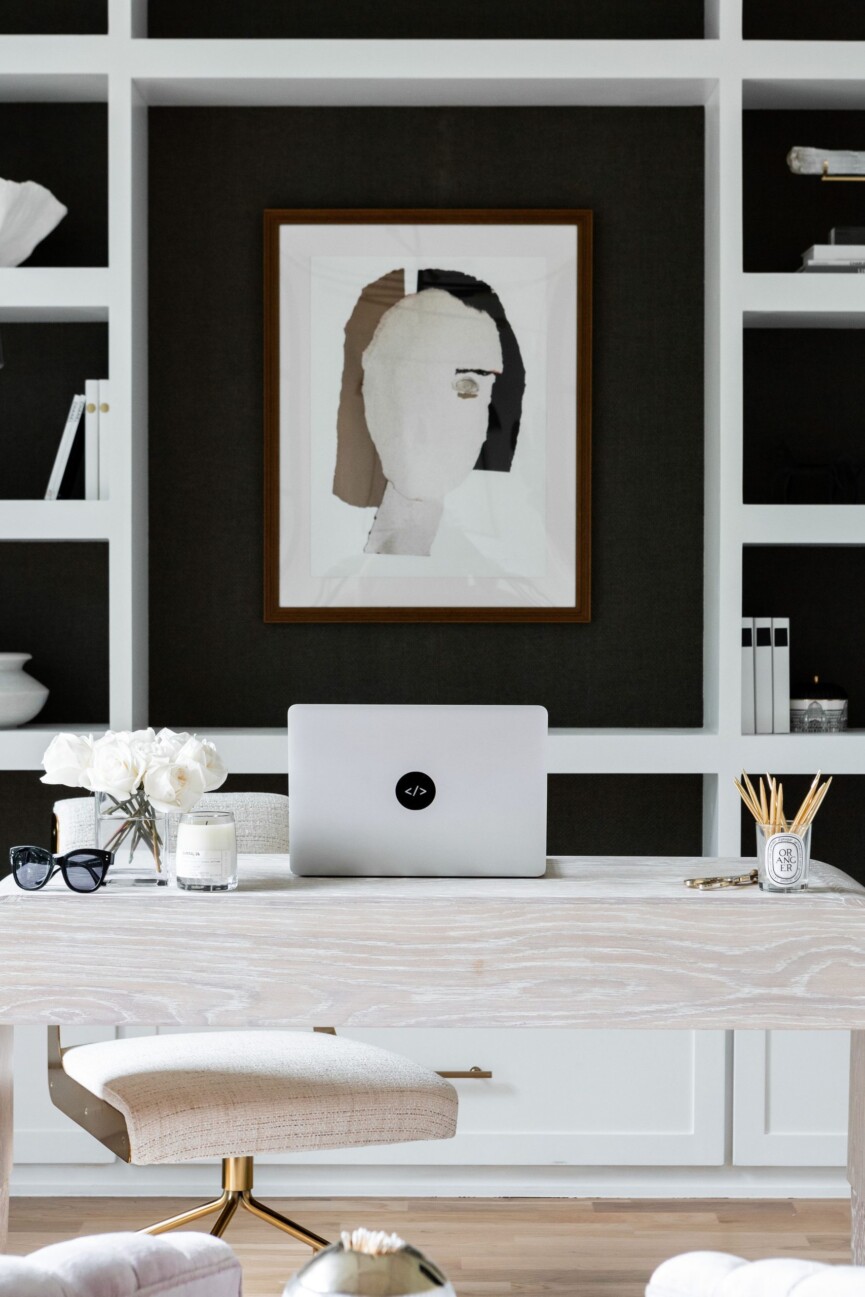 Image by Matti Gresham
#1: Prioritize Flow and Ergonomics
If the arrangement of your furniture feels cramped, you will too. Look at how your main workstation is set up and consider your body position during the day. It's vital to be looking eye-level at your computer screen and to have a chair that supports healthy posture. Even better: Consider an ergonomic work layout that allows movement and the option to stand. "The most supportive home offices offer a range of work set-ups, from the traditional desk to standing spaces, floor cushions or mats, and plush sofas or lounge chairs," says Barnard. "One of the greatest benefits of working at home is access to versatile, unusual, or unexpected work set-ups."
Barnard also says to allow for wiggle room in where and how you work throughout the day. "Many people find that different body configurations may support specific tasks. A deeply comfortable seating area with a calming view may benefit daydreaming or problem-solving, reprioritizing time for creative thinking."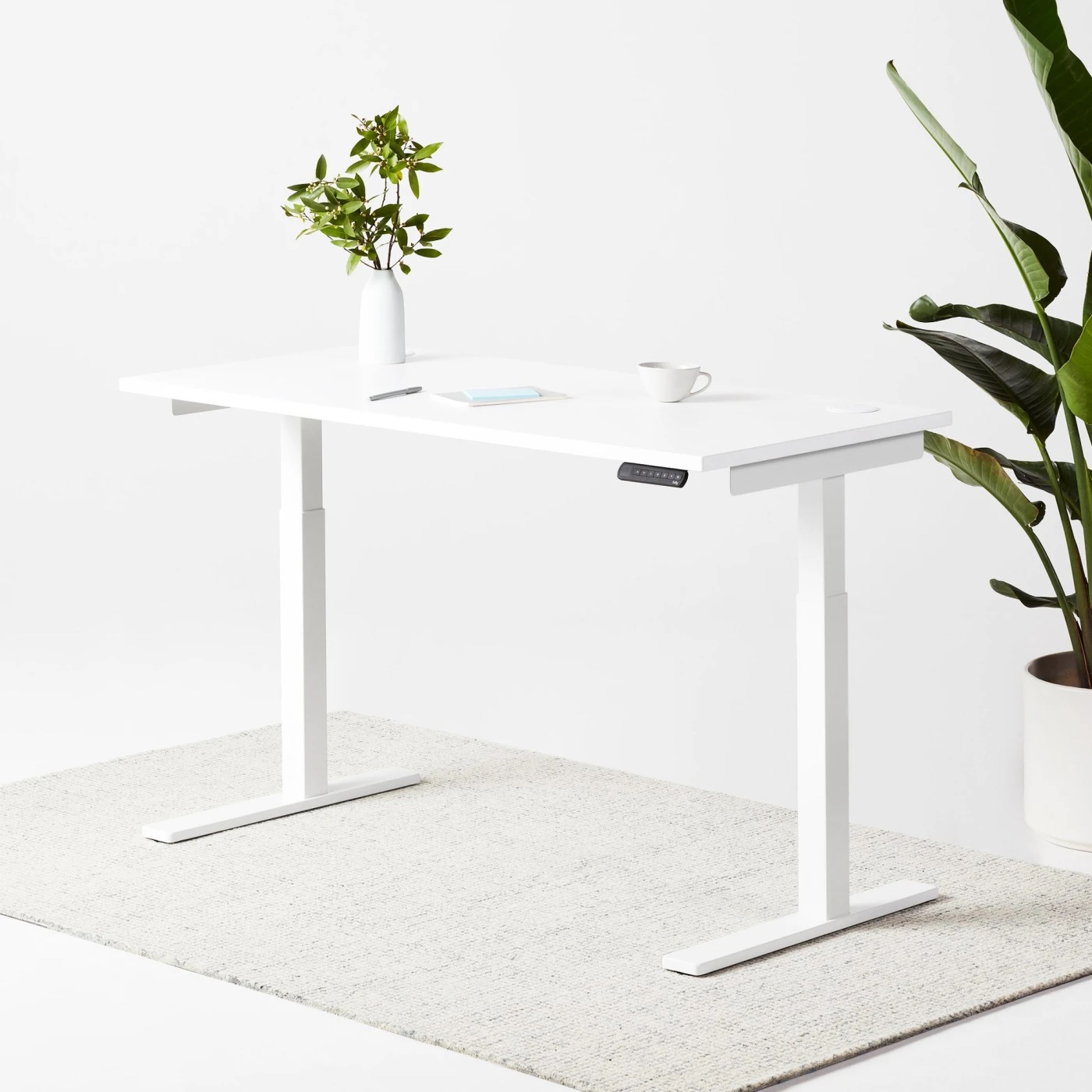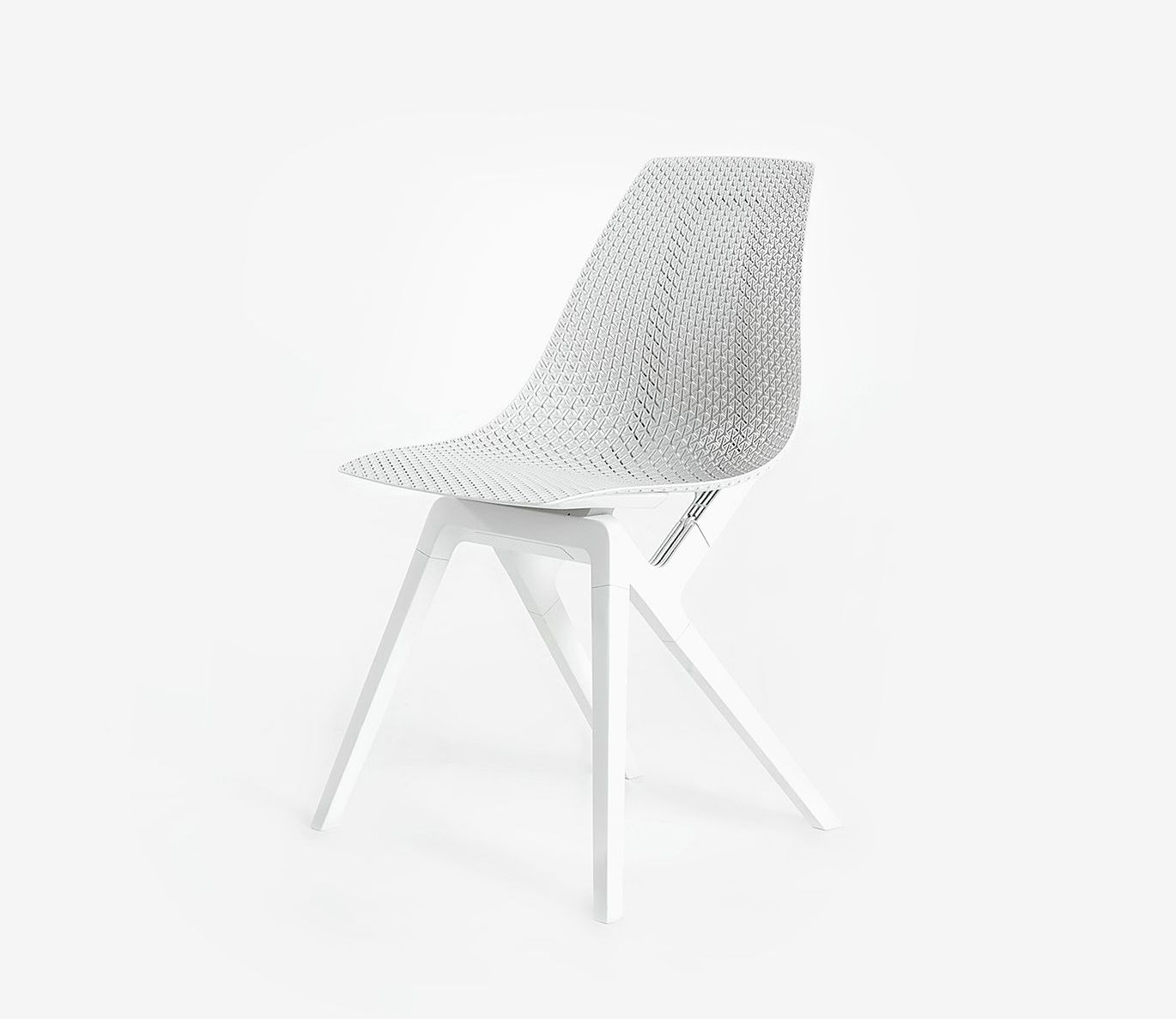 Made from reclaimed fishing nets and end-of-life carpet, this all-purpose chair is worth the splurge for its ergonomic design.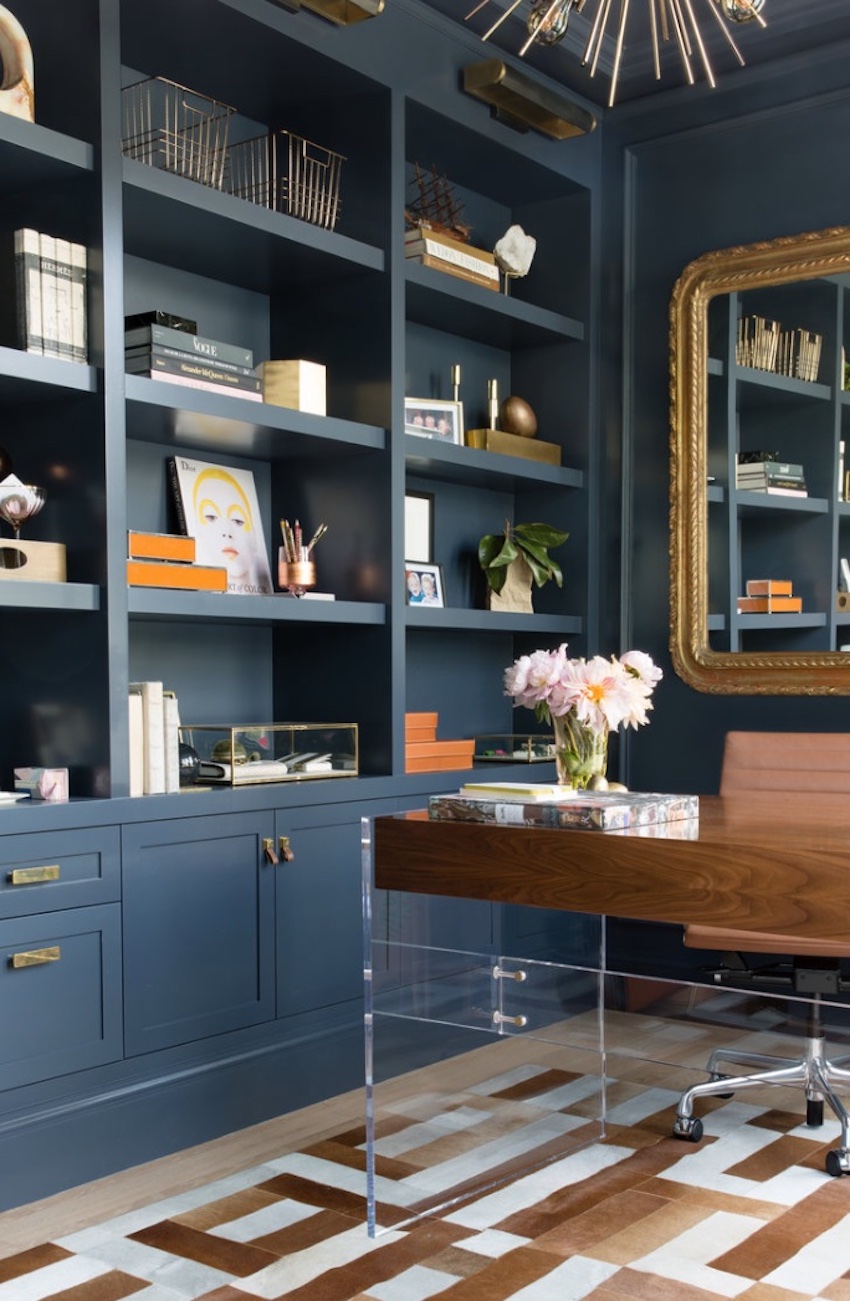 Image by Suzanna Scott; office interior design by Regan Baker
#2: Create Smart Storage
It's well known that an organized space begets a clear mind. This is as critical as ever in the place where you work, which is why Katie Raffetto, founder of Katie Raffetto Interior Design, prioritizes ways to corral clutter and work essentials when working on a home office for a client. "We try to design storage solutions to fit their needs and find creative ways to hide the electronics, printer, and paperwork," she says. "I often utilize in-cabinet and in-drawer outlets for charging, printers and shredders."
Keeps desk essentials organized and all in one place.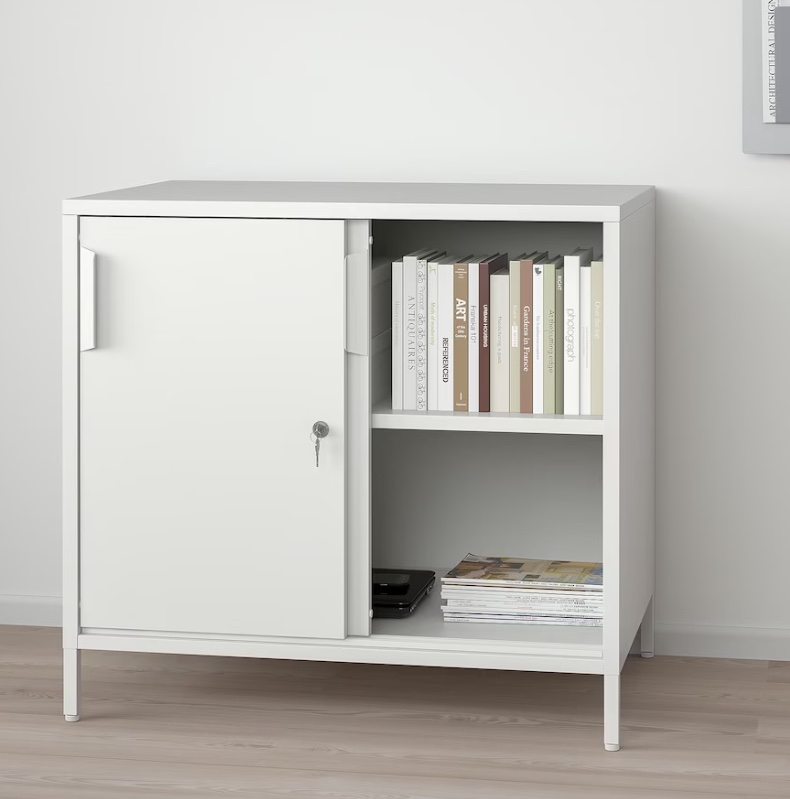 Simple, economical, and ready to hold books, chargers, and the like.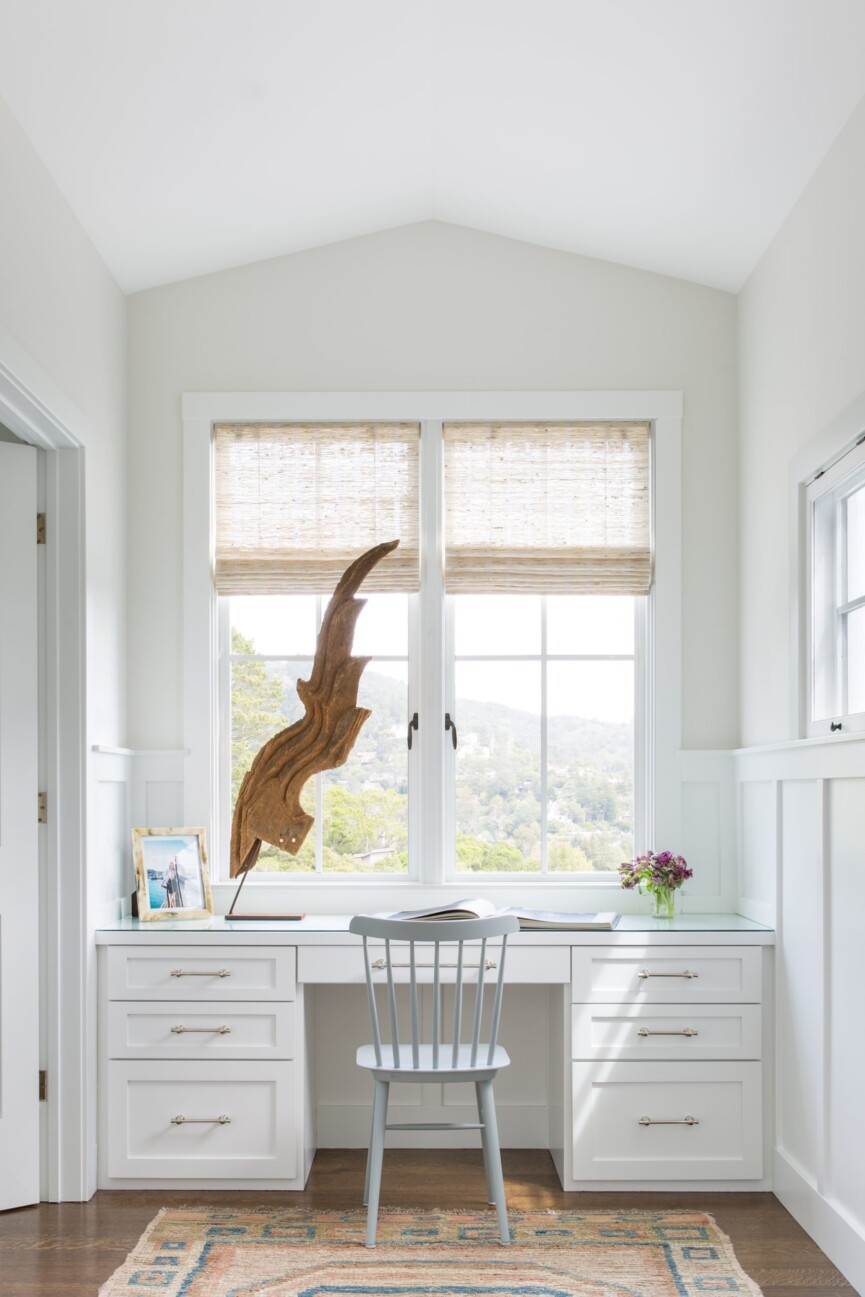 Image by Suzanna Scott; office design by Katie Raffetto.
#3: Love the Natural Light
If you love to gaze out the window, you're doing your mind and body good. Research underscores how looking at views of nature during the day can reduce stress and boost inspiration. Considering this, it only makes sense that Barnard says to capitalize on the window in your office. You can do this by placing your computer or workspace in front of a window. In tandem with boosting your mood and giving your eyes a break, this allows you to sit in line with the natural rays, which is ideal lighting for video meetings.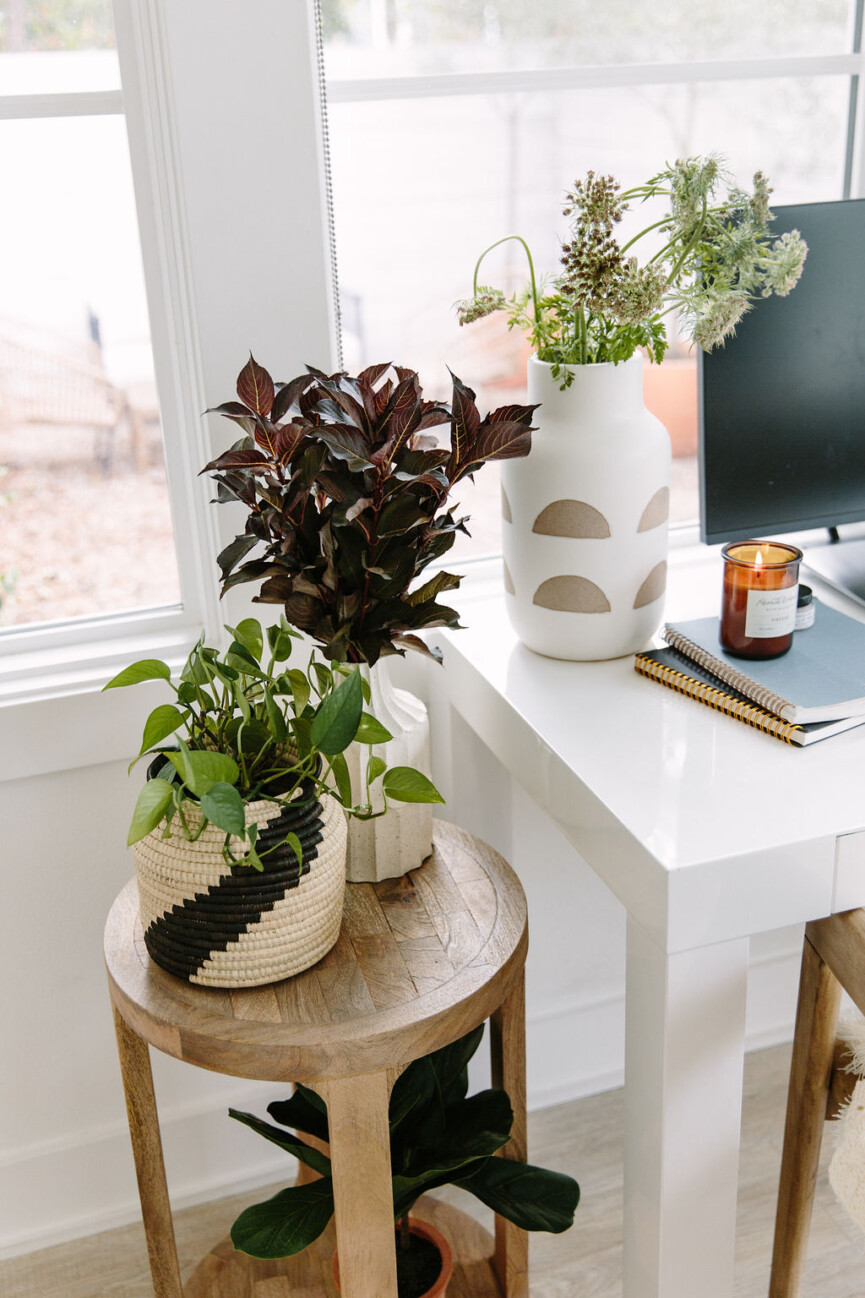 Image by Hannah Haston
#4: Honor Nature
Speaking of the outdoors, bringing a little of them inside can also help to create a sense of serenity and peace, says Barnard. Adding a small plant in a beautiful planter does the trick.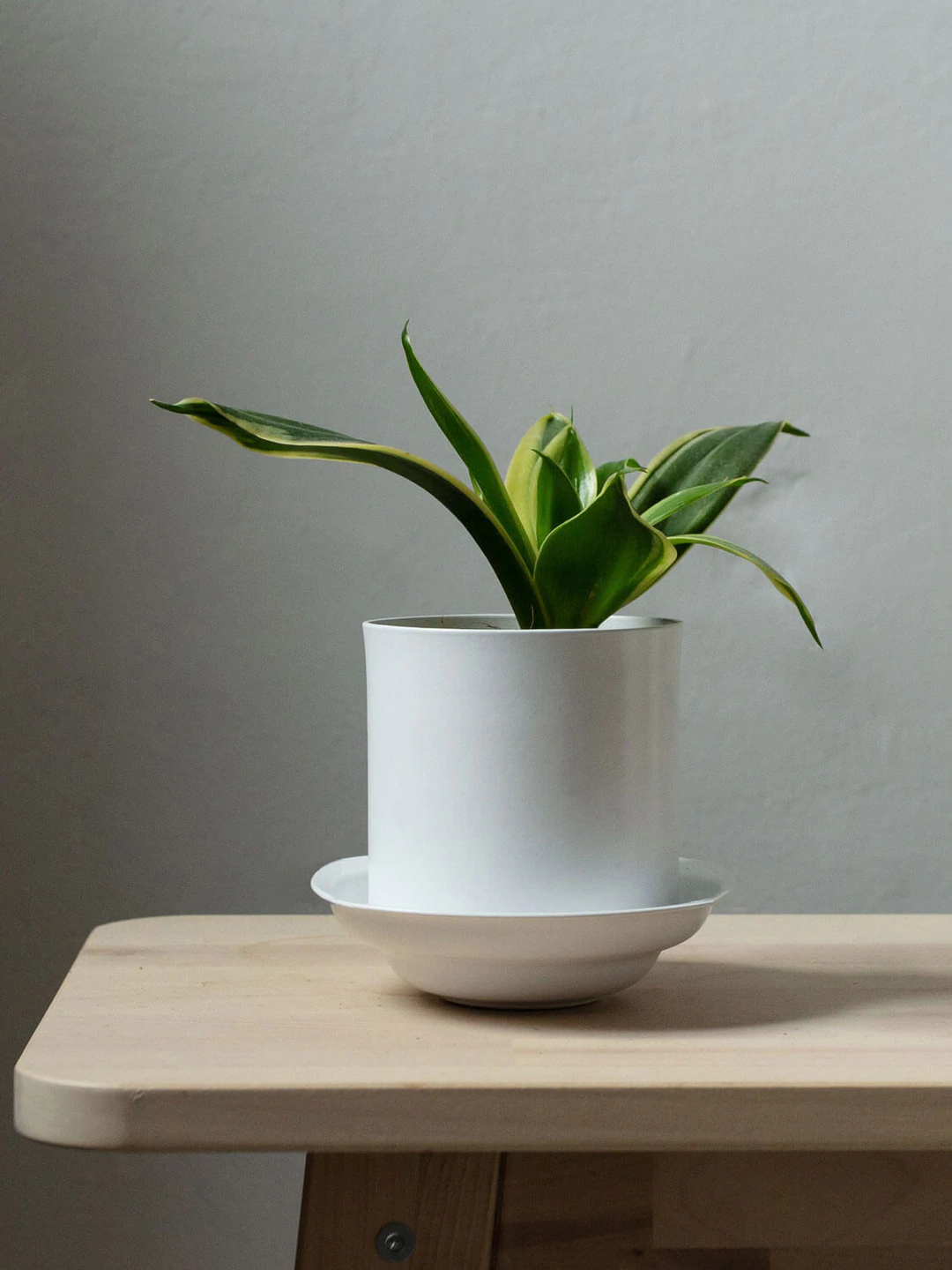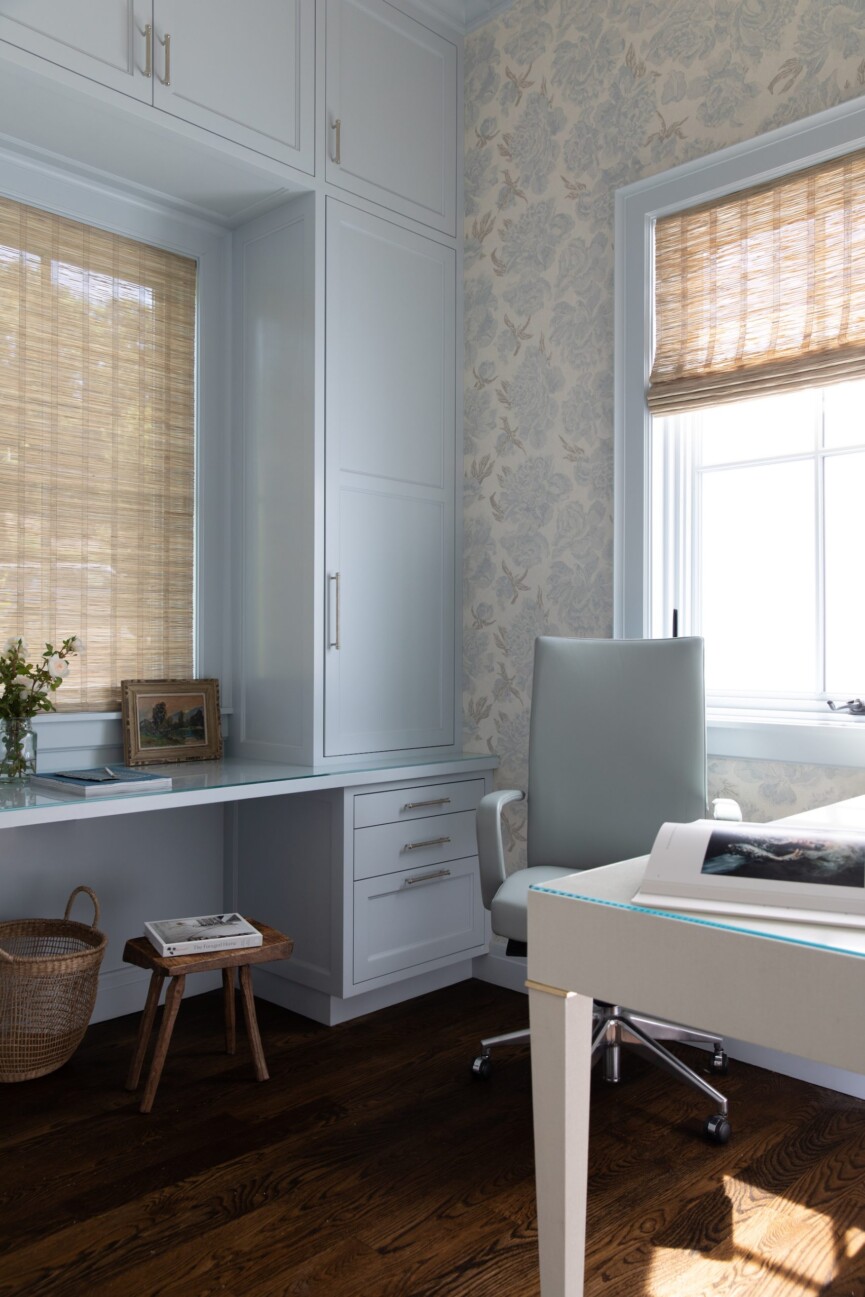 Image by Bess Friday; interior design by Katie Raffetto.
#5: Incorporate Beauty
The office is a place to work, but that doesn't mean it has to be void of pleasure. Both Barnard and Raffetto say that incorporating things of beauty and inspiration into your workspace can help ideas flow and morale stay high.
"Many people working from home spend the majority of their days in their office spaces. Surrounding your work area with beautiful and beloved items can make that time more enjoyable," says Raffetto, who loves to add "special elements" of interest and intrigue, such as patterned wallpaper, dark paint, or an incredibly plush rug.
It's true too, that enough can't be said about the power of a great piece of art. As Rafetto adds, the key is balancing the function of the space with the quest for an unexpected and stunning space."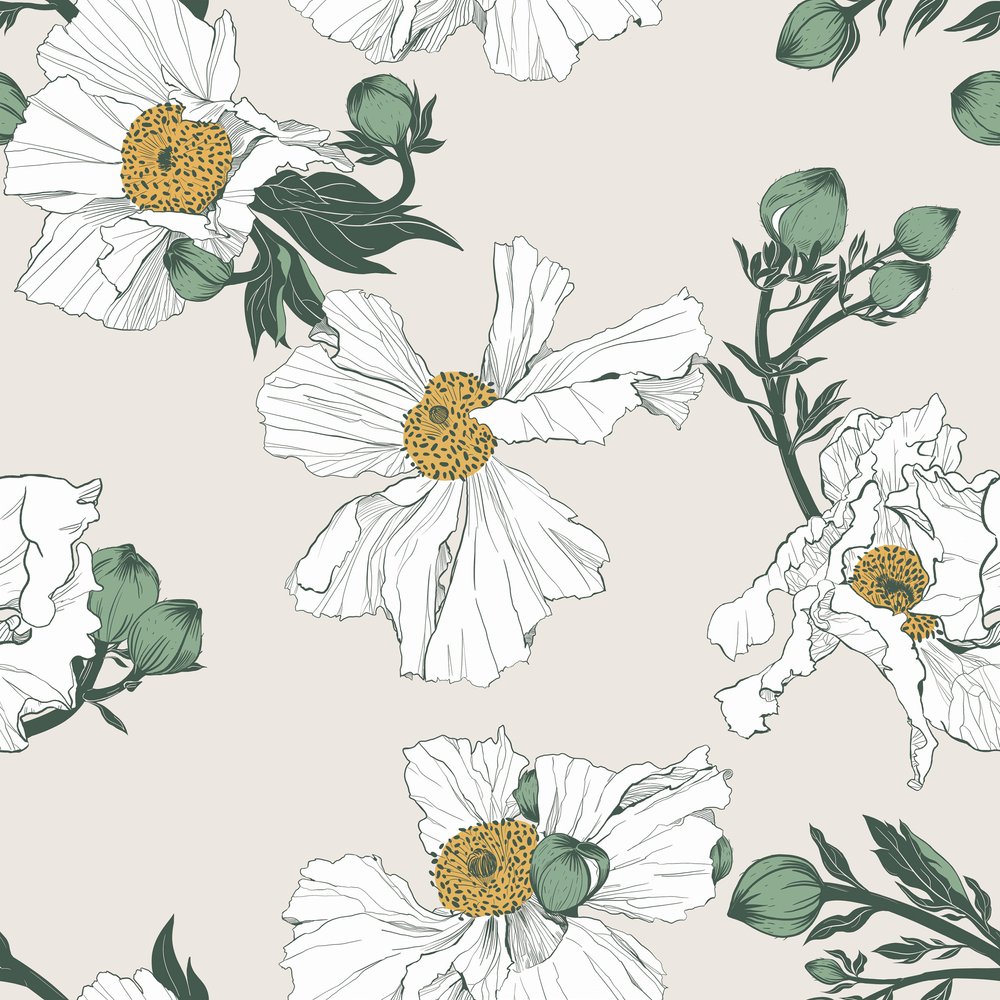 Eco-friendly wallpaper that adds a bit of floral and fauna to the home office.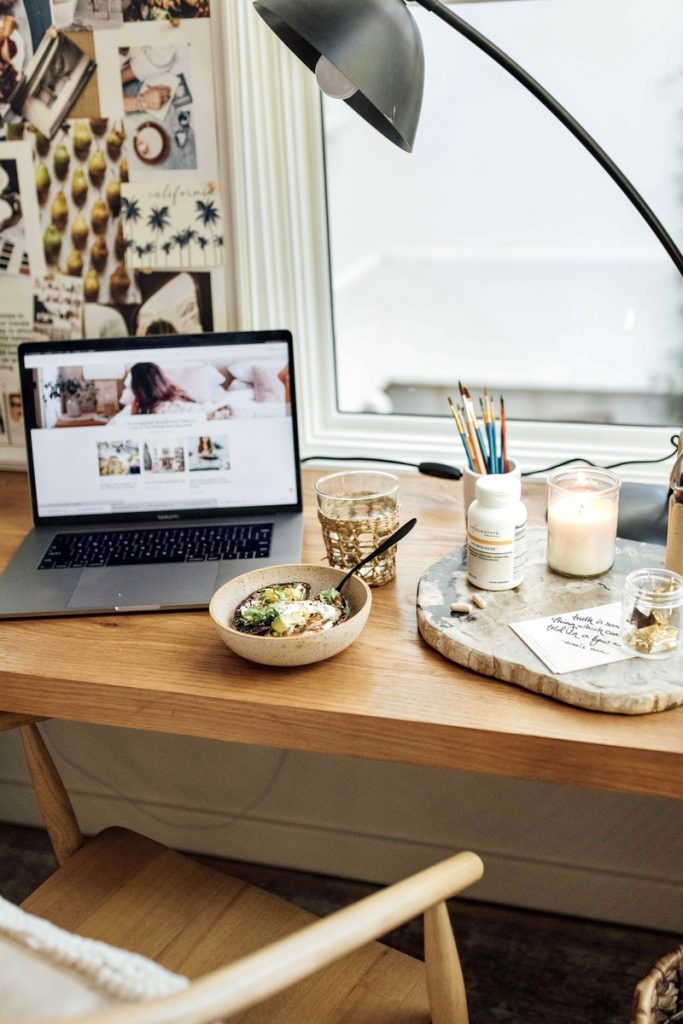 #6: Keep Healthy Essentials Within Reach
Lastly, Raffetto likes to allow for "big work surfaces" for her clients to ensure there's ample room for work essentials, be it a computer, sketchpad, or something else. It's also important to keep small accouterments on hand that provide quick refreshers and wellness enhancements, such as a face mist, blue light glasses, and a water bottle. When these are within arm's reach, you're more apt to use and benefit from them, thus incorporating small, unexpected moments of workday wellness.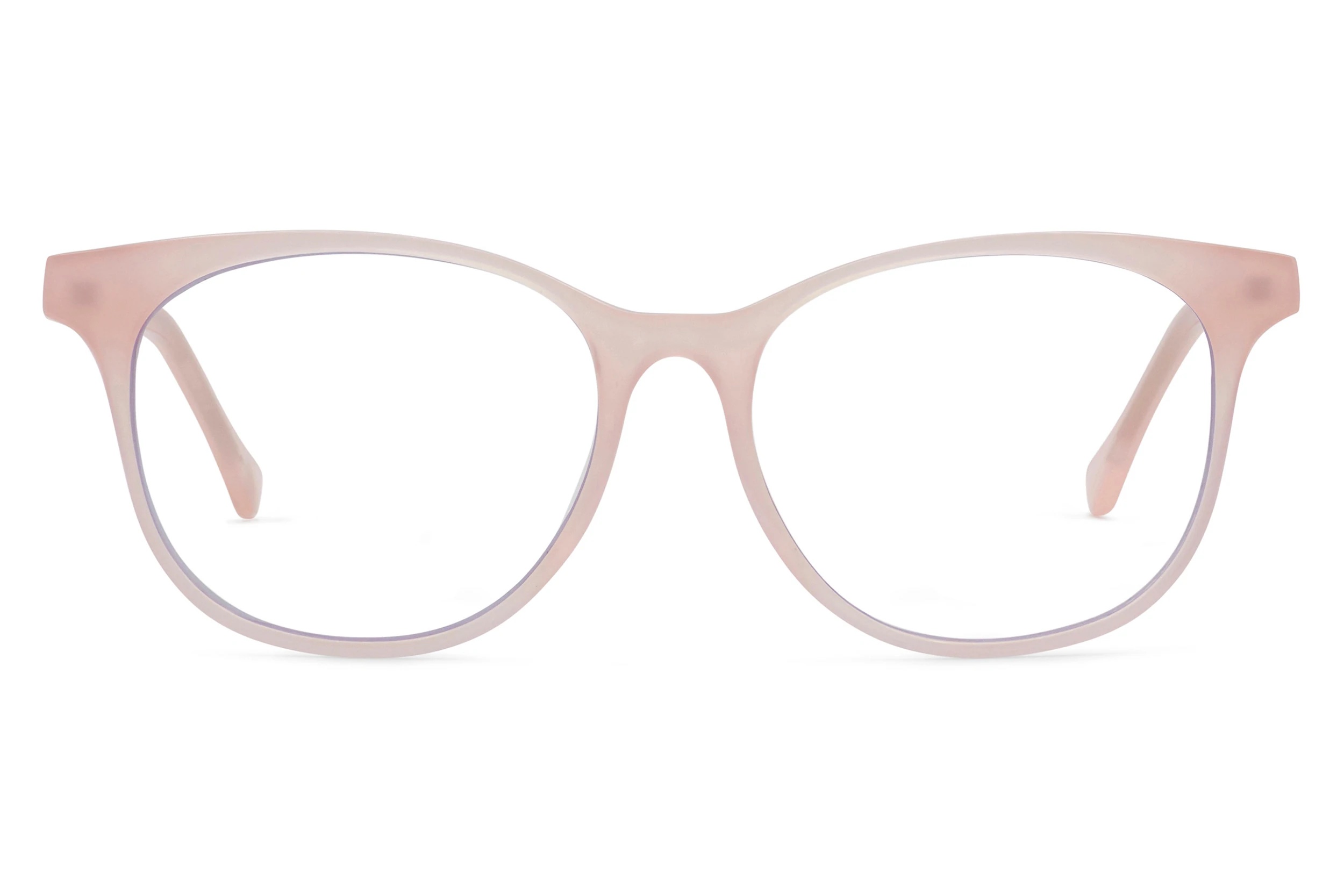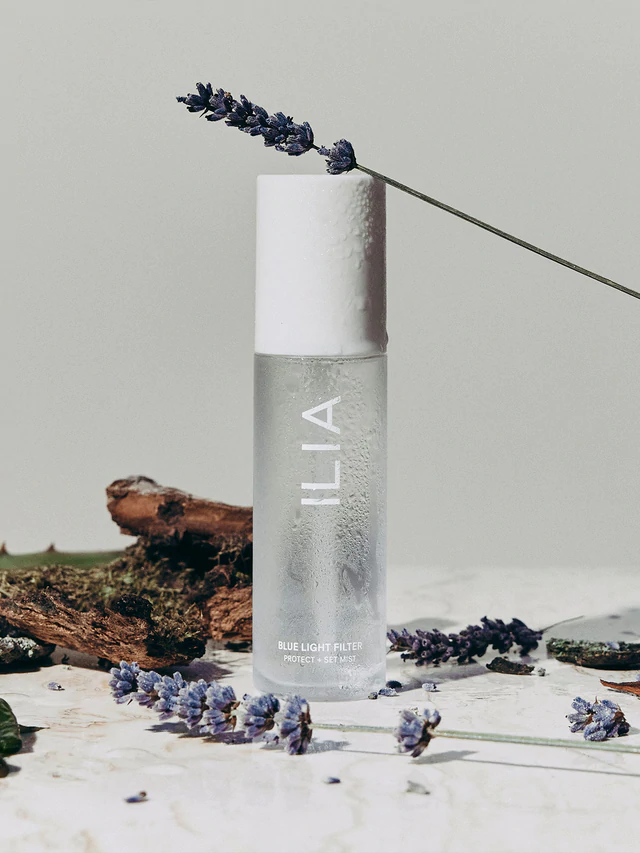 A refreshing and hydrating blend of aloe, sea water, and lavender that helps to boost the skin's defenses against daily stressors.