Alison and Jay Carroll split their time between the high desert of Joshua Tree and a small island in Maine. Though a study in contrasts, the locations suit them perfectly, fostering a deep connection with nature that allows them to cook with the abundance of the seasons, as well as provide endless inspiration for their wildly popular olive oil and skincare brand, Wonder Valley. It's clear that the couple has built a beautiful life all on their own terms—one that enables them to live aligned with their values and freely follow their curiosity, wherever it may lead.
When we showed up at the Carroll's Joshua Tree home for a mid-week dinner party, Alison was in the midst of butterflying a chicken. Though her vibe said "laid-back host," the menu itself revealed a deep knowledge of cooking—she moved about the kitchen with the intuitive approach that only happens when you know what you're doing. (Picasso's "Learn the rules like a pro, so you can break them like an artist" sprung to mind.) The Carroll's close friends Ryan and Calley Belli had driven in from Los Angeles for a visit, and we spent a peaceful afternoon pitching in around the kitchen island, playing with 6-month-old Bo, and finally, gathering around the table just as the desert sun set over the mountains.
We all left feeling nourished, body and soul, inspired by Alison's thoughtful approach to hosting and gathering. Read on for our interview and of course, all the recipes for the insanely delicious feast she prepared.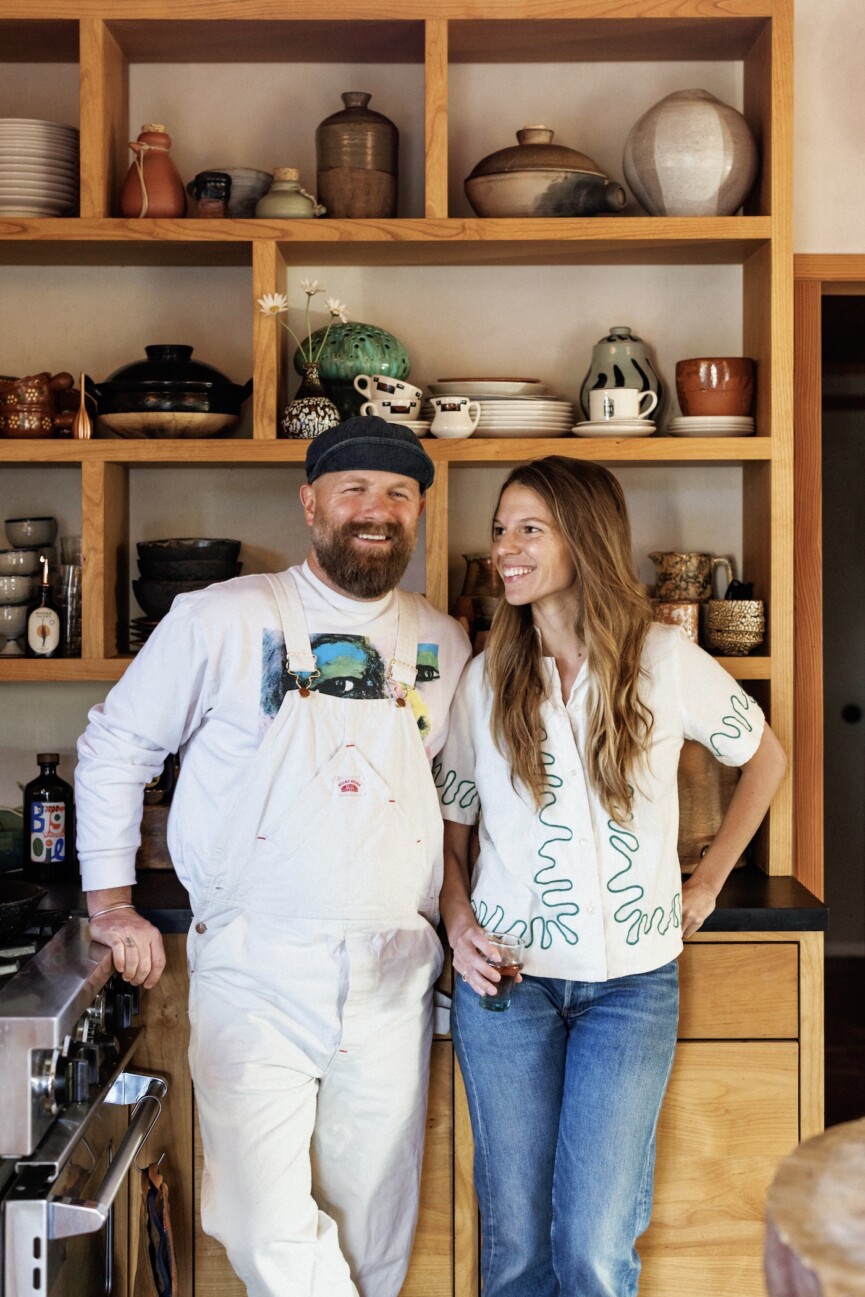 At home in Joshua Tree
A typical day in the life…
What informs your approach to food?
A small stack of go-to cookbooks. Weekly trips to the local farmers market. A lot of intuition and winging it! Cooking is one of the few areas I don't overthink. I start yanking stuff out of the fridge without much of a game plan, and meals just sort of come together. I sometimes go deep in learning a new technique like gluten-free baking, cooking over a fire, or using a Japanese donabe.
When I think of our culinary life in Joshua Tree, it involves a cornucopia of incredible citrus, dates, pomegranates, and Persian cucumbers—all from the local farmers' market during California's winter months. During our summers in Maine, we live on a working waterfront, so it's a lot of lobsters and fresh catch from our fisherman neighbors , oysters from good friends who harvest them, wild blueberries and peak season tomatoes. We just built a new wood-fired oven in the backyard, so this coming summer will be the season of wood-fired oven experiments.
We're major Wonder Valley fans. How did the brand come to be?
Jay and I started Wonder Valley in 2014 out of a spare bedroom. I had previously worked as the marketing director for the California Olive Oil Council, an incredible role that involved overseeing our professional olive oil taste panel for the annual certification of all 400+ California extra-virgin olive oils. The role exposed me to the absolute best authorities and resources on domestic olive oil, and we still work with mentors I had from that time.
We saw an opportunity to bring olive oil to a new audience and start a conversation about "extra virgin," celebrating the quality of oil we produce here in California. We launched the brand and sold out of our first harvest within a month. We have a really unique approach to olive oil in that we pick our fruit rather green which gives us this really wonderful, robust oil that is just brimming with antioxidants and omega-rich fatty acids. A few years after launching the brand we started to use our olive oil in homemade face oils. It was absolutely transformative to the quality, radiance, and health of our skin, particularly living in this high and dry desert. That lit the match for our growing skincare line, all formulated with our olive oil as a hero ingredient. We feel lucky to be in this unique position to talk about the importance of internal health for external beauty, and to offer products that support a more holistic approach to wellness.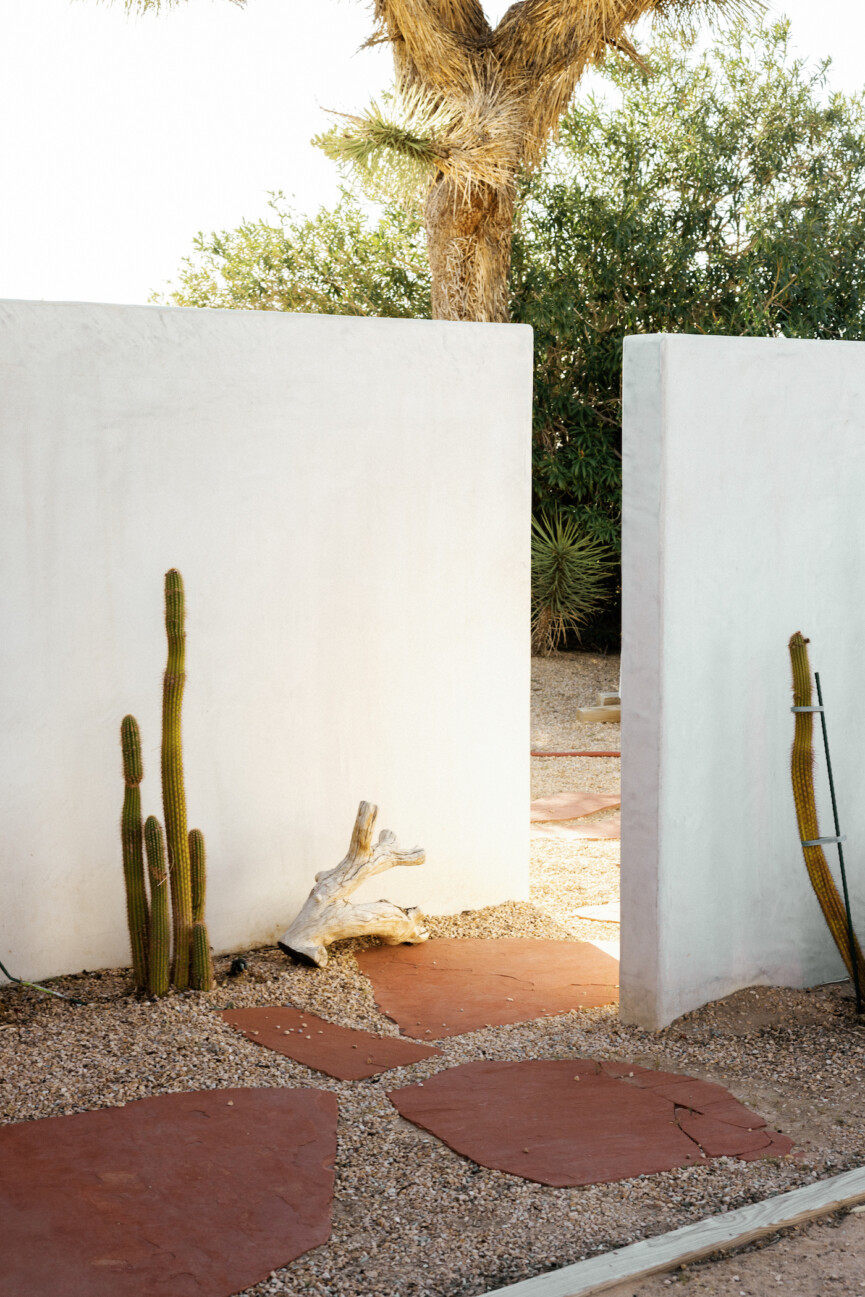 Tell us about your Joshua Tree home. How did you find it and what's your favorite part of the space?
Jay and I bought this home in 2015 after about a year of looking. This neighborhood is where we wanted to land due to its proximity to the national park and 360 degree views of boulders and mountains. While driving around we noticed this small homestead with crumbling pink stucco and some boarded up windows. We heard it hadn't been occupied for some time, so we tracked down the owner's address and wrote a letter asking if they would be interested in selling, knowing it was likely a long shot. A few months later we closed on the house!
At the time, we were living in LA and thought this would be our weekend home, but quickly became enamored by the expansive views of our new home and the process of fixing it up. With an optimistic DIY attitude that overshadowed our steep learning curve, we renovated it over the next couple years while living on site in our 1950's blue Vagabond trailer.
My favorite part of the house is our dining room, which was previously boarded up and divided into two small shag carpeted bedrooms. It feels like you're hugged by the mountains on all sides with a little slice of snow-capped San Gorgonio mountain in the distance.
We launched Wonder Valley just a few months before moving here. This home has given us the space— physically, mentally, and financially—to grow a business with a lot of care and without compromise.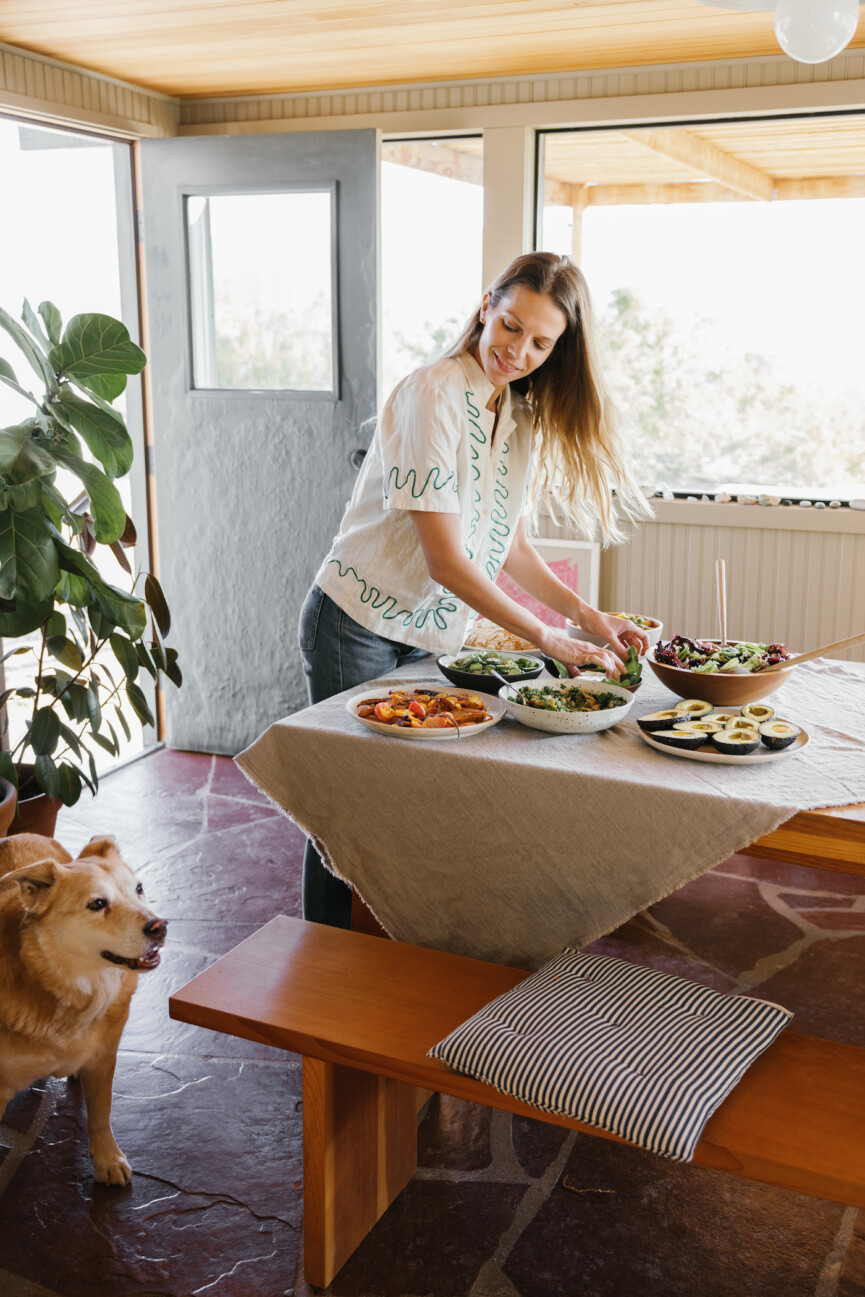 Walk us through a typical day at home.
The day usually involves some calls and working with our team, which is based between LA and Joshua Tree. Sometimes we'll work together in person out of our VW HQ studio here on the property. It always involves some time outside—ideally a walk with our dog, Lefty, into the trails behind our house.
This time of year, I usually end my day with an outdoor shower when the stars are just starting to come out. It's absolutely beautiful to stargaze from a hot shower out in the open desert, and I'll bring one of our candles out to illuminate it.
We have an outdoor tub too, and I've been bringing Bo in for a bath time during the afternoons. We cook most of our meals at home: simple, healthful meals, made quickly, mostly with produce from the farmers market. Sometimes at night we'll screen a movie, sometimes we'll have friends over, staying in our vintage trailer which now serves as the guest house. I always read in bed until I fall asleep.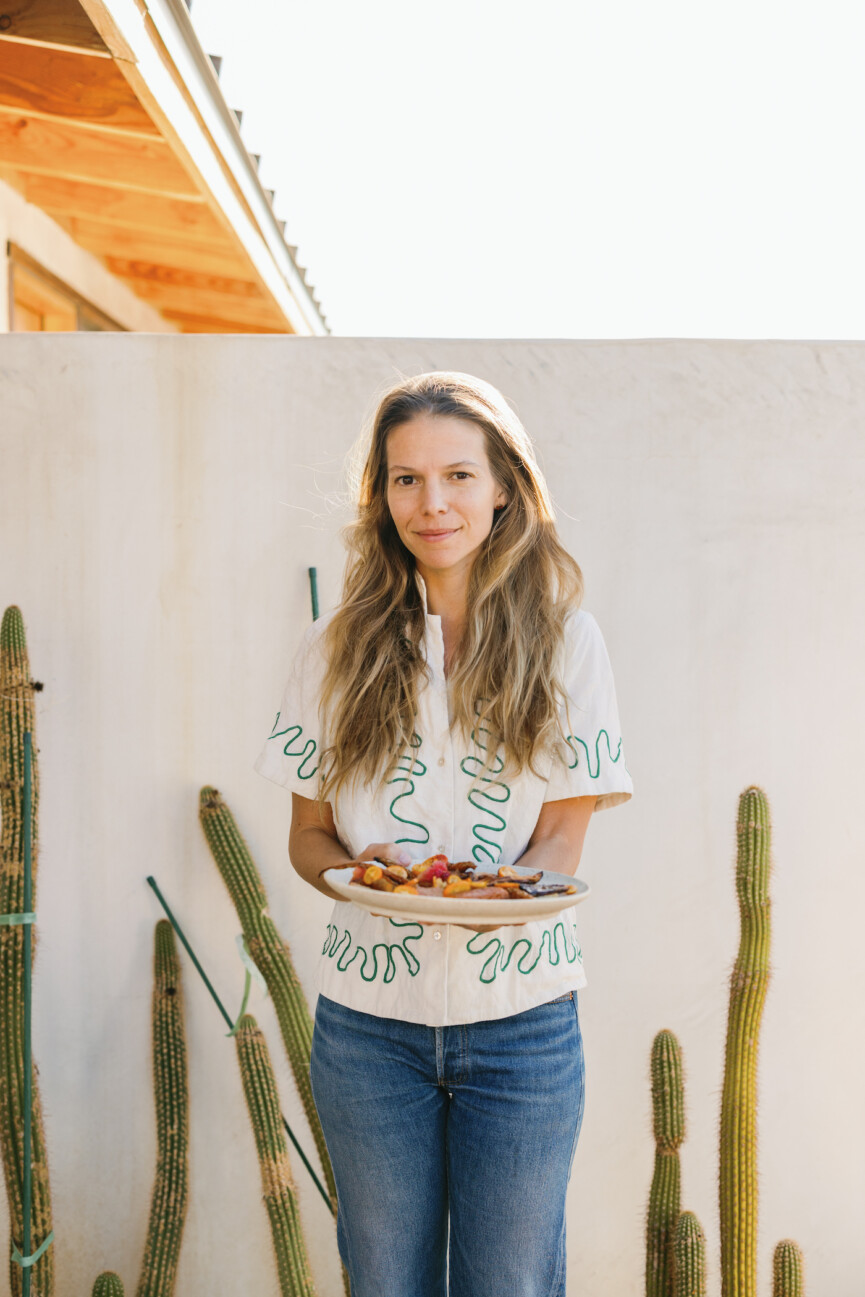 Right now, we have a 6-month-old baby girl named Bo, so our days are a bit unpredictable. Mornings usually start with a shot of olive oil and a pot of tea and a big breakfast for me. Sleeping next to a baby is new. Often I need a little extra time in the morning to come into the day.
Bo seems to really enjoy watching me do my routine in the morning and which is at a delightfully unhurried pace. That routine starts with Oil Cleansing, perhaps a face mask or some gentle exfoliation, always a Gua Sha. I finish the routine with a dropper of our Wonder Serum which makes me instantly feel refreshed – my skin plumped, well-hydrated and glowing. I transition from my robe and usually wear a jumpsuit (from my line alsbigdeal.com), which is easy to zip on, comfy to wear while working from home, and easy to breastfeed in.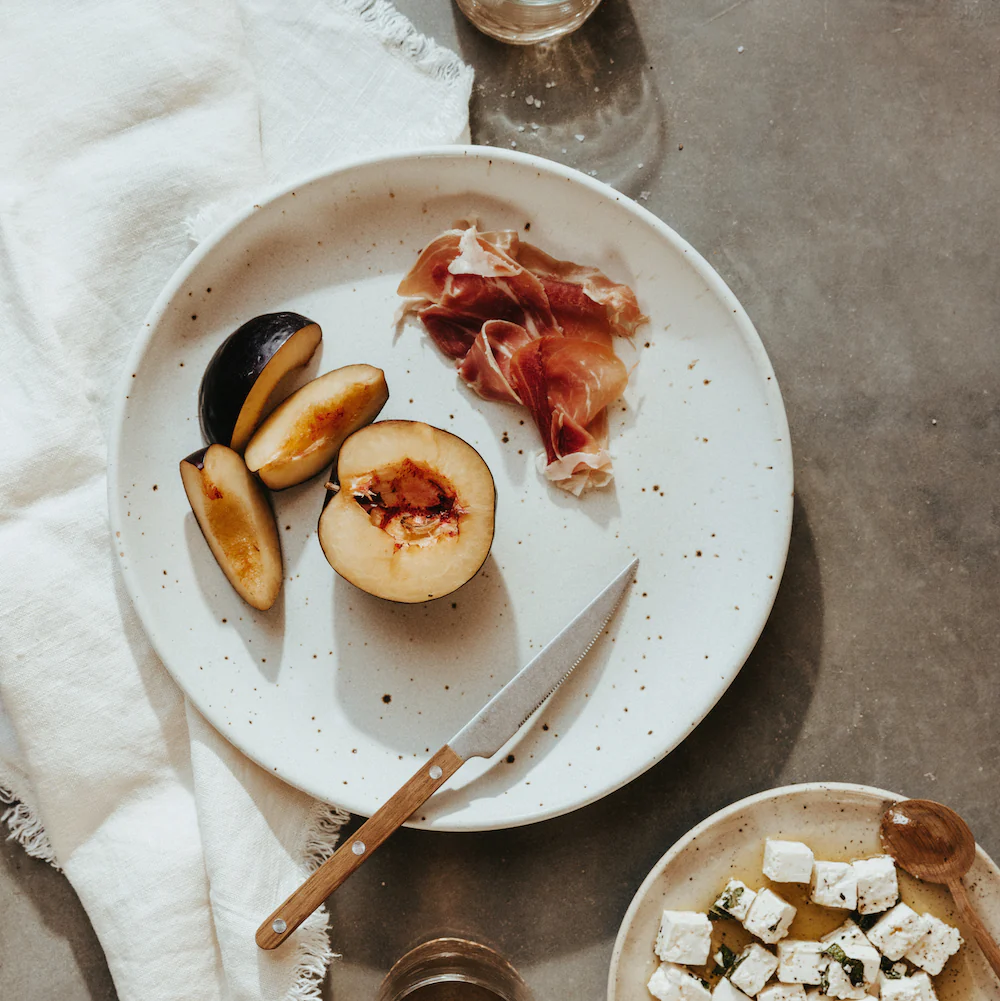 Handmade in Los Angeles by our friends at LA Clay, this high temperature glazed stoneware platter is made by hand and versatile for salads, grilled chicken (and chocolate chip cookies!)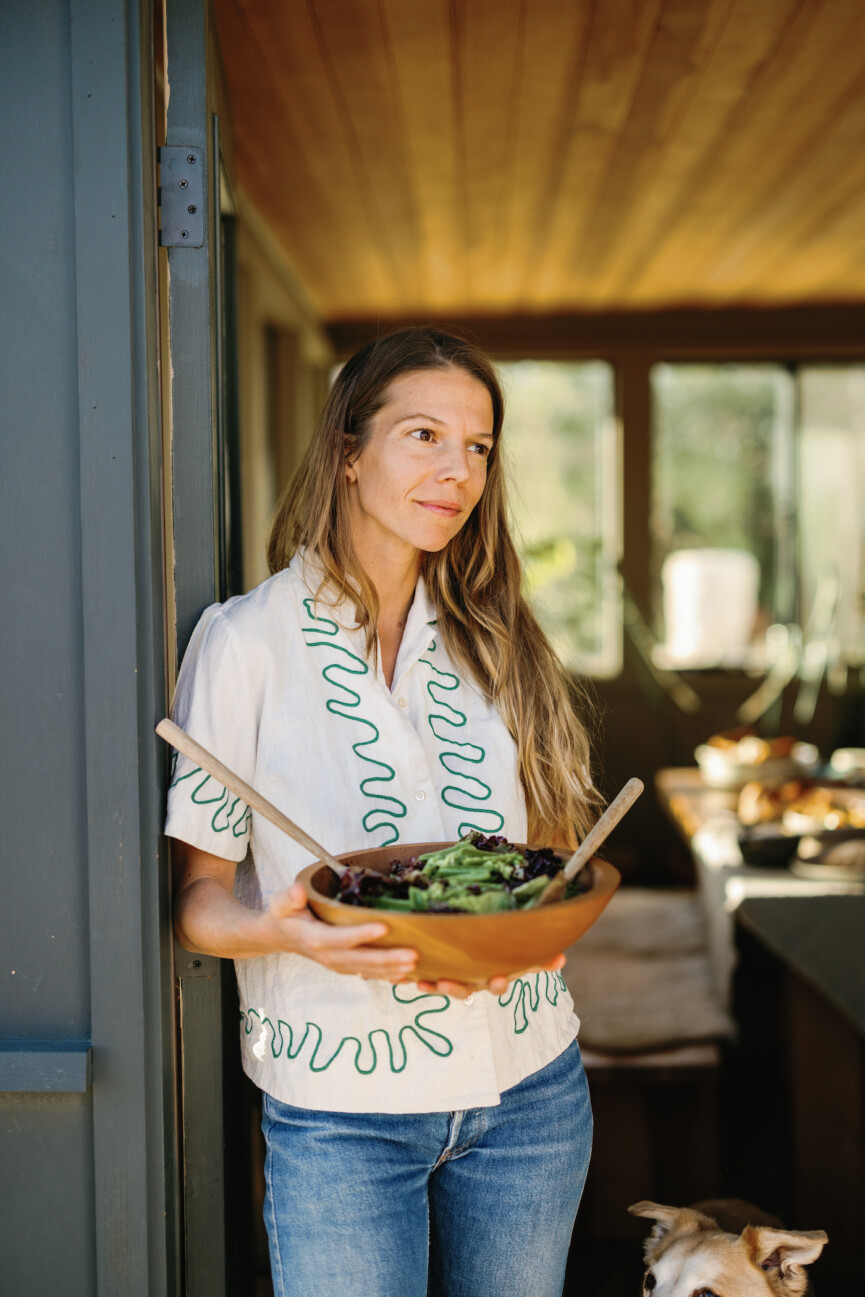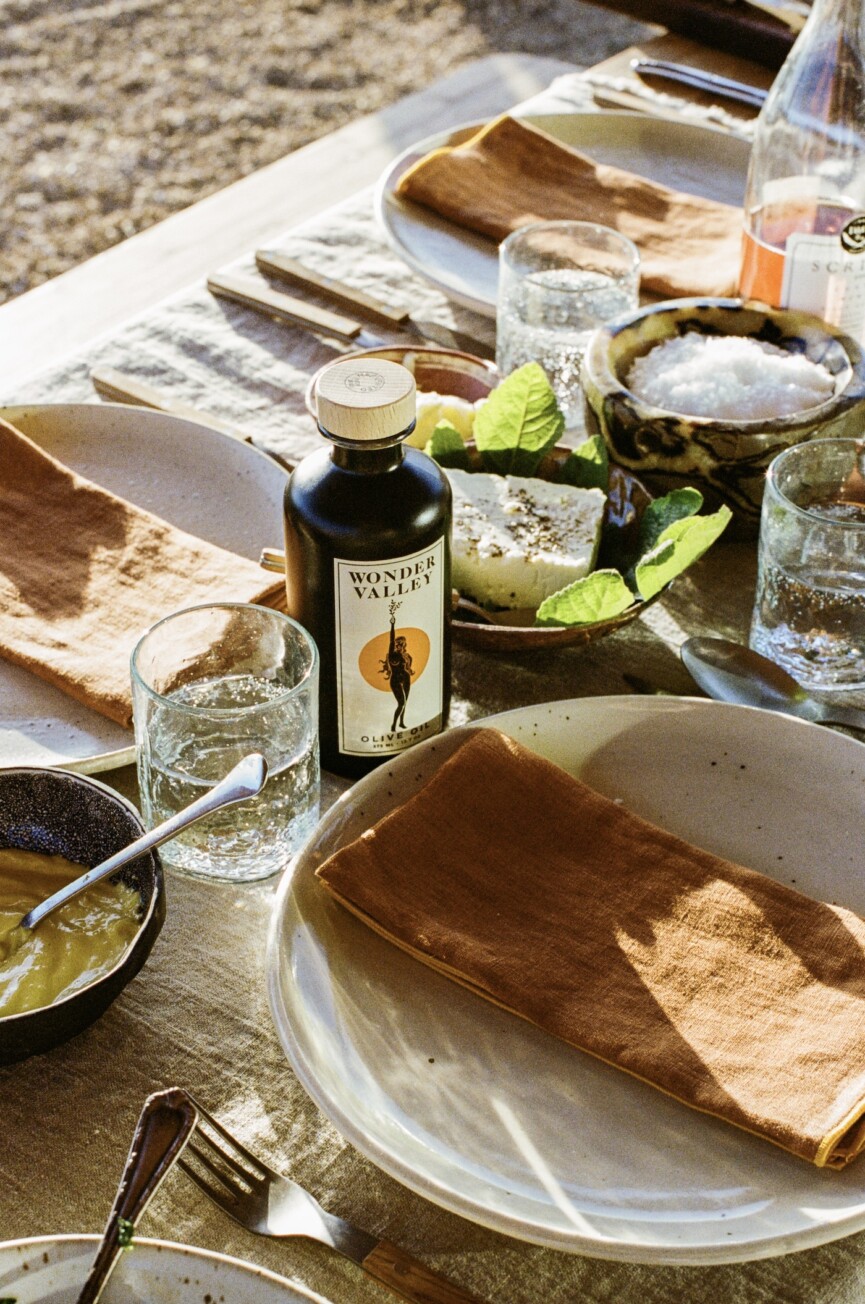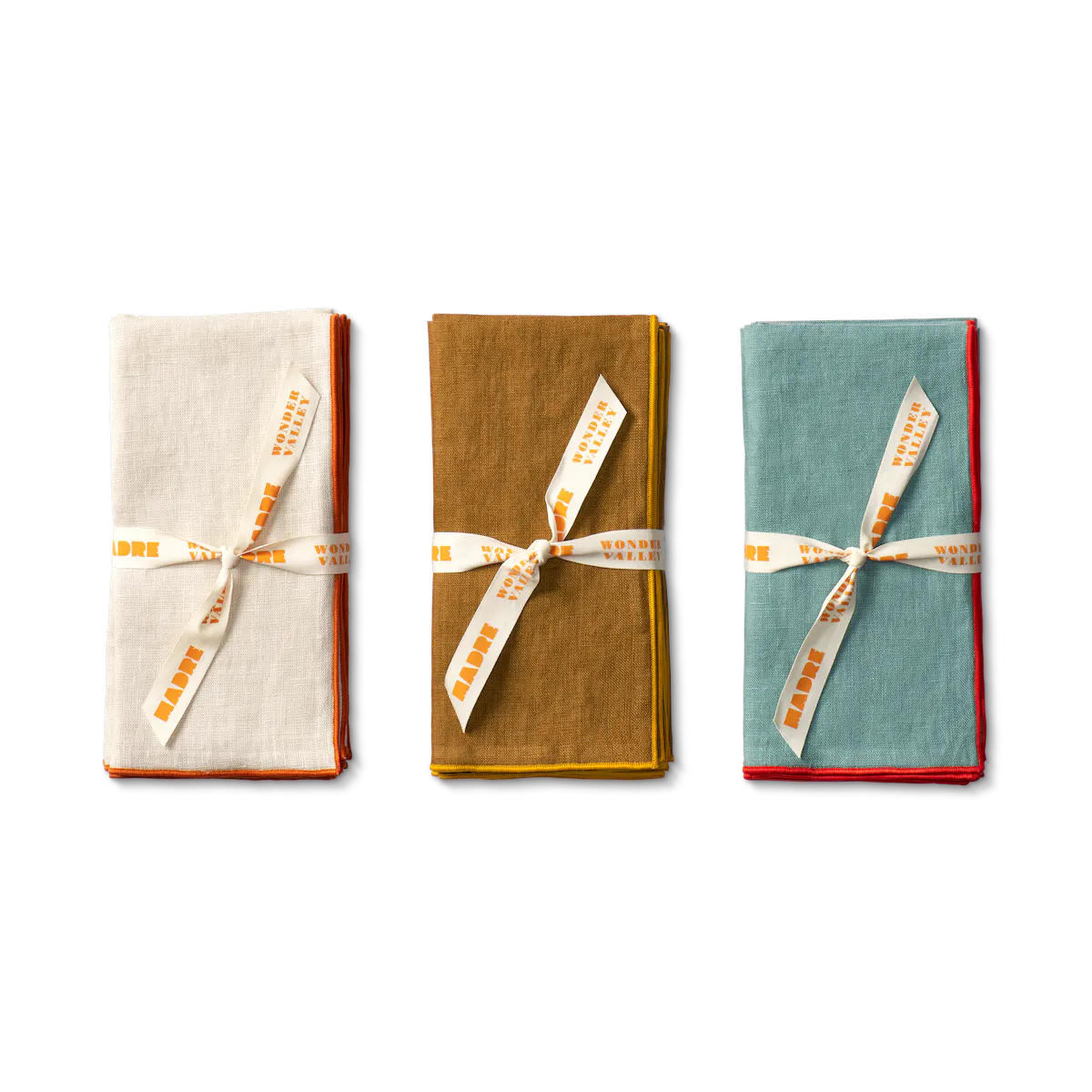 Madre Linen + Wonder Valley Napkins
Napkins made in collaboration with our friends at Madre Linen. They source the most beautiful linen fabric with such a perfect color palette, it feels like an instantaneous heirloom.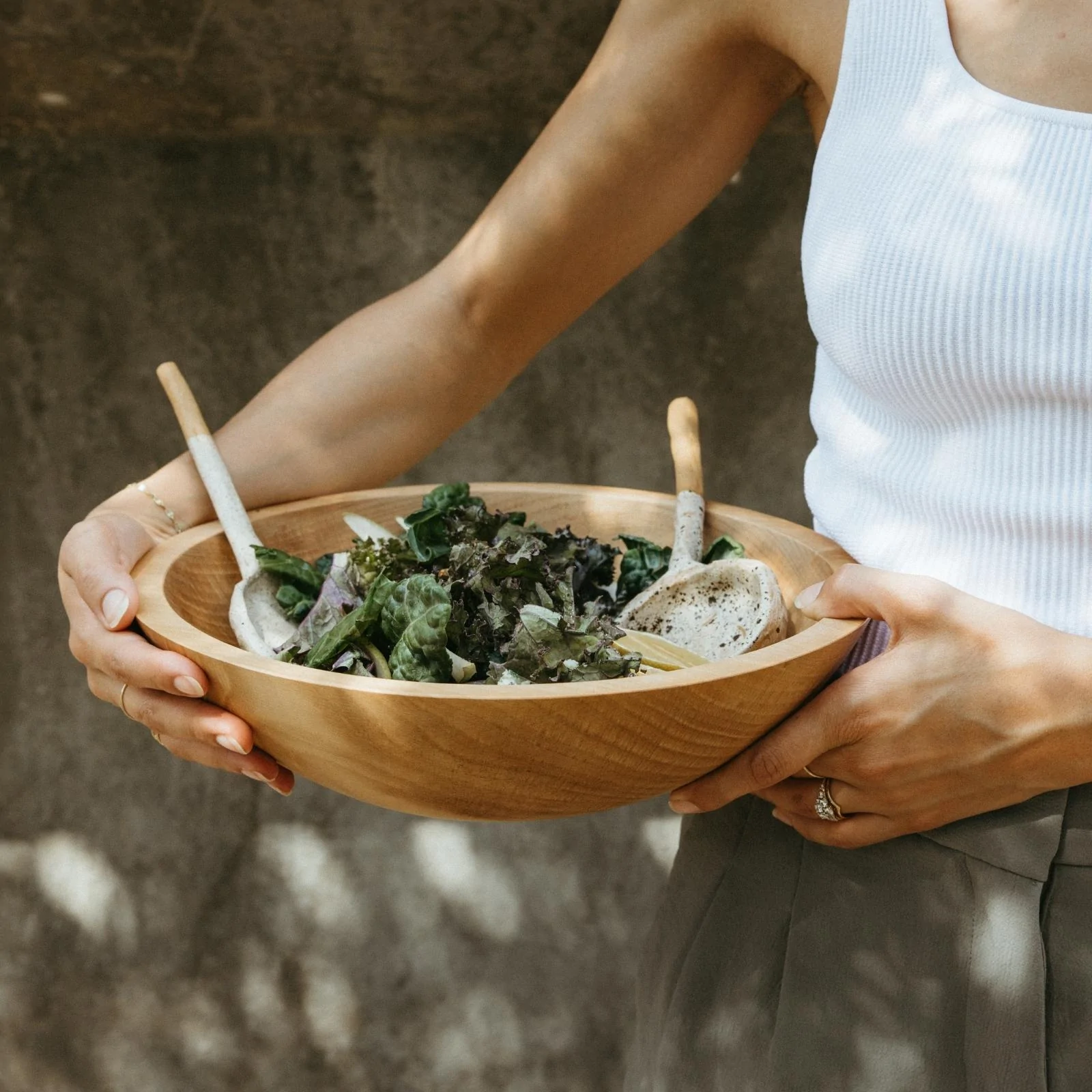 This beautiful handmade wood salad bowl is on our dinner table almost every night, filled with whatever leaves and veggies are in season topped with a drizzle of quality olive oil.
On hosting and gathering
How Alison and Jay bring people together…
What does a great gathering look like for you?
We like to host. I think this was something we both had in common when we came together. I love the trips to the market, coming up with menus and spending a long day cooking. Jay makes our home feel great with floral arrangements, a great playlist he's made, and a beautiful table setting with incense and candles burning. We both like to grill, sometimes on our small yakitori grill or sometimes on the big outdoor wood-burning grill. There are great trails beyond our home, so we usually take a walk before the meal with a cocktail in hand.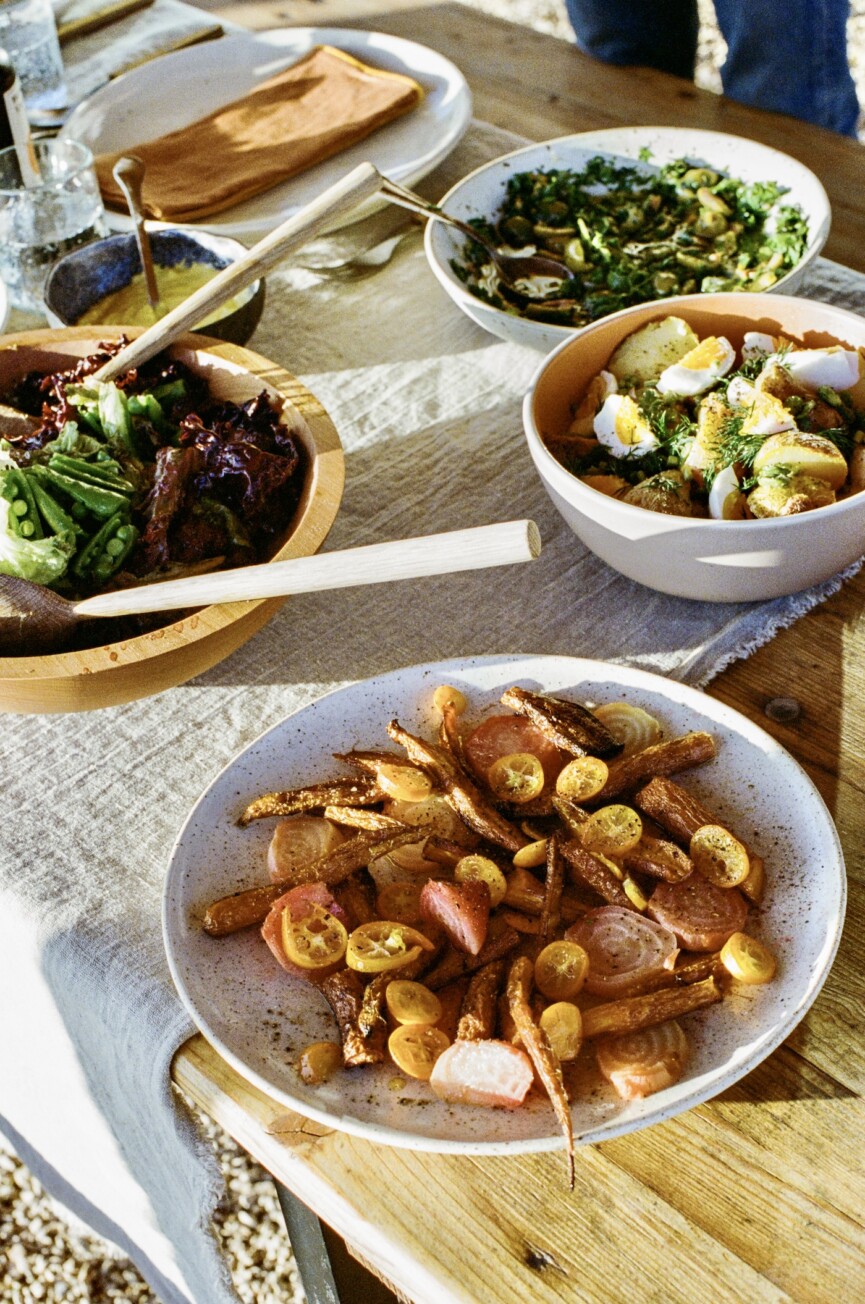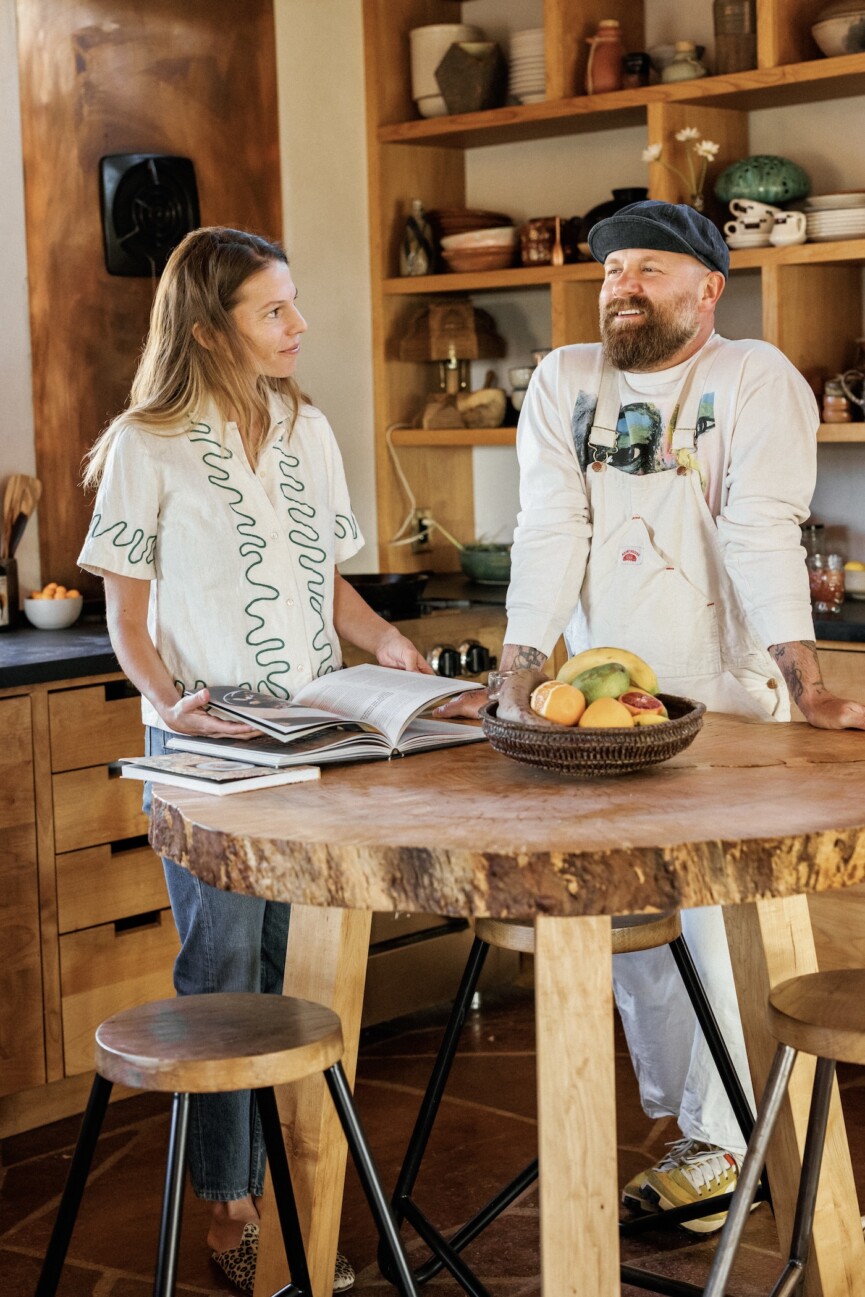 What are some products you love for the table?
Our new napkins made in collaboration with our friends at Madre Linen. They source the most beautiful linen fabric with such a perfect color palette, it feels like an instantaneous heirloom.
Kevin Willis for Commune Votive Holders. Our friend and desert neighbor Kevin Willis makes these fantastic perforated ceramic votives and lanterns for candles.
La Soufflerie Glassware. Any glassware by La Soufflerie. It's all beautiful. We have a pair of the Verre Tete glasses that are shaped like heads
What's your must-have cooking tool?
A sharp knife. It's the most used and essential item, and it should be sharp and feel good in your hand. I personally use a 9" Japanese chefs knife. When my knife is sharp, I feel like I can do anything in the kitchen. Working with a dull knife is like dancing with two left feet.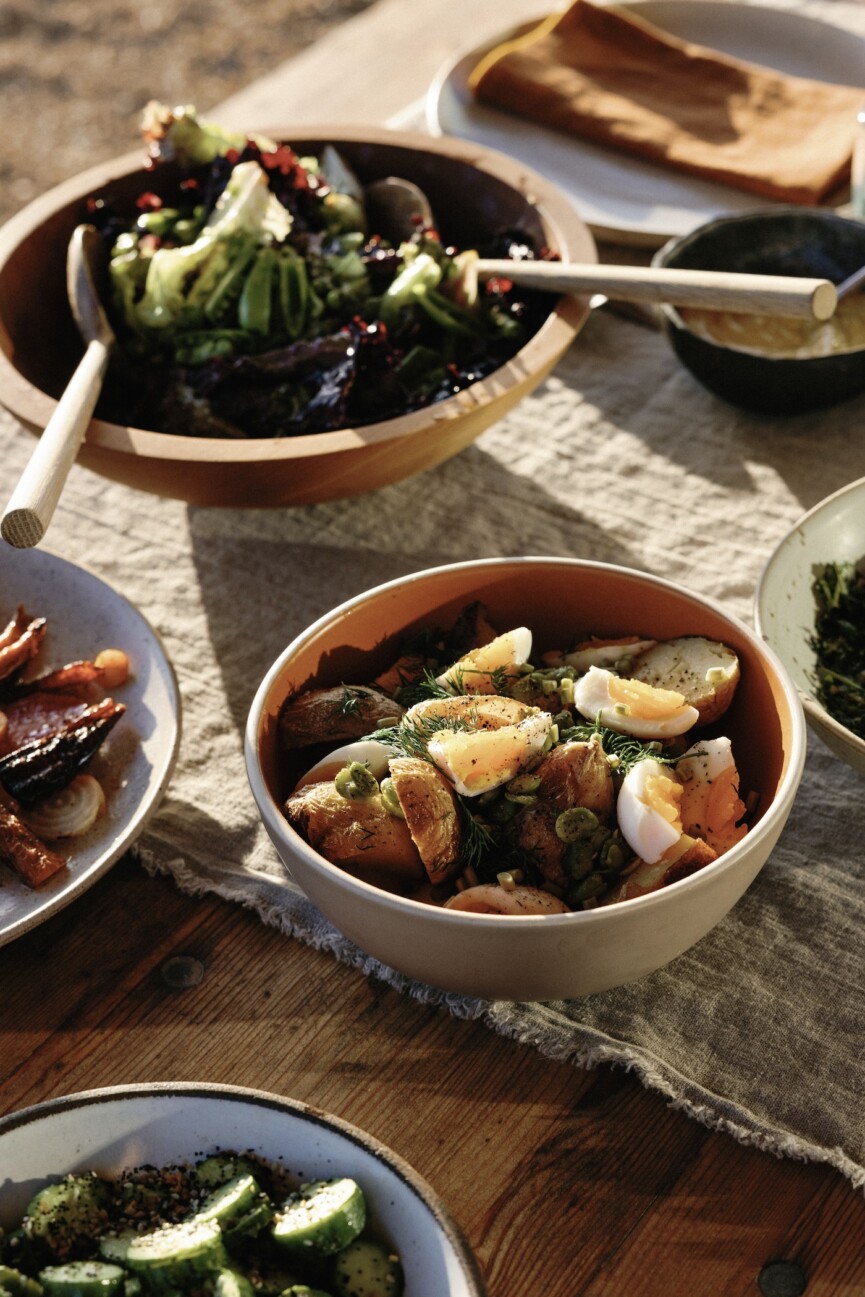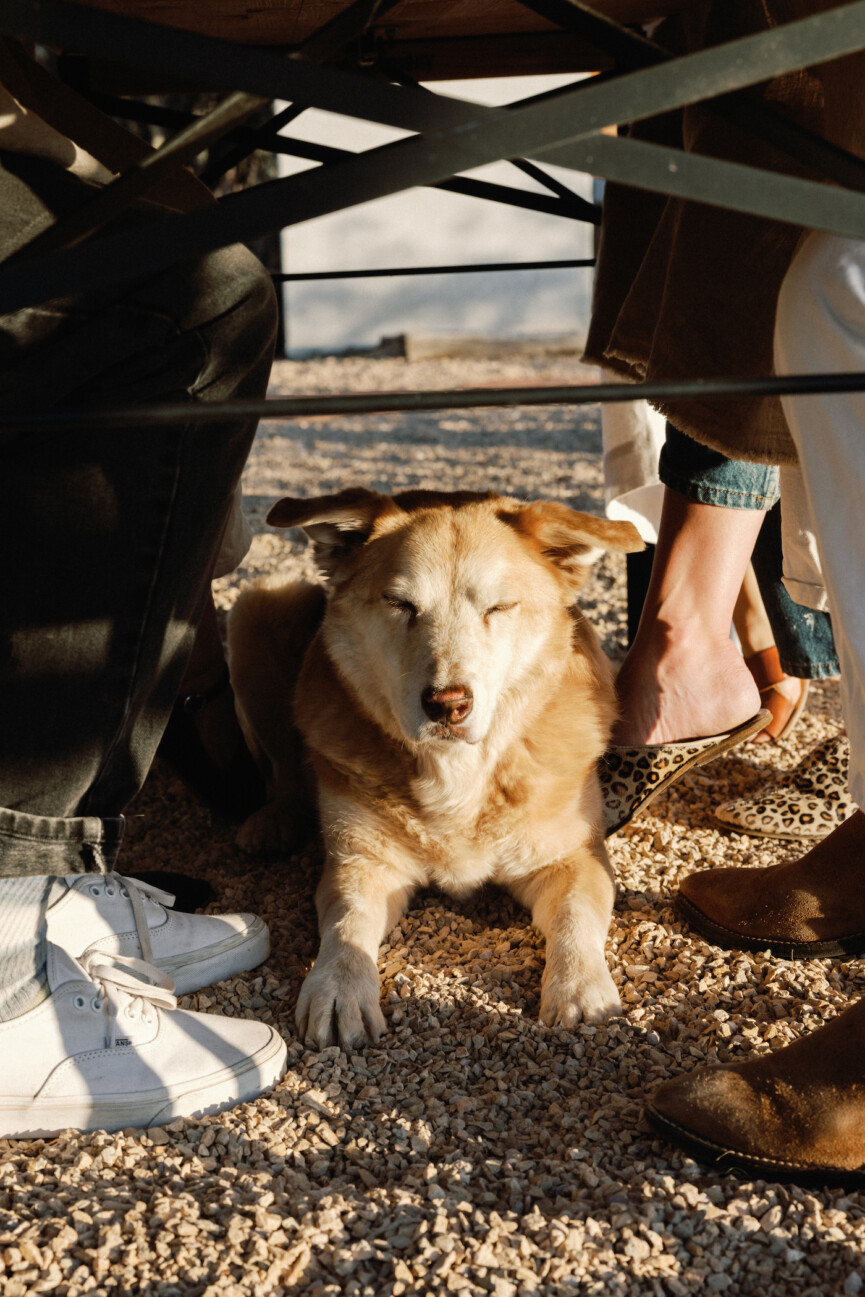 What are your favorite cookbooks?
The Canal House books. They have a few books out and they were some of my first cookbooks that I bought for myself when I was 20. They are written by two women who have a restaurant and studio not far from where I grew up in New Jersey. I find their food exciting, timeless, honest and delicious.
The Cannelle et Vanille cookbooks. Aran has given me the ability to bake gluten-free. It's absolutely empowering to turn out beautiful sourdough loaves, perfect tarts, homemade bagels, and baguettes, all gluten-free.
Nancy Singleton Hachisu's books for Japanese cooking, particularly Japan by Phaidon.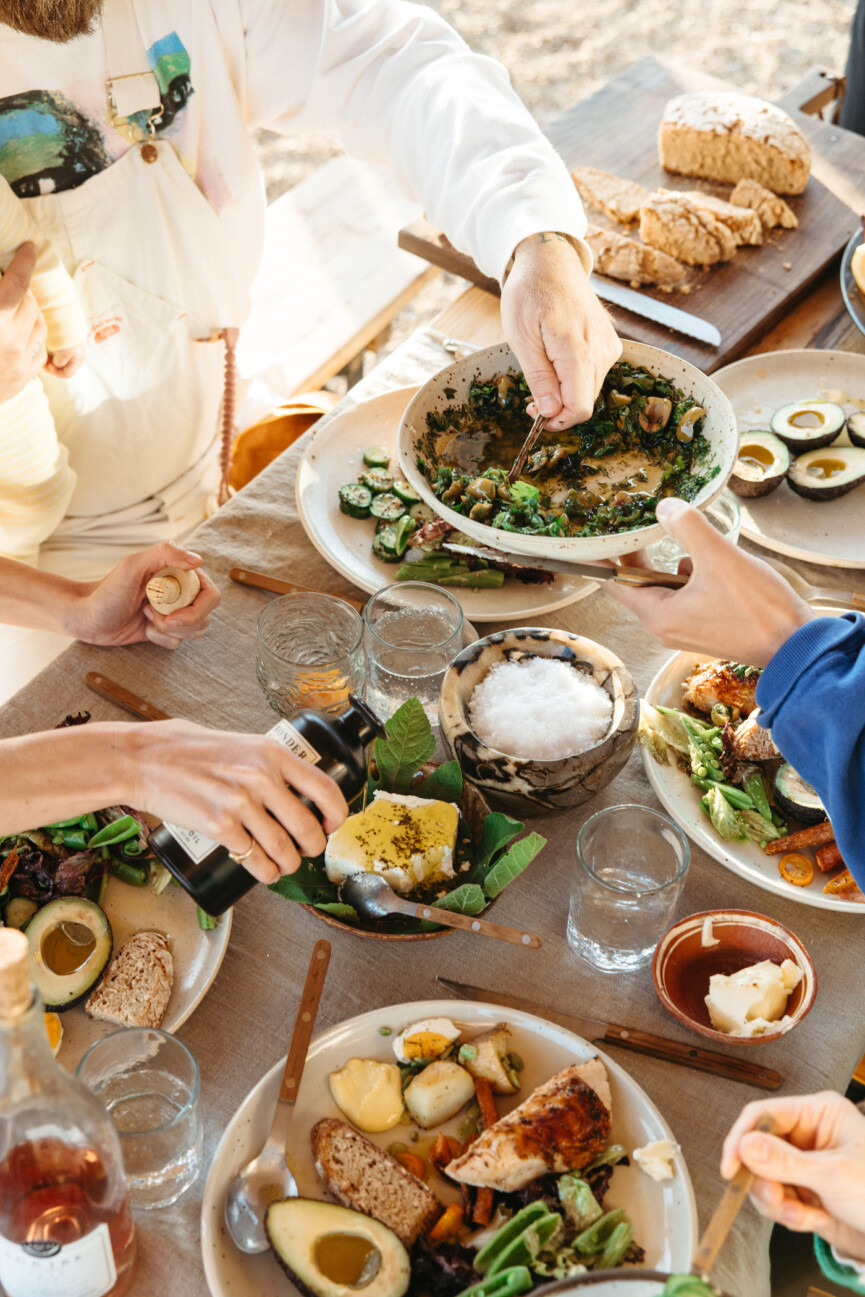 Tell us a few things we'll always find in your refrigerator?
Miso, preserved lemons, capers, spicy mustard, yuzu kosho, a kraut or kimchi.
What scares you about entertaining and why?
Doing the dishes!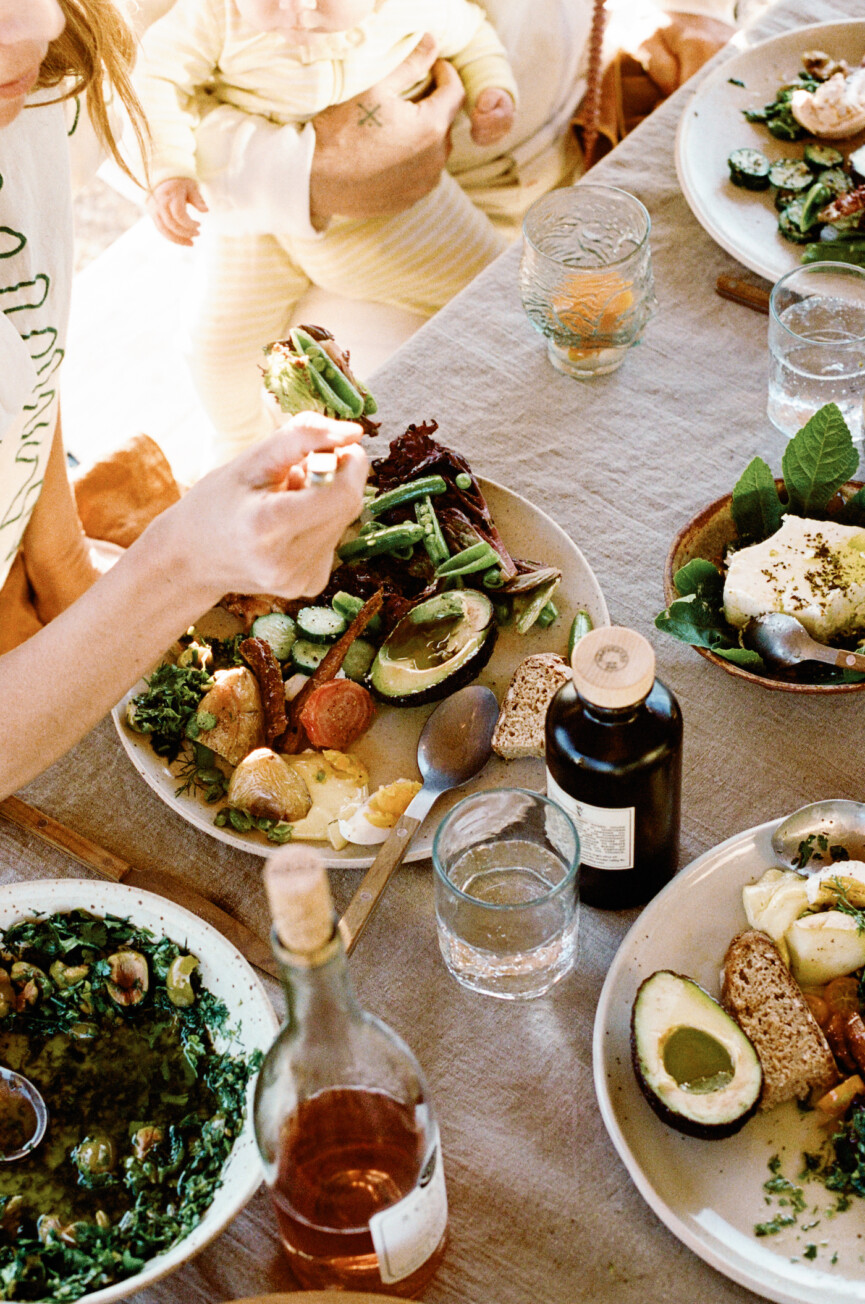 Your signature dishes for gatherings?
Grilled avocado with yuzu kosho to start, and vanilla ice cream with Wonder Valley Olive Oil and sea salt to finish. Both are extremely simple and incredibly crowd-pleasing.
Your go-to weeknight meal to eat at home?
Roast chicken is a staple here—it's the gift that keeps on giving. This usually starts with a whole chicken roasted with some herbs, lemons and garlic. I'll make a pan sauce with it over vegetables and rice. Then we stretch it out with some leftover salads, sandwiches and a stock from the bones.
What's one tip for someone who wants to host a gathering on a budget?
Taco night is pretty fantastic on a budget, and no one's ever mad about it. It's easy to stretch braised meat and go heavy with beans and vegetables. Everyone gets to make their own plate, which is helpful if they have dietary issues. It's also a condiment game; make a chili oil, salsa, guacamole, salsa verde. We buy a big bag of Maseca corn flour (available at most food stores) and make tortillas by hand with a little press. It really elevates taco night and also gets all your guests involved rolling, pressing and frying tortillas.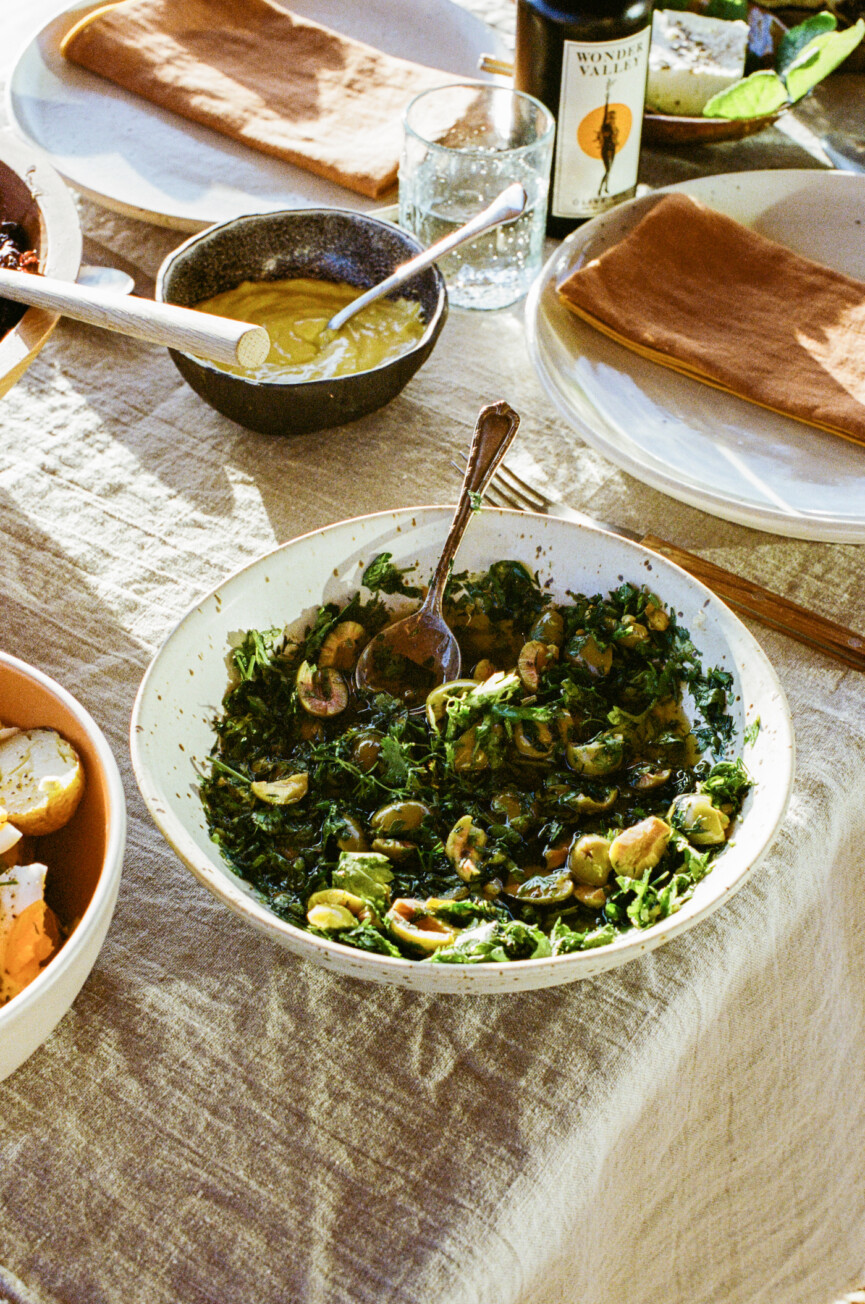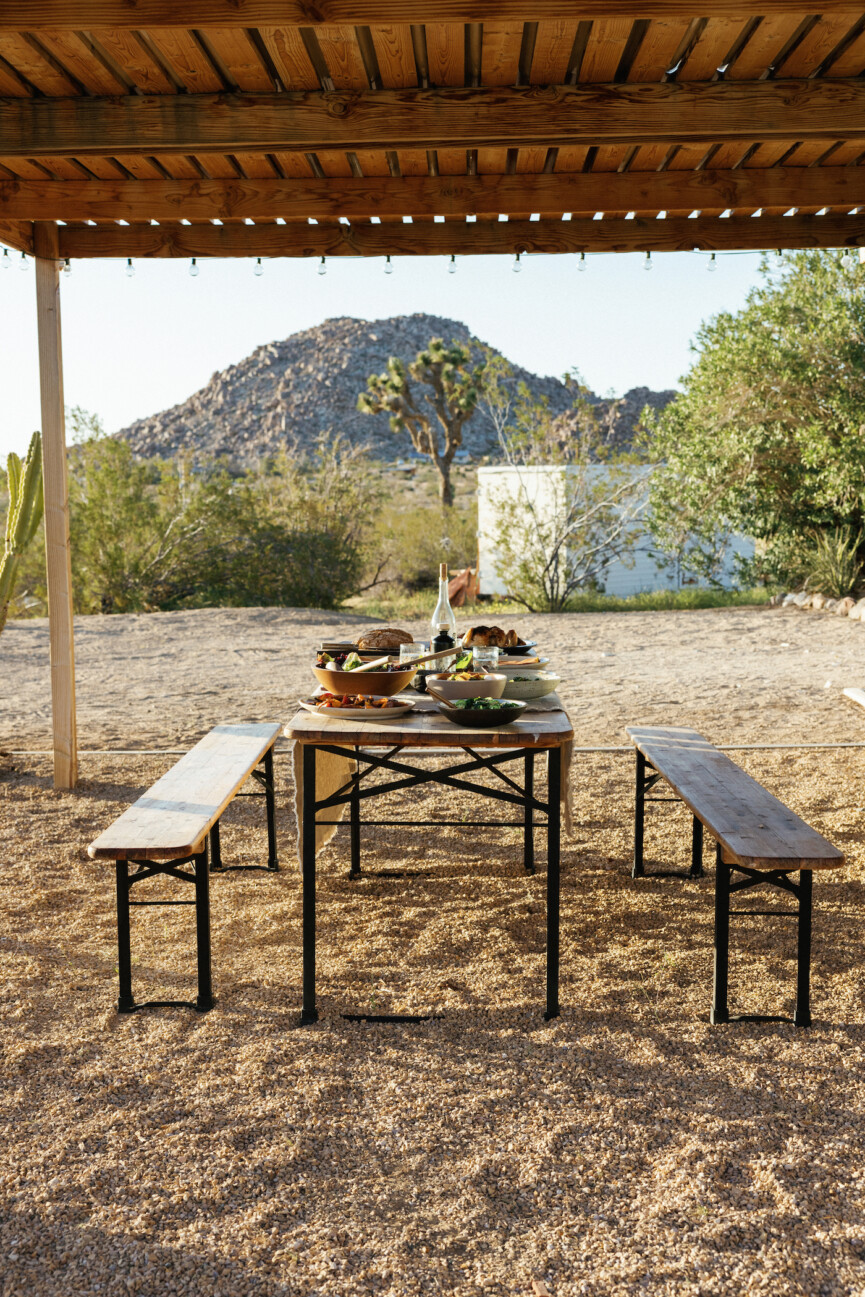 The perfect dinner party playlist includes:
Good music! Our music tastes encompass a lot of styles, genres, and eras. Here's a favorite we use a lot. It was made for the opening of our bar La Reina, in Santa Fe, a few years ago.
Go-to centerpiece:
A bottle of Wonder Valley olive oil. An empty bottle makes a great candlestick or flower vase.
What is your no-stress party rule to live by?
Don't swim upstream. If something's not working (someone bailed last minute, a dish burned, everything is taking an hour longer), just roll with it. No one will remember or notice it anyway, but everyone will feel the stress radiating off of their host if you let it.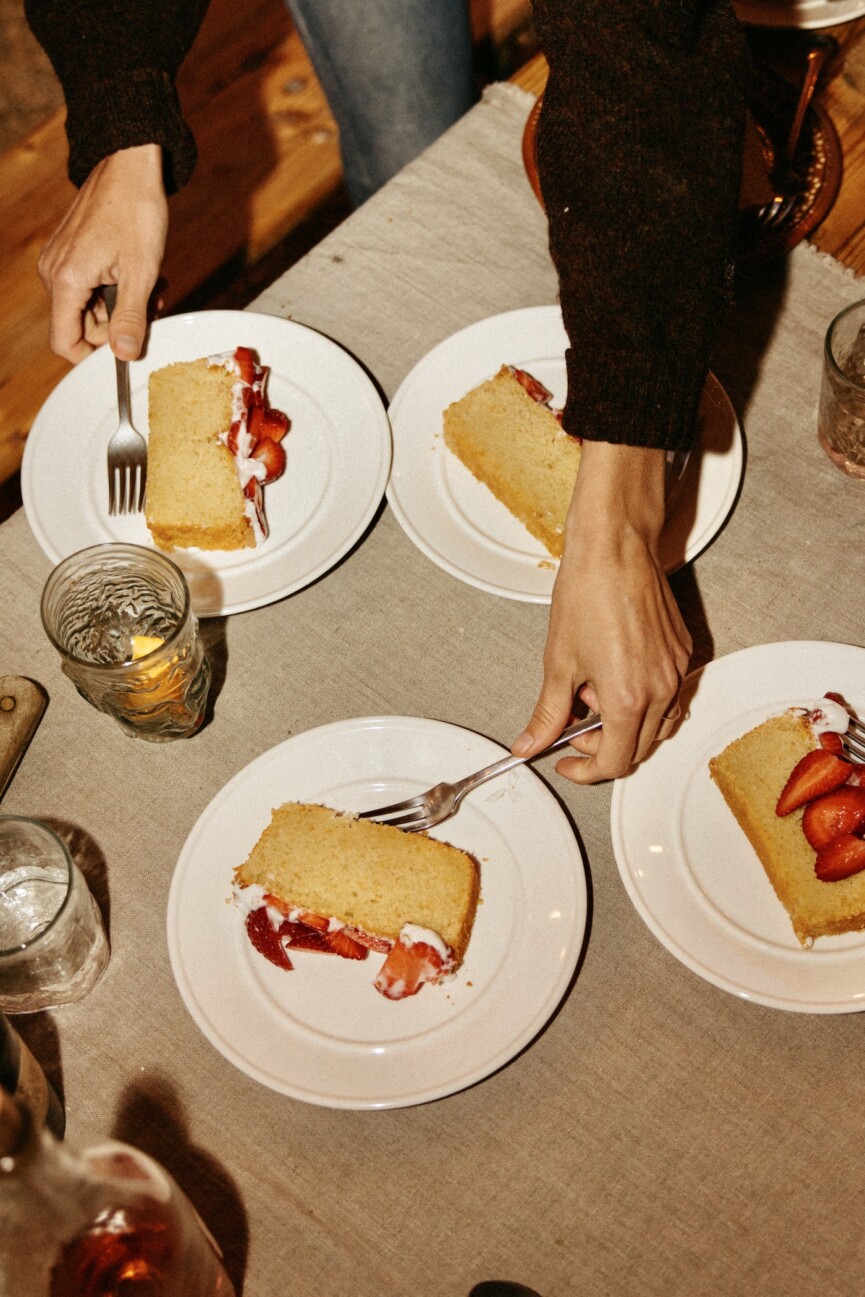 Dream dinner guests?
John Waters, Ramdane Touhami, Helen Nearing, John Prine, Dolly Parton, and Sade.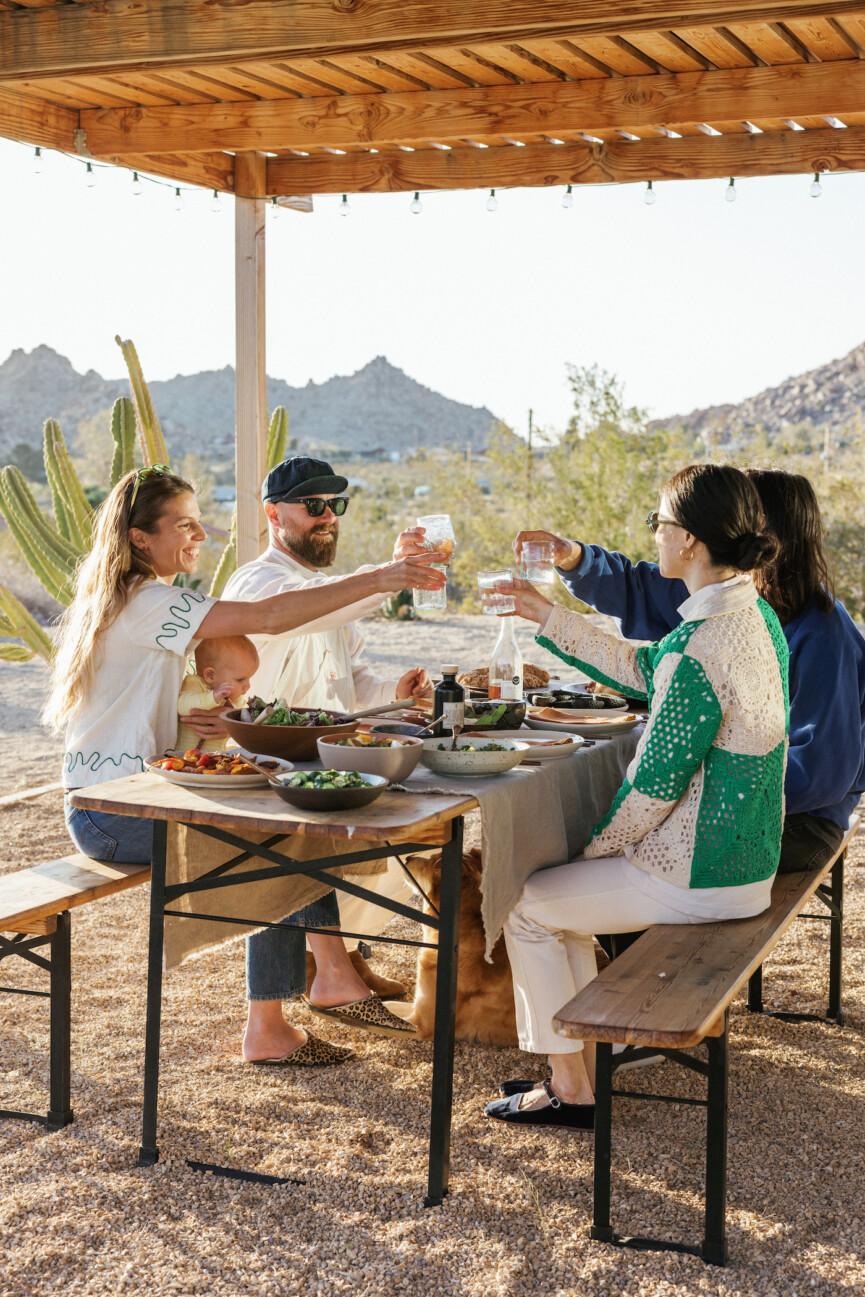 Fill in the blank:
A perfect meal should …
Leave room for spontaneity and improvising. And unique condiments!
It's not a dinner party without …
Music!
Every cook should know how to…
Make a balanced vinaigrette for a perfect, simple salad.