What is it about hot cider that gives us all the heart-eyes and hygge vibes? There's something about the simple pleasure of carefully grasping a cup between both hands, letting its heat warm you, body and soul. And sure, PSLs may reign as the ubiquitous fall drink, but here at Camille Styles, we're team cider—and we have the best apple cider recipes to prove it.
Somehow, apple cider tastes as if someone (brilliantly) devised a way to drink the flavor of falling leaves, chunky sweaters, wool scarves, and all things cozy. Strange but true, and because of this, you can find us sipping on mug after mug of all our favorite apple cider recipes from now until December—maybe beyond.
Featured image by Hannah Haston.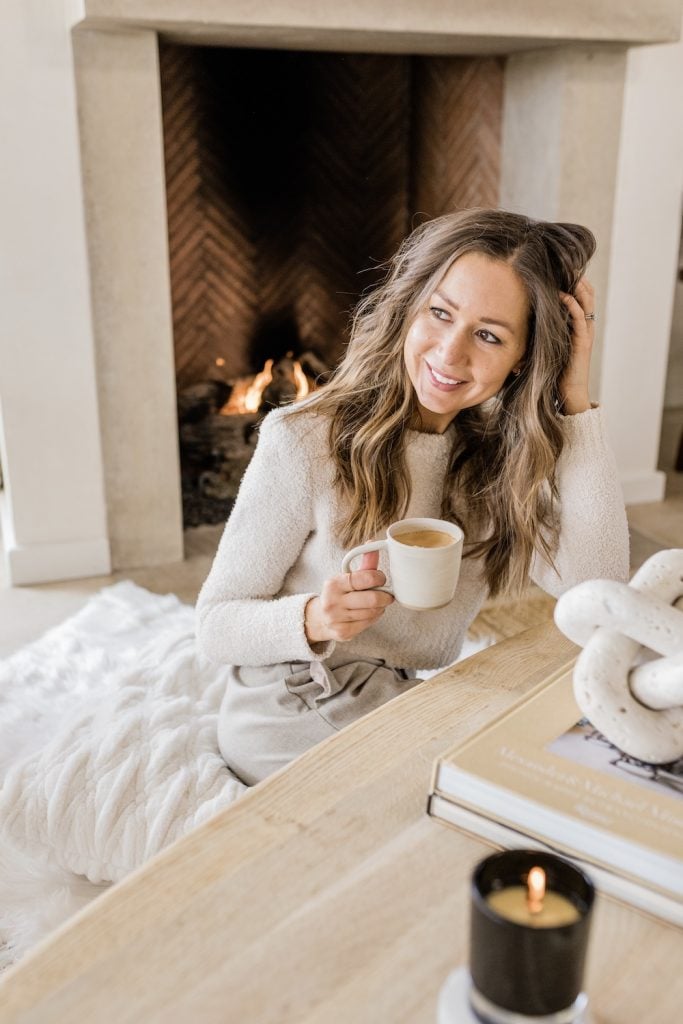 Like any fall dish, these 11 versions of the seasonal favorite contain every autumnal flavor you can think of—maple, apple, cinnamon, nutmeg, and bourbon. But unlike other fall foods, cider fully encompasses all that is warm, cozy, and wonderful about the colder months. It's what we keep in our cups during all the tailgates, fall gatherings, and blustery weekend afternoons spent curled up in autumnal bliss.
If you aren't already shaking your head in agreement, prepare yourself. When you take your first sip of one of the recipes listed below, you'll soon join the club of proud cider fanatics everywhere.
11 Apple Cider Recipes For Cozy Fall Sipping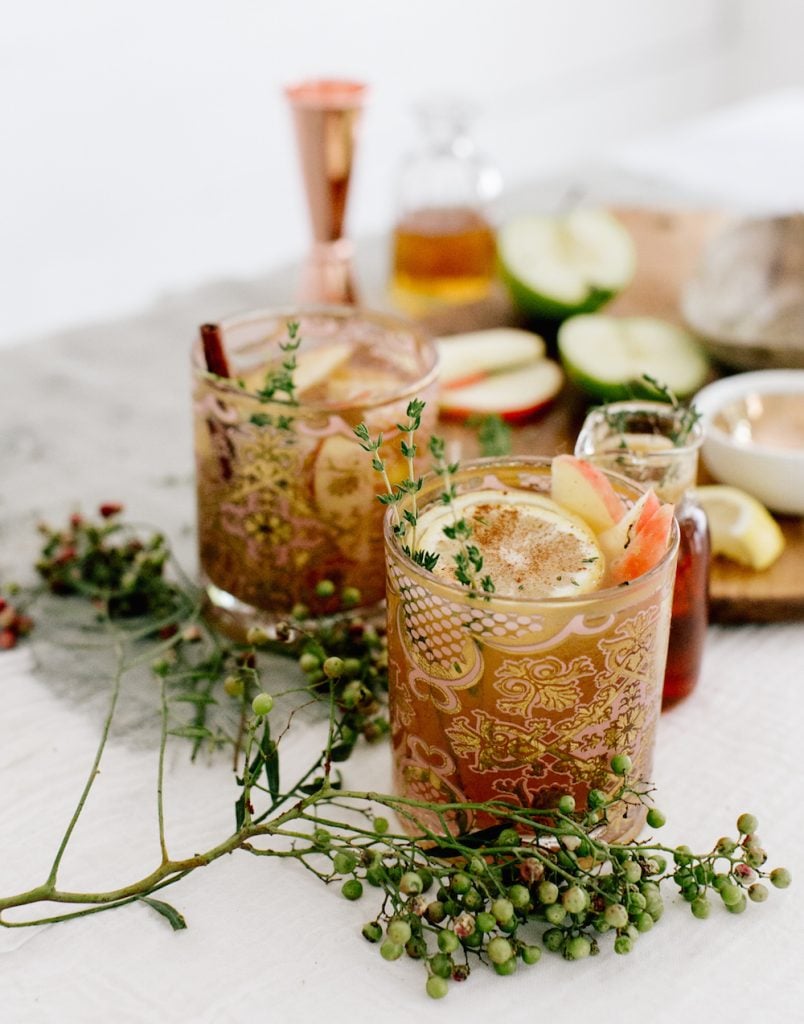 Why We Love It: When it came to apple cider recipes, I once thought of myself as a cider purist. Spoiled by the proximity of a cider press, you can bet the cider I was sipping on as a kid was as fresh as could be. And while I'll still never get over the dry/tart flavor of my ciders of yore, I've learned to enjoy a little doctoring up. Enter: this herbal-infused, bourbon-spiked apple cider cocktail that epitomizes all that I love about fall flavors. It's spicy and sweet, warming and ever-so-savory. And with a few ounces of bourbon to boot, this is the ideal fall party cocktail.
Hero Ingredient: Make a big batch of the honey-thyme simple syrup. It's the kind of mix-in you'll always want on hand.
Why We Love It: This is less of a recipe and more one of my favorite ways to enjoy the best apple cider recipes around. Is there anything better than welcoming the season surrounded by loved ones? That's exactly why we created this guide to your coziest night in—BYO cider bar, included.
Hero Ingredient: Hero… arrangement. Be sure to set out all the ingredients and add-ons in advance. That way, your guests can stir in a cinnamon stick or add a dash of bourbon as they please.
Why We Love It: CranApple is a marketer's dream flavor for a reason. Not only does it provide a catchy name to splash across the bottle, but mixing the tartness of cranberries with the earthy sweetness of apples is a study in perfect flavor pairings. Mix up a big bowl of this punch and infuse it with your favorite fall spices. It's the ideal drink to be sipping on during all your Hallmark favorites.
Hero Ingredient: Citrus slices are a must-add to your cider punch bowl. Not only do they add gorgeous color and up the drink's overall visual appeal, but they add a nice sour note to give your punch a little pucker.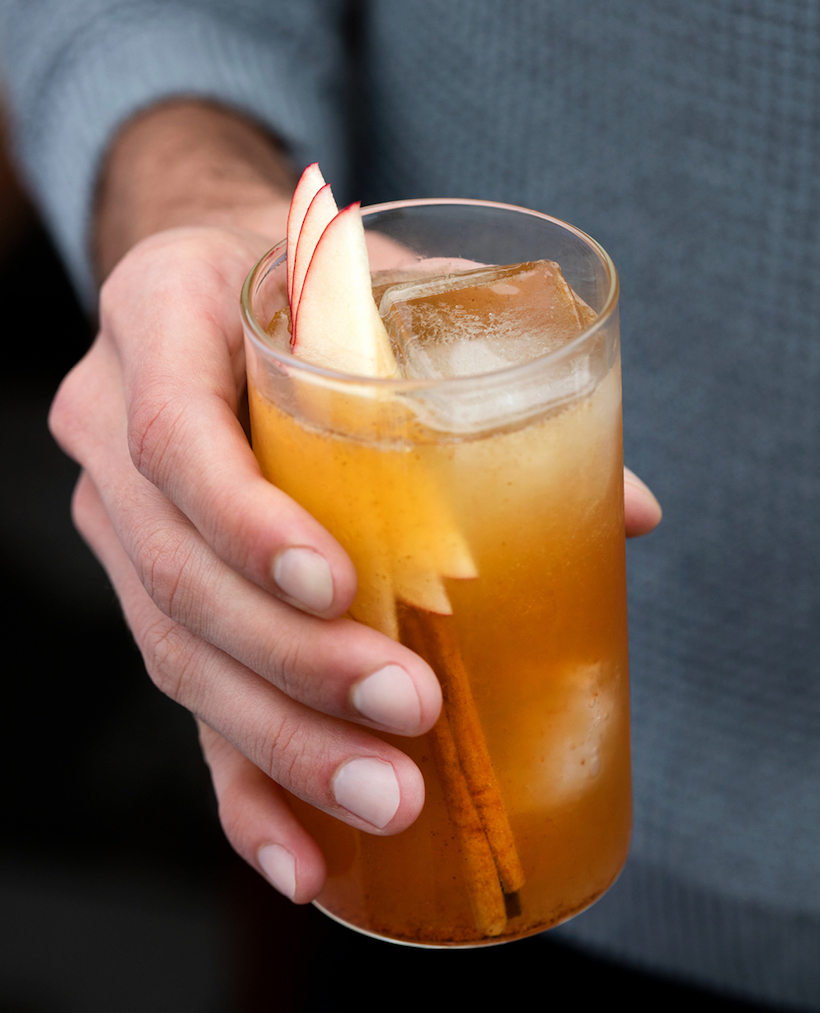 Why We Love It: If your go-to hard cider isn't cutting it in the fall flavors department, we've outlined the exact steps you need to follow to ensure your beverage is worthy of a little autumn imbibing. Eric Prum and Josh Williams, co-founders of W&P, put it best: "We like to punch up bottled cider by spiking it with applejack, a brandy distilled from apples, and warming spices. We build this drink in a cocktail shaker, infusing the applejack with the spices before topping it with refreshing hard cider." Yum or YUM?
Hero Ingredient: A pinch of ground allspice, cinnamon, and cloves infuses your cider with the trifecta of fall spices.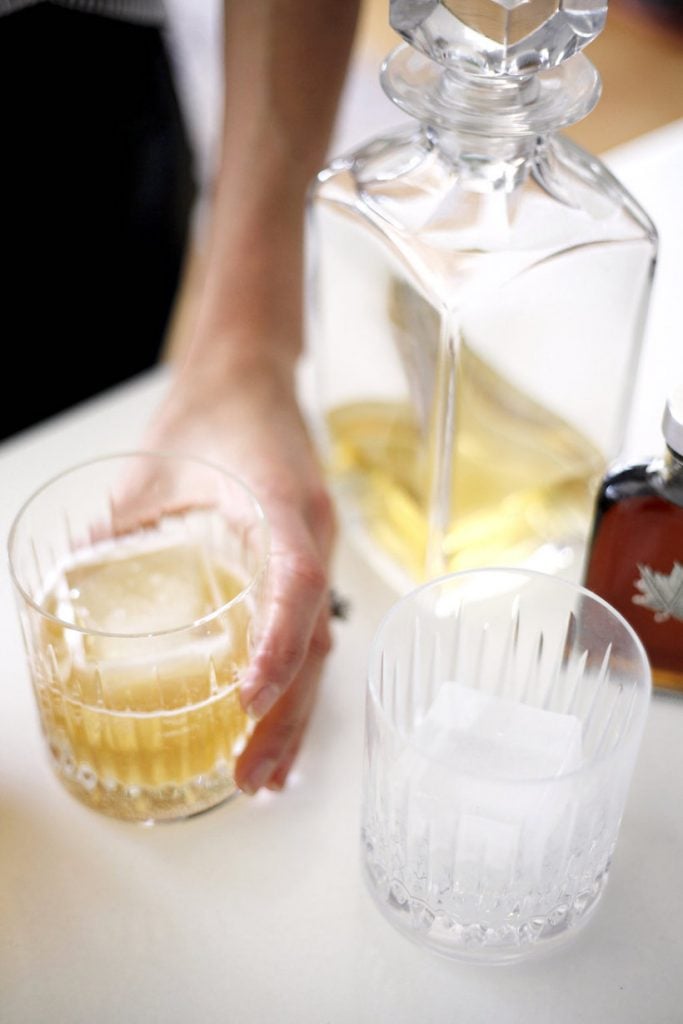 Why We Love It: Bourbon maple might be my favorite pairing of words in the English language (followed quickly by maple bacon… ). In all seriousness, this drink knows how to spice up and strengthen your favorite cup of cider. With just a few simple ingredients your fall kitchen is likely to have already stocked, you're well on your way to mixing up what we'd consider an essential autumn drink.
Hero Ingredient: Don't mess with the maple syrup—be sure you're using the good stuff.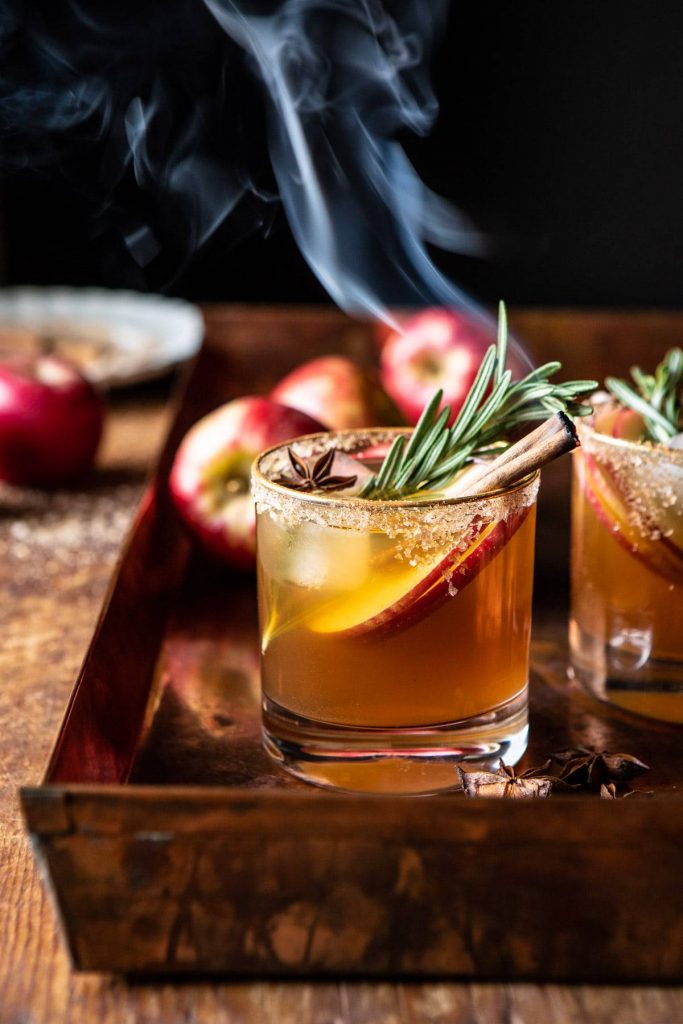 Why We Love It: If the temps are still high where you are and you're in need of a drink to bridge the gap between summer and fall, make it this one. Smoky mezcal is the perfect warming match for all the harvest flavors (i.e., a blend of orange liquor, spiced apple cider, citrusy lime, and maple). It's a special drink that couldn't be easier to make.
Hero Ingredient: A sprig of rosemary for garnish not only makes this sipper a stunner, but it gives the drink a nice piney finish.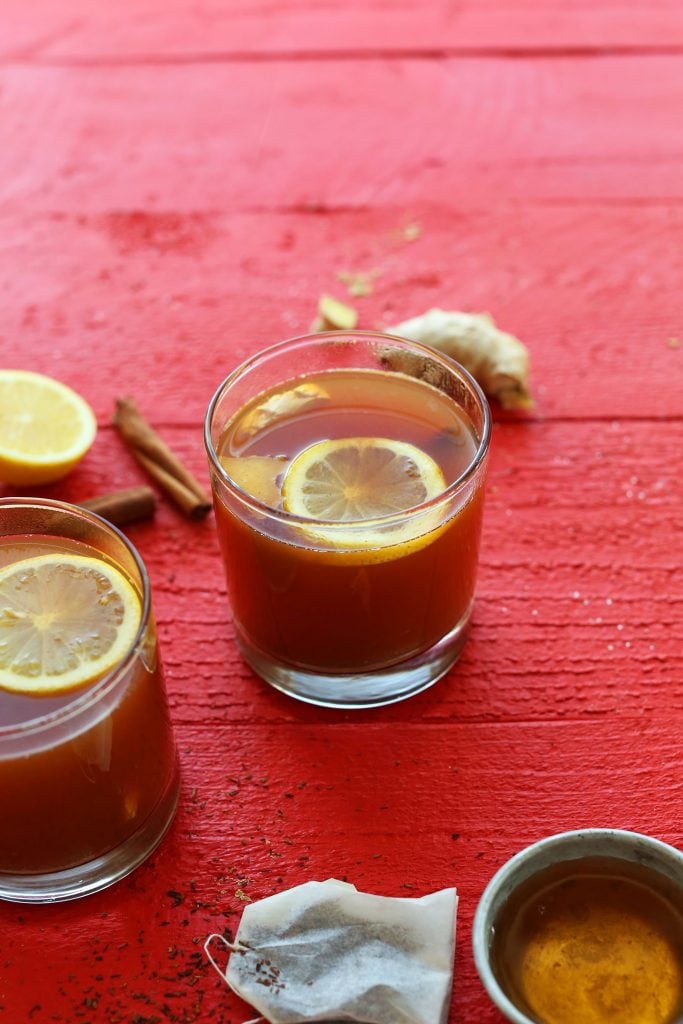 Why We Love It: Talk about clever. While I love apple cider (obviously), go crazy for hot toddies, and sip on rooibos tea like it's water all through the fall/winter months, I'd never thought to combine the three. That is, of course, until now. The result is a strong, bold drink that's just a touch sweet. If you're tempted to reach for a cup of chai post-dinner, make this instead. Trust me: your taste buds will thank you.
Hero Ingredient: The spice is right with just a few slices of fresh ginger.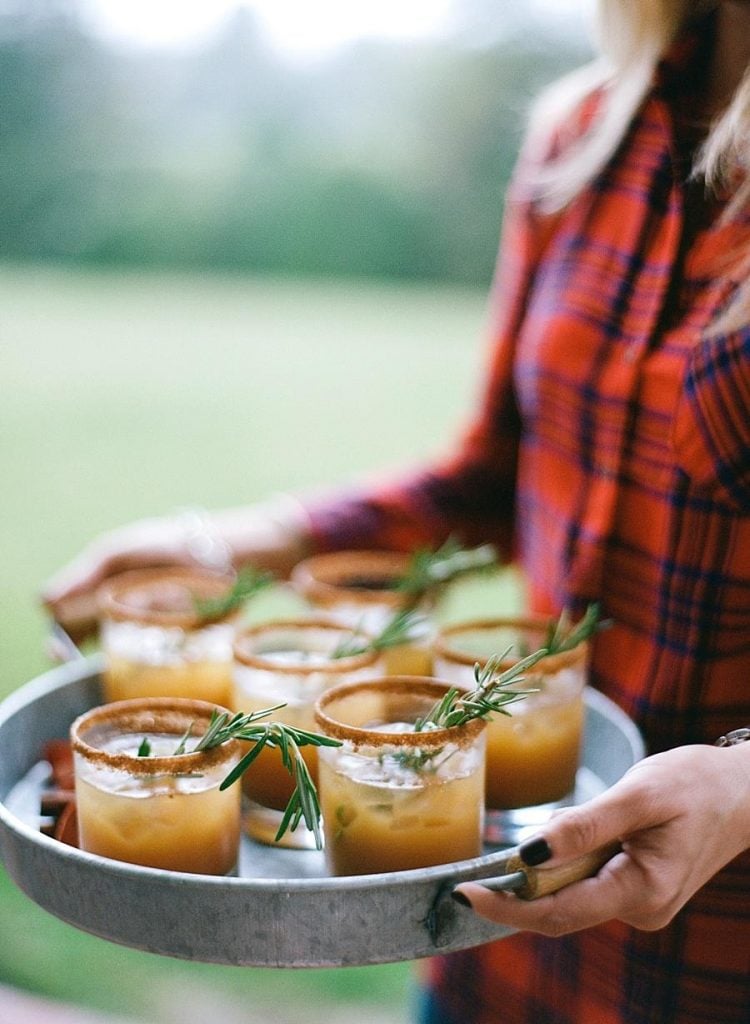 Why We Love It: While a few of the takes in this round-up of the best apple cider recipes know the beauty that is cider and bourbon combined, this one builds on the pairing with the addition of brown sugar. It creates a wonderfully caramelized touch of sweetness that's slightly bitter. The ideal match for this drink's triple-threat spice combo.
Hero Ingredient: I love that this recipe is truly homemade. You'll appreciate the flavor of fresh apple cider once you've peeled, chopped, boiled, mashed, and strained 14 apples to make this magic elixir.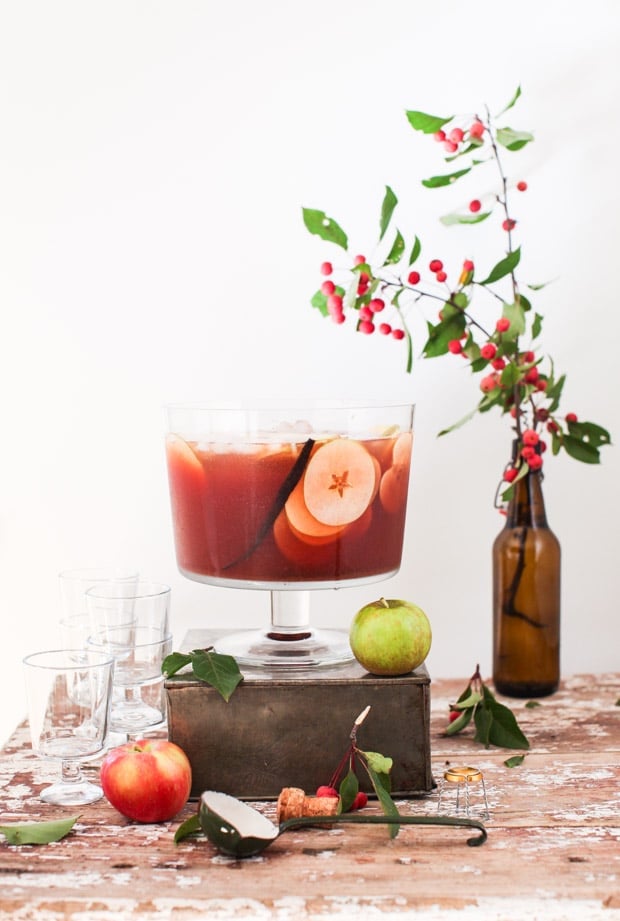 Why We Love It: I find it funny that you don't often come across a vanilla-flecked variation of apple cider. While some people think of vanilla only as sweet, I find it a bit earthy, floral, and even spicy at times—in other words, exactly what every apple cider punch should call for. This crimson, cranberry-infused cider is all the better because of it.
Hero Ingredient: Building on the vanilla here. You get not just one, but two instances of its sweet, creamy taste from the addition of vanilla extract and a split vanilla bean. Double the flavor, double the deliciousness.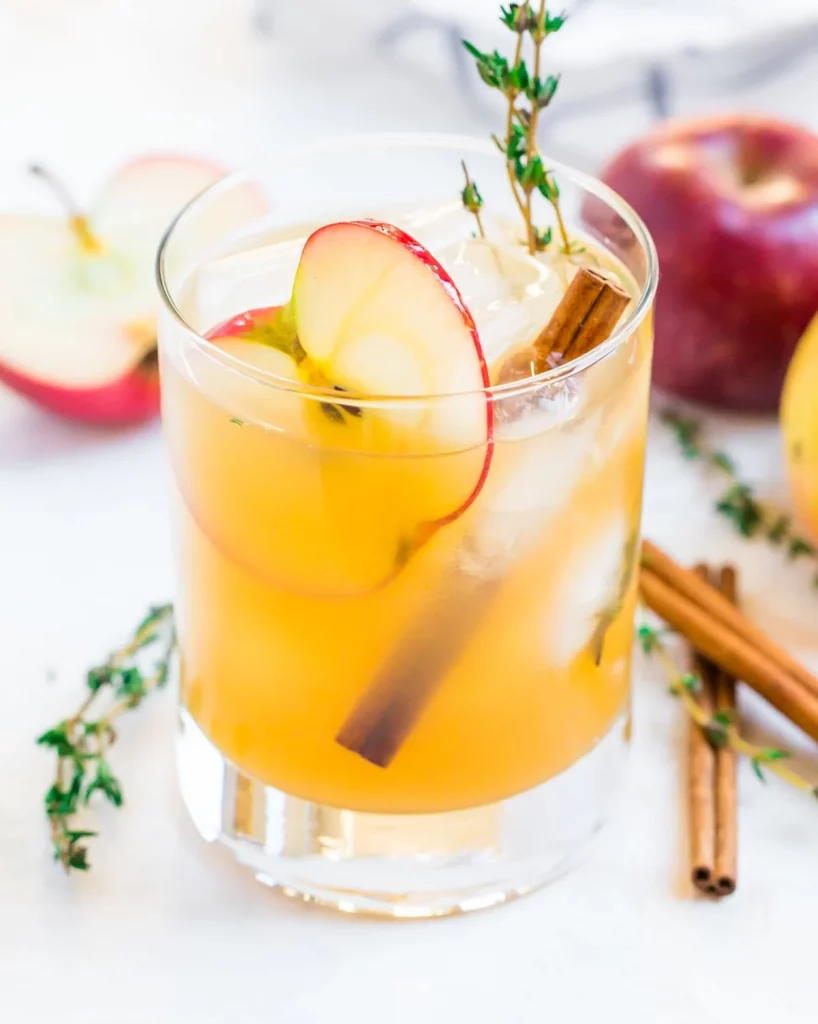 Why We Love It: I love how light and ethereally effervescent this apple cider cocktail is. While some ciders can feel and taste heavy (there's a time and a place for those), this recipe benefits from the addition of ginger beer, giving it a spicy, bubbly bite. Its garnishes are beautifully considered too, with apple slices, cinnamon, and a sprig of thyme making it occasion-worthy.
Hero Ingredient: Stock up on ginger beer this season—you'll be making this cocktail on repeat.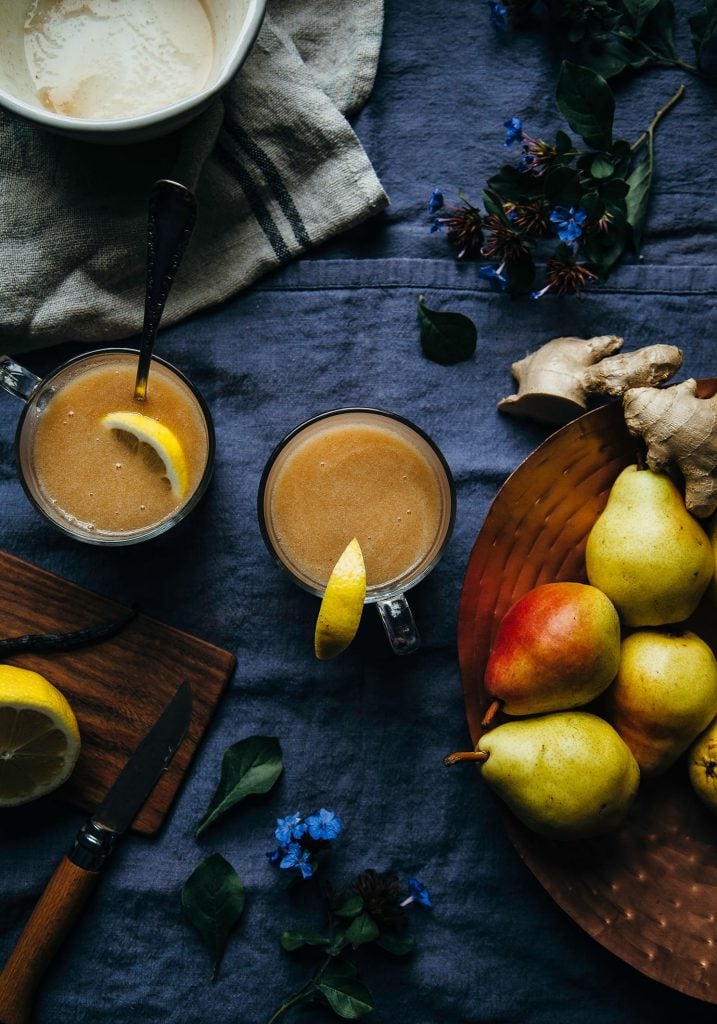 Why We Love It: Because the predominant flavor here is pear instead of apple, we'll call this cider recipe a bit of a bonus. But I'm including it because I think more of us need to be aware of the incredibly seasonal and fresh flavor pear brings to the table (why does apple get to be the star?). Not only is this drink entirely addicting, but the addition of ginger helps you fight off the inevitable fall cold. The best part: you don't need a press to make it! This drink can be prepared entirely in your blender.
Hero Ingredient: Give it up for the humble beauty of pears.
This post was originally published on September 24, 2020, and has since been updated.