While I'm ready to make the swap from sundresses to sweaters and lemon bars to pumpkin bread, California's temperatures seem to disagree. I thought when I left Texas, I left triple digit temperatures, too, but unfortunately they seem to have followed me. As far as I'm concerned, the day after Labor Day marks the official end of summer, and yet it's the hottest it's been all year, which is seriously squandering my cozy season plans. (It's no fun to sip on a hot pumpkin spice latte when you're sweating in a tank top!) So, with both my fall cravings and the temperatures at a high, I've needed a few summer to fall recipes that will ease me into the new season, one day at a time.
Featured image by Michelle Nash.
From lasagna to tortilla soup, these have been my go-to recipes for slowly introducing fall foods back into my kitchen (without overheating at the same time). Although an iced PSL isn't the same, it'll hold us over for now–just like these simple and delicious, transitional summer to fall recipes.
13 Summer to Fall Recipes for a Seamless Seasonal Transition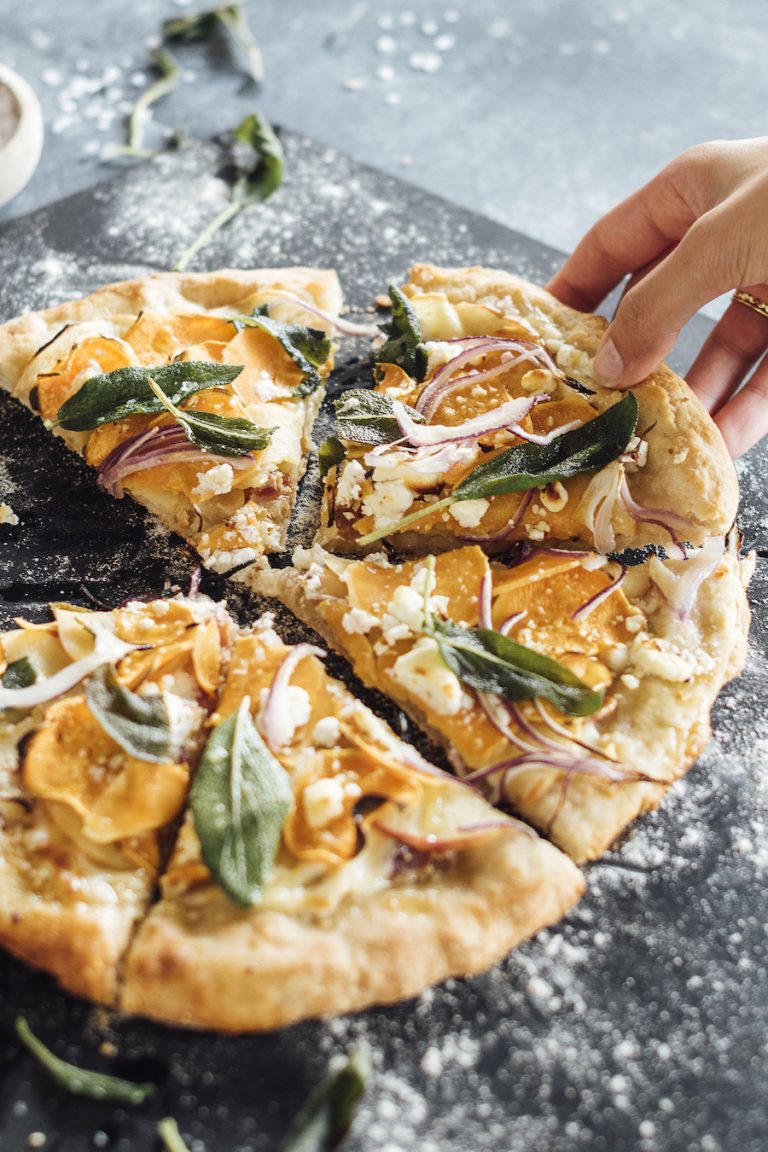 Bacon, Apple, & Sweet Potato Pizza
Why We Love It: Thankfully, pizza is a year-round delight. However, I love making it feel like a seasonal dish with my topping choices. This particular combo is one of my favorites to ever come out of Camille's kitchen and shows off fall flavors in a non-traditional way. Whether you make the dough from scratch or pile the toppings on a store-bought crust, you'll be dreaming about this pizza long after the last slice is gone.
Hero Ingredient: You haven't lived until you've tried fried sage on pizza.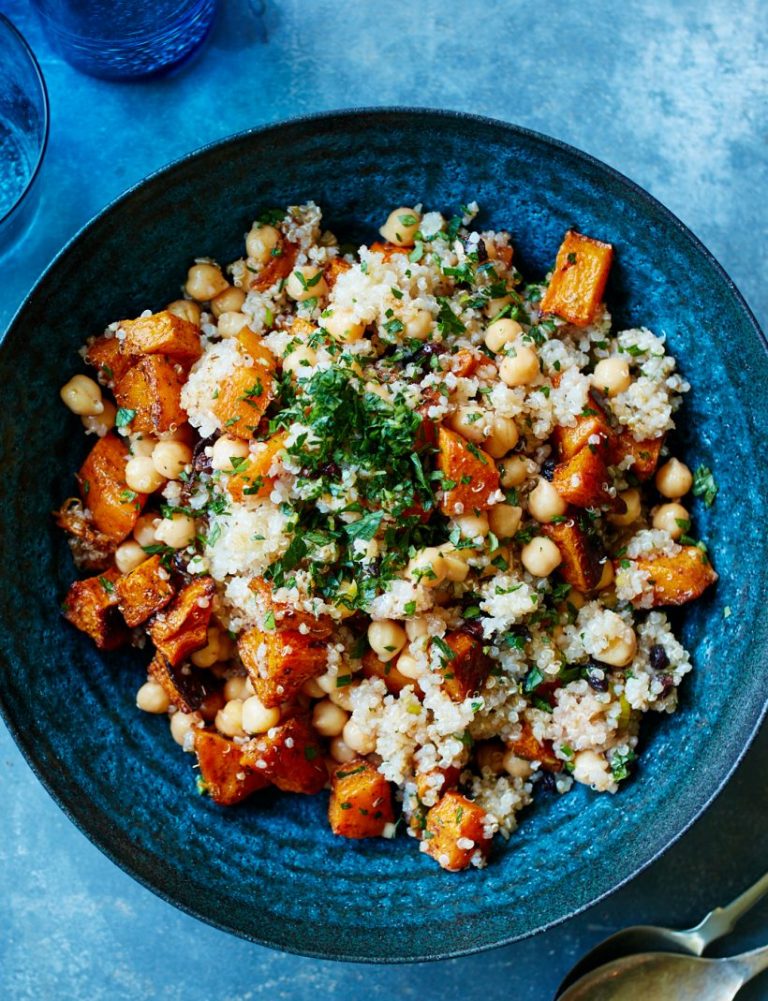 Crispy Roasted Butternut Squash and Quinoa with Currant Vinaigrette
Why We Love It: This recipe is from Daphne Oz's new cookbook, Eat Your Heart Out, and I can confidently say that once you try it, it will become a permanent staple in your summer to fall recipes repertoire. It's light enough to enjoy while it's still hot out, but stars another one of my favorite fall foods: butternut squash. Even if you don't make this recipe as a whole, Daphne's tips for making fluffy quinoa and the crispiest butternut squash is worth bookmarking.
Hero Ingredient: Better be the butternut squash.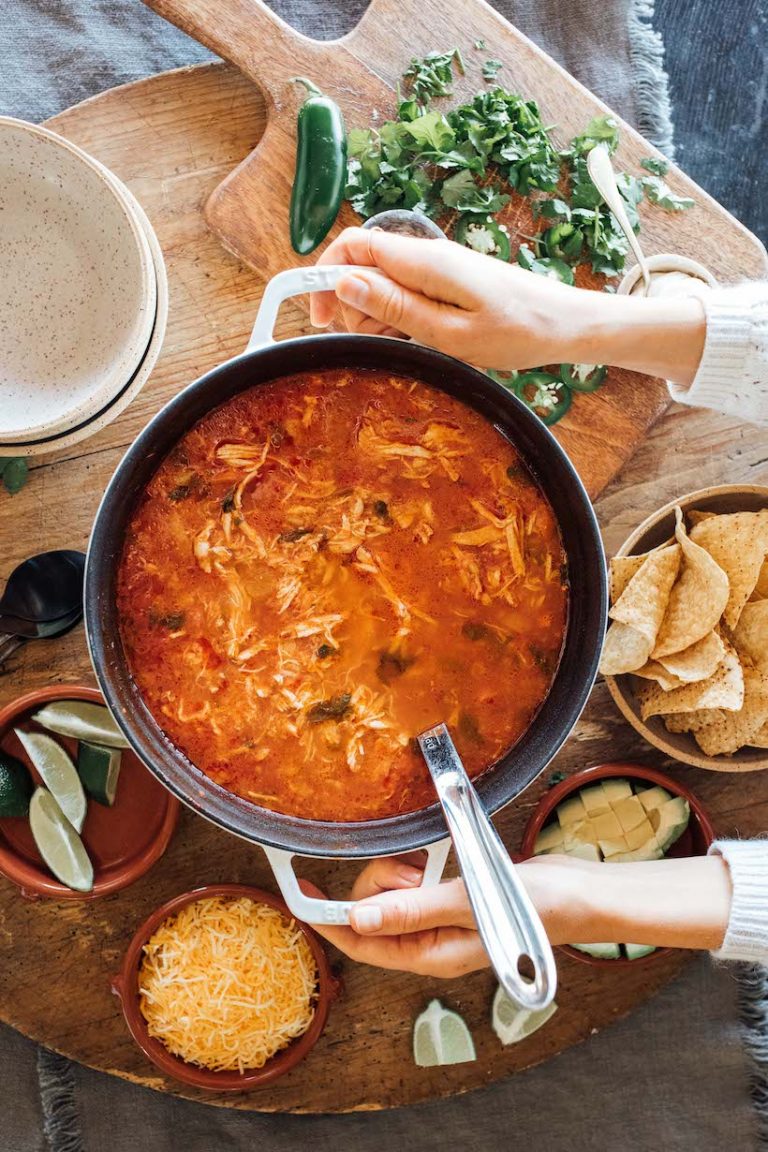 Easy Mexican Chicken Tortilla Soup
Why We Love It: Camille mentioned that she brings this soup to friends and family in need, and I'm starting to think that it has magical powers. Whenever I'm craving any sort of comfort, whether it be because I'm sick, exhausted, or missing home, a big batch of this soup seems to do the trick. However, while it's ultra-comforting, it is still full of summer produce and tangy flavors that make it perfect for the limbo between seasons.
Hero Ingredient: The corn tortilla strips are undeniably my favorite part.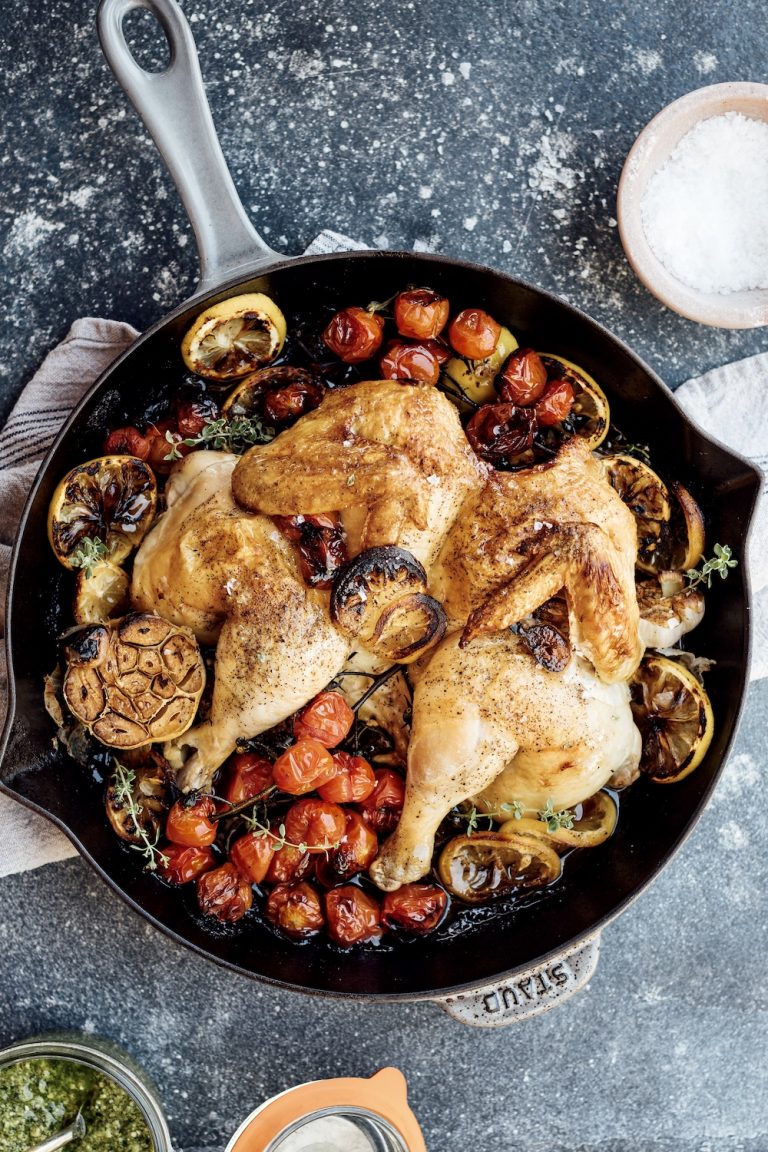 The Best Roast Chicken With Tomatoes, Lemons, & Cilantro Salsa Verde
Why We Love It: There's something about a roast chicken in the oven that just screams fall. Whether it be the warmth from the oven or the mouthwatering smells, it always makes me think of coming home from school as a kid. This recipe is not only my favorite way to roast chicken in general, but the tomatoes, lemons, and salsa verde give it just enough brightness to make it perfect for this list of summer to fall recipes.
Hero Ingredient: This recipe is hands down the best way to use up your tomatoes before they go out of season.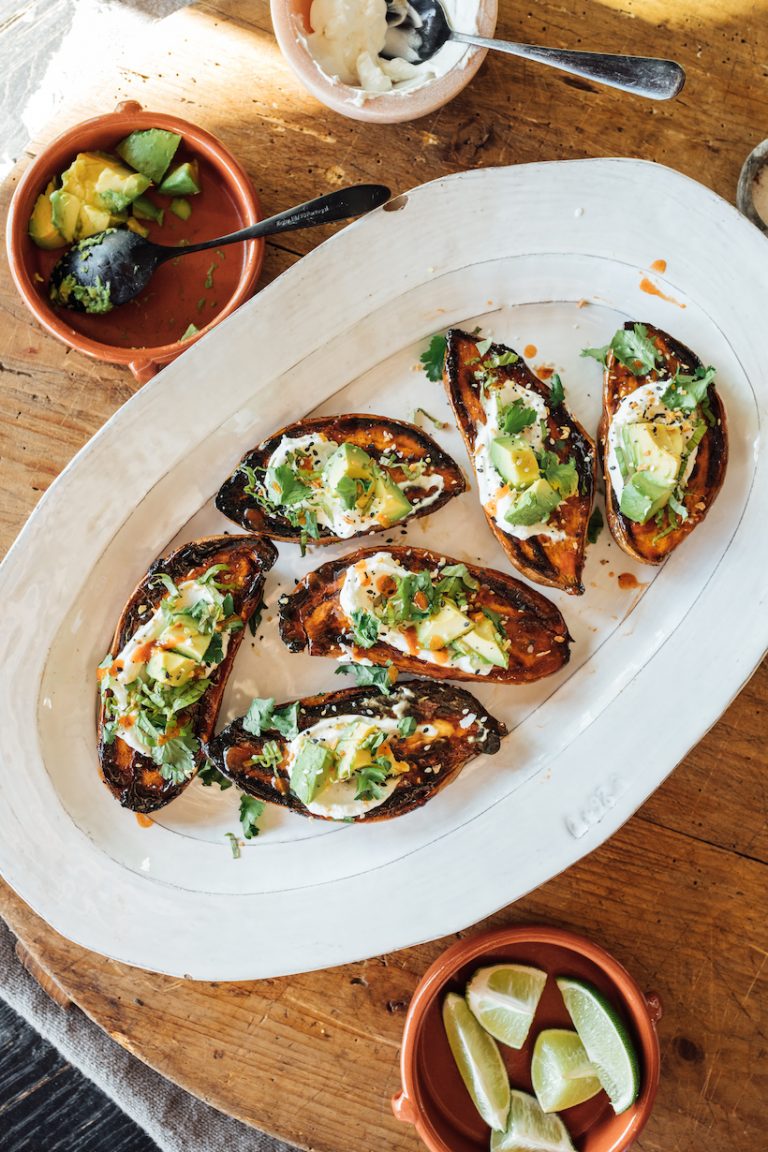 Crispy Roasted Sweet Potatoes with Yogurt, Herbs, and Everything Spice
Why We Love It: While most of you are excited about pumpkin season, I'm most hyped up about sweet potato season. I definitely enjoy sweet potato fries all summer, but am so excited for summer to fall recipes that make sweet potatoes the star. This recipe is a part of my fall meal rotation that I'll never get tired of, because I pile on different toppings each and every time. I love the yogurt and herb toppings shown here, but my new go-to has been adding black beans and avocado.
Hero Ingredient: I'm sweet on sweet potatoes.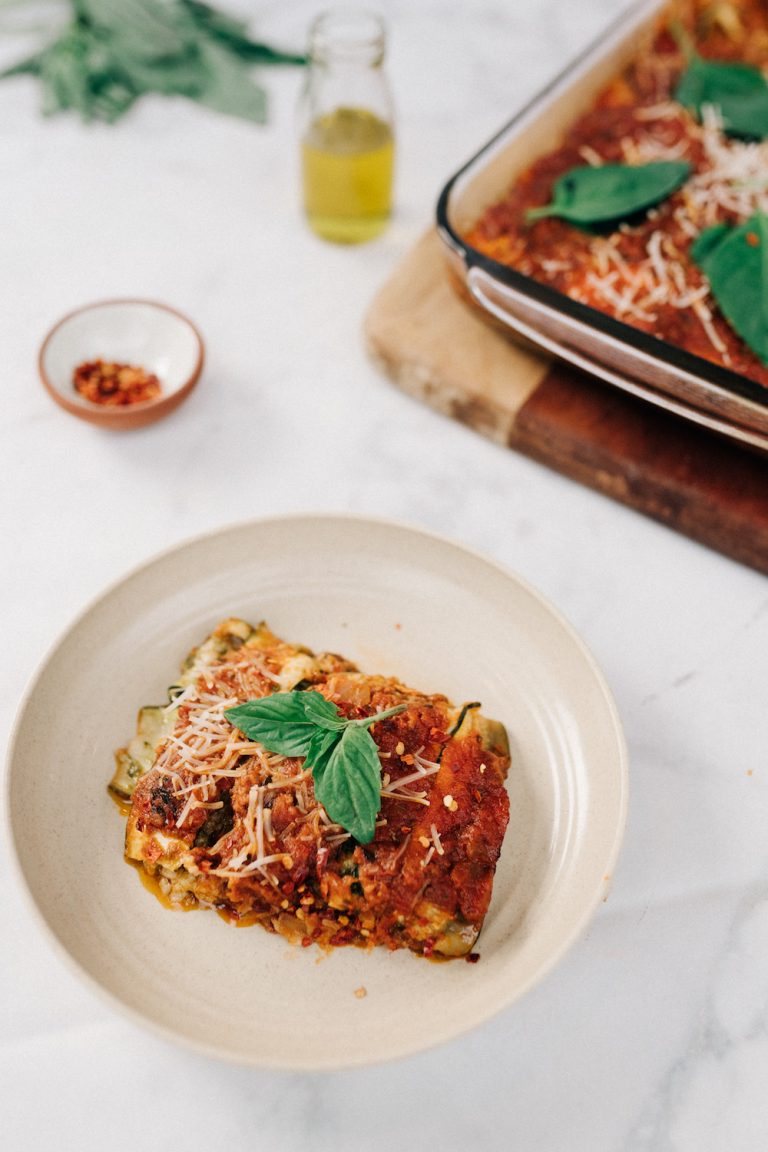 Zucchini Lasagna With Dairy-Free Mozzarella
Why We Love It: Lasagna is one of my ultimate comfort foods. It's warm, hearty, and pairs perfectly with a glass of red wine on a cool night. This version has all of the feels of traditional lasagna, with none of the gluten or dairy. So, whether you're dealing with food allergies or just looking for a healthy meal to get you back on track, I urge you to make a big, cozy serving of this zucchini lasagna. You'll thank us later.
Hero Ingredient: The summer zucchini with a fall flare.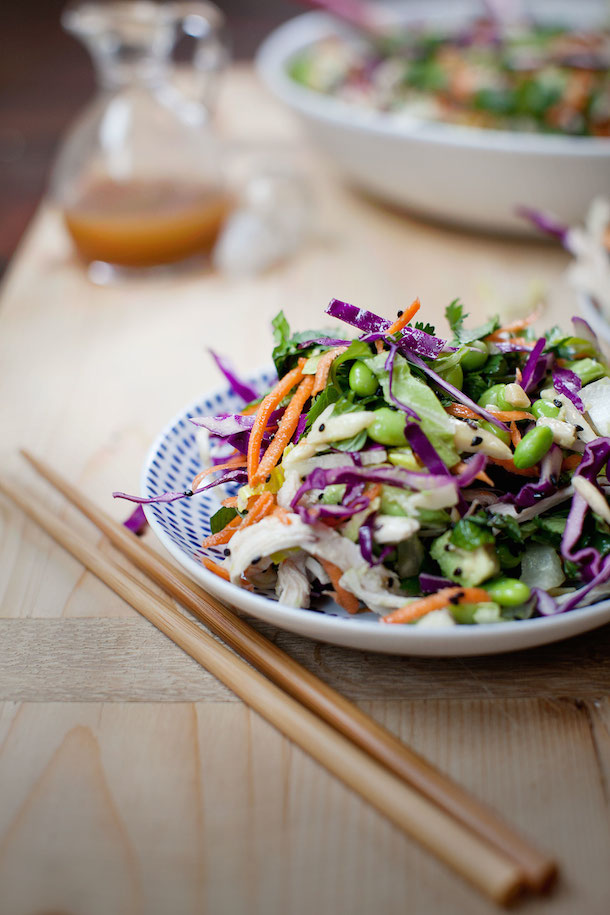 Why We Love It: Some of the easiest summer to fall recipes to swap out are salads. I'm saying goodbye to caprese salads and saying hello to this Asian Sesame Chicken Salad that's bright enough to be a summer dish, but hearty enough for fall. It's also a perfect salad for meal prep, which has helped me on my fall mission to get back into a routine. Plus, you'll want to drizzle this three-ingredient dressing over just about everything.
Hero Ingredient: Edamame over everything.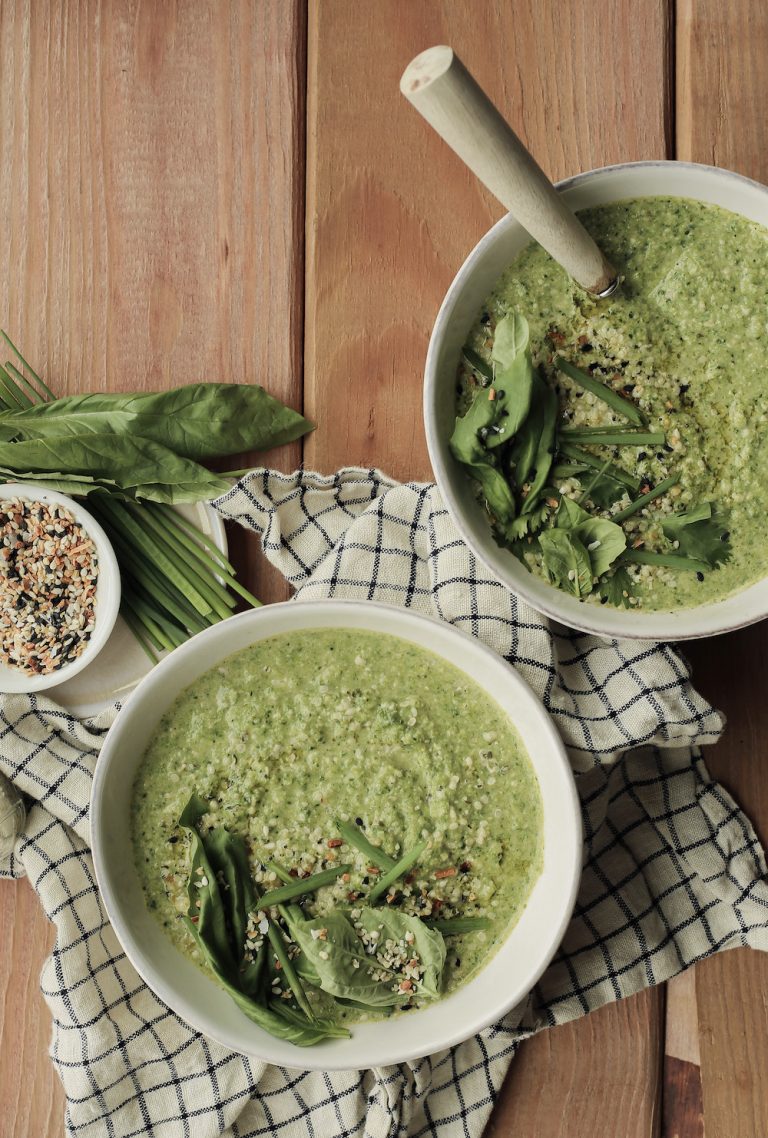 Big Green Immunity-Boosting Vegetable Soup
Why We Love It: Yes, I love fall for the cozy vibes, but I also love it for helping me get back on track. I tend to overindulge in the summer, and my body seems to have a natural alarm clock to get back into a routine when fall hits. Hence, summer to fall recipes like this immunity-boosting soup become kitchen staples. It's full of green veggies and herbs that are still fresh from summer, while helping your body fight off fall allergies and colds. What more could you ask for?
Hero Ingredient: Cashews bring the creaminess, without the cream.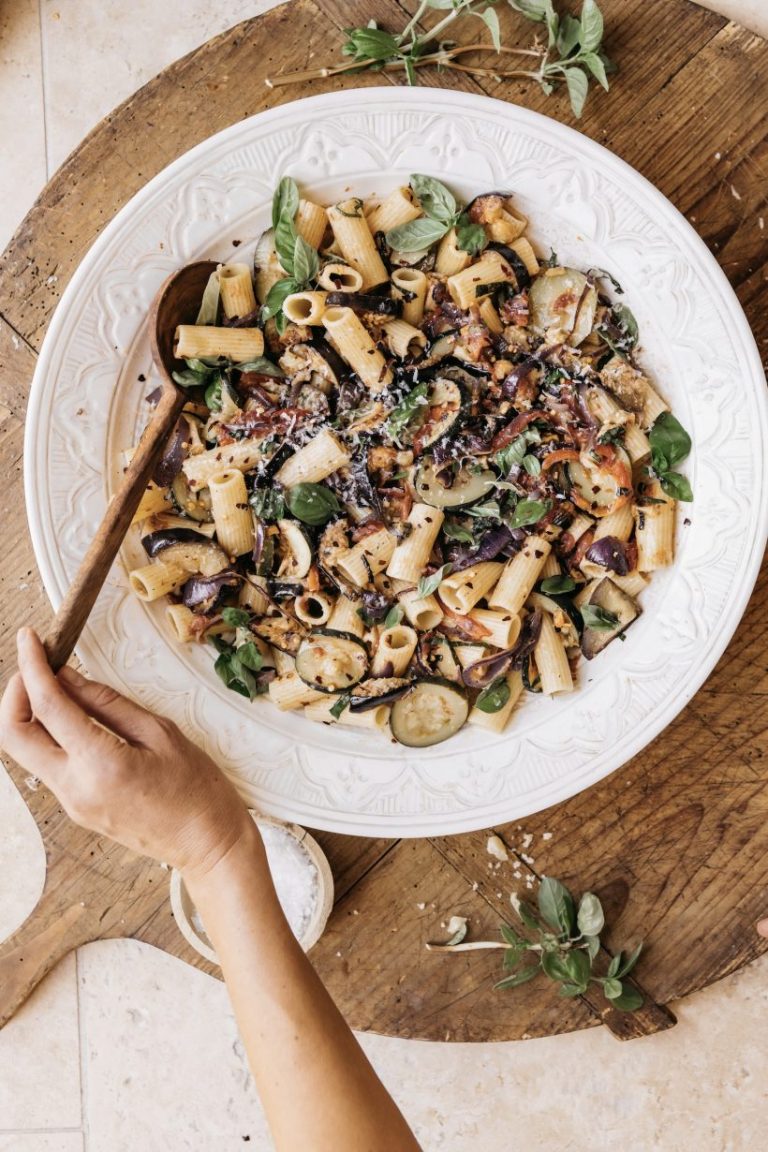 Ratatouille-Style Roasted Vegetable Pasta
Why We Love It: This pasta is another one of the summer to fall recipes that utilizes summer produce, but in a warm, fall way. It's full of the best of late-summer veggies (eggplant, zucchini, bell peppers), but the almost stew-like consistency of the dish couldn't be cozier. Pasta is my favorite food all year round, and I can't wait to add this to my fall rotation this year.
Hero Ingredient: Egging on the eggplant.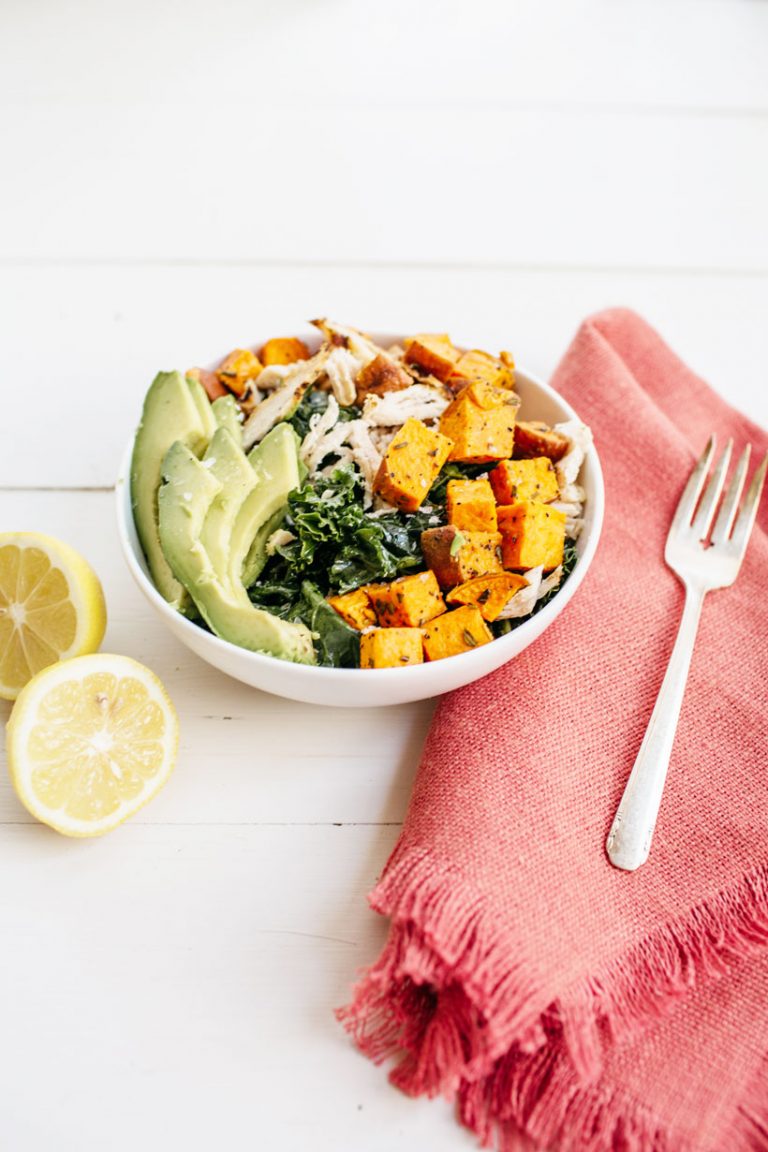 Why We Love It: Like I said, I'm super excited for sweet potato season. I tend to find a way to incorporate sweet potatoes into all of my fall meals, and this power bowl is the perfect transitional way to do that. It's a Fresa's copycat meal, and whipping this up for dinner gives me a cozy taste of home every time.
Hero Ingredient: Always avocado.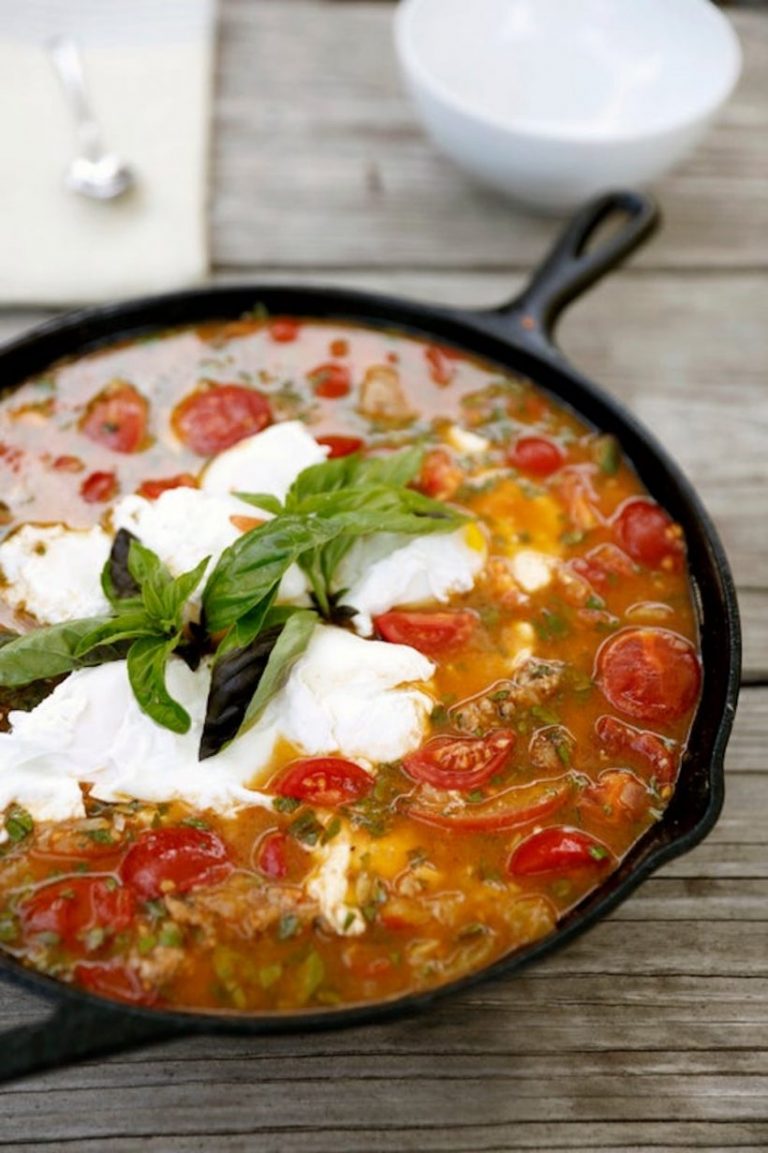 Why We Love It: This tomato soup is like a hug in a bowl. AKA exactly what I'm craving this time of year. It's a great transitional recipe because the tomatoes will still be fresh and ripe from summer, but the warmth from the soup is perfect for the start of fall. Pair with a grilled cheese and you've got yourself the perfect, cozy night in.
Hero Ingredient: Tomato, to-mato.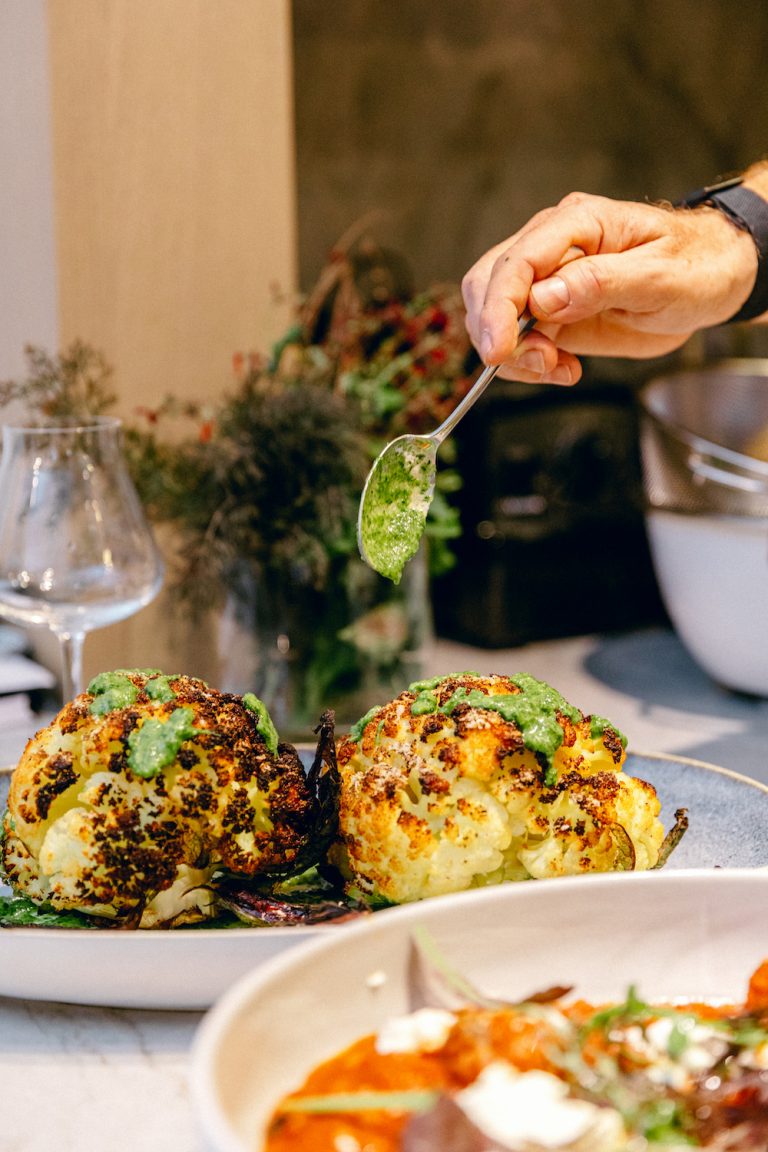 Whole Roasted Cauliflower with Salsa Verde
Why We Love It: Fall is a great time to restart those Meatless Mondays that you abandoned back in May. This Whole Roasted Cauliflower with Salsa Verde is a great option for a side dish or a main dish, depending on how many you are serving. It's also a great transitional recipe because September kicks off cauliflower season, while the salsa verde keeps the dish bright and summery.
Hero Ingredient: Cauliflower power.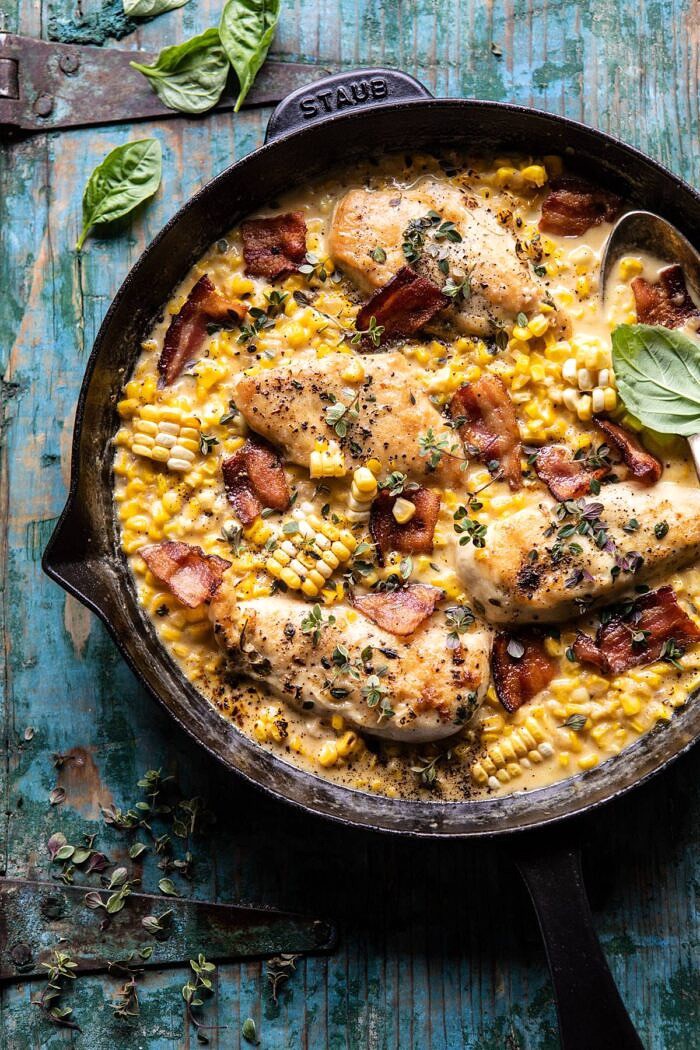 Half Baked Harvest's Garlic Butter Creamed Corn Chicken
Why We Love It: Who doesn't love a one-skillet meal? This creamed corn and chicken recipe is one of Tieghan Gerard's go-to weeknight dinners, and it'll become one of yours, too. It's one of those perfect summer to fall recipes that uses summer produce in a way that feels perfect for cozy season. Plus, it comes together in 30 minutes with minimal chopping and ingredients.
Hero Ingredient: It's corn. It has the juice. IYKYK. (If you don't, click here.)