Fall cooking is a joy. The flavors of the season come together in unique and exciting ways that breathe life into the chillier months. Soups, baked goods, and savory recipes brim with seasonal spirit. Ingredients like pumpkin, apple, pear, squash, sweet potato, fig, and more come out of hibernation eager to spice up your fall cooking. And personally, I can't wait to kick off the start of fall with some of my favorite gluten-free fall recipes.
We've gone over pumpkin recipes, apple recipes, soup recipes, and just about everything else you need to get prepped for fall, but what about those of us who are gluten-free? Well, allow me to introduce you to our favorite gluten-free fall recipes. While I'm not gluten-free by a dietary restriction, I'm often looking for ways to incorporate gluten-free foods into my diet. And having a number of friends with food sensitivities, I'm also constantly on the hunt for delicious, gluten-free fall recipes so they can enjoy the season just as much as everyone else.
Featured image by Michelle Nash.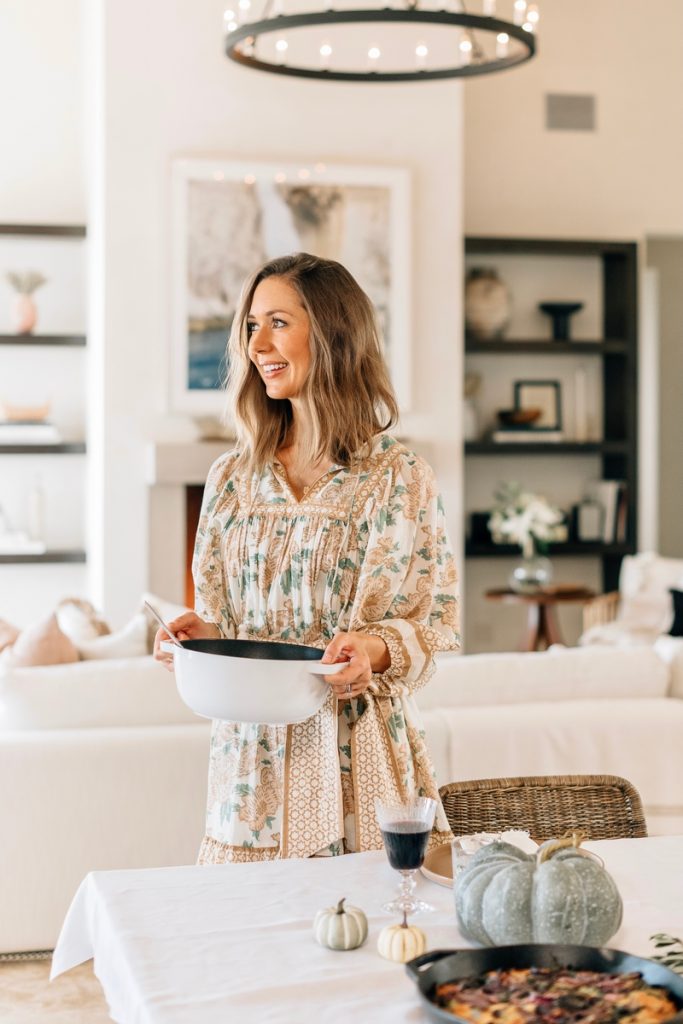 The recipes on this list are perfect to bookmark for easy weeknight dinners, fall gatherings, and all-day enjoyment this season. You'll find a mix of sweet and savory gluten-free fall recipes to incorporate into your menu this year. However you like to ring in the fall season, I'm sure you'll enjoy these gluten-free fall recipes just as much as we do!
16 Gluten-Free Fall Recipes to Try This Season: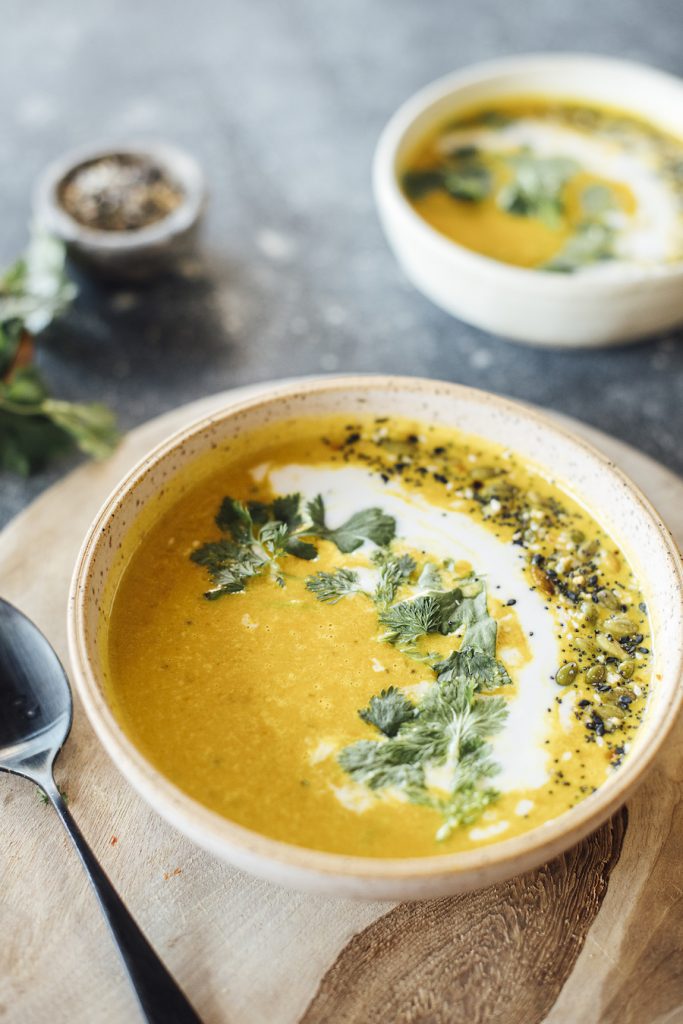 Why We Love It: This creamy vegan butternut squash soup is bursting with comfort. It's healthy and flavorful and exactly what we want when we're craving a reset. It uses butternut squash and coconut milk for a satisfying richness that's coupled with warming spices to seal the deal on its deliciousness. The best part? After you've done your duty on the stove, all that's left is to blend your soup for a creamy finish. It's simple, healthy, and oh-so-enjoyable. Your spoon may never leave the bowl.
Hero Ingredient: Like any comforting soup, the beauty lies in the presentation. Pumpkin seeds, cilantro, and a drizzle of coconut milk help your bowl look as good as it tastes.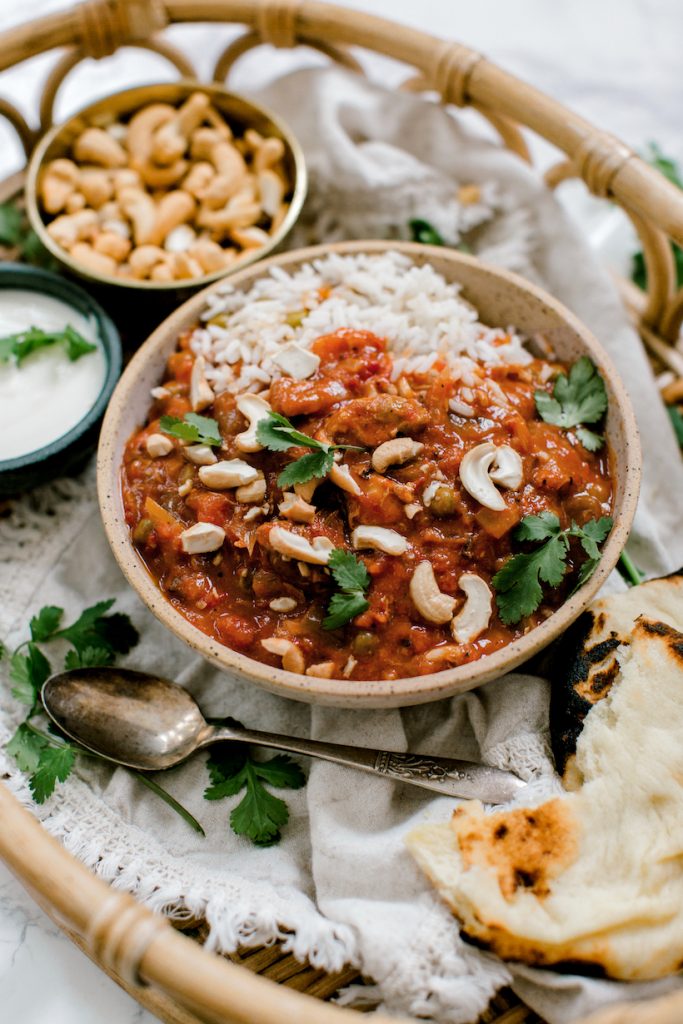 Why We Love It: We found the solution to your takeout habit. This recipe is light, easy, packed—I mean packed—with flavor. It's also a one-pan dish, as in it doesn't require you to sauté anything beforehand. Simply toss everything in the crock pot and go about your merry way. It takes eight hours for the flavors to meld to perfection, making it a breeze to prep before heading out for errands or work. When you get home, you'll be greeted by the savory smell of dinner that's entirely ready to enjoy. Is there anything better?
Hero Ingredient: Again, toppings win the prize here. Feel free to use whatever you like, but some suggestions are cashews for a little texture, plain yogurt for a cooling twist, and lime wedges for a taste of acidity.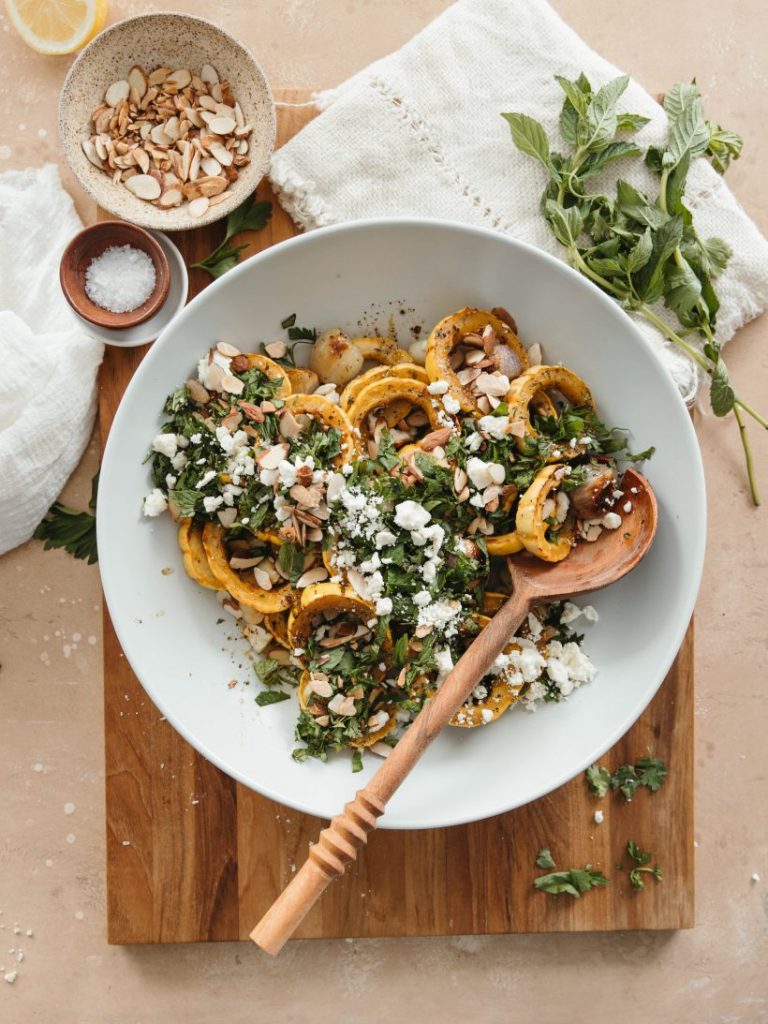 Why We Love It: Squash is a true fall staple and in this recipe, it's definitely celebrated. Thick slices of delicata squash get roasted in the oven until each edge is perfectly golden and caramelized. Then the squash is coated in a simple lemon vinaigrette and finished off with sliced almonds, creamy feta cheese, and lots of herbs. This simple dish makes such a gorgeous appetizer, side dish, or vegetarian main ideal for any fall gathering you have planned.
Hero Ingredient: Warm cumin, coriander, and red chili powder spice up the squash in a way that feels cozy and inviting—just like the season itself.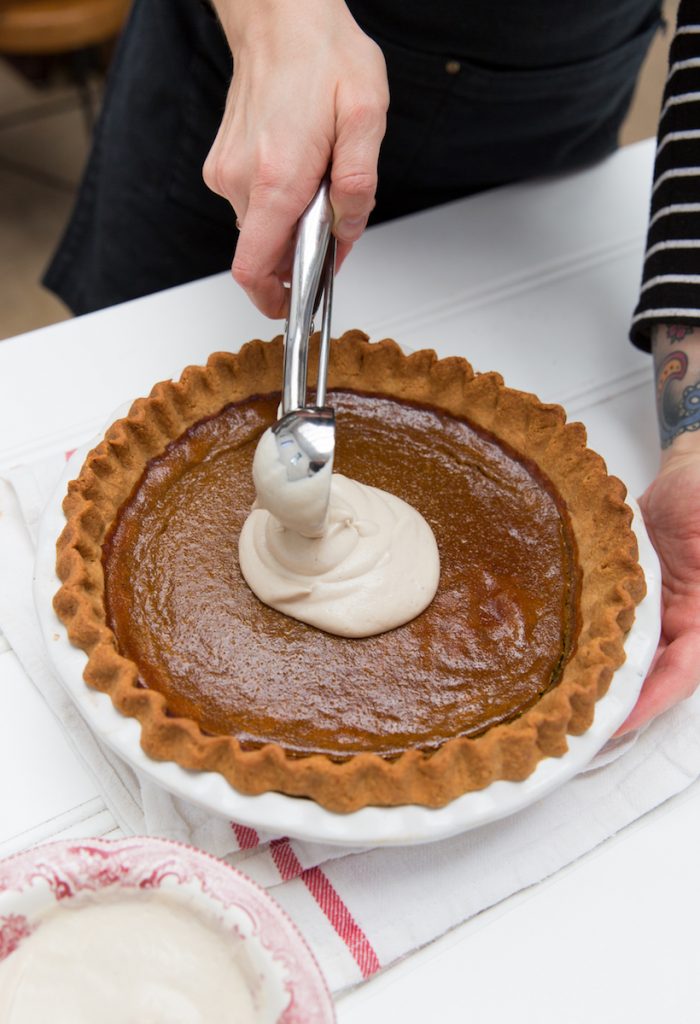 Why We Love It: Is it too early to break out the pumpkin pie? I know it's usually debuted at the Thanksgiving table, but I like to get a sneak peek before the holiday arrives. In this gluten-free and dairy-free version, sweet, creamy pumpkin is met with the perfect ratio of autumnal spices to bring you all the fall feels. Plus, a decadent cashew cream gets ladled over top for that classic pie + whipped cream combo we all know and love. Pro tip: A spoonful of the cashew cream is absolutely luscious in your morning coffee, so save a little for next-morning enjoyment.
Hero Ingredient: The crust is composed of almond meal, baking soda, avocado oil, vanilla, maple syrup, and egg and gets pressed into the pan as a graham cracker crust would. It's the no-fuss crust you've been looking for.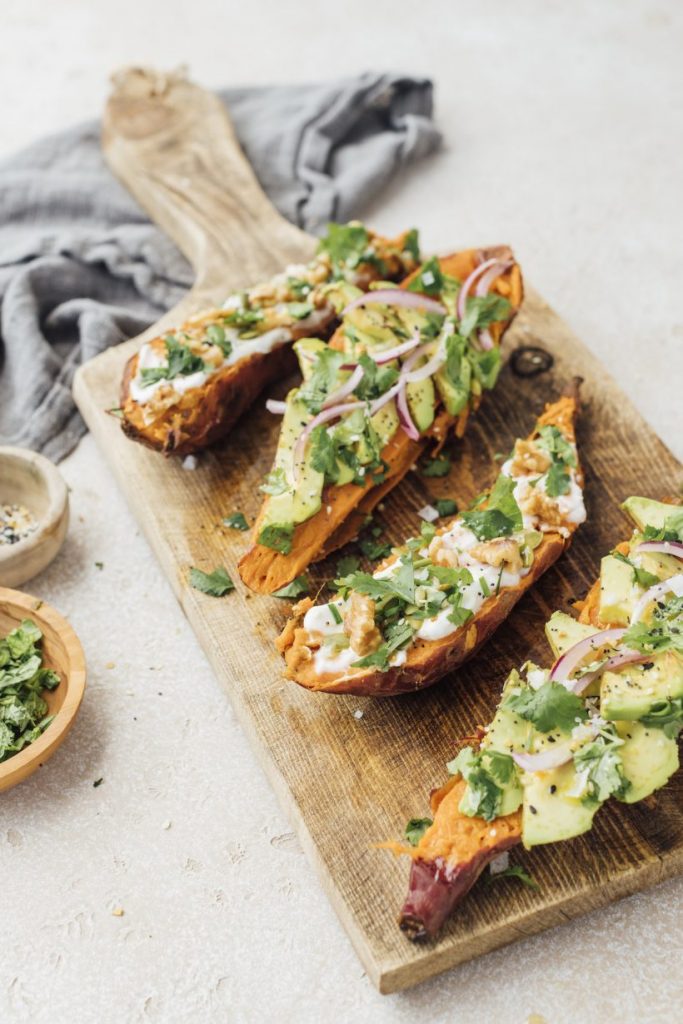 Why We Love It: These whole-roasted sweet potatoes make the perfect base for a veggie-packed breakfast, lunch, snack, or dinner that's both healthy and satisfying. You can dress them up or down with any assortment of toppings your culinary prowess can conjure up. In these recipes, you've got your choice of sweet potatoes with seeds and herbs like toasted pecans, pumpkin seeds, sesame seeds, and any herbs you have on hand (think dill, mint, chives, etc.).
Not your jam? Go for sweet potatoes with creamy avocado slices and sharp red onion slivers. A shake or two of everything seasoning sends both over the top.
Hero Ingredient: More of a hero method, but these sweet potatoes are so simple to prepare. They're roasted with the skin on, so all you have to do is slice them open, drizzle them with olive oil, and wait patiently until they're soft and caramelized. That lest step? Easily the hardest part of this recipe.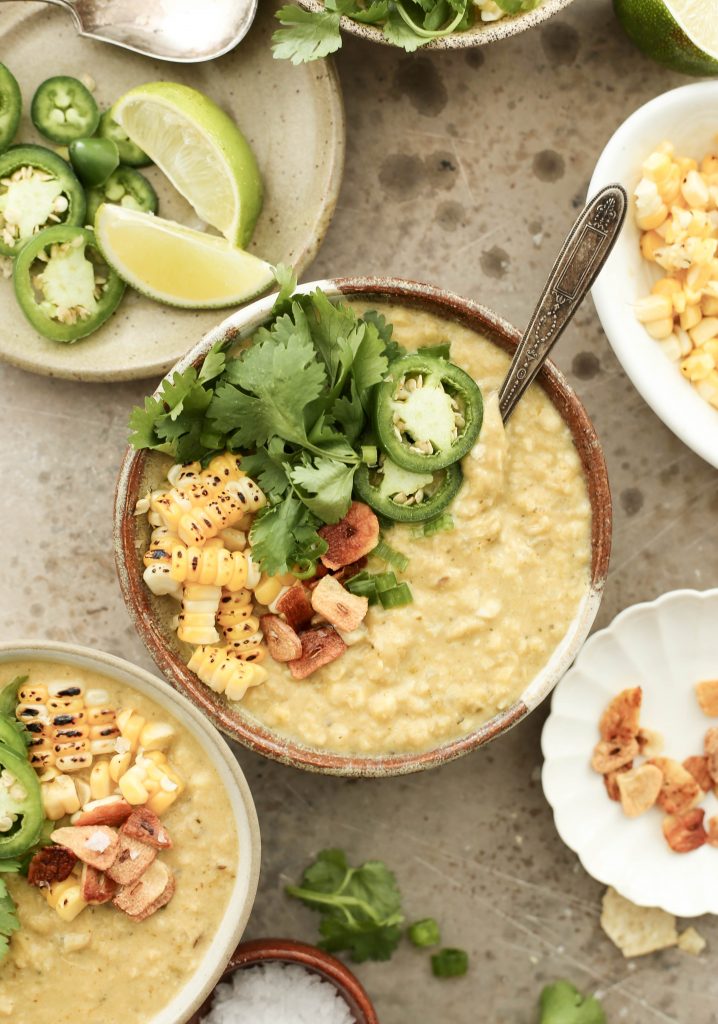 Why We Love It: Ah, corn. Your sweet succulence continues to amaze me. Yes, we've enjoyed charred cobs at many a lingering summer soirée, but it's time to welcome this vegetable to fall. This recipe does just that! It's a one-pot wonder that bridges the gap between summer and fall and helps us bid the charming days of summer adieu.
Everything gets sautéed in a dutch oven, then simmered to perfection while maintaining enough texture to fully satisfy. Here, you're getting heat from roasted poblanos and jalapeños, sweetness from the corn, creaminess from coconut milk, and just a hint of acidity from a squeeze of lime juice. Not to mention, cumin seeds, garlic, and sriracha bring the heat to finish everything off perfectly.
Hero Ingredient: This soup's toppings provide a visual appeal that previews all the goodness underneath. Fresh herbs, green onions, sliced jalapeños, lime wedges, crispy fried garlic, avocado slices… the possibilities are endless. If you're not keeping things vegan, crispy pancetta or bacon pieces would give the soup a salty meatiness that's so satisfying.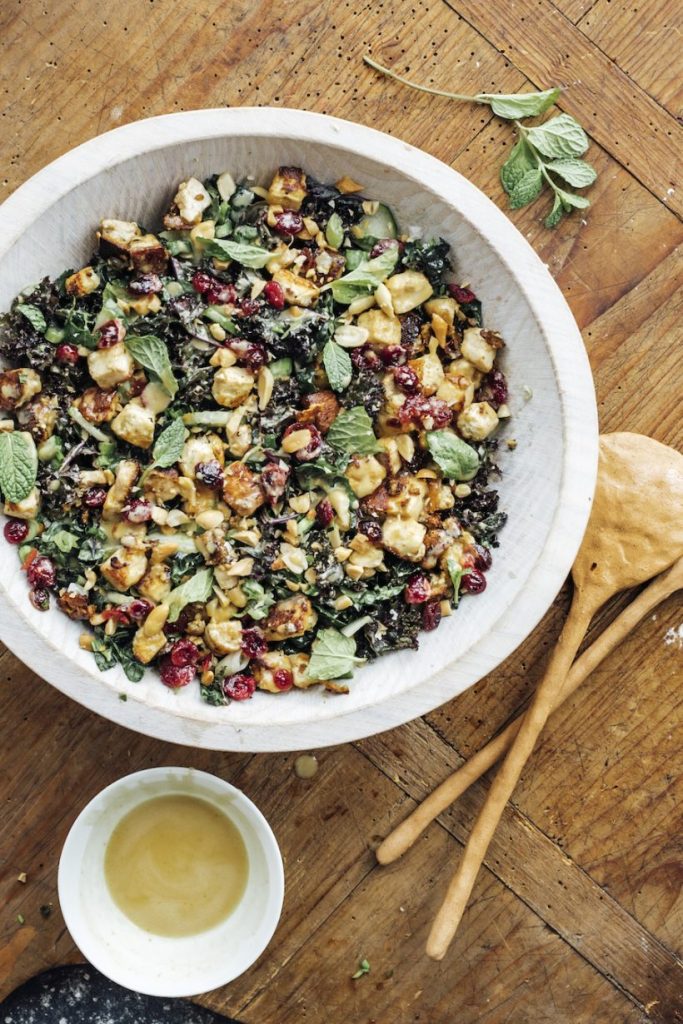 Why We Love It: Like fall recipes in general, fall salads are one of the season's greatest treats. They're loaded with seasonal vegetables and flavors that embrace the season. In this kale salad, you get a heavy dose of sweet and savory notes that balance each other perfectly. Crispy tofu sets the tone for tart cranberries, salty peanuts, and floral herbs to work their magic over the shredded kale. To top it all off, citrus-ginger dressing coats everything in a flavorful blanket that keeps things light and refreshing, but 100 percent enjoyable.
Hero Ingredient: I'm always team make-extra-dressing (anyone have a better name for this?) so you have a tasty homemade dressing on hand to use whenever the salad craving strikes.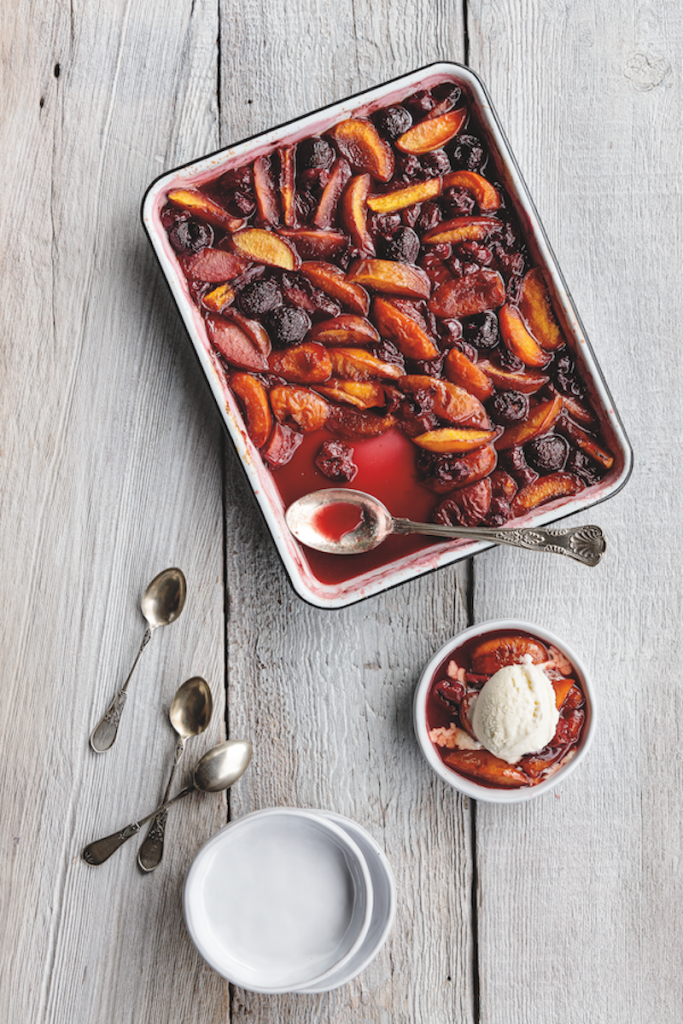 Why We Love It: A big bowl of roasted stone fruit topped with vanilla ice cream is just what your fall cooking ordered. If you've ever wondered what to do with that rich amarena cherry syrup after dropping your last cherry in an old fashioned or Manhattan, look no further. Plums, peaches, nectarines, pluots, and cherries get drizzled with that lush syrup and roasted in the oven until mouthwateringly tender and juicy. Then, all that's left is to serve up a bowl and top with your gluten-free ice cream of choice.
Hero Ingredient: Don't you dare throw away the leftover syrup in that cherry jar. Its sweet and sour profile flavors the fruit in a way that's elevated and almost magical.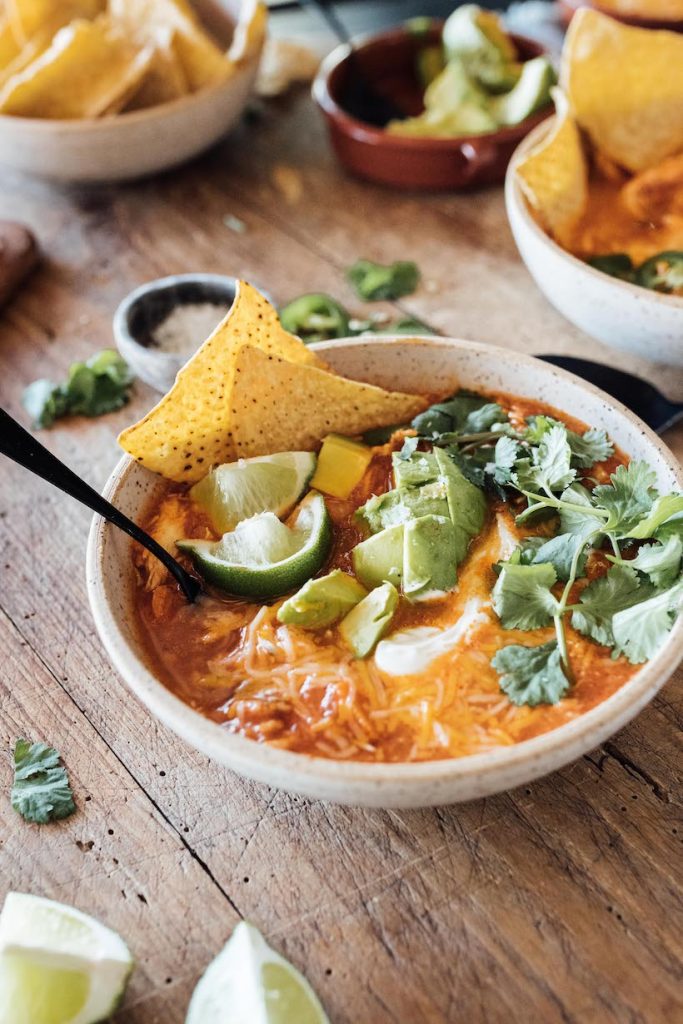 Why We Love It: Might I just preview by saying, this is the self-nominated be-all, end-all tortilla soup. Bone-in, skin-on chicken breasts are poached in the broth to provide unmatched flavor. Plus, a lot of spices bring a comforting kick that will have you coming back for more. (Which is good, because this soup keeps and freezes very well so leftovers are an added bonus!) This is the soup I always make and deliver to friends who need a little comfort.
Hero Ingredient: Let's talk about freezing this soup. Once cooled, you can pack it away in mason jars or gallon-sized Ziplocs, freeze, and thaw overnight in the fridge so it's ready to be enjoyed all over again at the drop of a hat.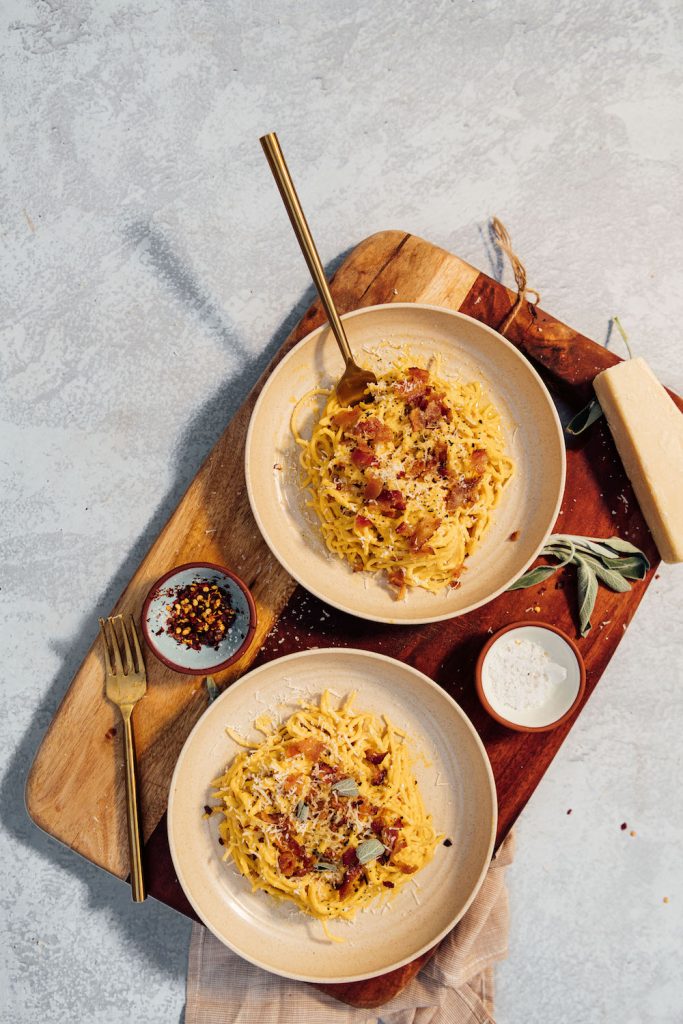 Why We Love It: Dairy-free, gluten-free pasta that's comforting and creamy? Sign me up. This butternut squash pasta is nothing short of special. The squash is roasted until caramelized, blended into a decadent cashew sauce, and tossed into chickpea noodles. Essentially, this pasta is like grown-up mac and cheese that's elevated enough to serve at a gathering, for a date night, or as a simple weeknight dinner.
Hero Ingredient: Your creamy bowl of goodness gets topped with crispy bacon bits and fried sage leaves to take things to the next level. On top of that, you can add as much shaved vegan parm as your heart desires and red pepper flakes to taste. It's creamy, a tad spicy, and definitely full of flavor and texture you'll want on repeat.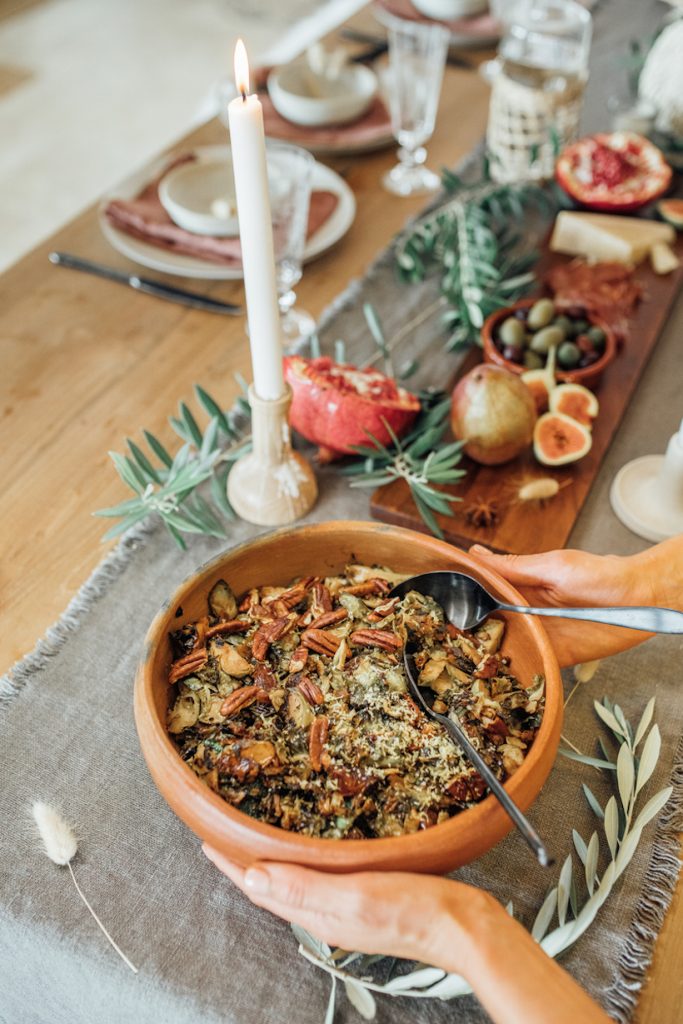 Why We Love It: Two words: Brussels Sprouts. I don't know about you, but I can't get enough of these little gems during fall. In this recipe, they're charred to perfection and coated with an apple cider vinegar sauce that's sweet, sour, a little spicy, and very addicting. (Like, addicting enough to eat the whole bowl—just me?) Dates bring a slight sweetness to balance all that vinegar-y tartness and flavor the sprouts to pure perfection. These make such a great side to any assortment of dishes you've prepared for a fall gathering and usher in alllll the fall vibes.
Hero Ingredient: It's optional, but a sprinkle of red pepper flakes is my personal favorite way to finish off the dish. You've got sweet, sour, savory, and spicy in one bowl. What more could we ask for?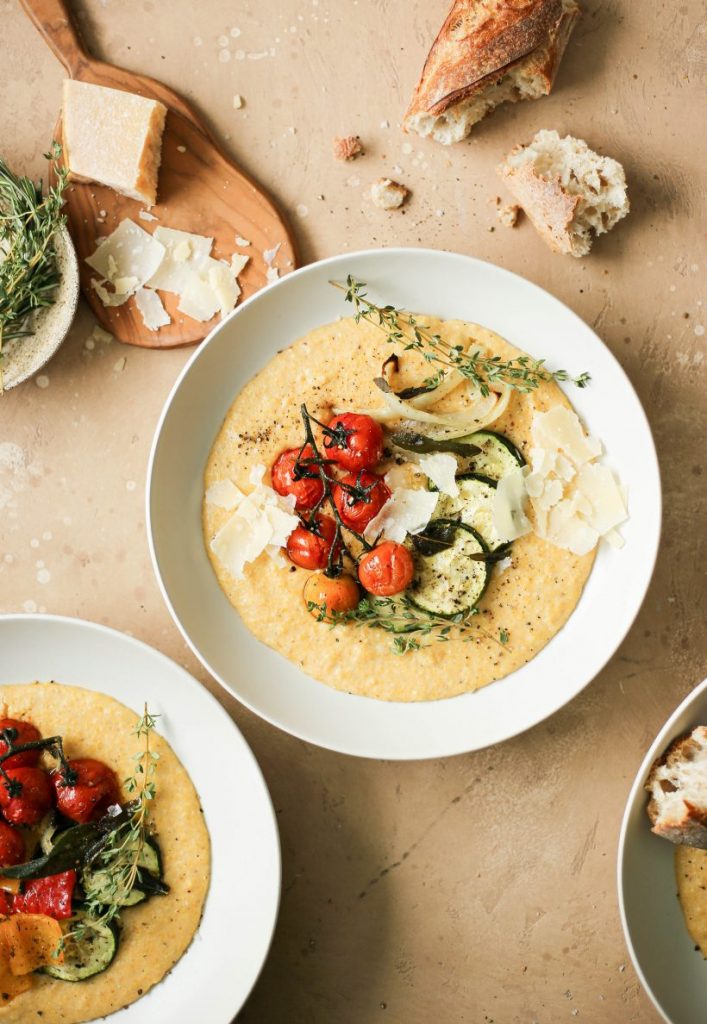 Why We Love It: It's filling, visually appealing, and super easy. We're talking about a polenta bowl, people! Cheesy, creamy polenta cooks in 20 minutes while your vegetables of choice roast away in the oven with garlic and thyme. Once everything is prepped and ready, all you have to do is assemble. The star of the show here is mascarpone cheese. It replaces butter in the polenta to add a depth and creaminess that's unmatched. Layer that with roasted veggies and you're on your way to gluten-free, fall deliciousness.
Hero Ingredient: This recipe leaves you with plenty of room for interpretation. If you're feeling adventurous, try out one of these flavor combinations our food editor Suruchi Avasthi recommends:
Roasted tomatoes with a big dollop of pesto and some burrata
Shiitake mushrooms and parmesan, (perhaps with an egg on top?)
Sautéed kale and lentils with lots of lemon
Sweet maple roasted squash with a little chili oil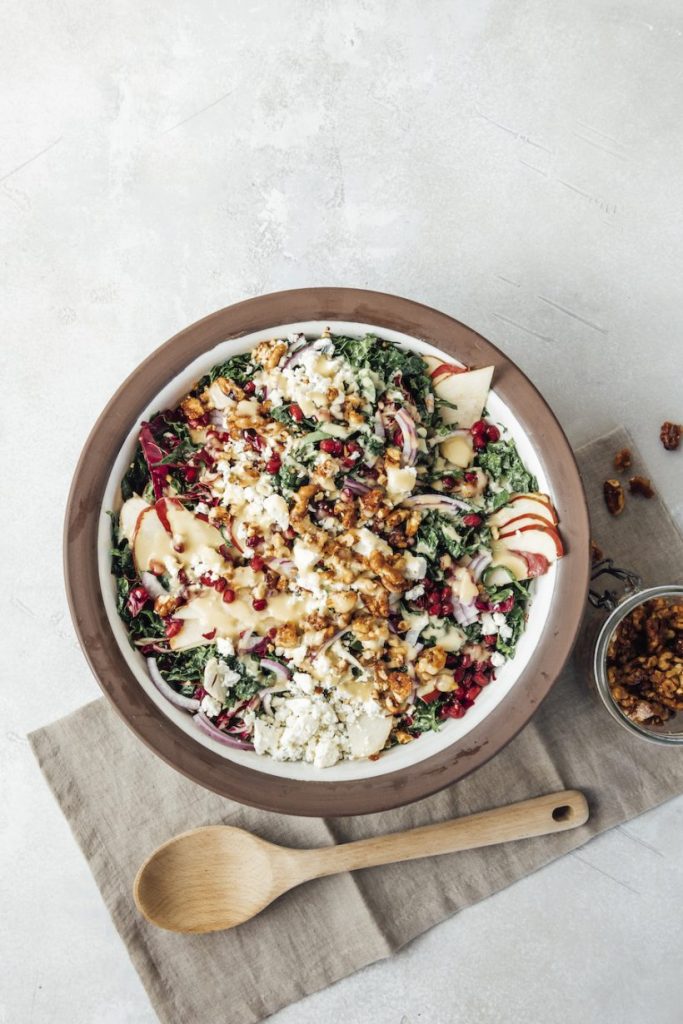 Why We Love It: Massaged kale meets pears, gorgonzola, radicchio, pomegranates, candied walnuts, and red onion for a side you won't want to miss. It's full of fall elements and bursting with jewel-toned colors, making it the perfect seasonal salad. You're getting all kinds of sweet and savory combos with this salad's toppings that seal the deal on flavor. On top of all that, a creamy, sweet, and acidic mustard-shallot vinaigrette coats each kale leaf and topping to tie it all together.
Hero Ingredient: Pomegranate seeds bring a pop of color and fruity flavor. Each seed is a burst of fall freshness.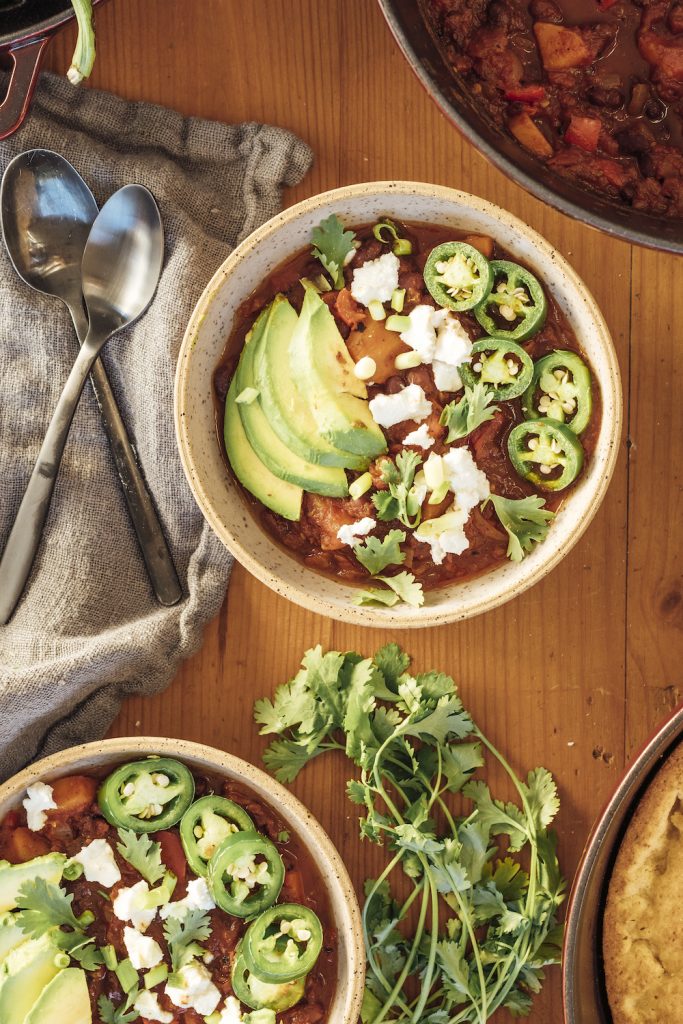 Why We Love It: Chili is a staple fall food—no ifs, ands, or buts about it. And this vegetarian variety is full of flavor. It boasts hearty black beans, creamy sweet potato, and an impressive mix of spices. Avocado, cheese, cilantro, green onions, limes, and tortilla chips top the bowl with layers of flavor and texture. Plus, if you're making it for a small group, you'll have leftovers for the entire week (score!).
Hero Ingredient: Orange zest and juice brings a slight floral, cirtusy tone to the chili that's oh so yummy.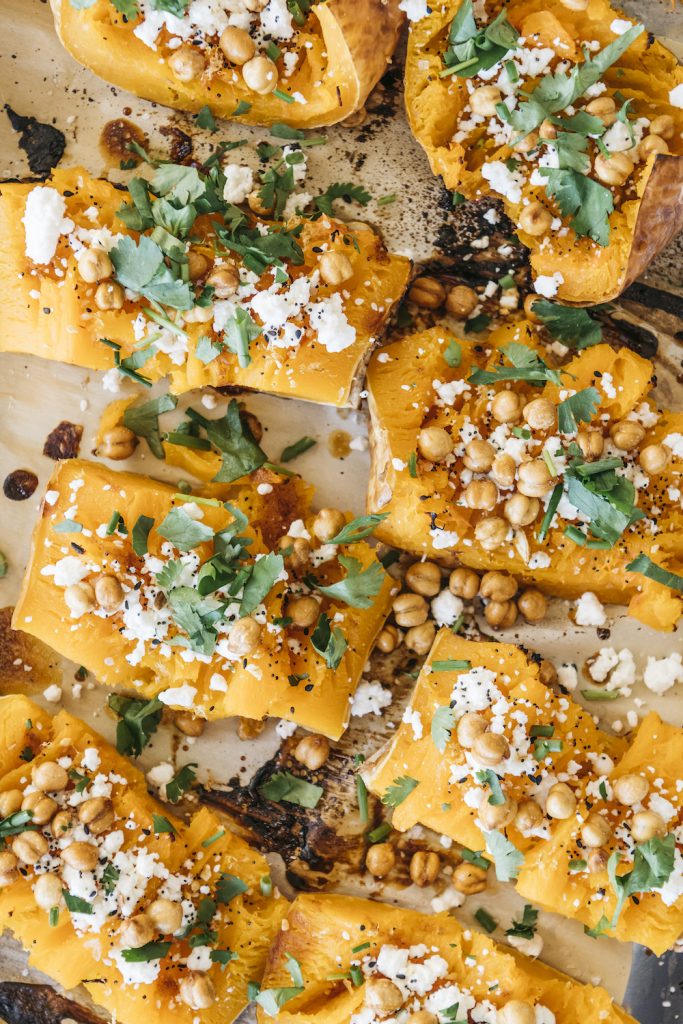 Why We Love It: Butternut squash, though we love it, can be difficult to maneuver when peeling, cutting, and roasting. But in this recipe, you simply roast the entire thing. When your squash is out of the oven, slice it in half and go to town on the toppings. We're talking about lemon zest, lots of salt, honey, hot sauce, crispy chickpeas, goat cheese, everything seasoning, and cilantro. Yummm.
Hero Ingredient: Crispy chickpeas bring a nice crunch that cuts through all the creaminess.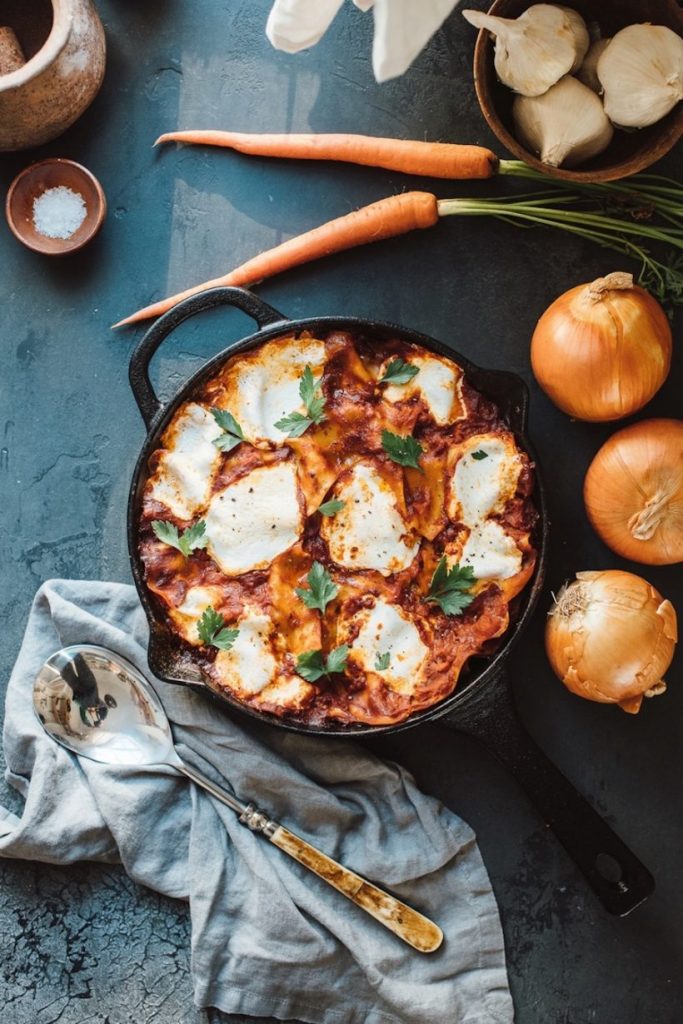 Why We Love It: Another one-pot wonder, this skillet eggplant lasagna is the weeknight dinner you've been searching for. The eggplant is sliced super-thin to mimic the look and feel of noodles, and store-bought marinara adds the easiest flavor boost. All you have to do is brown the eggplant, layer with spinach, red pepper flakes, ricotta, a few gluten-free lasagna noodles, and repeat. Finish it off with melty mozzarella. Pure bliss.
Hero Ingredient: Whole milk ricotta is key to get maximum cheesy creaminess.
What are your favorite gluten-free fall recipes? Share them with us in the comments!