I remember when she was too small for the shopping cart seat… I internally, maternally lamented. Meanwhile, my daughter's eyes were fixed happily upon her purple balloon bobbing in the air until… "Mommy! Look!" Moments later, something more intriguing captivated her eye. It wasn't the run-of-the-mill apples or bananas she suddenly felt compelled to squeal and grasp for. Not even the exotic Buddha Hand citrus or dragon fruits won her gaze. No, it was a more bizarre and interesting plant (though not technically considered a plant). Mushrooms. Gray-blue stacked orbs of them (oyster mushrooms), frayed, chartreuse-colored, honey-suckle shapes (chanterelles) Creminis. Shiitakes. Portobellos. Prized boxes of truffles. The list goes on. Seeing such sheer delight on her face, I grabbed a variety of them and started thinking about some healthy mushroom recipes I could make this week.
In the recent, award-winning documentary Fantastic Fungi I learned that mushrooms comprise over 5 million species on the planet. While these little fungi have existed on earth for hundreds of millions of years, they seem to be popping up everywhere I turn. Many are lured by their unique forms and flavors. More recently, however, people seem more interested in the ubiquitous health benefits of mushrooms.
In this article, we focus on healthy mushroom recipes (my personal favorites are shiitake, lion's mane, and truffle) that are as good for your mind and body as they are for your taste buds.
image above: the first mess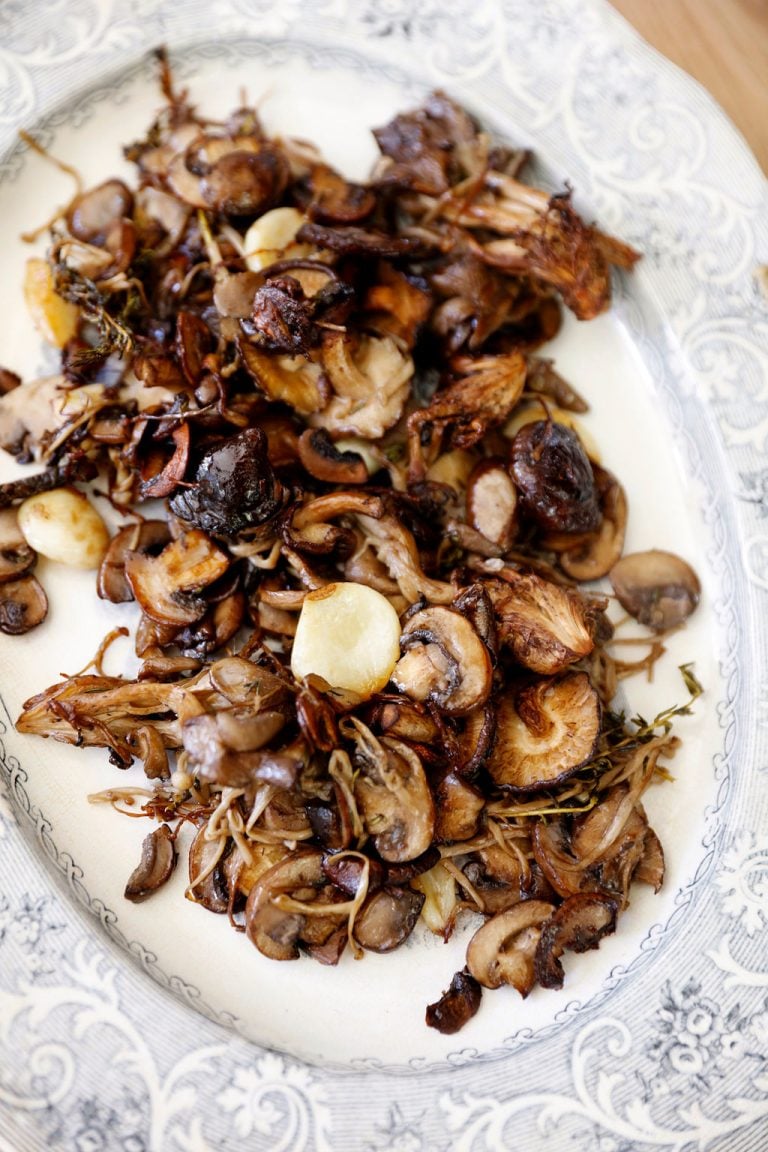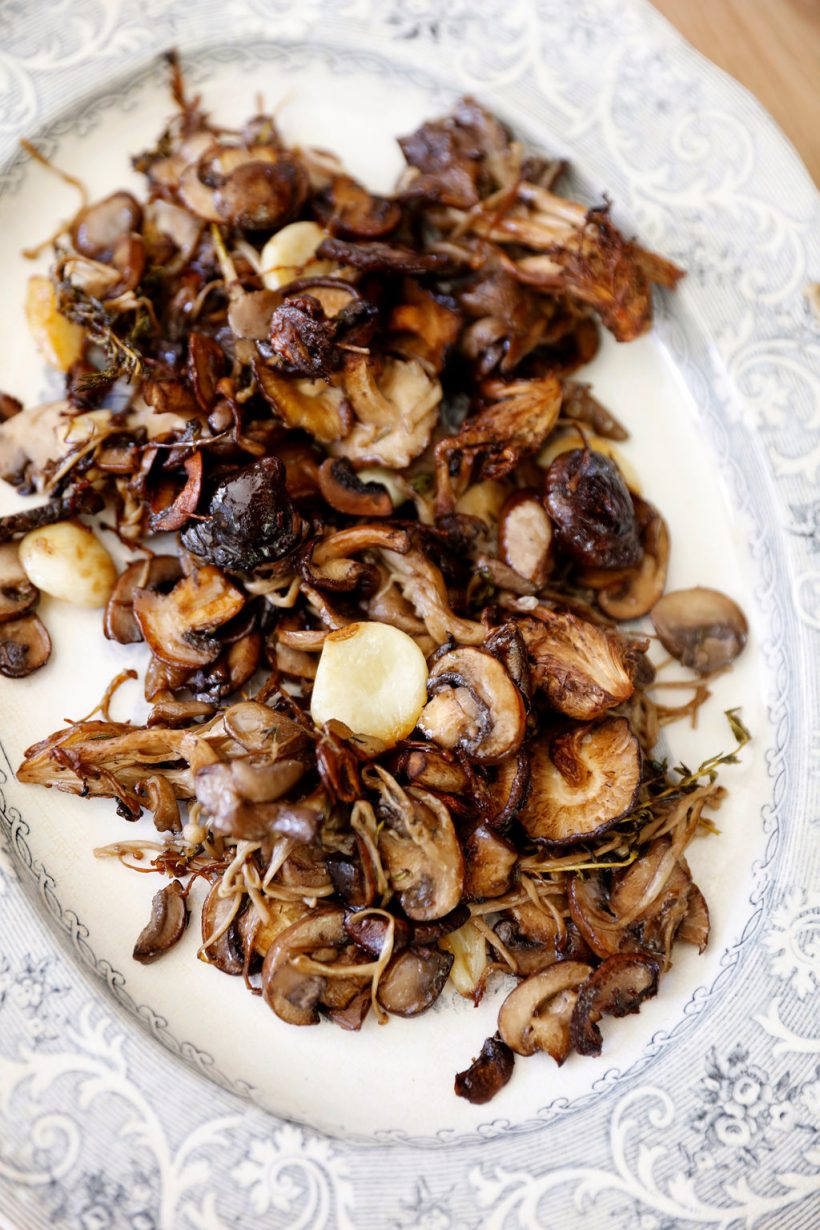 How to prep mushrooms:
Use a damp rag or paper towel to wipe away dirt. Rinsing them directly in water can oversaturate the mushrooms and prevent desired browning.
After that, I like to set them on a rag or towel to dry while I prep the skillet.
Be sure to store mushrooms in a paper bag to keep them fresher longer.
Which mushrooms to cook with:
Shiitake: Shiitakes are relatively easy to find and have an unbeatable, delicate, umami flavor profile. They are high in eritadenine which lowers cholesterol.
Oyster: With caps shaped like oysters, this mushroom variety is a delicious and interesting one to toss into your stir fries and thai soups!
Lion's Mane: Lion's mane mushrooms have an incredibly meaty texture, slight seafood flavor and neurotrophic properties. It checks all the boxes!
Cooking tips for making mushrooms taste the best:
Leave them be! When sauteing your shrooms initially, leave them alone for a minute so they can develop a bit of crispness, then saute away.
A splash of vinegar, tamari or red wine a few minutes in goes a long way! 
Topping mushrooms with fresh herbs balances their meatiness with a delicate vibrancy, a feast for the eyes and palate alike. Some favorites? Thyme. Parsley. Tarragon.
18 Healthy Mushroom Recipes to Try This Week: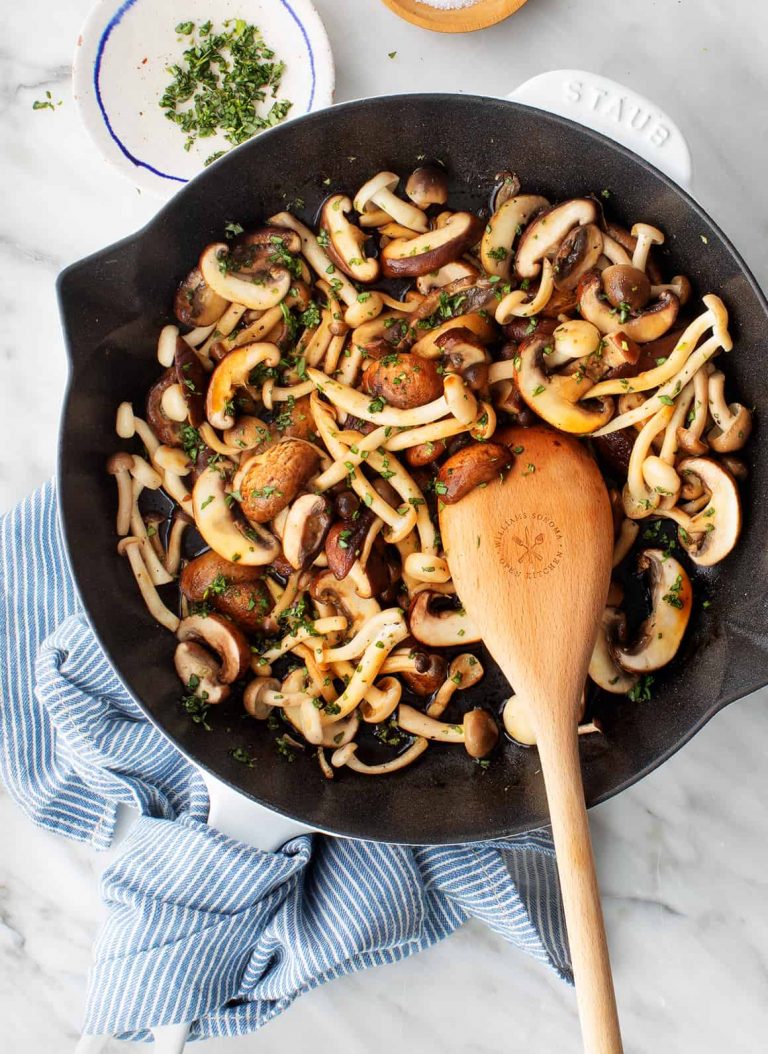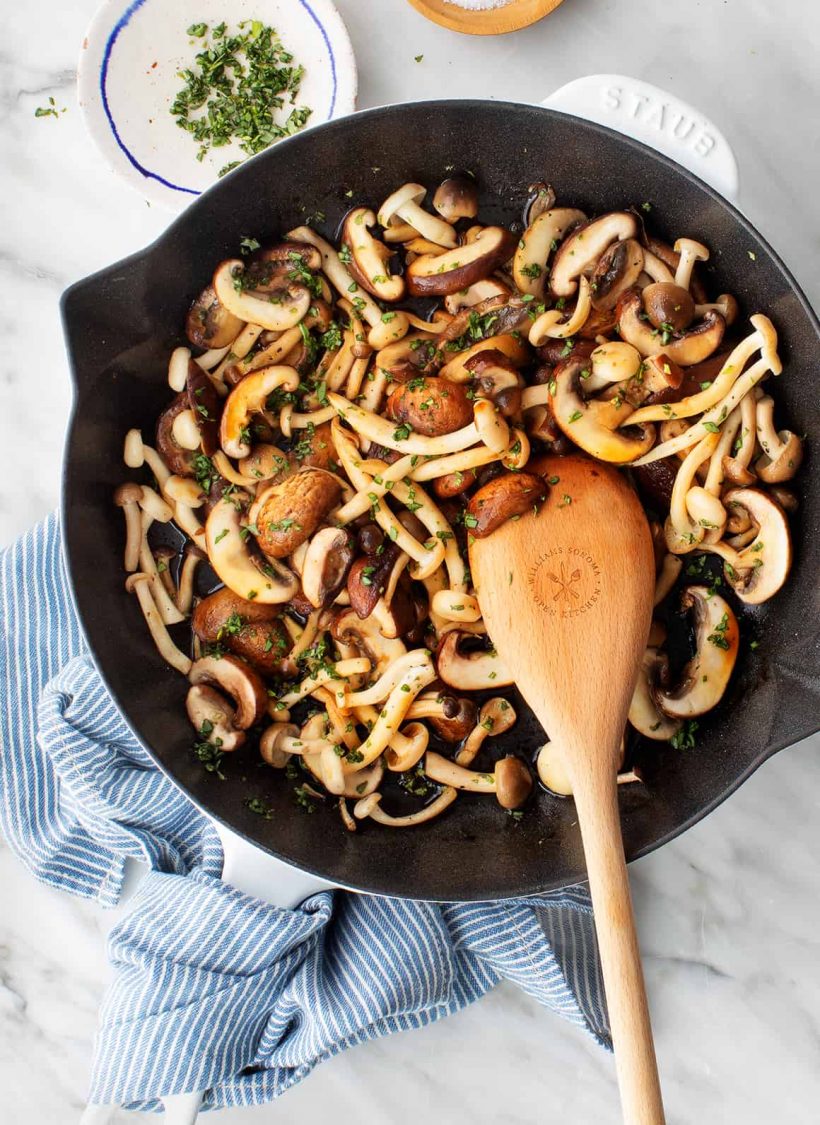 Sauteed Mushrooms by Love and Lemons
Why we love it: It only feels natural to kick off our roundup of these fantastic fungi with an expert guide to sauteed mushrooms. Simply sauteeing mushrooms highlights their unique, umami flavor in an approachable way.
Hero ingredient: This summer I grew incredibly fond of the Mexican Mint Marigold I planted in my garden, likely because it was so resonant of another herb I adore: tarragon. The light anise notes of tarragon in these sauteed mushrooms provide a delicious, herby element.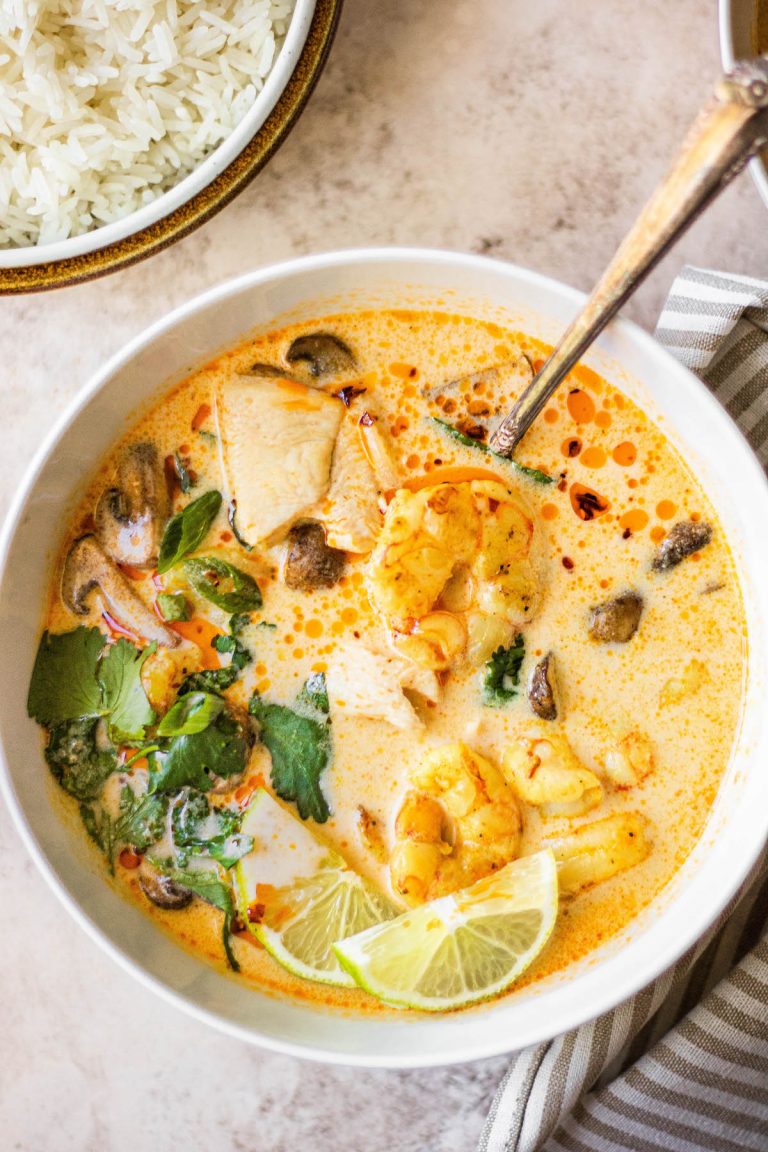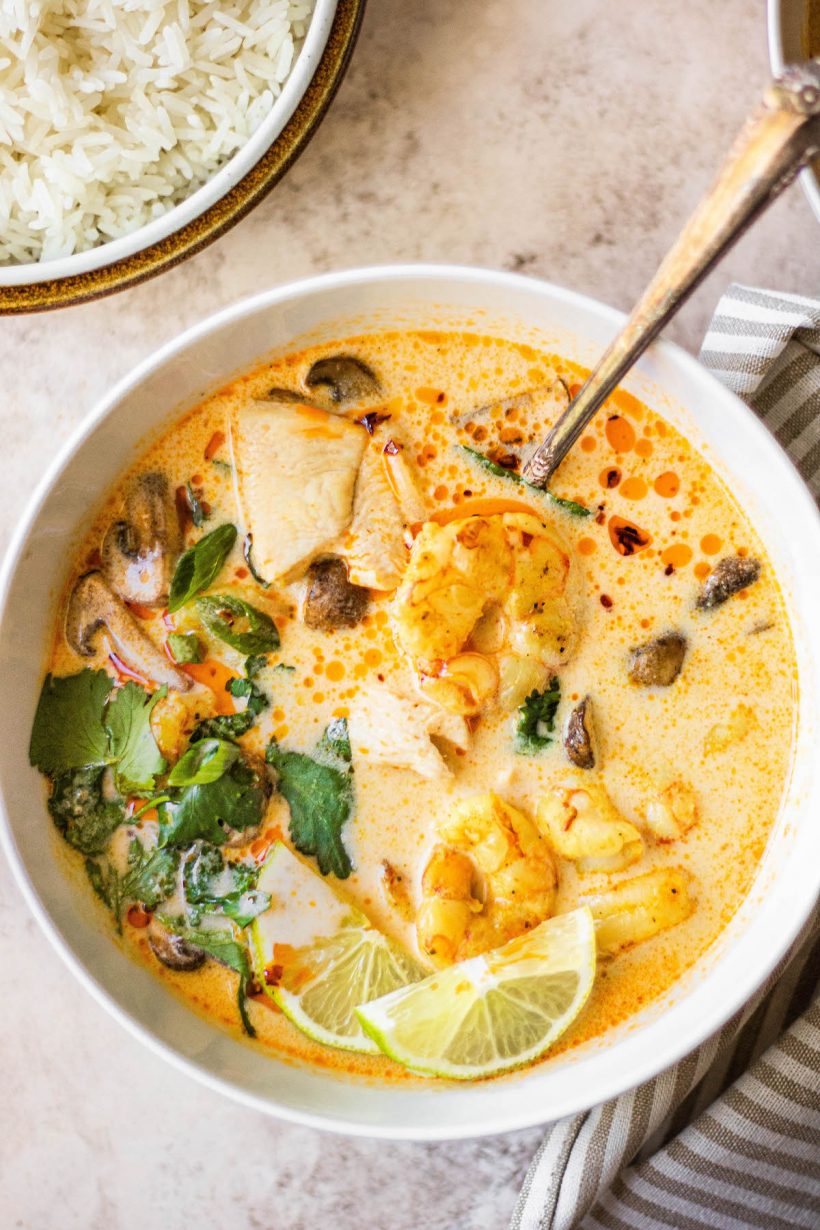 Tom Kha Gai (Thai Coconut Soup) by So Much Food
Why we love it: It doesn't get much better than a good Thai soup. Tom Kha Gai is as nutritious as it is flavorful. The aromatics here like lemongrass and ginger are serious game-changers.
Hero ingredient: Homemade chicken stock translates to deeper levels of richness and complexity. Let your Instapot do the work!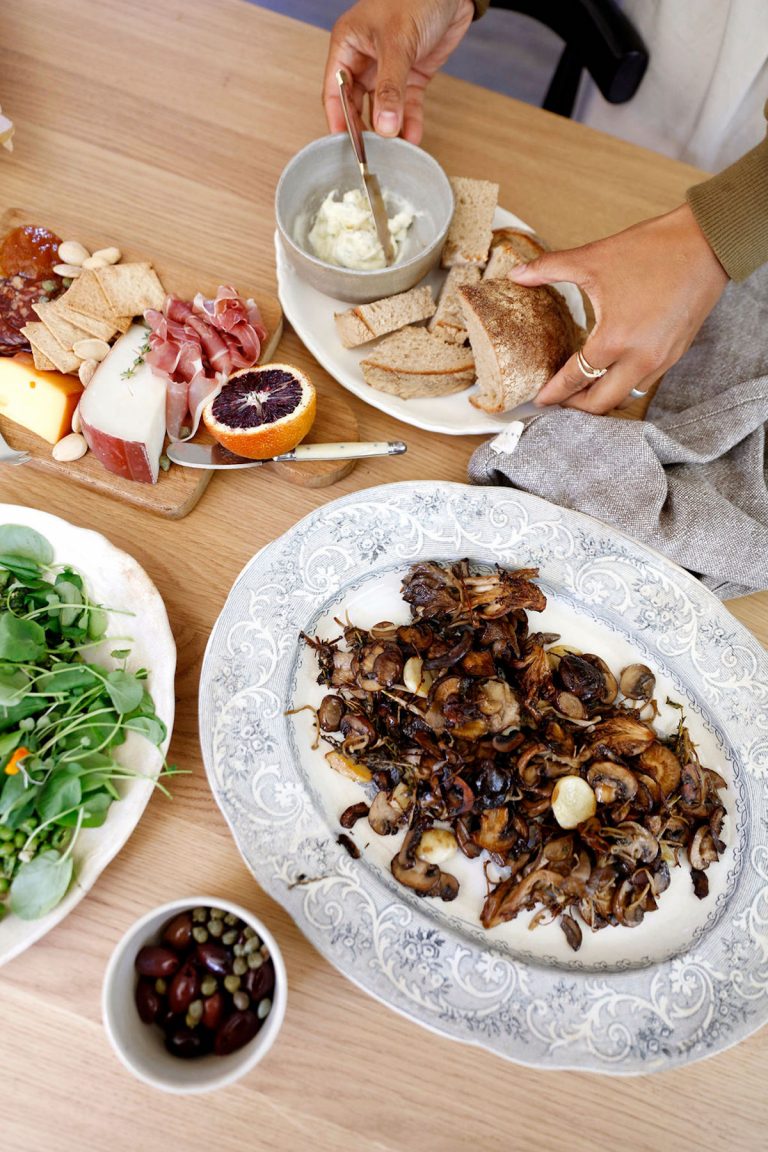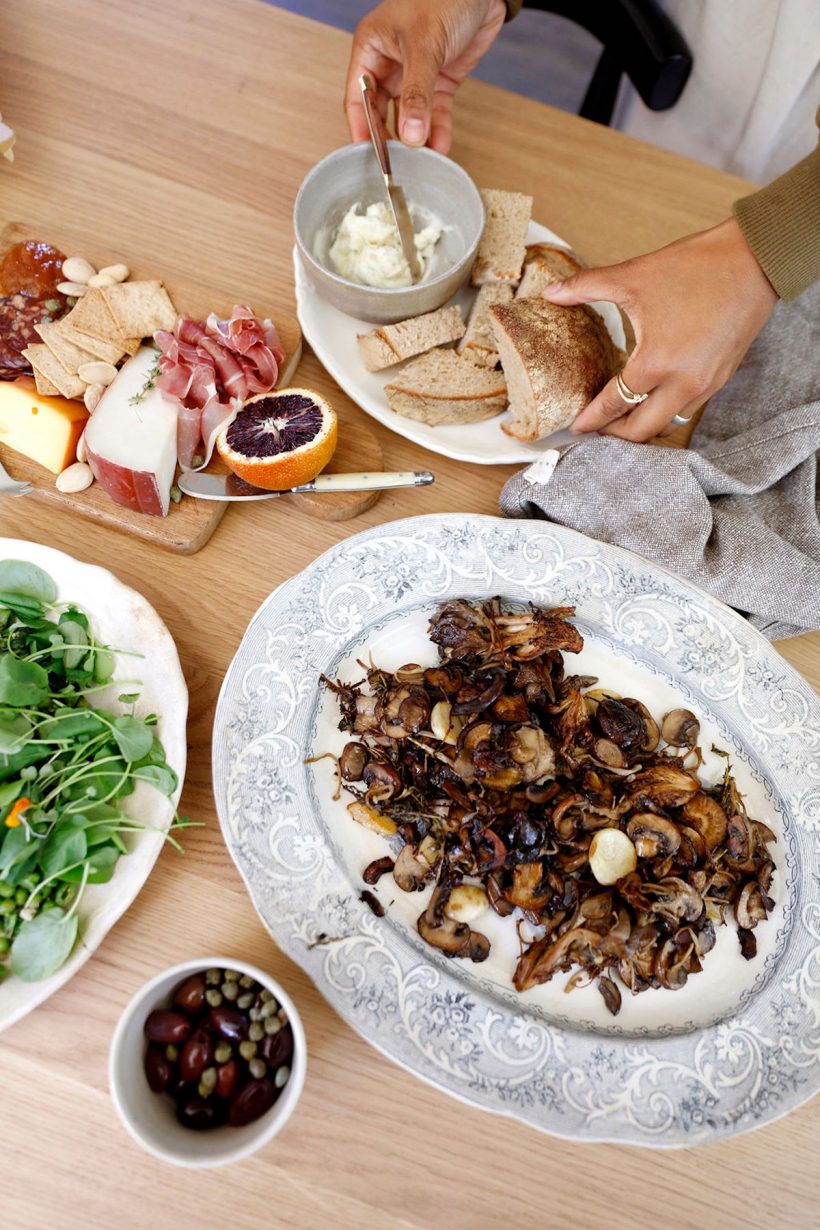 Roasted Mushrooms With Thyme and Smoked Salt
Why we love it: If this dish doesn't convert you into a mushroom lover, I'm not sure what will! The variety of mushrooms is how this recipe stands apart.
Hero ingredient: Dijon mustard zips in a little extra tang you didn't even know you needed!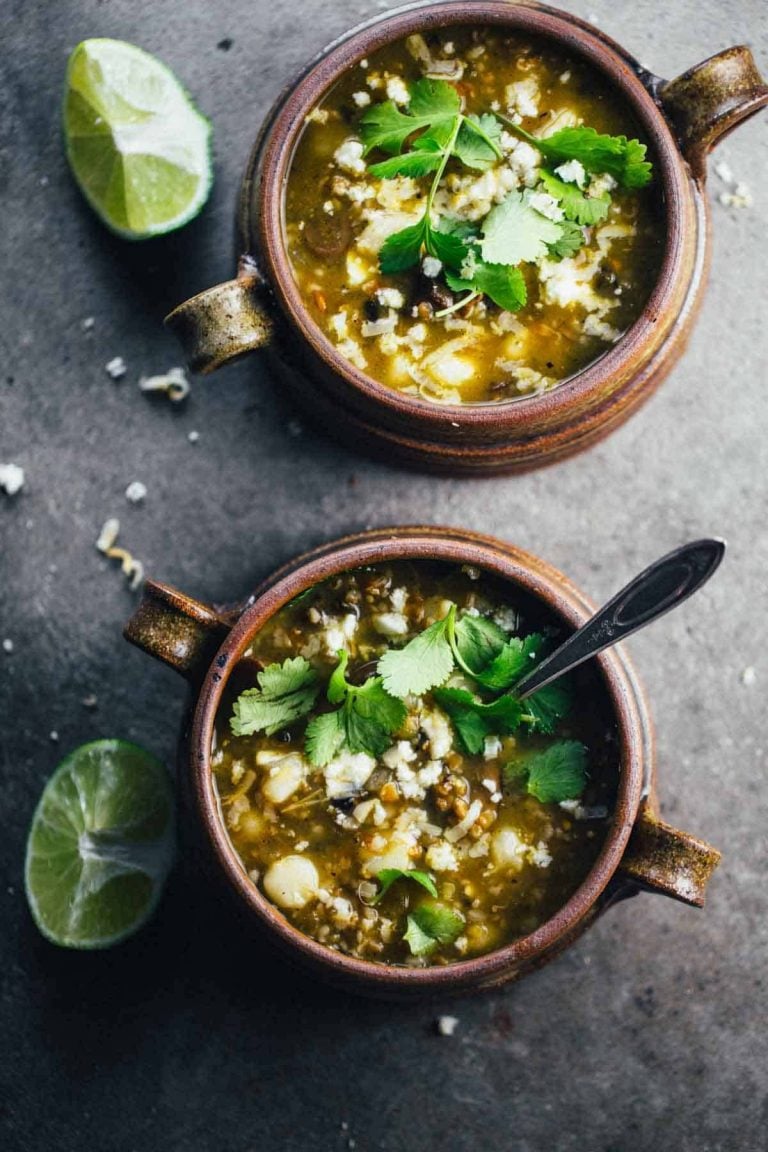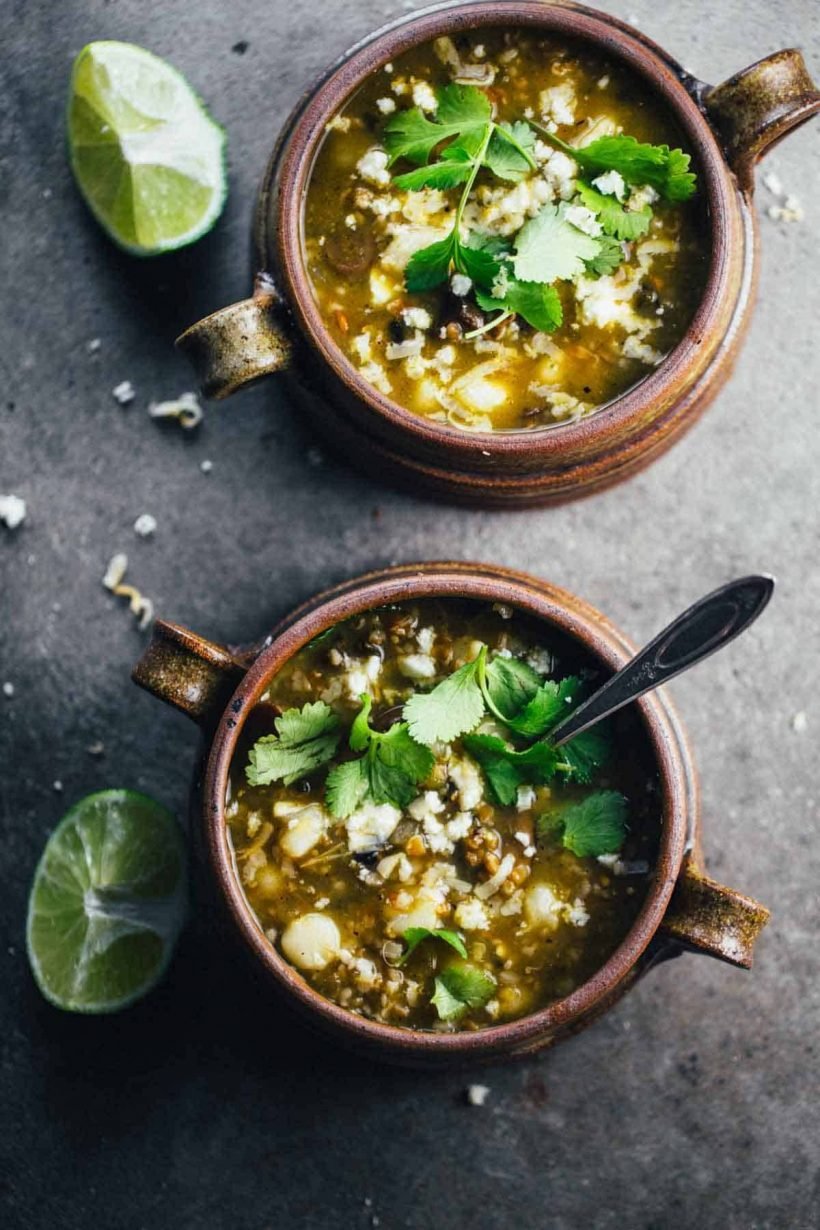 Mushroom Poblano Pozole Verde by Pinch of Yum
Why we love it: Anytime I see pozole on the menu, it's a done deal. This Mexican soup, always made with hominy, is surefire soul food.
Hero ingredient: Bulgar adds an unexpected, satisfying bite.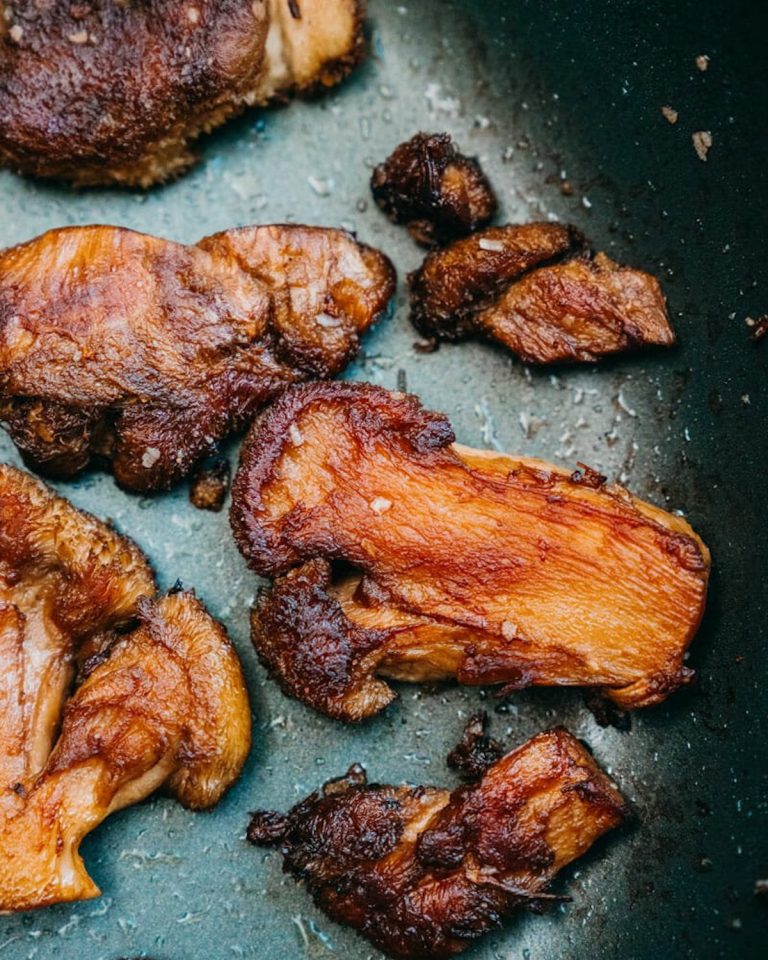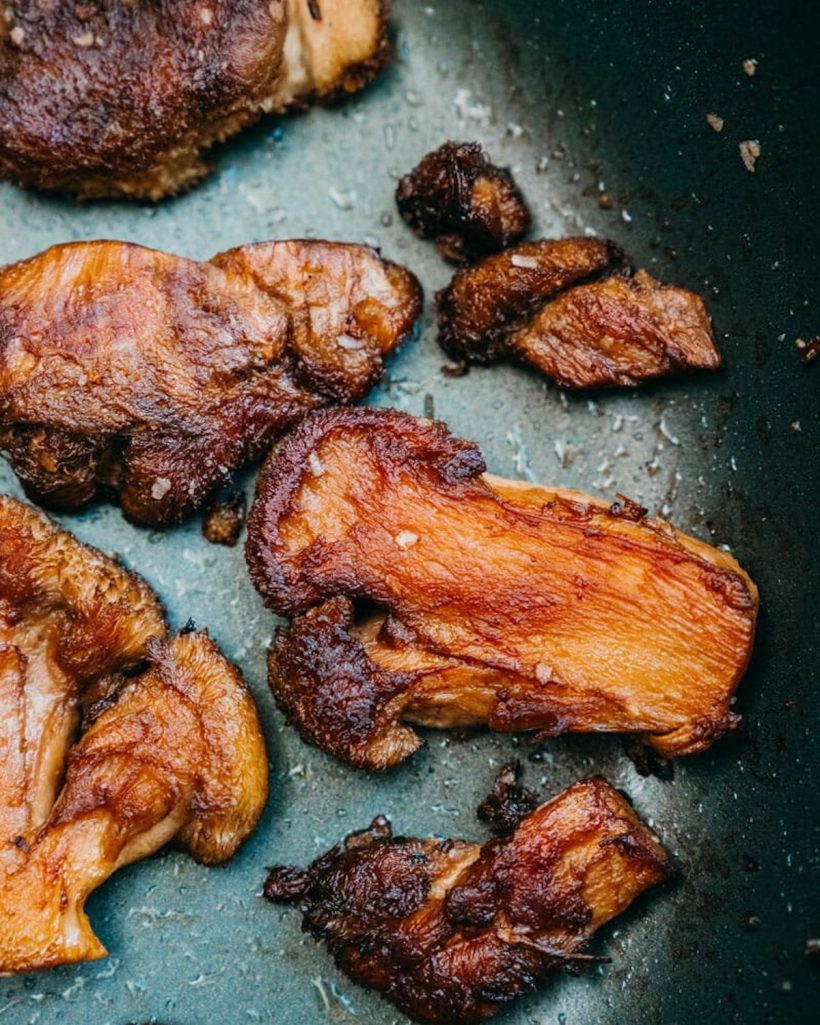 Lion's Mane Mushrooms by A Couple Cooks
Why we love it: Playing with new mushroom varieties is always fun, and lion's mane are no exception! The simplicity of this recipe really highlights the actual flavor of the mushroom.
Hero ingredient: Lion's Mane, of course!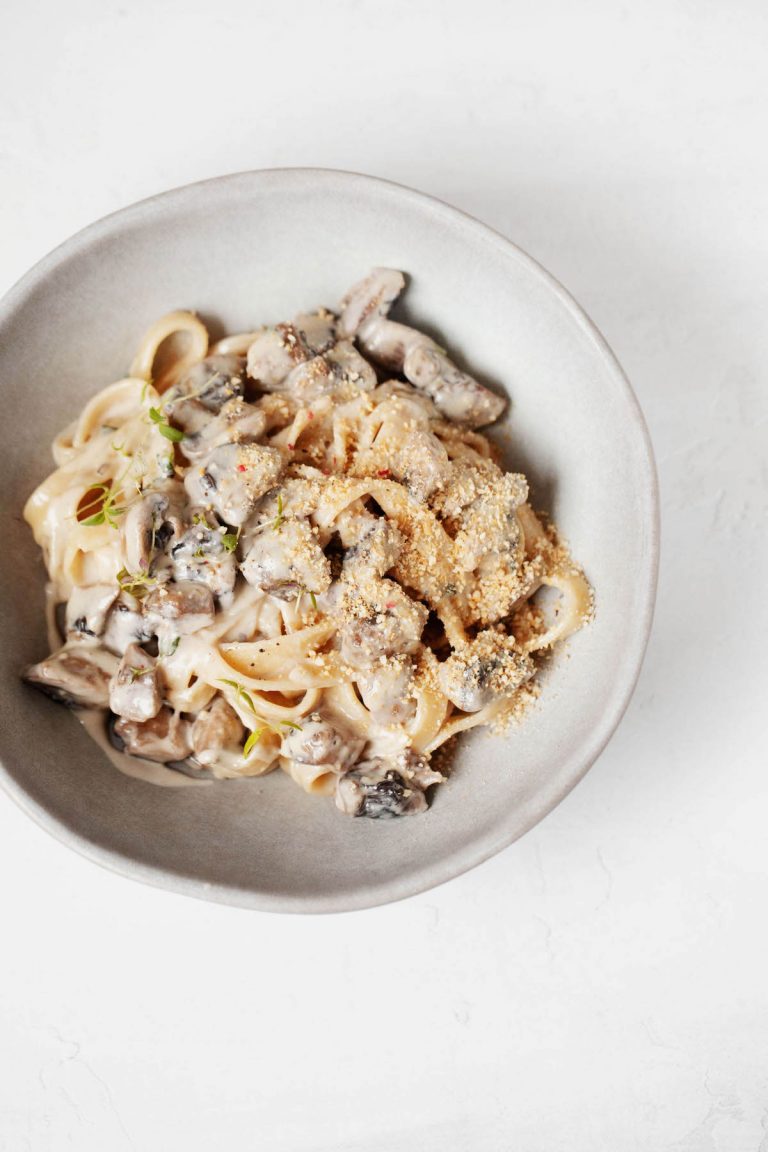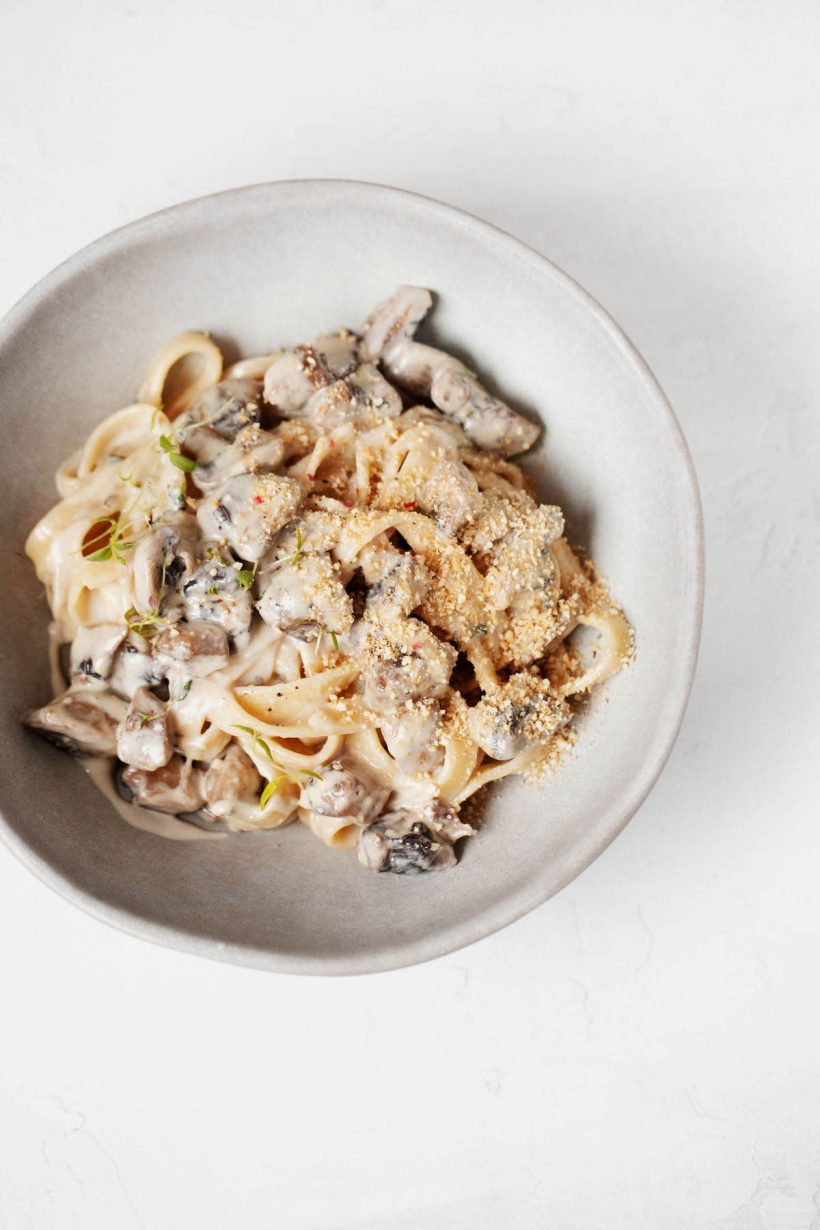 Creamy Vegan Mushroom Pasta by The Full Helping
Why we love it: This pasta is a dreamboat recipe, the kind my soul craves. Plus, it's ready in 30 minutes or less.
Hero ingredient: Vegan cashew cream eliminates the dairy and increases the protein.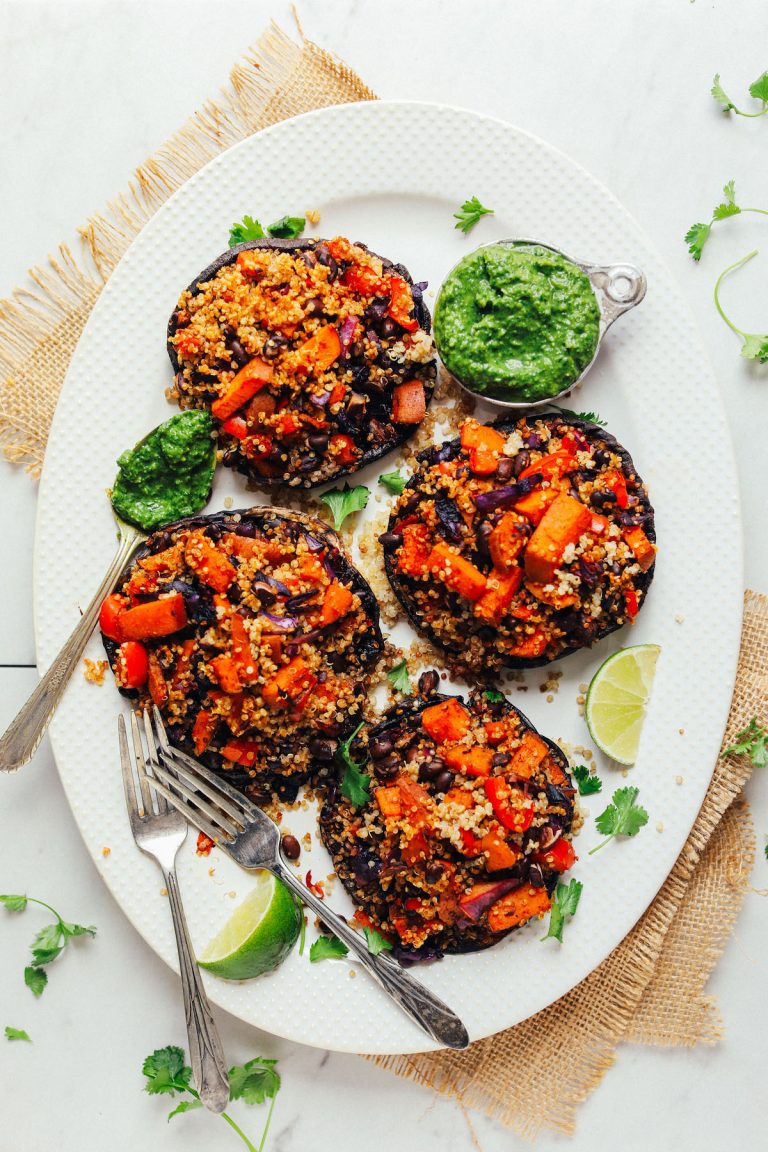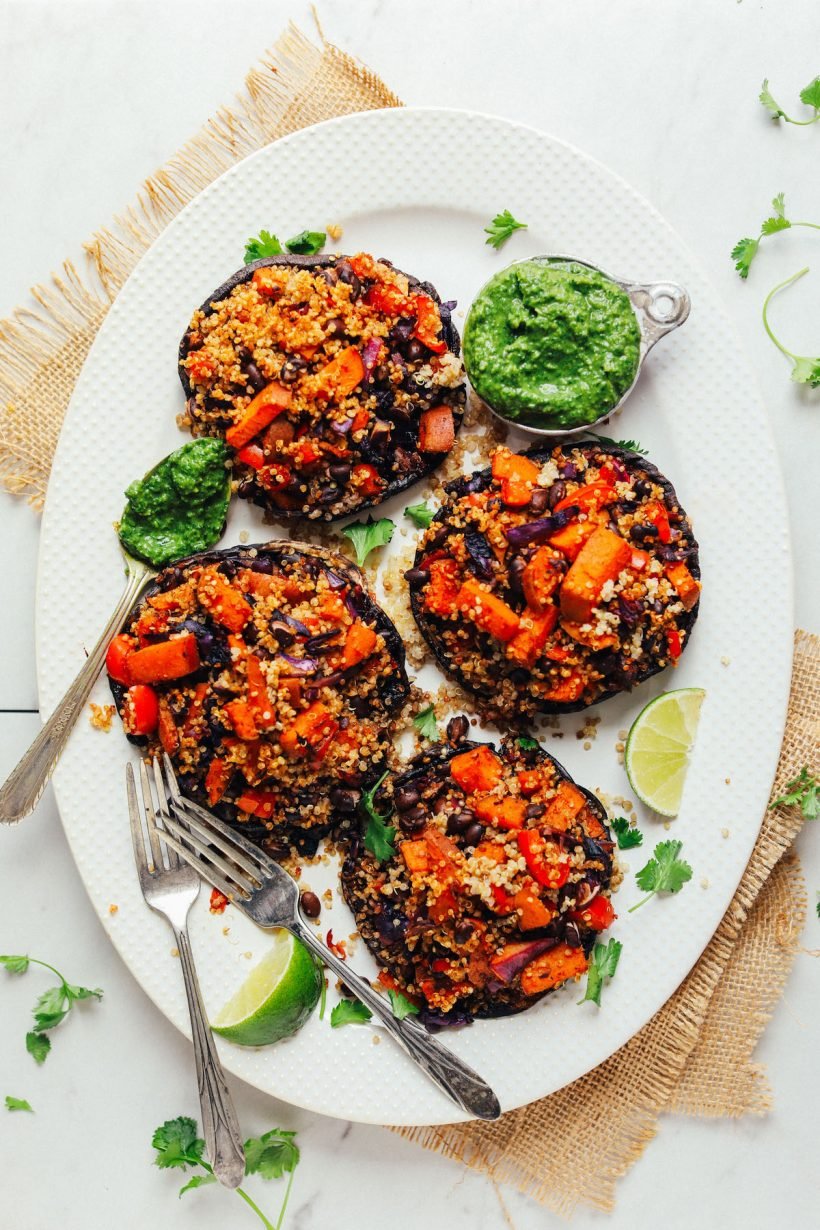 Quinoa and Vegetable Stuffed Portobello Mushrooms by Minimalist Baker
Why we love it: Behold the portobello! I love stuffing portobellos with anything and everything, but this quinoa and vegetable combination has to be one of the best.
Hero ingredient: Quinoa, an ancient grain, is rich in protein, dietary fiber, Vitamin B and more.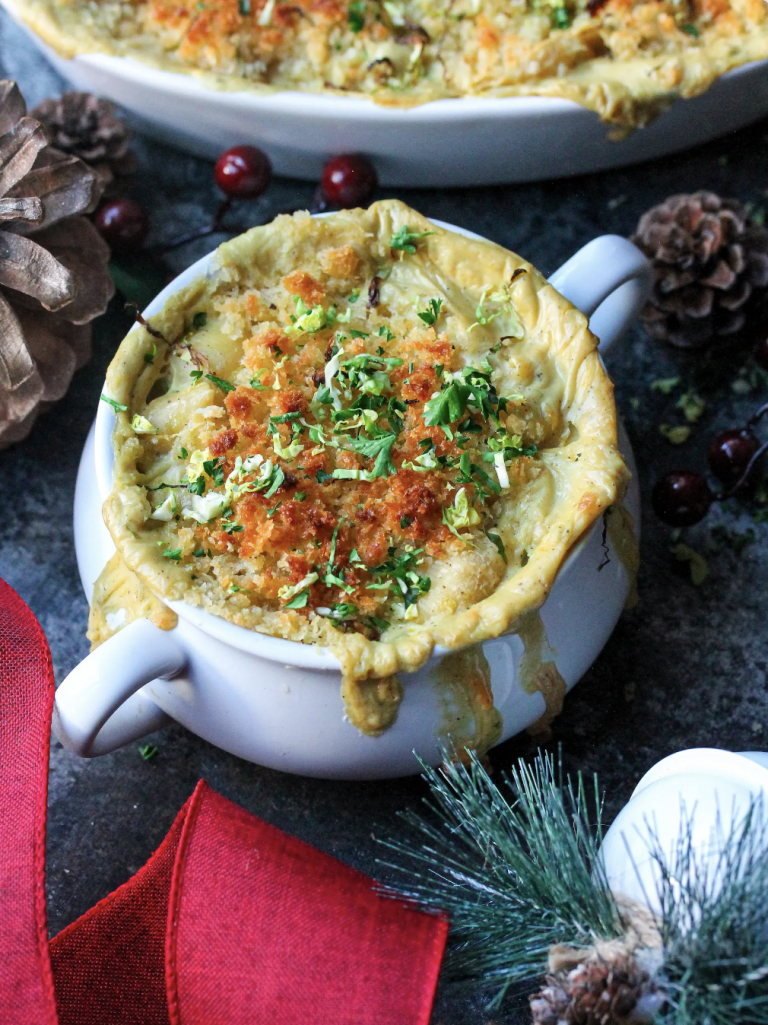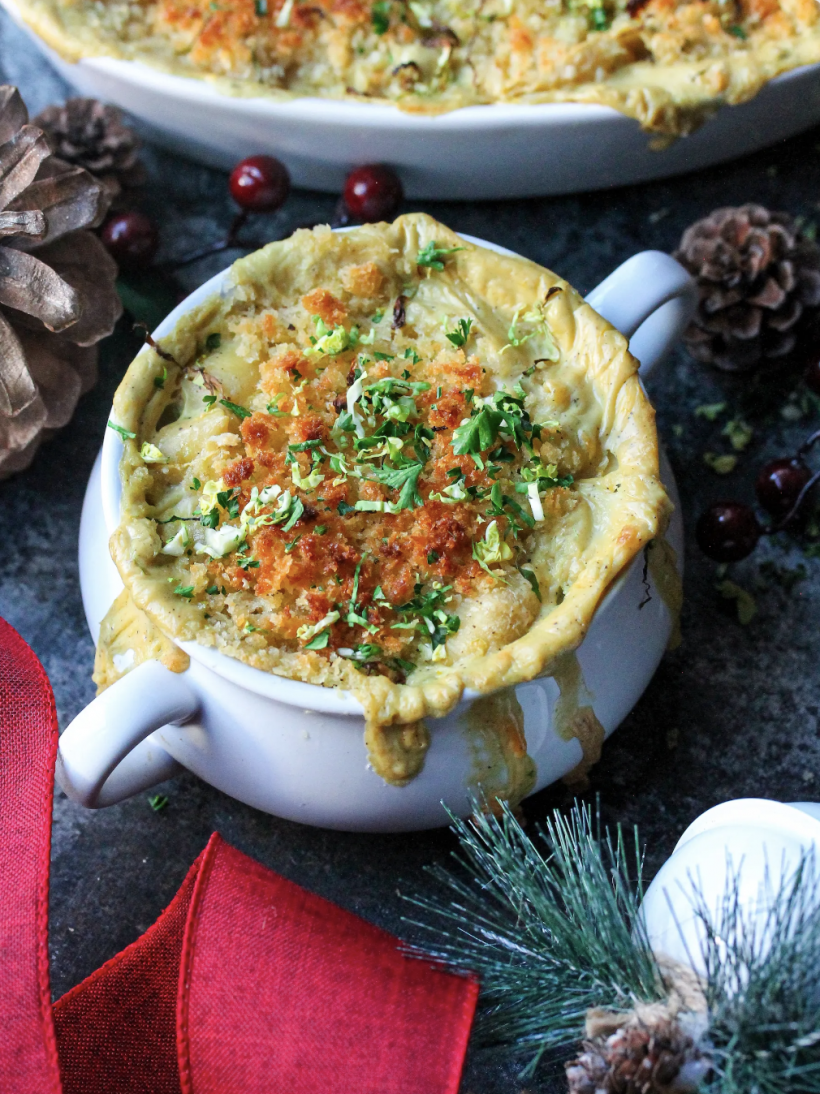 Baked Vegan White Truffle Mac 'n Cheese by Eat Figs Not Pigs
Why we love it: This mushroom recipe roundup simply wouldn't be complete without the inclusion of truffles. This truffle mac 'n cheese is lightened up a bit, but still has all the decadent layers of flavor.
Hero ingredient: Truffles are a splurge, so using truffle salt or oil makes it a little easier on the wallet. The rich, funky truffle flavor is still very discernable.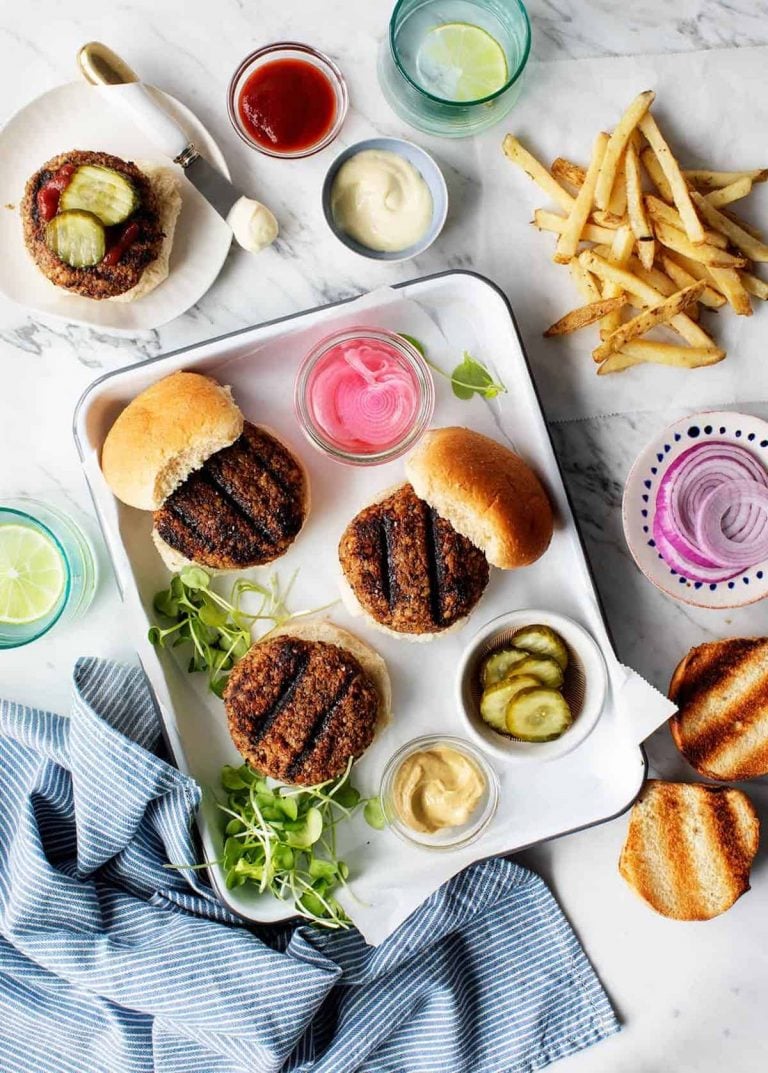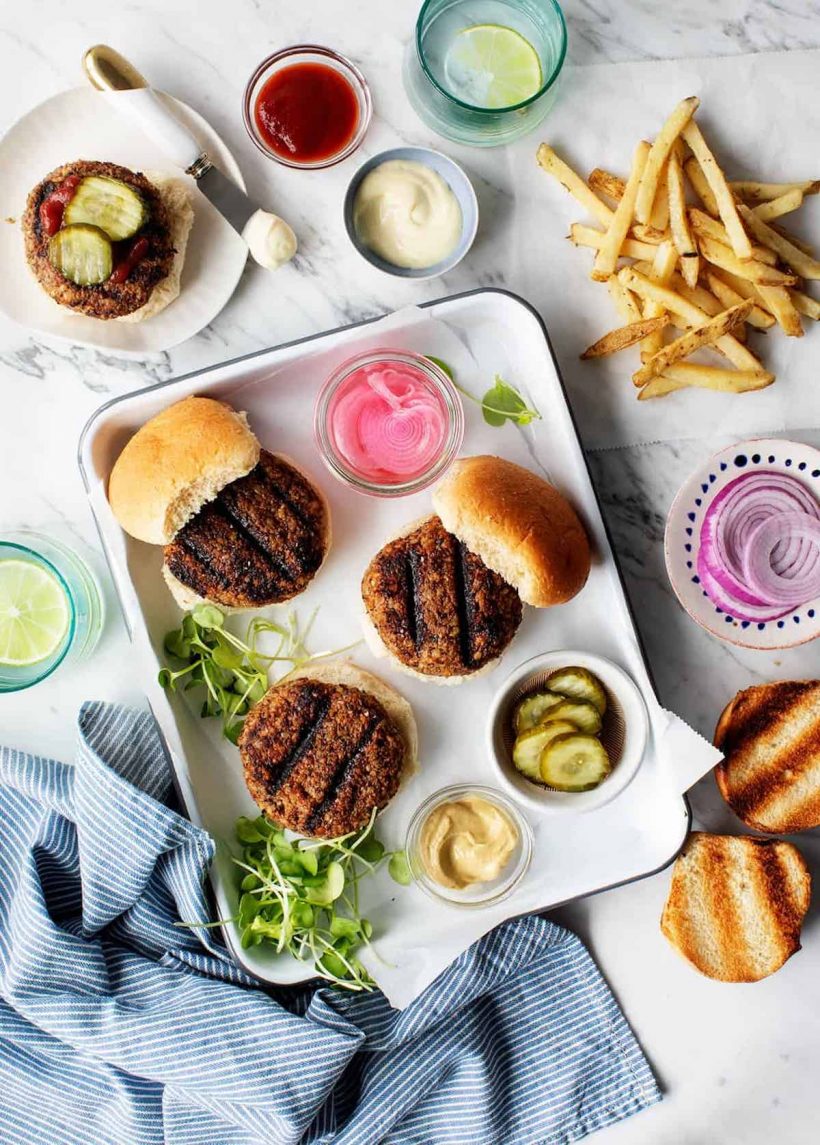 Veggie Burgers by Love and Lemons
Why we love it: A departure from your typical bean-based veggie burgers, these burgers are made primarily with shiitake and portobello mushrooms. A sprinkle of smoked paprika and drizzle of sriracha keeps the flavor game on point.
Hero ingredient: I'm all about the crunch. Crushed walnuts provide just that!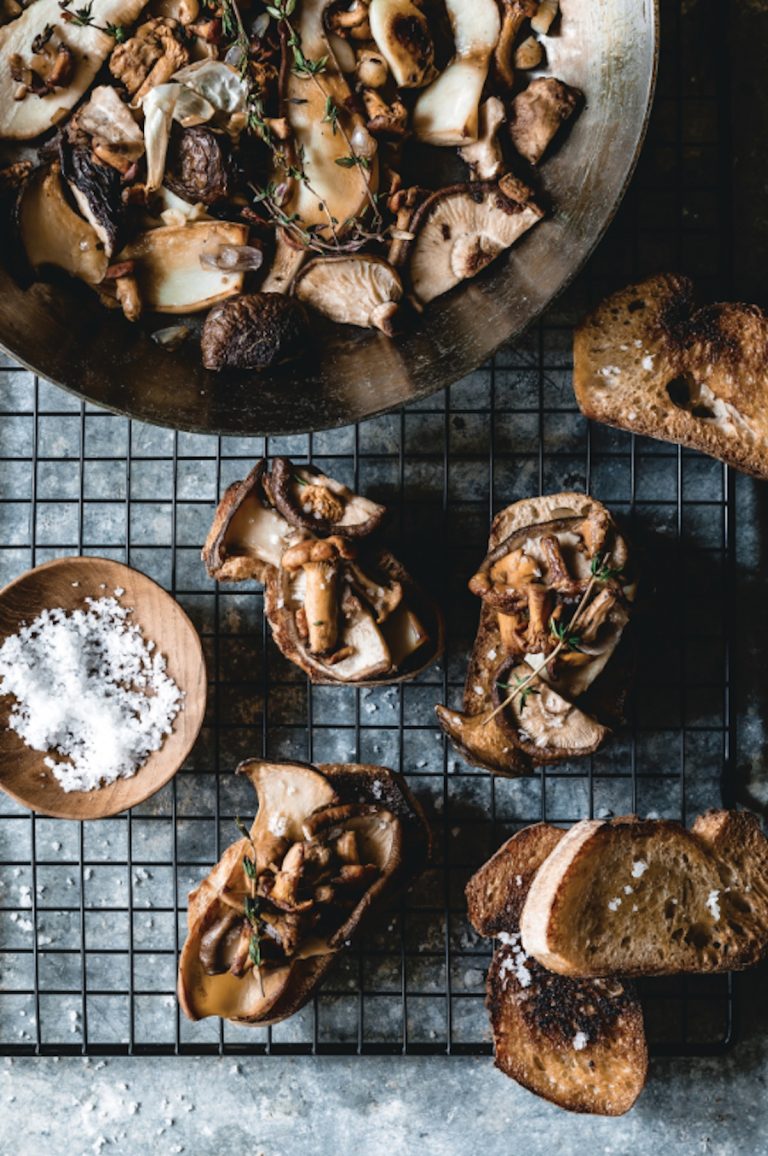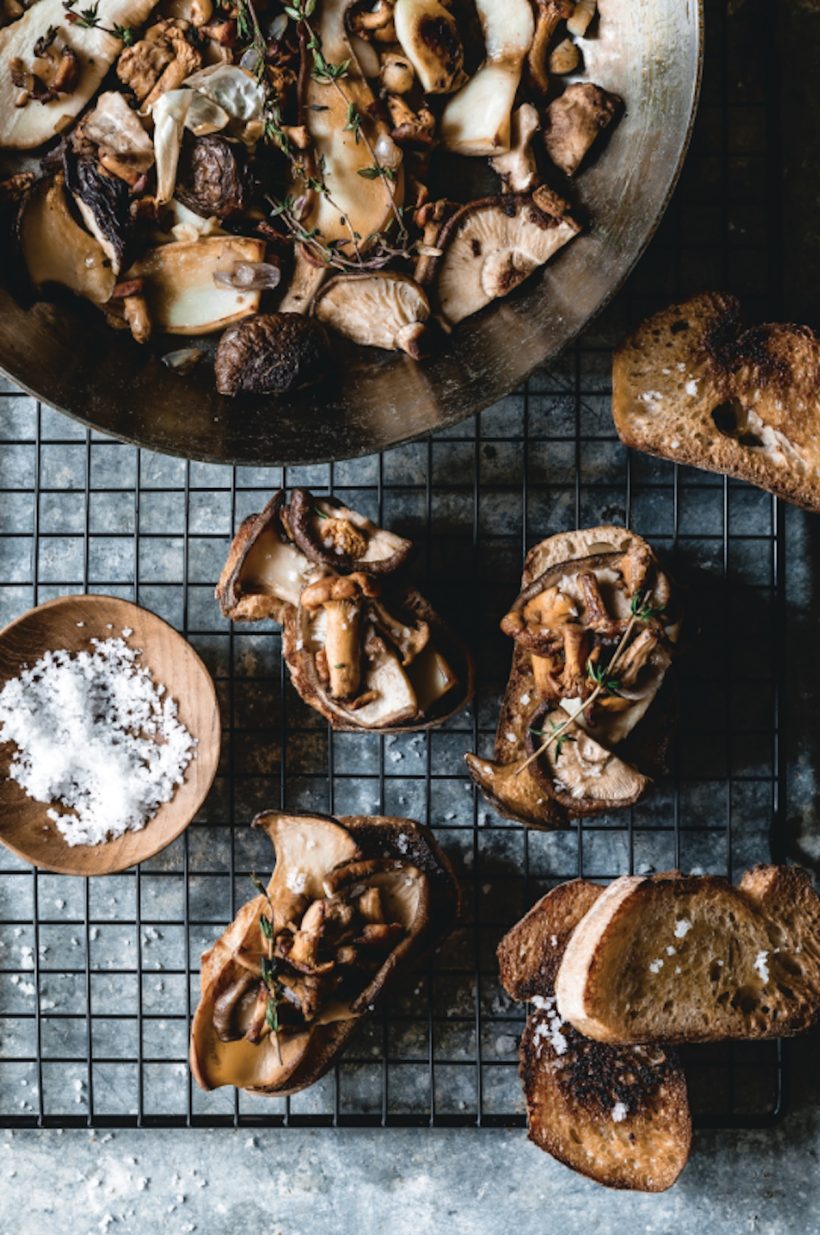 Crostini with Mushrooms by Origin
Why we love it: A crostini is a classic way to amplify the flavors of whatever it's topped with. In this case, a variety of mushrooms, garlic, shallot, thyme, and lemon. And a sprinkle of crunchy sea salt!
Hero ingredient: A squeeze of lemon here really revitalizes these swoon-worthy appetizers.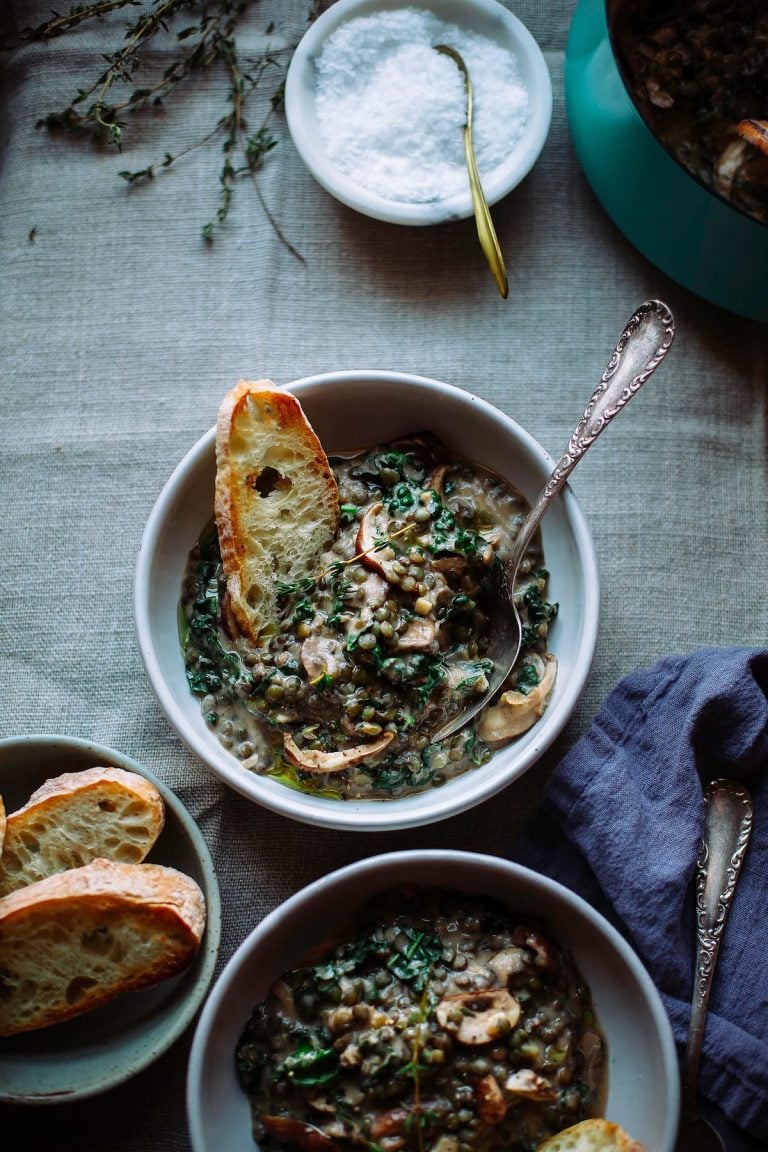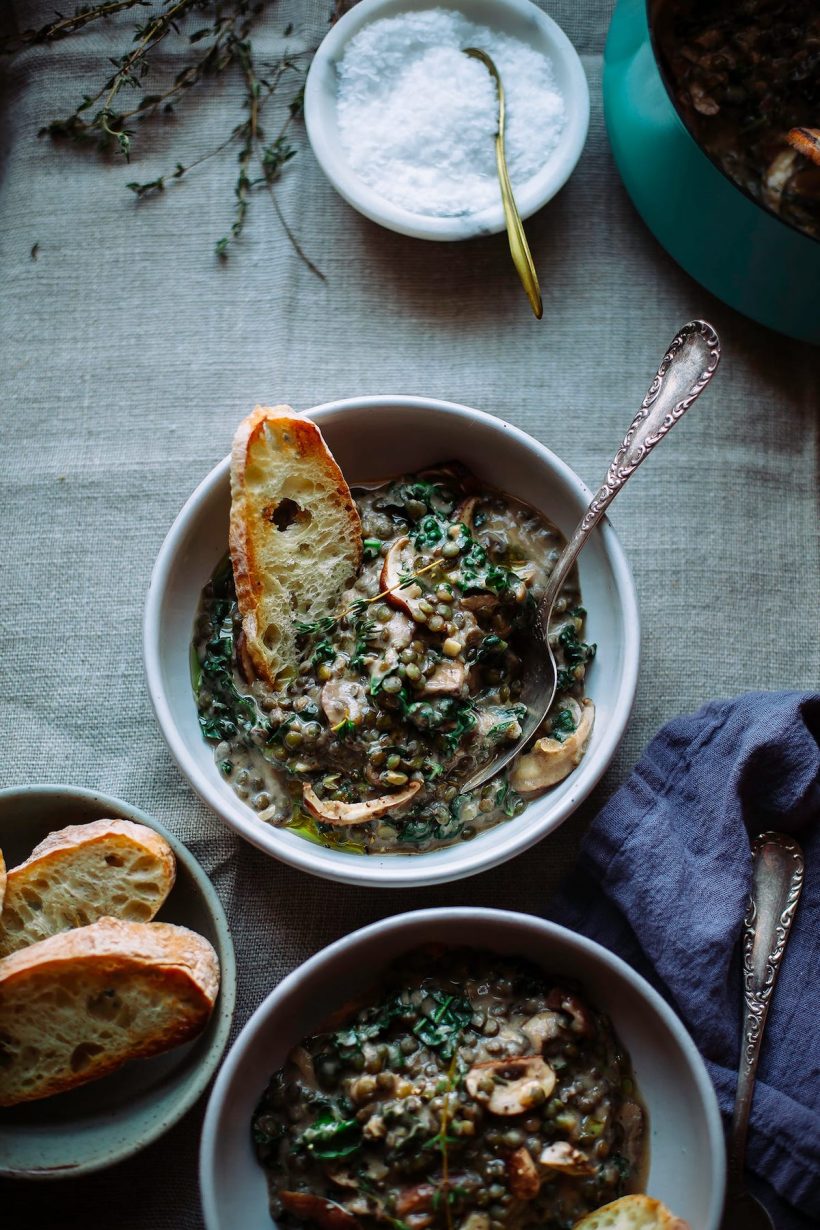 Creamy French Lentils with Mushrooms and Kale by The First Mess
Why we love it: I've been really craving healthy, comforting bowls lately and, when soup gets a bit boring, gussied up lentils are where it's at!
Hero ingredient: French green lentils are firmer and have a more peppery taste than other varieties. They remain intact against the softness of the mushrooms.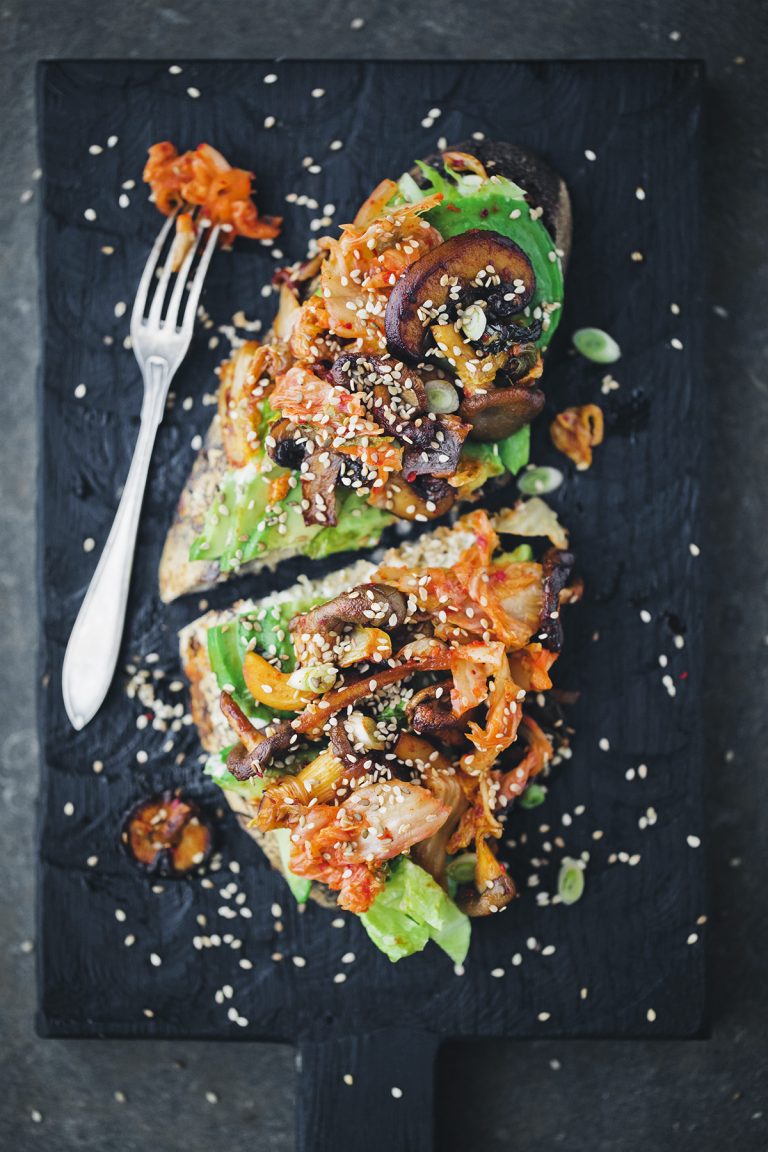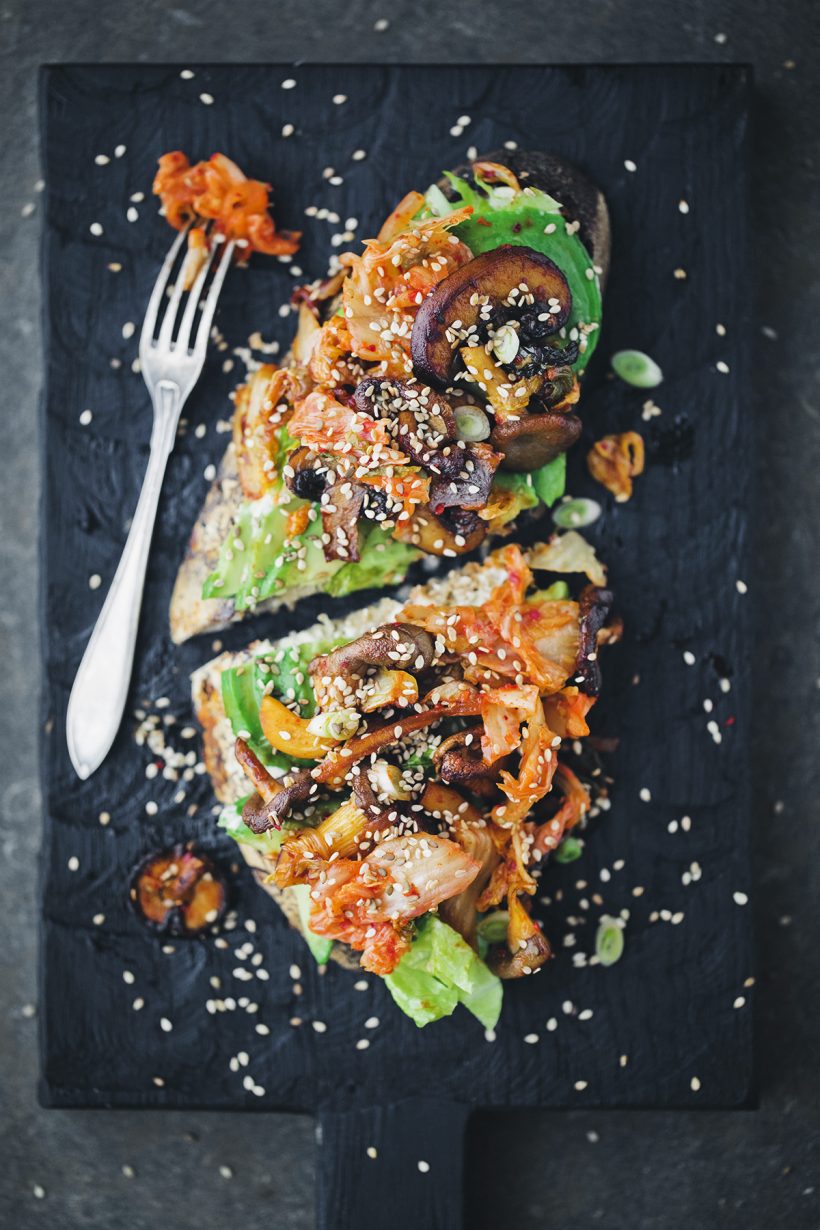 Kimchi Mushroom Avocado Sandwich by Green Kitchen Stories
Why we love it: The kimchi here is a crunchy, tangy contrast to the savory, soft mushrooms and creamy avocado. All loaded up on a crisp baguette. Or, another idea, atop some sauteed greens.
Hero ingredient: I'm forever aiming to incorporate more fermented foods into my diet to aid my digestive system. Things like kefir, kombucha, and kimchi (in this case) help establish a healthy pH balance in the body.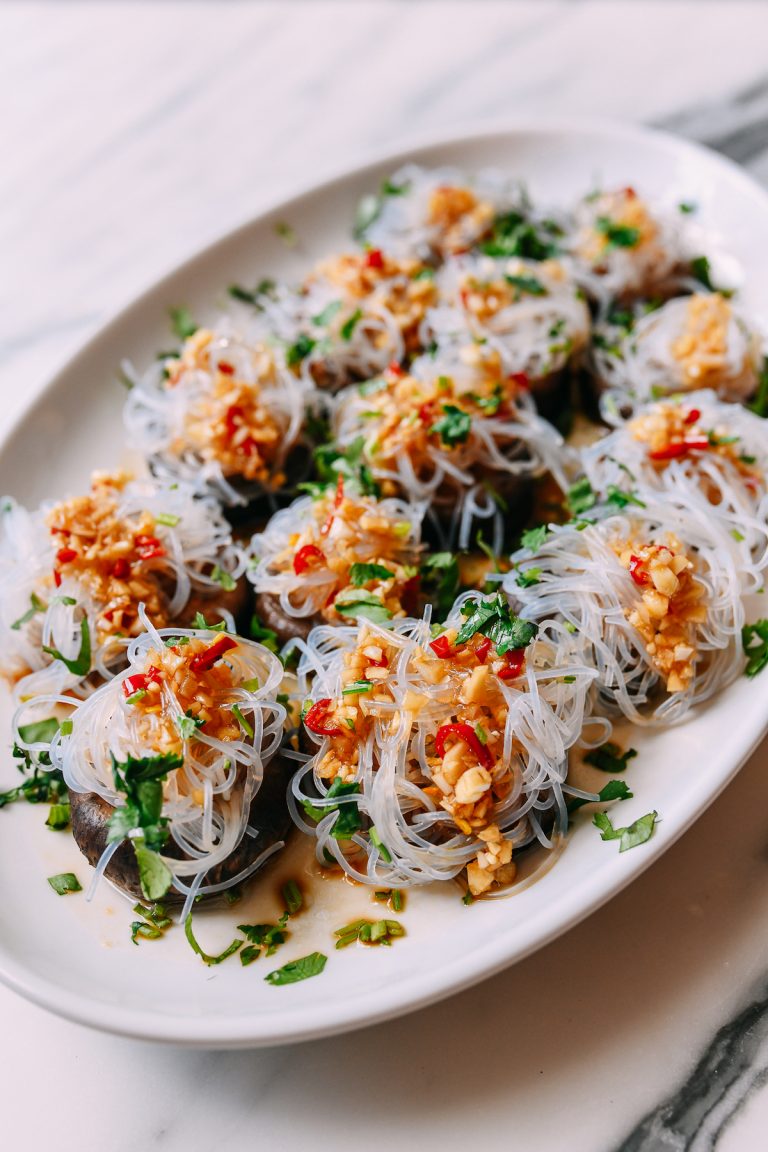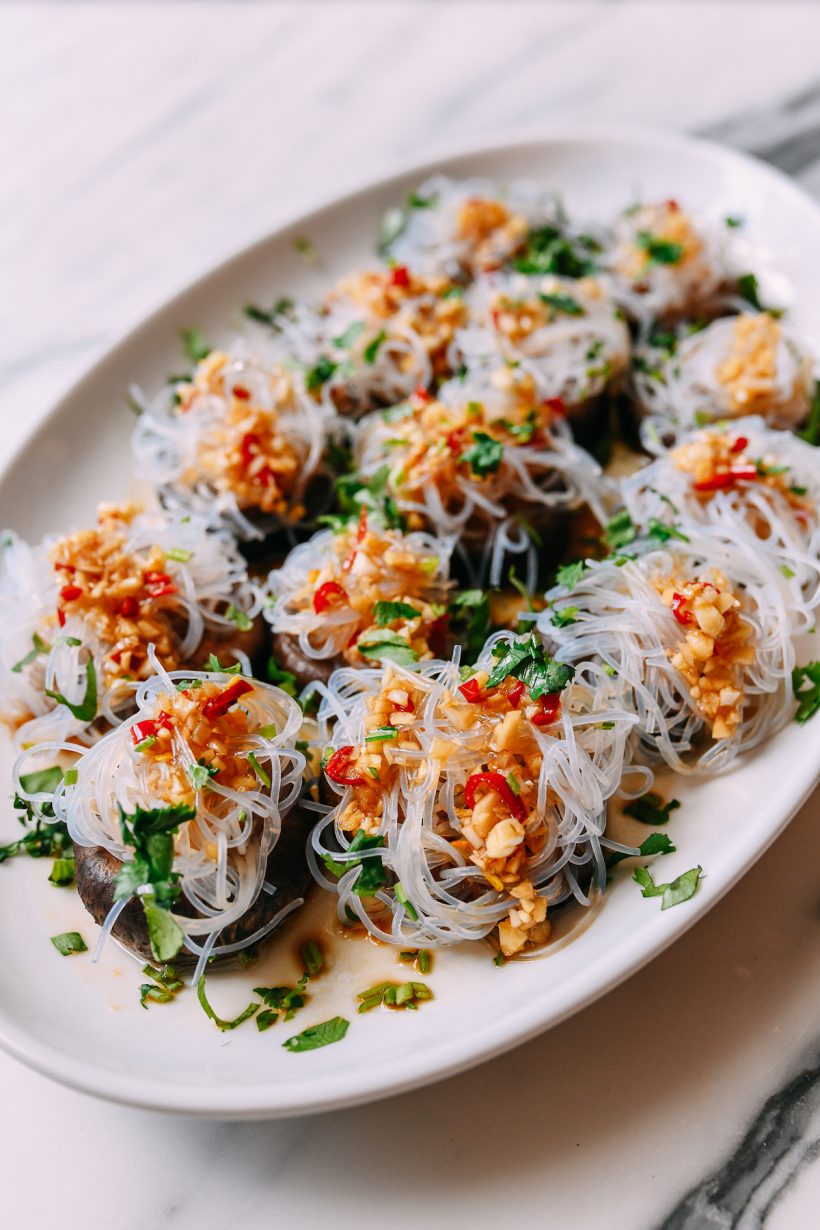 Spicy Garlic Shiitake Mushrooms and Glass Noodles by The Woks of Life
Why we love it: I think this is one of the most creative ways I've come across with mushroom recipes. These little nibbles are the perfect, savory bite any time you're in search of a healthy appetizer that's out of the ordinary.
Hero ingredient: Glass noodles may be one of the most underutilized noodle in my pantry, which is a shame! The texture and shape are too fun to forget about.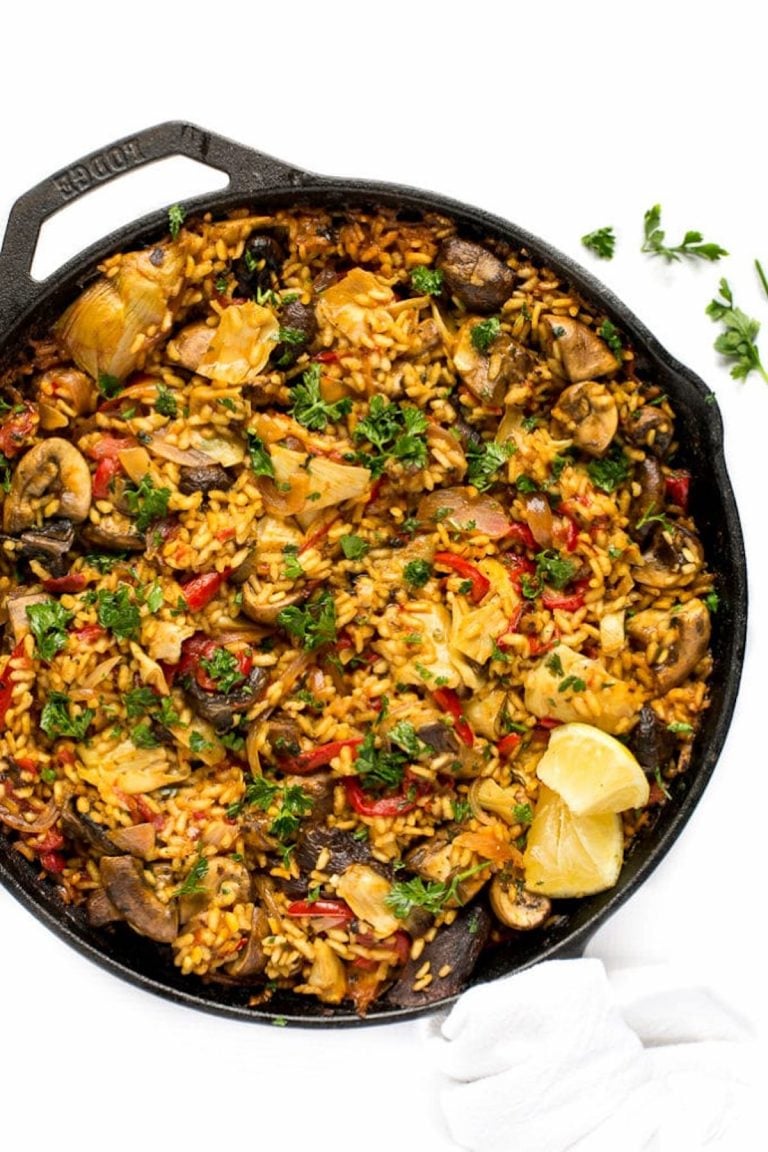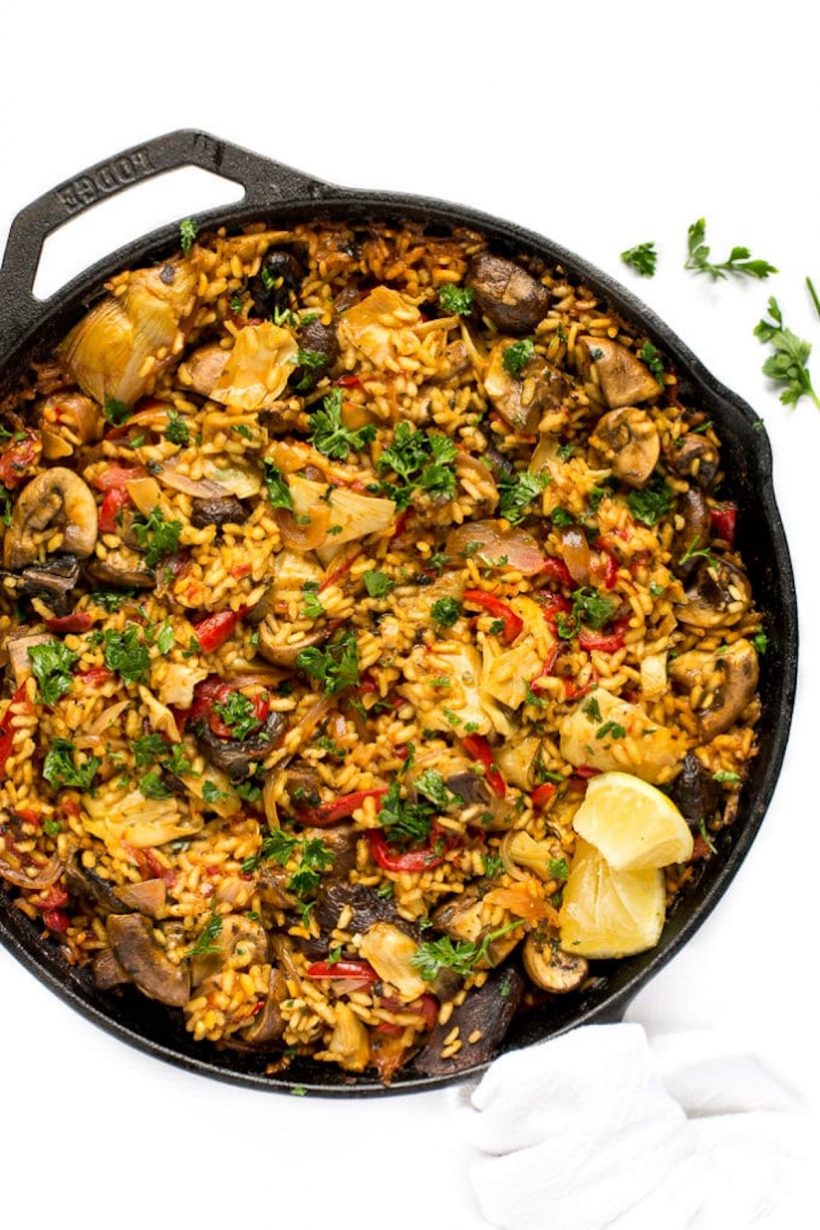 Mushroom Paella by Blissful Basil
Why we love it: When I lived in Spain, every Sunday the centerpiece of our lunch table was, invariably, paella. Followed by a very, very long siesta. So naturally, I have a loving, nostalgic connection to this amplified rice dish.
Hero ingredient: That crispy, crunchy golden rice at the bottom of the paella pan are the most coveted bites of paella, so much so that they have their own name: socarrat.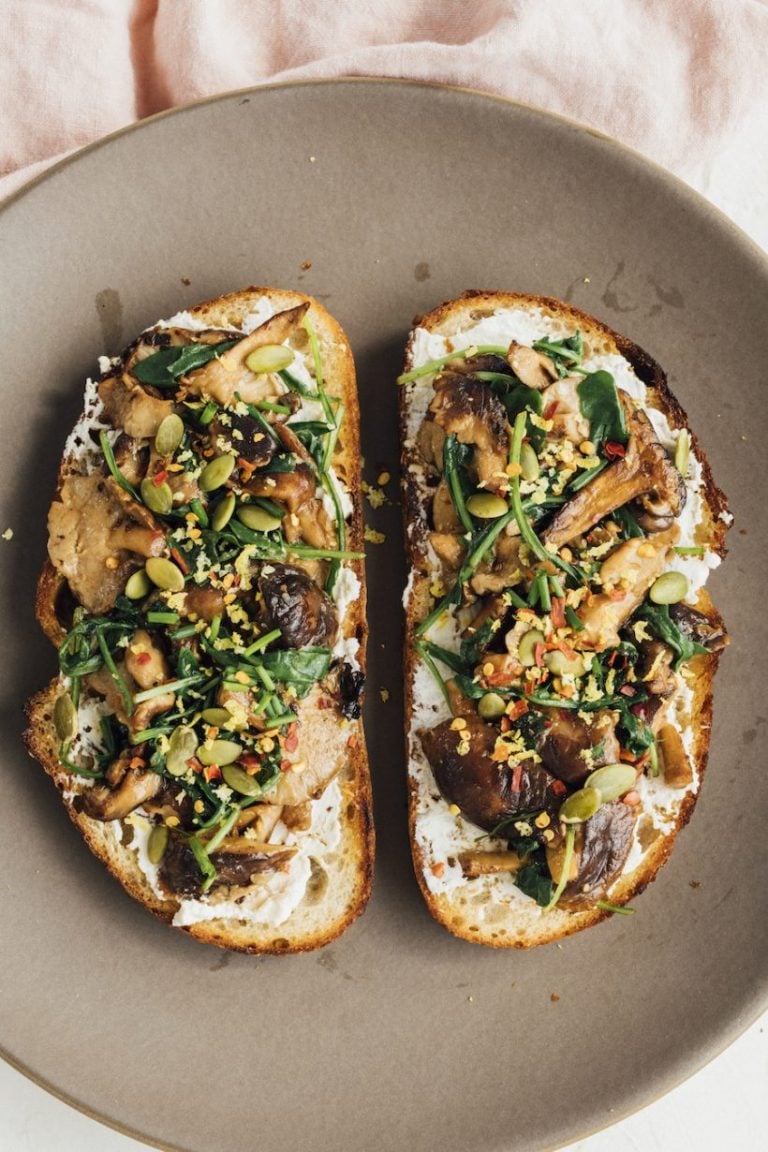 Mushroom Toast with Arugula & Lemon by Camille Styles
Why we love it: It wouldn't be an exaggeration to say: I'm a toast fanatic. For breakfast or a late-night snack, for me toast is the definition of comfort food, not to mention the ideal vehicle for all kinds of delicious toppings.
Hero ingredient: This mushroom toast with arugula and lemon is a great way to easily include mushrooms' nutrients in your diet all while bringing flavor and ease to your weekly routine.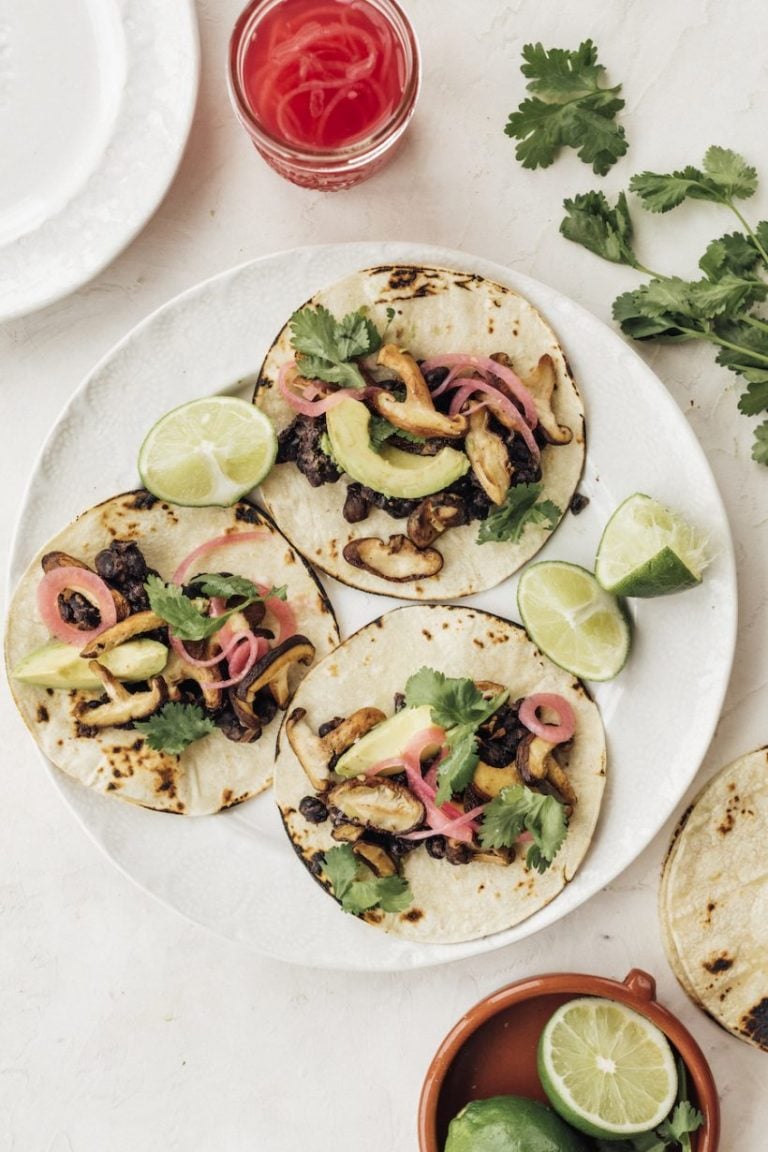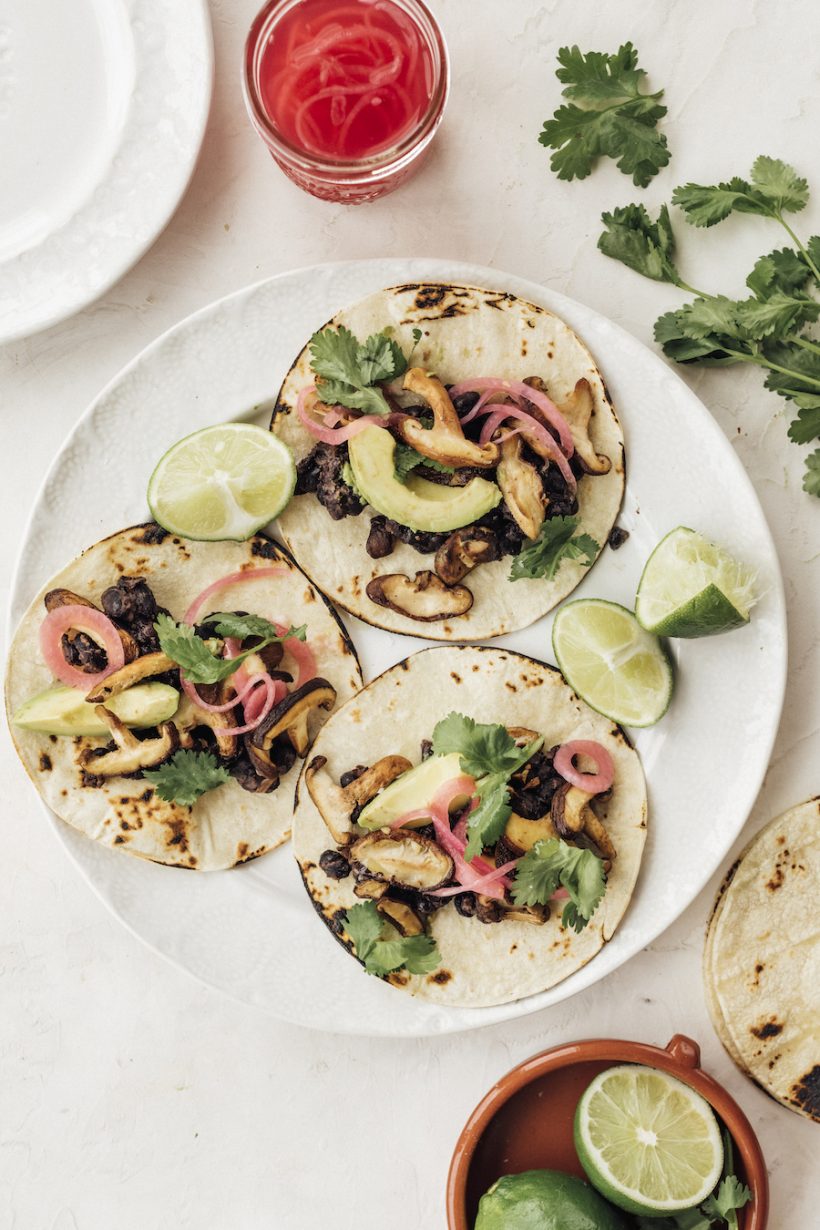 Mushroom & Black Bean Tacos by Camille Styles
Why we love it: Mushroom and black bean tacos are an easy, delicious vegan taco dinner. They're also gluten-free, dairy-free, and delicious!
Hero ingredient: It seems like mushrooms are all that anyone's talking about in foodie circles right now. Various types have been touted for boosting immunity, fighting cancer, packing in major doses of vitamins and minerals, and containing high amounts of antioxidants.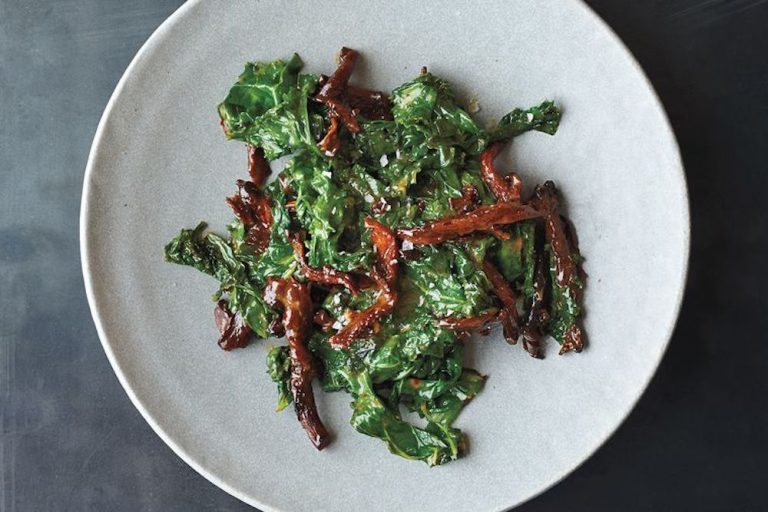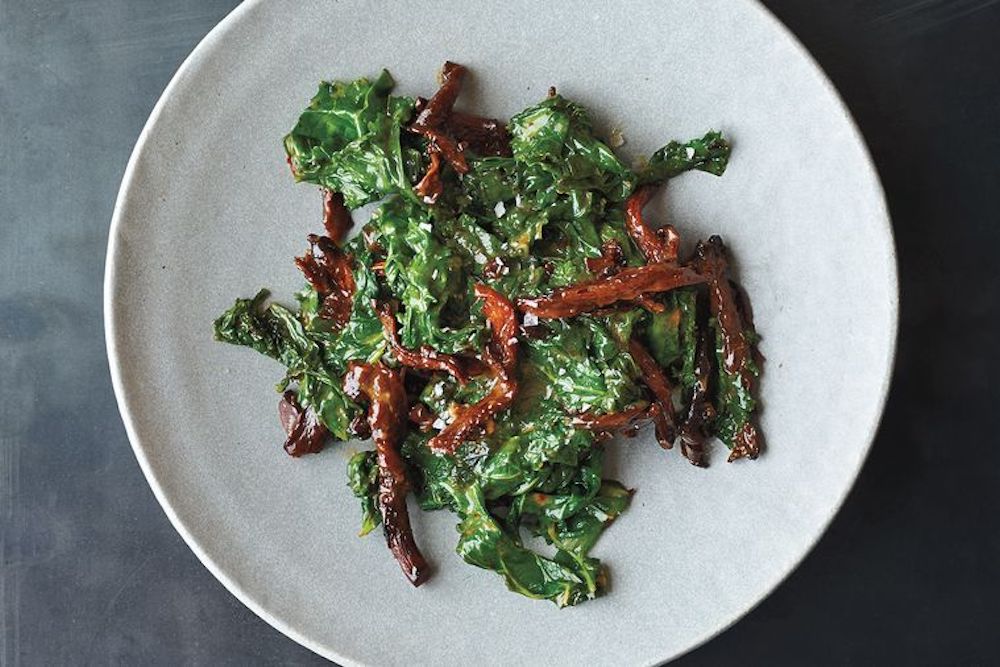 Kale Mushroom Carbonara
Why we love it: This "carbonara" is a weeknight mainstay in the Redzepi household (as in Rene Redzepi, chef behind the 3 Michelin star restaurant in Copenhagen, Noma). As such, we think it's a winning way to highlight beautiful mushrooms.
Hero ingredient: Chile powder adds a little unexpected heat.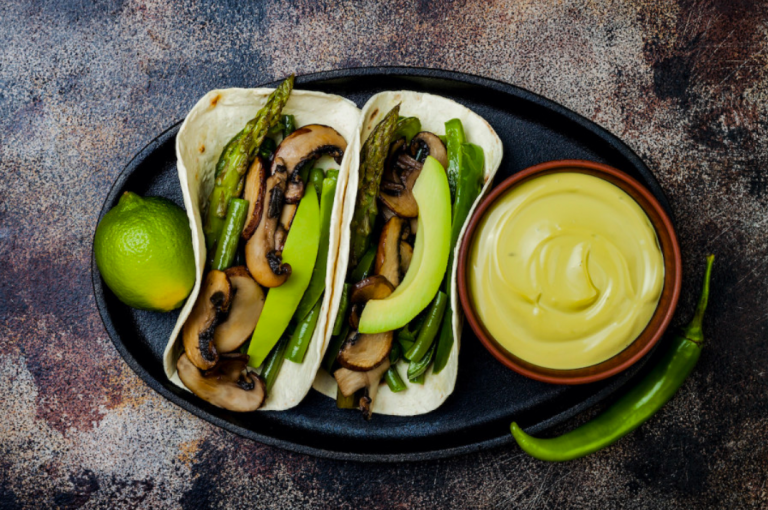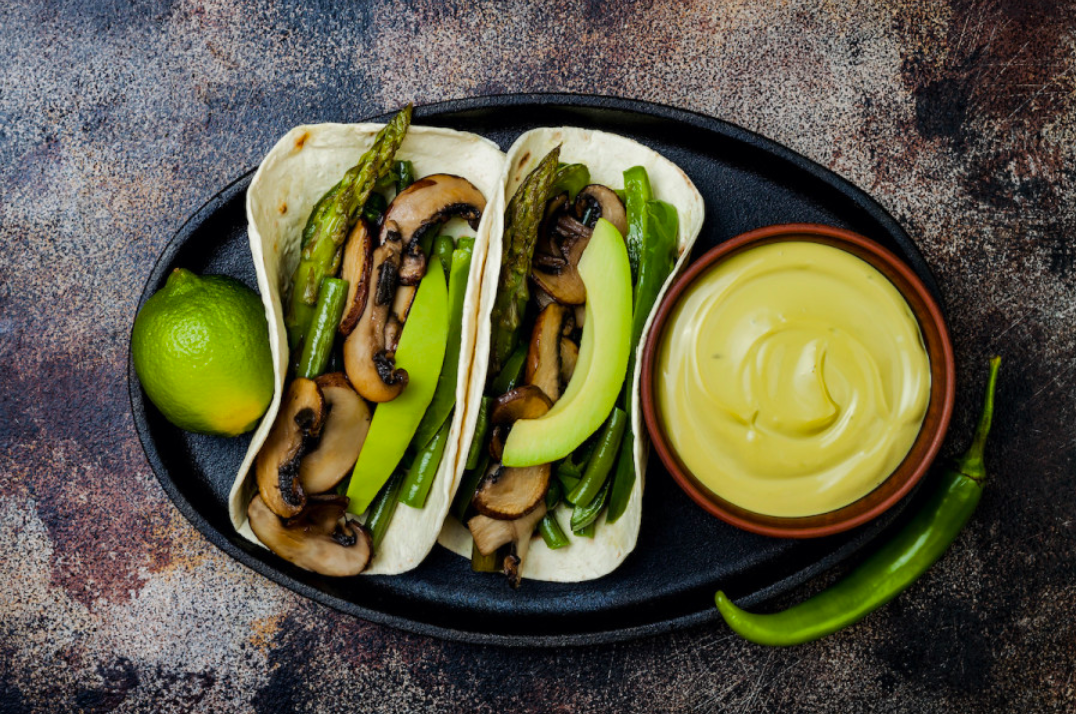 Mushroom Tacos by Gabriela Camara
Why we love it: Gabriela Camara is one of the loveliest and most talented Mexican chefs I know. Her cookbook "My Mexico City Kitchen" and Masterclass on Mexican cooking are beautiful windows into the vast world of Mexican gastronomy, a cuisine that has been dubbed a "cultural treasure" by UNESCO. These mushroom tacos certainly fall in line with that well-deserved title.
Hero ingredient: Homemade tortillas. Making your own tortillas is always worth the extra elbow grease. I love involving my 4-year-old in the process. It's sensory play and dinner prep all in one!