Without a doubt, my favorite part of the holidays is the food. The indulgent family-style dinners, carb-loaded brunches, holiday cocktails, and never-ending desserts! Truly, nothing makes me happier than a good meal surrounded by the people that I love. But when December 26 rolls around, I'm always feeling ready to get back in touch with the clean-eating habits I've ignored throughout the holidays. Luckily, you don't have to sacrifice taste to get your eating back on track thanks to these healthy recipes.
Scroll on for my favorite healthy recipes that I turn to when I'm ready to ease out of holiday indulgences and into my New Year's state of mind.
Chocolate Green Smoothie
Why We Love It: After a few days of indulgence, nothing helps me kickstart healthy eating like a greens-filled smoothie. This smoothie is so easy to make, and I bet you have all the ingredients already.
Hero Ingredient: The cocoa nibs are what make this smoothie taste like the best chocolate milkshake you've ever sipped. Don't have cocoa nibs? Simply swap in two teaspoons of unsweetened cocoa powder.
Zucchini Lasagna With Dairy-Free Mozzarella
Why We Love It: Rich in Vitamin C and magnesium and low in carbs, this zucchini-based lasagna is sure to be a dinnertime favorite, and, for an added plus, it keeps great in the fridge for leftovers.
Hero Ingredient: Highly recommend using Rao's for your marinara sauce here (there's a reason it won our best grocery store pasta sauce). It's a cult favorite for a reason and will fill your lasagna with even more flavor.
Green Immunity-Boosting Vegetable Soup
Why We Love It: Nothing sounds better on a cold, cozy night at home than a warm bowl of soup, especially one that takes care of all of your vegetable servings for the day. Full of asparagus, broccoli, spinach, ginger, and more, this healthy recipe also gives you the immunity boost we are all needing right about now.
Hero Ingredient: The soaked cashews give this soup its luscious, creamy texture without any cream.
Herby Kale Rice Bowl
Why We Love It: A mix-and-match bowl is one of the easiest ways to make a healthy dinner filling and this herby kale rice bowl is one of my favorites. I love to top it off with a fried egg and avocado, giving me major Hank's Pesto Rice Bowl vibes.
Hero Ingredient: This is more of a template than a recipe, so use any mix of herbs you prefer. Be sure to include dill to brighten up your bowl with flavor.
Turmeric Chicken Immunity Soup
Why We Love It: Gluten-free, flavor-packed, and ready in 20 minutes? Yes, please! I'm always prone to a post-Christmas cold and this soup tastes like an adult version of the chicken noodle soup my mom would make me when I was sick as a kid.
Hero Ingredient: The turmeric root takes this soup up a notch both in nutrition and spice. If you can't find turmeric root, powder will work just as well.
Hummus, Greens, & Avo Bowl
Why We Love It: I'm home for the holidays and really missing my Sweetgreen lunches, so this healthy recipe bowl of hummus and greens is curbing my cravings. Feel free to make it your own with whatever veggies you have in your fridge and enjoy!
Hero Ingredient: Avocado is buttery, filling, packed with healthy fats, and just about the best thing you can put in a bowl.
Cauliflower Soup With Crispy Sage Garnish
Why We Love It: Growing up, I avoided cauliflower at all costs, and now I can't seem to get enough of it in any shape or form. This cozy and hearty soup is the perfect twist on traditional cauliflower soup and will be sure to warm your soul this winter.
Hero Ingredient: Parsnips are just about the most underrated vegetable there is. This soup gives the starchy and sweet root veggie the spotlight it deserves.
Quinoa Cakes With Smashed Avocado Sauce
Why We Love It: On their own, under an egg, or in between a hamburger bun, these quinoa cakes are the veggie burger you've been looking for. As someone who used to buy frozen veggie burger patties, with this recipe I am officially converted to a homemade patty girl.
Hero Ingredient: I love adding lemon zest to dishes that lean toward creamy and cheesy. The citrus will bring a fresh, bright flavor to your cakes.
Cauliflower Tabbouleh Salad
Why We Love It: This salad is a major flavor explosion filled with some of my favorite winter additions—pomegranate seeds, pistachios, and fennel. I'm always looking for a good salad to serve as the main course, and this one takes the cake.
Hero Ingredient: Is there anything prettier than pomegranate seeds? I love the touch of jewel tones the little gems add to this salad, not to mention their refreshing tartness.
Black Bean Soup
Why We Love It: Just thinking about this soup makes me want to cozy up by a fire, watch some football, and chill. This no-stress black bean soup recipe is one of the least intimidating I've ever found, and yet, one of the most delicious soups I've ever tried. It's an easy, last-minute dinner must-try.
Hero Ingredient: Red onion is distinctively spicy, crispy, crunchy and contributes to this soup's zest and kick.
Chicken Burger Lettuce Wraps
Why We Love It: When I left for college, and first had my own kitchen, chicken burgers were one of the first things I attempted to cook and let me tell you, this recipe would have made things a whole lot easier! Simplified yet delicious, these burgers are perfect for either lunch or dinner. I love to top my burger with homemade dill pickles, avocado, and cilantro and eat it in a bowl or wrapped in butter lettuce.
Hero Ingredient: The deeply complex, earthy, and sweet flavors of curry powder will inspire you to make burger night every night (if these are on the menu).
Sunshine Salad
Why We Love It: Let's face it, winter days leave us all in need of a little sunshine, and this colorful salad is guaranteed to add some brightness to your day. This salad is ideal for days when you can't make it to the grocery store since it is packed with kitchen staples like cherry tomatoes, carrots, and leafy herbs. *Pro-tip: add avocado and extra sunflower seeds if you want the salad to be more of a main dish.
Hero Ingredient: I'm of the opinion that nearly all good creamy salad dressings begin with a base of tahini.
Salmon Roll Sushi Bowl
Why We Love It: I think I could eat sushi every day of the week, and since I am way too intimidated to actually attempt to make a sushi roll, this bowl is the ultimate sushi lover's dream. Light, flavorful, and full of veggies and protein, this salmon bowl will become your favorite weekday lunch or dinner (sushi is for all times of day, right?!)
Hero Ingredient: Sweet, savory salmon is one of the best alliterations in the food world. Just a teaspoon of honey will give your sushi bowl a delicious touch of sweetness.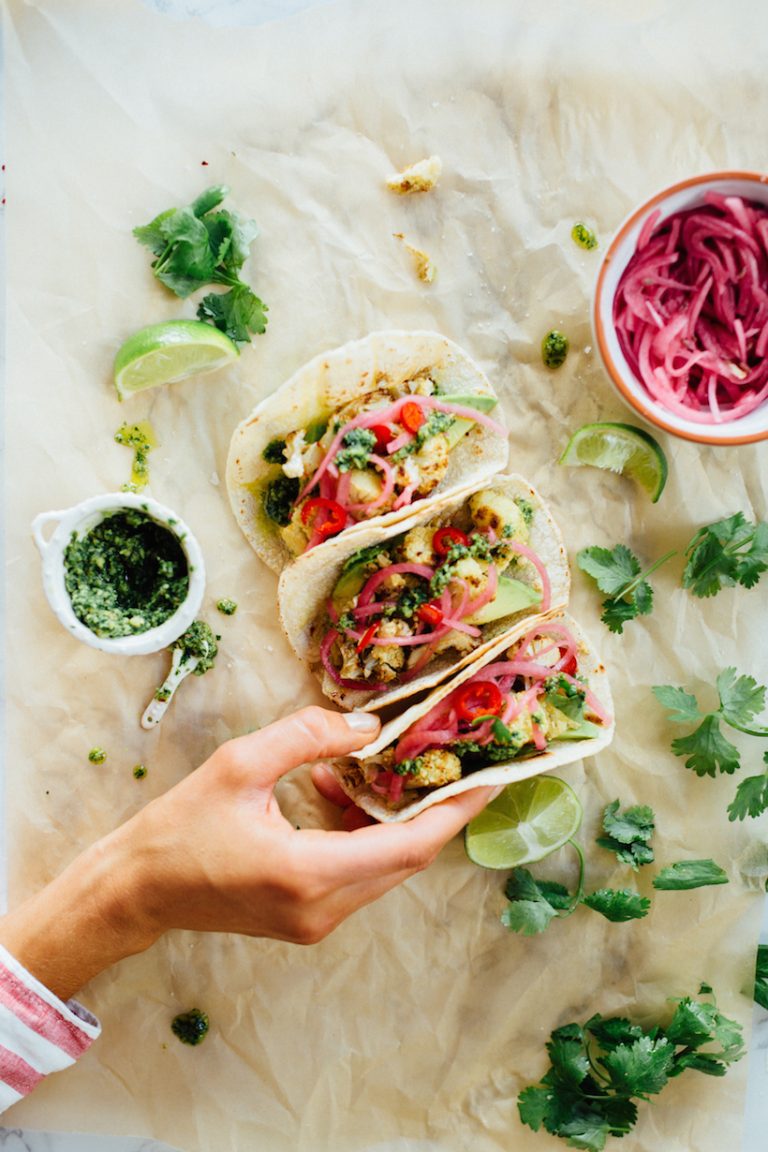 Roasted Cauliflower Tacos With Cilantro Pesto
Why We Love It: Mexican night happens about once a week at my house, and just because we are wanting to be healthy doesn't mean we have to skip it. These cauliflower tacos are the perfect way to use up your extra vegetables, too. Compliment them with some of this Green Pea Guacamole, and your Mexican night is officially healthified.
Hero Ingredient: Coriander is light, floral, and citrus-y, and it gives your cauliflower a slightly sweet spice.
Autumn Grain Bowl With Quick Pickled Vegetables
Why We Love It: Nothing balances comforting and nutrient-dense quite as perfectly as a grain bowl. They're super versatile and can be made with really any mix of veggies, grains, and add-ins you'd like. This recipe leans on a vibrant medley of beets, sweet potatoes, bell peppers, and kale, with your pick of quinoa, bulgur, or brown rice for the base. When people talk about tasting the rainbow, here's what they mean.
Hero Ingredient: The fact that I could eat an entire jar of these quick pickles says it all.
Savory Cottage Cheese Bowls
Why We Love It: Full disclosure: This recipe does not adhere to the '90s low-carb cottage cheese craze. Instead, it leans on the protein-packed, mild, and creamy cheese to lend a little rich and luxurious texture to all the other components of your bowl. When it comes time to customize your edible creation, dream big folks. You can choose to center it around a color (green!) and add avocado, cucumber, broccolini, and asparagus for the freshest-looking bowl you ever did build.
Hero Ingredient: Because these bowls stray from the strict definition of a recipe, you can mix and match ingredients as your heart desires. Suruchi Avasthi, the recipe's creator, recommends kimchi and fried egg combo—and boy oh boy, does the kimchi bring
Pita Tostadas With Butternut Squash, Black Beans, & Avocado
Why We Love It: Not sure about you, but I crave Mexican food about once a week (oftentimes, more). The dishes are full of flavor and the colors alone can be satisfying enough. This take on tostadas is genius and uses roasted butternut squash for a delicious and nutrient-packed sauce. Combined with maple syrup, cinnamon, cumin, and any other spices you'd like, the result is butternut squash at its finest. Lime crema, cilantro, toasted pumpkin seeds, and the avocado tower the tostada with deliciousness.
Hero Ingredient: Swapping in pitas for the regular tostada shells creates a chewy, fluffy base for all the butternut squash, black beans, and avocado your appetite can handle.
Vegan Butternut Squash Soup
Why We Love It: This soup is the ultimate reset. Not only does it fill your bowl with beta-carotene-packed butternut squash and carrots, but it also goes all-in on the anti-inflammatory turmeric (two tablespoons!). The result is a wonderfully satisfying and nourishing soup that—bonus—also tastes amazing.
Hero Ingredient: While still rich in antioxidants, coconut milk takes this soup from detox to delicious.
Kale Crunch Salad
Why We Love It: Sometimes, we eat kale salads because we know our body needs them. Other times, we eat kale salads because the dressing and other ingredients are so dang good. This is the latter case (though don't doubt for a second that it's just about as nutrient-dense as it gets). Kale ranks high on my list of the greens I crave, but when you add to it a healthy dose of deliciousness in the form of a tahini-mustard vinaigrette, well, I don't need much else.
Hero Ingredient: Everything Bagel Seasoning. Nothing more needs to be said.
Tropical Pineapple-Ginger Smoothie
Why We Love It: In the past, smoothies got a bad rap for being good for you but bad for your tastebuds. Sure, a homogeneous green mass of liquid can look less than appetizing, but nowadays, a smoothie that's both yummy and packed with superfoods isn't too hard to come by. Case in point: this island-vibing recipe. While pineapple, strawberries, and orange juice bring all the flavor, you can also sneak in some avocado for all the healthy fats and super creamy texture.
Hero Ingredient: Ginger balances out this super sweet smoothie with a slightly peppery, spicy bite.
And, last but not least, if you're struggling to kick your post-holiday sweet tooth, be sure to check out these healthy ways to satisfy your cravings.
This post was originally published on December 26, 2020, and has since been updated.