If I had to make one ingredient my entire personality, it would be potatoes. (Stay with me.) Humble but game-changing for just about every dining table, potatoes have the uncanny ability to show up in near-infinite forms. And my favorite part? Every single one is delicious. I'm talking mashed, gnocchi-fied, roasted, potato-caked and totted, fried (wedge, curly, waffle, crinkle, shoestring, and steak), and countless more ways. Basically, I love potatoes. And because I'm always looking for ways to make this ingredient a star on my weekly menu, I thought it was about time to give a little love to what might be its most show-stopping form. It's a recipe I've lovingly come to call my 'party potatoes.' You guessed it—smashed fingerling potatoes.
This smashed fingerling potato recipe gives you the best of both worlds. You get the soft and fluffy insides that come with boiling and mashing a potato and an addictive, crispy exterior reminiscent of your favorite fry. But the real kicker? It's all packed with tons of flavor. Think, bright and creamy meets sweet and spicy meets crunchy and savory. Is your mouth watering yet?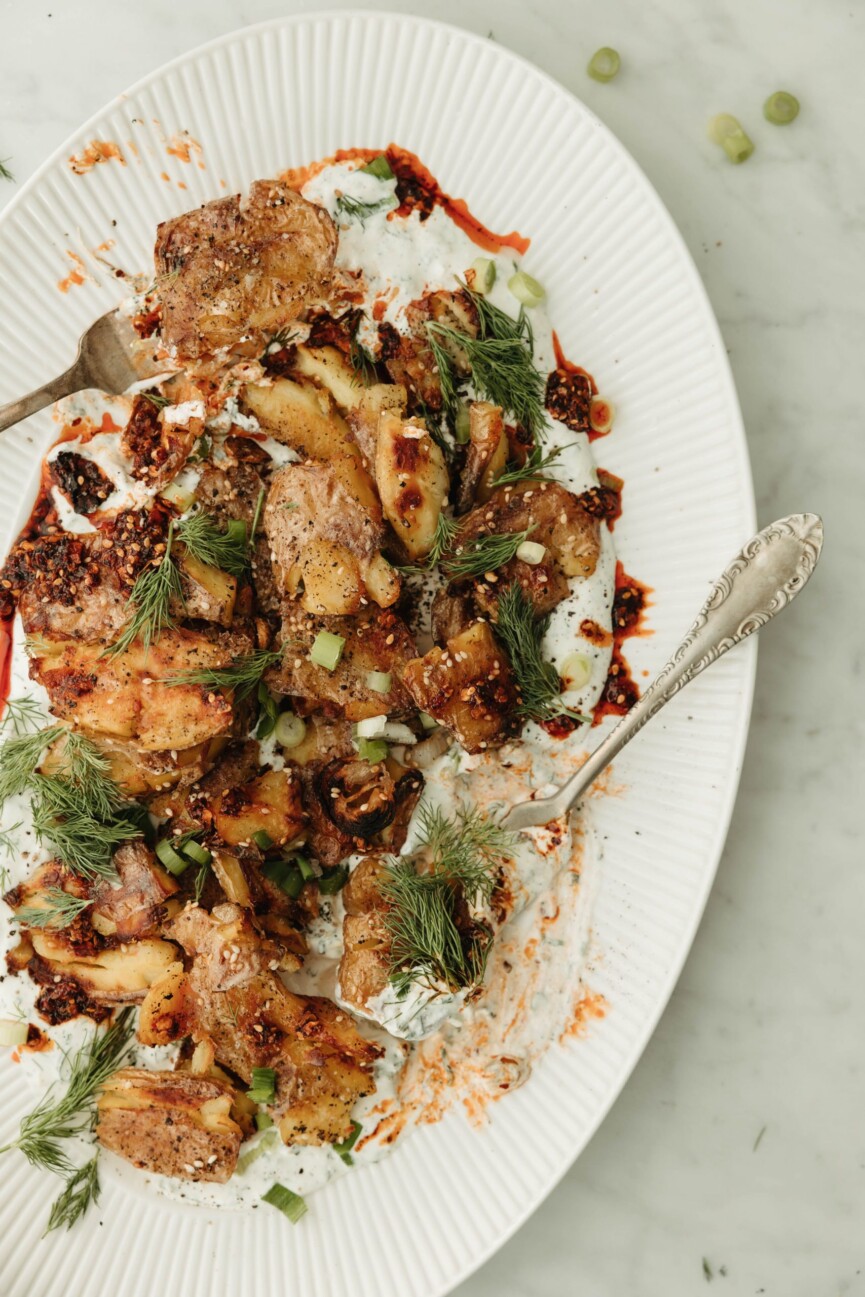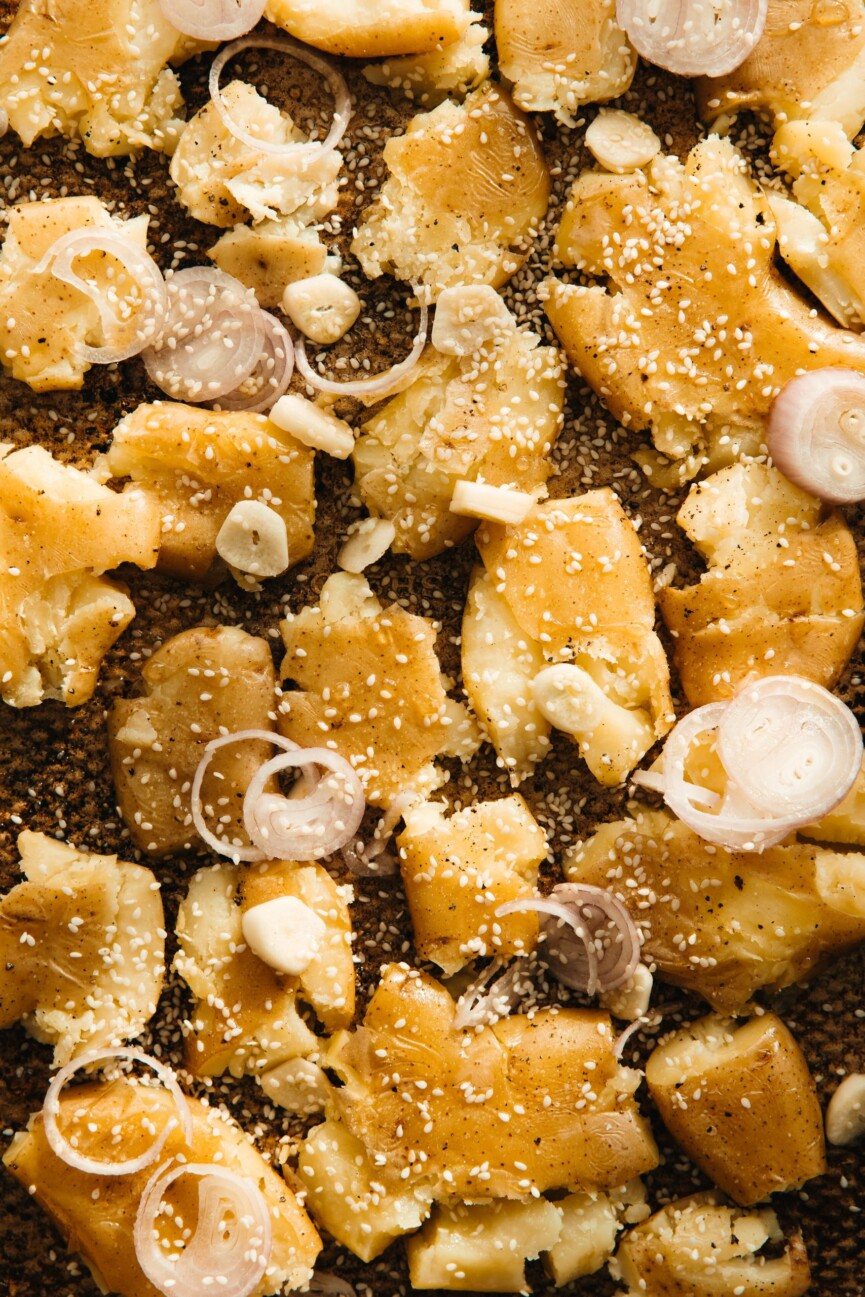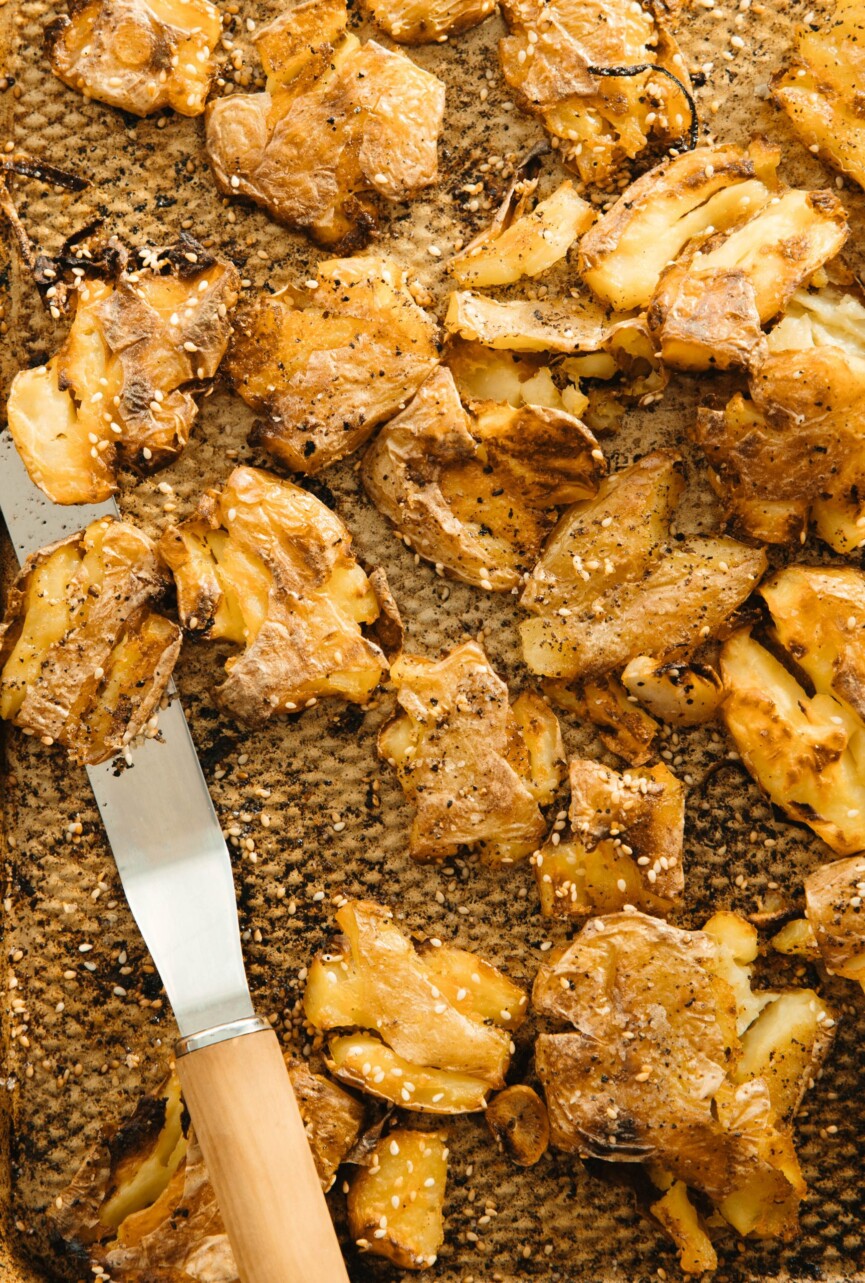 Tips for Cooking Potatoes
While these smashed fingerling potatoes are easy to make, you'll want to keep the tips below handy for maximum flavor and wow factor.
Ensure the potatoes are all similar in size. Because we are boiling the potatoes first, using small potatoes helps them cook faster. Keeping them the same size ensures they all boil and bake at the same time.
Salt the boiling water. Potatoes are the perfect blank-canvas food, but be sure to thoroughly salt the water for that all-important infusion of flavor.
Drain and "dry" the potatoes before smashing and baking. Once the potatoes have finished boiling, drain them and allow them to steam dry in the pot or colander before smashing on the sheet tray. Like other meats and vegetables, a dry exterior ensures maximum crispiness.
Use plenty of oil. I've found that drizzling my sheet tray with a little oil before adding the potatoes and smashing them—and then drizzling with more oil on the top—helps both the top and bottom of the potatoes crisp up. You can also oil the bottom of your measuring cup or glass to make sure the potatoes don't stick to the tool you're pressing down with.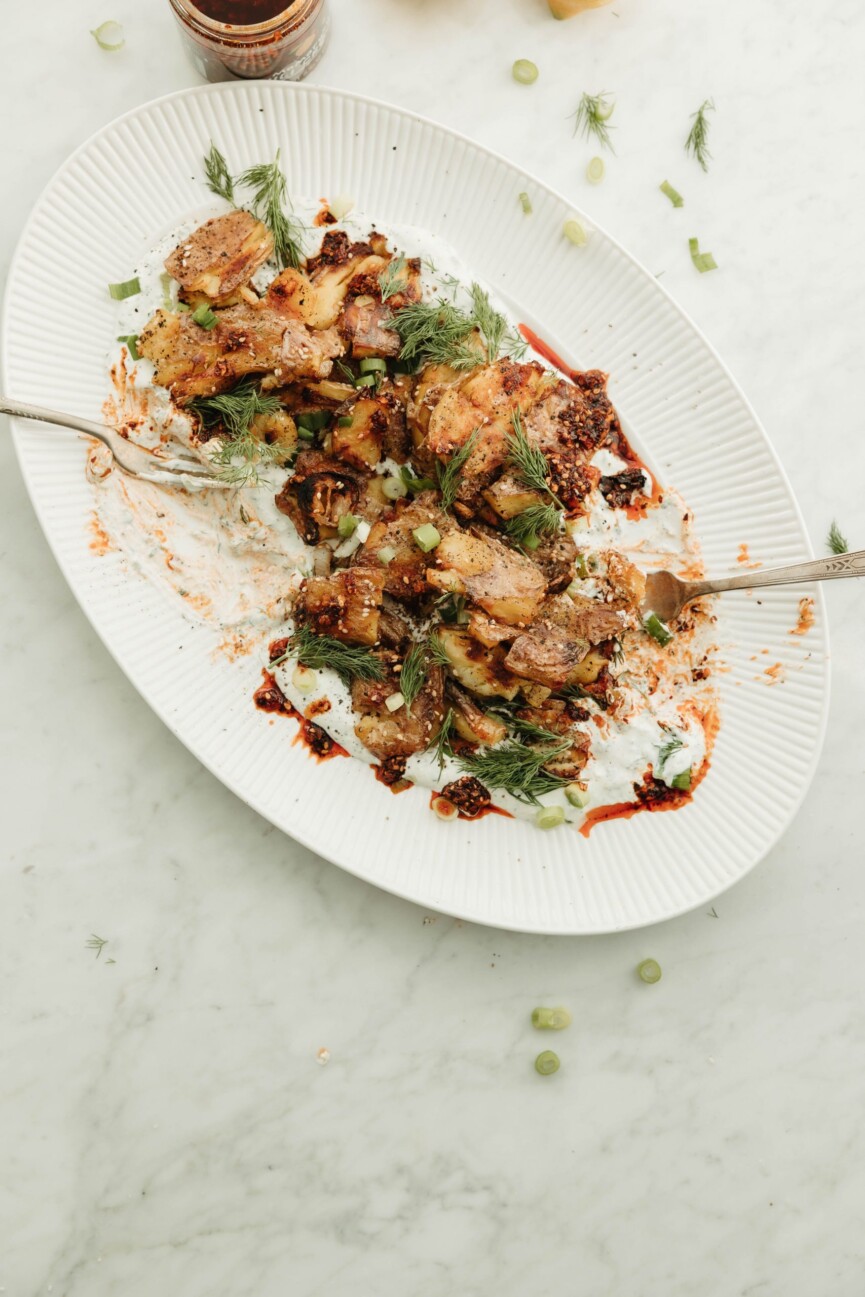 How to Serve Smashed Fingerling Potatoes
While these smashed fingerling potatoes are addictively good on their own, the best part is how well they pair with accoutrements. For these potatoes, I started with a fresh, zingy, and herby bed of sour cream to balances the potatoes' richness. The honey and sesame seeds add a nice sweet-savory factor that I love, too. And then topping everything with chili crisp adds more crunch and spice that has everyone going back for seconds. Be sure to top with fresh herbs! I like dill and green onions, but basil, chives, and parsley would also be delicious.
If you're planning to serve these party potatoes for an actual party, I recommend setting up a station with the sour cream, chili crisp, and fresh herbs in separate serving bowls. When you're ready to serve, add the hot potatoes to a large serving dish and guests can make their own plate (while the potatoes are at their maximum crispiness). But if the idea of extra dishes is not in your wheelhouse, just use a large platter.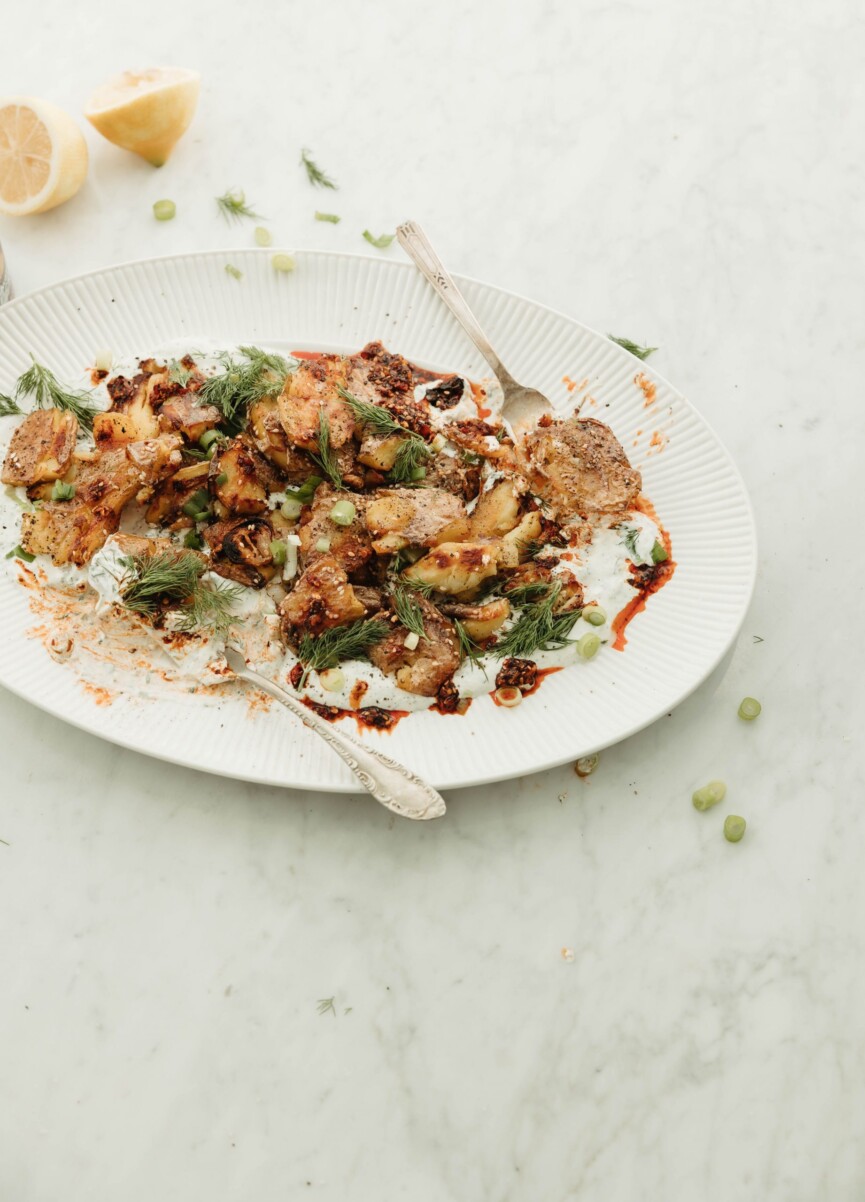 How to Make Ahead, Store, and Reheat Potatoes
What if I told you that you could make these potatoes ahead of time? Game changer, right?
To make ahead: Follow the recipe through step four (with the exception of preheating the oven). Once you've smashed the potatoes and let them cool, cover your sheet tray with saran wrap or foil and set aside in the fridge until ready to bake. Let potatoes come to room temperature before baking, then pop into the oven. This is a great trick for freeing up counter space at dinner time and prepping ahead. You can also make the herby sour cream the night before and pre-chop your fresh herbs!
To store and re-heat: And, if you have leftovers, let potatoes cool completely and store in an airtight container. To reheat and maintain some of that crispy texture, use a hot skillet or bake in the oven at 350 F with an extra drizzle of oil. You could also chop up leftovers to use in a hash or omelette. Trust, these potatoes are still just as good repurposed as they are hot of the oven.
If you make these smashed fingerling potatoes, be sure to give the recipe a rating below. And don't forget to tag us on Instagram @camillestyles!