When it comes to holiday dinners, the one thing I will not do is make rolls or loaves from scratch. Why would I when the magic of a Pillsbury tube of crescent rolls exists? But there is one exception to this bread rule: biscuits. If you've never made biscuits before, they are the easiest and almost fool-proof quick bread recipe that anyone can learn to make. Plus, guests are always impressed when you whip out a basket of fresh bread. Knowing this, I developed this recipe for cheesy sour cream and onion biscuits as an ode to my love of the fluffy, flaky crumb.
But as always, I like to have a little fun with the flavors. I'm all about honoring the classics but I love turning the volume up on traditional recipes. Below, I'm sharing intel for flaky layers, flavor varieties, and the most delicious topping to make these biscuits a delicious party of your holiday dinner menu. (Of course, they work just as well as an afternoon snack or savory breakfast—no judgment here.)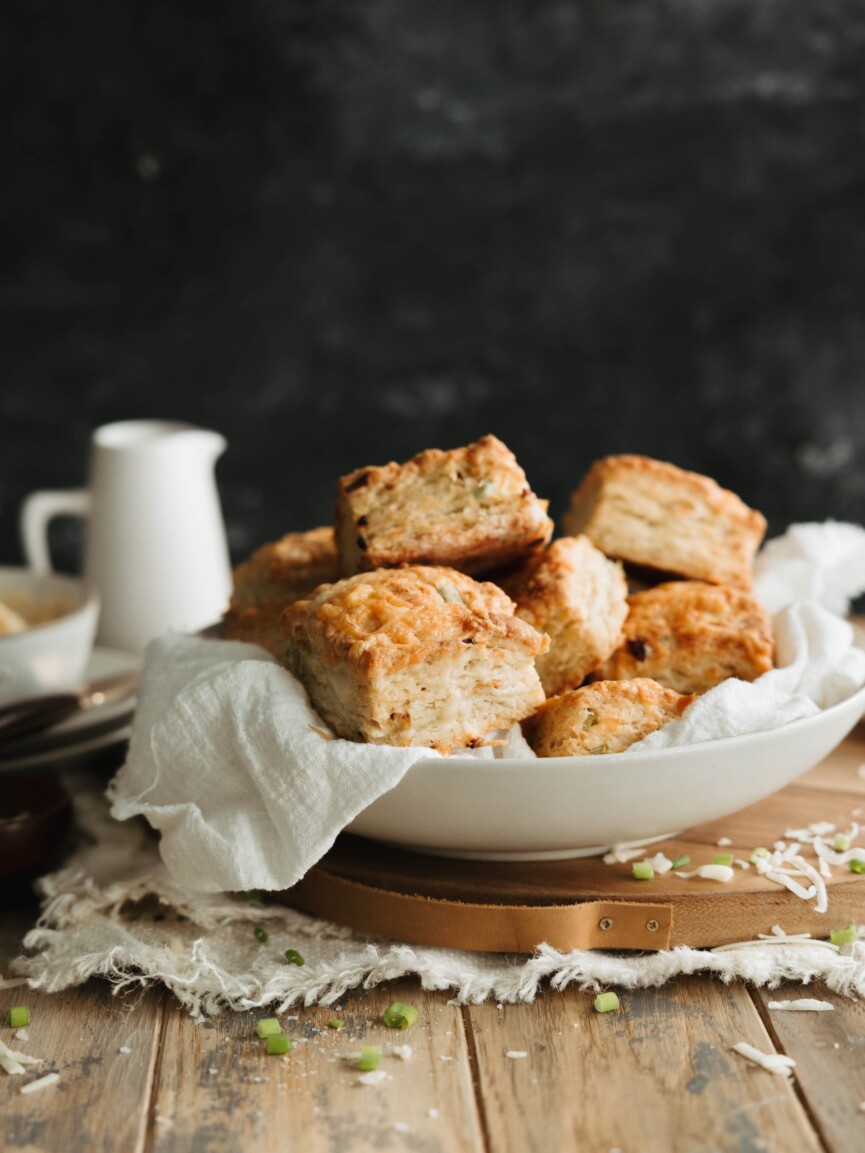 What ingredients go into these sour cream and onion biscuits?
The best part of biscuits is their simple, streamlined ingredients list. And when it comes to bread, you can breathe a sigh of relief that biscuits require no rising time or other yeasted-bread techniques.
All-purpose flour. Simple, classic, and you probably already have it on hand.
Butter. I'm partial to salted butter, but unsalted also works here. This is the magic that creates those flaky layers, so go for the good stuff.
Sour cream. There's no cream or other liquid in these biscuits, just sour cream! In addition to its rich texture, it gives your biscuits a perfect tang.
Baking soda and baking powder. The rising agents that help give the biscuits their height.
Green onions and shallots. While sour cream and onion usually refers to the green onion variety, I find that the caramelized sweetness of sautéed shallots adds an extra special depth of flavor to these biscuits that you must try.
Cheddar cheese. Opt for a sharp white cheddar, though any sharp cheddar will work in a pinch.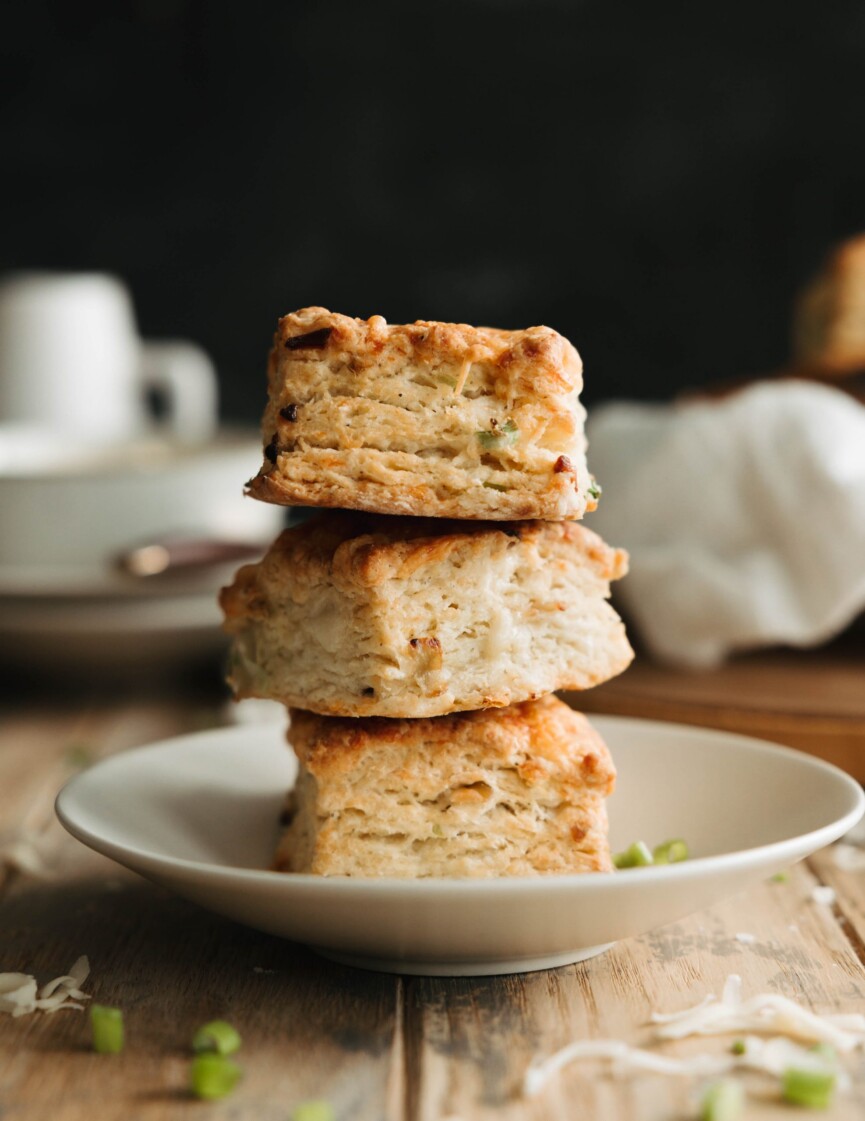 How do you get flaky layers in a biscuit recipe?
Unlike croissants that have a very particular fold-and-layer method, I find it much easier to achieve flaky layers when making biscuits. Before we get to the layering though, remember to keep your ingredients cold. The butter, sour cream, and cheese should all be chilled until right before using. And even then, you have to work quickly to ensure that your hands don't warm up the dough too much. Cold butter keeps it from melting before it gets to the oven. When the butter melts as the biscuits bake, it releases steam that helps create air pockets (in other words, delicious flakiness).
For the actual folding, here's what you'll do:
Once your dough comes together, flatten it out with your palms to about an inch or two thick. Then cut the dough into three pieces. Stack all the pieces, then flatten again. Cut into three pieces, stack the layers, then flatten again. Flatten one last time and cut out biscuits to place onto a baking sheet. You'll see the layers when you cut the biscuits out!
One note: If the dough starts to bounce back at all while flattening it, let it rest in the fridge for a few minutes. This ensures that you're not developing gluten and instead focusing on creating layers in your dough.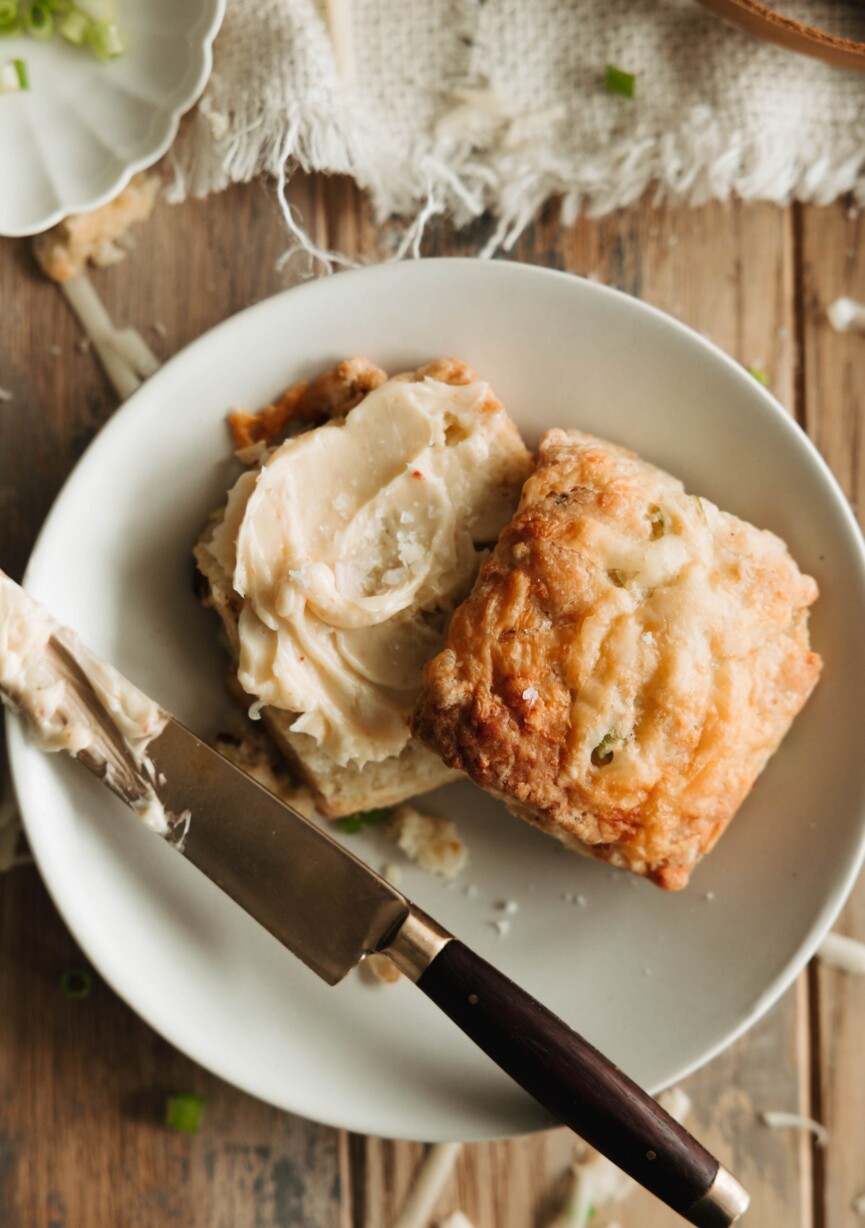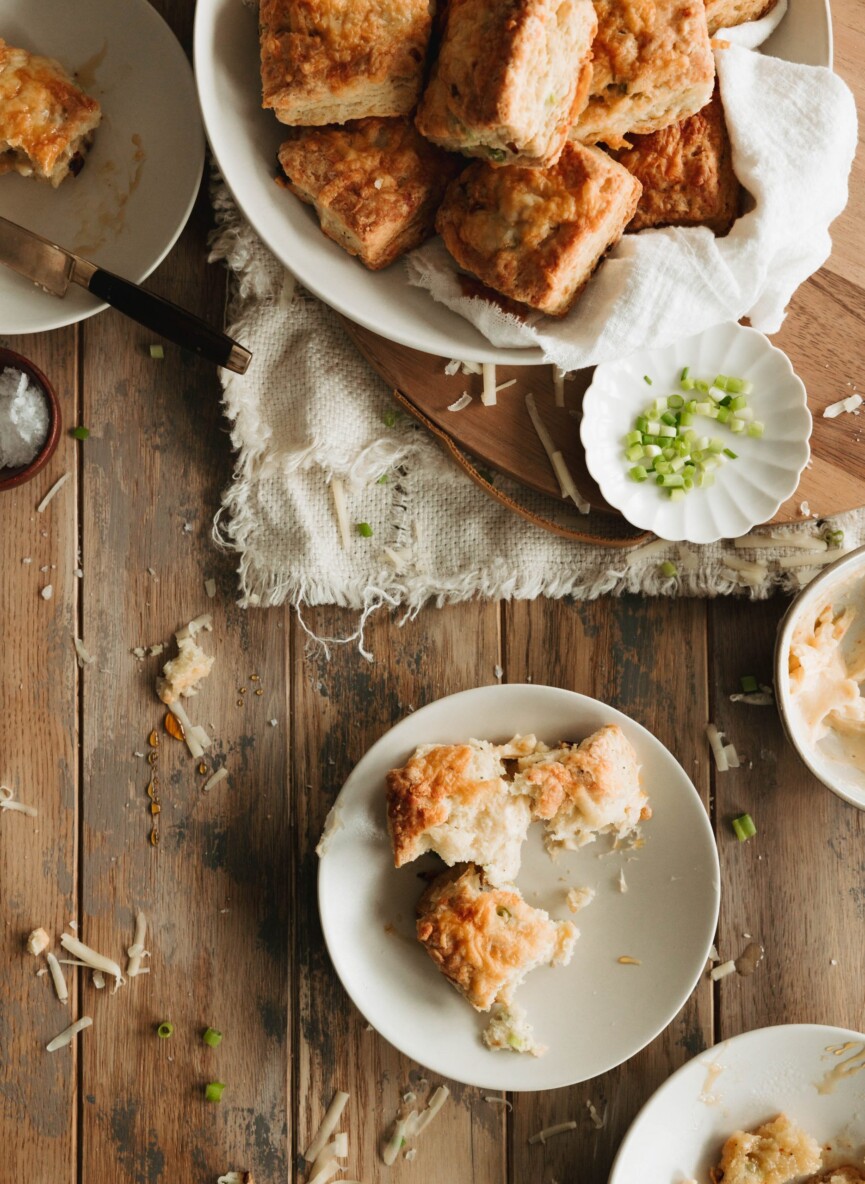 Can I use other mix-ins in these sour cream and onion biscuits?
For these biscuits, I used sour cream, green onions, and cheddar cheese to give these a nice savory flavor. But you can customize the mix-ins to your heart's desire!
Keep the sour cream, but toss in some raspberries and chocolate for a sweeter take. Want to keep things savory? Add a hefty helping of cheddar, extra black pepper, and maybe some jalapeños for a spicy spin. The options are endless! Just keep in mind: when it comes to bread, too many mix-ins can hinder rising.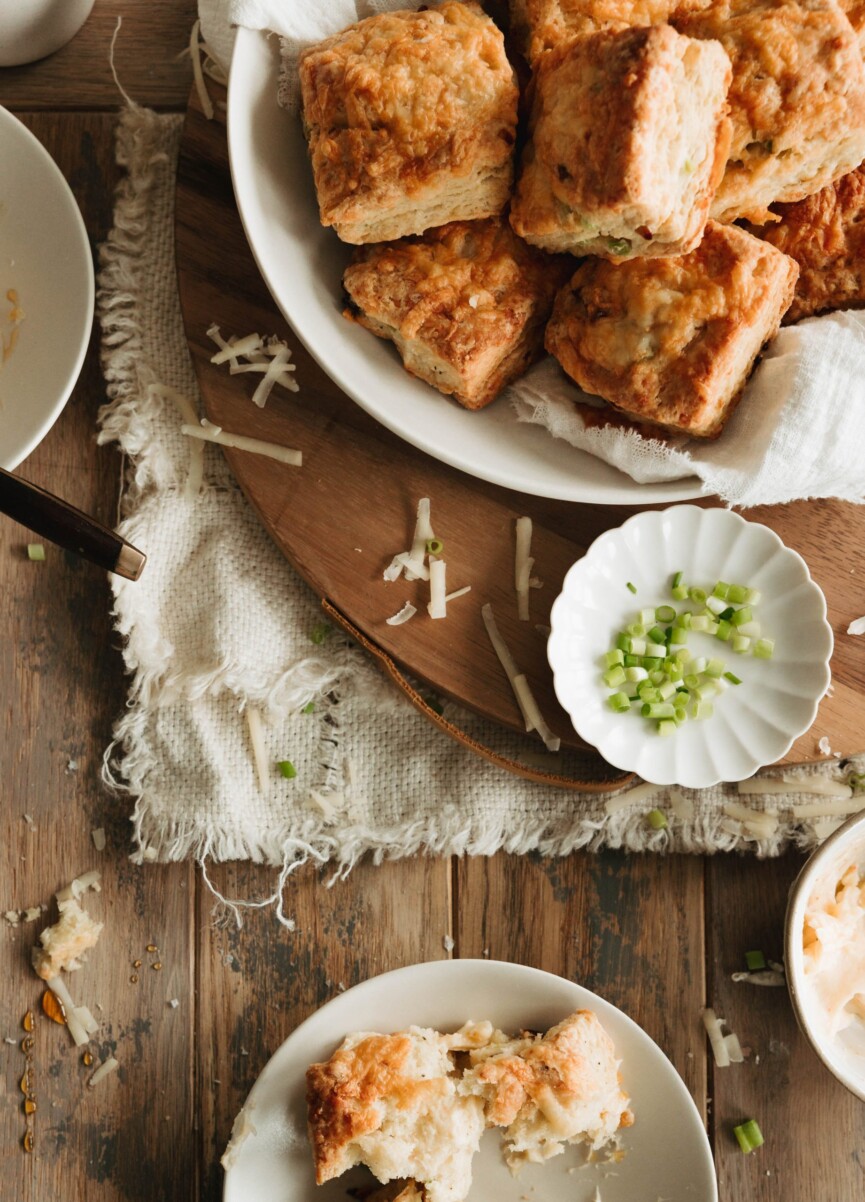 How To Serve These Sour Cream and Onion Biscuits
While I've been known to eat biscuits on their own (who wouldn't?), they also serve as a delicious side to round out a meal. Try serving these biscuits with some of our favorites below:
The special finishing touch? Spicy honey butter. Mix some softened butter with a big squeeze of honey, chili powder, and salt. Spread over warm biscuits for the ultimate indulgence.