As much as I would like to tell you that I'm a jersey-wearing, TV-screaming, bet-placing Super Bowl Sunday fan, I'd be lying. I'm admittedly more of a commercial-watching, halftime-waiting, snack-making kind of fan. In fact, I couldn't care less about a 90-yard rush, as long as there's a nine-layer dip on the table. If you were to ask me who was playing in the Super Bowl, I would quickly Google it under the table…or simply admit that I'm more interested in the battle between queso and guac. So, as a Super Snack fan, I'm scouring the internet for Super Bowl Sunday Recipes instead of game day tickets. 
The best kind of Super Bowl Sunday recipes are easy to make, easy to eat, and easy to leave out. I always look for recipes that can be prepped in advance and taste just as good at kickoff as they do at halftime (even if they are now room temp). Football foods are also best eaten with fingers. You don't want to be serving an elaborate, plated snack to an invested fan that could jump off the couch at any given moment.
From one devoted football (food) fan to another, I've gathered 16 Super Bowl Sunday recipes that are guaranteed to score you points with your guests. The only bets I'll be placing are on how much I can eat before halftime.
15 Super Bowl Sunday Recipes to Feed a Crowd
Baked Sesame Chicken Wings from The Defined Dish
Why We Love It: Wings are a game-day staple, but this version from Defined Dish is in its own league. These bake for about 35-45 minutes, giving the chef ample time to get the rest of the food/house ready before kickoff. Whole30, gluten-free, and paleo, every single one of your guests will be going back for seconds.
Hero Ingredient: The toasted sesame seeds add the perfect crunch and flavor.
Gluten-Free Onion Rings from Minimalist Baker
Why We Love It: Who cares who wins the Super Bowl ring when there are onion rings on the table? These onion rings are vegan, GF, ready in 30-minutes, and ultra-crispy. They are pan-fried, which can be a little intimidating, but I promise you they are worth it. Plus, this recipe is easily doubled or tripled to feed any size of party.
Hero Ingredient: Onions, because this is one of the few ways that I like them.
Quick Vegetarian 7-Layer Dip from The Spruce Eats
Why We Love It: A touchdown might be worth second points, but this seven-layer dip is worth everything. This recipe is as close as I can find to the dip that my mom makes. Olives, onions, and lettuce are optional–we just do the beans and sour cream as prepared here with a layer of cheese, avocado, and tomato. We also like making it earlier in the day so it has plenty of time to chill in the fridge before guests arrive.
Hero Ingredient: The spiced sour cream mixture gets the gold.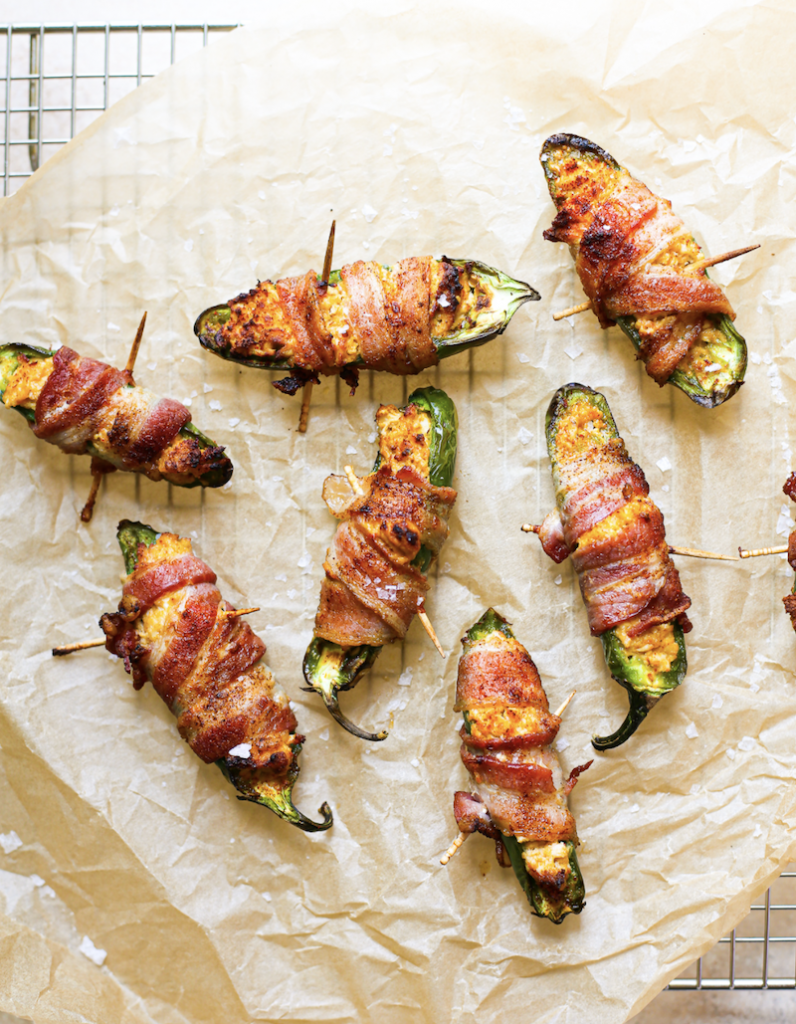 Cheesy Chicken Stuffed Bacon-Wrapped Jalapeños from The Defined Dish
Why We Love It: Say that recipe name three times fast. These bacon-wrapped jalepeños can be prepped ahead of time and popped into the oven or air-fryer whenever you are ready to serve them. You can also skip the chicken if you are wanting something a little lighter, although nothing wrapped in bacon will ever truly be 'light.'
Hero Ingredient: The ol' pigskin might be the center of attention on the screen, but the bacon is the star of this recipe.
Pull Apart Roasted Garlic Pizza Dip Sliders from Half-Baked Harvest
Why We Love It: These pizza sliders are guaranteed to cause the same uproar as a touchdown. You'll be shocked at how easy these come together. Simply slice an entire pack of dinner rolls down the middle, lay the bottom half on the pan, layer with toppings, and add the top half back on. Boom. Add garlic butter, bake, then prepare to photograph the ultimate cheese pull as these are served.
Hero Ingredient: I'm a garlic butter girl.
Buffalo Chicken Egg Rolls from The Defined Dish
Why We Love It: Buffalo and football are a match made in heaven, and these buffalo chicken egg rolls are a gift from God. These come together in under 30-minutes, require just seven ingredients, and are a fan favorite. Finger foods for the win!
Hero Ingredient: The buffalo sauce simply can't be beat.
The Best Guacamole
Why We Love It: This is the only recipe for guacamole that you need. It's simple enough that each ingredient really shines. Honestly, I could eat guacamole any day of the year, but it just tastes that much better on game day.
Hero Ingredient: I love a lot of lime.
Queso Fundido Taquitos from Half-Baked Harvest
Why We Love It: Taquitos are great for game day, as they taste great at room temperature and are easily grabbed by guests. This specific recipe is filled with Mexican chorizo, a combo of cheeses, poblano, and chile, for the perfect blast of flavor. Not to mention, they are topped with a delicious dollop of avocado lime crema.
Hero Ingredient: The poblano adds the perfect level of spice.
Joe T. Garcia's Copycat Nachos from The Defined Dish
Why We Love It: As a Fort Worth native, I can honestly say that nothing gets me more excited about going home than a Joe T.'s nacho. (Okay, maybe my family, too). This copycat recipe from The Defined Dish is a cure for homesickness and a showstopper for gameday. Prepare a big tray of these right before kickoff and kick off your watch party with a hit.
Hero Ingredient: The pickled jalepeños set these nachos apart.
The Best Jalapeño Queso from Half-Baked Harvest
Why We Love It: Where there are tortilla chips, there must also be queso. This jalapeño queso is the best homemade queso out there and it has a permanent spot on my Super Bowl Sunday Menu. Making this queso in a cast iron skillet is genius because you can serve it straight from the skillet, which also keeps it warm.
Hero Ingredient: All the cheese, please.
Spinach and Artichoke Goat Cheese Dip from Cake n Knife
Why We Love It: You all know and love spinach and artichoke dip, but now it's time to introduce you to its upgrade, this spinach, and artichoke goat cheese dip. The addition of goat cheese gives the traditional dip just a little bit more tang, and a lot more creaminess. Serve with crackers, tortilla chips, or just go in with a spoon (you know you want to).
Hero Ingredient: Goat cheese makes everything better.
Baked Buffalo Cauliflower Recipe from The Forked Spoon
Why We Love It: Vegetarian or just not into wings? This buffalo cauliflower has all the flavor of traditional wings, with none of the meat. It's low-carb, but I would eat it even if it wasn't. Plus, you can opt for store-bought buffalo sauce and dipping sauce to make this recipe all the more simple.
Hero Ingredient: This homemade buffalo sauce is a game-changer.
Oven Fried Southern Hot Honey Popcorn Chicken from Half-Baked Harvest
Why We Love It: Hot honey is one of my favorite flavors, and this fried chicken recipe made my jaw drop. It's oven-fried, crispy, saucy, and all-around amazing. I'm just going to leave this quote here so you all are forced to drool on your screen like I just did: "They're finished with a beyond perfect sweet and spicy honey butter sauce with crisp garlic and chili flakes." –Tieghan Gerard
Hero Ingredient: The hot honey sauce out of the park (wrong sports reference, I know).
5-Minute Vegan Cashew Queso from Minimalist Baker
Why We Love It: Seven ingredients, five minutes, and lots of happy guests. Being from Texas, I am a huge fan of queso. My stomach? Not so much. This vegan queso made from cashews scratches the queso "itch" without giving my body the "ick." While I still think it is important to have cheesy queso on hand, your dairy-free football fans will thank you for this.
Hero Ingredient: Cashews are truly chameleons.
Taco Salad Bites
Why We Love It: Are these not the cutest appetizers you've ever seen? You can use any sort of scoop-shaped tortilla chips and fill them with your taco toppings of choice. I like adding some taco-seasoned ground turkey to mine to add meat. The sky's the limit with these salad bites.
Hero Ingredient: The tortilla chips double as the bowl and the crunch.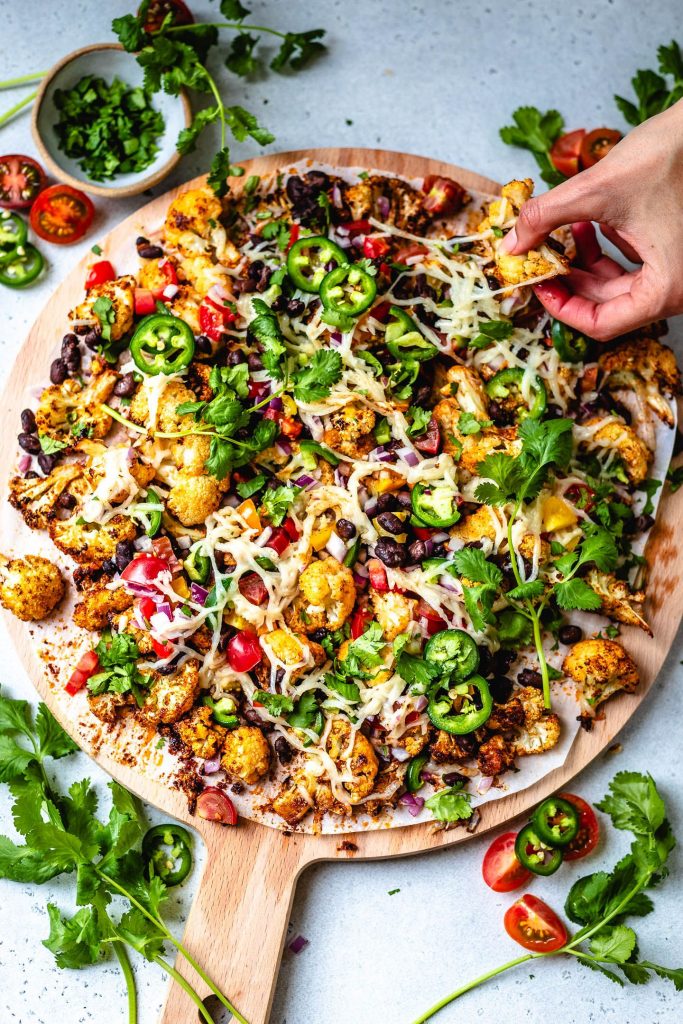 Cauliflower Nachos
Why We Love It: These cauliflower nachos satisfy cravings for the classic Super Bowl snack, yet somehow manage to be gluten-free and vegan. As a delicious low-carb recipe, it allows you to enjoy all the comforts of fully-loaded nachos with a healthy spin. But most importantly, they are so freaking delish!
Hero Ingredient: The cauliflower gets crispy, golden-brown, and (dare I say?) chip-like.