Let's kick things off by sharing a secret. What's the number one kitchen hack that's completely changed how I cook? Build your dishes around a great sauce—and when I say "great", this vegan pesto recipe most certainly fits the bill. Whip up a homemade pizza, pasta, or sandwich, add a solid sauce to the mix, and this simple flourish can take your dish from mediocre to absolutely delicious. When it comes to plant-based cooking, this vegan pesto recipe is as good as it gets.
Creamy, healthy, and flavor-packed, it's a must-add to your home-cooking arsenal. This pesto is a sauce, it's a dip, it's a spread, it's whatever you want it to be. What's more, the recipe is versatile and will pair well with most of your favorite foods, so you're probably wondering, why haven't I shared this vegan pesto recipe with y'all already? Don't worry, I'm getting to the good part.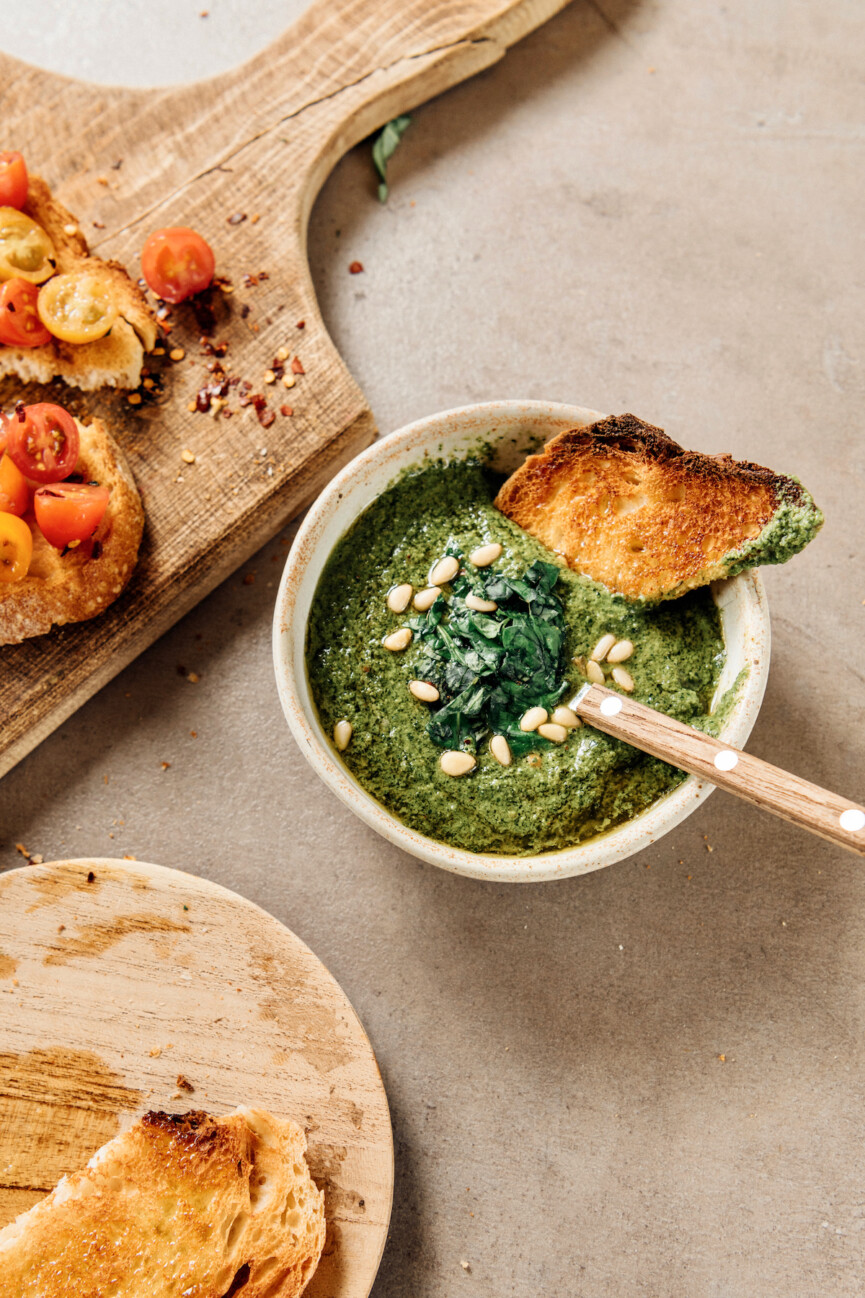 My sister and roommate, Megan, has been tweaking this recipe to perfection. As a certified Nutrition Health Coach, she's an expert in infusing everything with healthy ingredients. Since we both avoid gluten and dairy, we're constantly concocting swaps for some of our favorite traditional dishes.
We've baked, sautéed, blended, and broiled gluten-free, dairy-free versions of just about everything under the sun (don't sleep on these brownies!). But all good things must come to an end, and my sister will be moving out at the end of the month. While I'm sad to see our collaborations in the kitchen wrap up, we'll always have our recipes to bond us, and this vegan pesto recipe might be the best departure gift I've ever been given.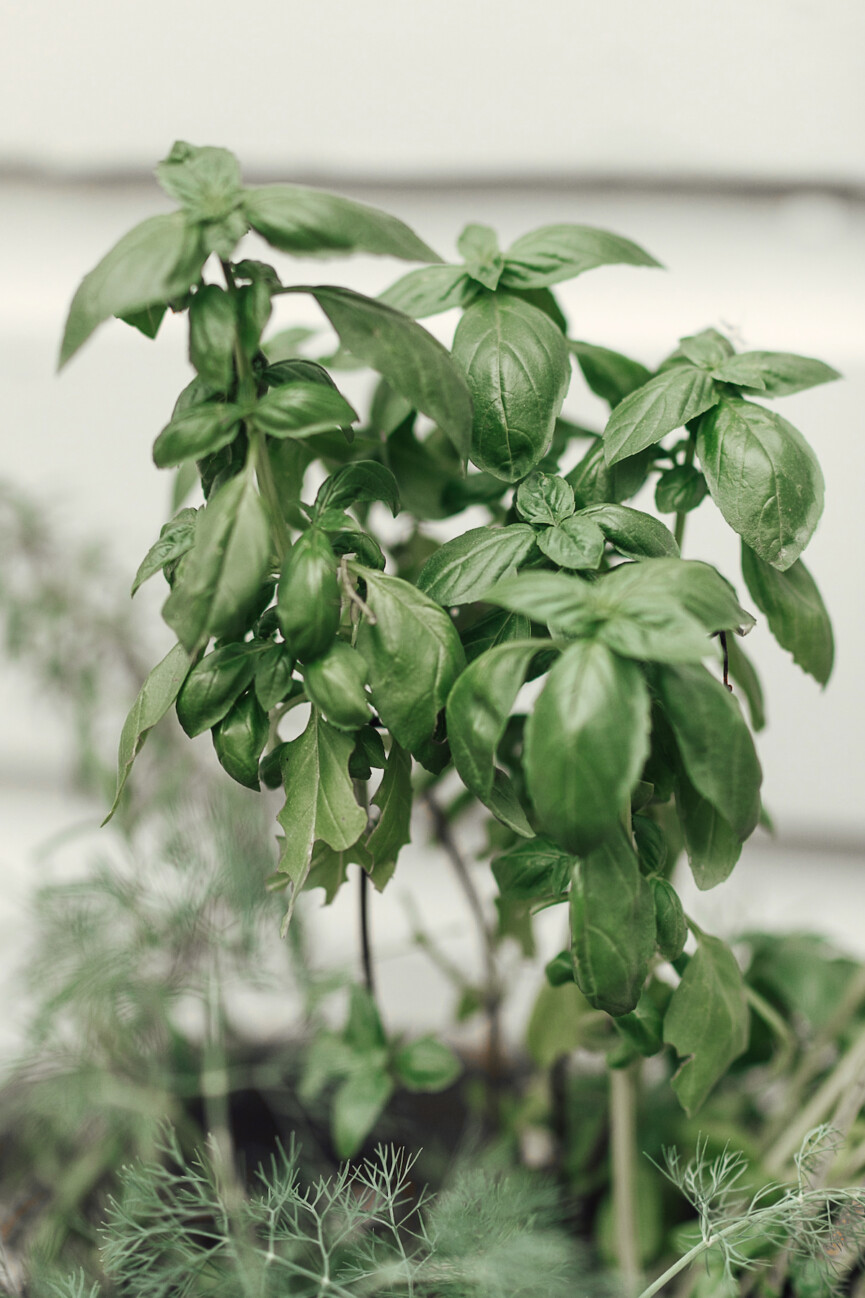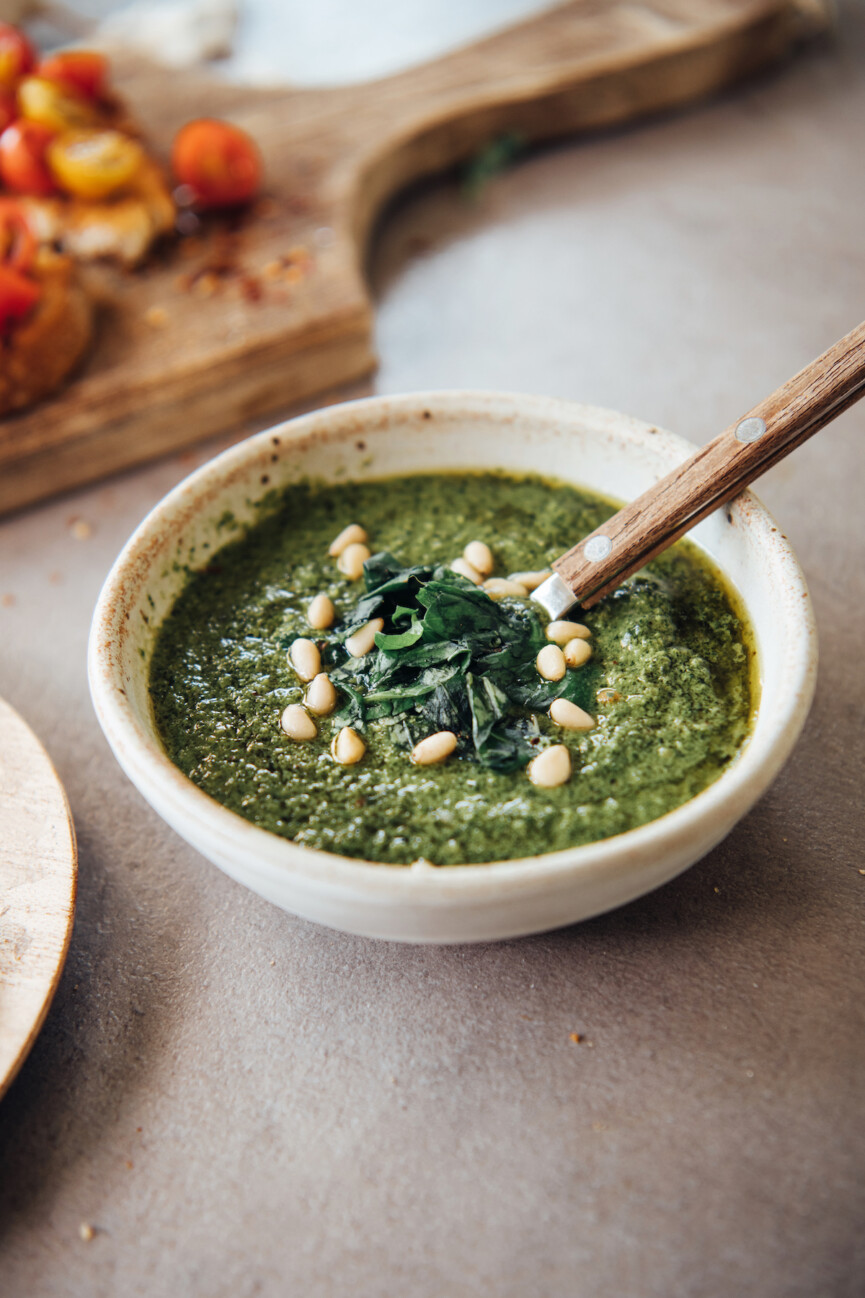 What ingredients do I need for this vegan pesto recipe?
Traditional pesto originated in northern Italy, and usually contains a blend of pine nuts, garlic, basil, parmesan cheese, and olive oil. This vegan recipe contains all of the above minus the cheese and adds in a handful of additional ingredients to bring the taste and nutritional value to the next level. To make this recipe vegan, Megan swapped in nutritional yeast and hemp seeds in place of the parmesan. Nutritional yeast is rich in protein and vitamin B12 and gives this pesto its signature cheesy flavor. The hemp seeds provide a protein boost and give a nice texture to the blend.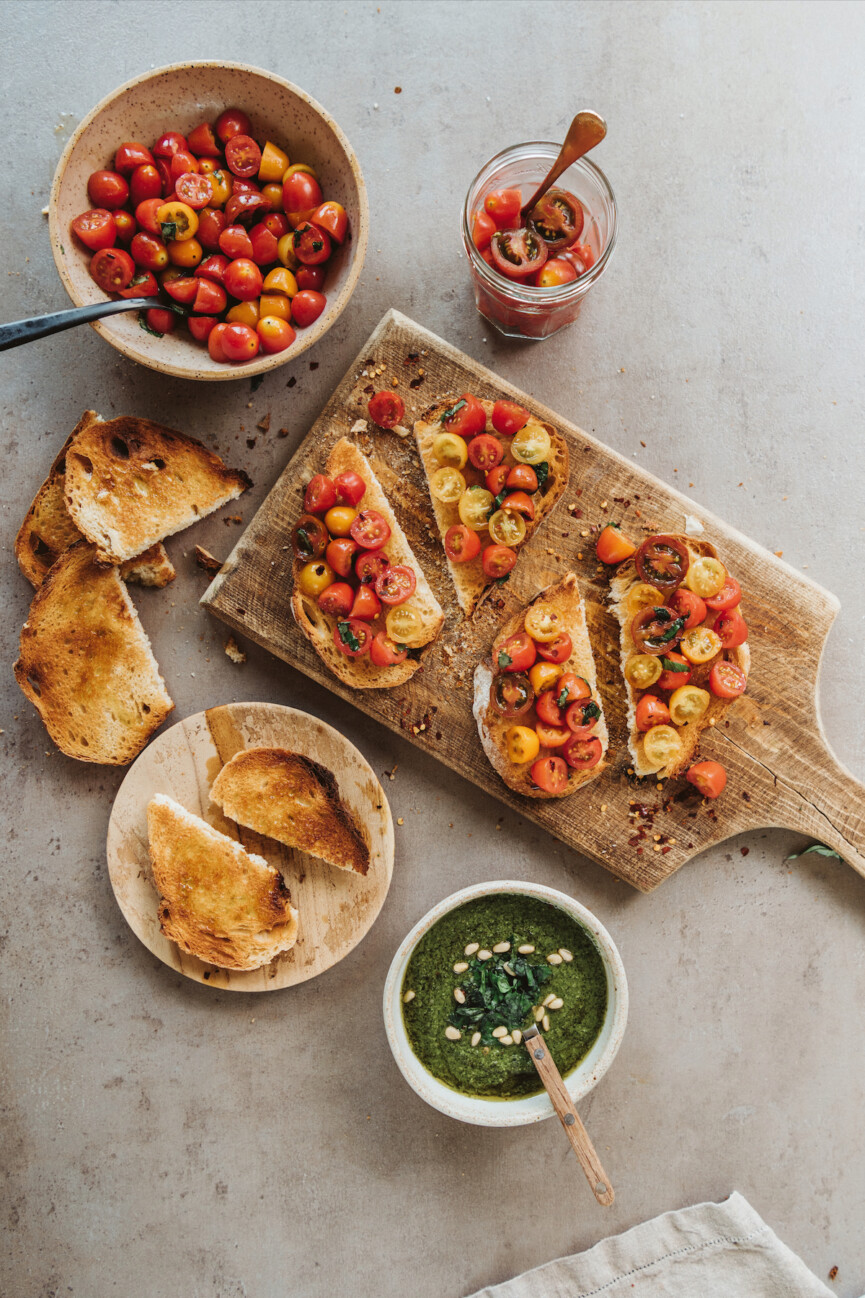 Tips To Make This Vegan Pesto Recipe
This recipe comes together in under 10 minutes and is so easy to make. Throw everything into a blender or food processor and boom—you've got your sauce. Plus, it's likely that you already have many of the ingredients on hand. Here's what you'll need:
Spinach. The sneakiest, most delicious way to work in a full serving of veggies.
Fresh basil. Pesto's hero ingredient. I use a large handful.
Olive oil. Helps everything blend and gives the sauce that signature velvety texture.
Hemp seeds. They're packed with protein and fiber.
Pine nuts. Option to toast them beforehand for an added flavor boost.
Nutritional yeast. I'm a fan of Bragg.
Lemon. A little dose of Vitamin C is never a bad idea.
Apple cider vinegar. Helps regulate blood sugar and soothe digestion.
Red pepper flakes. Start small and slowly add more until you've reached your desired spice level.
Salt. Always!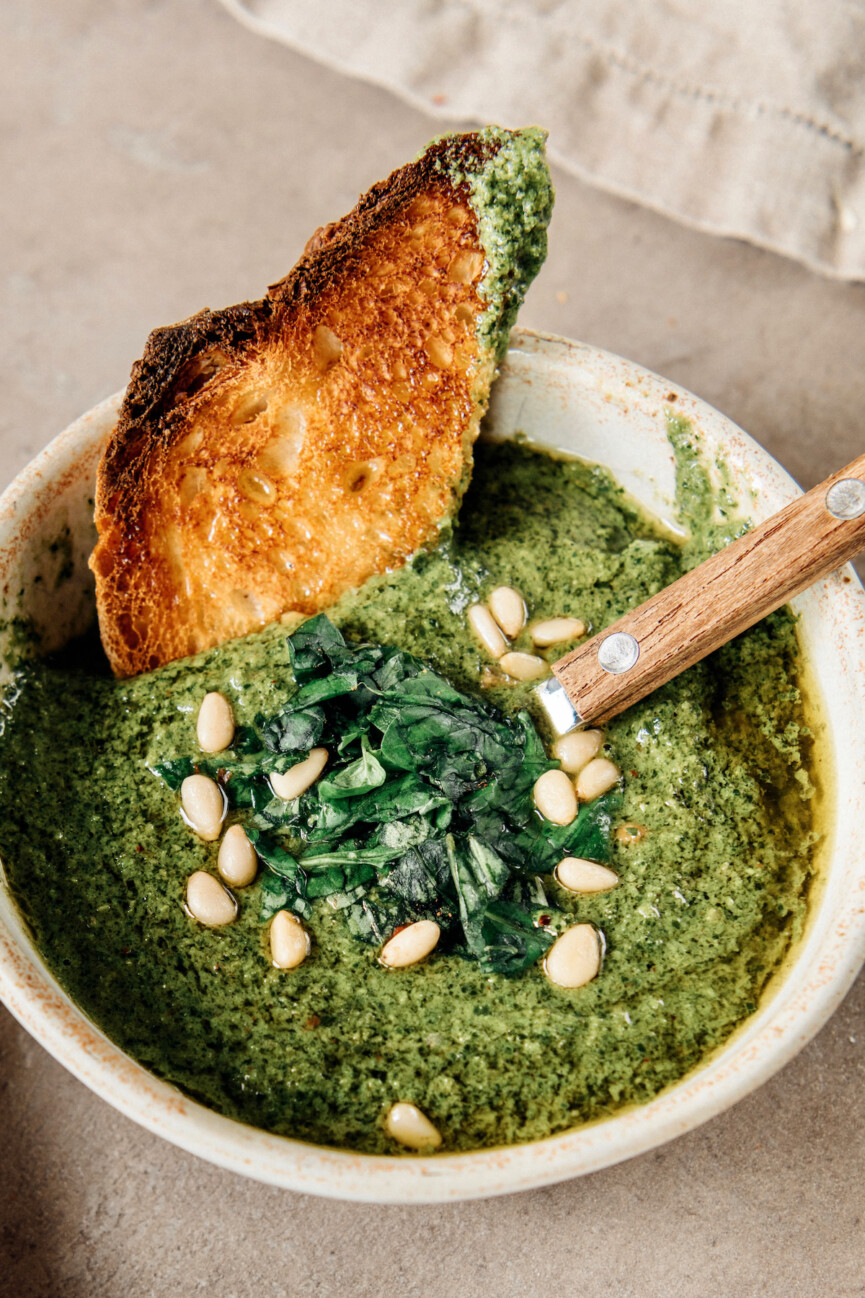 How To Serve Vegan Pesto
I make a batch of this vegan pesto almost every week, and it stores great in the fridge for up to 7 days. You can also freeze it to use later on salads, pizzas, pastas, sandwiches, eggs and more. Here are some of my favorite dishes to pair with this vegan pesto recipe:
This pesto knows no limits. Feel free to get creative and let us know how you like it!
Vegan Pesto
Serves 6-8
Meet the perfect creamy spread or sauce for your favorite dishes.
Ingredients
1 cup spinach
1 cup basil
1/2 cup olive oil
1/4 cup hemp seeds
1/4 cup pine nuts
1/4 cup nutritional yeast
1/2 lemon, juiced
2 cloves garlic
1 Tbs apple cider vinegar
1/2 tsp red pepper flakes
1/2 tsp salt
Instructions
Mix all ingredients in a blender and blend until smooth.
Option to serve with toasted pine nuts and torn basil on top.
---
Instructions