There's this window during the summer months when my vegetable intake basically quadruples. I eat heirloom tomatoes every single day, my salads are filled to the brim with fresh market greenery, and the basil becomes extra bountiful. To celebrate the tail end of golden hour, I wanted to create something that would really let the season's produce shine and take center stage on a plate. Of course, the only way I really know how to celebrate anything is through food, so I took a trip down to our weekend farmers market, grabbed some of my favorite veggies (all bright and colorful), and came home to make what might just be the easiest but most impressive dinner centerpiece I could come up with. Serve this vegetable tart with a simple salad and you might just win an award for best summer meal yet.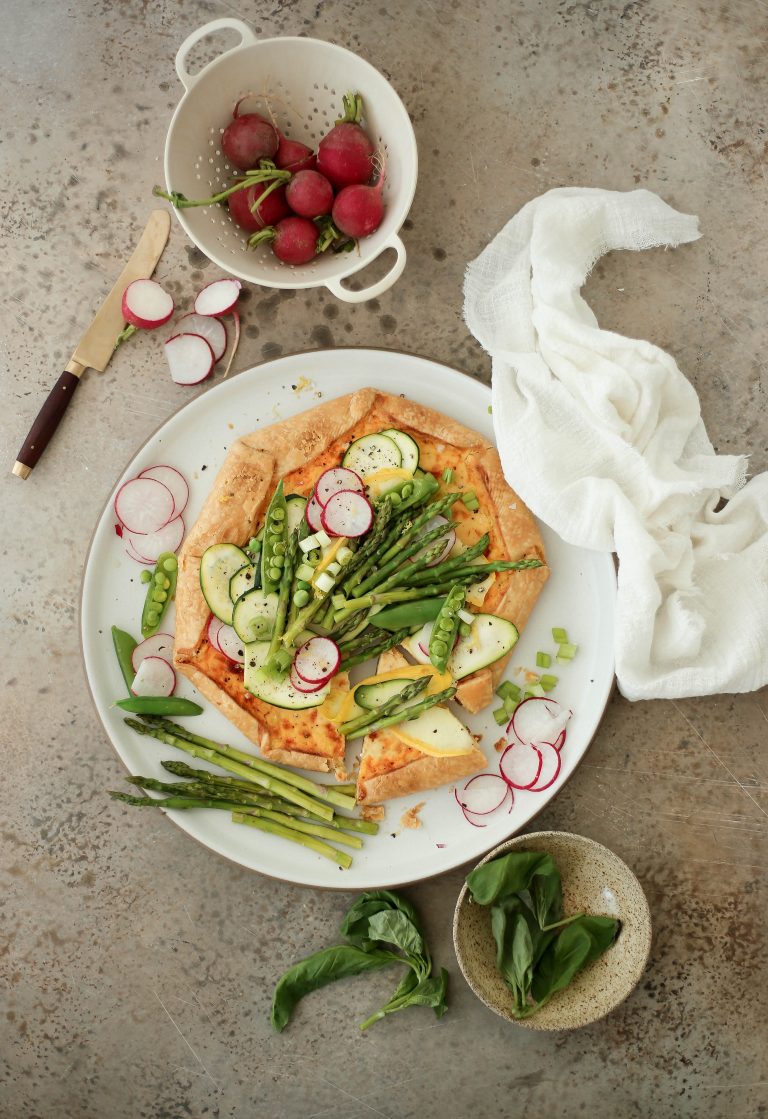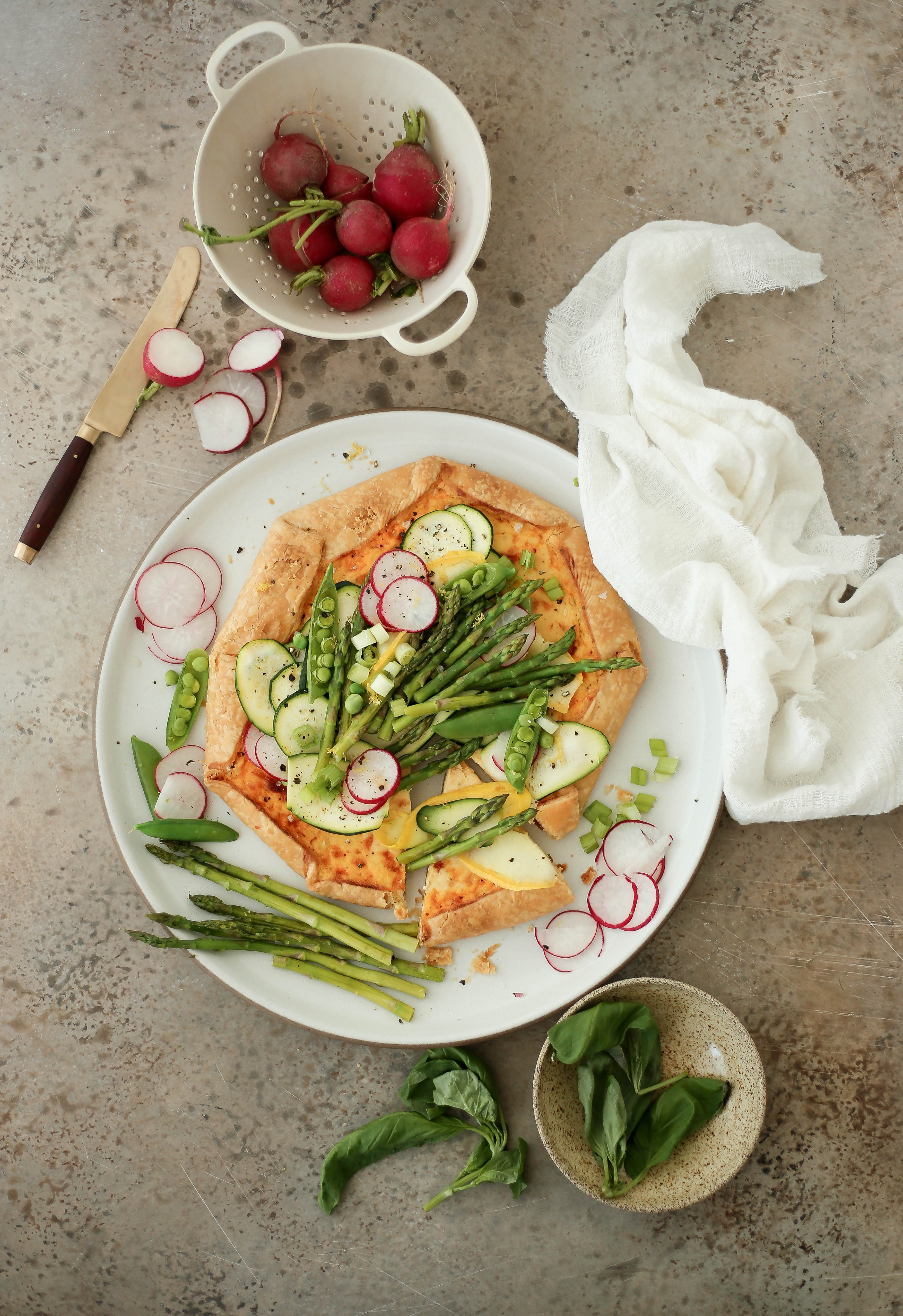 While tomatoes certainly get the most limelight during this time of year (hello, heirlooms!) I really wanted to use up some of the other seasonal gems. We're still getting lots of great asparagus up here in Chicago, and this is the time of year for some zucchini and squash, too. Along with some snap peas and radishes, these veggies make for quite the bounty of flavors that all work really well together while combining a great range of textures to create something delicious on this tart.
Now of course I bet you're wondering, what is going on underneath that mess of veggies though? Only the most delicious and tangy ricotta and cheddar filling.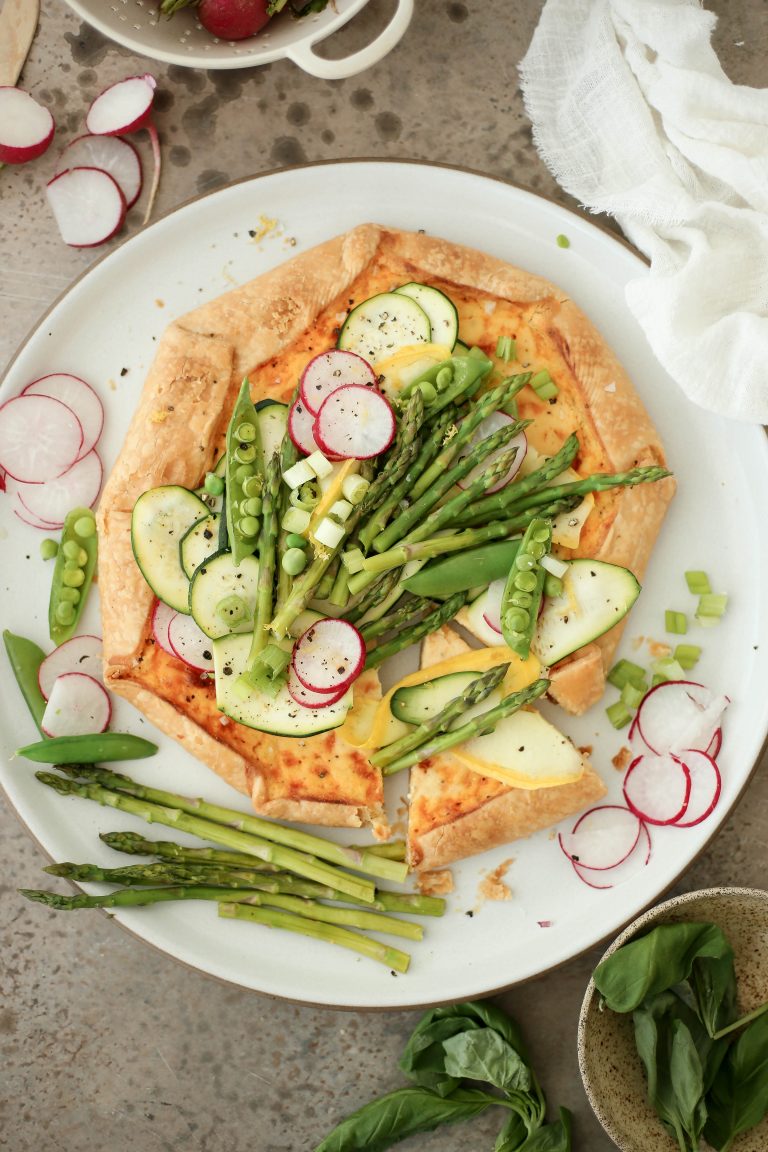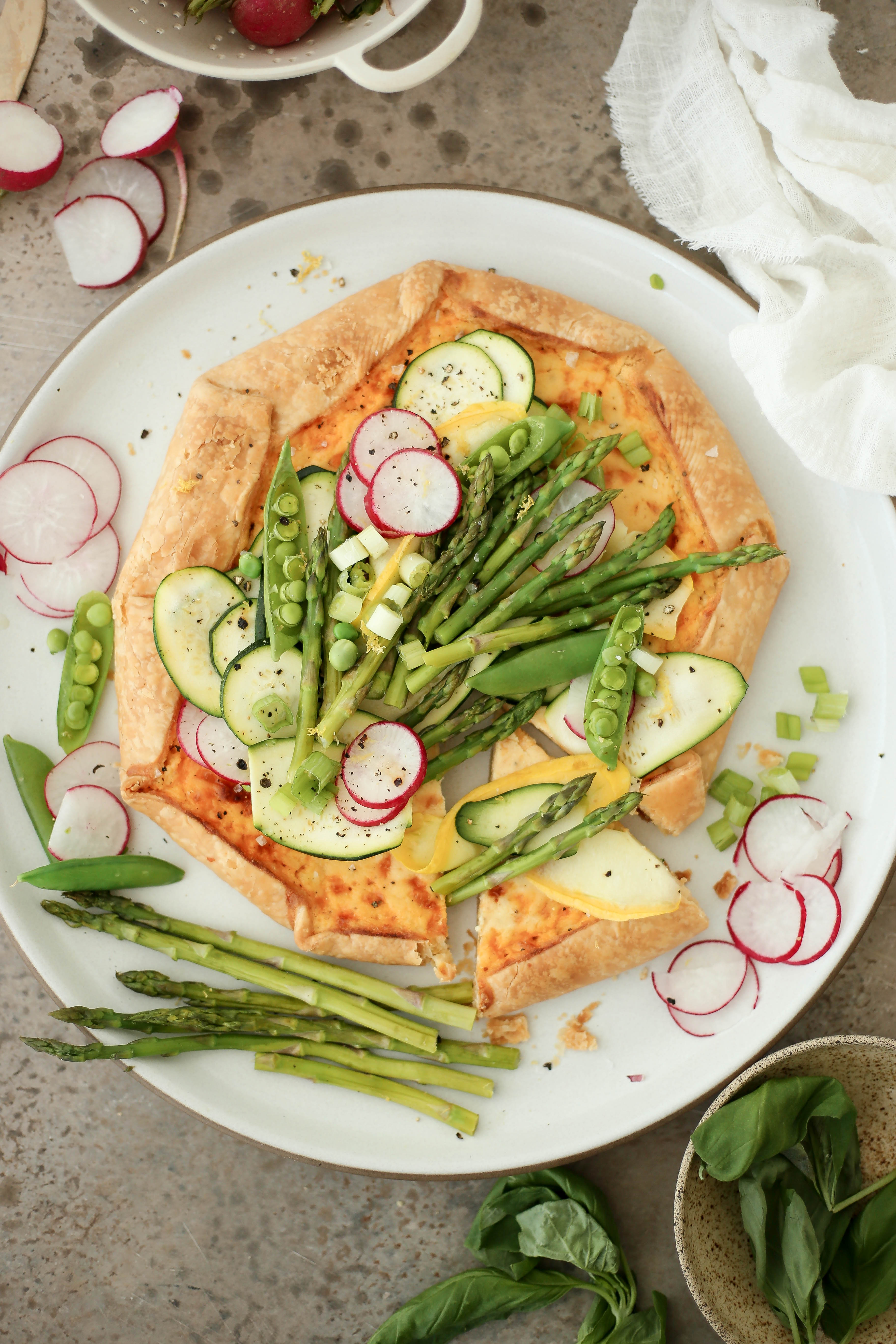 While this tart might look fancy, it's crazy easy to pull together. The filling is made from ricotta, cheddar cheese, an egg, garlic, lemon zest, and some thyme. The cheddar adds a nice zing to an otherwise mild ricotta, and the garlic, lemon, and thyme just add their beautiful flavor to bring everything together.
I used a store-bought pie crust for simplicity, but you can totally whip up your own. DIY pie crust is super easy! Once you spread the filling over the crust, you just tuck over the edges of the dough and bake.
For the veggies, I actually give them a super quick steam in my stovetop steamer just to bring out a bit more of their color and soften them just a tad, but you can leave them raw if you prefer. Top with some seasoning and lemon juice, and you've got summer on a plate!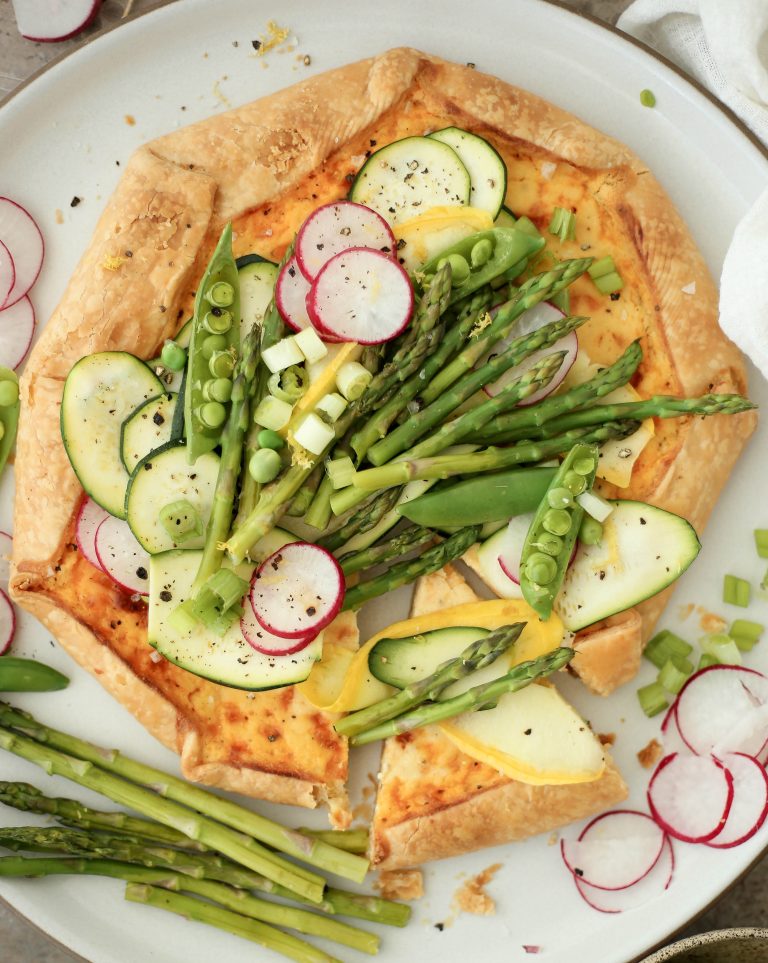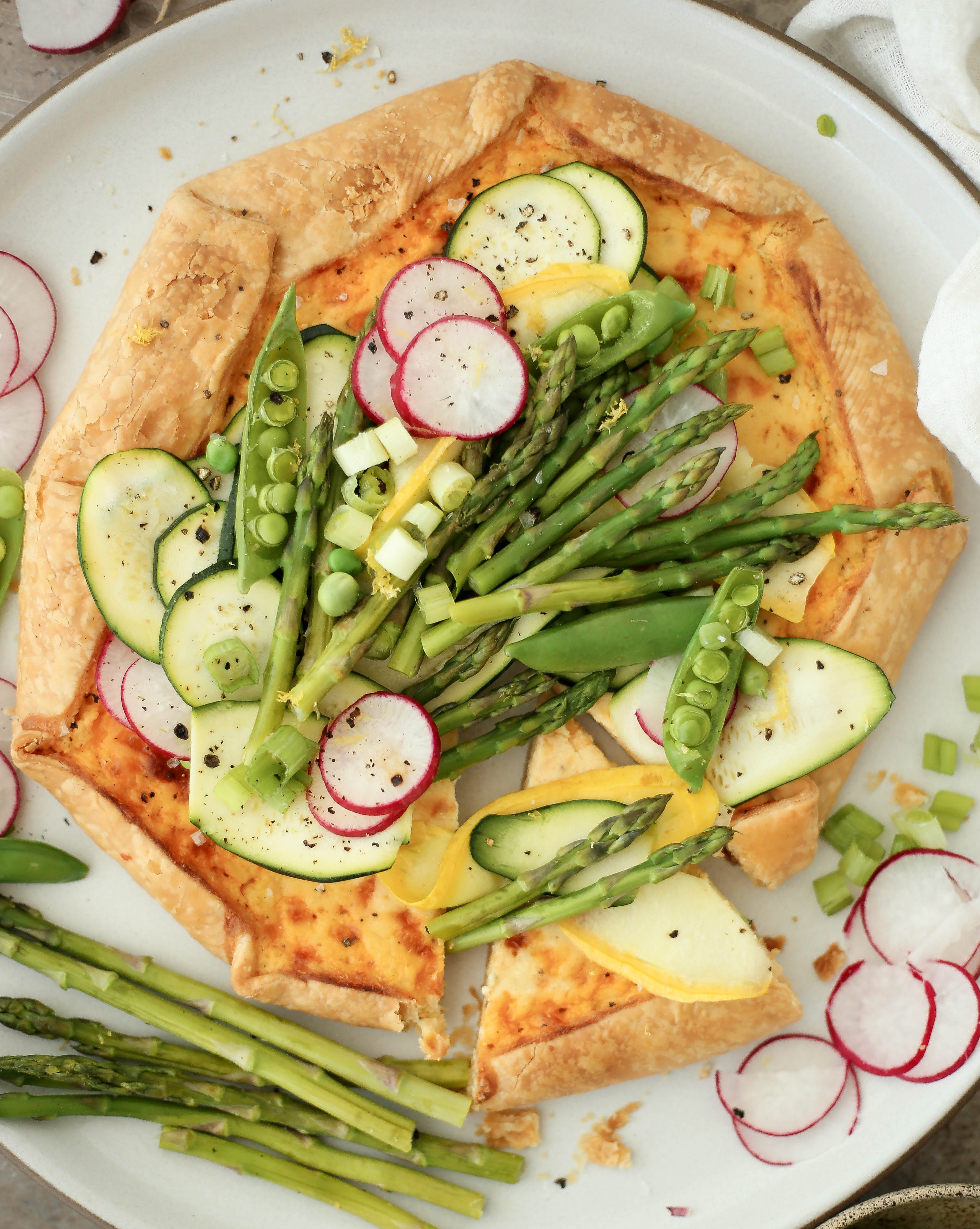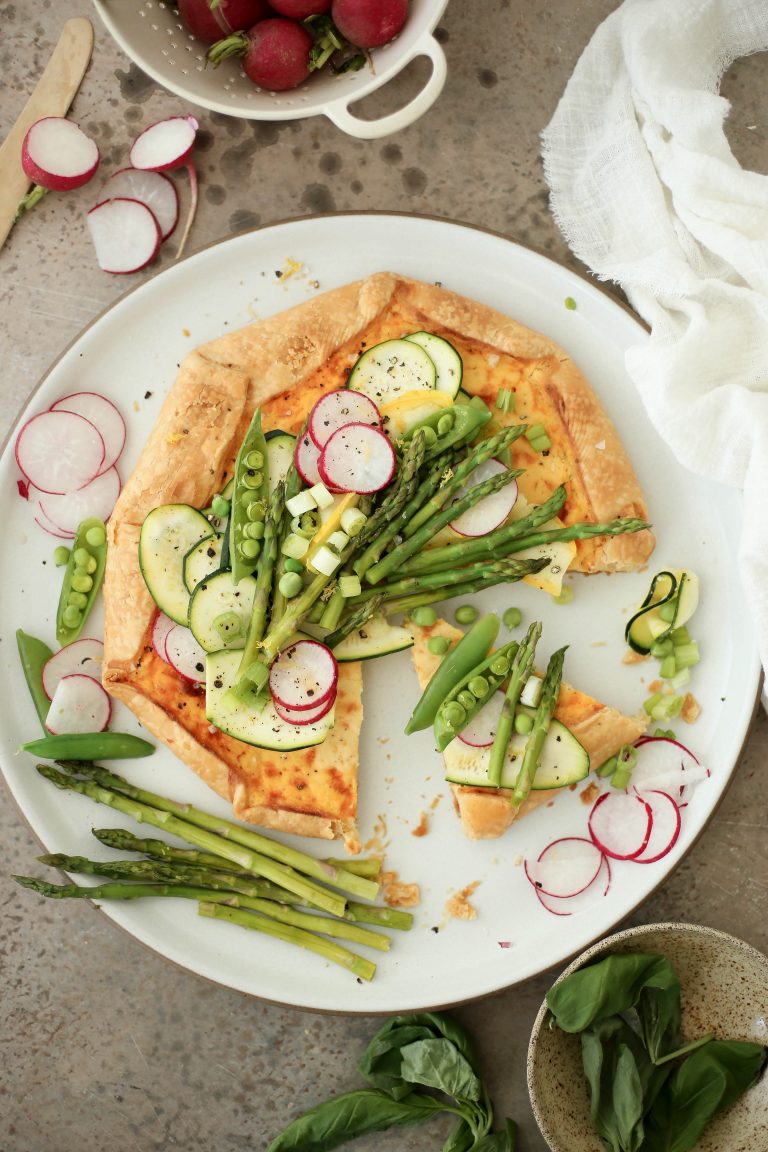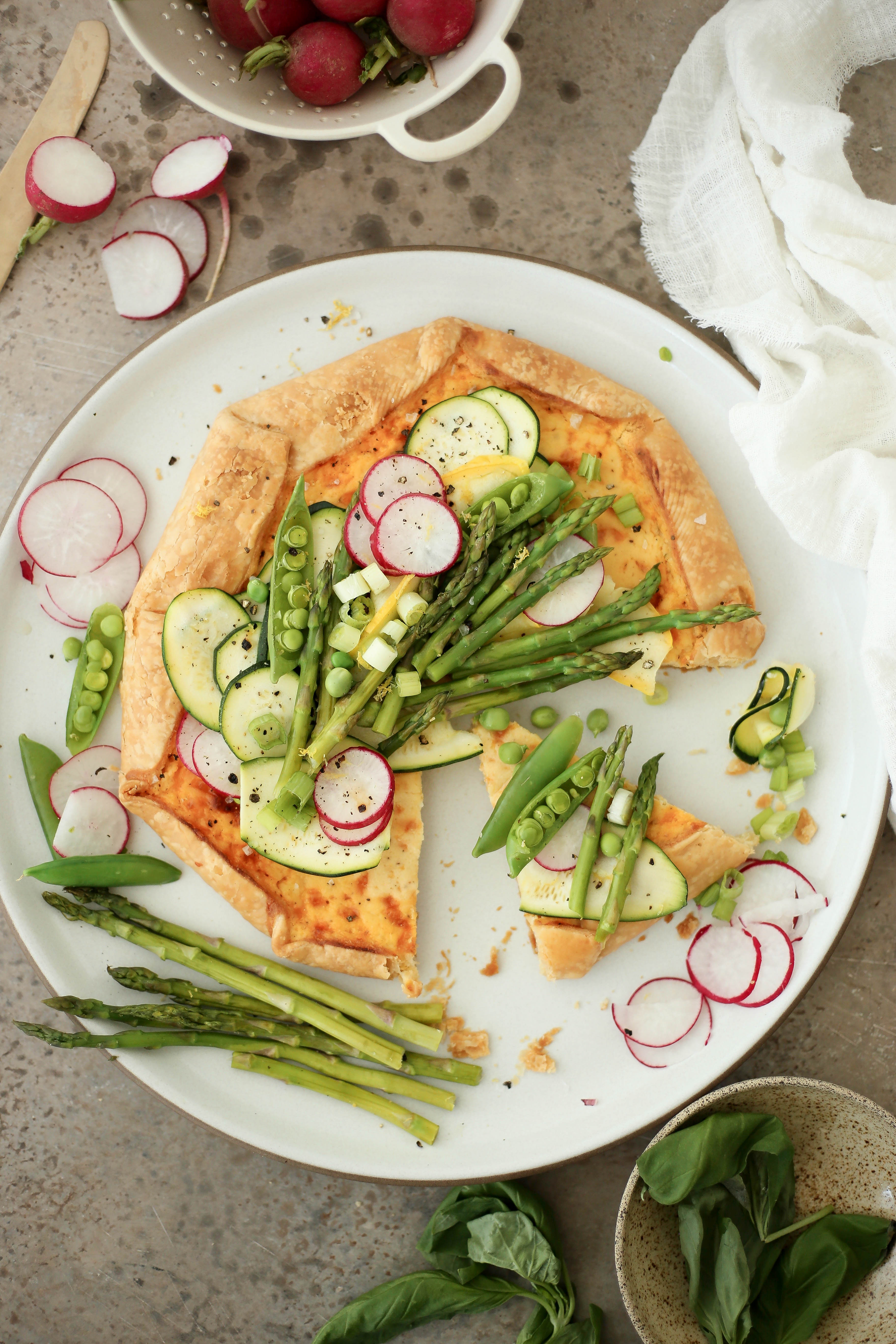 ---
Ingredients
for the filling:
1 cup of ricotta cheese
1/2 cup of sharp cheddar cheese, shredded (fresh shredded is best!)
zest of 1 lemon
2 cloves of garlic, grated
leaves from 3-4 sprigs of thyme
1 egg
salt and pepper to taste
for the topping:
steamed summer vegetables of choice: I used snap peas, asparagus, squash, zucchini, and radishes
fresh herbs of choice: I like adding some big tears of basil and green onion
salt and pepper
lemon juice
---
Instructions
Line a sheet tray with parchment paper and set aside.
Preheat oven to 425* F.
Prep the filling. In a bowl, add all of the ingredients and stir until combined.
Lay pie crust onto lined sheet tray and spoon the filling into the middle of the crust. Spread into a layer leaving about an inch and a half border of the dough. Fold the dough edges over the filling, overlapping as needed.
Place in oven and bake for 15 minutes, then reduce temperature to 400* F and bake for another 15-20 minutes until the crust is golden on sides and bottom. Remove from oven and set aside.
To serve, add fresh steamed veggies on top of tart, salt and pepper, and a generous squeeze of lemon juice. Enjoy!