These days, it's impossible to scroll through social media without comparing some facet of your life. Particularly, skin health. From luminosity to texture, influencers know how to shrink their pores, work the camera, and dazzle in bright sunlight. It's a vibe. And while it's easy to get caught up in the highlight reel, it's important to remember this: Angelic skin is often the result of excellent genes, expensive facials, and—far too often—a filter. While the quest for clear skin is nothing new, it's also evolving. Women are proud of their imperfect skin. It's setting a new standard for what's normal, beautiful, and realistic. At any rate, there's nothing wrong with wanting to take care of your skin. In fact, we endorse it! While proper skincare products are key, skin health starts in the kitchen. Today, we're sharing juicing recipes for clear skin. After all, our skin reflects what we put in it.
Feature image by Teal Thomsen.
Is There a Correlation Between Diet and Clear Skin?
Yes, and research proves it. Numerous studies have looked at what nutrients affect skin wrinkling, dryness, and thinning. The results? Vitamins, minerals and antioxidants present in fruit, vegetables, and healthy fats are consistently associated with healthier, younger-looking skin. Said differently: diet matters. In fact, certain foods can promote inflammation throughout the body. While the current research only detects an association between diet and acne—and not a causation—there's still plenty of anecdotal evidence to suggest the correlation between food and blemishes.
Nutrients for a Clear Skin Diet
On a routine basis, supporting your skin requires supporting your cells. We want to focus on eating real, whole foods—foods in their most natural state. These ingredients are natural, simple, and come from the earth (or they eat what grows on the earth). These foods have existed for thousands of years, nourishing our ancestors. They're often one-word foods or have labels that list a handful of ingredients—all of which are easy to read. These foods include avocados, berries, eggs, wild-caught salmon, sweet potatoes, and more. Think: Mediterranean diet. Below are specific nutrients to incorporate into a healthy skin diet plan. They're the foundation for juicing recipes for clear skin!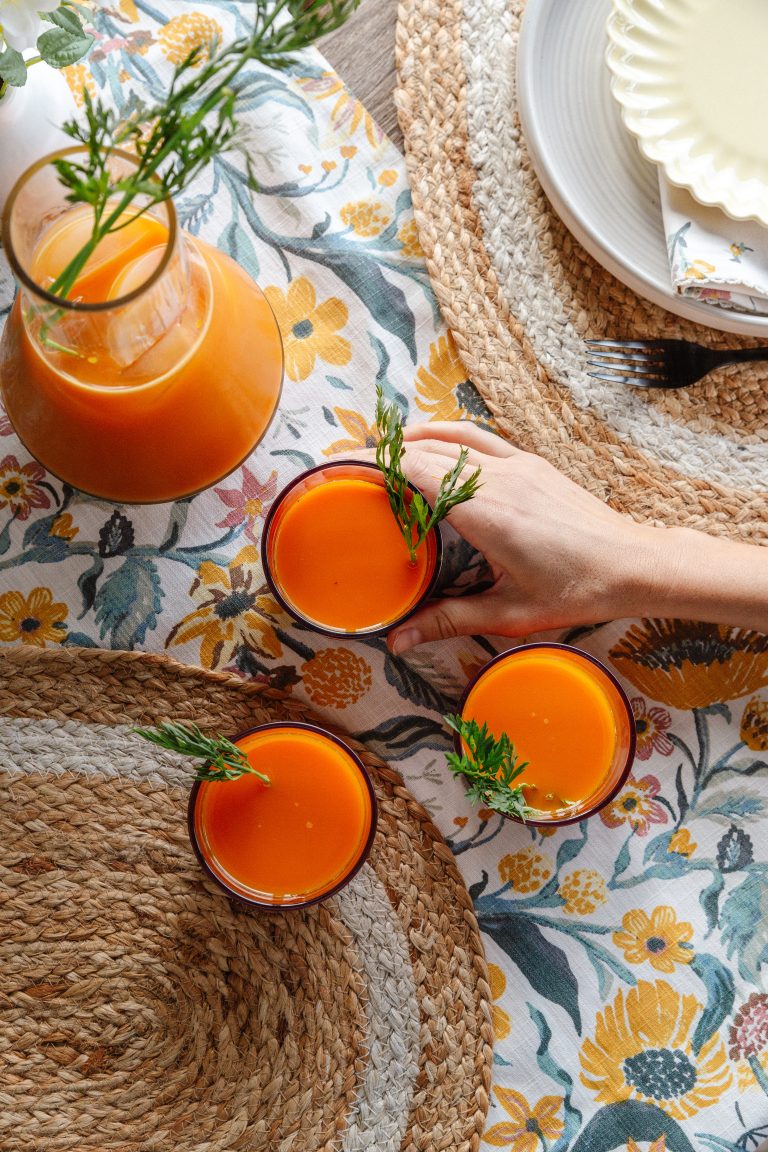 Vitamin A
When studying the severity of acne, those lacking vitamin A showed increased acne. When juicing for clear skin, focus on cooked sweet potato (204% DV of vitamin A per serving!), sweet red pepper, swiss chard, spinach, Romaine lettuce, mango, cantaloupe, grapefruit, and watermelon.
Vitamin C
Vitamin C is also known for its skin health properties. Its antioxidants play a major role in collagen synthesis, making vitamin C a vital molecule for skin health. It's a Camille Styles essential, and we don't go a day without it! Beyond beauty products, it can be found in citrus, papaya, bell peppers, lemons, and tomatoes.
Vitamin E
Vitamin E, like vitamin A, is another anti-inflammatory agent for our skin. In fact, several studies have supported its prevention of inflammatory damage after UV exposure. Ingredients with vitamin E for juicing include almonds, avocados, broccoli, red bell pepper, pumpkin, beet greens, and more.
Probiotics
A healthy gut is key for reducing inflammation, thereby improving skin health. While probiotic supplements are beneficial, you can also eat a variety of probiotics in the form of fermented foods: kefir, yogurt, tempeh, sauerkraut, kimchi, and more. While juicing recipes for clear skin don't typically require dairy, you can toss them into smoothies for clear skin! Adding kefir (fermented milk of a cow, goat, or sheep) and/or yogurt is easy and delicious. Both ingredients also provide vitamin D, calcium, and protein—helping balance blood sugar and boost micronutrients.
Zinc
Research shows that people with low levels of zinc may be more prone to acne. Here's your gentle nudge to incorporate foods like legumes, beans, seeds, high-quality animal protein, and shellfish. When juicing for clear skin, specifically, focus on avocados, berries, pomegranates, guava, cantaloupe, apricots, peaches, and kiwi.
Omega-3 Fatty Acids
Foods like salmon, walnuts, and flaxseed are key ingredients in a healthy skin diet. And essential fatty acids are responsible for healthy cell membranes. These act as barriers to pollution and bacteria, but they're also the passageway for nutrients to cross in and out. Unsurprisingly, this study found that people who took a daily omega-3 and antioxidant supplements were able to both reduce their acne and improve their mental health. For juicing, focus on mangoes, blueberries, spinach, and avocado. Top your juice with flax and chia for an omega-3 boost.
Turmeric
Packed with antioxidants and anti-inflammatory agents, turmeric is a healing elixir for the whole body. Turmeric contains curcumin, a potent antioxidant that's known to reduce inflammation. Furthermore, its anti-inflammatory qualities can target your pores and calm the skin. Turmeric is also known to reduce scarring. Using it orally and topically may help your face clear up from acne breakouts.
Is Juicing Worth the Hype?
We all know that juicing is beneficial for our overall health. Produce—in general—is good for our health. Loading up on antioxidants (abundant in juice-friendly fruits and veggies!) and eating produce in season supports every cell in our body. But to get the most bang for your buck, most experts say to eat fruits and veggies in their whole, un-juiced form. However, there are still plenty of reasons to juice your fruits and veggies. While juicing strips away most of the solid matter from fresh fruits and vegetables—including seeds, pulp, and thin peels (like apples and grapes)—what's left behind is liquid gold. Juice contains most of the micronutrients found in whole, unprocessed produce. Think: vitamins, minerals, and phytonutrients. These all aid in supple, hydrated skin.
The Best Produce for Juicing for Clear Skin
If you want juice recipes for clear skin—that won't send your blood sugar soaring—you'll want to drink more than just pure watermelon juice. Adding in greens and healthy fats can aid in blood sugar management (and satiation). These are the best fruits and veggies for juicing for clear skin:
Apples: Easy to find at the grocery store, apples are deliciously sweet and contain anti-inflammatory properties. They also contain pectin, which promotes good bacteria for the gut.
Beets: A sweet, earthy root vegetable, beets contain nitrates which can help increase blood flow to the skin.
Carrots: Another sweet vegetable, carrots improve skin health and are rich in vitamins and minerals, like biotin and vitamin A.
Celery: Hydrating and nourishing, celery has been known to help skin woes, supports digestion, and reduces inflammation.
Cilantro: A potent herb, cilantro raises energy levels and helps clear skin.
Cucumber: Water-rich, cucumber contains antioxidants and tastes mild in juices. It's super hydrating.
Ginger: Slightly peppery and sweet, ginger can help reduce inflammation in the skin.
Oranges: In general, citrus fruits are known to support skin health. Loaded with vitamin C and antioxidants, citrus has antioxidant protection against UV rays.
Spinach: Spinach juice is high in antioxidants and beneficial compounds that may protect your vision, decrease blood pressure, and improve hair and skin health.
Benefits of Juicing for Clear Skin
Even by juicing a few times per week, studies show that it can lower the risk factors for major chronic diseases, like heart disease and high blood pressure. Plus, it supports healthy skin. The skin benefits of juicing include a healthy glow, decreased inflammation, healing of chronic issues and more. All of these are a direct result of increased liver function and detoxification. Juicing can swiftly become a way of life—a habit that tastes as good as it looks.
Don't Toss the Pulp
Hello, fiber! Fruits and vegetables are an incredible source of fiber, but it's all in the pulp and skin. And juicing, unfortunately, removes both. However, there are plenty of creative ways to use the pulp. Make popsicles, toss it into veggie burgers, make crackers, add it to muffin mixes, and more.
10 Healthy Juice Recipes for Clear Skin
Ready to join the juice cult? Here are our recommended juicers. It's no surprise that wellness gurus, beauty enthusiasts, and hardworking parents stand by it—and for good reason. Juicing is touted with health benefits. While juicing isn't a substitute for chewing our food, it's a convenient way to load up on fresh produce. Below are the best juicing recipes for clear skin.
Anti-Aging Citrus Juice from Happy Foods Tube
Reduce wrinkles with this anti-aging citrus juice. This vitamin C-rich juice helps reduce aging signs and maintain healthy skin.
Get the recipe for Anti-Aging Citrus Juice.
Glowing Skin Green Juice from Happy Foods Tube
This green juice recipe is an easy way to give your skin the glow you're after. No preservatives, only three ingredients—and it only takes five minutes to make.
Get the recipe for Glowing Skin Green Juice.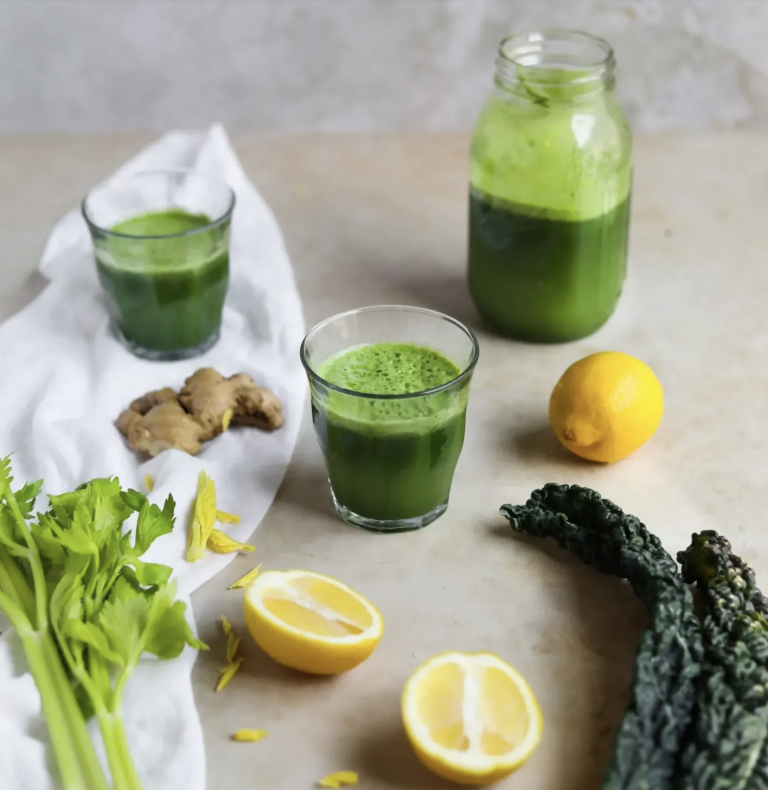 Glowing Skin Green Juice from The Heirloom Pantry
This is is the best miracle green juice for healthy, hydrated skin. It gives your skin a radiant glow, can help clear acne, and takes only a few minutes to prep and juice.
Get the recipe for Glowing Skin Green Juice.
Kat Tanita's Morning Green Juice from Kat Tanita
This gut-healing green juice has a secret ingredient—fennel! It makes this juice flavorful and digestive-friendly.
Get the recipe for Kat Tanita's Morning Green Juice.
Skin Glow Raw Juice from Taste Great Foodie
This delicious, revitalizing juice is made with four simple ingredients: sweet potatoes, green apples, mandarins, and lemon. Sip your way to glowy skin.
Get the recipe for Skin Glow Raw Juice.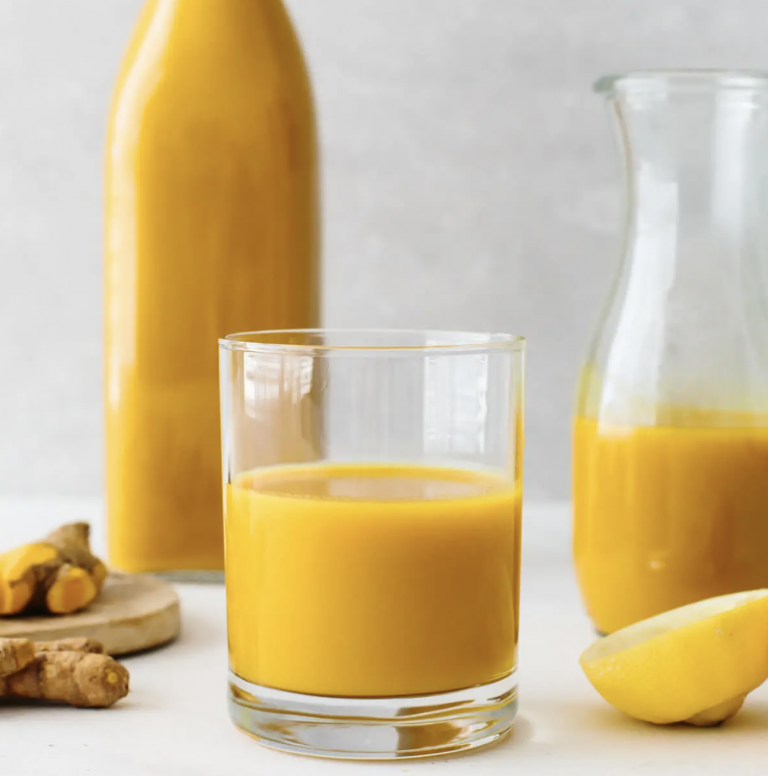 Jamu Juice from Downshiftology
Jamu juice is a traditional Indonesian herbal drink that keeps your body refreshed and balanced. It's a simple blend of fresh turmeric, ginger, lemon, water, and sweetened with a bit of honey. Serve it chilled or warmed up for the perfect skin booster.
Get the recipe for Jamu Juice.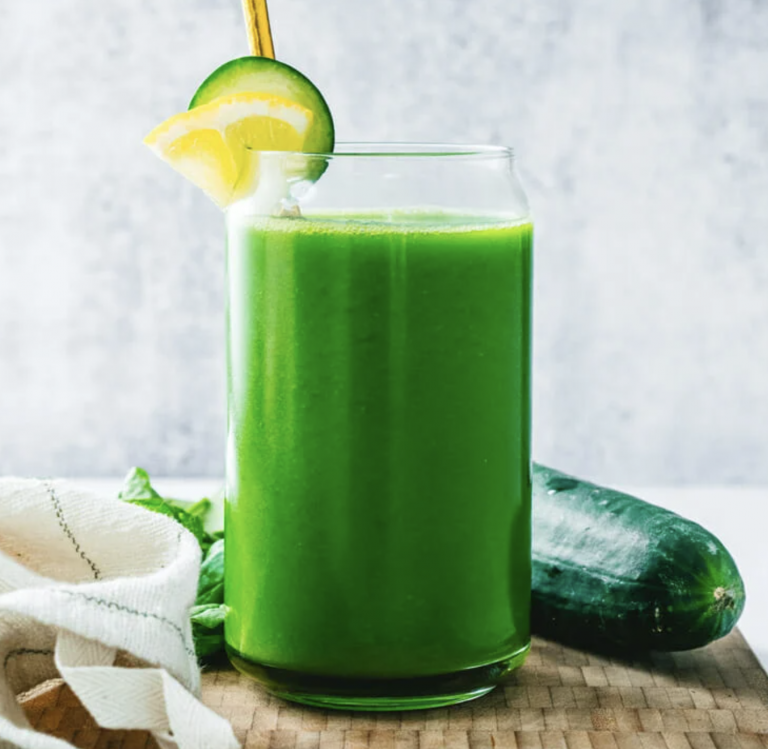 Green Juice from A Couple Cooks
This green juice recipe is easy to make in a blender and packs in the nutrients! It's bright and deliciously refreshing.
Get the recipe for Green Juice.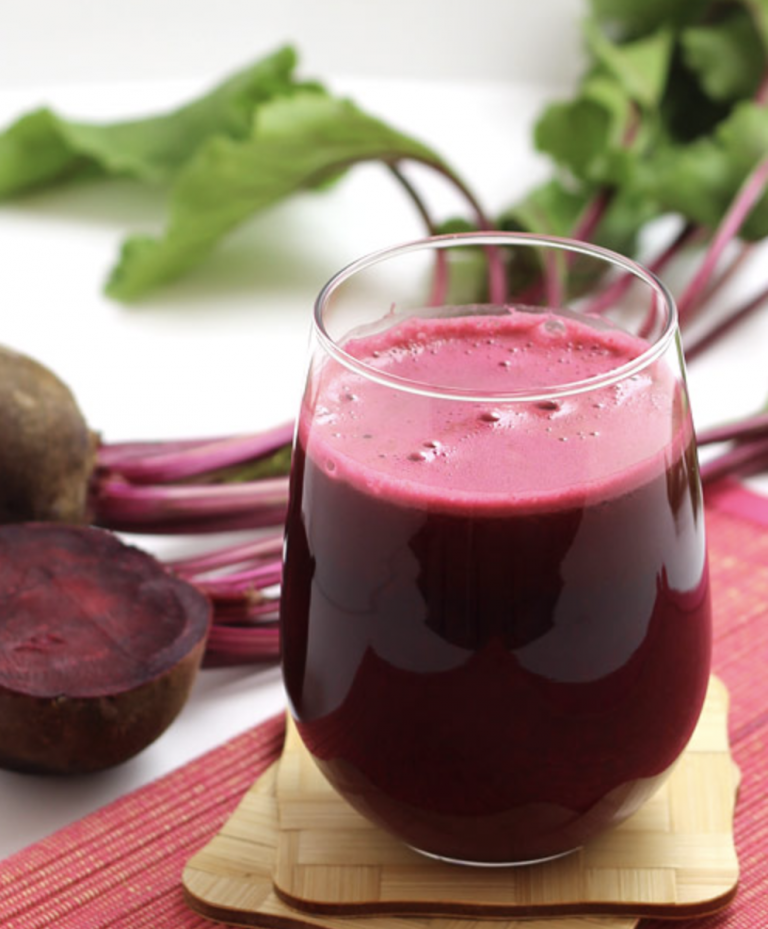 Beetroot Juice from Food Viva
A simple mix of red beetroot, apple, and celery, this is a potent juice for clear, radiant skin.
Get the recipe for Beetroot Juice.
Green Goddess Juice from Casey Jade
Out of all the juicing recipes for clear skin, I'd slate this as the #1 juice to add to your repertoire. Your body will thank you and it tastes divine.
Get the recipe for Green Goddess Juice.
Cilantro Green Lemonade from Willamette Transplant
This oh-so-refreshing and revitalizing juice is a twist on your classic lemonade. Consider this the perfect tonic to jumpstart your clear skin journey.
Get the recipe for Cilantro Green Lemonade.