The bedroom is in. I know, you're probably thinking: Was it ever out? It wasn't. This hardworking room has always been in the spotlight, hosting some of the best things that happen in life. But this year, the bedroom seems to be getting an upswell of design attention. At least, that's my take from what the interior designers are forecasting for the top bedroom décor trends of 2022.
It's all about "immersing" yourself with meaningful inspiration, Regan Baker says.
"I see bedrooms moving in the direction of the sanctuary," Julie Rootes shares.
And… there's a big shift toward "luxury and well-crafted," believes Elle Cole.
In many ways, this inclination toward an intentional and beautiful bedroom is as much a wellness manifesto as it is an aesthetic one. After all, this is the room where we take care of ourselves and recharge at night. It's also where we set the tone for our days. So, it deserves to be decorated per these positive (and sexy) sentiments. My manifesto: We deserve for our bedrooms to be decorated like this.
Feature image by Roland Bello.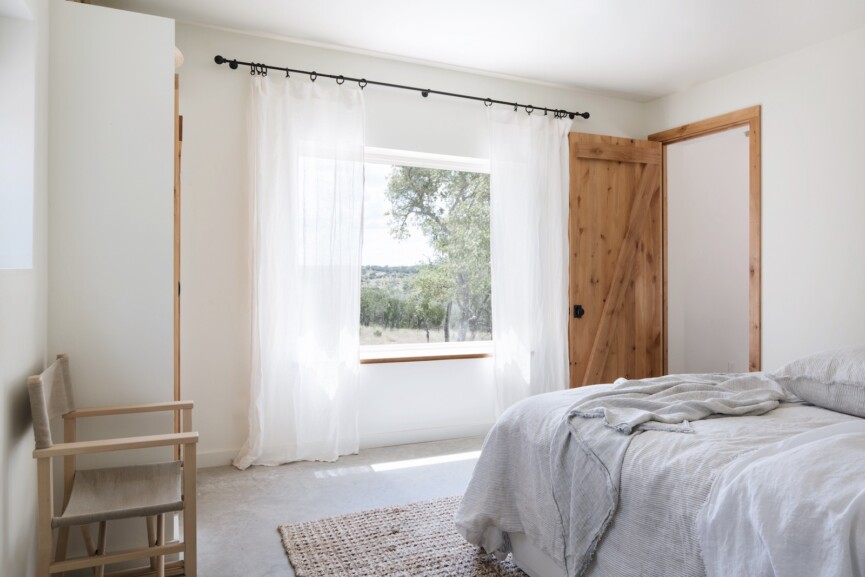 Plus, when we're fortunate to have a space to rest our bodies and minds, it warrants granting this room extra attention to make it the most enjoyable it can be. So here are seven of the top bedroom décor trends of 2022, according to six design experts. Let their insight guide you to create the sexiest, dreamiest, most joyful bedroom ever.
Because that is always in.
Trend #1: Airy and Soothing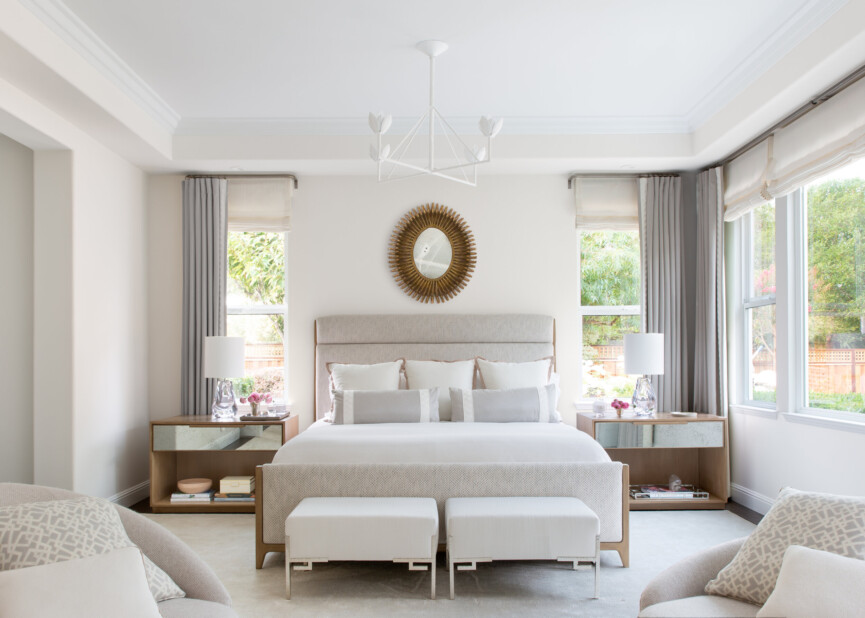 Image courtesy of Julie Rootes Interiors.
"I see bedrooms moving in the direction of the sanctuary," Julie Rootes tells me. "With all of the chaos happening in the world around us, the bedroom has become a safe haven, a place where we can turn off all the noise in the world and recharge our batteries." Rootes, who is the owner and principal behind Julie Rootes Interiors, foresees the "sanctuary" bedroom as being one that is light, airy, and soothing. "This gives you a calming feeling for the mind and body," she says.
Get the Look:
It may seem obvious: a bedroom is meant to be soothing and to encourage repose. But a few additional tricks can bring the relaxation quota to the sanctuary level. Incorporate hues of light greens, blues, creamy whites, and ample earthy beiges. Remove any unnecessary electronics (including that TV!) and incorporate a place to relax before hitting the bed, such as a cozy wool chaise or reading chair.
Trend #2: Pure Fabrics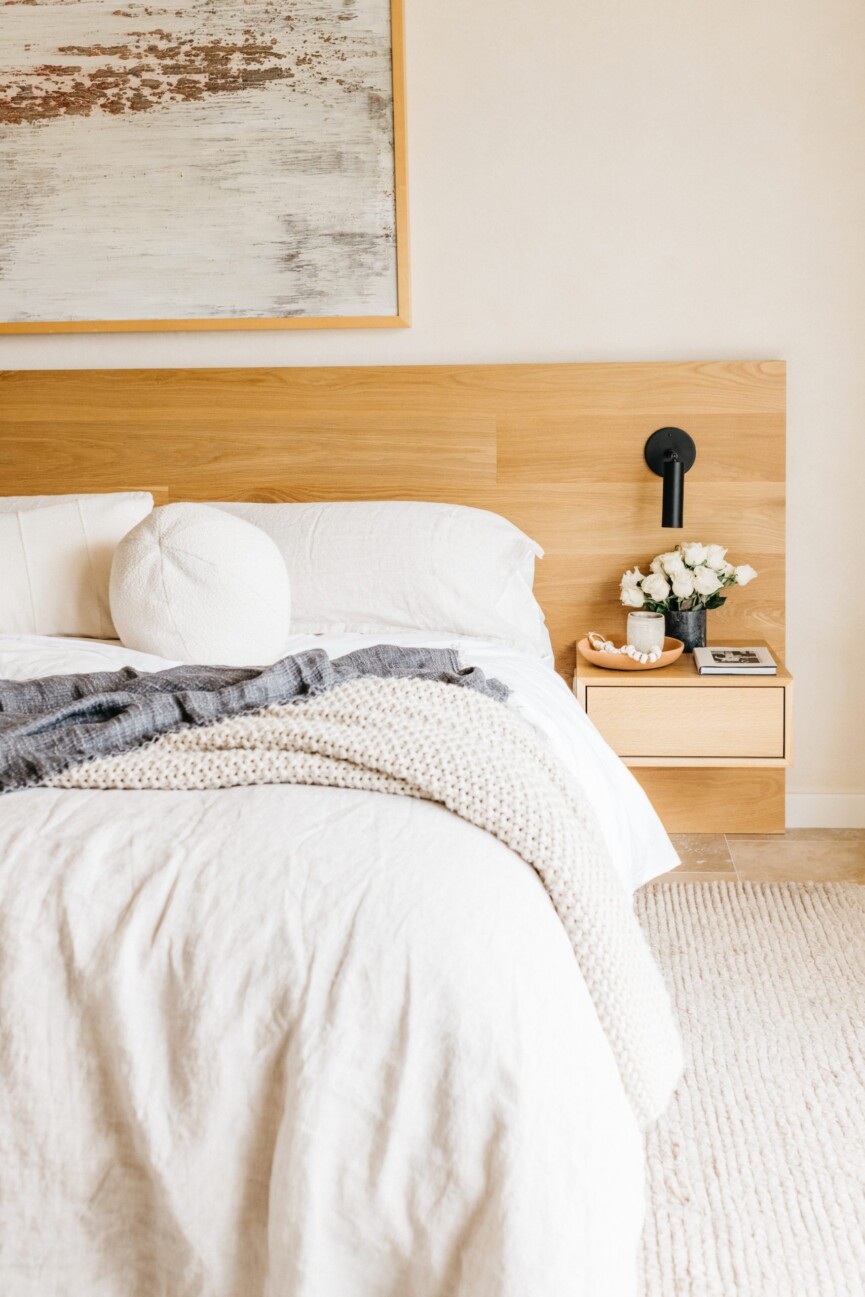 Image by Michelle Nash.
Environmental concerns are top of mind these days, says Julie Rootes. In this vein, there's a natural proclivity for incorporating pure fabrics in 2022. "Selecting all-natural bedding made of natural and organic materials is gaining popularity," Rootes continues, pointing toward wool, linen, and organic cotton as the material stars of the bedroom this year.
Get the Look:
We spend about a third of our lives sleeping. That fact calls for sheets and duvets that are pure and free from harsh chemicals and synthetics. Opt for linens made of a single natural material, such as organic cotton or ultra-breathable, heirloom-quality linen.
Trend #3: Statement Headboards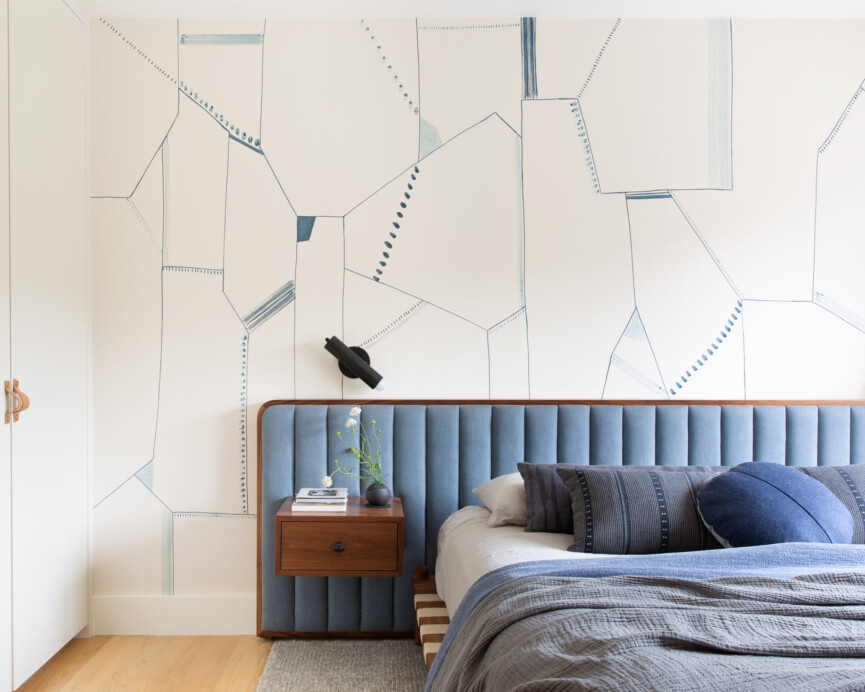 Image courtesy of Regan Baker Design.
When it comes to bedroom décor trends of 2022, a headboard isn't just a headboard. It is a full-on design focal point, say the experts. "We are tired of the standard headboard," exclaims Regan Baker of Regan Baker Design. "We want more personalized statements and shapes that represent our overall style." Baker includes this to be elaborately shaped "statement headboards" as well as "avant-garde headboard designs." Elle Cole agrees. "Upholstered headboards add depth and comfort," says Cole. "It's the layering of softness that invites you to calm your mind when you wind down for the day."
Get the Look:
Tufted. Uniquely shaped. Upholstered. The key to this look is finding a headboard that immediately draws the eye and offers inspiration upon walking into the room.
Trend #4: Layers and Layers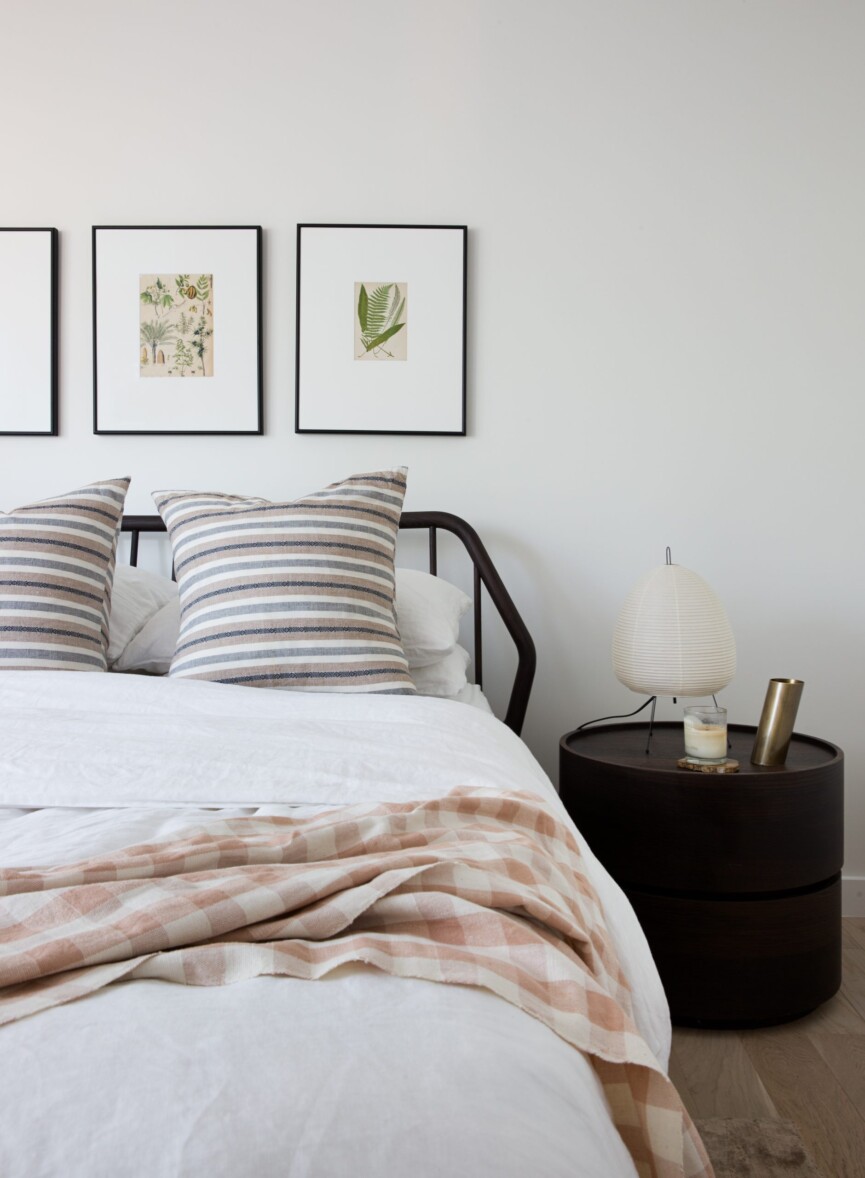 Image by Molly Culver.
More sometimes is more—at least, in the bedroom. This comes into play when layering various soft, easy textures. "Layering a bedroom with softness and quality can elevate our emotional well-being and increase our positive energy," says Elle Cole, who believes this approach adds a feeling of reprieve. Layers also up the sanctuary feeling of the bed, which is critical for our health, adds the founder and principal of Elle Cole Interiors: "A bedroom deficient in comfort and peace can lead to a myriad of health issues."
Get the Look:
The simplest way to add layered depth to a bedroom is starting with the star feature: the bed. Toss an ultra-plush throw (or a weighted blanket, if you're inclined) atop your comforter. From there you can weave in simple throw pillows for added dimension.
Trend #5: Dimensional Color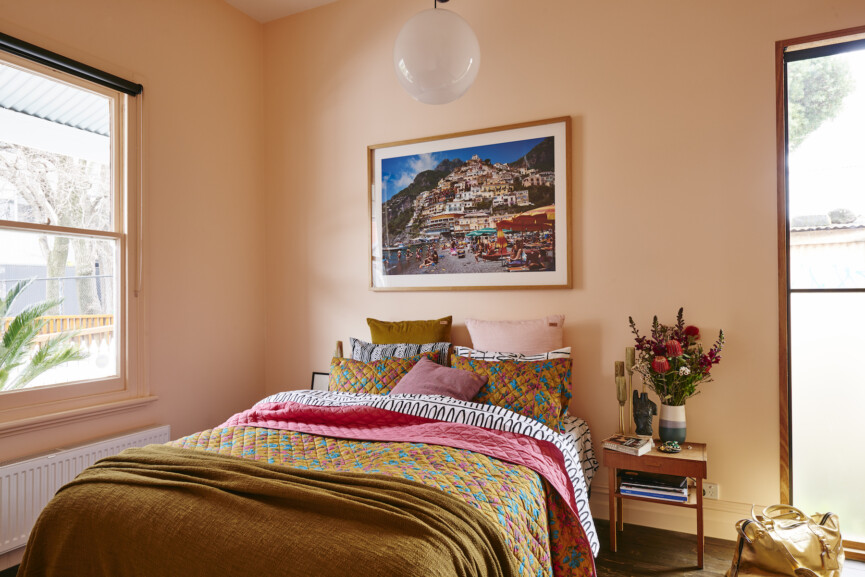 Image by Nikole Ramsay.
Speaking of layers. The experts are also seeing an inclination toward more dimension and depth through accessorized color. Think interesting art pieces, varied lighting, and throw pillows in jewel tones.
Get the Look:
Trisha Snyder of Butler Armsden Architects is seeing this "dimensional" look via layered lighting and colorful dimensional art pieces. Paul Rochford and Michael Violante, the principals behind V&R Interiors, say their clients are yearning for color pops found in accessories, like lamps and pillows, which add layers of depth and dimensions. "This creates a warm and lush feel to the room," says Rochford.
Trend #6: Lots (and Lots!) of Nature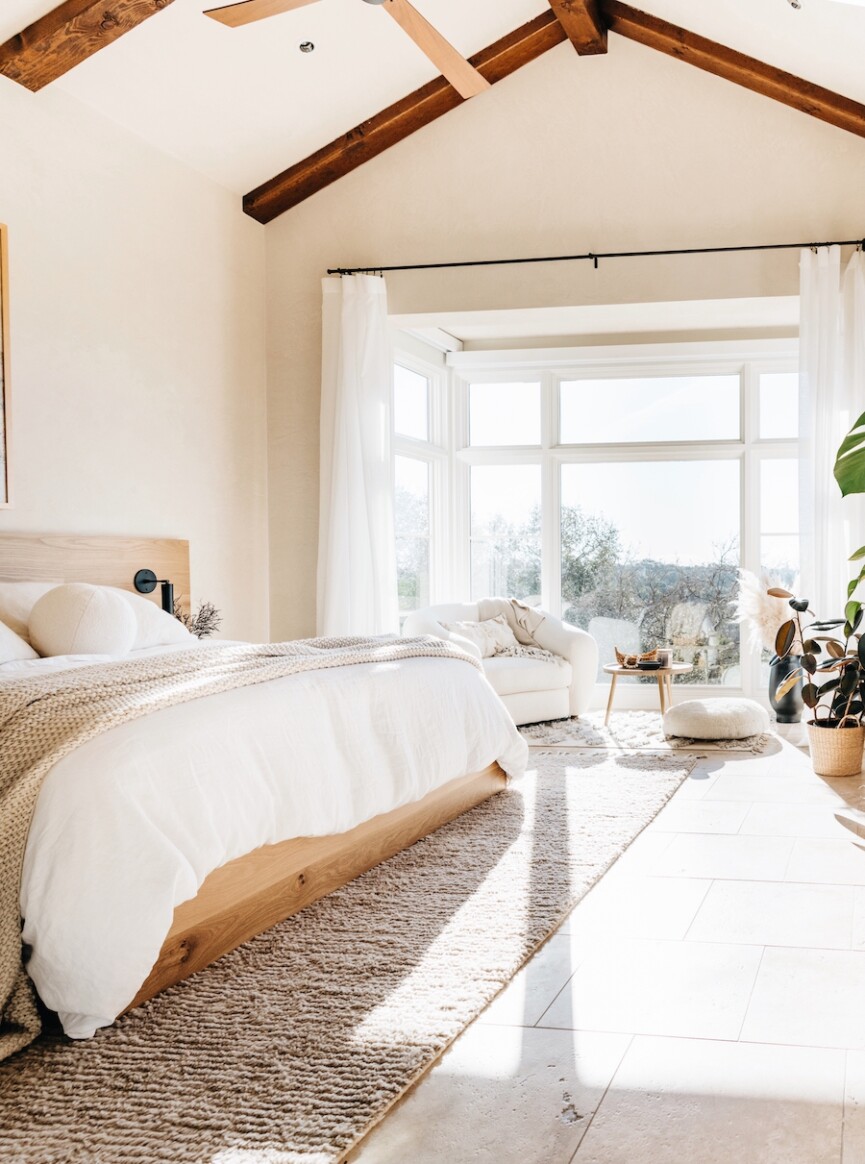 Image by Michelle Nash.
That instant ease you get from a walk in the woods? Bring that to the bedroom, says Paul Rochford and Michael Violante. Incorporating nature is more important to us than ever this year. "We need our bedrooms to be an oasis of calm, zen, beauty, and relaxation—and nature really helps us achieve this quickly," believes Violante.
Get the Look:
It's easy to weave bits of air, sky, and green into the bedroom, according to the V&R Interiors design duo. One way is to capitalize on a view. Violante recommends using sheer or transparent window coverings to allow ample views and natural light to shine through a window. This, he says, lets "nature be the star." It's also a way to trick the eye into thinking a window is larger than it is. Of course, another simple and steadfast way is to include a gorgeous indoor plant in a stunning planter.
Trend #7: Quality and Luxurious Pieces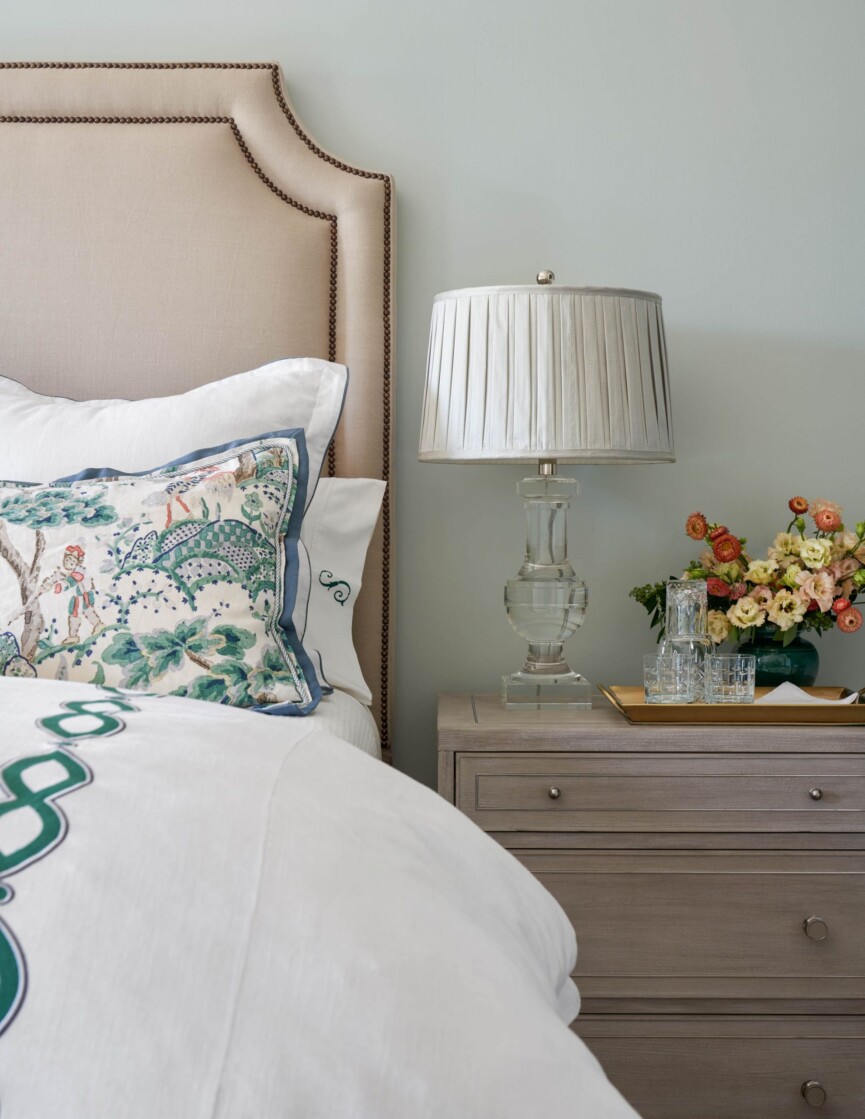 Image by Nathan Schroder, courtesy of Elle Cole Interiors.
It's a décor trend on the outs for 2022: fast furniture. Mass-produced and trendy is losing its appeal, say many designers. In its stead is a desire for quality, luxurious, and meaningful pieces, from bespoke dressers to vintage beds to high-end bedding. "Clients are leaning toward quality over quantity," says Elle Cole. "Well-crafted furnishings that have longevity are sought after because many invested in luxury during the pandemic and now they're unwilling to compromise when it comes to quality."
Get the Look:
A well-crafted item for the bedroom can vary in aesthetic and price. Look for furniture items that are made of solid wood or metal and veer from plastics or mixed materials. Also, source your local vintage or antique shop for well-made vintage finds at (often) easier price points.