Making the best bedroom design tips a reality starts with a dream—well, a daydream specifically. I fantasize about living in Paris. Make that: I daydream about my apartment in Paris. It's in the 6th arrondissement. Natural light spills onto the patinaed wood floors. The kitchen is a smashing of marble and Greek tile and copper pots. To the left is a living room with enough space for soirées. And my primary bedroom? Colossal. Expansive. So endless in space that there's a clawfoot tub in the middle. I conjure my French bedroom daily for bedroom design tips and décor inspiration. In my mind, it's that perfect. A haven where sleep, space, and aesthetics collide.
When I think more intently about my dream Parisian bedroom, I lean into the feeling it evokes rather than its size. My ideal bedroom is ethereal and exudes a sense of peace. In reality, my bedroom is quite small, as many urban apartment rooms are. But there's still opportunity for me to create the feel of my dream space. Because when it comes to designing a primary bedroom that may be limited in real estate, the key is to focus on the essentials.
As designer Katie Raffetto tells me, "less is more" is the standard for making a smaller bedroom feel bigger. So read on to glean Raffetto's bedroom design tips, and that of Cameron Johnson, for making a small primary bedroom seem expansive and indulgent—like that of my imaginary Parisian flat. (Clawfoot tub excluded.)
Feature image by Teal Thomsen.
Dive into these bedroom design tips for the expansive space you've always dreamed of.
Image by Bess Friday, courtesy of Katie Raffetto Interior Design
#1: Go with the Essentials
Look around your bedroom: Does every item have a role? If not, it's time to purge. This rule of thumb runs true for all bedrooms, but most essentially for those with limited space. "I often see people trying to get too much out of a small space," says Raffetto. "If it's a bedroom just let it be a bedroom with a bed, nightstands, and lamps." Using less furniture will help to avoid a cramped, cluttered feel.
#2: Rethink Furniture Size
A queen-size bed may seem ideal, but it may make your bedroom walls feel like they're closing in on you, believes designer Cameron Johnson, founder and CEO of design firm and furniture rental service Nickson Living. Instead, opt for a smaller size to allow for breathing room and another critical piece of furniture. Johnson calls this "space engineering," creating "room for a chest of drawers versus a dresser, which can then make room for a small desk, and so on and so forth."
Image by Molly Culver
#3: Opt for Dramatic Colors
"In a small space, I like to use saturated colors and dark colors," says Raffetto. These hues help you to "lean into the coziness," she says and indulge in the purpose of the room: to rest and recharge.
#4: Utilize "Air Space"
One of the top ways designers make any room seem bigger? Capitalizing on vertical space. Johnson suggests adding artwork above the bed "to extend the headboard" or consider a lofted bed, which allows for a desk or storage underneath. When the eye is drawn upward the mind gets a sense of more expansion.
Image by Nikole Ramsay
#5: Select Pieces That Serve Dual Functions
Sometimes, limited square footage doesn't allow for multiple pieces of furniture—and that's perfectly fine. In fact, it's a way to get creative and let a beloved piece do more of the leg work. Raffetto says to place your dresser next to your bed, that way it doubles as a nightstand. Johnson, who is also a fan of making pieces multi-purpose, loves a bed frame with integrated storage.
#6: Be Smart with Lighting
Don't let your lamps overpower your furniture, implores Raffetto. A proclivity to incorporate lamps or light fixtures that are too big will take up too much room and create a cluttered feel. Streamlined lamps and sconces work well in small bedrooms, she adds, and "give your table some breathing room."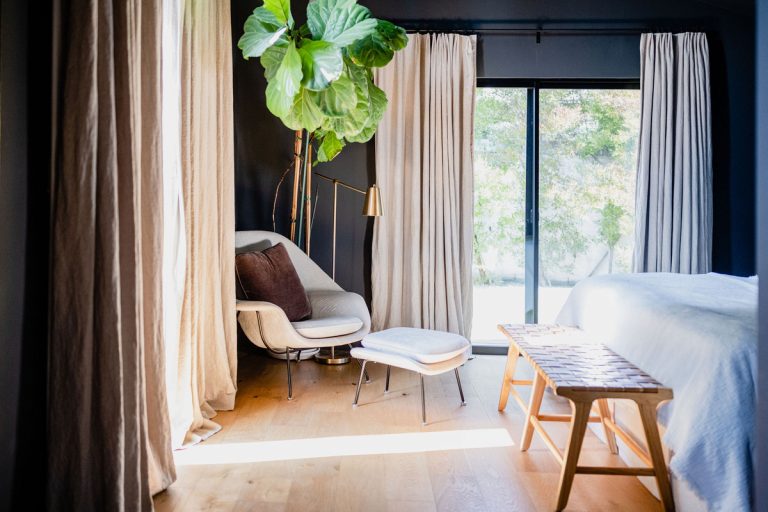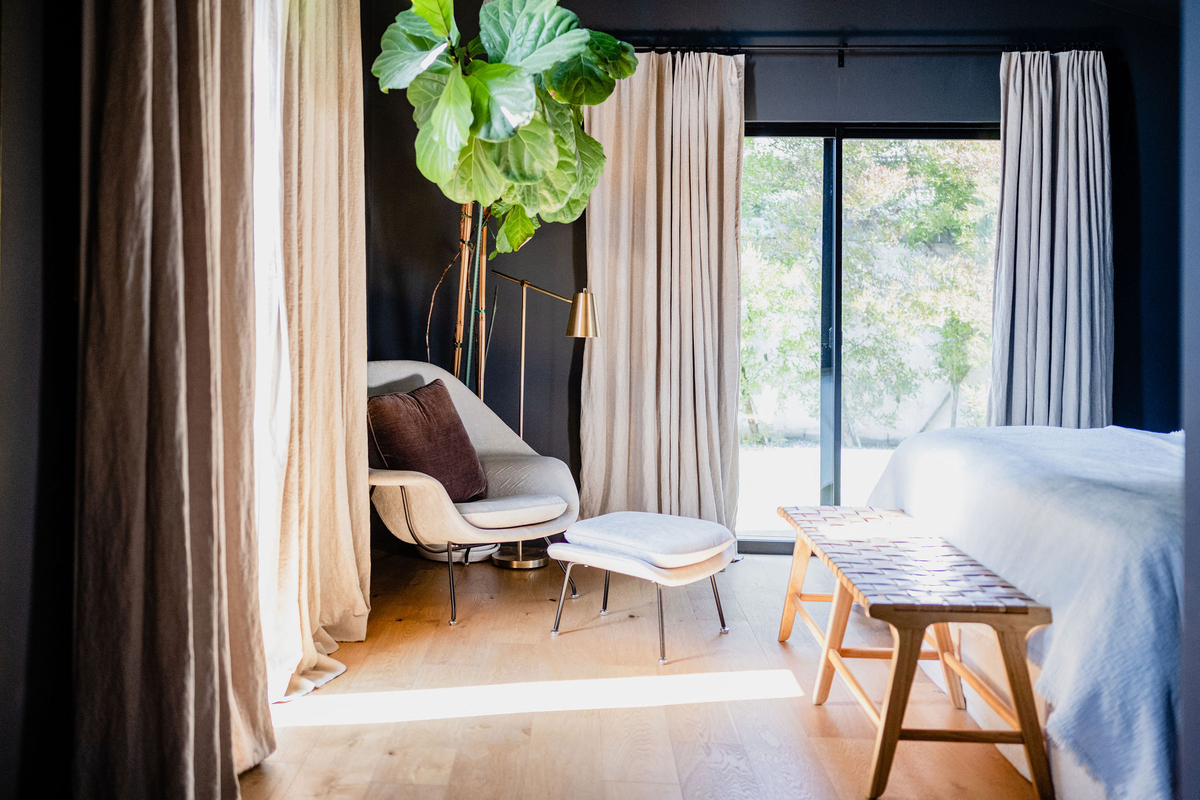 #7: Think in Terms of Completeness
Anything great—a room, a recipe, a book—has a sense of abundance to it. That doesn't necessarily come from quantity alone, but more so the consideration of all its parts. This is the overarching theme of making a small primary bedroom feel larger. Choose substantial accents that lend a "finished feel" to the room, advises Johnson. These include floor length mirrors, curtains, area rugs, and benches. "All of these pieces add a decorative flair to the space and make it feel finished and larger given that the eye will pick up on the completeness," Johnson adds.