It took a long time for the saying 'first impressions are lasting' to land with me. But when it did, it became a mantra in my life. Those initial moments with someone or something, whether it involves a firm handshake, a warm smile, or a comforting entryway, leave an indelible mark. They set the tone for what's to come. I remember the first few happy seconds of meeting my boyfriend. (As I do many of my ex-boyfriends!) The same goes for many of the dreamy homes I've entered. The vibe of a space is defined by those first few seconds, which is why I love these modern entryway ideas and tips. They each offer an enriching and beautiful first impression of a home.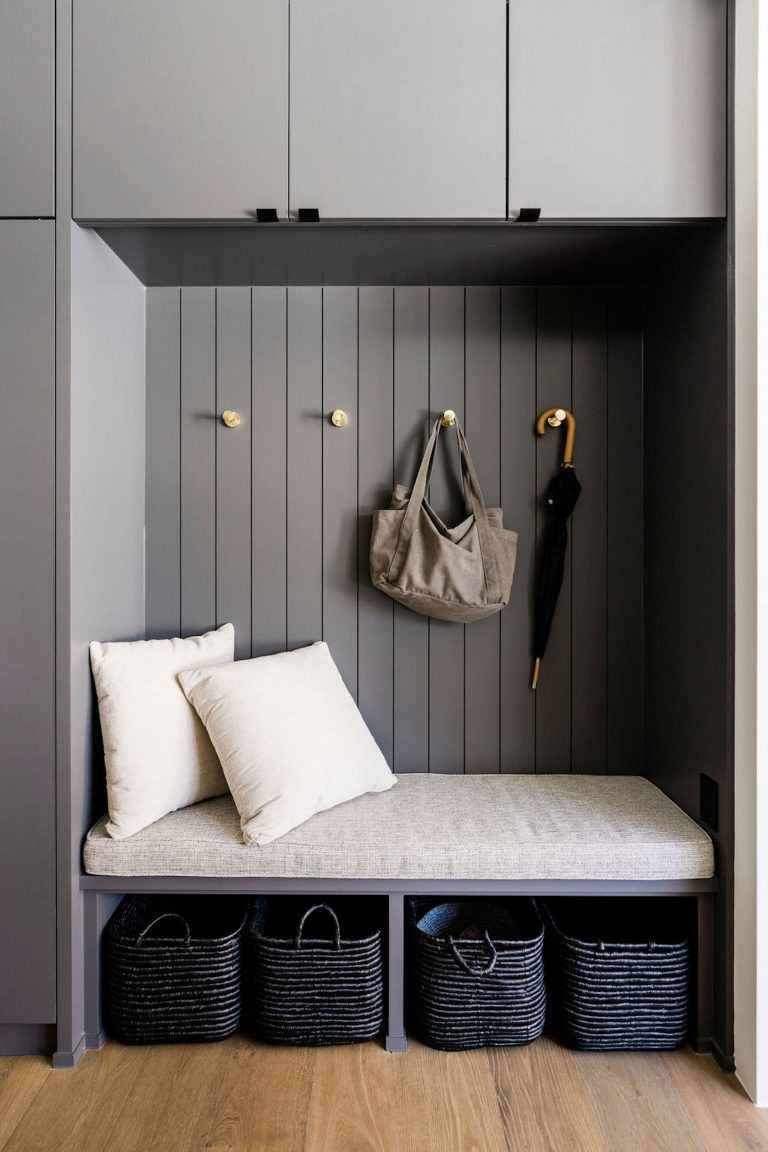 To be fair though, there's a heavy expectation on the entryway. This area varies from home to home, with some quite limited in space and others serving a dual mudroom-entry function. We expect this space to do a ton: welcome us, set the tone, corral clutter, and be beautiful.
Additionally, the entryway isn't a place where you remain for long. After hugs hello and goodbye, and coat-hanging, the point is to move on through to the rest of the home. This is why creating ideal flow and function in this space is key.
So let these 11 modern entryway ideas offer inspiration. Each streamlined tip is a key to making a home's first impression last.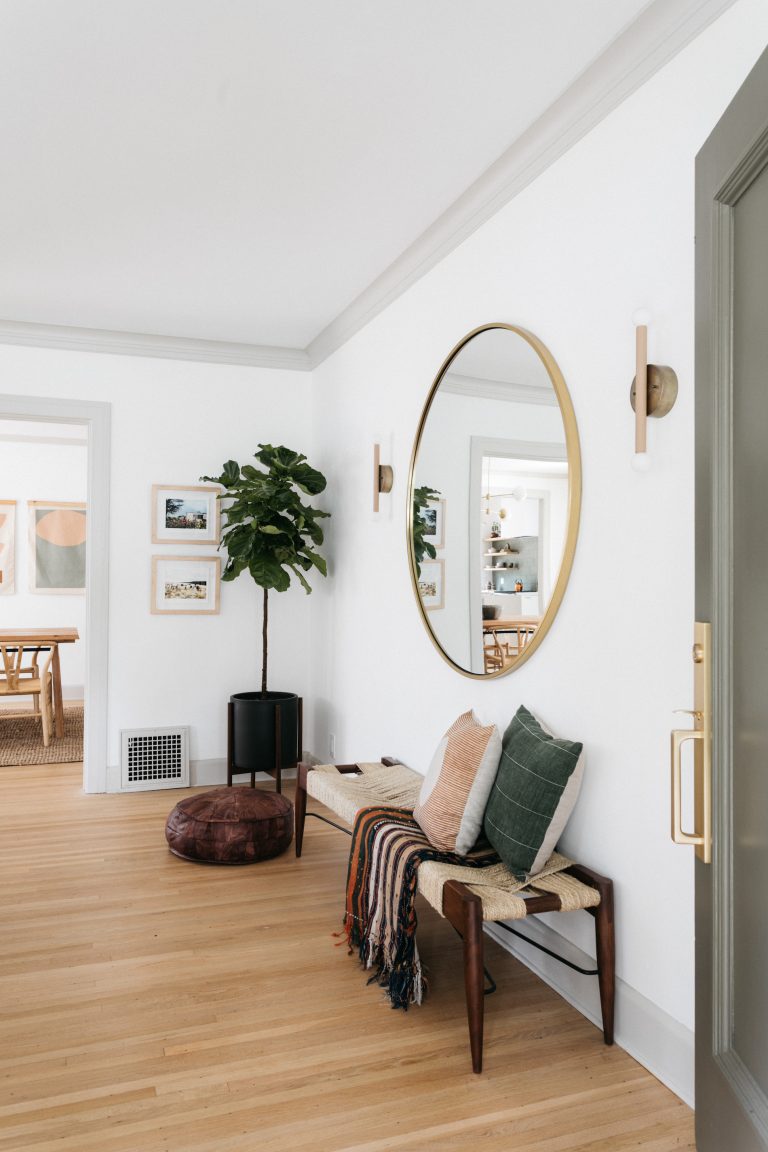 11 Modern Entryway Ideas
Idea #1: Keep It Streamlined
Many interior designers will say: An entryway can quickly become ground zero for clutter (aka, a drop zone for shoes, bags, and coats). That's why having a smart and streamlined storage system—the only hard and fast rule for an entry—is a must when it comes to modern entryway ideas. Add simple hooks and chic baskets to contain all that lands here.
Idea #2: Reflect Natural Light
A mirror works overtime in an entryway. It offers a quick moment to check yourself upon entering or leaving, a beautiful wall accessory, and a means to bounce light into the space.
Idea #3: Aim for Fewer and Better
Because entryway space is often limited, too many furniture items can result in a cramped vibe. Pair down and aim for one or two main functional pieces. Depending on the flow, the best bets are a sleek wall table and a bench, complemented by art and tasteful organizational accents.
Idea #4: Go Darker
Washing the walls in a pigmented charcoal gray or steely navy blue, a hue that is very in right now, sets a decidedly demure and grounded tone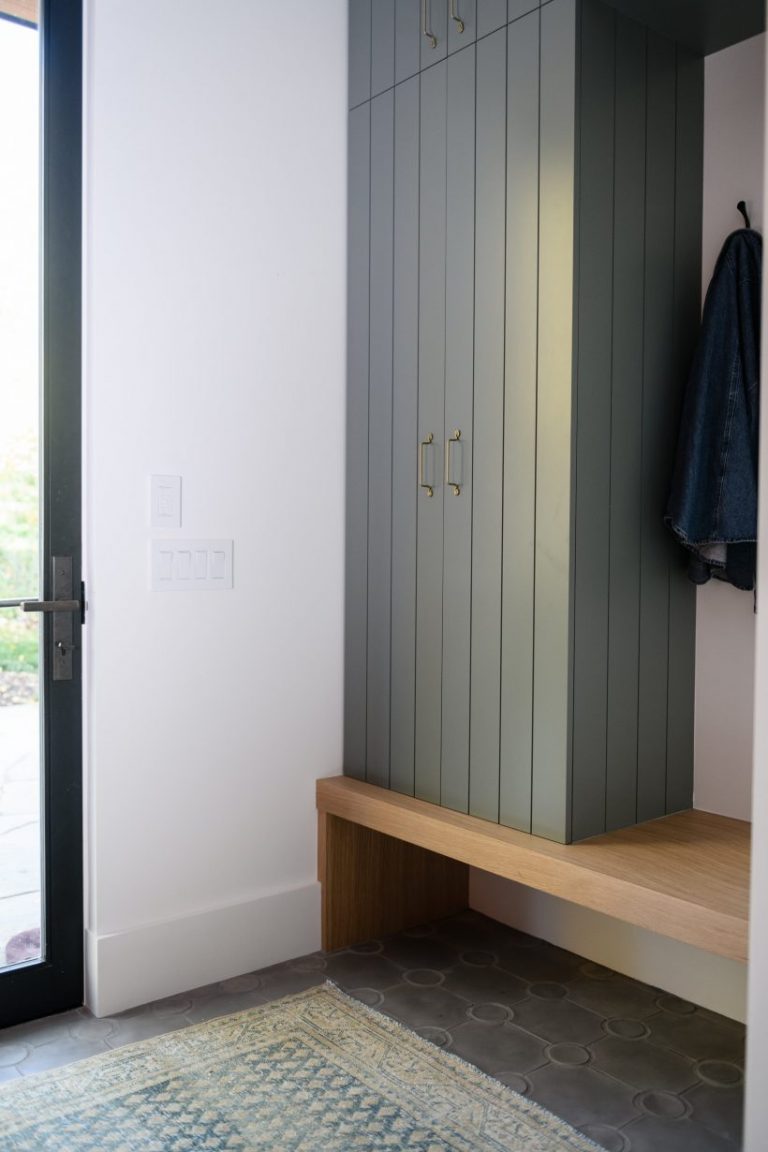 Idea #5: Take (or Offer) a Seat
Kicking off your shoes is one of the most common activities in the entryway. Adding a bench against a wall gives you and your guests a place to comfortably do this. It also adds another storage option underneath.
Idea #6: Uplevel with Art
Think of entryway art as your home's smile: It's one of the very first things people will see when they enter. So hang a piece of art that's meaningful to you, transcendent to look at, and inspiring. (And remember, stunning art doesn't have to break the bank.)
Idea #7: Add Texture
Like a coffee table, an entryway table is a place to layer elements of texture and appeal. Include décor items that smell nice, such as a candle, and add height with a stack of books or a beautiful vase.
Idea #8: Layer the Light
If the room allows, incorporate a sleek chandelier. Then add a smaller sconce or table lamp for added depth and light contrast. This suggestion comes from designer Katie Rafetto, who says these layers offer a welcoming glow.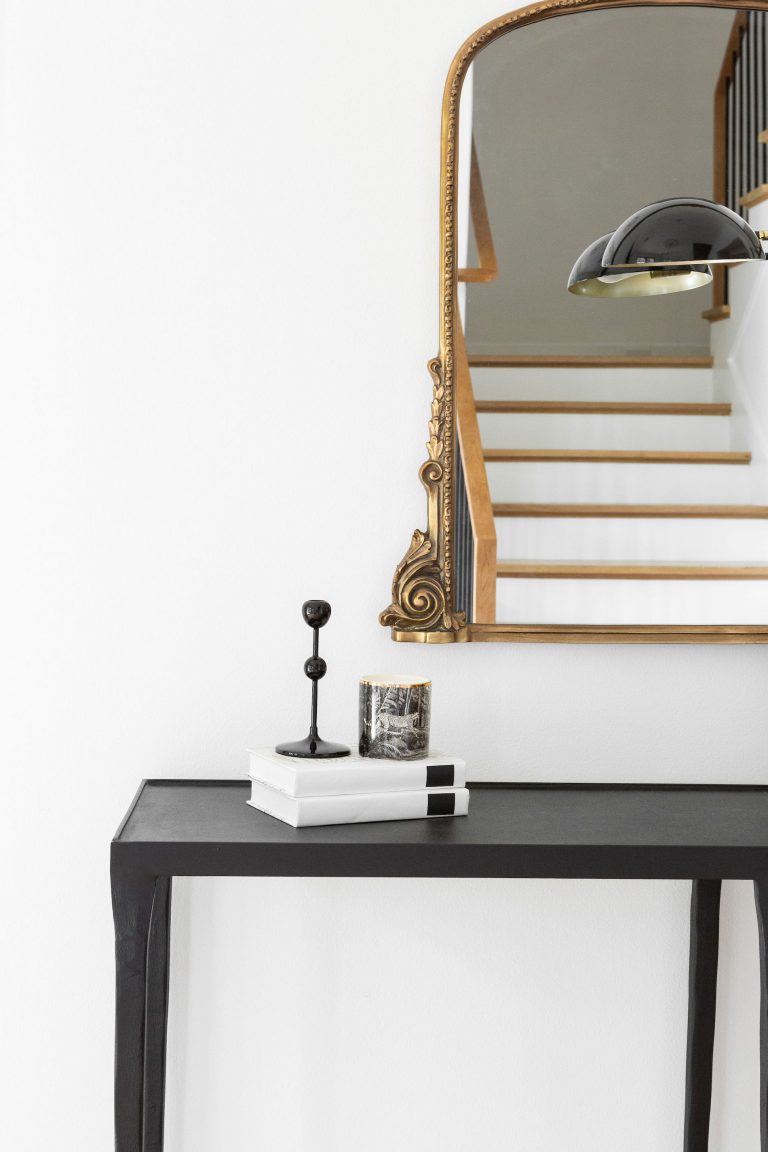 Idea #9: Go Green
A houseplant is always a yes. You can never go wrong adding a leafy Pothos or stripey Calathea to any room. When it comes to a modern entryway, place your greenery in an artistic pot for added interest.
Idea #10: Add Fresh Flowers
Marigold mums for fall. A deep red poinsettia in winter. Heady hyacinths in spring. Whatever is in season, let it blossom in the entry.
Idea #11: Incorporate a Rug
A beautiful rug is like a handshake: It can add warmth, depth, and a moment to pause as you get to know the space. It will also reduce the dust and grime entering your home. Aim for a generously sized area rug for a modern entryway, ideally one that covers most of the floor real estate.