Since New Year's Day is the final send-off to the holiday season, it's got to include a little celebration and some majorly delicious brunch food. But if you're like me, the past few weeks of holiday revelry have got you craving food that's on the lighter side, and processed sugar bomb breakfast foods don't even sound good anymore. Thankfully, crazy delicious doesn't have to equal crazy indulgent. I've rounded up 20 New Year's day brunch ideas that'll be perfect additions to your January 1st lineup without breaking any of your healthy eating resolutions.
And besides, everyone knows that food resolutions start on January 2nd, right? Keep scrolling for New Year's day brunch ideas, and I'd love to hear what you're making for NYD brunch in the comments.
feature image by kristen kilpatrick
The Best Shakshuka Ever
Why We Love It: Nothing beats the flavor of a freshly-made shakshuka. It's warming, comforting, and exactly what you want on the first day of the year. Be sure to soak up all the goodness with a crusty loaf of your favorite bread.
Hero Ingredient: When I choose to go savory for brunch, I'm all about the heat. The jalapeño gives your shakshuka a little kick that's perfect in this tomato-based dish.
Autumn Harvest Breakfast Bowls
Why We Love It: If you're looking for something light after a big night, then turn to this simple breakfast bowl with fresh fruit and yogurt.
Hero Ingredient: Adding a cup of cooked quinoa gives the granola in these bowls a delicious crunch.
Spicy Black Bean Tostadas With Corn Salsa and Avocado from The Awesome Green
Why We Love It: There's never a bad time to make tostadas but this spicy black bean version will go down well after an all-nighter. It will satiate your craving for carbs while fueling your body with the healthy vegetables and protein it really needs.
Hero Ingredient: Not only does the bunch of parsley give your corn salsa gorgeous color, but it also adds a fresh flavor that keeps your tostadas tasting light. Bonus points: parsley packs a healthy dose of antioxidants.
Easy Chia Pudding from Eating Bird Food
Why We Love It: I can come up with countless reasons to love chia seeds, and I'd put this recipe at the top of the list. This pudding is unbelievably thick and tastes like you're indulging in a first-thing-in-the-morning treat. The superfood also keeps you feeling full with plant-based protein and a good amount of fiber.
Hero Ingredient: Without the chia seeds, this recipe would literally produce a glass of sweetened milk. With them, the result is magic.
Almond Butter Wasa Cracker Breakfast Toasts
Why We Love It: If you're looking for light New Year's day brunch ideas then look no further than these breakfast toasts. They're perfectly bite-sized but packed with protein too so you won't be hungry 30 minutes later.
Hero Ingredient: A thick smearing of almond butter tops your toast with protein and healthy fats. Plus nothing beats the creamy richness of my favorite nut butter.
Jam-Filled Gluten-Free Muffins
Why We Love It: If you're in the mood for some baking on the first morning of the year, try your hand at whipping up these gluten-free muffins. Planning on spending a quiet NYD? Baking is a fun, relaxing activity that, when you opt for this recipe, will always result in something delicious. It's also genius because while I love spreading jam on my muffins THICK, it's about a million times better to discover a jammy center.
Hero Ingredient: If you know me, you know I can't get enough of citrus zest in my baked goods (or really, anything). Here, the orange zest plays beautifully with the nutty almond meal and fruity jam.
Egg White Chalupas from Bon Appétit
Why We Love It: Looking to change things up for this year's New Year's Day brunch? Make these delicious egg white chalupas. With flavor-filled black beans and all the best toppings (shredded ricotta Salata), I guarantee you'll want seconds.
Hero Ingredient: While cilantro tastes like soap to some people (I'm sorry if that's the case for you), I consider myself the herb's biggest stan. They add a little bit of citrusy tang to your black beans that might tempt you to make your chalupas more beans than egg whites.
Vegan Blueberry Banana Pancakes from Love and Lemons
Why We Love It: When all else fails, revert to the classics. And when you're opting for the classics, blueberry banana pancakes always win. While some pancakes will weigh you down and make you want to settle in for a long winter's nap, this recipe is lighter on the gluten-free flour (less than a cup) and packed with one of my favorite fiber-filled fruit pairings. Feel free to stack your plate high.
Hero Ingredient: A teaspoon of baking powder gives these pancakes major fluffy height.
Arugula Breakfast Salad With Toasted Pistachios, Radish, & Soft Eggs
Why We Love It: If the New Year's day brunch ideas you're looking for are healthy, then this breakfast salad has you covered. I love salads for many reasons, but this one combines a nutritious and flavorful rainbow of veggies, protein-packed eggs, toasted pistachios for crunch and healthy fats, plus, of course, all the antioxidant-filled greens. This is the nutrient-dense start everyone's year could use.
Hero Ingredient: Arugula is the peppery bitter green that takes your salad from an obligation to an indulgence.
Sweet Potato Breakfast Bowl from Eat With Clarity
Why We Love It: While "sweet" is in the name, my mind usually goes to savory interpretations when I think of the orange spud. I'll pile up a plate with roasted sweet potatoes or enjoy them as a base for all my favorite baked potato toppings. But these bowls opened me up to the beautiful world of actually sweet, sweet potato recipes. Not only are they paleo and vegan-friendly, but the mashed sweet potato is delightfully and addictingly fluffy.
Hero Ingredient: There's no contest when it comes to sweet potatoes. That's likely the reason why I just wrote an entire paragraph about how delicious they are.
Huevos Rancheros Scrambled Eggs from Half Baked Harvest
Why We Love It: This is the ultimate New Year's day brunch, scratch that, any day brunch. Tieghan of Half Baked Harvest wasn't playing around when she created this recipe—delicious! I love huevos rancheros and I love love love scrambled eggs, so when I saw the two come together in this recipe, needless to say, I was ready to dig in.
Hero Ingredient: I'm in full support of customizing your eggs with any toppings you choose, but there's no skipping out on the guacamole. It's a must.
Winter Fruit and Yogurt Breakfast Bowl With Gingerbread Granola from Floating Kitchen
Why We Love It: Moment of appreciation for just how pretty this fruit and yogurt bowl is (honestly, it's almost too beautiful to eat). This recipe makes the most of winter's in-season fruit: pink grapefruit, persimmons, and pomegranate arils are the perfect sweet and slightly sour complement to the spice-filled granola.
Hero Ingredient: I could endlessly snack on candied ginger (and I regularly do). It gives the granola a little chewiness while also turning the volume up on its spice.
Baked Eggs With Heirloom Tomatoes, Herbs, and Feta
Why We Love It: If there is one ingredient that is almost a prerequisite of every brunch, it's eggs. These baked eggs are the perfect complement to a big night out and will supercharge you for the day (and year) ahead!
Hero Ingredient: While I'm one for hyperbole, this is not an exaggeration: I live for feta. Sharp and salty, feta pairs perfectly with creamy baked eggs.
Smoked Salmon Breakfast Salad With Crispbread from Bon Appétit
Why We Love It: While I'm not the biggest bagel person, (I know, shame), put a lox and bagel sandwich in front of me, and it'll be gone in minutes. The salty, slightly sweet combo of cured salmon and cream cheese is everything I want for breakfast. This recipe gives the classic a healthy twist with all the greens and beets your body could ever need. If it's a salad you want, then this one is it.
Hero Ingredient: A few crispbreads or pumpernickel slices is the perfect base for the peppery and bright salad.
Tofu Scramble from Simple Vegan Blog
Why We Love It: If you count yourself among the vegans at your table, this recipe is a great alternative to your typical scrambled eggs. Crumbled tofu is a convincing substitute for eggs and means your plate will still be packed with protein. While you're certainly welcome to enjoy this scramble on its own, it's also a great base for mixing in all your favorite veggies. Choose a combo you love (I'm all for spinach and mushrooms) and don't hold back.
Hero Ingredient: Not only does a quarter teaspoon of turmeric give this scramble an earthy, peppery flavor, but it brightens up the color of your dish beautifully. Oh, and of course, the anti-inflammatory superfood is full of all the antioxidants.
Apple Cinnamon Oatmeal Bowl from A Simple Palate
Why We Love It: There's not a combo I crave more throughout the fall and winter than apples and cinnamon. When the two come together, the result is beautifully warming and cozy. This bowl is comfort food at its best, and while it tastes just like your favorite apple crisp, you'll avoid the dreaded sugar crash, and instead feel satisfied from all the fiber.
Hero Ingredient: Sprinkling on hemp seeds tops your bowl with a good amount of antioxidants, vitamins, and minerals. But you're welcome to forget about the health benefits and focus on the delicious texture and pleasantly nutty taste these little guys will give your oatmeal.
Citrus & Ricotta Breakfast Bowls from Baked Greens
Why We Love It: Why is it that every meal seems to taste better in a bowl format? The presentation alone is appetizing, but dig in and get ready to discover the best pairing of ingredients you can ever hope to find. I love ricotta's barely-sweet flavor and softer than soft texture. In this recipe, the ricotta gets mixed with an equal amount of yogurt for the creamiest thing you ever ate with a spoon. It's a combo so good, that only the juicy-sweet citrus can make it better.
Hero Ingredient: A little drizzle of honey gives a lovely and refreshing floral element to your bowl.
Whole Lotta Good Stuff Chocolate Chip Banana Bread
Why We Love It: Songs need to be written about how good this banana bread is. While it might seem like there's no way to improve upon the classic recipe, Camille's succeeded with this one. Not only is it satisfying and true comfort to enjoy, but it's filled with healthy, nutrient-dense ingredients and uses a combo of almond and whole wheat flour for even more goodness. You won't regret starting 2022 with this recipe.
Hero Ingredient: Five, yes, FIVE whole bananas are the secret to keeping this bread moist for days.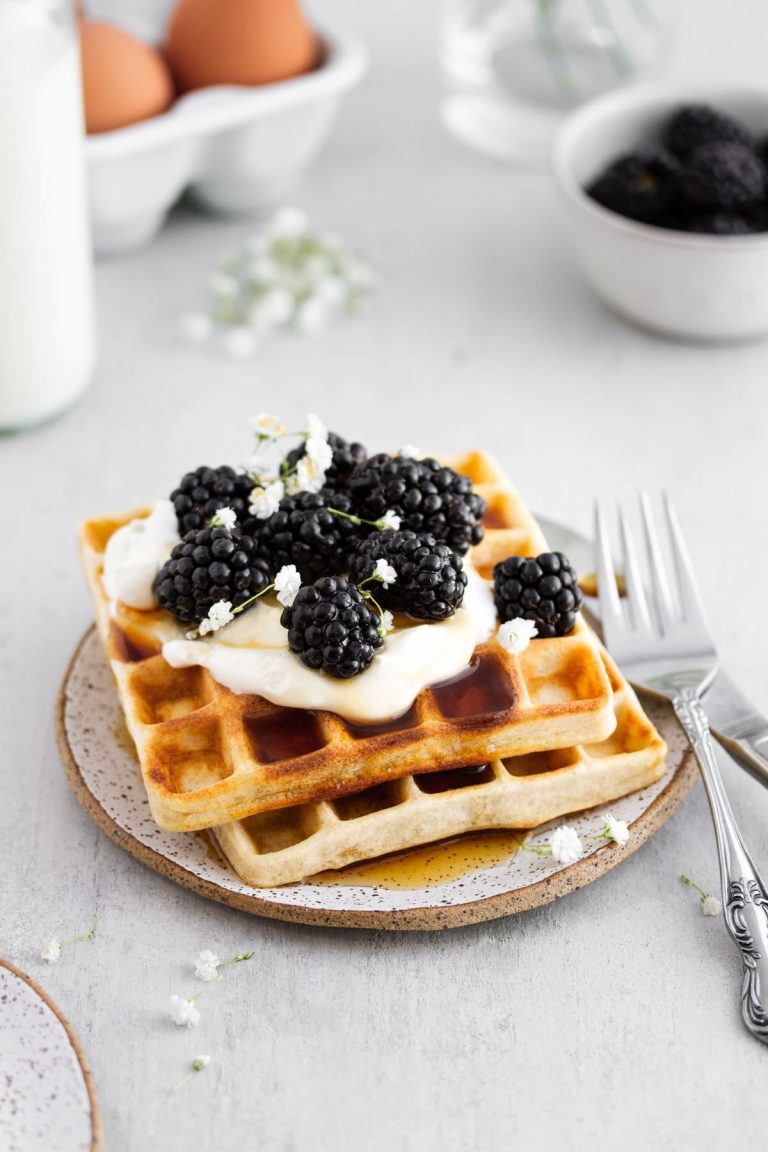 Sourdough Waffles from Girl Versus Dough
Why We Love It: Surprised to see waffles on this list? Totally understandable. While these aren't the healthiest recipe in this roundup, they do lean on sourdough starter so they require less flour and milk than your usual waffles. What's more, instead of having to throw your sourdough discard in the trash or compost, this recipe helps you cut down on food waste.
Hero Ingredient: This recipe makes the most of your sourdough discard, and there's nothing more magical than that. It's just science.
This post was originally published on December 28, 2020, and has since been updated.