Attention fall lovers: Halloween is in sight! Yes, we're rapidly approaching the spooky holiday and with it comes all things festive. But just because most store-bought decorations and treats feature spiders, ghosts, bats, pumpkins, and more, doesn't mean you're limited to gimmicks. I love festive charm as much as the next girl, but this year I'm aiming for a more elevated touch in my both my home and Halloween goodies. With that approach in mind, we've rounded up 13 easy Halloween recipes that bring a little elegance to the season's spookiest holiday. They're just what your body needs before (and after) loading up on candy.
Along with the creepy décor, scary stories, and fun costumes that arrive during the holiday season, a larger-than-life candy influx is right on the horizon. Which is all part of the fun—though it might not always benefit your body as much as it does your taste buds. It can be a good idea to offset some of the sugary goodness with an actual meal that's just as nutritious as it is delicious.
And even if you aren't a candy person (I wish I could say the same), these recipes are great to have in your pocket for any fall gathering. They celebrate seasonal ingredients and are total crowd-pleasers for guests of all ages.
Feature image by Michelle Nash.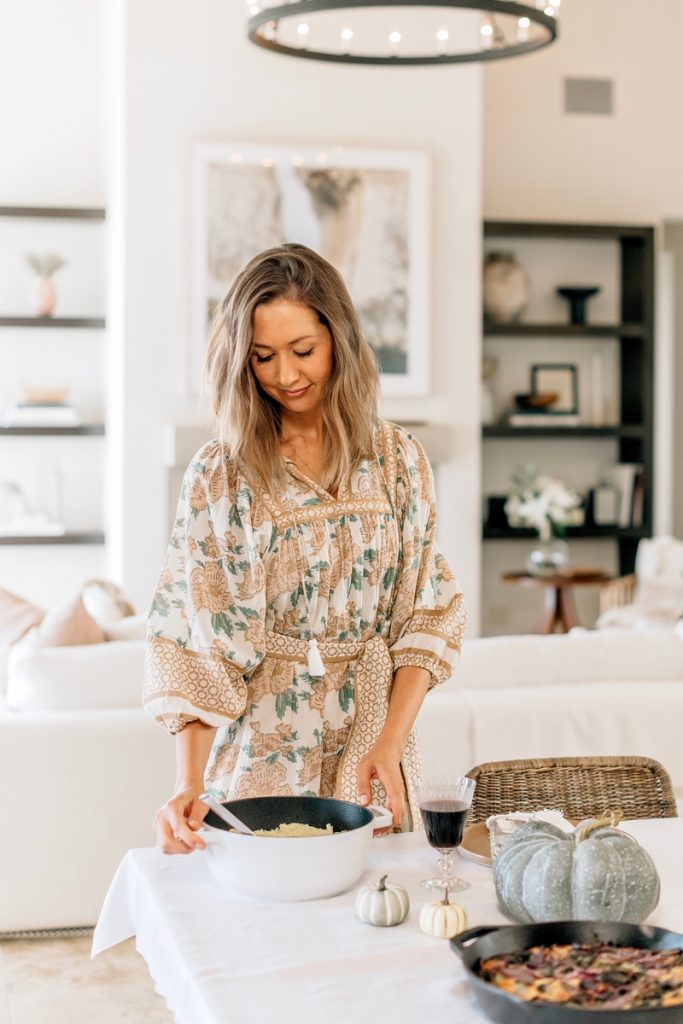 These easy Halloween recipes all fit the following criteria: delish, quick, easy, satisfying, and healthy. It's simpler than you might think to come up with an extensive menu that satisfies those requirements! Be sure to bookmark these easy Halloween recipes so you can return to them next time you need to whip something up with minimal time and effort and maximum elegance and satisfaction. Celebrate the spooky holiday season in style.
13 Frighteningly Easy Halloween Recipes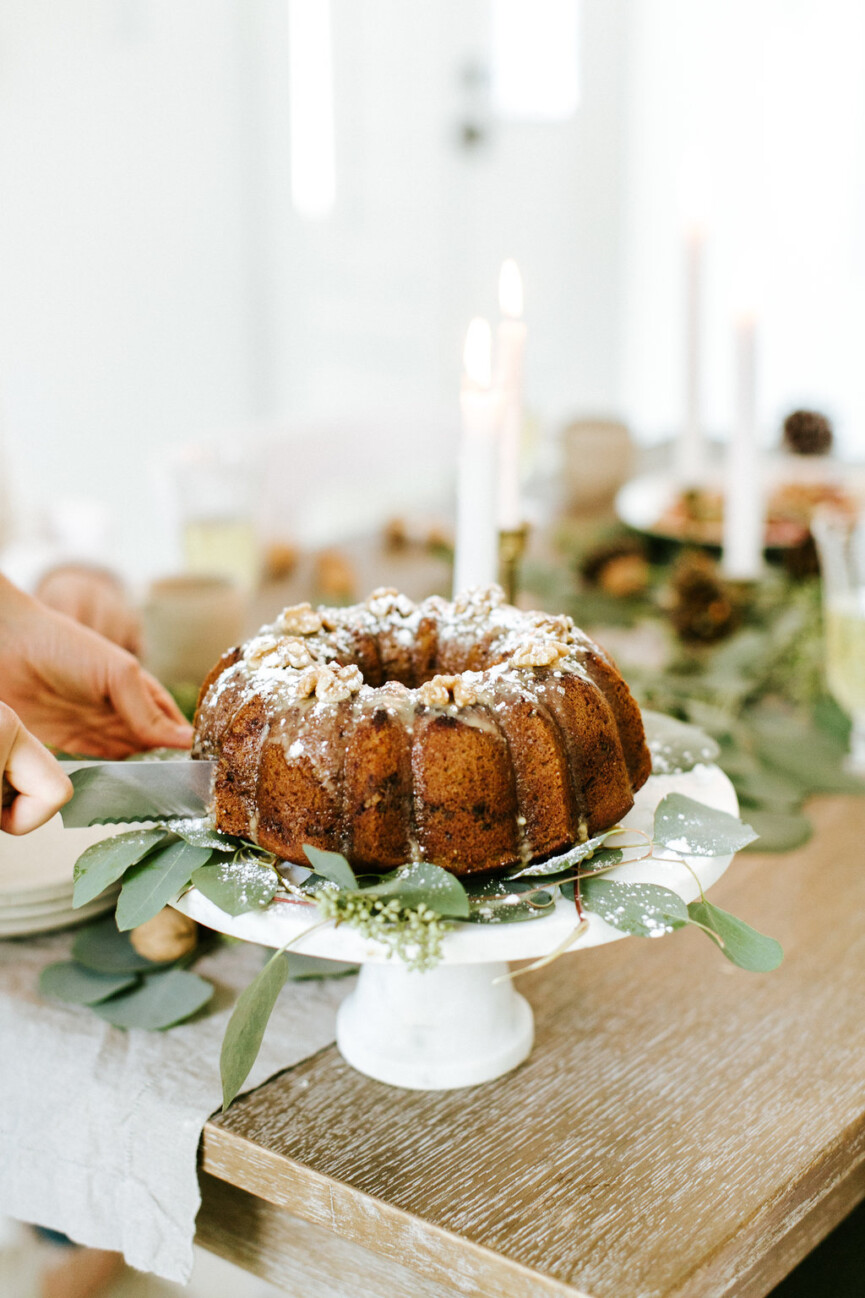 Why We Love It: Whether or not you're a pumpkin bread fanatic, this healthier take is not one to pass up. Swapping traditional ingredients for wholesome alternatives, this recipe takes on a better-for-you personality without losing any of its indulgence. Walnut cinnamon streusel swirls throughout the center of the bread while a caramel glaze soaks through the top for a delicious cake/bread hybrid. Basically, this bread is everything we love about fall.
Hero Ingredient: This recipe is sort of a shapeshifter in the sense that you can make the pumpkin bread into any shape you desire. If you're looking for an easy breakfast, pour the batter into a muffin tin and skip the caramel glaze (or keep it, we won't judge). If you'd rather have a handheld dessert, whip up a cream cheese frosting for cupcakes. Or, if you're looking for something you can slice and toast to enjoy with a pat of butter, pour your batter in a traditional loaf pan. The possibilities are endless!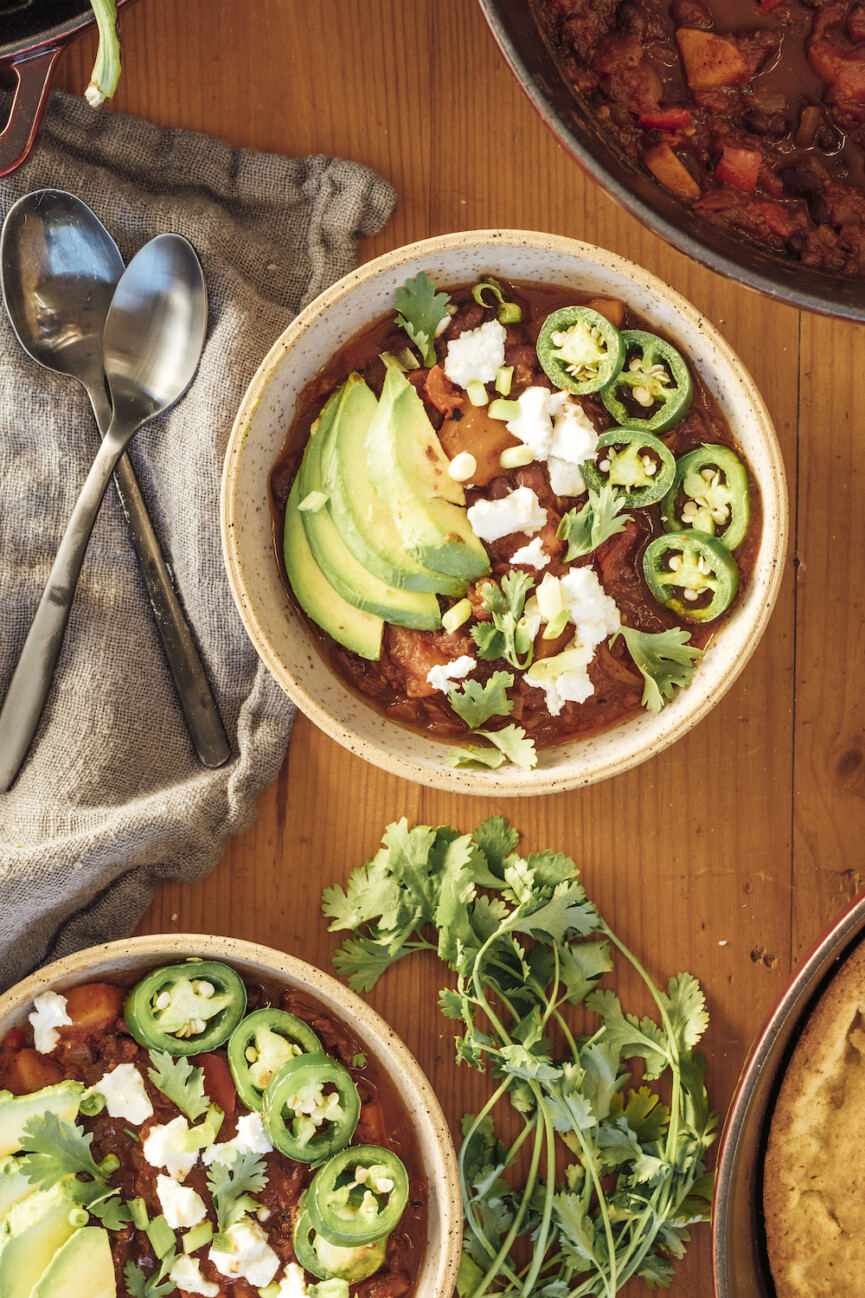 Why We Love It: Soup season is in full swing, and this vegetarian chili with black beans and sweet potatoes is here to celebrate. It's packed with hearty black beans, lots of spices, and enough flavorful veggies to make you forget about meat completely. With all that veggie-centric goodness, you're also getting plant-based protein, fiber, vitamins, and minerals that will have you glowing from the inside out. It's warm, comforting, and elevated enough to serve as a main for your gathering. And, if you have any left over (which would be shocking considering how tasty it is), you can freeze for up to two months to reheat for a bowl of yum on demand.
Hero Ingredient: The perfect bowl of chili includes a lot of toppings. Sliced avocado, sour cream, goat cheese, cilantro, jalapeño slices, radishes, and tortilla chips, (the list goes on). Load your chili up with any edible accessories your heart desires, and be sure to get a good spoonful of each in every satisfying bite.
Why We Love It: No fall gathering is complete without pumpkin pie. This no-bake version maintains all the classic components of a traditional pumpkin pie without hoarding precious pre-party oven space. It's light, fluffy, and totally indulgent, which is why it's ideal for easy Halloween recipes. Serve this post-dinner and watch your guests' faces light up with excitement.
Hero Ingredient: You can top your slices with crème fraîche or whipped cream, but don't forget the candied pecans. And make more than you need for anytime snacking all week long.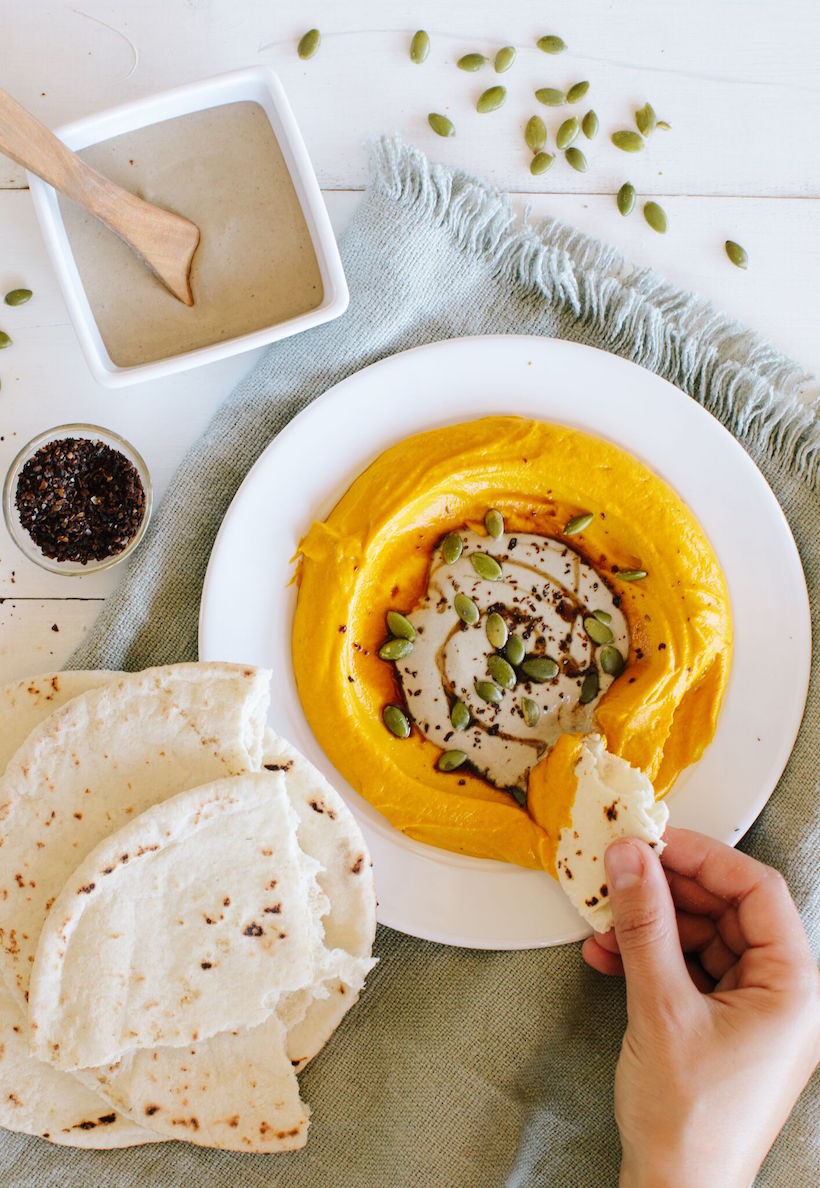 Why We Love It: If you're looking for creative ways to use squash this season, this hummus is your answer. It's simple to make and requires only four ingredients. Roasted squash meets nutty tahini and crunchy pepitas for a festive appetizer your guests will love. You can even make this ahead of time and set out right as your guests arrive so they can casually graze as everyone trickles in. It's a celebration of seasonal, sweet, salty, tangy, and nutty flavors and embodies everything there is to love about easy Halloween recipes.
Hero Ingredient: Tahini paste combined with salt and lemon juice brings a touch of acidic freshness to the hummus that counterbalances the tahini's nutty indulgence.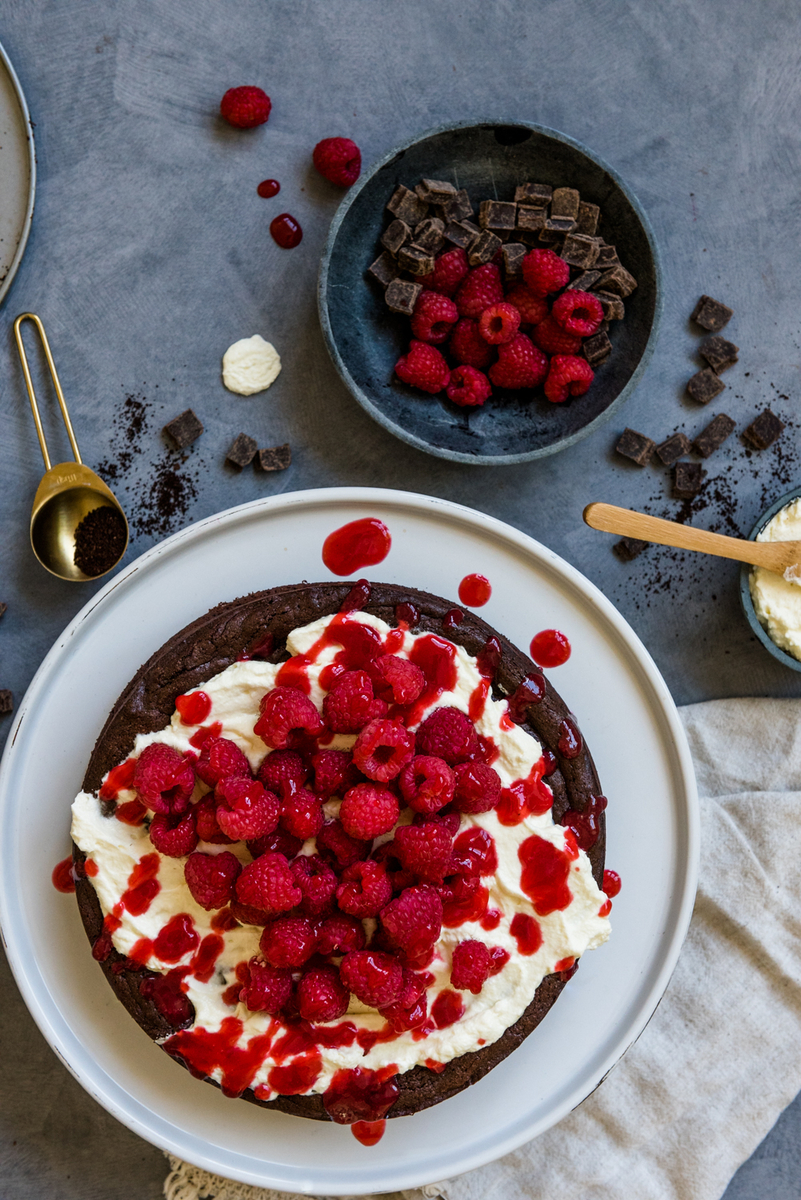 Why We Love It: This cake bridges the gap between cheese and sophistication, which is why it's top of mind for easy Halloween recipes that are also elegant. The gluten-free aspect lets guests with dietary restrictions indulge in the fun without hesitation. Rich dark chocolate, espresso powder, tart raspberries, and almond whipped cream deliver all the delicious goodness. Plus, the cake isn't overly sweet and you don't have to worry about facing an unwanted sugar coma.
Hero Ingredient: Espresso powder is a key component of this cake. When used in baking, espresso powder brings forward a darker, more complex chocolate flavor that can often be masked by other ingredients. And if you're not a coffee enthusiast, don't panic! You don't actually get much espresso flavor—rather a richer chocolate profile that elevates the entire dessert.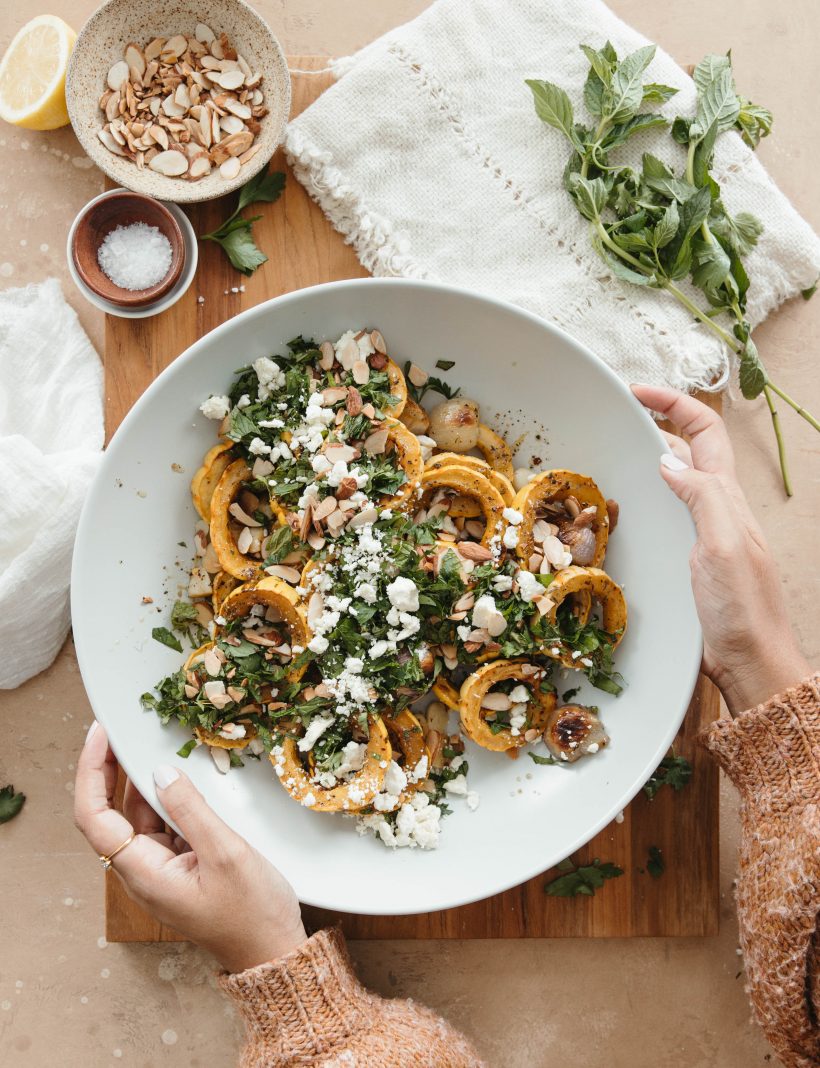 Why We Love It: Like pumpkin, apples, sweet potatoes, and Brussels, squash is high on the list of fundamental fall produce. In this recipe, delicata squash is roasted until caramelized, drizzled with a simple vinaigrette, and surrounded by toasted almonds and creamy feta for a simple main course or side dish that's ideal for any gathering. Here, warm cumin, coriander, red chili powder, and thyme bring a flavor profile to the squash that's nothing short of dreamy. Plus, honey helps the natural sugars in the squash caramelize and form those crave-worthy golden brown edges.
Hero Ingredient: Hero method! There are so many ways to serve this yummy squash. You could plate it up as a veggie-centric appetizer, serve it over rice or quinoa as a main, or alongside roasted chicken and a simple green salad for a side that's sure to impress. However you slice it, this squash deserves a spot on your Halloween lineup.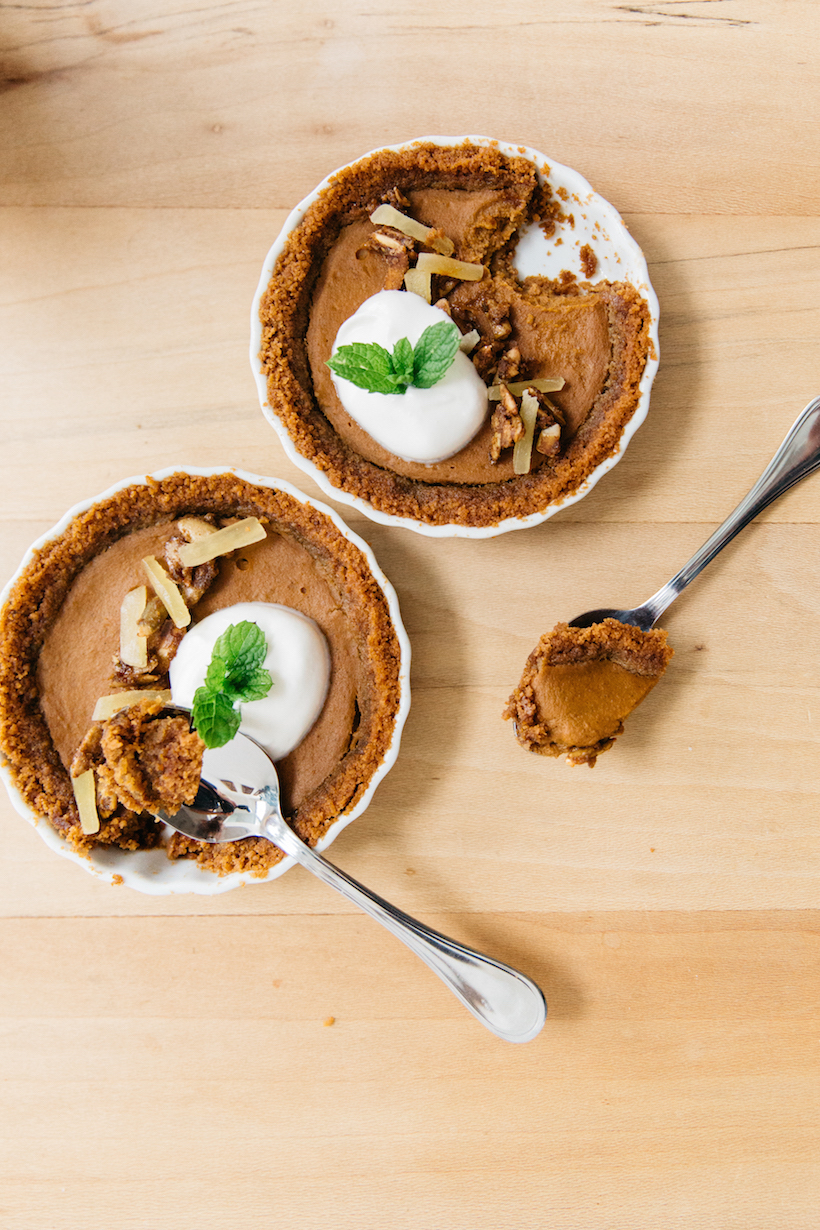 Why We Love It: This is the easiest pie shell to ever exist (aside from store-bought, that is). It uses Speculoos (aka Biscoff) cookies, brown sugar, and butter to create a delicious and textured base for the smooth pumpkin pie filling that fills it. And it's made entirely in the food processor, a total hosting win. The other unsung heroes of this pie are its toppings—we're talking candied pepitas and ginger. The candied pepitas are full of crunch and sweet-salty goodness that counterbalances the pumpkin filling. On top of all of that, spicy candied ginger pieces introduce an unexpected heat.
Hero Ingredient: I can't stress the importance of texture enough here. The cookie base is similar to a graham cracker pie shell, elevating these tarts. Plus, the candied pepitas over top add all the more textural delight.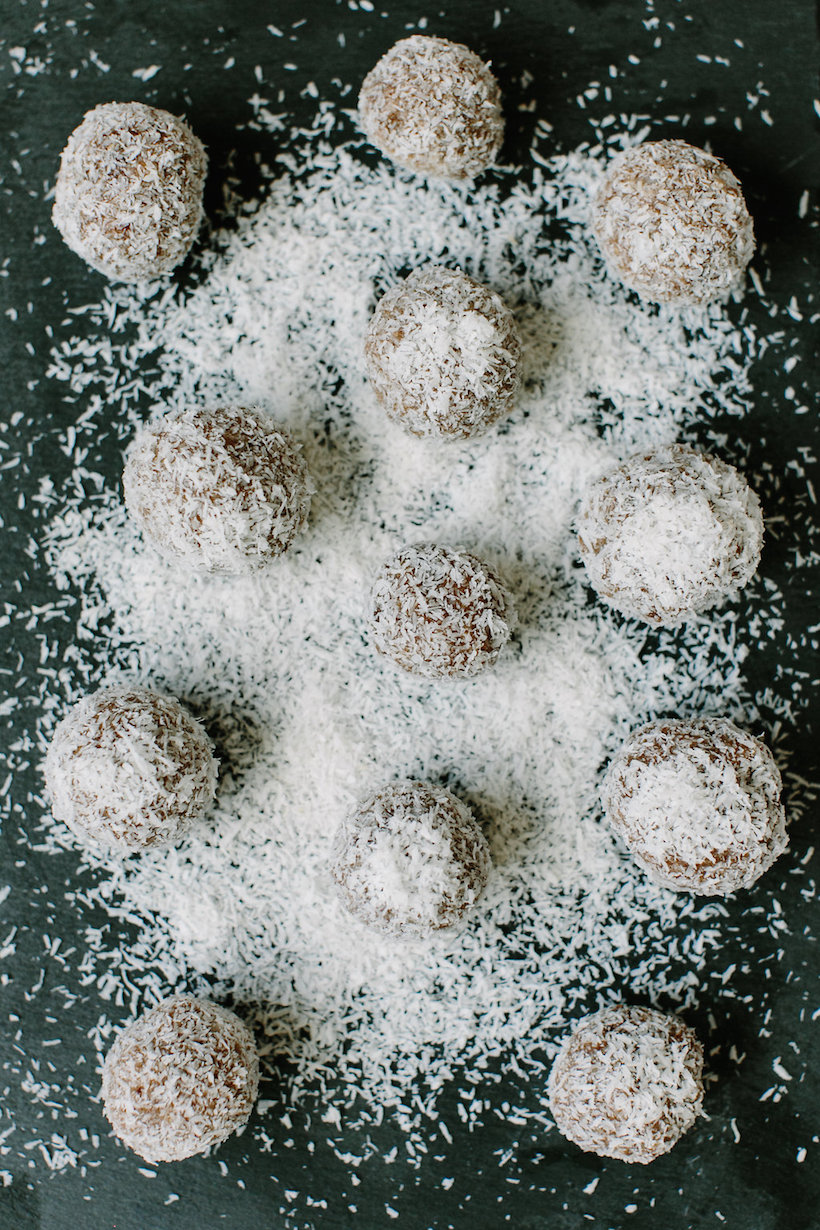 Why We Love It: These yummy almond butter date balls are incredibly simple to make ahead of time and store until you're ready to serve. They're also great to keep on hand for a burst of energy during the dreaded 3 p.m. hunger strike. Dates naturally sweeten the balls while almond butter brings in a dose of protein and healthy fats. They're also festive for Halloween gatherings and simple to leave on the counter for your guests to graze on. Easy, full of flavor, and ready to make ahead of time? Sign me up.
Hero Ingredient: Be sure to use unsweetened coconut flakes. The balls themselves boast just the right amount of natural sweetness from those dates without being overpowering.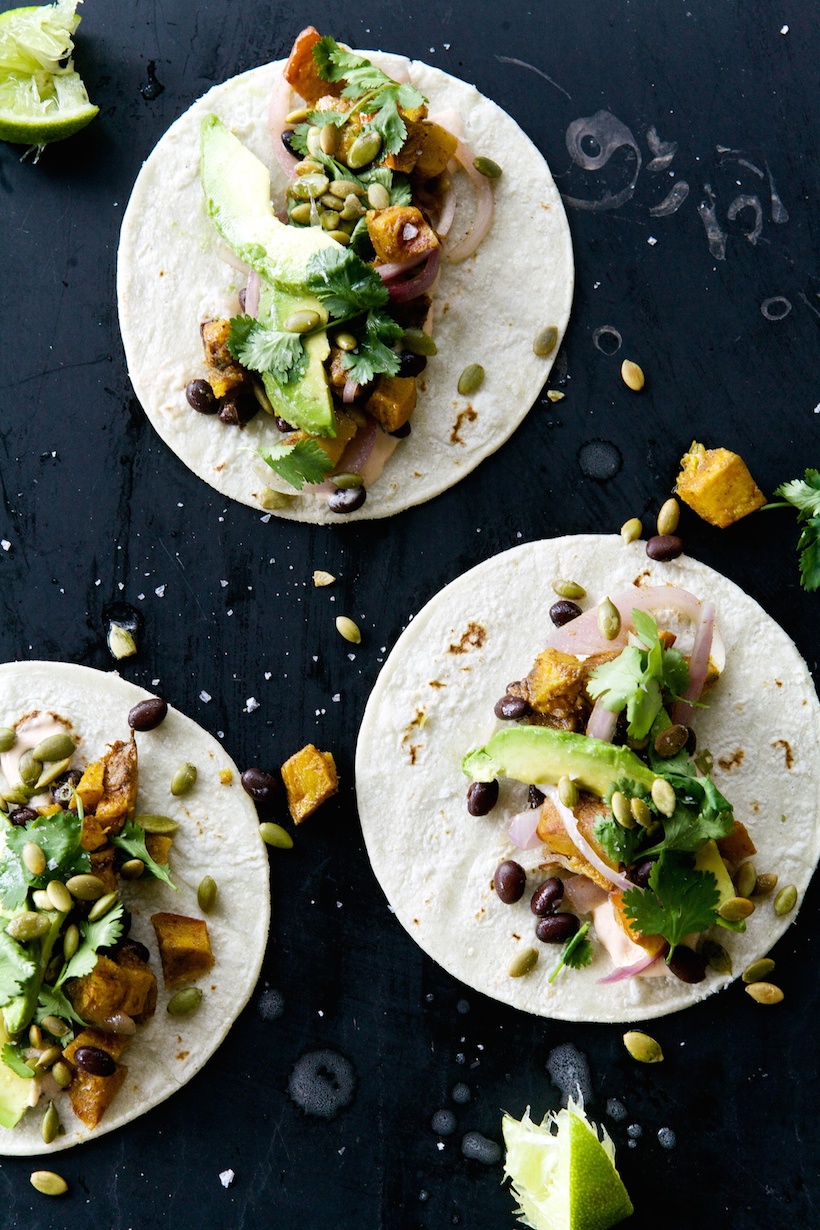 Why We Love It: It wouldn't be a proper list of easy Halloween recipes without some form of pumpkin spice. Rich, buttery sugar pie pumpkin gets coated in olive oil, honey, salt, cinnamon, ginger, cloves, and cardamom and roasted until the edges are perfectly caramelized. Then it's combined with sautéed red onion, black beans, avocado, and roasted pepitas for a substantial taco filling. Wrap all of that up in a warm corn tortilla, sprinkle with cilantro and lime juice, and you're on your way to a very satisfying meal.
Hero Ingredient: The secret to success here is the yogurt chipotle sauce that's drizzled over these tacos. It's both cool and spicy and full of smoky flavors that bring an entirely new depth to the mix. I highly suggest making a little extra to top tostadas, bowls, and tacos all week long.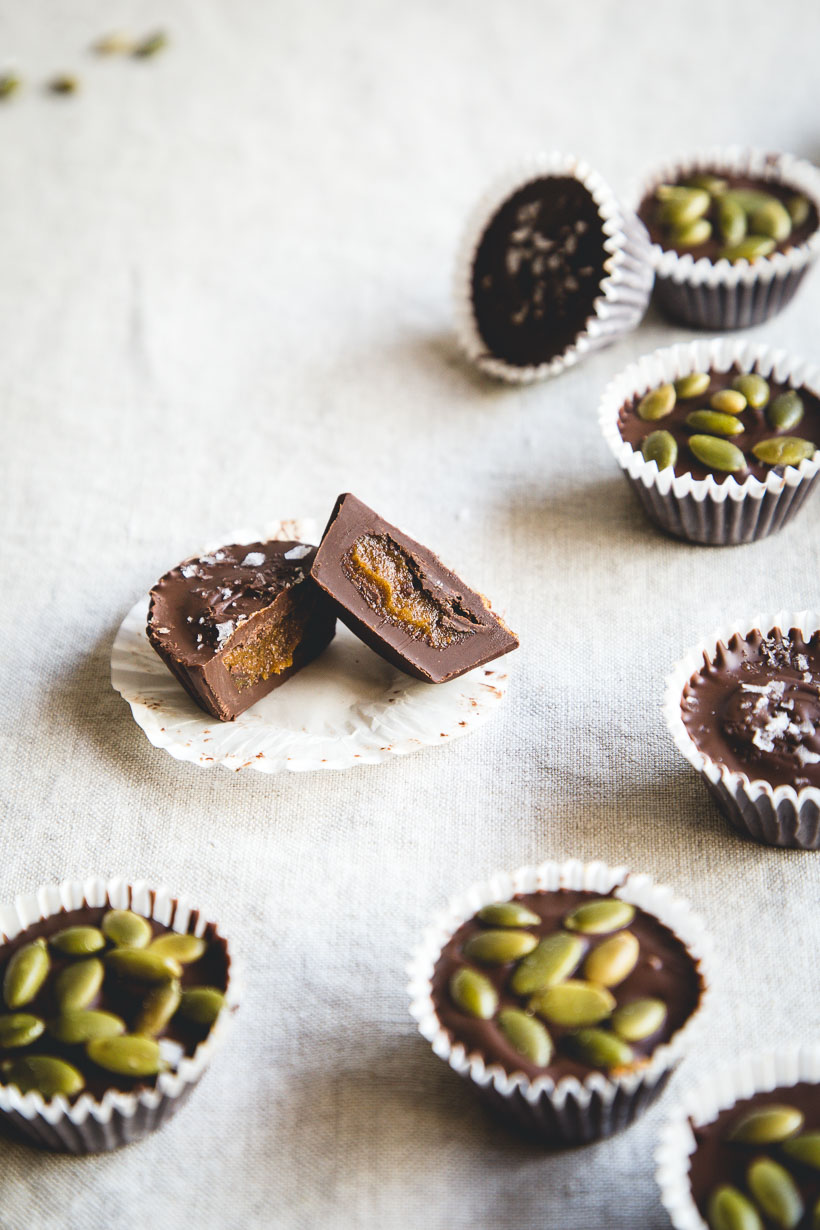 Why We Love It: If a Reese's peanut butter cup joined forces with a Rolo and just a hint of pumpkin spice—all in a healthier, more grown-up fashion—you'd essentially have these pumpkin date caramel cups. They're filled with pumpkin-spiked date caramel, pie spices, and a touch of almond butter that gives it a nutty consistency. Bonus: They're tasty enough to have your kids hooked, too.
Hero Ingredient: Again, pepitas deliver the texture that's so key for the cups. Match that with big flakes of Maldon salt and you've got just the right amount of saltiness and texture to complement that rich dark chocolate and pumpkin caramel.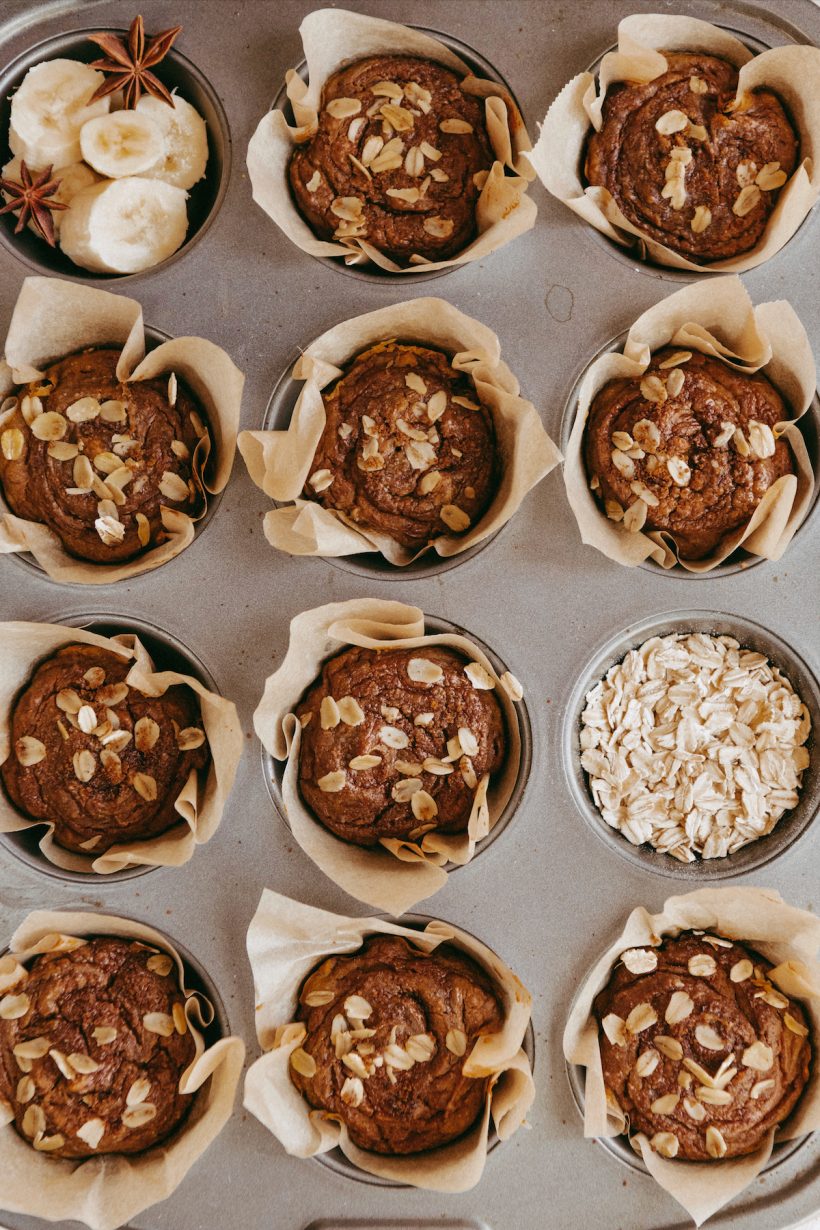 Why We Love It: Banana pumpkin muffins are such an easy way to ring in the Halloween season. They're festive, fun-sized, and full of upgraded ingredients that will make you feel good inside and out. Being gluten-free, dairy-free, and refined sugar-free, you'll enjoy experiencing just how delicious they are. The hardest part of whipping up a pan of these tasty treats is waiting for them to cool down before taking a bite. Let these muffins do the work for you so all that's left to do is sit back, relax, and enjoy.
Hero Ingredient: Flax eggs are definitely one of the better things since sliced bread. For the unfamiliar, flax "eggs" use ground flaxseed and water to mimic the texture and binding qualities of eggs in gluten-free, vegan, and/or dairy-free baking. They help keep things fluffy and moist, which can be a challenge in these kinds of baking.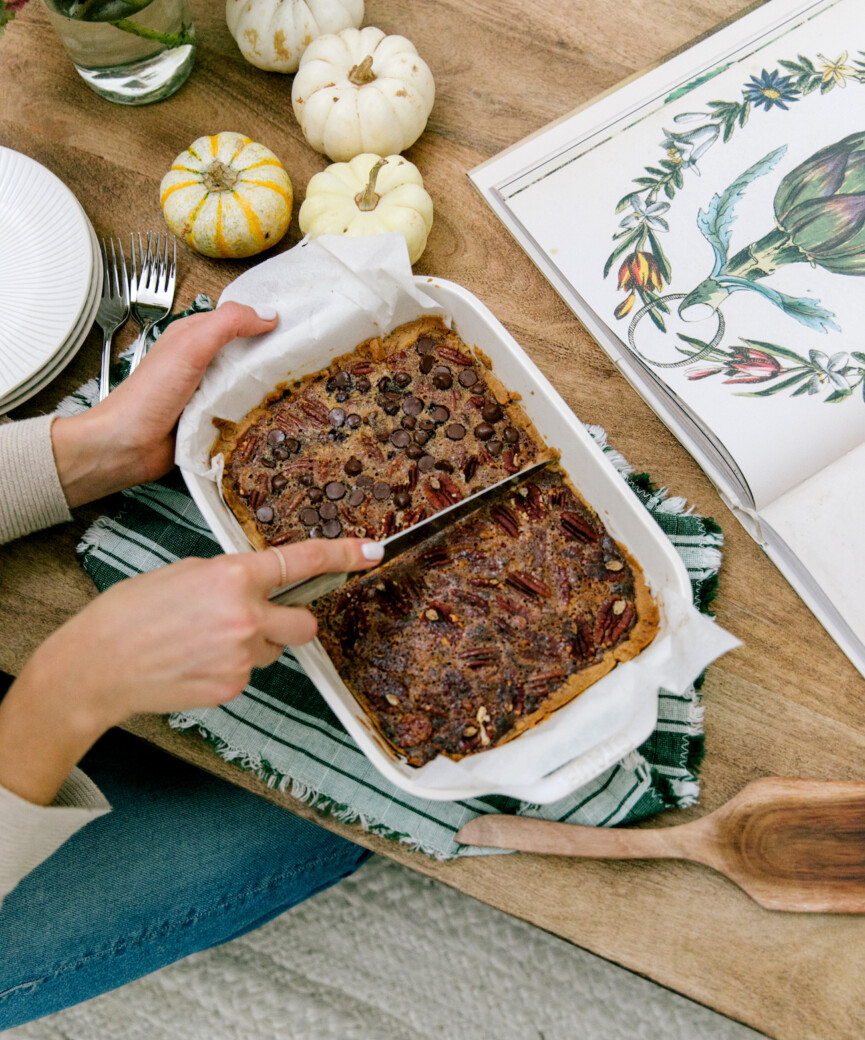 Why We Love It: Is Halloween too early to debut the pecan pie? I think not—especially when it's as reinvented and delicious as this pumpkin pie bar recipe. Here, you've got two choices in one: chocolate bourbon and salted caramel pumpkin pie bars. And let me tell you, deciding between those is pretty tricky, so why not sample both? They're back-to-back and divided only by a tasty shortbread crust wall, so there's not much standing in the way of you and both varieties. Just be sure to cut small squares so your guests can get a taste of both sides.
Hero Ingredient: The press-in shortbread crust is another no-fuss pie shell recipe you'll be glad to have on hand. It's nearly impossible to mess up and uses enough butter to hide any imperfections.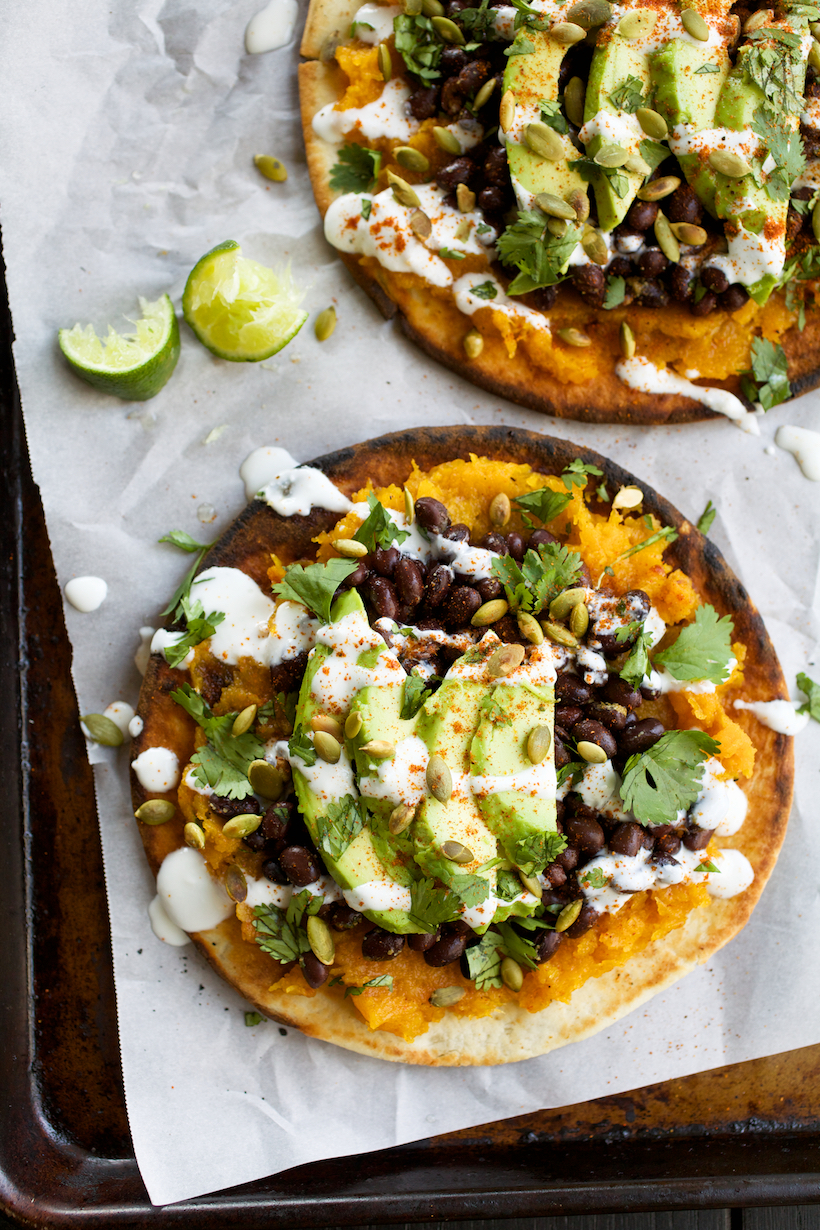 Why We Love It: These pita tostadas are visually stunning, full of nutrition, and unique enough to spark conversation around your Halloween table. Venturing from your traditional tostada recipe, golden-brown pita crust is the perfect canvas for this Tex-Mex blend of deliciousness. It's layered with creamy butternut squash, black beans, avocado, toasted pumpkin seeds, and lime crema for a knife-and-fork style tostada your guests will love. Plus, they're blissfully easy to make so you don't have to worry about pre-party stress.
Hero Ingredient: The cool lime crema is nothing short of wonderful. It's creamy, refreshing, and brings a nice freshness to the savory mix underneath.
Do you have any easy Halloween recipes to show off this year? We'd love to hear your favorites in the comments!
This post was originally published on August 14, 2021, and has since been updated.