On a busy weeknight, nothing is more daunting than the prospect of cooking dinner from scratch (or the clean-up that comes after). Just the thought of having to drag out cooking tools, throw something together, and then deal with post-meal dish duty is enough to have me reaching for the Seamless app. But sometimes, I also want a healthy meal and don't want to resort to takeout yet again. So next time I'm feeling cooking fatigue, I'll turn to this handy list of easy one-pot recipes instead.
Featured image by Michelle Nash.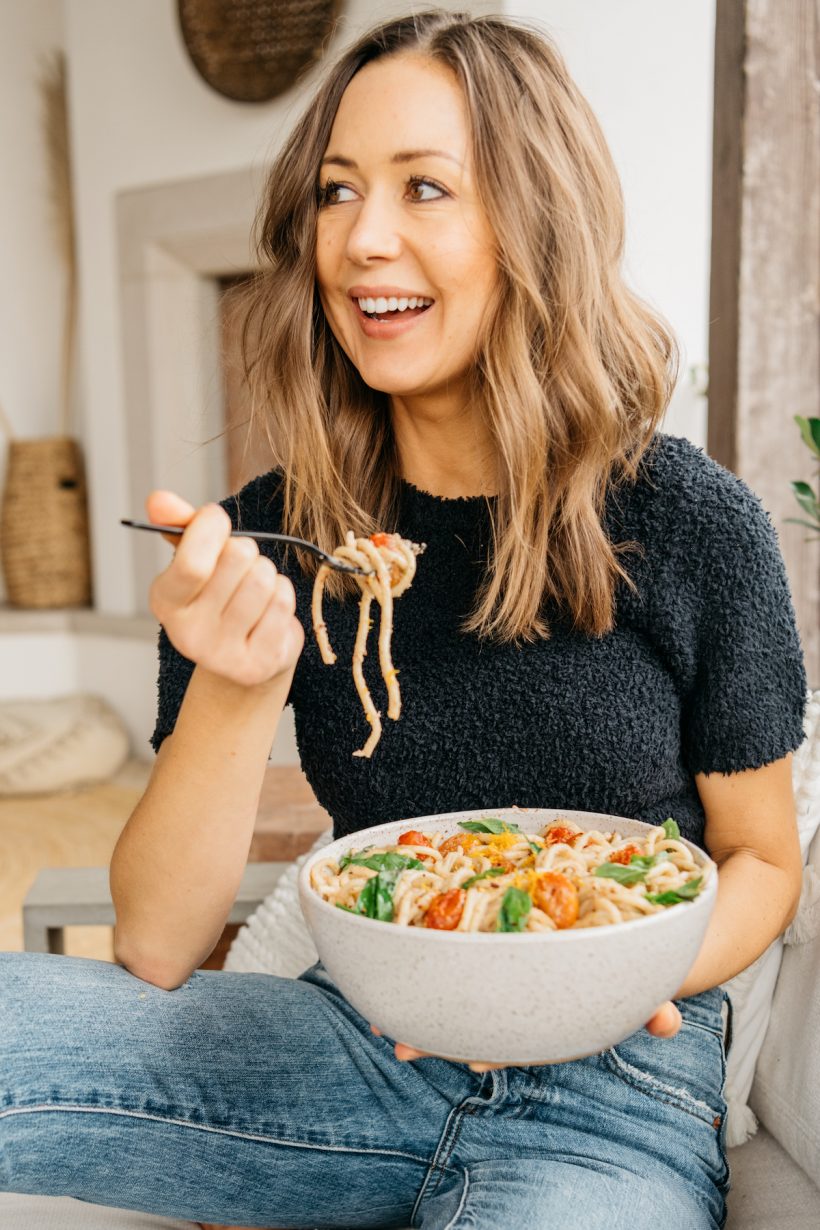 And if you think one-pot recipes are limited solely to simple soups, you're in for a real treat. We're stretching the definition of "one-pot" and have expanded to all sorts of main-attraction kitchen tools. Pans and bowls join the streamlined dinner team, and thankfully, they're all here to make your weeknight kitchen woes disappear.
From pizzas to pasta to veggie-packed dishes, we guarantee you'll find the perfect easy one-pot recipes for whatever ingredients you have on hand. One-pot meals also fall under the category of comfort foods, which is just what you need as the temperatures start to dip. Get ready to settle in with these simple, quick, and delicious meals. They're big on flavor but light on prep and clean-up. The ideal situation, if you ask me.
Keep Scrolling for 17 Easy One-Pot Recipes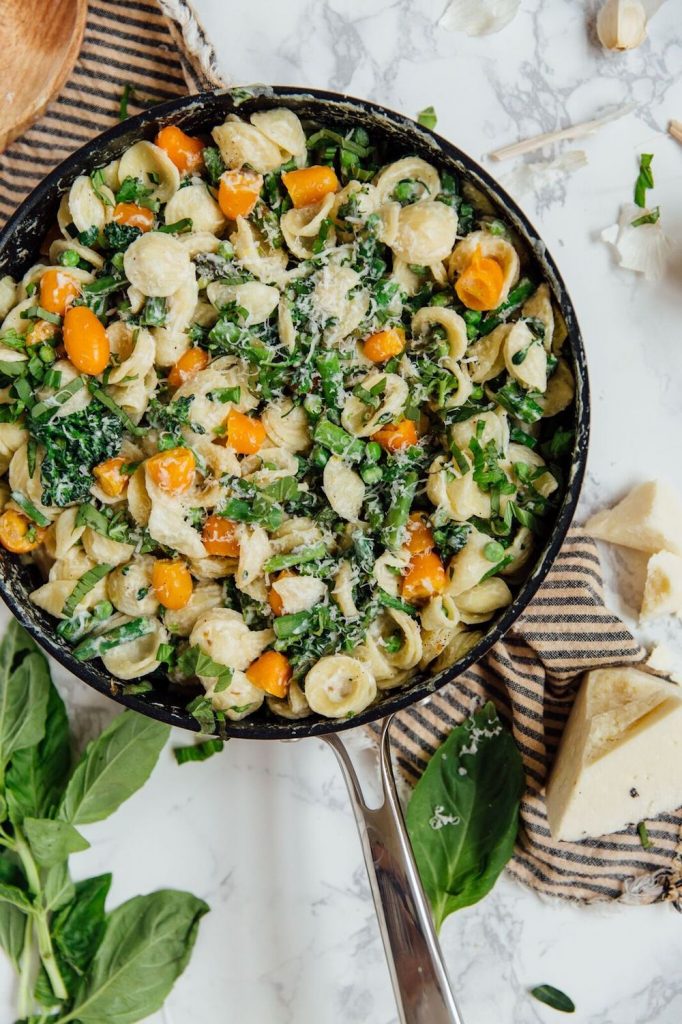 Why we love it: This spin on the classic Italian dish cooks in lightening-fast time. You can also swap in and swap out whatever veggies you have on hand. Even frozen vegetables work beautifully. This is summertime cooking at its finest—bright, zesty, and so simple it's almost shocking how good it is.
Hero ingredient: What could be better than ricotta?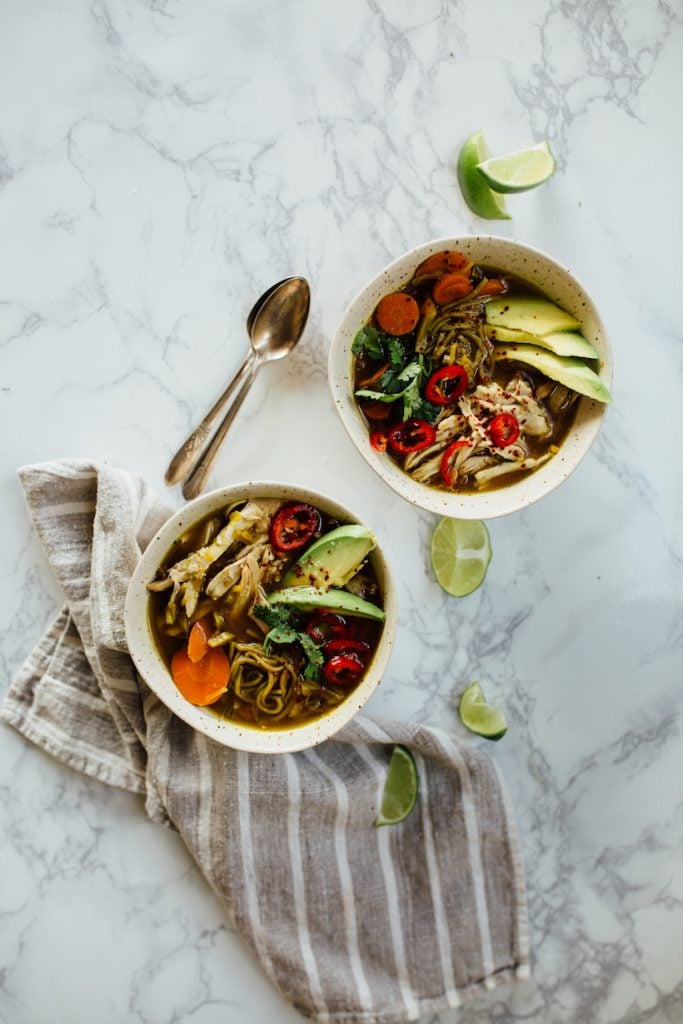 Why We Love It: While we all have a soft, nostalgic spot for the chicken noodle soup that would nurse us back to health when we were younger, this spin is about a thousand times better. Simple veggies like carrots and celery complement the hearty, delicious chicken and soba noodles without overpowering these staple ingredients.
Hero Ingredient: Turmeric not only gives this soup its unique warmth and spice but its brilliant color, too.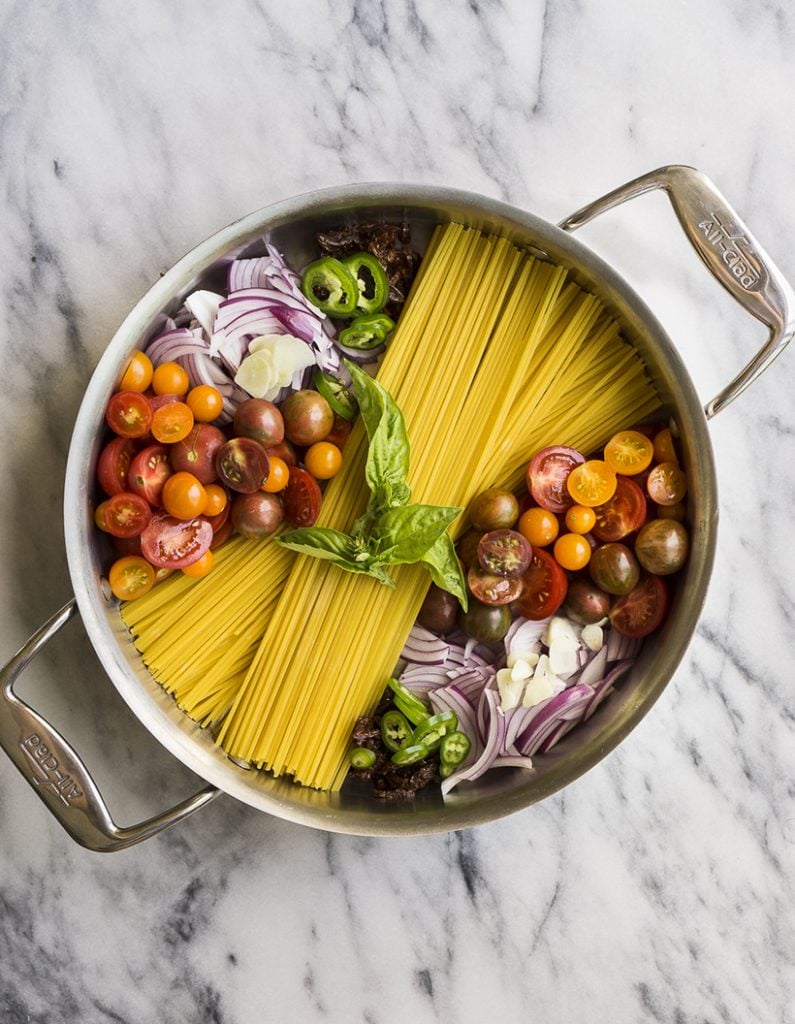 Why we love it: Simple and tasty, this hearty dinner comes together in less than 15 minutes. It's filled with end-of-summer flavors that are as comforting and nourishing as they are delicious.
Hero ingredient: The jalapeño chili adds an unexpected kick.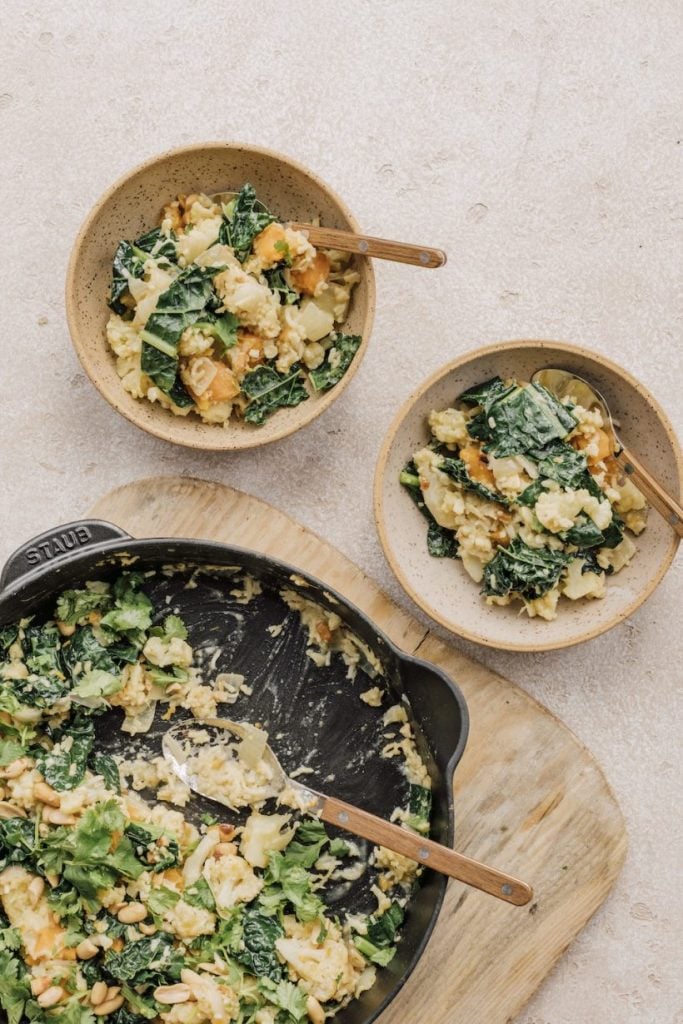 Why We Love It: A bowl of creamy, coconutty, veggie-packed curry is my idea of comfort food, and while this stretches the definition of easy one-pot recipes, I'd say cooking everything on a sheet pan is just as streamlined. And when I say everything, I mean everything—that's right, a genius hack helps the rice achieve its signature fluffiness.
Hero Ingredient: Peanut butter lends the perfect sweet and salty bite to every comforting spoonful.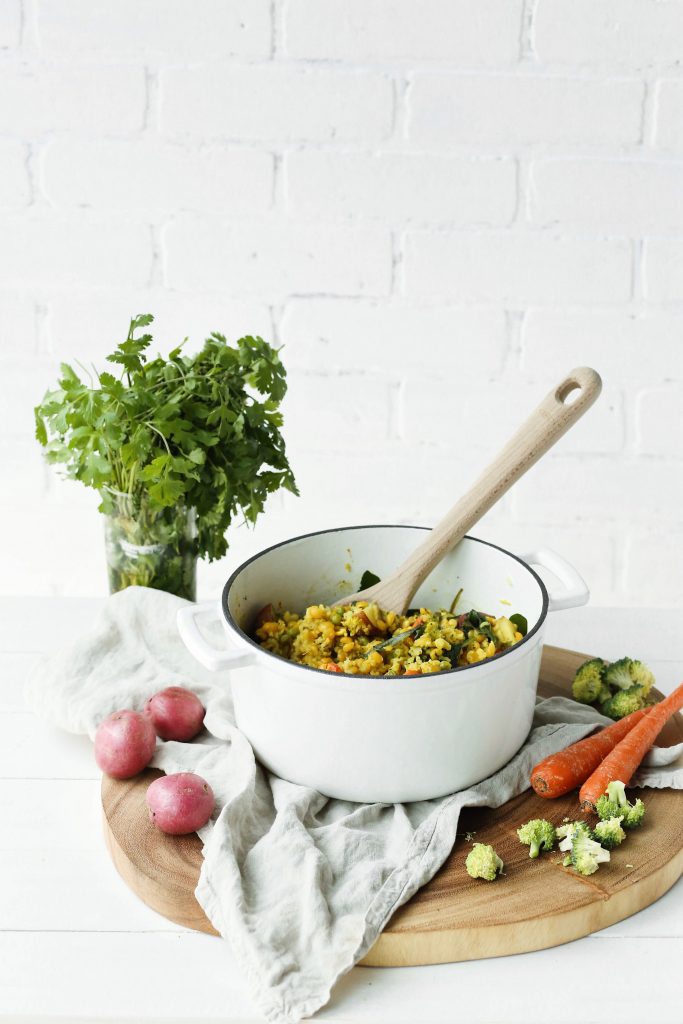 Why We Love It: If you haven't tried kitchari yet, this is your sign to serve it tonight. Kitchari is Indian comfort food, used widely in practices like Ayurveda. But as our Food Editor Suruchi notes, while it warms the soul like your favorite mac and cheese, it nourishes the body as well. For the uninitiated, Suruchi describes kitchari as being similar to "a savory rice and lentil oatmeal." But of course, with spices aplenty, it's so much more.
Hero Ingredient: Grated ginger root gives the rice and lentils plenty of grounding and warm, spicy flavor.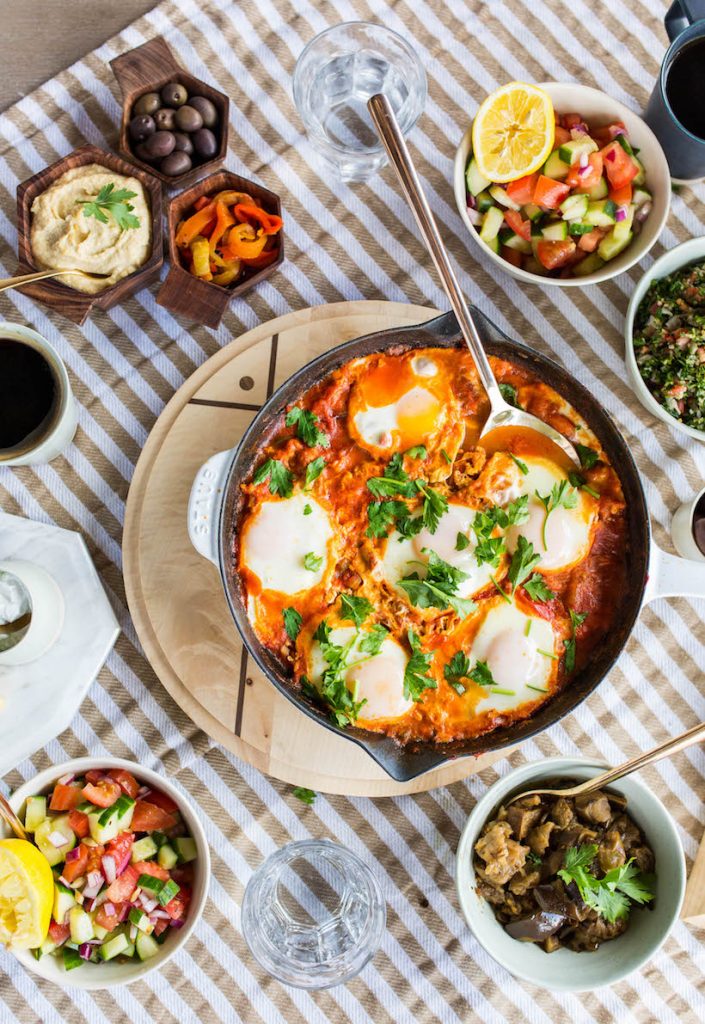 Why We Love It: The North African and Middle Eastern staple is one of my favorite brunch dishes, but makes for an incredible (and incredibly easy) weeknight dinner. Tomatoes get cooked down with jalapeño and garlic and the best blend of spices (cumin and paprika) give this dish just enough heat.
Hero Ingredient: There's no better match for a spicy red sauce than poached eggs. Toast a few slices of bread and get to dippin'.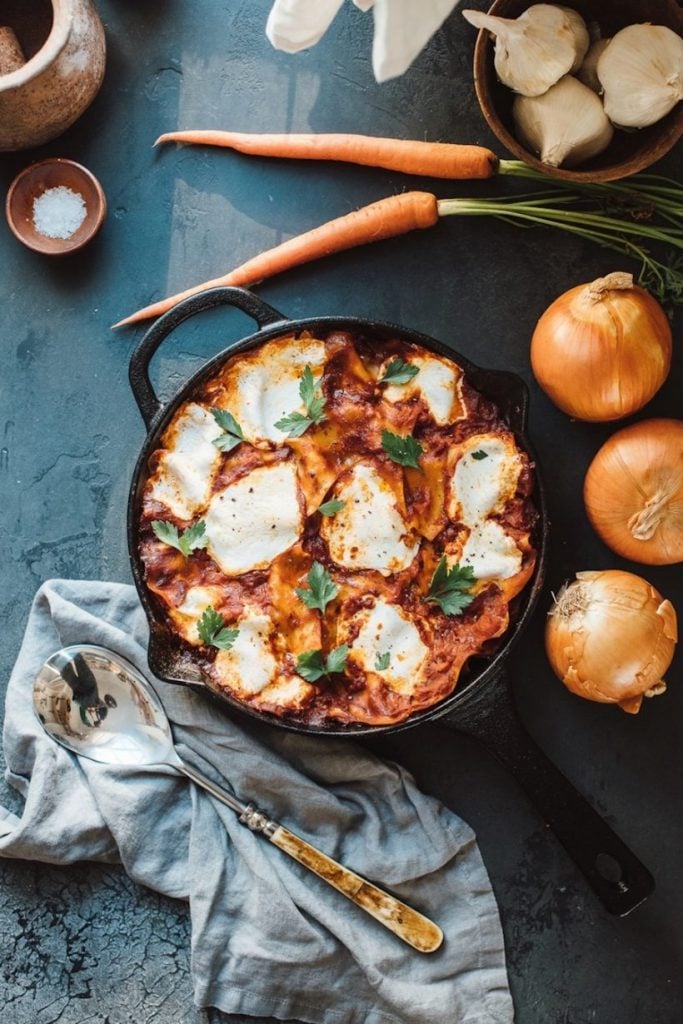 Why We Love It: I don't remember when it happened, but lasagna has always been my family's go-to Christmas Eve main dish (surrounded by plenty of sides). And while I love the aplomb and celebration inherent in a multi-layered pasta meal, when it comes to weeknight cooking, easy one-pot recipes are my pick. When fall comes around, this Skillet Eggplant Lasagna is on my biweekly to-make list. It's cozy (of course), vegetarian (but still hearty!), and as Camille says "not the slightest bit nap-inducing." Can your lasagna do that?
Hero Ingredient: Thick slices of eggplant are the secret to making this lasagna both a vegetarian and meat-lover's dream dish.
Why We Love It: I know what you're thinking: Soup?! In the middle of summer? But folks, this is the perfect transitional meal. It makes the most of sweet, in-season corn and pairs the bright, colorful veg with plenty of bright and colorful flavor to match. Cumin seeds, jalapeño, and a tablespoon of sriracha kick up the heat—the perfect way to cut through the corn's sweetness. Bonus: This soup stores well in the fridge or frozen to be enjoyed in the later, cooler months.
Hero Ingredient: If you've never had poblanos before, you're in for a treat. They're similar to a green bell pepper, but with a smidge more bite. Roasting them on the sheet pan before combining with the other ingredients mellows their flavor, and the result is a deeply complex heat that takes this soup from good to bowl-lickin' great.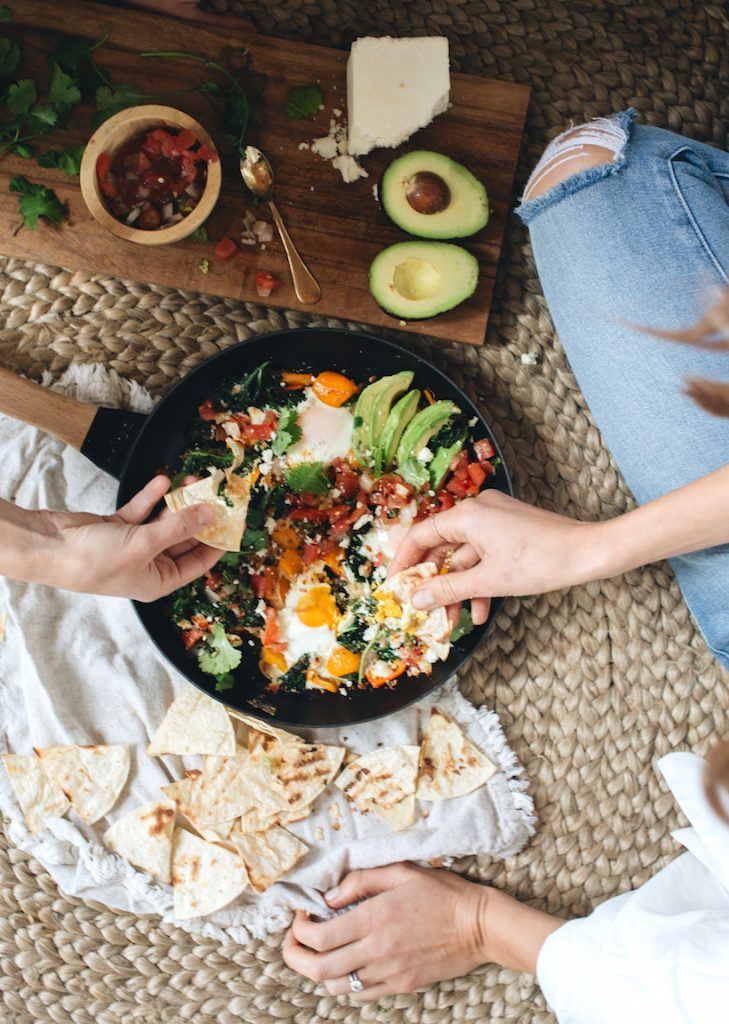 Why we love it: As a few of the recipes on this list prove, breakfast for dinner is both a fun twist on your evening meal and a great way to cut down on prep and clean-up time. A combination of bell peppers, kale, pico de gallo, and crumbled cotija give this meal a fun mix of textures, color, and flavor. Top with whatever additions you'd like, but we're fans of the additional creaminess and crunch that sliced avocado and tortilla chips bring to the party.
Hero ingredient: Store-bought pico de gallo lends a dimension of acidity and heat to your dish. Of course, you're always welcome to make your own if you'd like.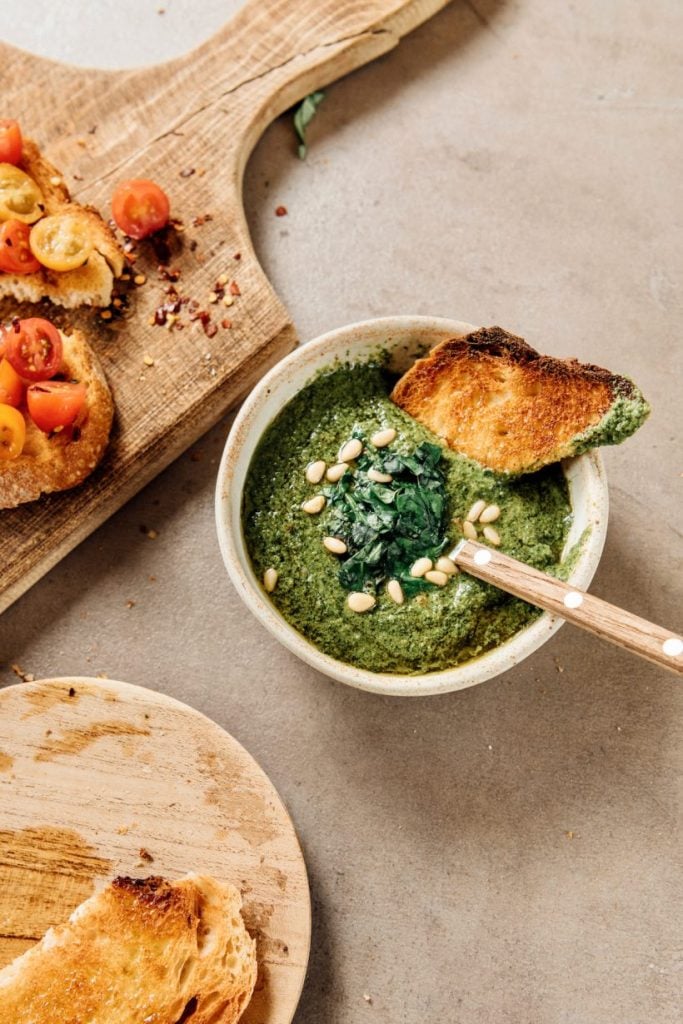 Why We Love It: When our Executive Producer, Michelle shared this recipe, our minds were blown. With pesto, we've always taken the traditional route. Pine nuts, olive oil, basil, and plenty of cheese give the sauce richness and body. But, little did we know, a plant-based spin is not only possible but perhaps even more crave-worthy. In this recipe, spinach supports the basil in giving the pesto its signature green hue and hemp seeds lend a little texture (not to mention protein and fiber) to the toasted pine nuts.
Hero Ingredient: The magical secret ingredient that makes this vegan take on a classic so good? Nutritional yeast, y'all. It's swapped in place of the parmesan to give this pesto its signature cheesy flavor. The boost of both protein and vitamin B12 is just an added bonus.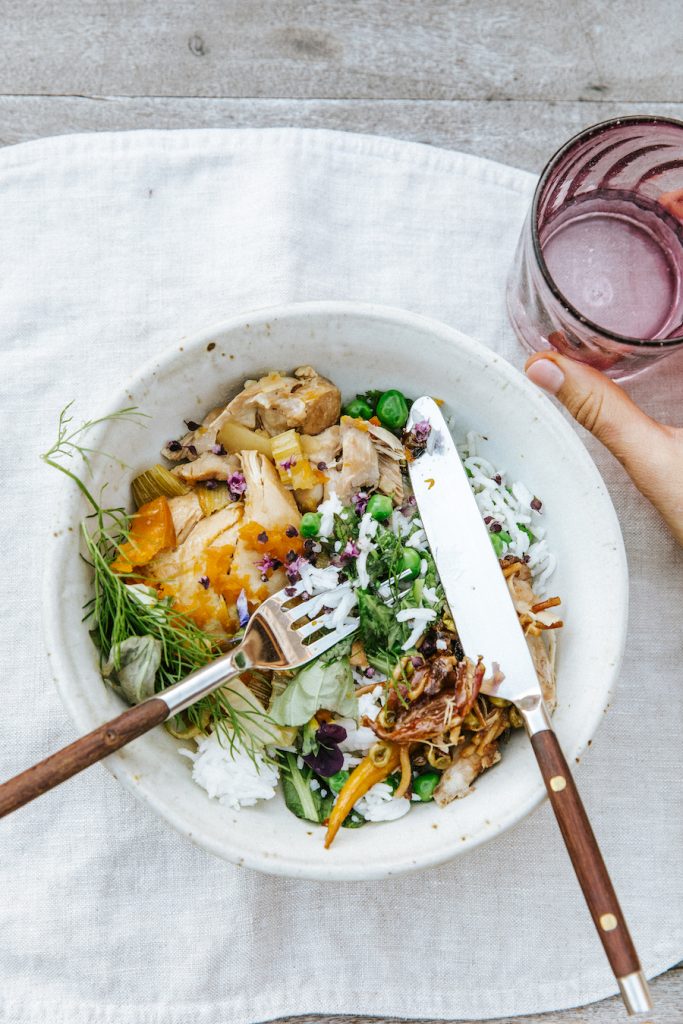 Why we love it: While rice isn't known to be the foundation for the most exciting meals, here, it sets the tone for a flavorful, but couldn't-be-simpler dish. That's right—three ingredients make this the ideal base for any proteins, additional veggies, or add-ins of your choice. Super affordable, incredibly quick, and endlessly adaptable. What more could you want?
Hero ingredient: When it comes to the greens, follow the guidelines of the season you're in. This time of year, I'm all about purslane. If you haven't discovered the green yet, don't be turned off by its "weed" moniker. If you're looking to eat more sustainably, this is a great way to do it!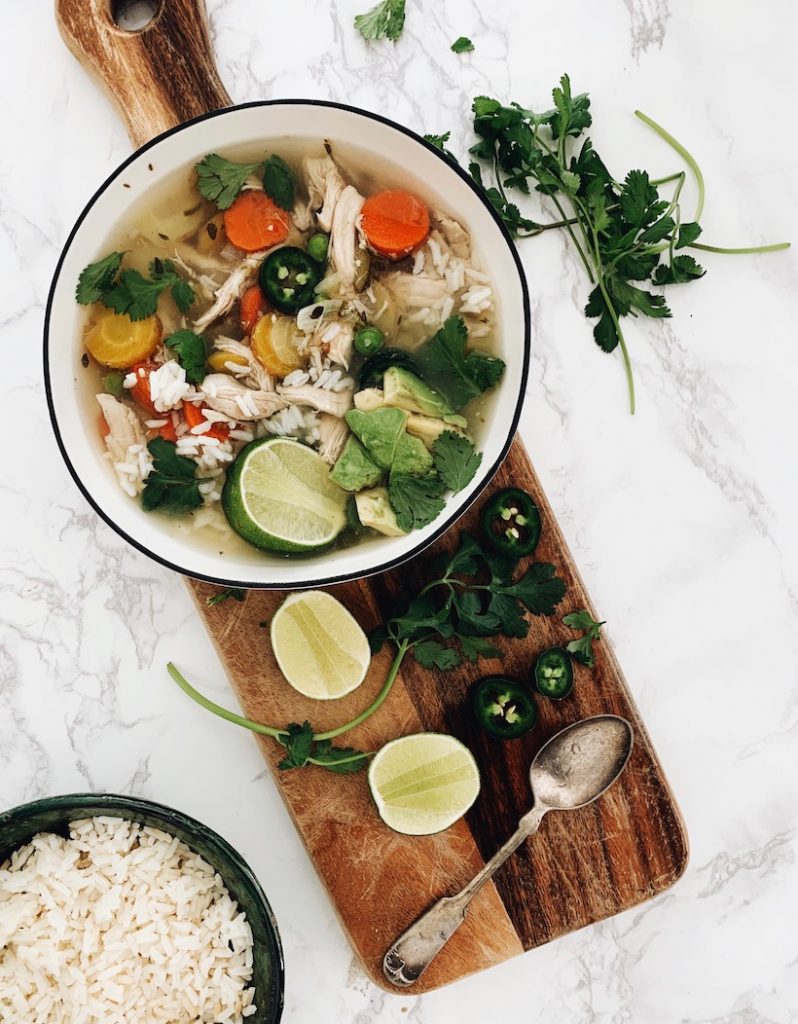 Why we love it: Sure, on my best days you can catch me getting creative and ambitious in the kitchen, but after a full day of work, my ability to extend effort toward anything is as low as it gets. Thankfully, easy one-pot recipes like this chicken and rice soup exist for a reason. Because the ingredients cook together in one pot, the bone-in chicken breasts flavor the soup beautifully, lending a rich depth to every spoonful. It's delicious (of course), but an unexpectedly simple meal, too. And when cold season comes around, you'll be grateful it's in your back pocket.
Hero ingredient: A few sprigs of fresh thyme or oregano make for a surprisingly impactful addition.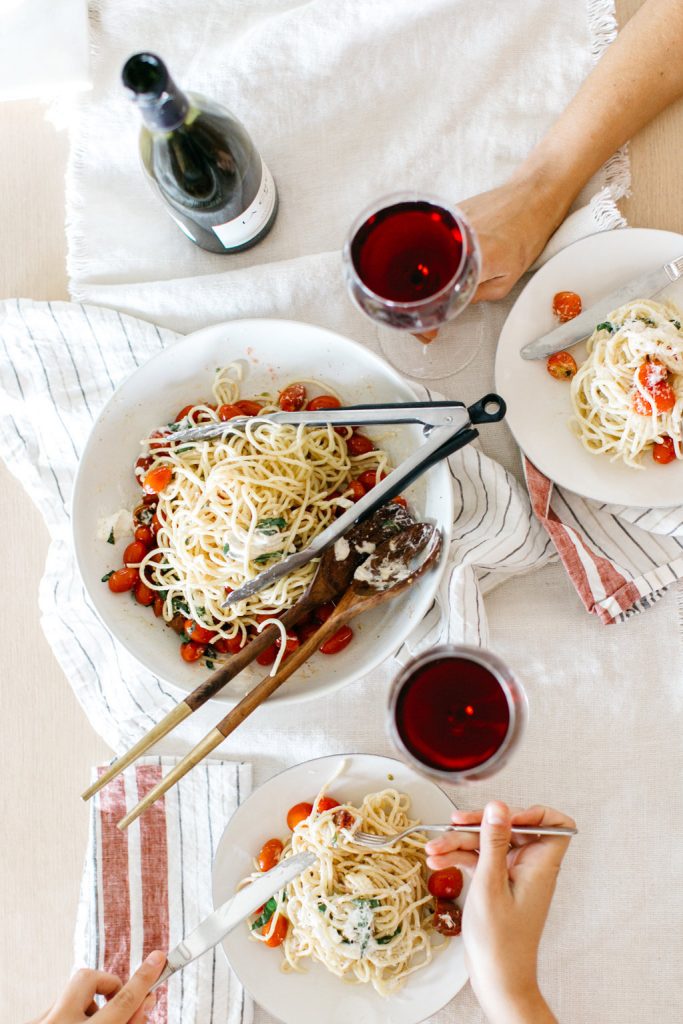 Why we love it: When summer comes around and the temps are at an all-time high, the last thing I want is a heavy bowl of pasta. BUT light pasta recipes exist for a reason, and this one's my favorite. It's an easy, satisfying bowl of comfort food that's bursting with flavor. The burrata makes it super creamy without feeling overly heavy and the basil brightens everything up. It's sure to become one of your favorite easy one-pot recipes.
Hero ingredient: There's nothing better than bursting bites of sweet cherry tomatoes.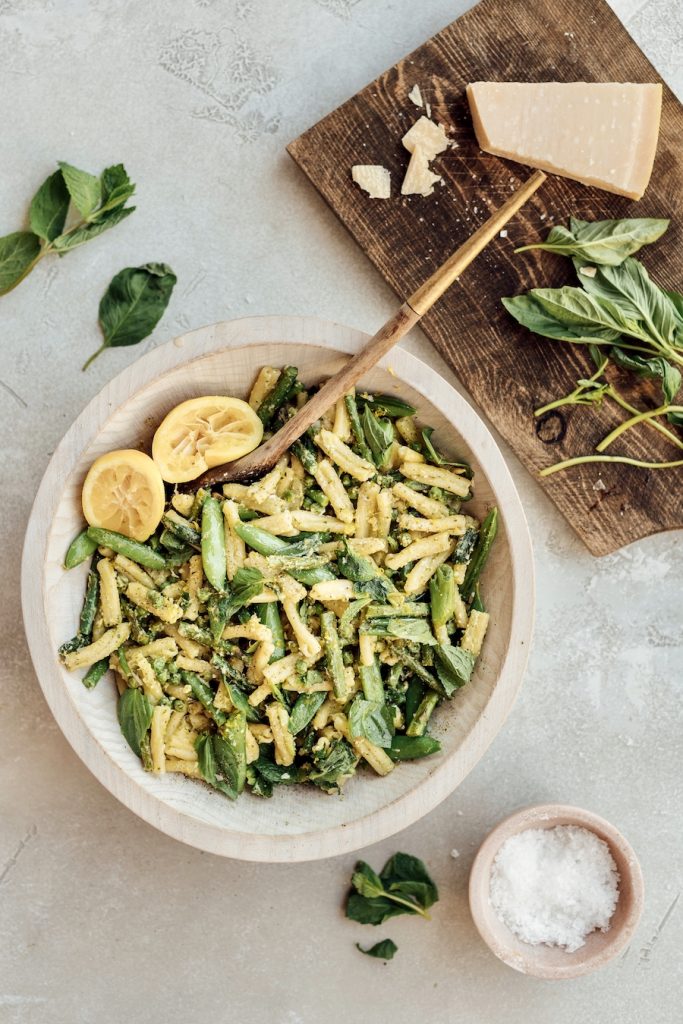 Why we love it: This perfect-for-summer recipe comes together quickly and easily, without skimping on flavor. While you're welcome to use any combination of veggies you'd like, when it comes to pesto, we're partial to an all-green color palette. Asparagus, sugar snap peas, green onions, frozen peas, and of course, plenty of garlic give this dish not only lots of flavor and crunch, but helps you meet your daily veggie quota, too.
Hero ingredient: While some pasta recipes can feel heavy, this primavera tastes deliciously light. But I have to say that the bites of crumbled goat cheese are a very welcome addition to my plate.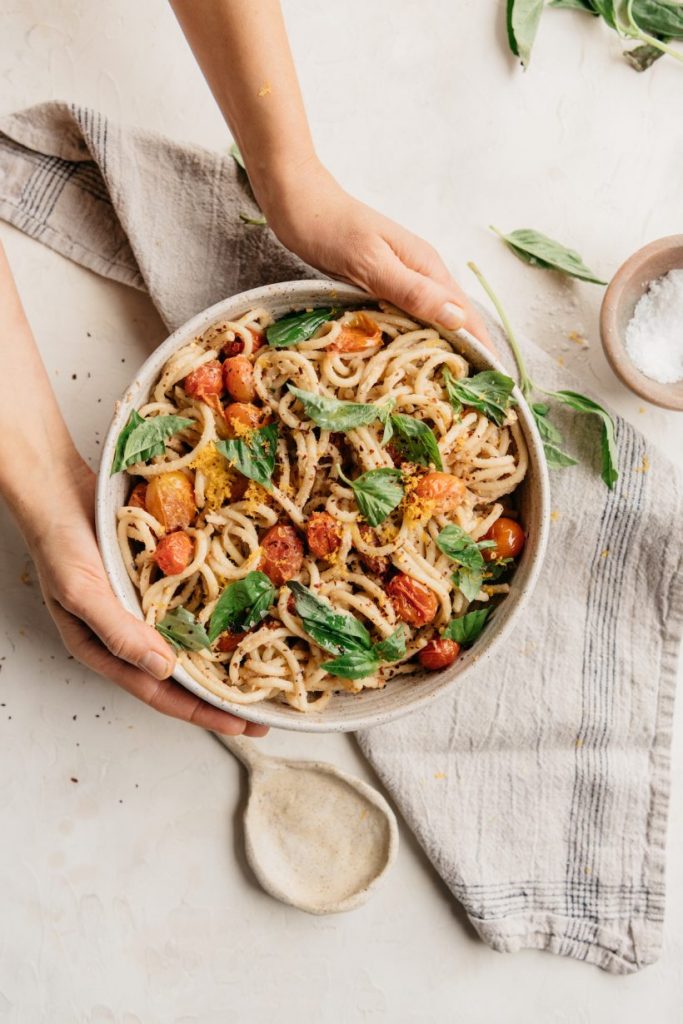 Why we love it: It doesn't get much easier than this simple recipe. A 15-minute one-pot meal that's as quick and easy as it gets. And though the recipe title calls it out, I can't but repeat it: vegan! Yes, that's right, this pasta's creaminess comes from the most luxuriously-thick walnut sauce. I'll never not be amazed by what my favorite plant-based staples can do.
Hero ingredient: Because this dish leans on the side of indulgence when it comes to flavor, a simple garnish of lemon zest at the end will brighten up your entire bowl.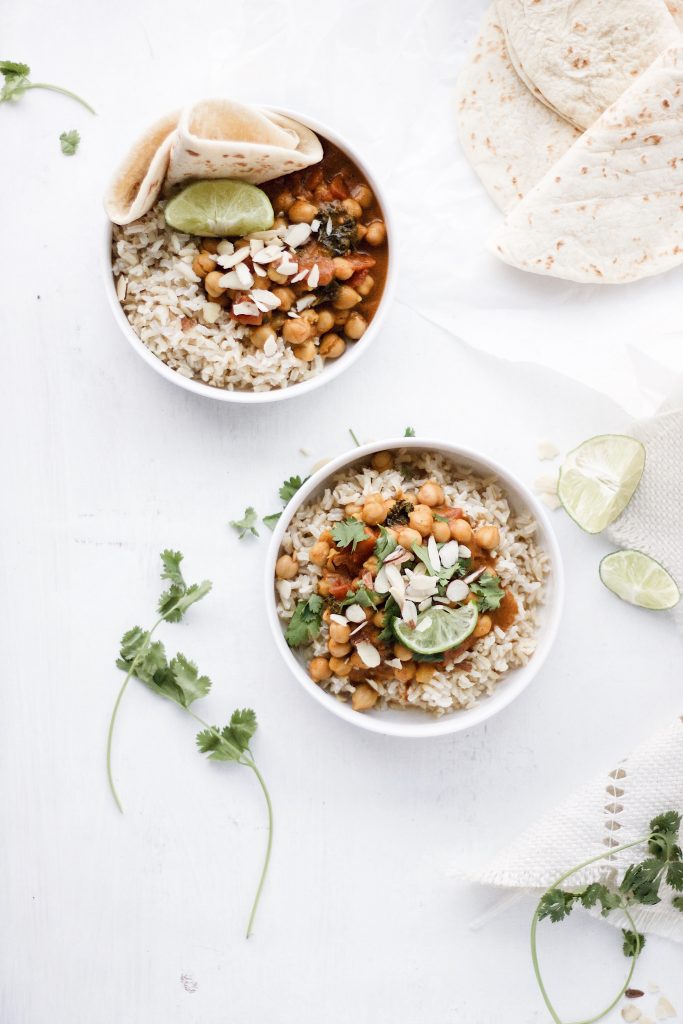 Why we love it: This dish is the perfect fusion of our favorite fall flavors and traditional Indian cuisine. Delicious comfort food made quickly and using healthy ingredients like chickpeas, kale, spices, and diced tomatoes. It's a lovely and easy one-pot recipe that's perfect for a busy weeknight and even more divine as leftovers the next day.
Hero ingredient: When it comes to cozy season cooking, pumpkin is always the star.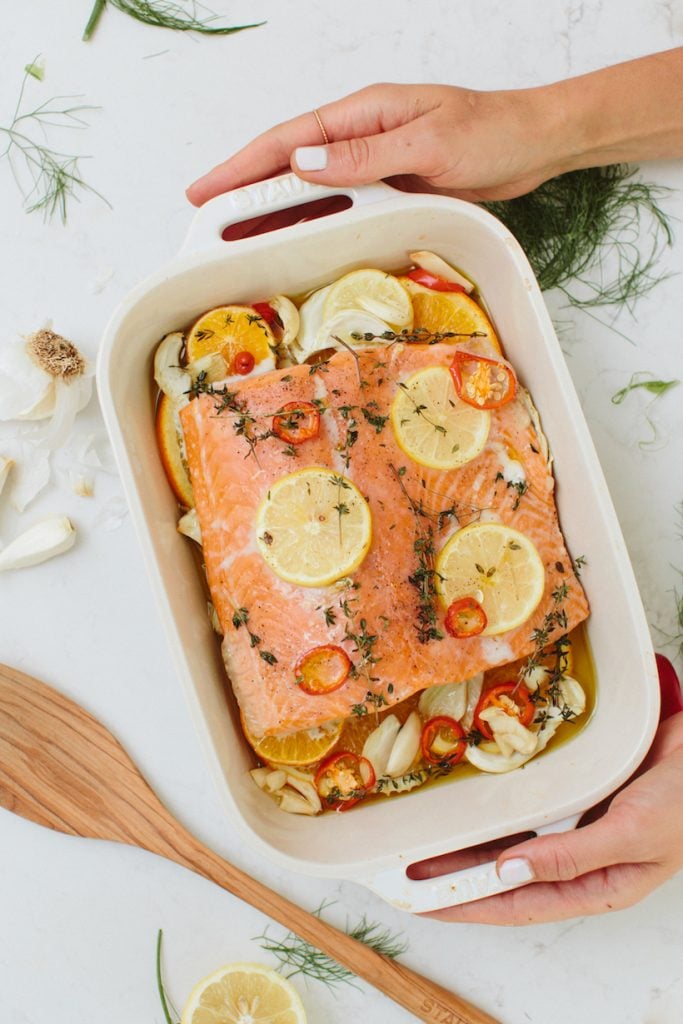 Why we love it: Everyone needs a good go-to salmon recipe, and Camille swears by this easy, mostly hands-off approach. It's sweet and citrusy and perfect served alongside your favorite roasted veggie and a grain. When it comes to easy one-pot recipes, sometimes, simplicity is best.
Hero ingredient: When fennel is roasted low and slow, the result is a mild, anise-like flavor that gains an edge of caramelized sweetness. In other words, perfection.
What are your favorite easy one-pot recipes? Share the link with us below.
This post was originally published on August 27, 2021, and has since been updated.