Growing up, Thanksgiving was always at my grandparents' house. They would take care of the turkey, stuffing, and a few other sides, and my mom and aunts would bring everything else for the big meal. I had one aunt who would always bring store-bought, stale sugar cookies. Another aunt would make sweet potato casserole that was eerily similar to baby food. With cups of sugar dumped into it. Needless to say, those dishes were always a bit of a disappointment.
When I got a little older, my mom took over hosting. She's a major control freak and did all the cooking to make sure everything was up to standard. Now I host Thanksgiving and, well, the apple doesn't fall far from the tree. I do all the cooking and have pretty strict guidelines on what I'm serving. But every year, I also end up going to a potluck Friendsgiving.
I tend to get a little nervous that people will forget about the event and pick up something gross at the last minute or choose to make a recipe that doesn't travel well. To help avoid Friendsgiving food faux pas this year, I've rounded up the most crowd-pleasing Thanksgiving potluck ideas broken down by course.
Scroll on for the recipes, and forward this as a PSA to all your friends!
Featured image by Michelle Nash.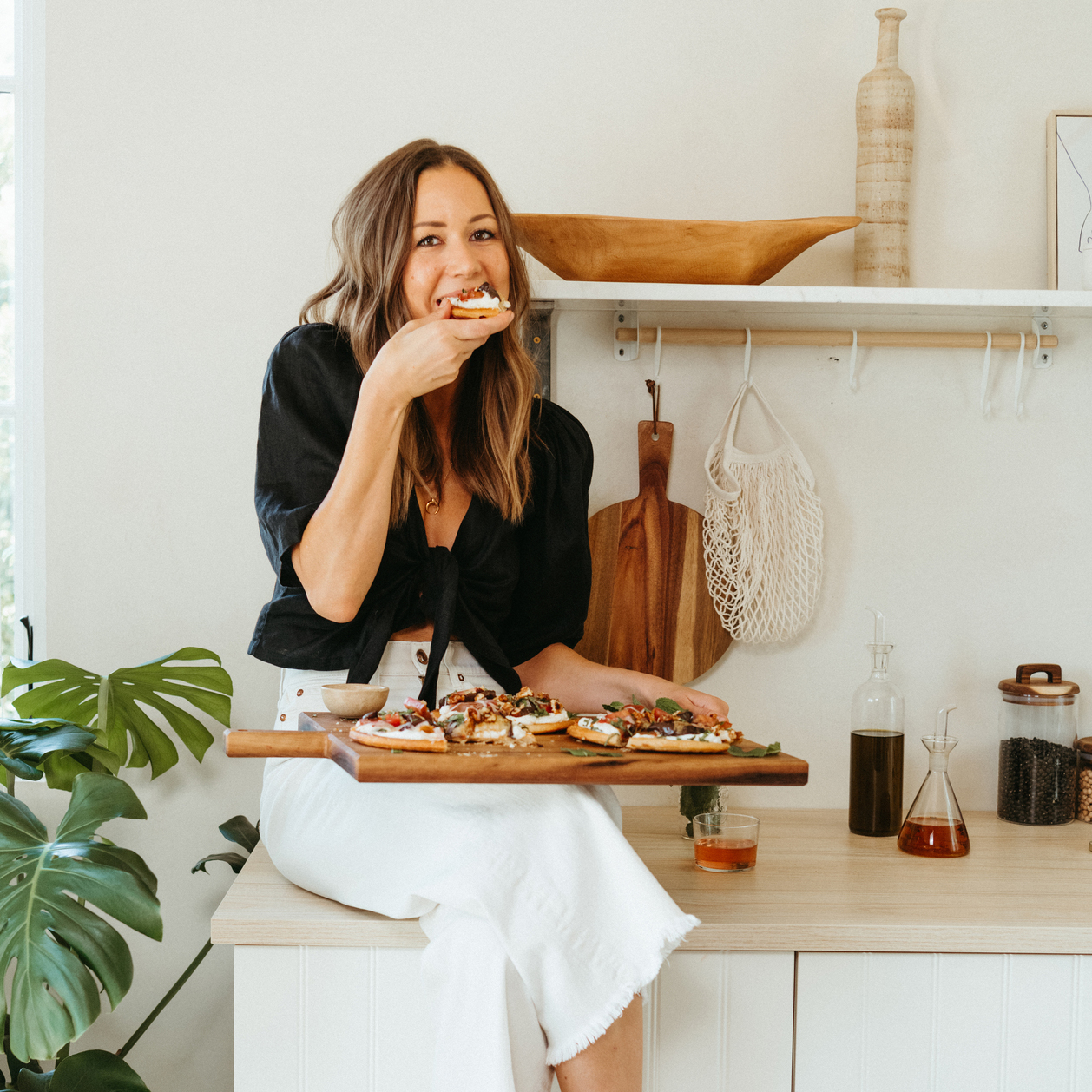 Subscribe
Our Top 10 Recipes
Sign up to receive a FREE E-BOOK of my top 10 most popular recipes of all time!
Thanks for Signing Up!
Oops!
Looks like you're already signed up or your email address is invalid.
Oops!
Looks like you unsubscribed before click here to resubscribe.
Thanksgiving Potluck Ideas: Main Course
In most cases, the main course (the turkey!) will be taken care of by the host. But I've been to a few Friendsgivings where the host doesn't necessarily want to host 10 people, shell out a ton on a turkey, and take on the responsibility of actually cooking the bird. Luckily, there are plenty of turkey and fall-inspired main courses that can perfectly replace a whole roasted bird. Note: If you're not the host, but you're bringing a main, I recommend finishing these recipes off at the host's house.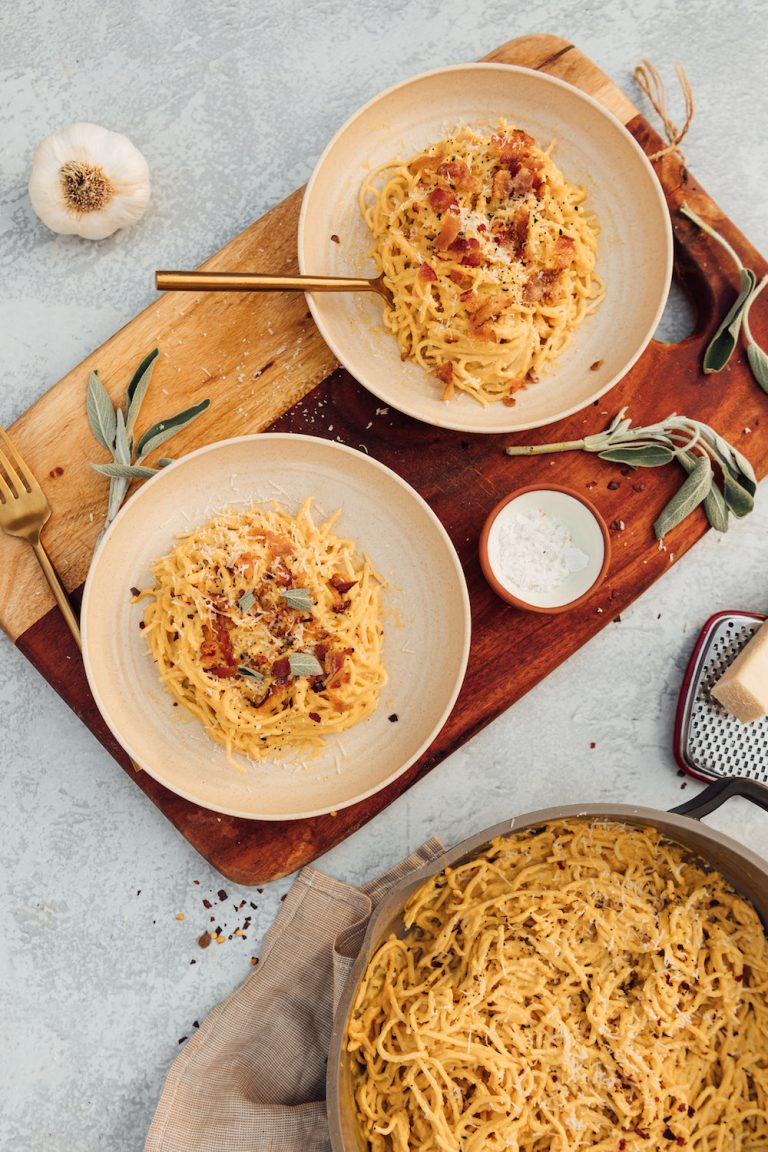 Why We Love It: Butternut squash is the ultimate fall veggie. It's comfort food at its sweetest and most satisfying—plus, it's the perfect add-on to any autumnal dish. And while you might think pasta can't hold its own as a standout Thanksgiving main, just wait. Bacon, sage, and miso paste give your pasta a savory, umami depth of flavor and nutritional yeast brings all the cheesiness you crave. Plus, it's just about the creamiest pasta I've ever tasted—all without a single drop of dairy. Want to experience the magic for yourself? Make this recipe.
Hero Ingredient: Cashews bring an element of creaminess that both dairy devotees and vegans alike will love.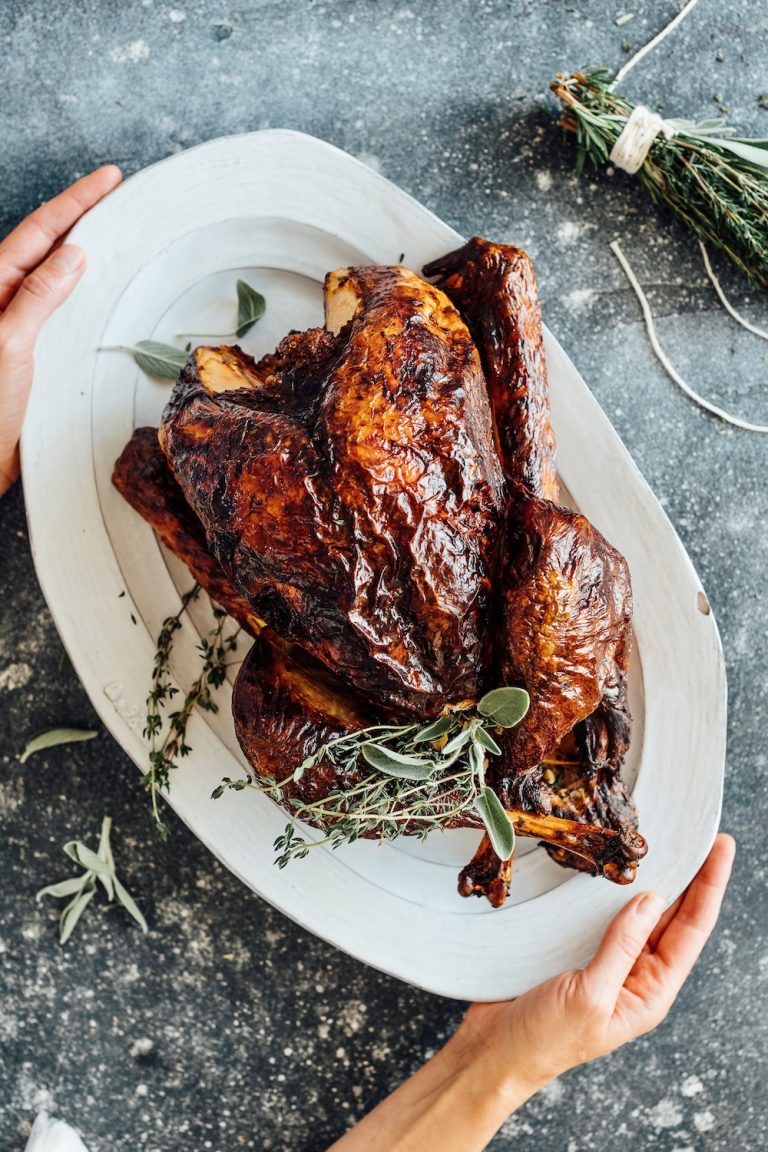 Why We Love It: If you're after a turkey recipe that yields crispy skin and juicy, flavor-packed meat, make this your go-to. Camille called in Michael Fojtasek, owner/chef of the award-winning, Austin-based restaurant Olamaie, to show us how it's done. Be prepared to take a bite of the turkey of your dreams.
Hero Ingredient: I'll let you in on the secret to the turkey's crispy golden skin: sorghum syrup. Similar to molasses, its sugars create a crispy, caramelized skin.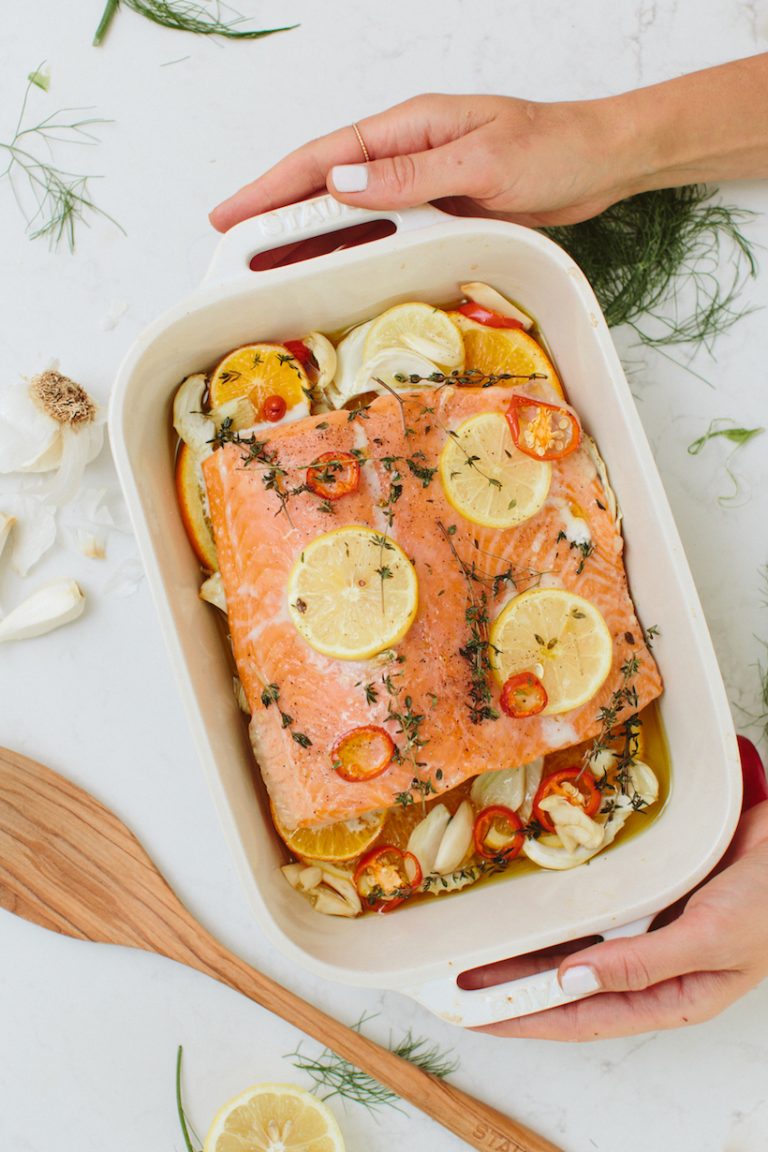 Why We Love It: Salmon? For Thanksgiving? While the holiday's my favorite, I have to admit—I'm not a big turkey fan (and I know I'm not alone in this). If you think guests might be craving something other than the traditional bird, this slow-baked salmon is the answer. It's just about the most tender, moist, and buttery salmon I've ever had. Oh, and it couldn't be easier to make.
Hero Ingredient: I love the roasted fennel's sweet, anise flavor.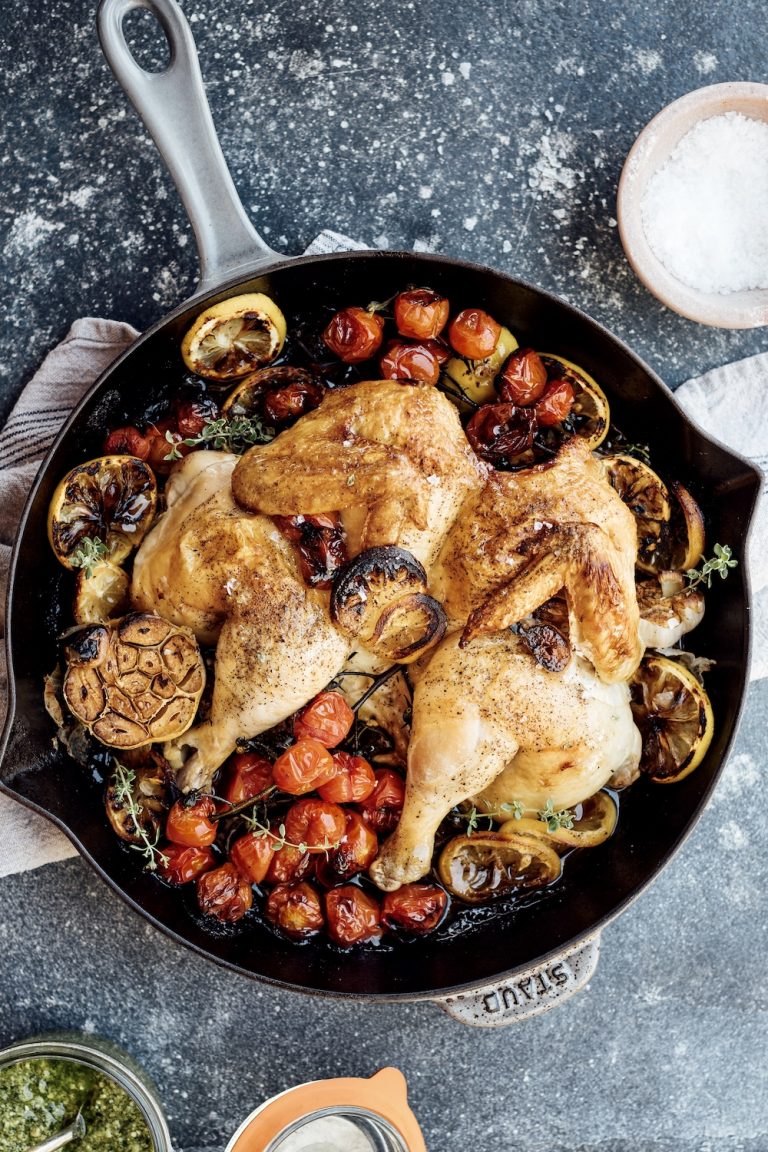 Why We Love It: Meet Camille's favorite Sunday night chicken. Yes, it's easy enough to make on a weekly basis but special enough to wow everyone at any Thanksgiving feast. Her technique calls you to remove the backbone, and while you might be intimidated, know that you can also ask the butcher to do it for you. As Camille writes, this creates "more surface area to come in direct contact with the heat" yielding a crispy, golden brown skin (that cooks way faster than you'd expect).
Hero Ingredient: Don't you dare sleep on the cilantro salsa verde. It gives your dish beautiful color and a pop of zesty flavor.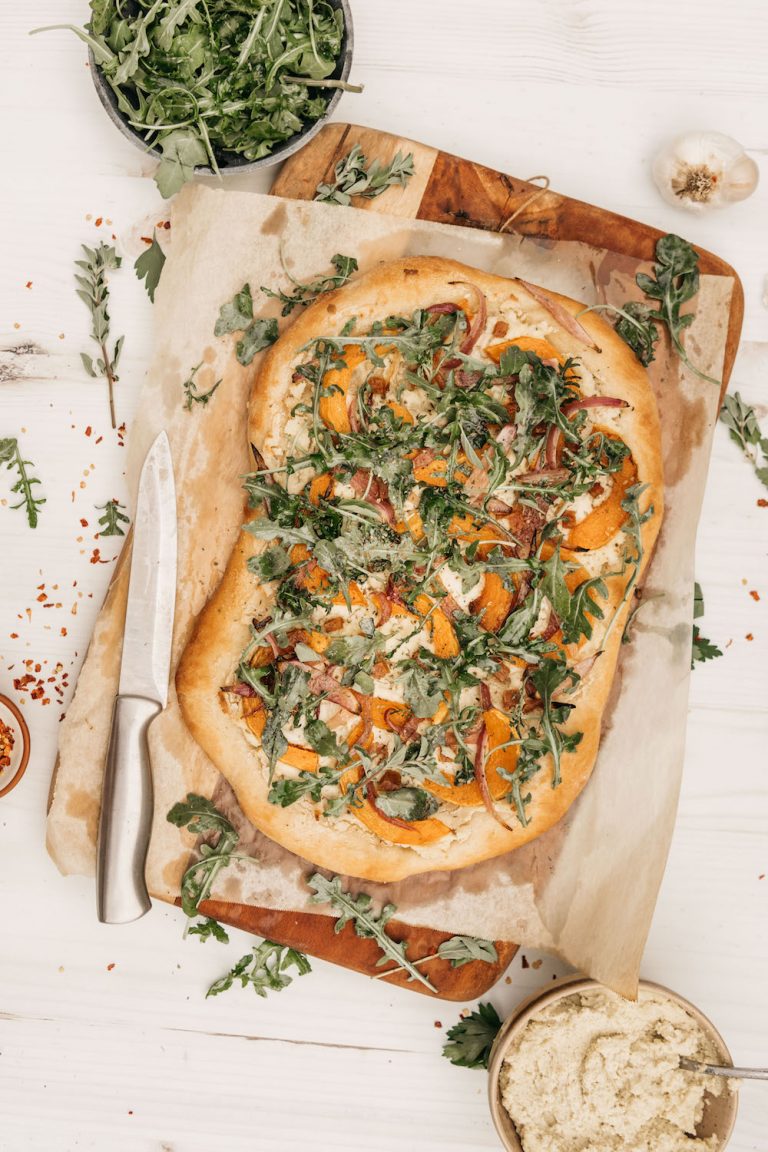 Why We Love It: Pizzas or flatbreads are a great option to have at a Thanksgiving potluck because you can serve them at room temperature and vegetarians can dig in, too (just leave off the bacon). But because this recipe involves homemade almond ricotta, all your vegan friends are welcome to indulge as well. Don't be surprised if this quickly becomes everyone's favorite dish.
Hero Ingredient: Arugula brings a delicious, savory bite.
Thanksgiving Potluck Ideas: Side Dishes
A good potluck side dish is one that you can transport in a single dish and easily make ahead of time or finish off at the host's house. One of the benefits of a Thanksgiving potluck is the freedom to put your own twist on classic recipes. Maybe this year you could bring croissant stuffing instead of traditional stuffing or make potato gratin stacks instead of mashed potatoes. The options abound…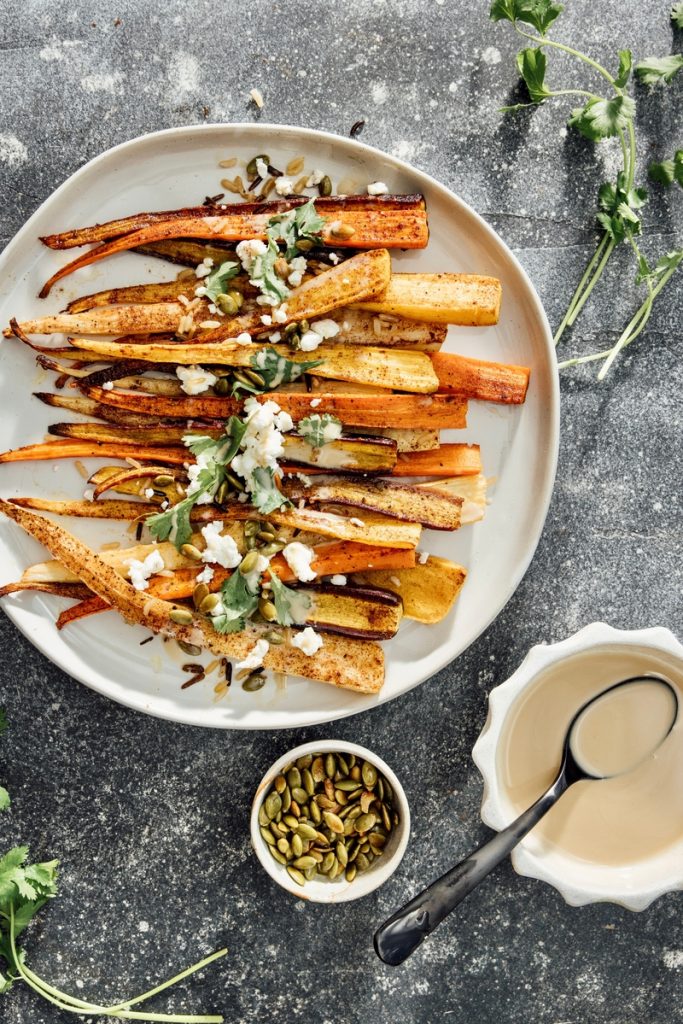 Why We Love It: This recipe comes courtesy of our resident wellness expert, Edie Horstman. Not only is this dish full of nutrient-packed goodness (a major win for any Thanksgiving table), but it's also filled to the brim with flavor. Wild rice lends a nice chew to the base while a rainbow of heirloom carrots brings a little much-needed color to the table. The crumbled goat cheese over top? *Chef's kiss*
Hero Ingredient: But the real show-stopper of this holiday side? I want to drizzle the tahini sauce on everything from now until the new year.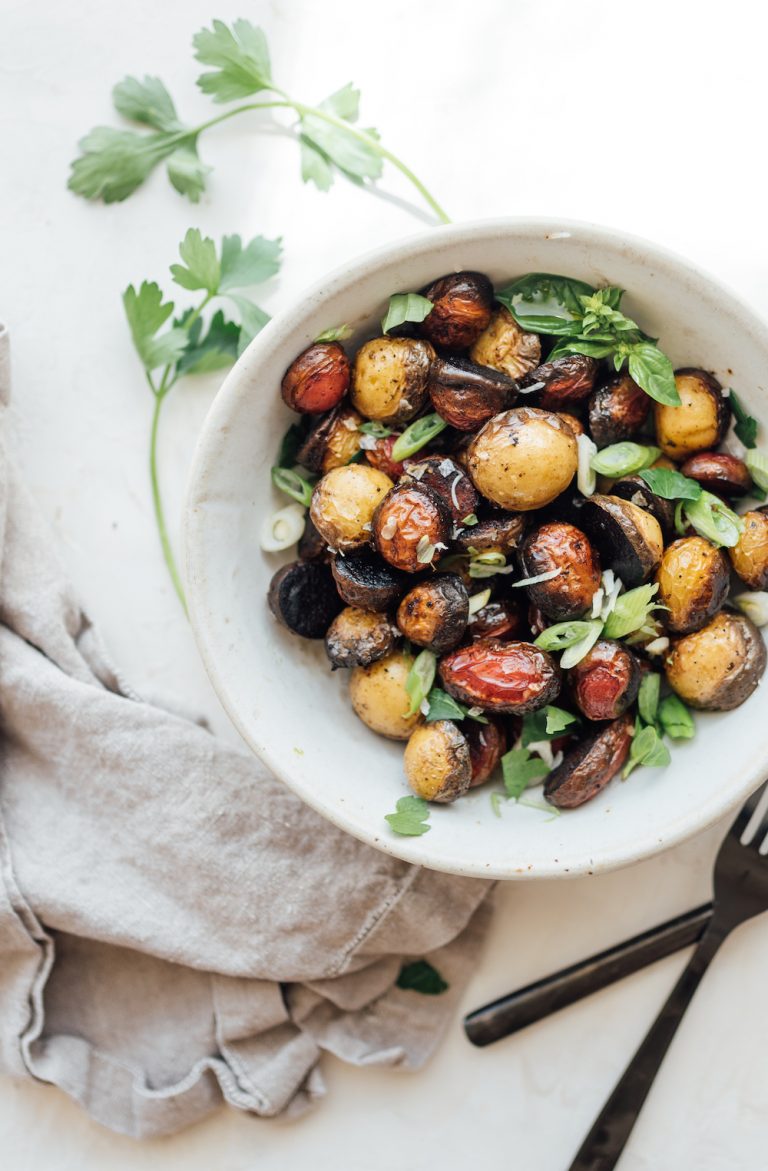 Why We Love It: Have you ever met potatoes that claimed to be "earth-shatteringly" crispy? Didn't think so. Let me introduce you to the most crave-worthy spuds around. Just five simple ingredients and 40 minutes of combined prep and cook time and you'll have these delights ready to go. (Bonus: They're easy to transfer and even easier to reheat.) You might just rename them crack potatoes…
Hero Ingredient: A quarter-cup drizzle of apple cider vinegar sends the classic salt & vinegar flavor home.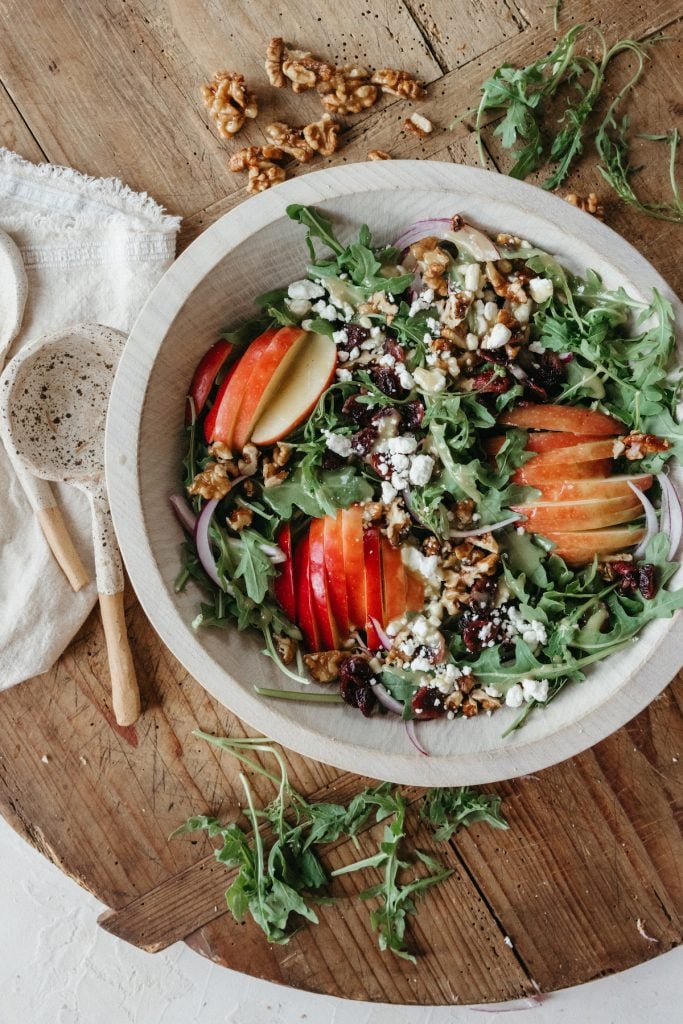 Why We Love It: This salad is an ode to all of our favorite fall flavors. And while apples may be overlooked in favor of the ubiquitous pumpkin, this salad makes an excellent case for why we should be eating them by the bushel. It's fruity, peppery, crunchy, and salty, with a mix of ingredients that combine for a perfect balance of flavor and color. Plus, it's just the refreshing bite you'll need when you're halfway through your annual turkey consumption quota.
Hero Ingredient: Raw red onions bring a nice bite of heat, but if you want a slightly sweeter salad, caramelizing them beforehand enhances their flavor.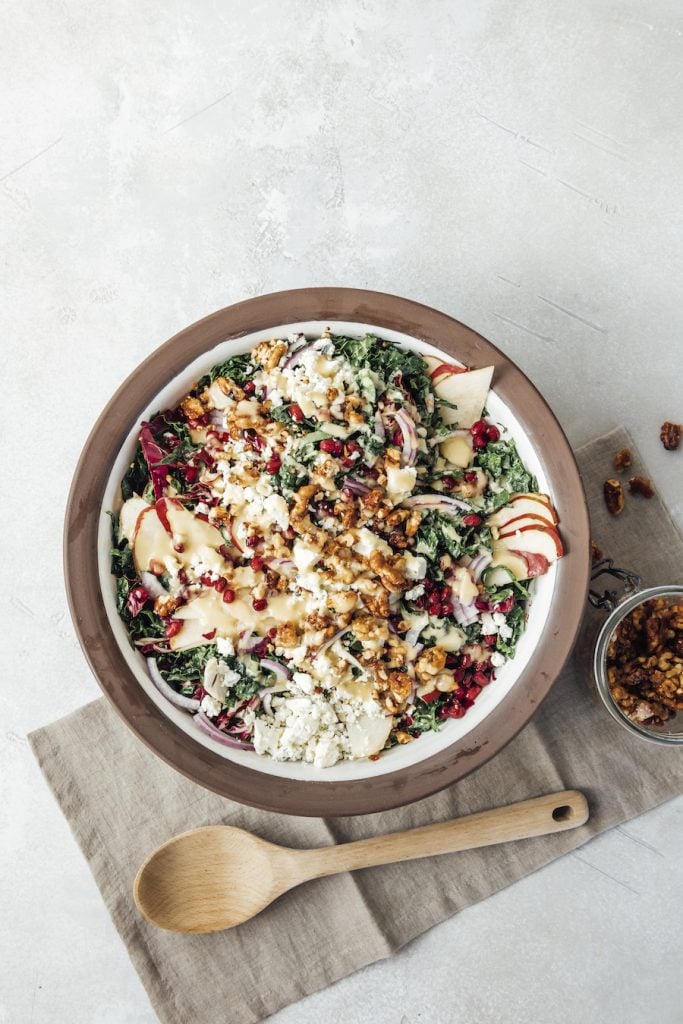 Why We Love It: Think you're not a kale salad fan? Think again. When you add pear slices, crumbled gorgonzola, pomegranate, and a mustard-shallot vinaigrette, it'll go from bland to the best thing you've ever eaten. It's perfect for your holiday party—and good news: if you go home with leftovers, it's perfect for lunch the next day.
Hero Ingredient: Candied walnuts are even better than… actual candy.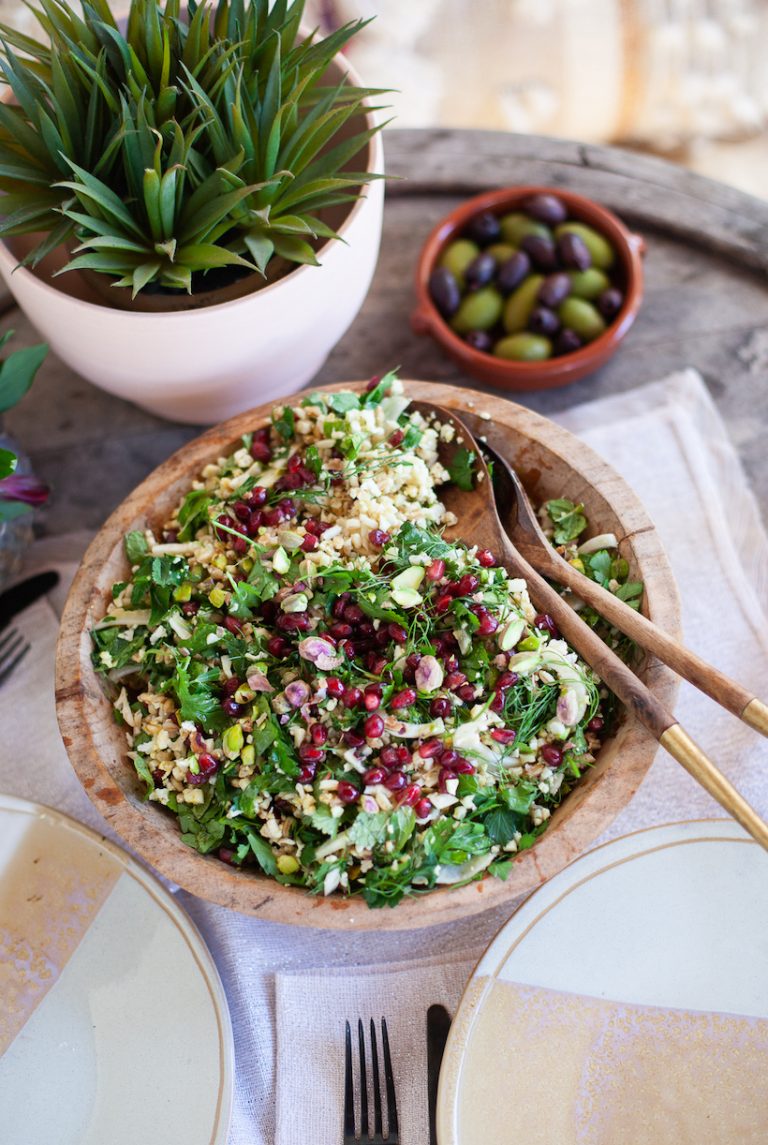 Why We Love It: For your gluten-free friends, this salad manages to be simultaneously light and hearty. It harnesses all the color and flavor of the holiday season and is the perfect accompaniment to any festive main dish. In other words, it's exactly what you need to bring to every potluck this season.
Hero Ingredient: The salty, nutty pistachios bring the ultimate crunch factor.
Why We Love It: When your favorite pasta dish combines with one of the best fall/winter veggies, a beautiful dish ensues. This recipe comes courtesy of the ever-creative Tieghan Gerard's cookbook, Half Baked Harvest Super Simple. And simple, it definitely is. The Brussels sprouts get crispy and caramelized—and a whole lot of parm sure helps.
Hero Ingredient: A third-cup of toasted hazelnuts is just what the home chef ordered.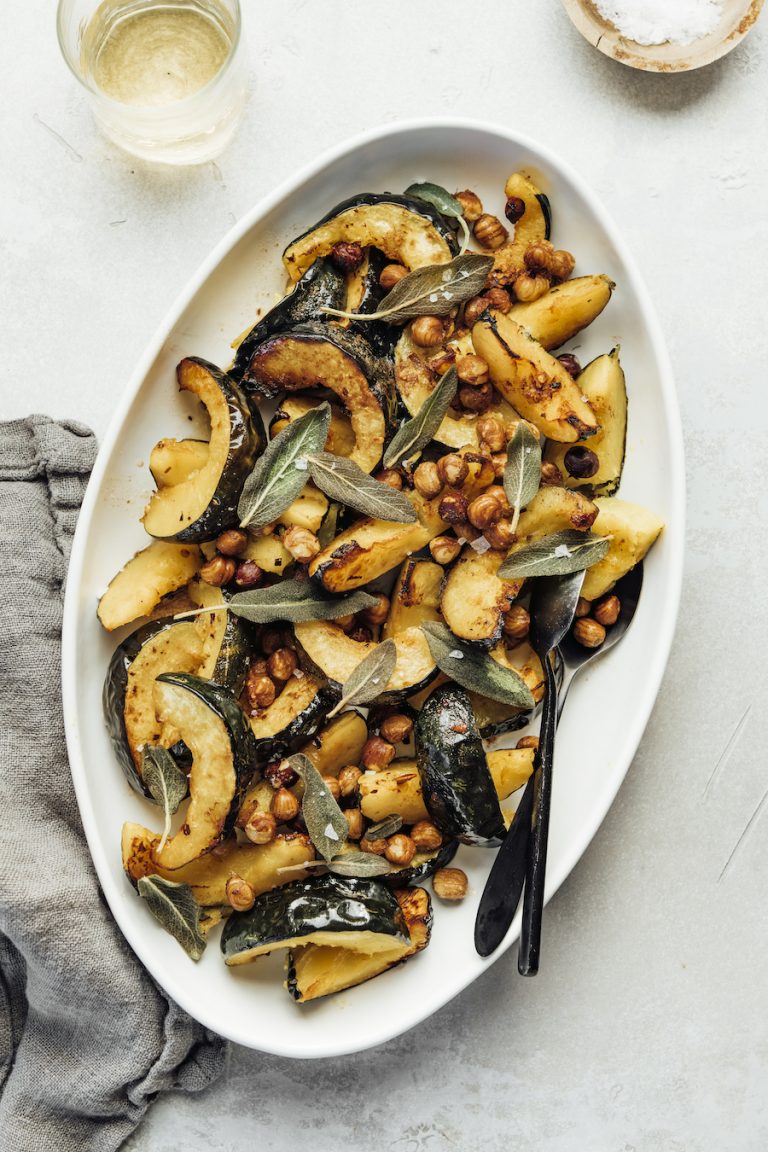 Why We Love It: Butternut squash might be a crowd-favorite (and I certainly love it, too) but for me, acorn squash reigns victorious. In this recipe, half moons are tossed with olive oil, brown sugar, rosemary, and red pepper flakes and roasted until they're golden and tender.
Hero Ingredient: Brown butter makes everything better.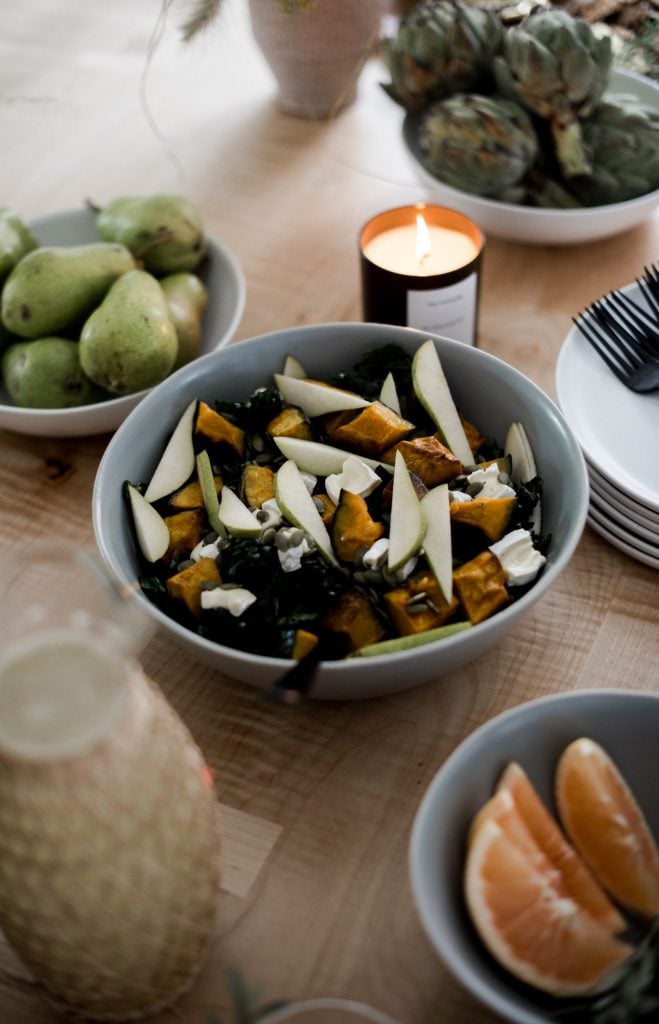 Why We Love It: I love a simple, swoon-worthy salad. Entertaining extraordinaire Sophie Collins created this recipe that adds fresh flavor and stunning color to all of your fall gatherings. Hardy greens and crunchy seeds combine to create a salad that proves: it's not just about the nutrients—salads can be delicious, too.
Hero Ingredient: Slice a wheel of brie in half and tear up and toss in bite-sized pieces. You'll be happy you did.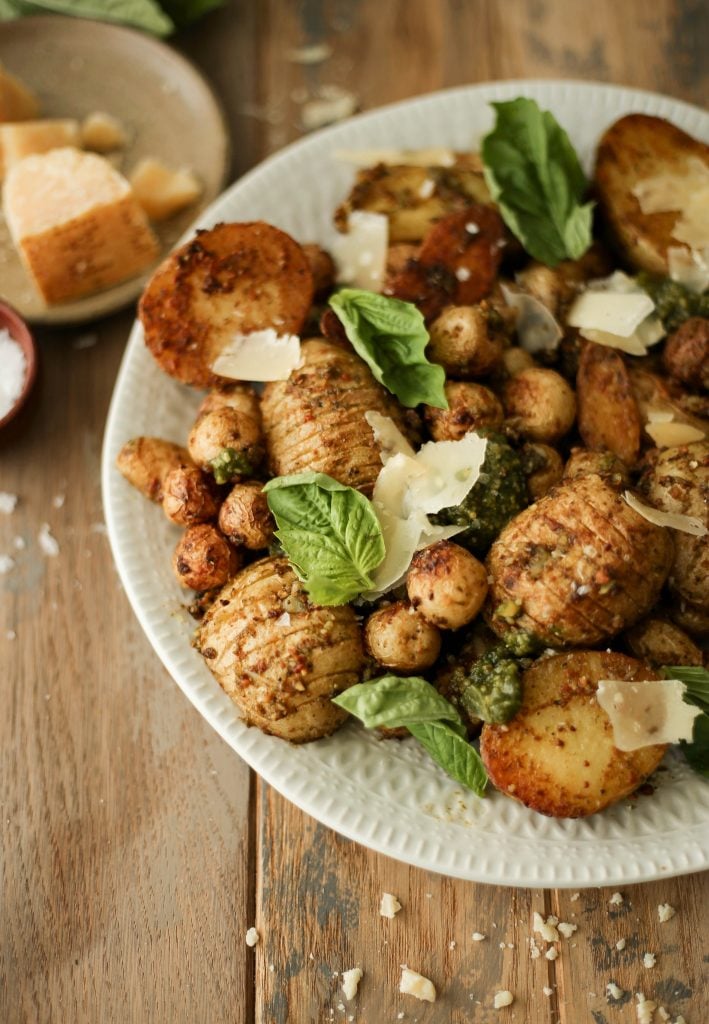 Why We Love It: Five-ingredient, flavor-packed potatoes? Music to my ears. Select a variety of small potatoes (Yukon, fingerling, and baby potatoes) and toss them in pesto, fruity olive oil, and a big pinch of salt and pepper. Add roasted garlic and parmesan for good measure.
Hero Ingredient: I love a good homemade pesto, but in the words of Ina Garten "store-bought is fine."
Thanksgiving Potluck Ideas: Desserts
For reasons I'll never understand, most people request "just a little bit" of whatever dessert is offered on Thanksgiving. So it's important to bring desserts with easily adjusted serving sizes or to make dishes that taste great as leftovers.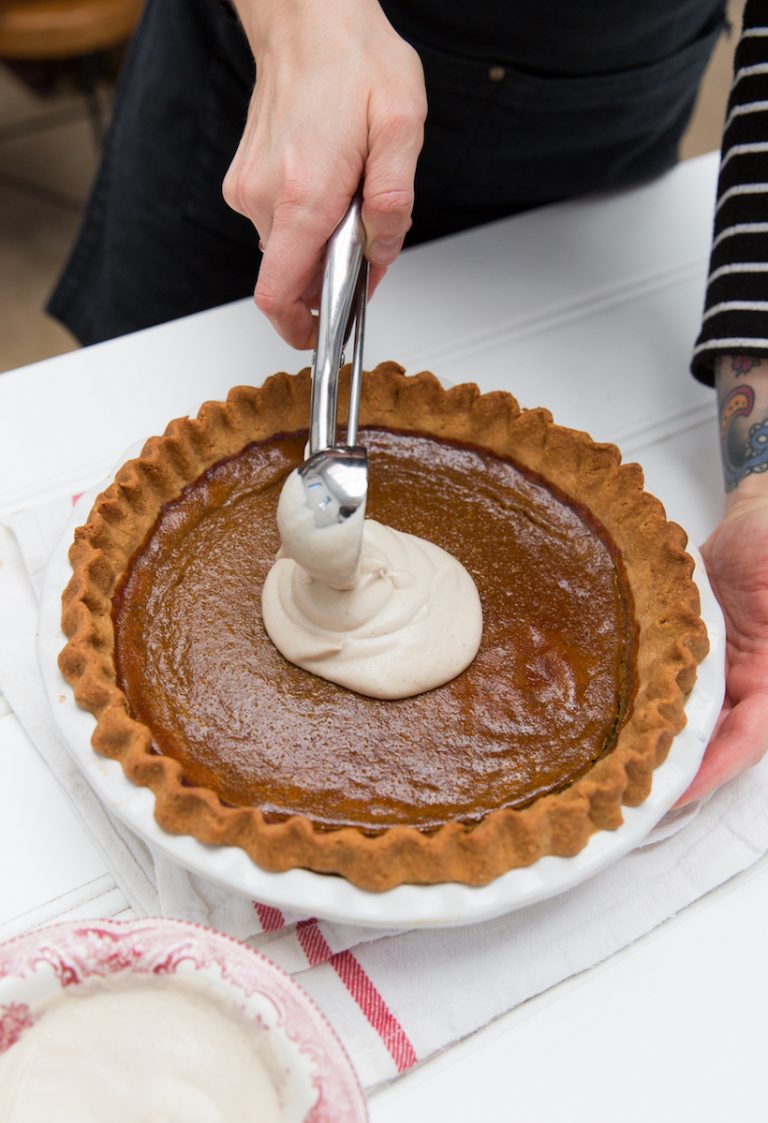 Why We Love It: Pumpkin pie's a classic—and it's a holiday dessert that everyone should get to enjoy. That's why we adapted our favorite recipe so our gluten-free friends can join in, too. And don't worry, those fluted edges are wayyy easier to create than they seem. Get our step-by-step tips in the post.
Hero Ingredient: Replacing flour with almond meal in the crust not only makes this recipe grain-free, but it gives a nice, nutty bite to every forkful.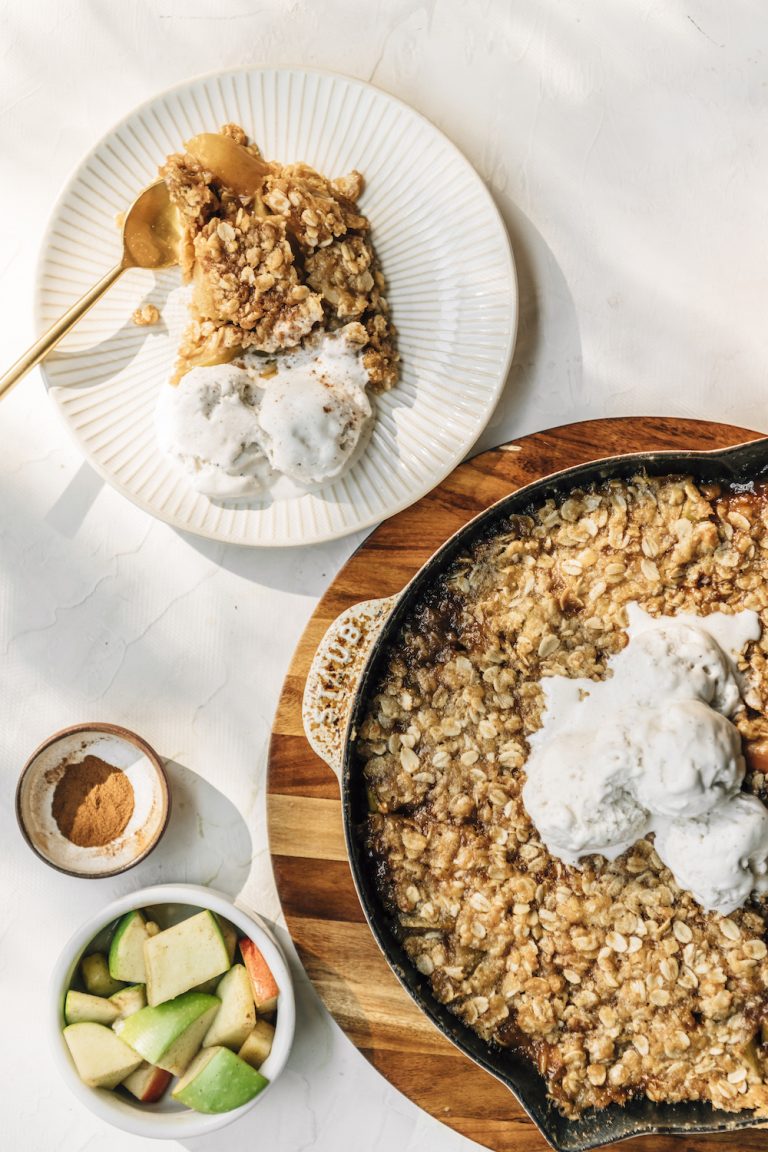 Why We Love It: Apple crisp is as easy as, well… pie. But just because it's simple, doesn't mean you can't do a few things to boost its flavor. Enter: browned butter. Marinating the apples in bourbon, brown sugar, cornstarch, and cinnamon certainly doesn't hurt either.
Hero Ingredient: Again, the browned butter can't be beaten. (Though the bourbon makes a solid case for itself.)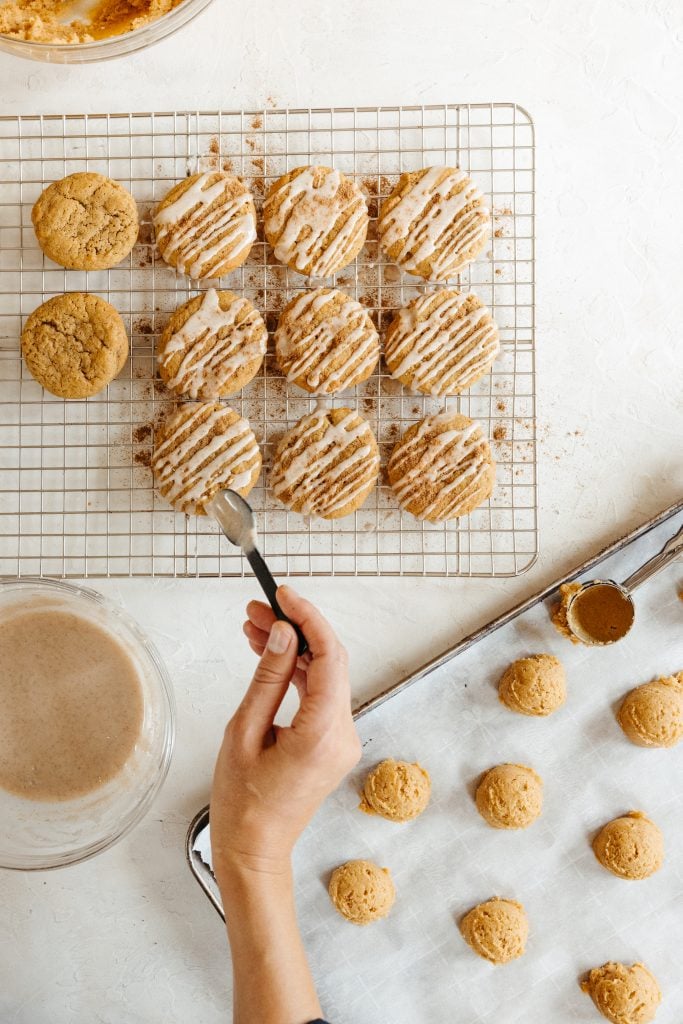 Why We Love It: If you're headed to a more casual Thanksgiving potluck, these pumpkin spice cookies are required. They perfectly capture the sweet and spicy deliciousness of the season—and if you prefer a cookie that leans on the chewier side, then these are exactly what you're craving.
Hero Ingredient: The cinnamon glaze may seem optional, but trust me—it's not.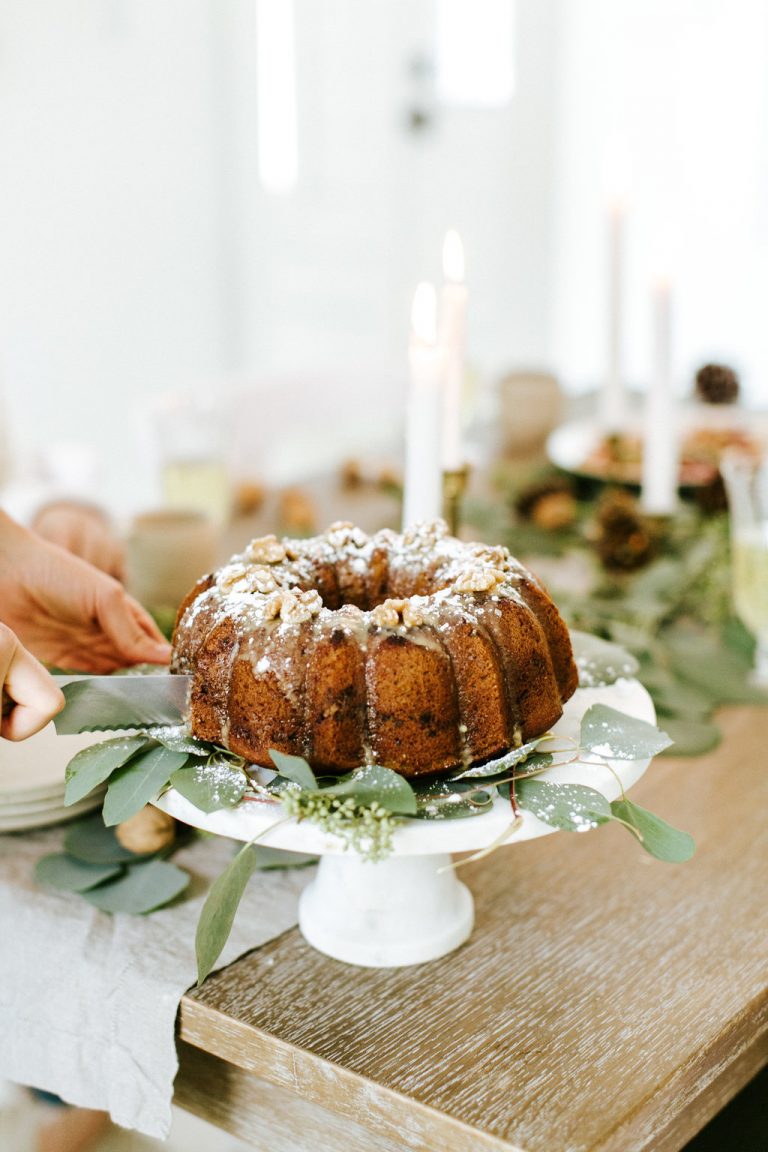 Why We Love It: Just because the recipe includes "healthier" in the name doesn't mean that this pumpkin bread isn't full-on dessert-worthy. Bonus: the ingredients that make it healthier are the same components that lend tons of flavor and moist texture to each bite. Applesauce, Greek yogurt, coconut oil, and maple syrup naturally sweeten your bread while making clear that you're still indulging. Could this be the perfect Thanksgiving potluck dessert? You decide.
Hero Ingredient: As with all glazes, though the recipe might say it's optional, I can't recommend drizzling it on enough.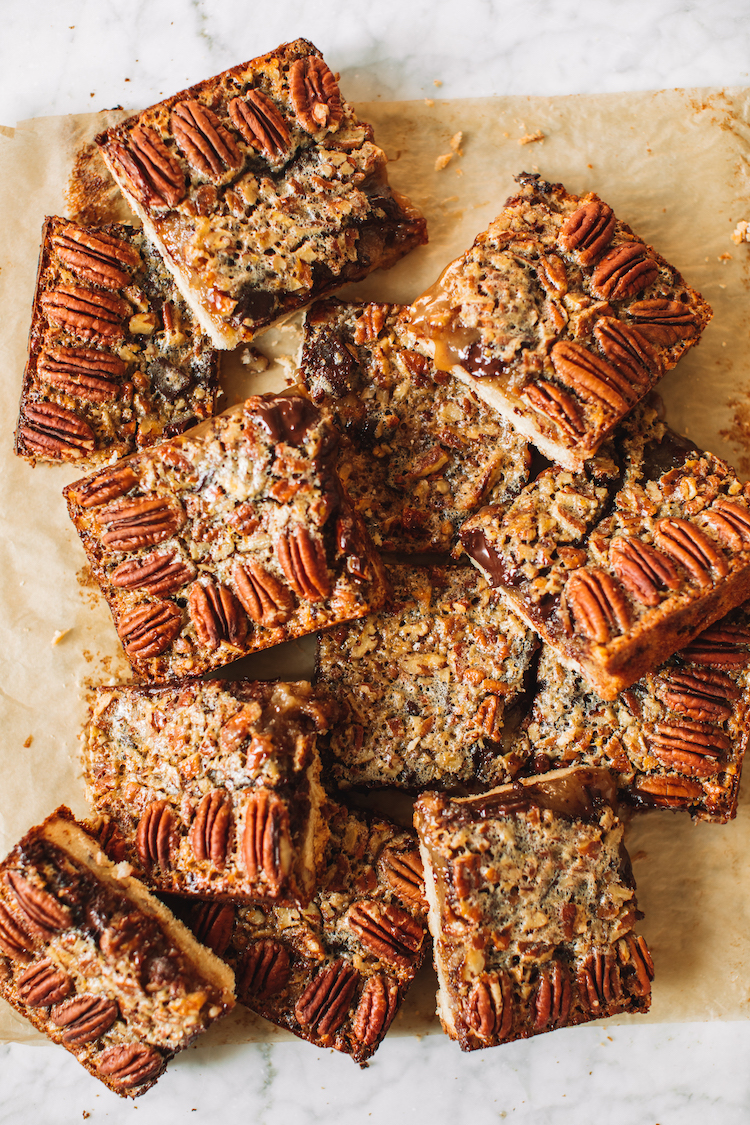 Why We Love It: I'm all for taking a classic, crowd-favorite recipe and switching things up—and these pecan pie bars do exactly that. While it's hard to improve upon the original, adding chocolate and bourbon to the mix makes it happen. The result is a bar that's thick, chewy, nutty, and exactly what you want when you think you can't eat anything more.
Hero Ingredient: Pecans are the obvious (and deserving) star of the show.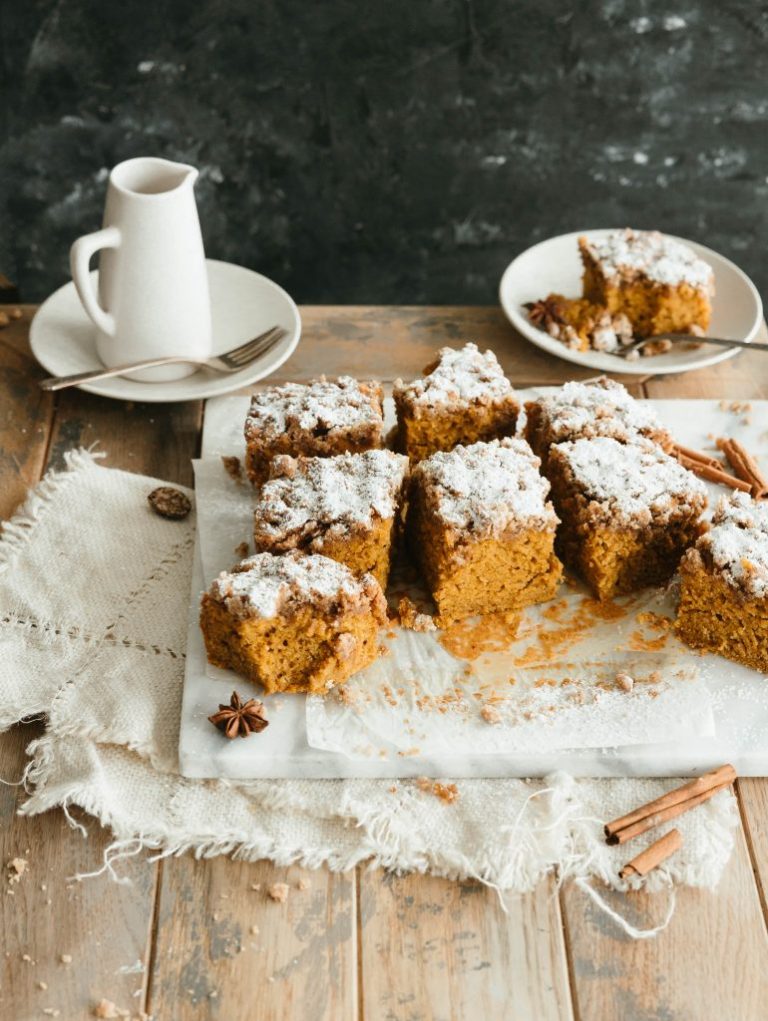 Why We Love It: Snack cakes, by our definition, are casual, comforting confections that don't require too much thought or effort on your part. That being said, they're still infused with love and care and should be eaten with joy. This pumpkin version benefits from a coffee cake-like crumble and a moist, spice-laced crumb. All that's to say, it's perfectly acceptable to enjoy your leftovers for breakfast the next morning.
Hero Ingredient: Nothing captures the scent of fall better than cinnamon, nutmeg, ginger, and cloves.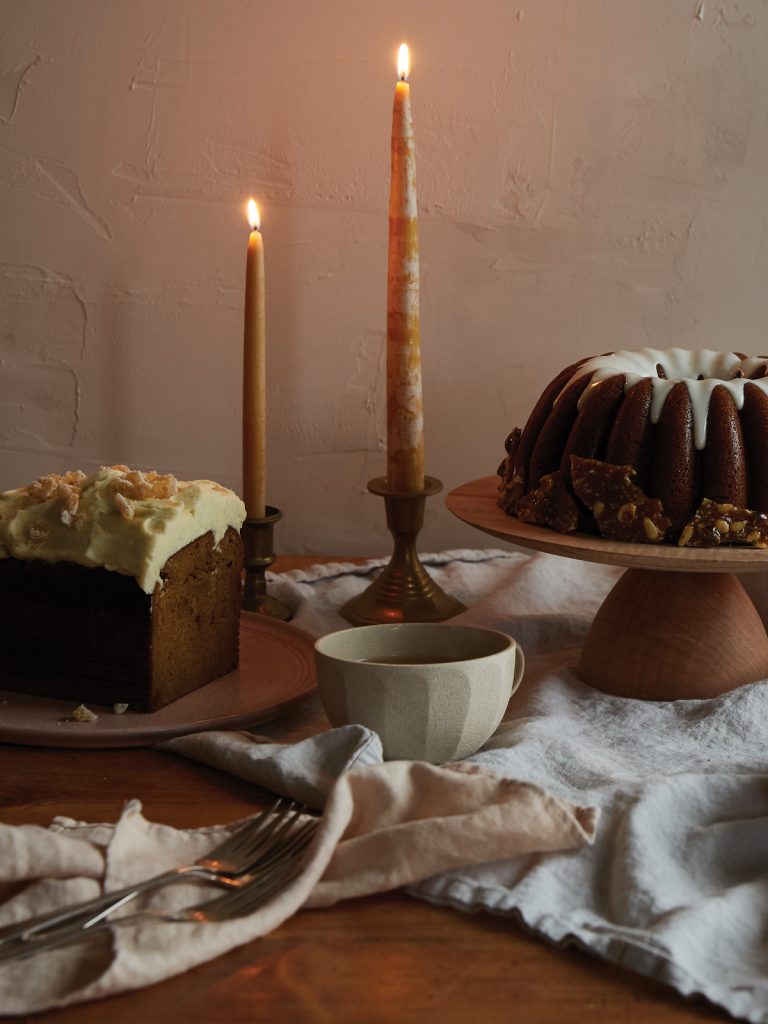 Why We Love It: During a season when it's all about pumpkin, it's a bold move to throw a sweet potato dessert into the mix. But this Spiced Sweet Potato Cake is more than deserving of its spot on your Thanksgiving buffet. It's also made gluten-free, so everyone can enjoy a slice. Mixing together the sweet potato, a neutral-tasting oil, and eggs make for a moist crumb and pairing almond flour with sorghum flour keeps every forkful light and laced with cinnamon-ginger goodness.
Hero Ingredient: When tangy cream cheese frosting is involved, it will always come out on top.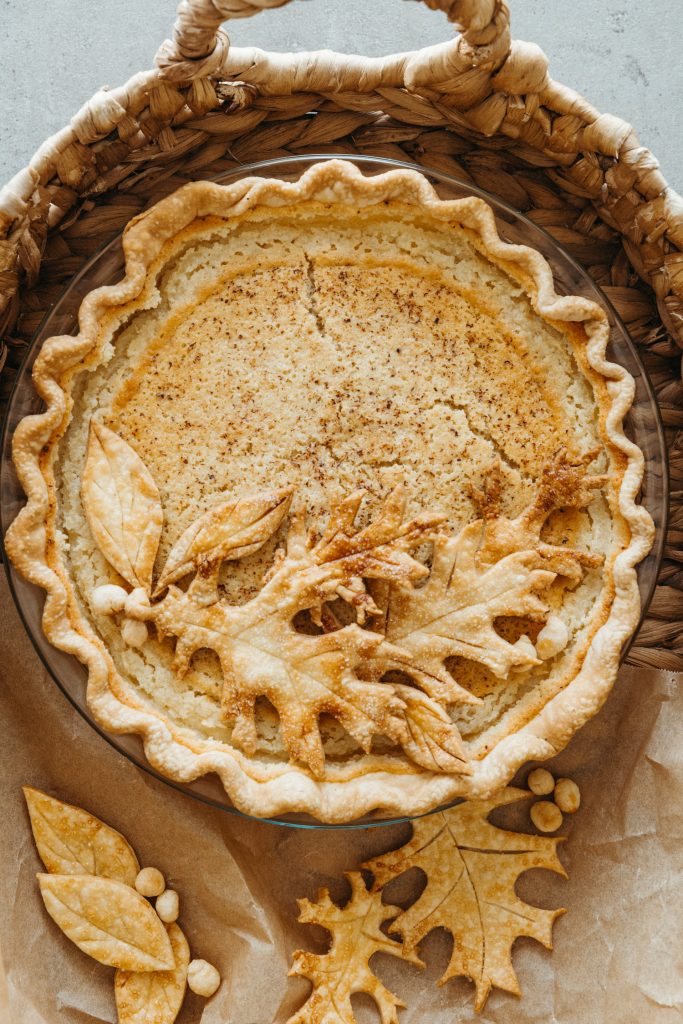 Why We Love It: This is Camille's mother's recipe, so you already know it's going to be good. Buttermilk pie is a southern staple that—as Camille agrees—definitely doesn't get the attention it deserves. It boasts a creamy, custard-like filling that's light, airy and a little tangy thanks to the buttermilk. And with a tablespoon of vanilla mixed in, it's beautifully, wonderfully sweet.
Hero Ingredient: Nutmeg is the perfect spice to balance out this pie's indulgent bite.
This post was originally published on November 5, 2019, and has since been updated.