The holidays are a time of so much joy and excitement. Full stop. (Eh, not quite.) Like most things in life, this season comes with its fair share of nuance. "It's the most wonderful time of the year"—but for many, it's also the messiest and most stressful couple of months. And we're lucky if we make it past New Year's without so much as a sniffle. Needless to say, the holidays can do a number on our health. But to combat the inevitable colds and meltdowns—and offset the indulgences that we will be taking part in—we have our go-to healthy holiday hacks to weave in some wellness when it counts the most.
To be clear: if hours-long workouts and green smoothies on repeat aren't your jam, they don't have to be. Alongside our holiday cookie-baking marathons and multiple gatherings each week, we'll be taking plenty of time to get quiet with ourselves and connect with the rituals that help us feel our best.
Because rather than aiming for perfection, we've come around to accepting that life is a journey of continuously falling in and out of balance. The latter doesn't mean you've failed and being on your healthy A-game isn't a moral success. Instead, these healthy holiday hacks are intended to help you tune back in with yourself and serve as a reminder of all that keeps you aligned during a time year when you may need them most.
Life is a journey of continuously falling in and out of balance.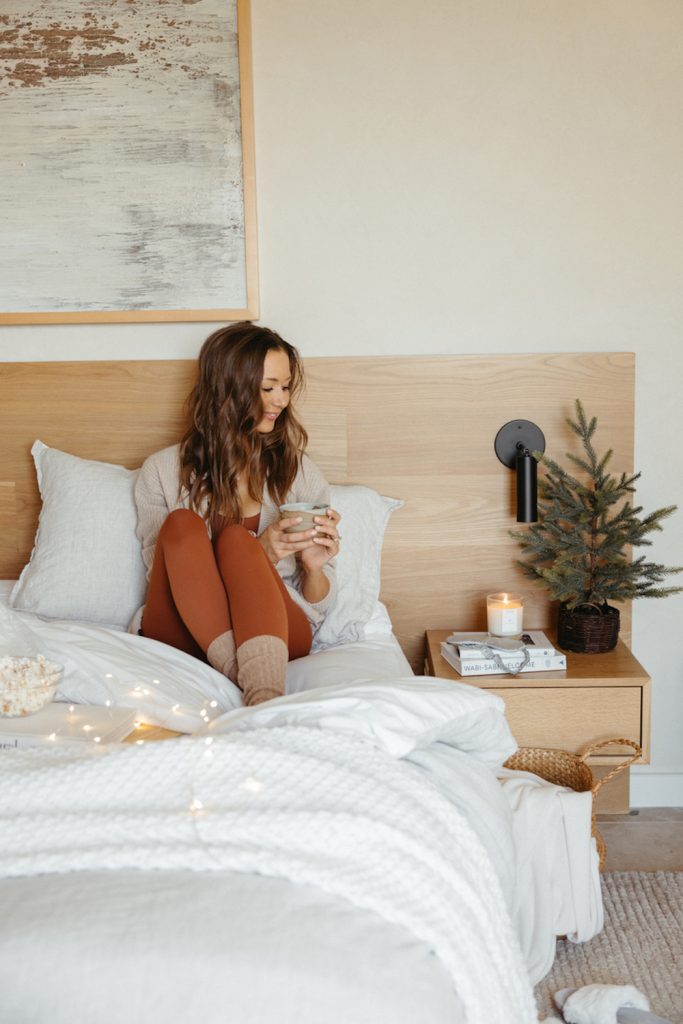 40 Healthy Holiday Hacks to Support You, Body and Mind
With these ideas at the ready, it's our hope that you can continue feeling your best this holiday. Sure, maybe you aren't eating the "healthiest" or keeping up with your pre-November workout routine. But you're prioritizing what's most important this holiday season. And here's a friendly reminder: that looks different for everyone.
Movement Holiday Habits
1. Embrace the beauty of a 10-minute workout. Platforms like Form, barre3, and Soul Sync Body all offer quick workouts. It's an easy way to build momentum and set the foundation for a day of movement.
2. Walk with others. During a time of year full of family and friends, this is one of our favorite healthy holiday hacks. Recruit someone to get a little fresh air together—just be sure to leave your phone at home.
3. Stretch before bed. Better yet, make a routine of it! It's a simple way to transition from the busyness of your day and wind down for sleep. Camille even swears by it.
4. Play football on Thanksgiving. It's tradition, after all. But if football isn't a thing for your family, you can also arrange a pick-up game of soccer, pickleball, or whatever other sport you love.
5. Enjoy the snow. Sure, this healthy holiday hack may not apply to everyone. But if you're lucky enough to have a winter wonderland outside, make the most of it! We're imaging snowball fights, forts, snowmen…
6. Go ice skating. Outside or at your local rink. You don't even have to know how to hockey stop—it's easy to work up a sweat regardless.
7. Schedule a family hike. That "hike" can mean miles uphill or a small jaunt in your local park. Whatever the terrain, it's a fun way to connect with family while they're in town.
8. Sneak in a morning workout. Raise of hands if you're waking up with tight hips and achy joints thanks to all the holiday activity. There's no better way to come back into alignment than with a juicy yoga flow. We're partial to these (free!) workouts.
9. Sign up for a holiday fun run. Operative word: fun. Turkey Trots and holiday races tend to be a low-key affair. And the best part? The finish line usually comes with a side of hot cocoa.
10. Walk to see the holiday lights. Skip the car ride this year and venture out (in the proper attire, of course). This is one of the most magical activities—and a favorite healthy holiday hack, too.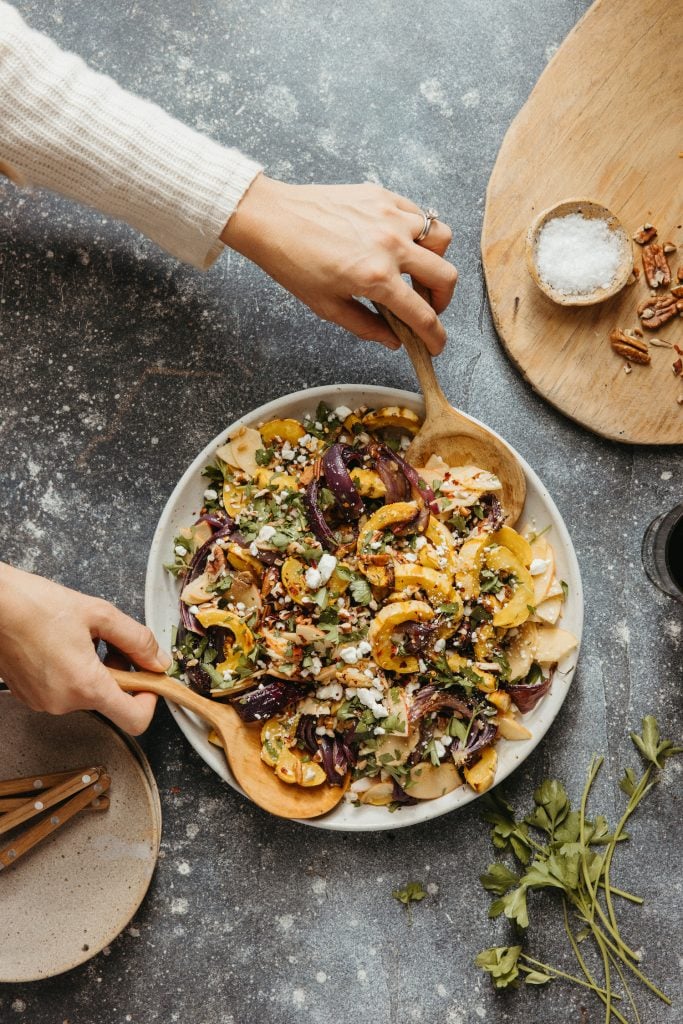 Nutrition Holiday Habits
11. Make salads fun again. There was a time when salads took a back seat to the creamier, richer dishes. But thankfully, our taste buds have seen the light—and salads are a holiday star. At your next gathering, consider serving this squash & farro salad, a roasted honeynut squash salad, or Camille's holiday jewels kale salad. Better yet, opt for all three.
12. Drink your greens. Of all the healthy holiday hacks, this might be the easiest. (Not to mention, gives you the most bang for your buck.) We're all fans of AG1, but other faves include Equilibria, Thorne, and Amazing Grass.
13. Sip on bone broth. It's a tasty way to warm up and boost your gut health. Legit: it's liquid gold.
14. Make a few nutrient-dense swaps. Sometimes, only sour cream will satisfy. But when you want to pack in protein and get a healthy dose of vitamins and antioxidants, make some of these nutritionist-approved ingredient swaps.
15. Drink a ton of water. We know you know: it's important for everything from hydrating your skin to balancing electrolytes to maintaining proper digestion. Make things a little more interesting with lemon or cucumber slices. We're also fans of the Apothékary lineup of functional tinctures that taste amazing.
16. Go zero-proof. If you like to toast to the holidays with a glass of bubbly but don't love the ensuing hangover, swap in non-alcoholic bevvies that taste like the real-deal—and oftentimes, better. These are our faves.
17. Enjoy sleepy-time foods. The holidays can wreak havoc on our sleep. Give yourself a helping hand with tryptophan-rich foods that encourage a restful snooze. (Hint: It's not just turkey!)
18. Simplify your supplements. Thankfully, brands know what we need—and that's super-packed supplements that don't mean opening a million bottles. We're loving Grüns daily gummy packs, which are backed by science to support everything from gut health to immunity to brain function.
19. Eat slowly. And mindfully. With so many delicious dishes and recipes to enjoy throughout the holidays, it's important to slow down not just for digestion and satiety's sake, but for the simple pleasure of reveling in good flavors and food.
20. Take digestive bitters. To further support digestion, bitters can help release gastric juice and stimulate saliva production, helping your body break down food more effectively. Be sure to consult your health provider before incorporating bitters into your routine.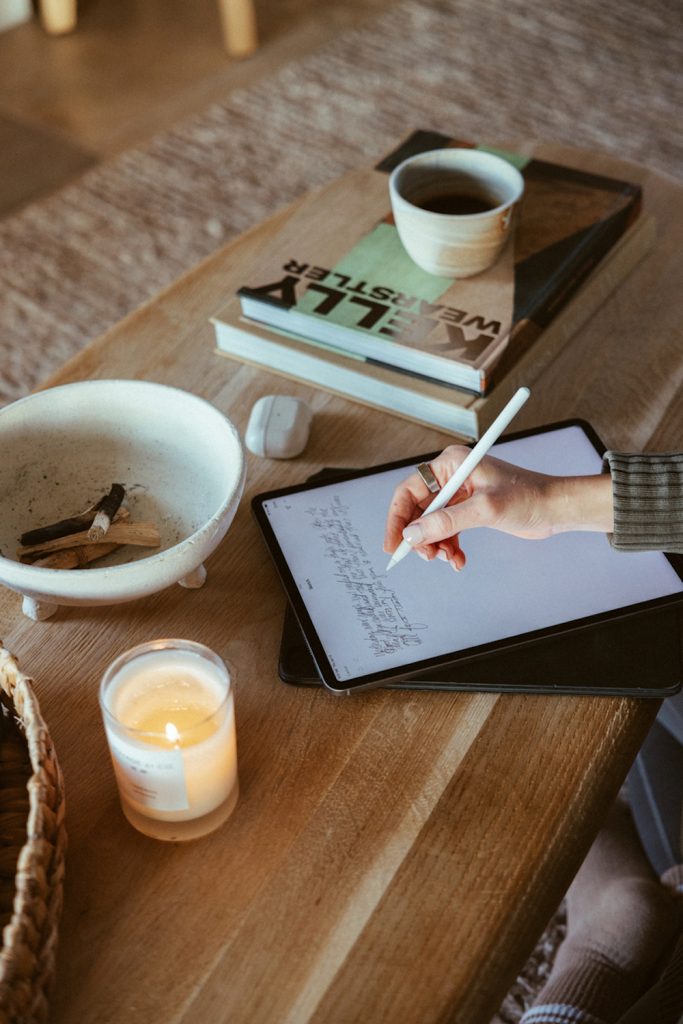 Mindfulness Holiday Habits
21. Decorate with nature. Branches are one of our favorite ways to bring the outdoors inside. Get an expert's tips on incorporating them into your home decor.
22. Embrace your morning routine. It's the start of every productive day. Let these morning routine ideas inspire your own.
23. Journal your thoughts. It's a powerful way to connect with yourself and take stock of where you are, mentally and emotionally. Particularly during a busy time of year, this can be key. Start your practice today.
24. Romanticize your coffee. (Or tea!) Whatever warm beverage you choose, pick your favorite mug, light a candle, and enjoy the cozy warmth.
25. Read the best holiday books. 'Tis the season to get cozy with a good read. These new releases are currently on our TBR.
26. Practice breathwork. It doesn't have to be intimidating. These three breathing exercises can help you find calm, stat.
27. Prioritize rest. Yes, even—perhaps especially—during the holidays, rest should be an essential part of your wellness routine. We tapped Ashley Neese, author of Permission to Rest, to share how it's done.
28. Enjoy mood lighting. As the viral TikTok goes: in this house, we never use the big light. Enjoy a little glow with candles, twinkly lights, and the ambiance of the Christmas tree.
29. Practice affirmations. It's easy to write them off, but practicing positive affirmations is a powerful way to shift your mindset and embrace your best self.
30. Share your gratitudes. You can journal about them, but why not share with loved ones and all of those who make your world a more beautiful and inspiring place just how much they mean to you? It makes all the difference.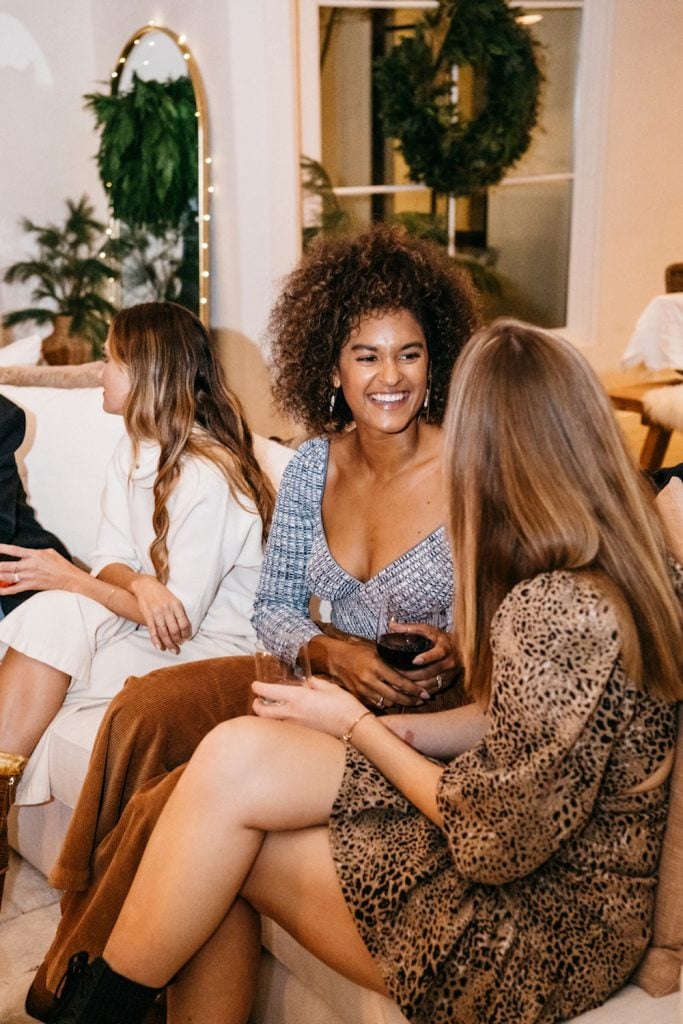 Connection Holiday Habits
31. Cultivate intentional mornings. With your kids, your partner, your pets, and yourself. Embrace a little quiet before the chaos of the day begins.
32. Call your loved ones. The best time is now.
33. Send holiday notes. PSA: This doesn't have to be a huge holiday to-do. Instead, identify a few people you'd like to reach out to with a written note. Share your love and pop it in the mail.
34. Experiment with intimacy oils. Call it a stocking stuffer gift for yourself. Enjoy the best lubricants with a partner or explore a world of pleasure all on your own.
35. Create no-phone zones. Designate certain areas of the house or even days during your holiday vacation where your phones are left off and stored in another room. Far away from the festitivites.
36. Invite someone who may be spending the holiday alone. If you know a friend or co-worker can't be with their own family this year, have them over for dinner. It may just make their holiday.
37. Go caroling. Whether you do it with a church or a community organization in your area, caroling is a great way to get festive and embrace the seasonal spirit.
38. Host a holiday baking day. Invite friends and neighbors to get messy in the kitchen. It's a fun opportunity to swap traditional family recipes.
39. Share stockings with neighbors. Fill them with homemade goods and small local gifts. Just because is a good enough reason.
40. Volunteer with family or friends. After all, the holidays are brightest when we make them a little brighter for others.