Excuse the cliché, but if I had a dollar for every time I stared into my refrigerator hoping food would magically appear, I'd probably be a millionaire. It seems like whenever I want to whip up something specific to my cravings, I don't have the right ingredients. It's a constant cycle that I'm ready to jump out of, and what better way to break the circuit than with five ingredient recipes?
Each recipe on this list can be made with just five ingredients (duh!) and every single one embodies the definition of "a whole that's greater than the sum of its parts." These recipes keep things simple and streamlined. Because mindfully cutting corners where I can is top of mind in 2023. (I have to imagine the same is true for you, too.)
Featured image by Michelle Nash.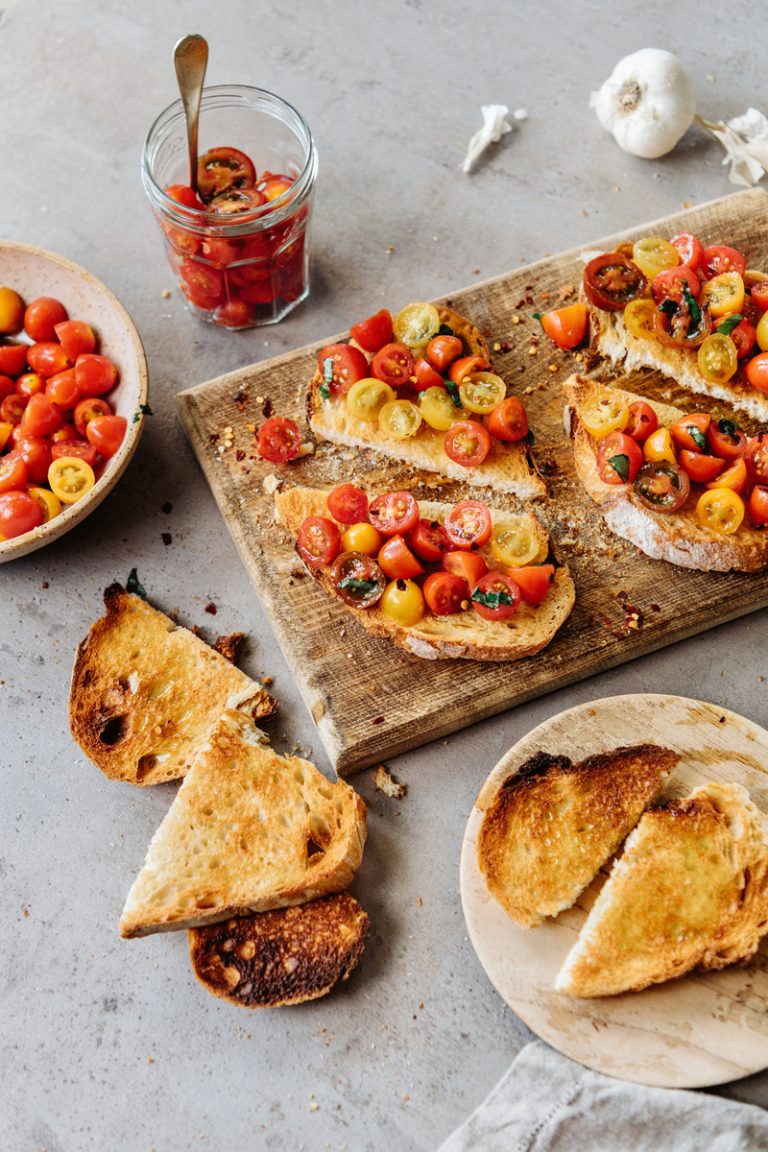 31 Simple Recipes With 5 Ingredients or Less
I should start by sharing that I grew up in an ingredient household, which meant snacks took some creative thinking to craft. My mom loves to cook—a trait she passed down to me—so there wasn't a lot of premade food lying around to graze on. Instead, we had ingredients sitting on the shelves just waiting to be spun into gold. A typical afternoon snack for me ranged anywhere from saltine crackers with a few slices of salami to tortilla chips and shredded cheese (or "raw nachos," as I lovingly coined them), and literally everything in between. BTW, I'm hoping my fellow ingredient household people are out there, or there's probably some serious judgment going on.
Anyway, all that to say is that minimal-ingredient foods are definitely my jam. As much as I love to cook, I can't always spend hours in the kitchen working on a meal. It takes precious time and energy out of my day and I'm usually too hungry to wait until it's done. And as much as I love roaming around the grocery store, I don't always have the liberty of spending hours there either. This is why I've started culling down extravagant cooking projects in the spirit of more simplicity, and these five ingredient recipes are just that. Simple.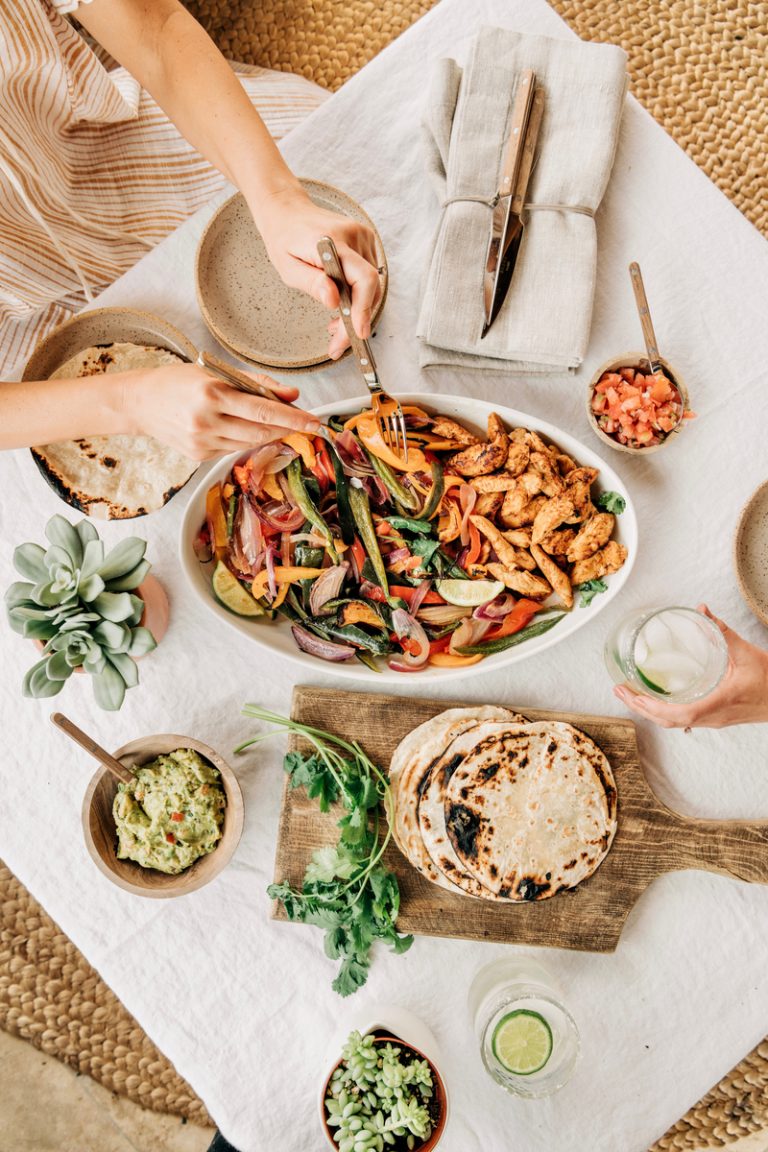 Focusing on quality ingredients that pair beautifully together, these five ingredient recipes are the answer to busy weeknights, nights when you don't feel like cooking, or really anytime your inventory is running low. All of these scenarios are totally valid, and these five ingredient recipes are here to help you stay afloat.
Salads, Sides, and Snacks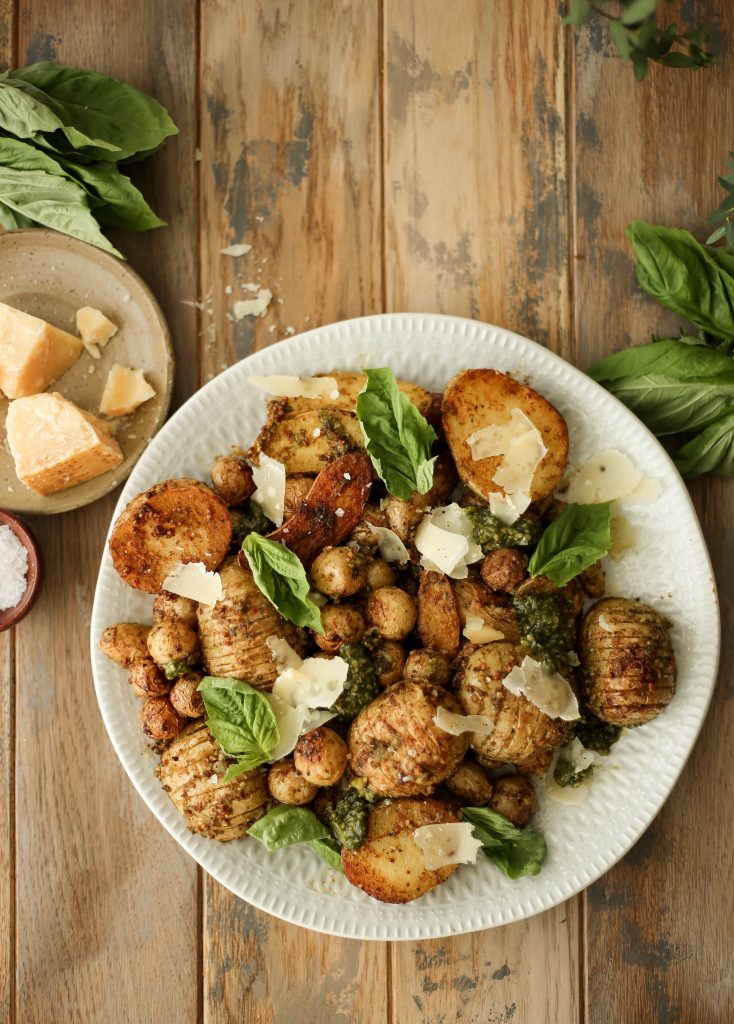 Why We Love It: These potatoes are seriously so addictive. There really aren't words to describe just how delicious they are… you'll have to taste for yourself. Don't say I didn't warn you. As if potatoes and pesto aren't good enough on their own, our food editor Suruchi decided to unite them in holy matrimony. And we're so glad she did.
Hero Ingredient: Definitely the roasted garlic mixed into the pesto. We're calling it garlic pesto, and it's everything.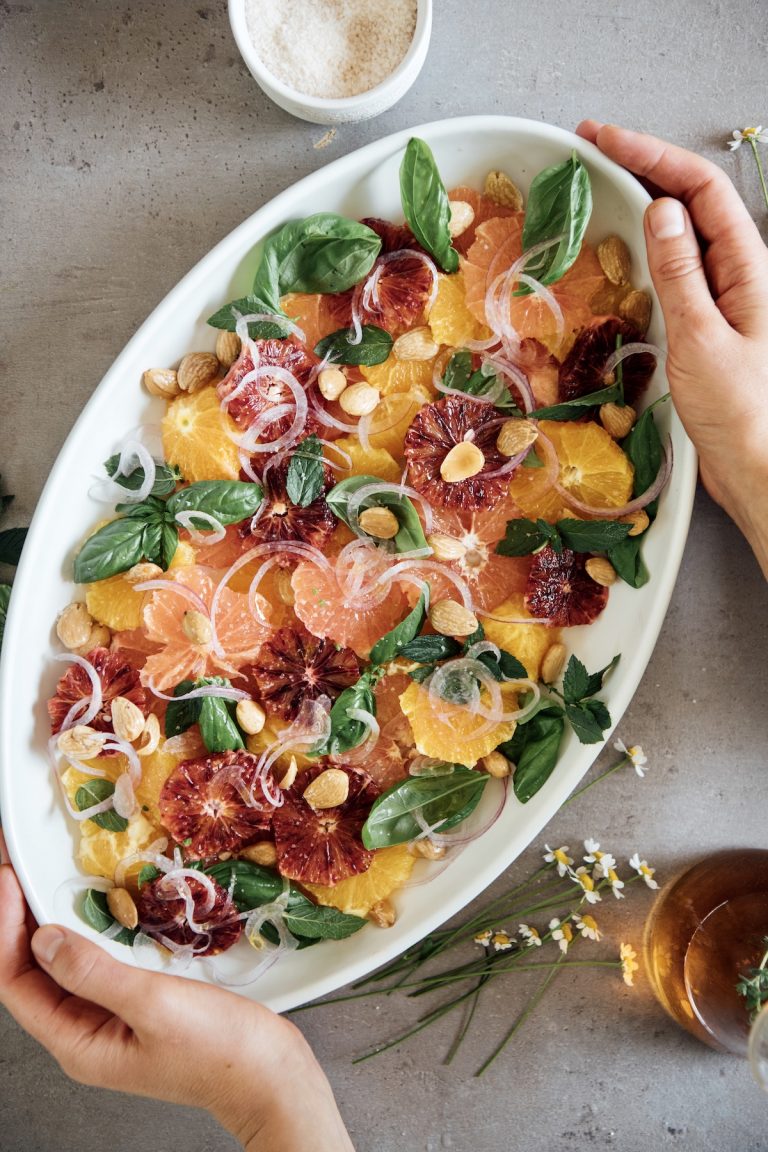 Why We Love It: I can't give this citrus salad enough high praise. It's the most refreshing treat you can give to yourself, and it couldn't be easier. Obvi, as the post would denote, it's composed of five ingredients—most of which you probably have on hand. Juicy citrus, marcona almonds, onion slices, fresh herbs, and olive oil come together to make the ultimate side salad or starter.
Hero Ingredient: The recipe doesn't call for it, and including it would take you to a whopping six ingredients, but a drizzle of vinegar (white wine, red wine, apple cider, whatever you have) kicks the tang up a notch.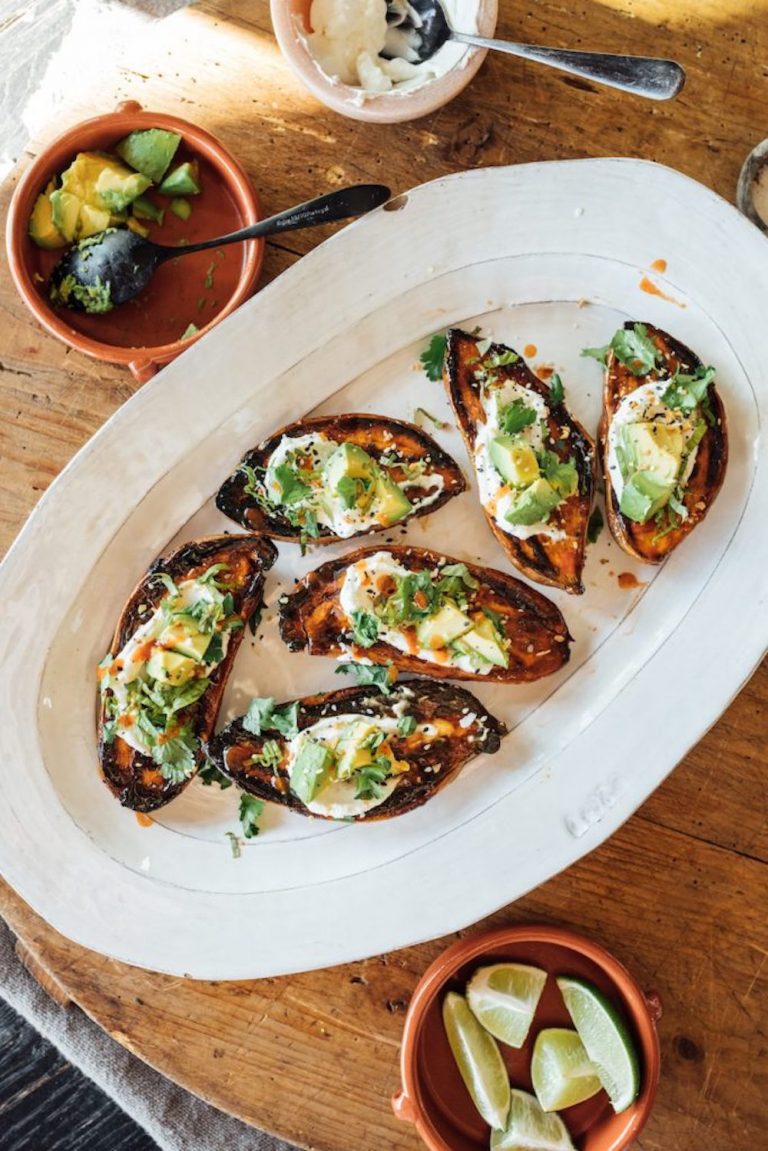 Why We Love It: Another potato superstar, these Crispy Roasted Sweet Potatoes are an unexpected gem. Since you'll slice them in half, the potatoes roast in half the time they'd normally take. From the oven, you'll take them to a cast iron with brown butter and honey. The surface of the potatoes caramelizes to perfection and the whole half-potato is delightfully satisfying.
Hero Ingredient: If you're feeling adventurous, sub in your favorite hot honey for a hint of spice on the surface. Or, simply toss a pinch of red pepper flakes into the skillet and enjoy the kick.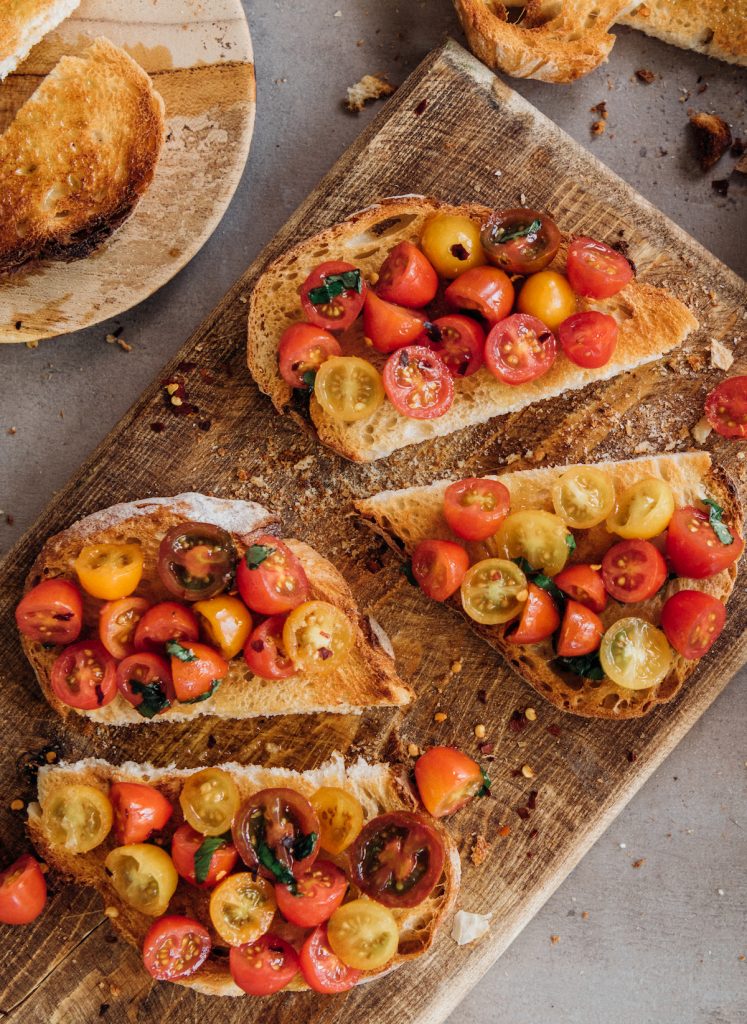 Why We Love It: Bruschetta is the ultimate snacking item. It's a guaranteed crowd-pleaser for any gathering, and couldn't be easier to make. In this recipe, you're using a handful of ingredients and a whopping ten minutes to make your tomato dreams a reality. Mix it together in a giant mixing bowl, toast up a few slices of sourdough, and you're set to enjoy.
Hero Ingredient: If you have balsamic glaze on hand, drizzle away. You won't regret it.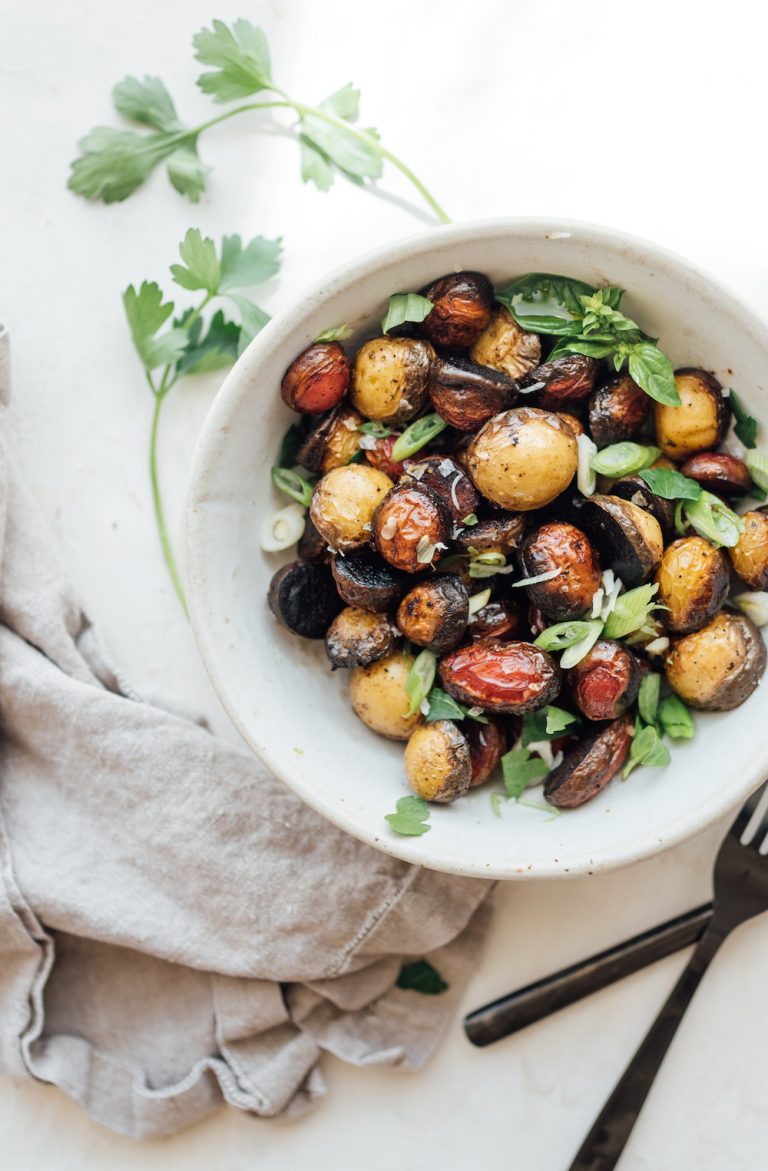 Why We Love It: Once again, potatoes prove they know no bounds. These Salt and Vinegar Crispy Potatoes might just change your life—as dramatic as it may sound. Instead of opting for the traditional oven method, these babies come to life on the stove, which allows for maximum crispiness. Plus, the edges get the perfect amount of char that any respectable potato should have.
Hero Ingredient: The apple cider vinegar gives these the most satisfying tanginess.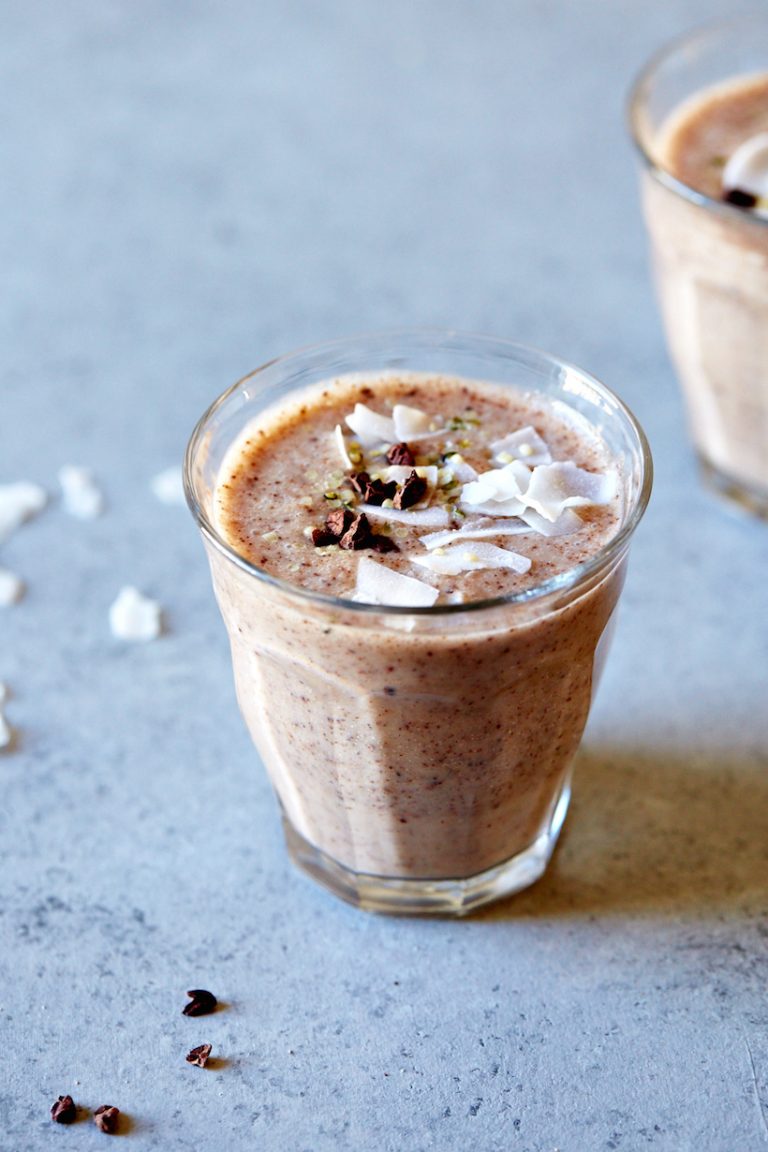 Why We Love It: I should start by sharing that this smoothie basically tastes like a chocolate milkshake. A grown-up milkshake, if you will. It's packed with cacao nibs, banana, coconut milk, hemp seeds, and maple syrup if you like it a little sweeter. It's creamy, delicious, and practically dessert for breakfast, so… that's a win-win.
Hero Ingredient: The coconut milk keeps it nice and creamy.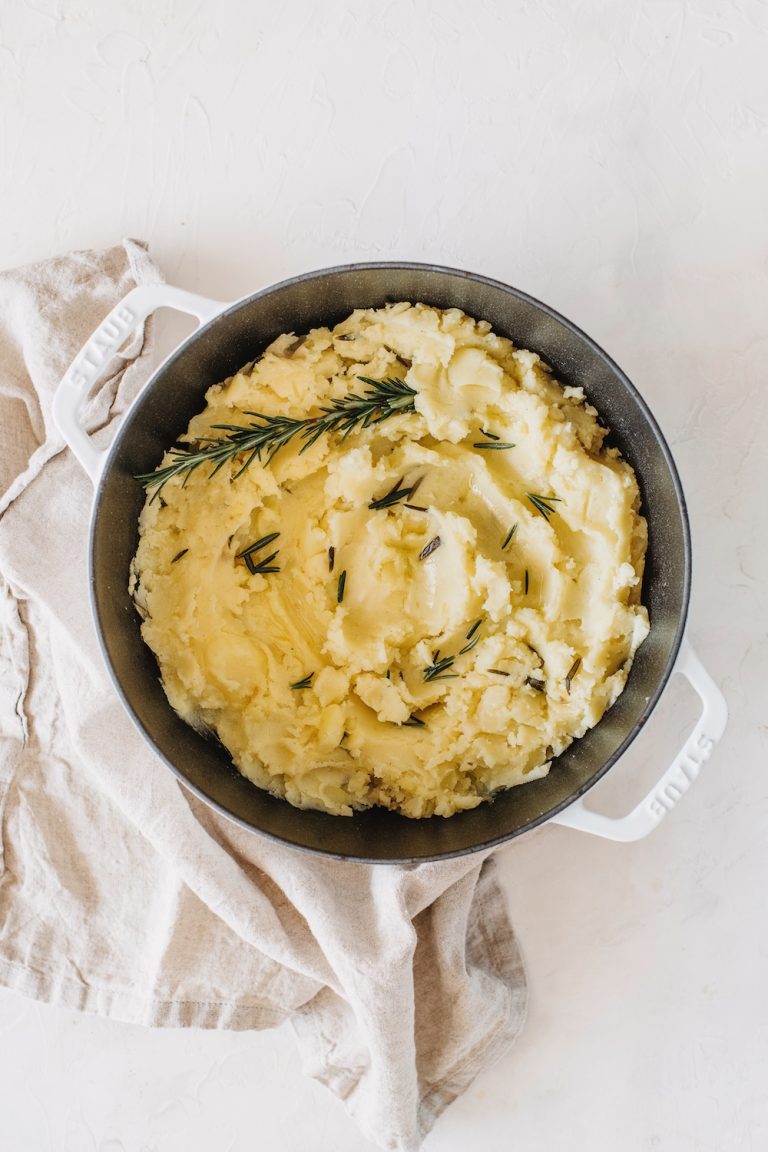 Why We Love It: If you have any hosting on the horizon, this recipe is for you. Make-Ahead Vegan Mashed Potatoes are the ideal side dish to any delicious main on your menu. Not only can they be made ahead of time, but they're full of fluff and tasty flavor that doesn't require an encyclopedia-length grocery list. Unlike a lot of vegan mashed potato recipes out there, this one lets the potatoes do the talking and keeps you from spending hours in interrogation.
Hero Ingredient: A generous dose of olive oil is the key to pulling out the potato flavor. Instead of globbing on a dairy-free butter alternative, this recipe uses EVOO to achieve that creamy texture and cozy taste.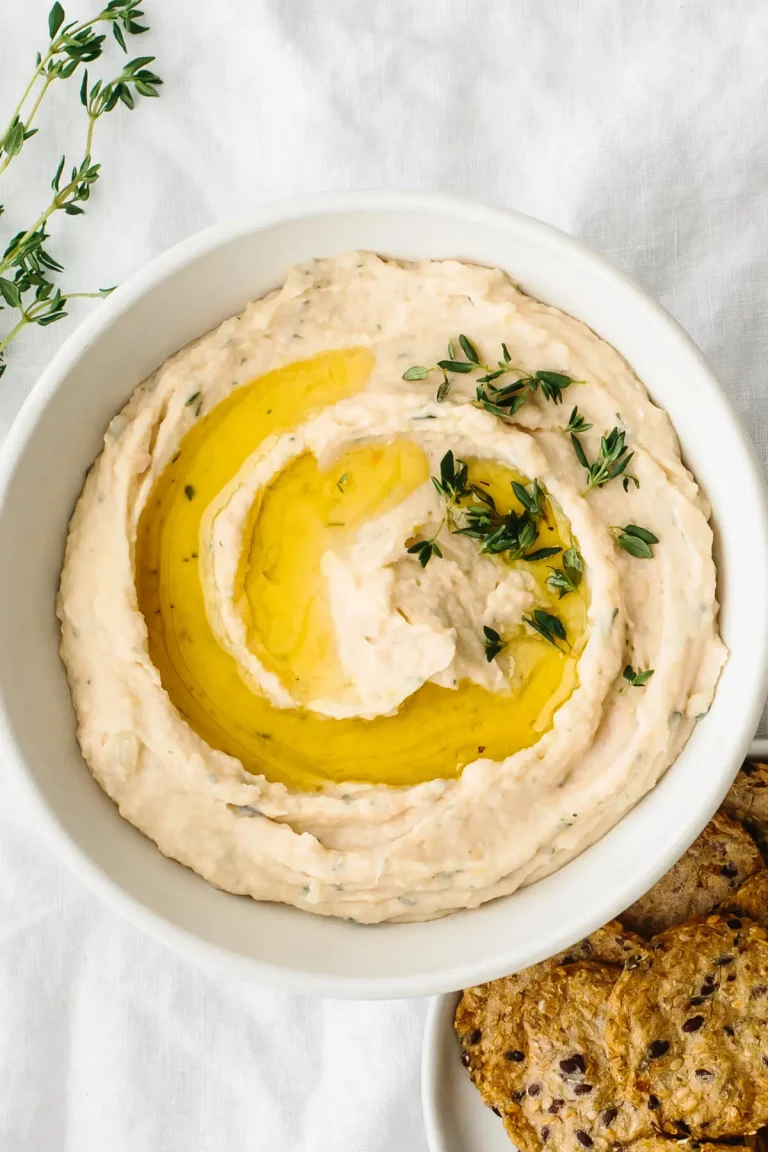 Why We Love It: ICYMI, white beans are all the rage these days. Whether they're in salads, soups, or sandwiches, these little legumes are bulking up meals all over the place. In this case, they're reminiscent of hummus in the best ways. This creamy, satisfying dip is a fan-favorite appetizer for a gathering or midday pick-me-up for snacking any time. It's the dip that does it all.
Hero Ingredient: Lemon zest and juice give the dip a tangy punch that keeps things interesting.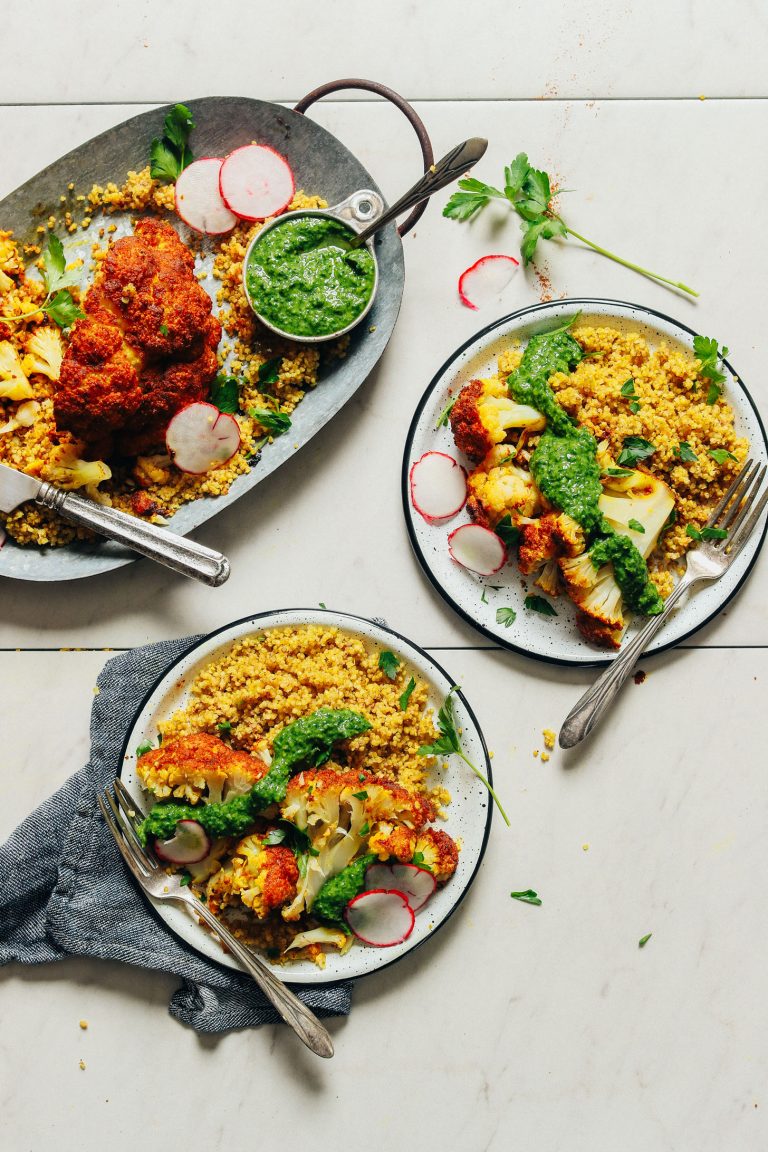 Why We Love It: A whole roasted cauliflower makes the most aesthetic vegetarian main. It's so simple to make, simple to serve, and simple to enjoy (hello, 2023 mantra!). You'll prep a full cauliflower, rub it in avocado oil, and brush over a succulent sauce situation. You might not expect it to be, but this dish is full of flavor and stays incredibly moist even in the oven. Some might call it a miracle veggie.
Hero Ingredient: Harissa paste brings the heat, so feel free to adjust the amount based on your tolerance and taste.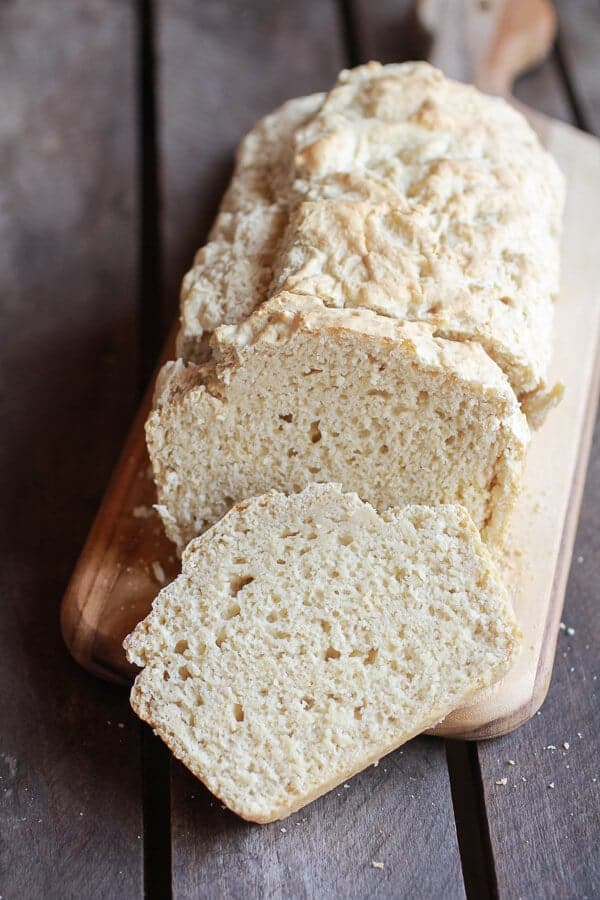 Why We Love It: Calling all bread fans (which is everyone, I hope?)… this one's for you. If you enjoy all there is to cherish about freshly baked bread, it's your lucky day. This five ingredient beer bread is the easiest thing since sliced bread (had to!). It takes ten minutes of hands-on time and a handful of ingredients to deliver you with steamy slices just waiting to be slathered in butter.
Hero Ingredient: Honey in the dough keeps the bread nice and moist.
Main Course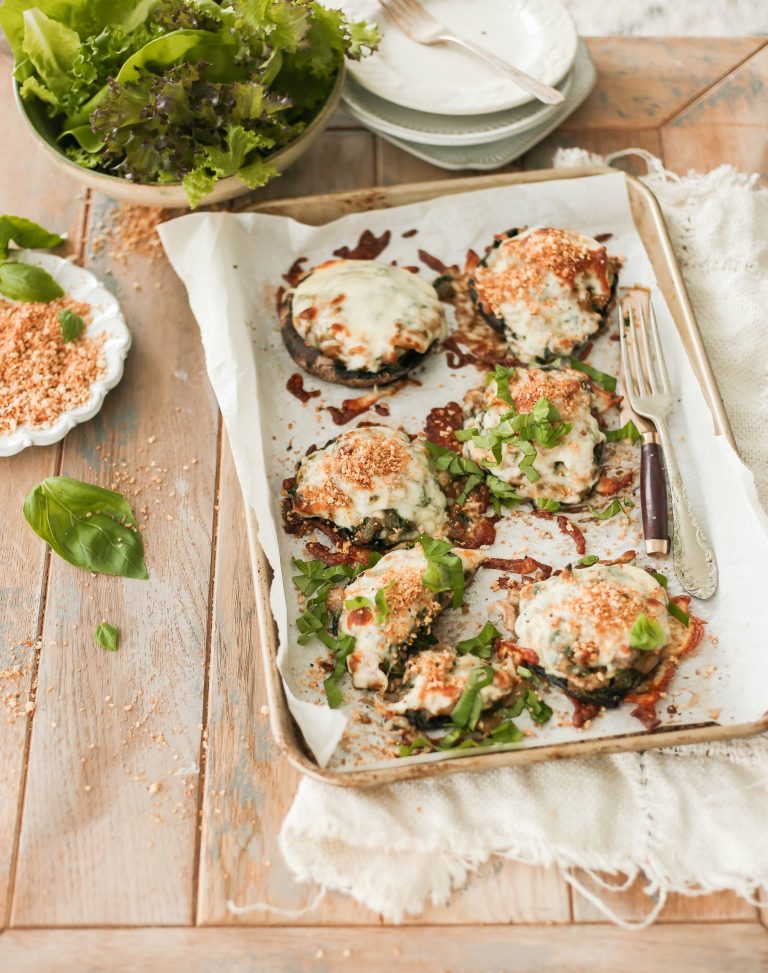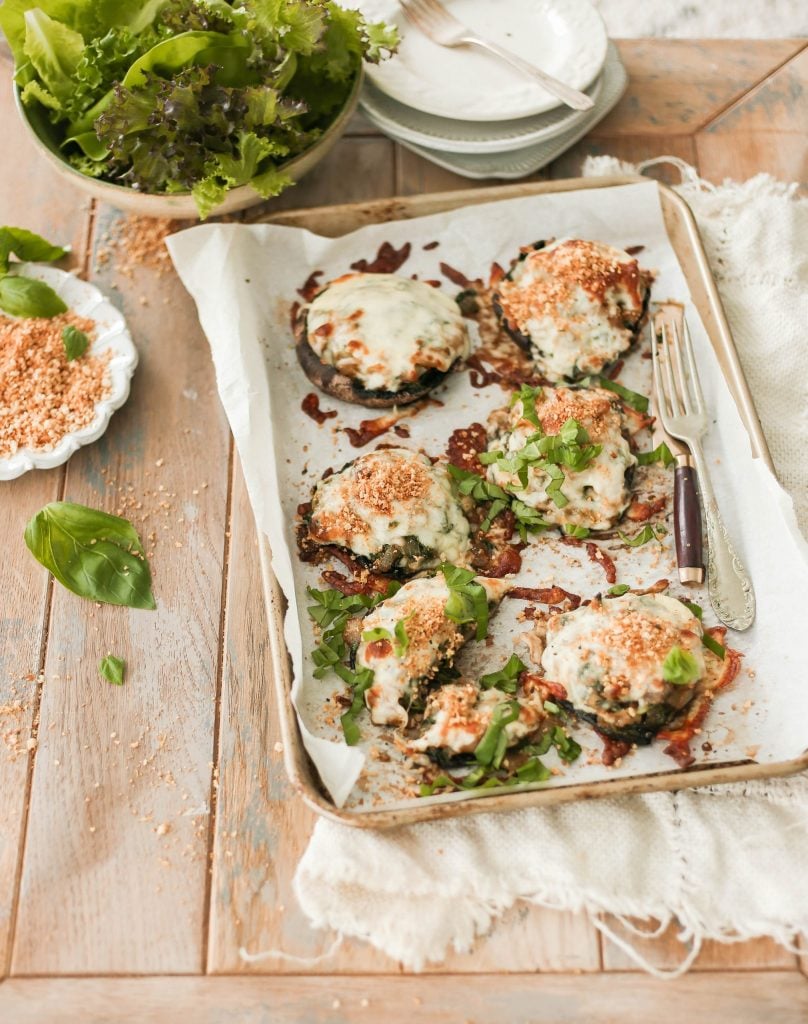 Why We Love It: A hearty meatless main, these stuffed mushrooms are a delicious way to incorporate more veggies into your diet. It's effortlessly full of flavor thanks to the caramelized onions and a few simple mushroom hacks. These onion and spinach stuffed mushrooms are a true delight to the palate and body. A double whammy, if you will.
Hero Ingredient: A combination of mozzarella and parmesan cheese keeps things nice and… cheesy.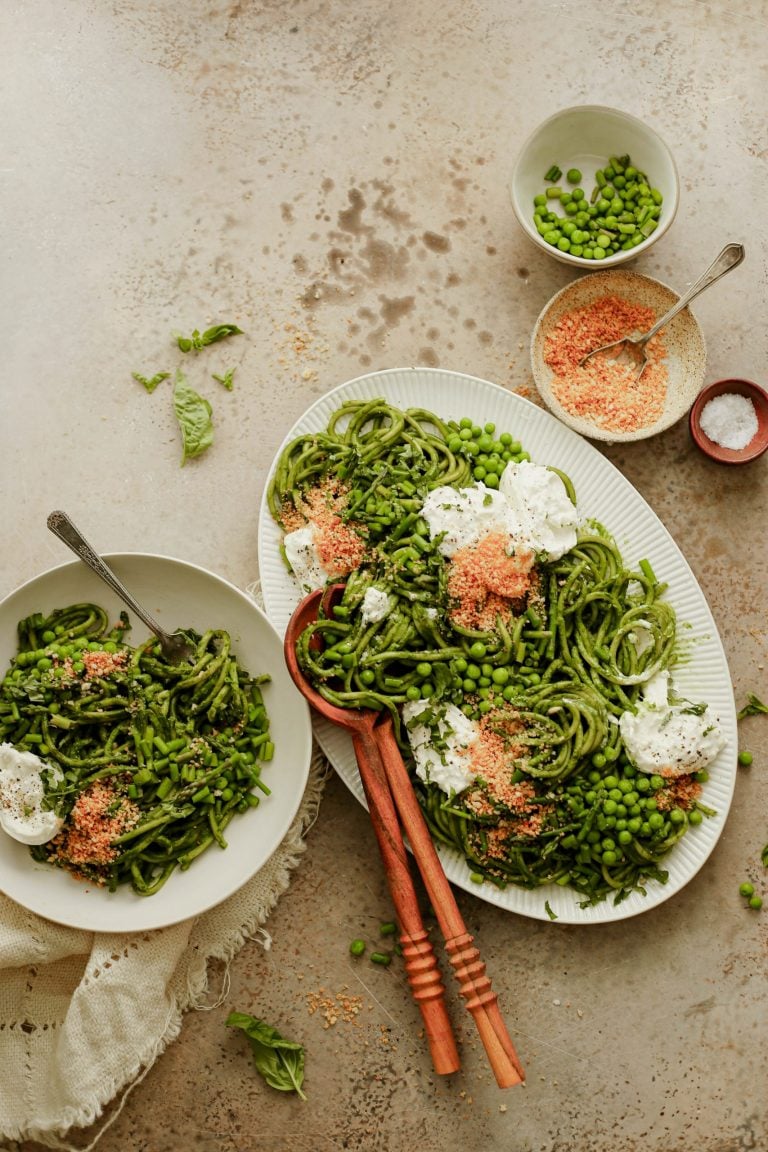 Why We Love It: This one is all about greens, all the time. Not only is it pleasing to the eye, but this pasta is loaded with veggie-packed nutrition and flavor. Spinach, peas, asparagus, and a squeeze of lemon juice make the most vibrant sauce to coat your noodles in. It's totally green goddess vibes, meaning you'll reap the benefits from the inside out.
Hero Ingredient: The burrata is a serious luxury oozing over the pasta.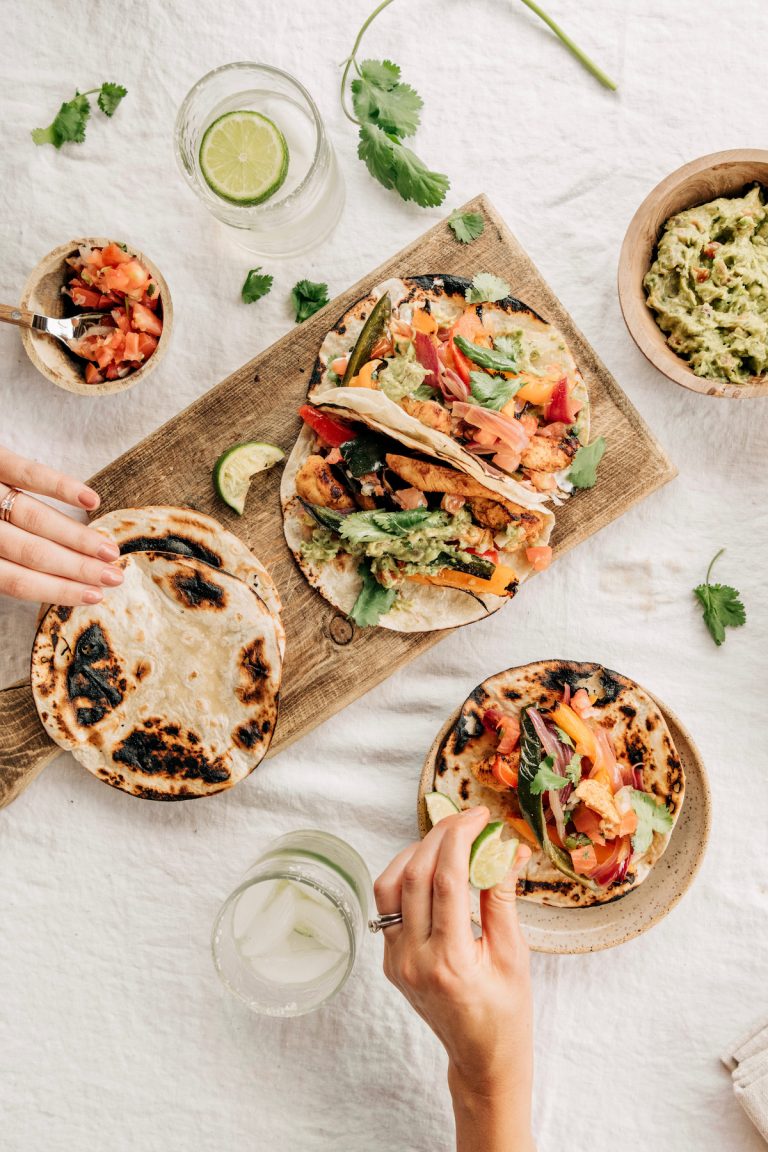 Why We Love It: It would be accurate to say I whip up a batch of these fajitas each and every week. They're that good and so blissfully simple to make. Marinate your chicken, chop up some peppers and onion, and toss it all on a sheet pan to bake away. They're one of the easiest hands-off dinners that I can always count on delivering. Plus, if you're not cooking for four, you'll have the tastiest leftovers to enjoy.
Hero Ingredient: The marinade's lime juice/zest combo is the key to success. It infuses the chicken with so much zing.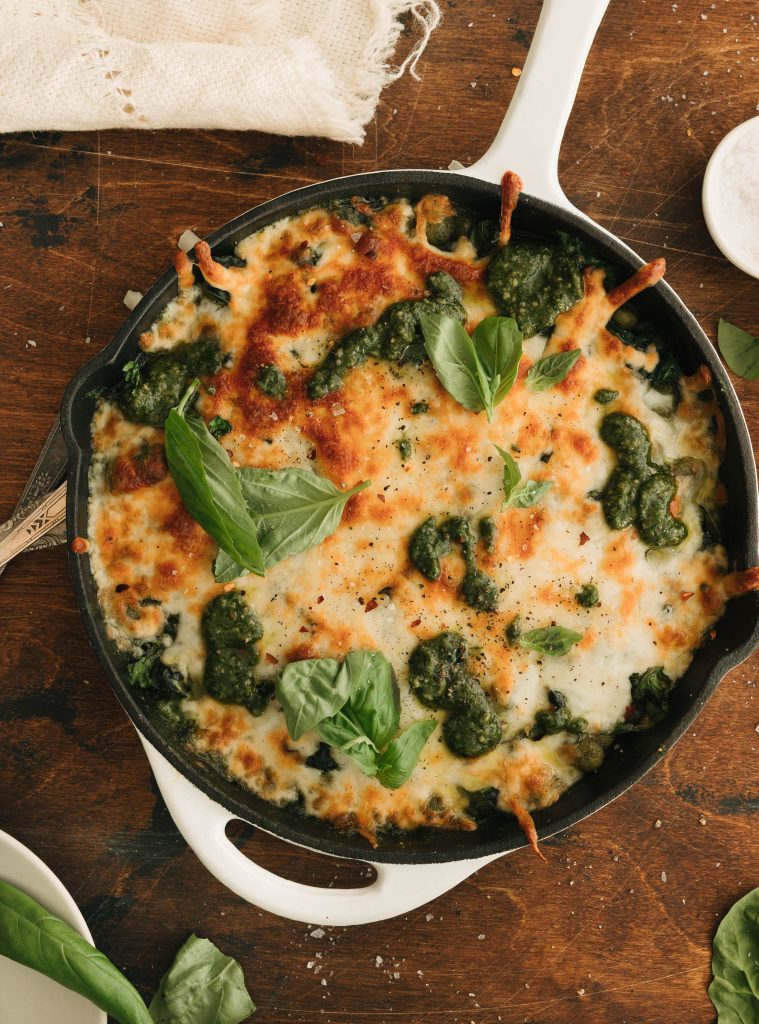 Why We Love It: Five ingredients + one pot = match made in heaven. This recipe uses packaged gnocchi (I love Trader Joe's Cauliflower Gnocchi), spinach, pesto, cream cheese, and mozzarella to create the most satisfying skillet there ever was. It's cheesy, it's nutty, and it's full of indulgence and warmth for a chilly night in.
Hero Ingredient: If you have it, a sprinkle of basil and a squeeze of lemon juice at the end takes this one over the top.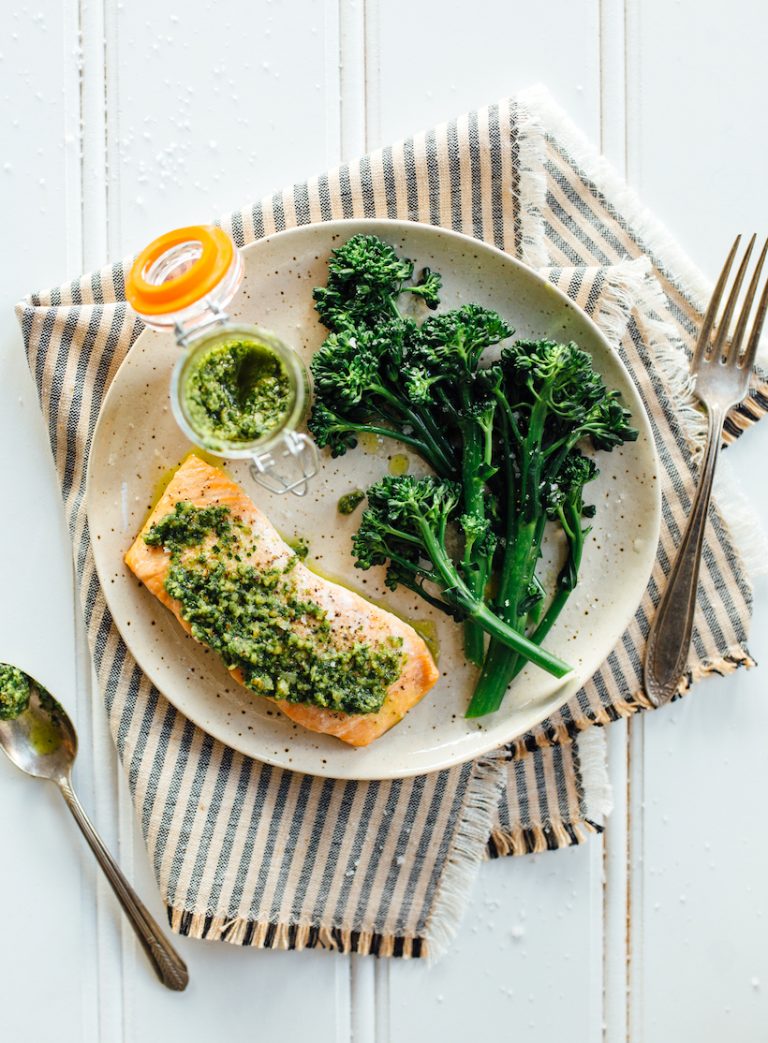 Why We Love It: Pesto and salmon go together beautifully, and it's a combination I never tire of. Like most salmon recipes, this one is delightfully simple to make and just the remedy for a busy night when you don't feel like cooking. All you have to do is pop the salmon in the oven and boil/blanch a few stems of broccolini. Easy, breezy, delicious (or something like that).
Hero Ingredient: Not a hero ingredient, but it's worth highlighting that this recipe is tailor made for one. If you're serving more, adjust accordingly!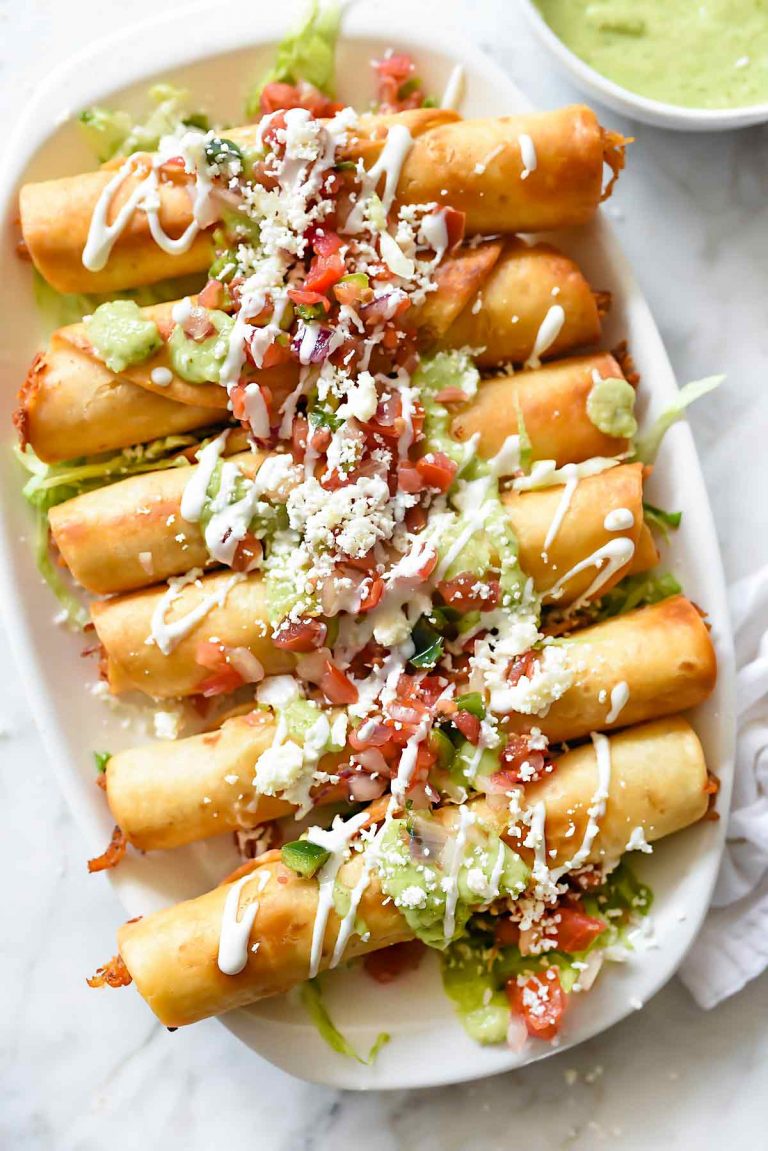 Why We Love It: Taquitos are a great appetizer, happy hour snack, or family friendly meal that even the pickiest eaters tend to love. I mean, what's not to love? Shredded chicken and melty cheese lightly fried in a crunchy tortilla blanket? Sign me up.
Hero Ingredient: Serve 'em up with any toppings you have on hand. Shredded lettuce, cilantro, pico, crumbly cheese, sour cream, you know the drill.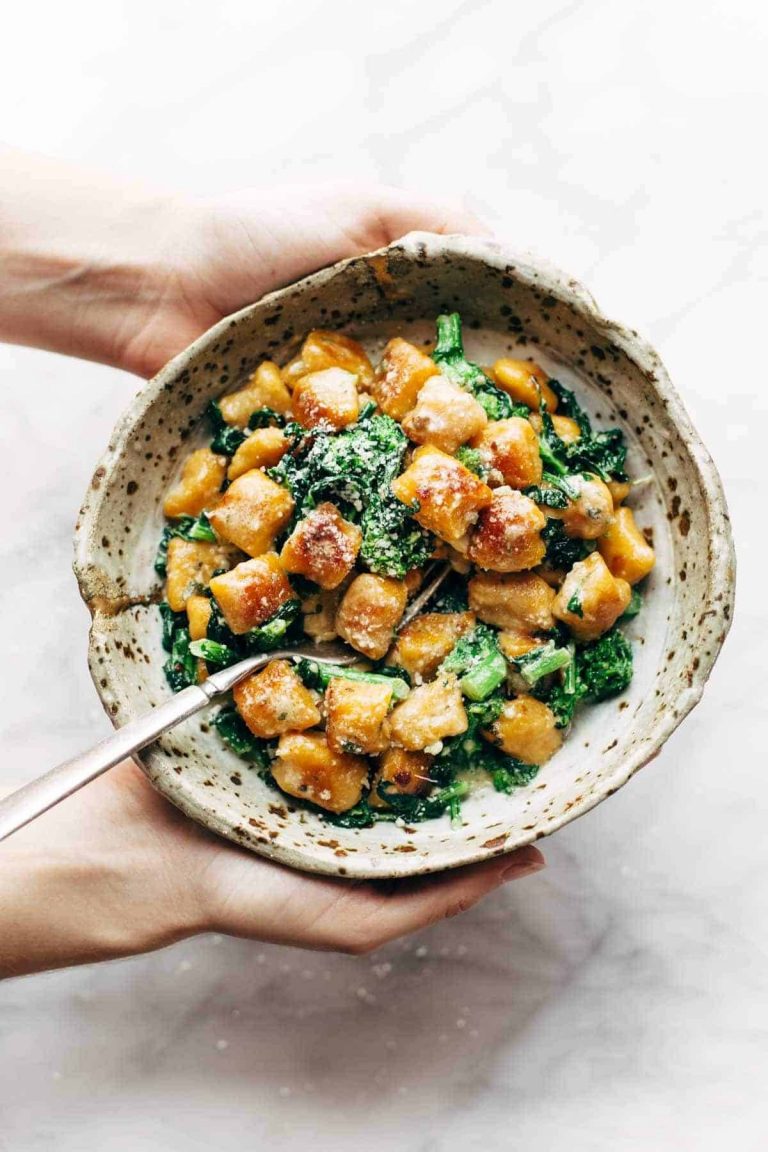 Why We Love It: OK, so I might be stretching the definition of "five ingredient" with this one, but it's too good not to include. While the homemade gnocchi itself falls below the five ingredient threshold, the rich, savory sauce adds a few more to the mix. If you like to play by the rules, you're welcome to make a simple sage and brown butter sauce. Simple brown a stick of butter, turn the heat to low, and add a handful of fresh sage until fragrant. The perfect date night dinner recipe.
Hero Ingredient: This recipe is proof that there is nothing sweet potatoes can't do.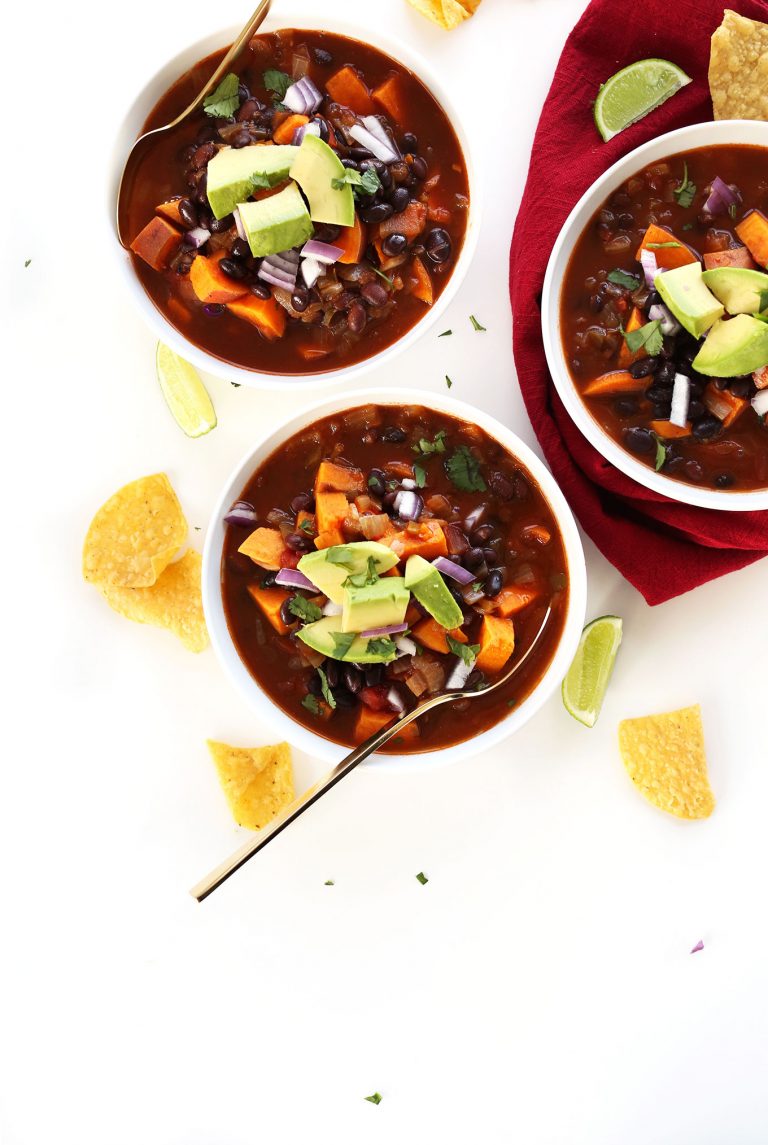 Why We Love It: Vegetarian chilis are having a moment, and this one is no exception. Creamy sweet potatoes and tender black beans unite under a savory broth that warms you from the inside out. The best part? You probably have all the ingredients on hand. If you have an onion, a can of black beans, sweet potato, veggie stock, and salsa, there's nothing holding you back from this bowl of comfort.
Hero Ingredient: Diced avocado adds a creamy finishing touch to this yummy soup.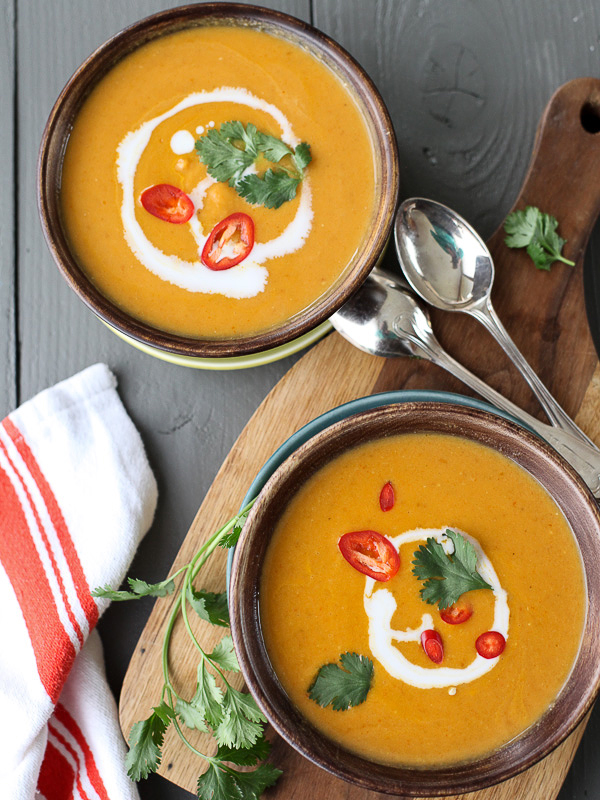 Why We Love It: Red curry paste, broth, pumpkin purée, coconut milk, and a red chili pepper come together to create a creamy Thai Pumpkin Soup that's begging to be savored on a cold-weather day. And just because it calls for minimal ingredients doesn't mean it skimps on flavor. This one is the real deal.
Hero Ingredient: Let's go with a hero method. To achieve the elusive coconut milk drizzle, hold your spoon extra close to the soup so the milk floats on top.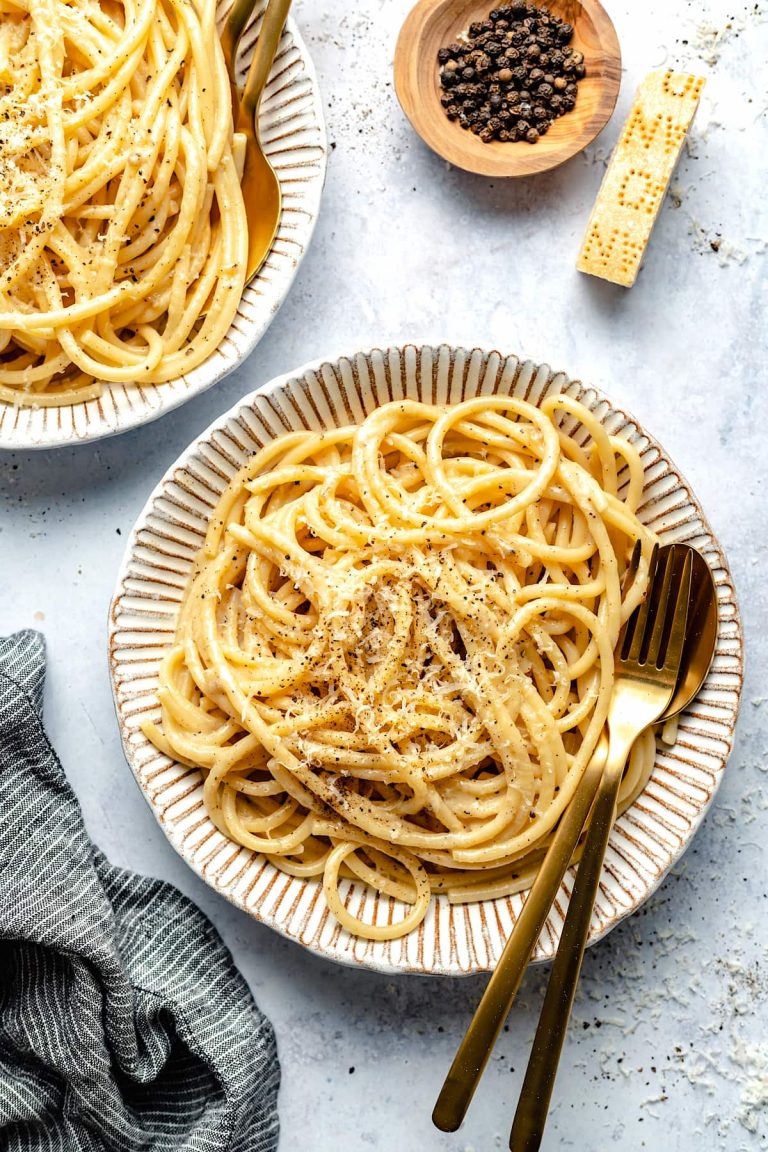 Why We Love It: Cacio e Pepe is a pasta dish you can never go wrong with. It's simple in all the best ways by using just a handful of ingredients to bring satisfying flavors to life. In this five ingredient version, all you need is butter, freshly cracked black pepper, parmesan, Pecorino, and pasta. It's the simple things.
Hero Ingredient: Bucatini noodles are such a win. The little hole in the middle makes for a slurpable noodle that's so fun to enjoy.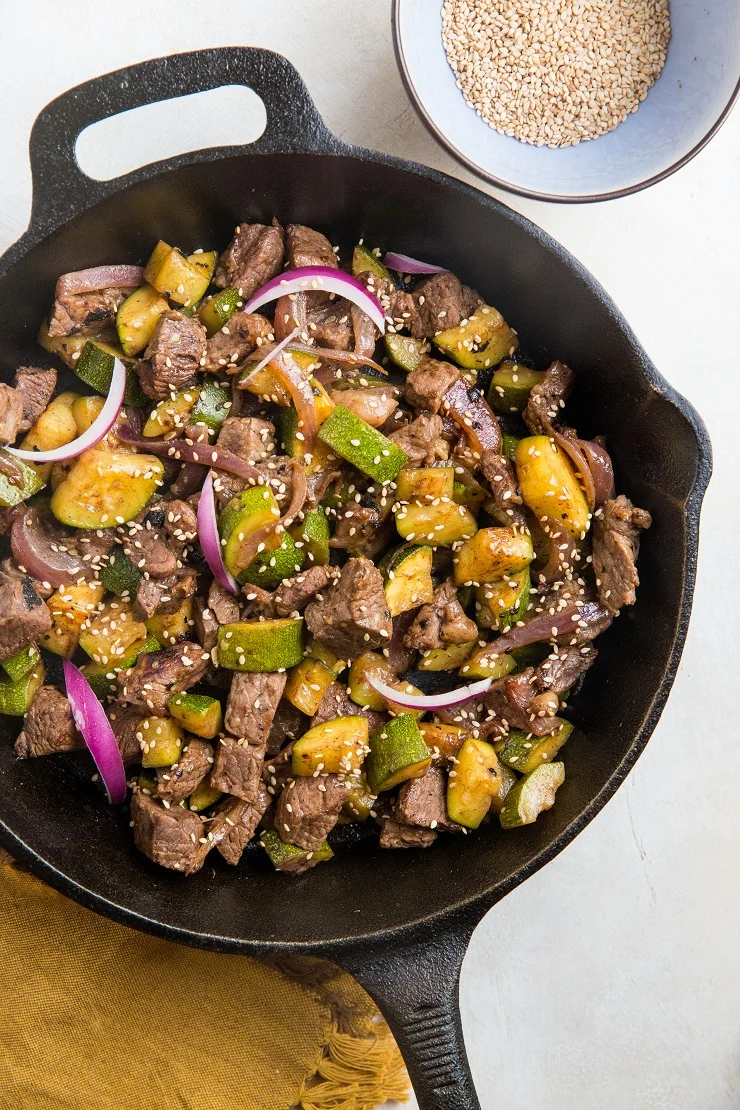 Why We Love It: Beef and broccoli gets a twist in this 30-Minute Teriyaki Beef and Zucchini. It's healthier than what you'll typically find in takeout form and takes about the same amount of time—score. There's a no flour/cornstarch/sugar situation going on here either which is definitely a plus. Just steak, zucchini, red onion, and your favorite teriyaki sauce.
Hero Ingredient: You can use any kind of steak here. NY strip, ribeye, sirloin, skirt steak, you name it.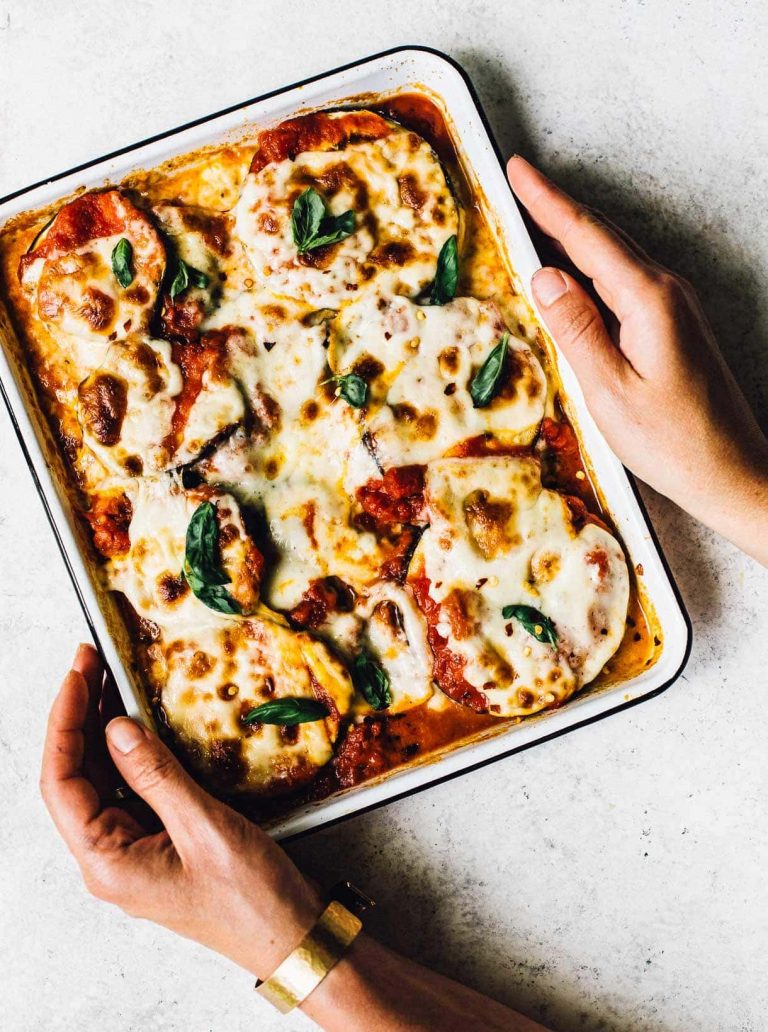 Why We Love It: Like a healthier eggplant parmesan, this Cheesy Marinara Baked Eggplant is pure gold. Because it's baked, it requires minimal hands-on time, making it a perfect busy-weeknight pick. Layers upon layers of marinara sauce, Muenster cheese, and eggplant slices make the most satisfying dinner.
Hero Ingredient: Muenster cheese brings its nutty flavor to the party.
Desserts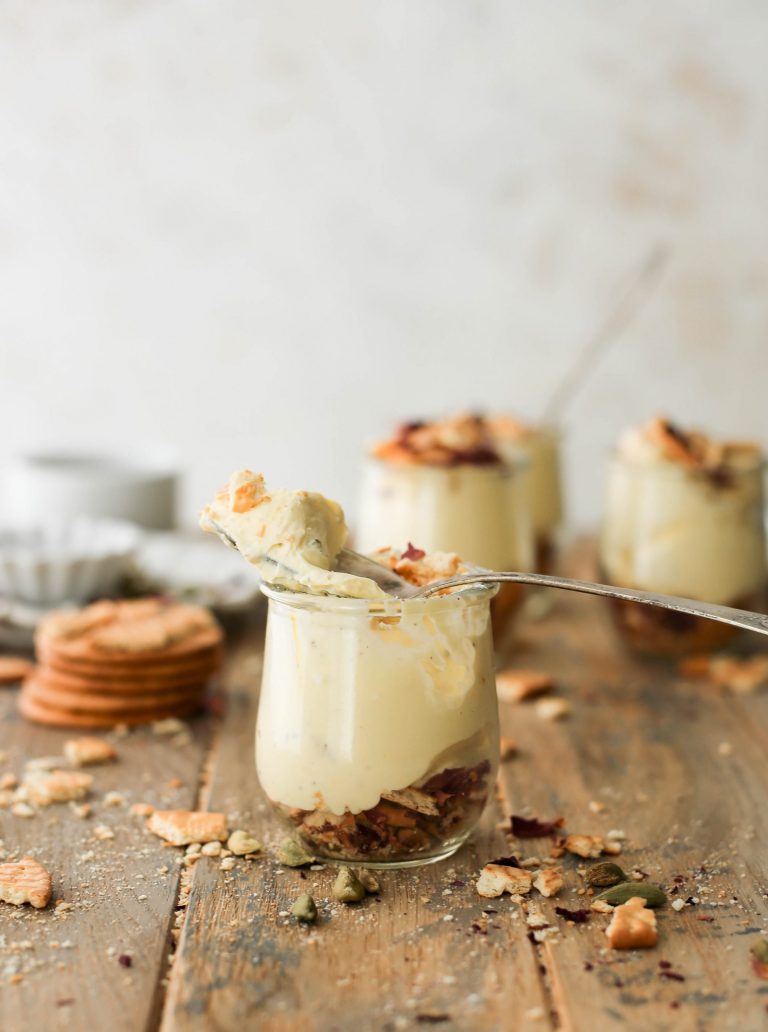 Why We Love It: No-bake, make ahead, and five ingredients? This Shrikhand ticks all the boxes. As our food editor Suruchi shares, "Shrikhand is an Indian dessert with roots in Gujarati and Maharashtrian cuisine. It's made of hung curd, which is strained yogurt with the whey removed." In her recipe, she uses full-fat Greek yogurt, milk, saffron, powdered sugar, and freshly crushed cardamom to craft a delicious dessert you won't regret making.
Hero Ingredient: The saffron blooms in the milk until the mixture turns pale yellow. The result couldn't be prettier—or more full of flavor.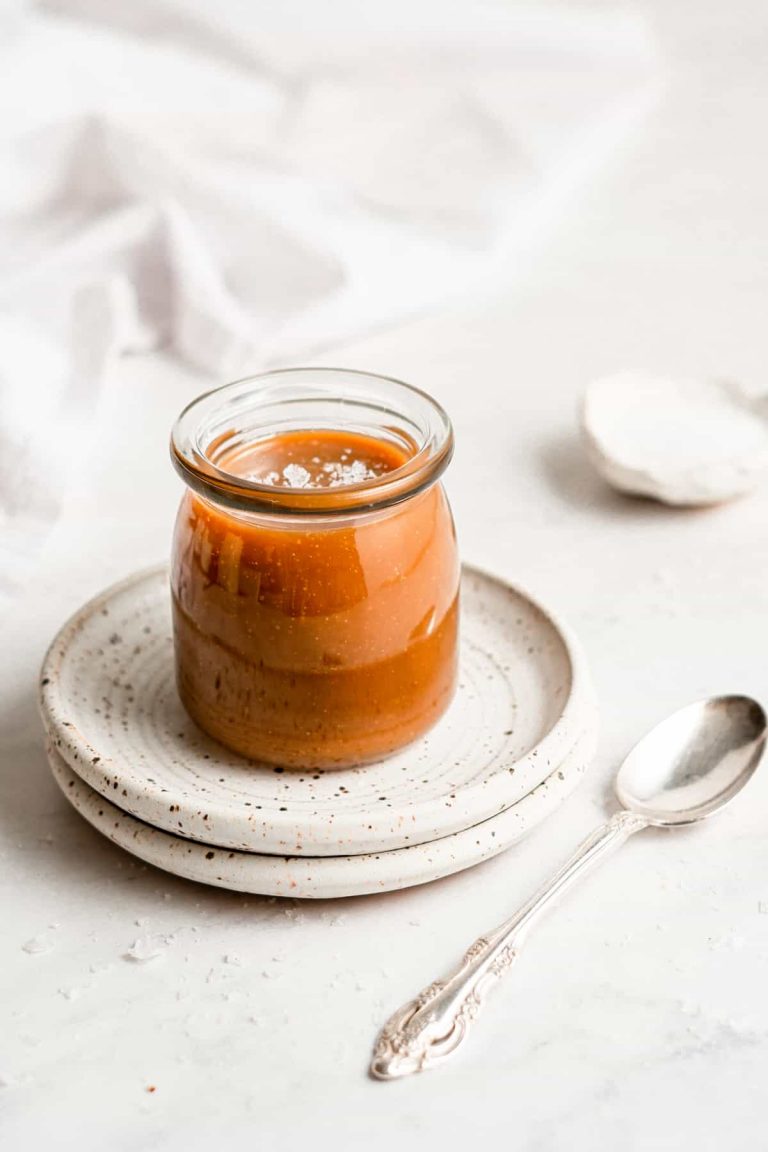 Why We Love It: Coconuts play a starring role in this can't-believe-it's-vegan caramel sauce. While some recipes make the most of dates (and we love them for it), this one combines coconut sugar and coconut milk to create a thick and sweet sauce that we're prepared to drizzle over everything. Drizzle it over brownies, ice cream, cookies—the sky's the limit! It's literal liquid gold.
Hero Ingredient: But the real kicker? A quarter teaspoon of coarse sea salt sends this sauce over the top.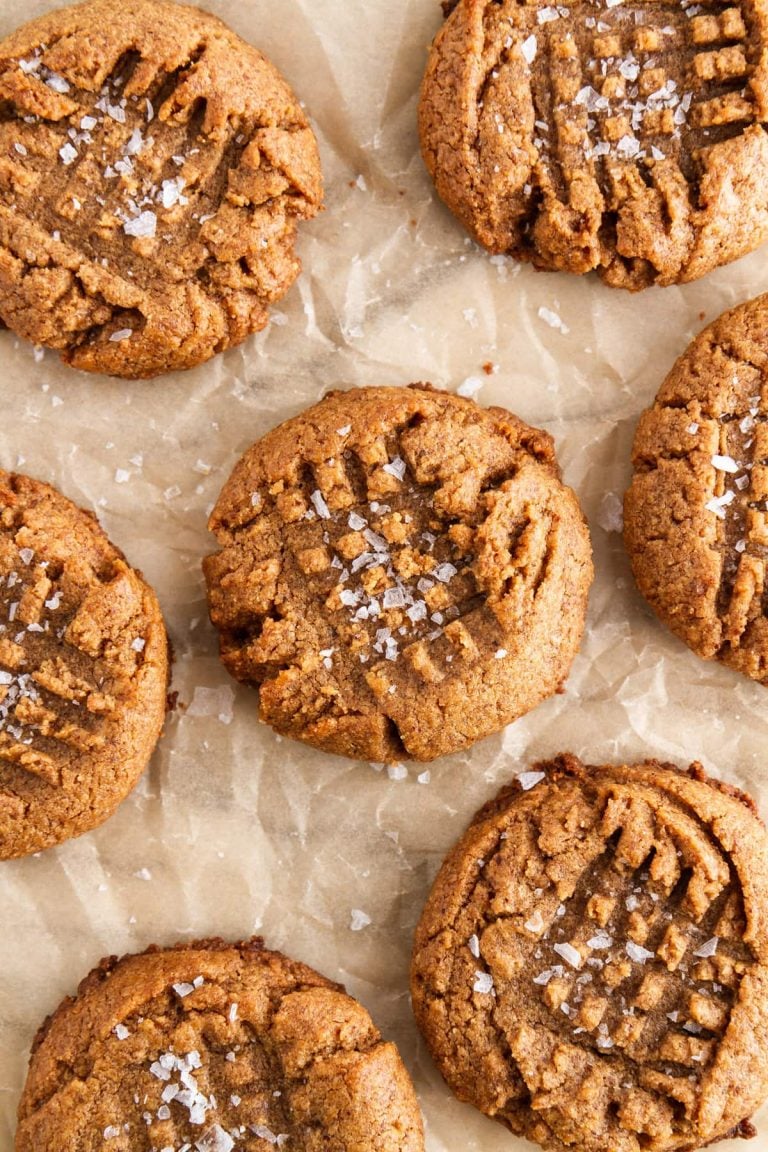 Why We Love It: These cookies remind me of a classic peanut butter cookie, you know the ones with the fork marks? Yum. In this recipe, we're omitting the flour and opting for almond butter to clean things up a bit. They're gluten-free, absolutely delicious, and make the best topper for your kitchen counter. It's just wrong not to sneak one as you pass by.
Hero Ingredient: Almond butter isn't just PB's healthier cousin. It's salty, sweet, and totally delicious in its own right.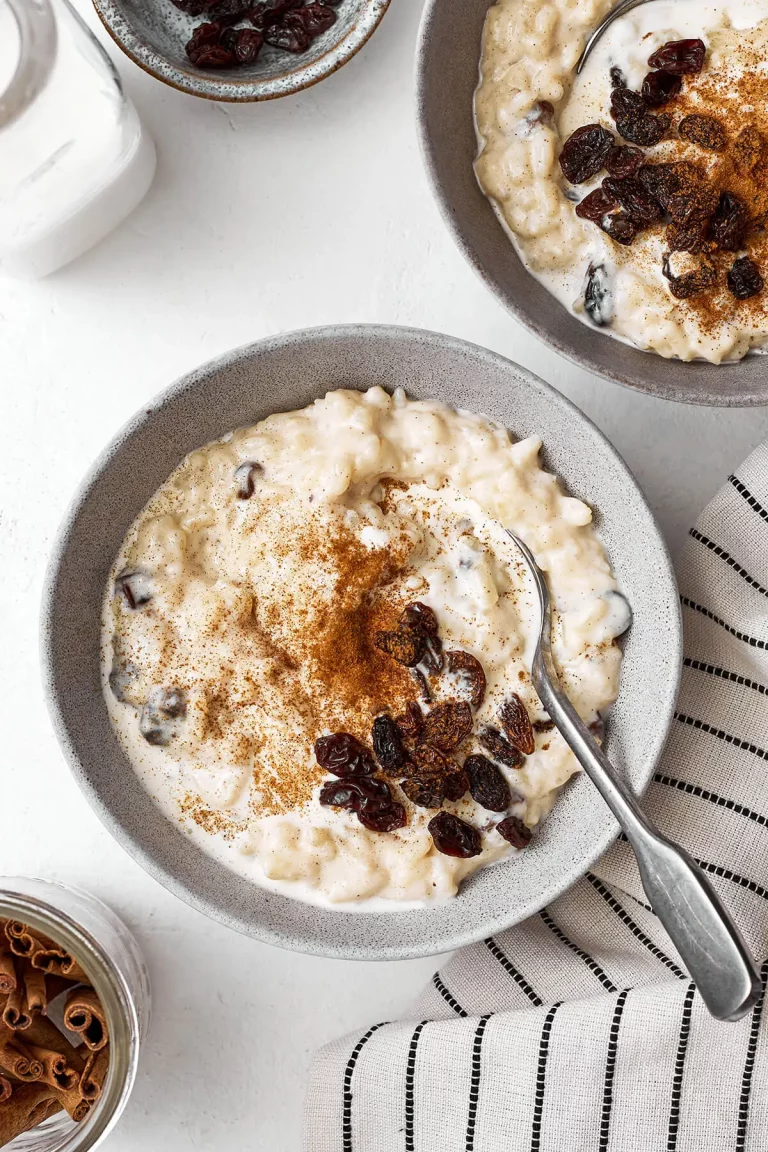 Why We Love It: Rice pudding is something I don't typically eat, but have always enjoyed when I do. Its warming nature is something I find so comforting and even though it's a dessert, it feels nourishing. In this recipe, white rice simmers in milk, maple syrup, vanilla, and cinnamon to create a creamy pudding that's waiting to be savored.
Hero Ingredient: To raisin, or not to raisin? Personally, I'm a fan.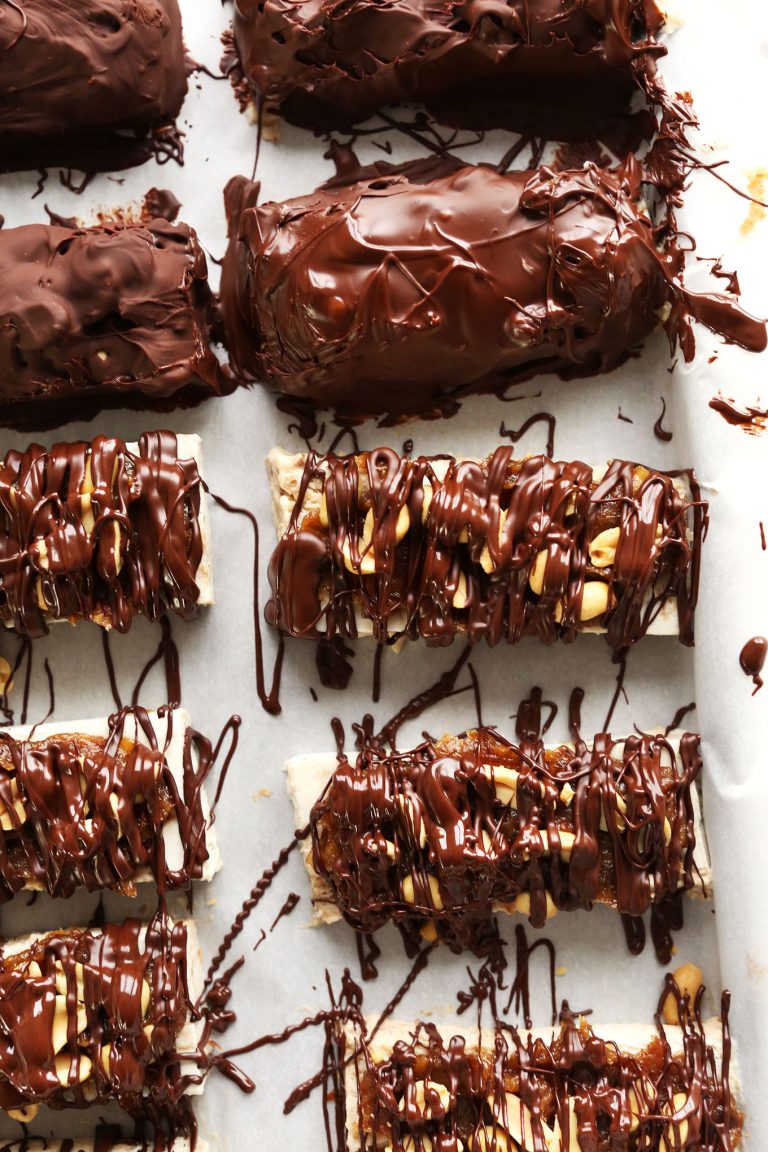 Why We Love It: Does anyone remember those frozen snickers ice cream bars? I sure hope so, because they were divine. This time around, they're cleaned up and made into a vegan version that everyone can enjoy. With an outstanding combination of sea salt caramel ice cream, date caramel, roasted salted peanuts, and chocolate, you might have a hard time keeping these in your freezer.
Hero Ingredient: The caramel is made with dates, which is equally genius and impressive.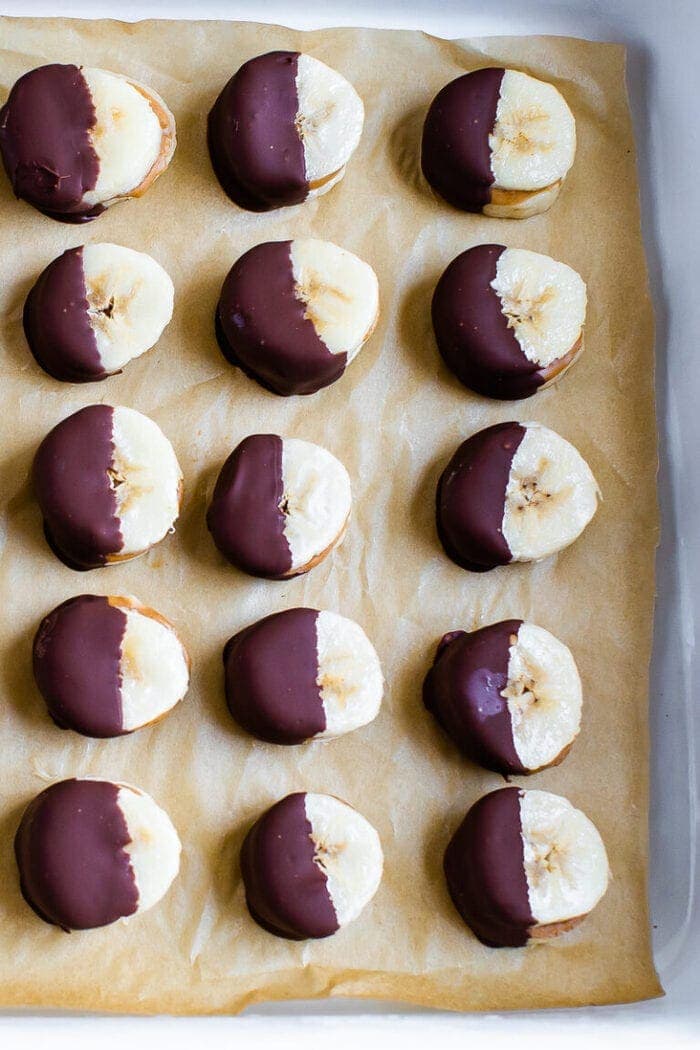 Why We Love It: I'll never tire of these chocolate covered peanut butter banana bites. I love putting these together at the beginning of the week to satisfy my post-dinner sweet tooth all week long. They almost always live in my freezer and keep me from reaching for the ice cream, which is a welcome and impressive act.
Hero Ingredient: Feel free to sub in your favorite nut butter. These gems work well with everything.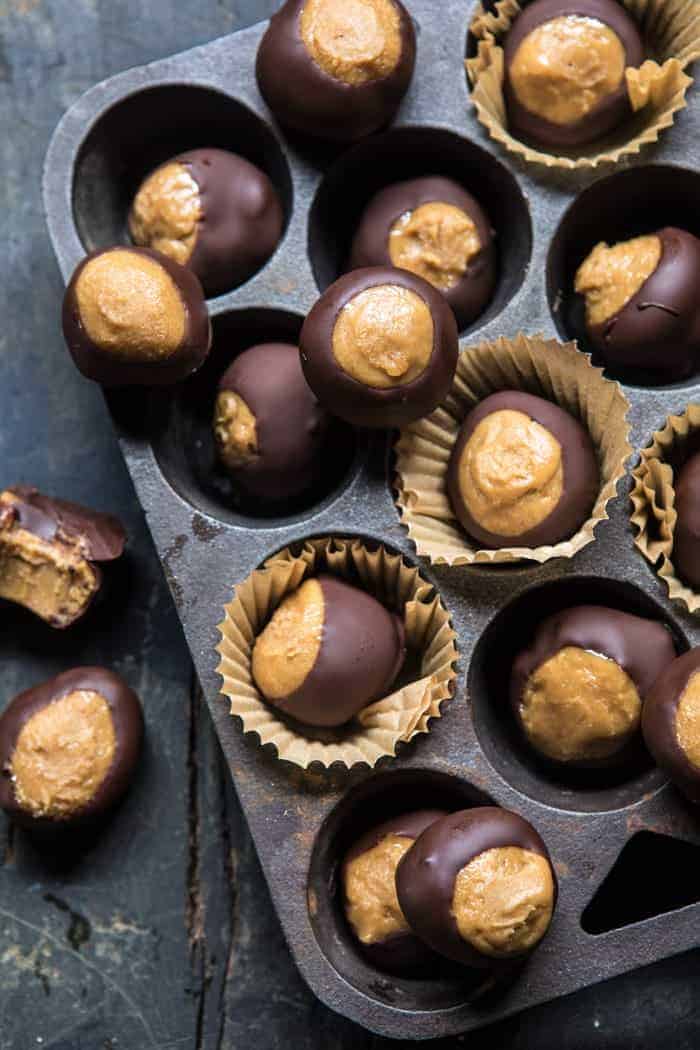 Why We Love It: Creamy peanut butter, honey, butter, vanilla, and dark chocolate come together to make another delicious post-dinner snack. You might think it odd that butter makes the list here, but it's absolutely essential to keeping these bites from being dry. Like cookie dough, this dessert is nice and creamy and hard to walk away from. You've been warned.
Hero Ingredient: I love the use of honey here to keep the processed sugar content low.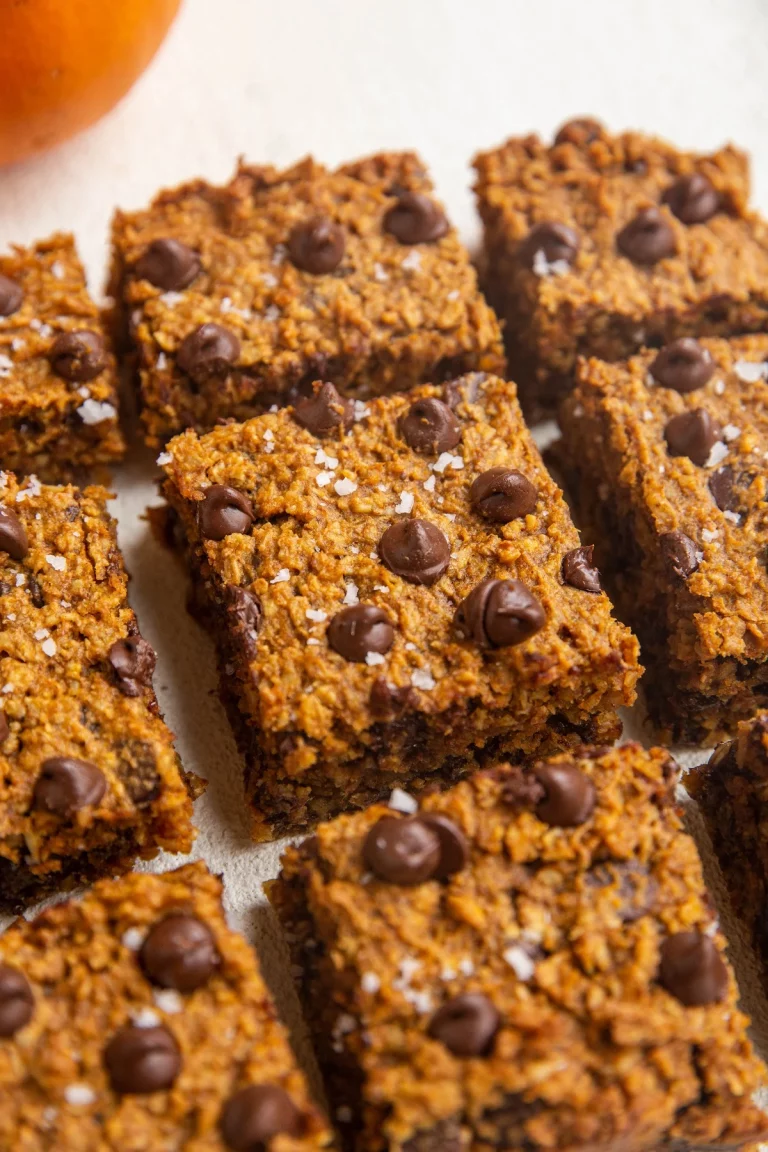 Why We Love It: These bars combine all there is to love about an oatmeal chocolate chip cookie and pumpkin cake. They're studded with chocolate chips, almond butter, pumpkin purée, oats, and maple syrup to bring you a delicious dessert that checks lots of dietary boxes. They're flourless, refined sugar-free, vegan, and so much more.
Hero Ingredient: The chocolate chips, of course!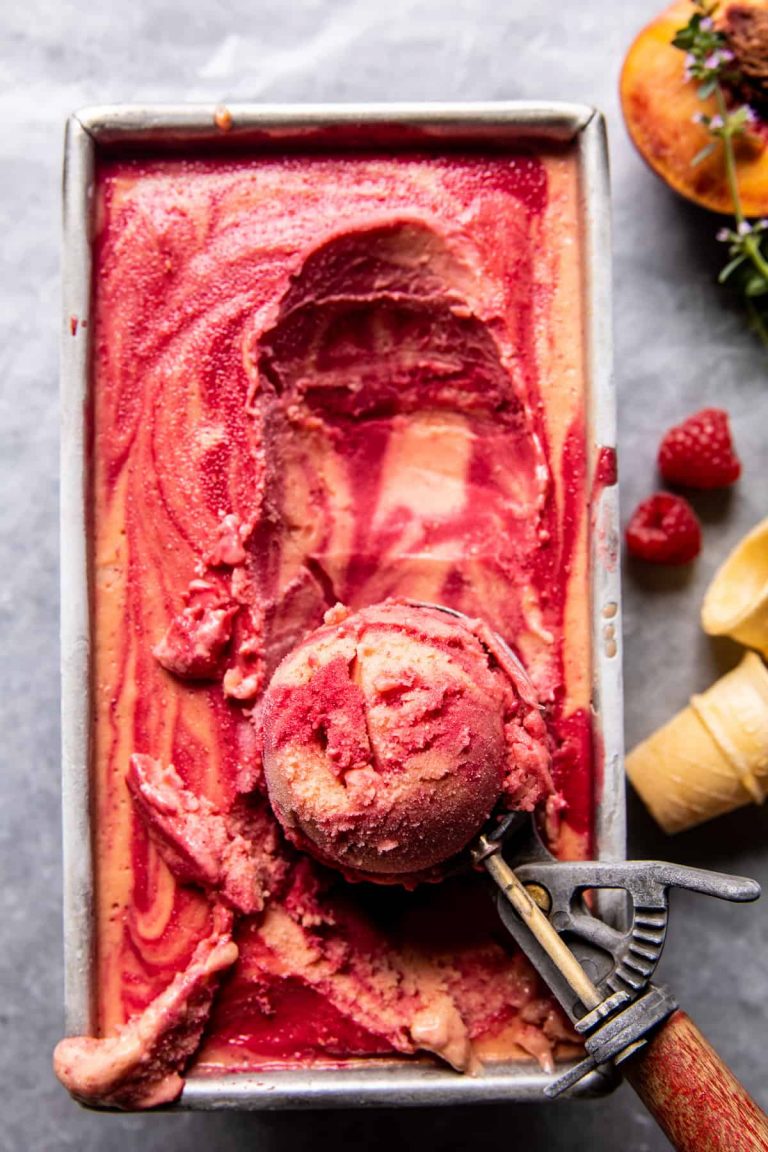 Why We Love It: Frozen peaches, frozen raspberries, sweetened condensed milk, orange juice, and a touch of lemon are all you need to craft this colorful frozen dessert. In two batches, each fruit blends with the base until smooth. Then, the two fruit sherbets are swirled together to create the most aesthetically pleasing effect.
Hero Ingredient: Since the fruit is frozen, you can make this one whenever a sherbet craving strikes. No need to wait for peach season (though I'm already counting down the days).
What are your favorite five ingredient recipes? Sound them out in the comments!