When it comes to our bodies, we're always looking for ways to ensure we're fueling them best. Whether that means incorporating more veggies into our meals, changing our eating order, or cutting back on certain foods, the simple adjustments we make to our daily eating habits are often the most effective. Today, this simple adjustment manifests in the form of low sodium recipes that will help you beat the bloat, kick dehydration to the curb, and combat a handful of other not-so-sweet effects of consuming too much salt.
Feature image by Michelle Nash.
In this article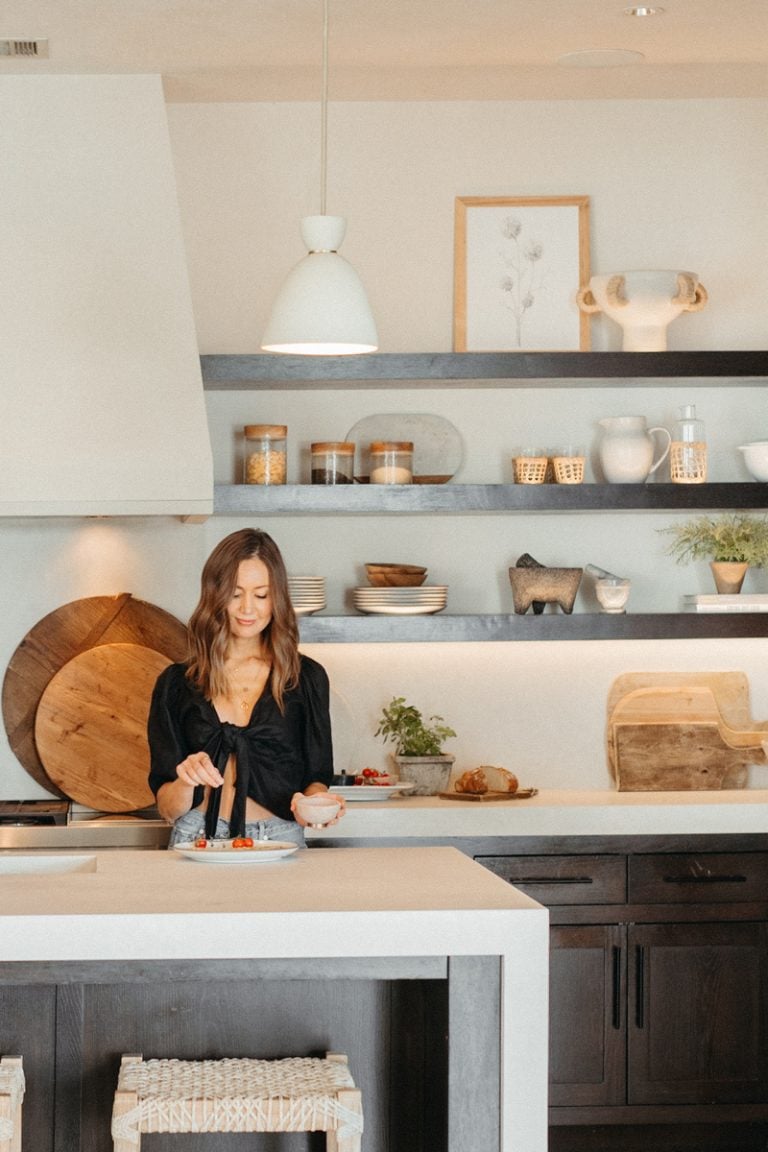 To grab some expert advice surrounding low sodium recipes, I tapped double-certified Integrative Nutrition Health Coach (and our resident nutrition expert), Edie Horstman, to shed some insight on all things sodium. Below, she shares important tips surrounding the effects of too much sodium on the body, how to cut back on sodium, and foods to avoid to maintain a low sodium diet. Read on for Edie's tips, plus 19 low sodium recipes you'll soon find yourself craving on the daily.
What are the symptoms of too much sodium in the body?
Immediately—as in, within 24 hours—bloating/puffiness, headache, feeling super thirsty, and swollen extremities (think: feet and hands) can set in after consuming too much sodium. Some people also get nauseous and have IBS-like symptoms. Long-term, the effects of too much sodium manifest in elevated blood pressure, heart disease, and stomach cancer.
What are ways we can reduce sodium intake?
Rather than focusing so much on eating less sodium, focus on the quality of your salt! One of the easiest ways to avoid eating too much sodium is to look at the sodium content on packaged goods—dressings, refried beans, chips, protein bars, etc. A good rule of thumb is to make sure the sodium intake for the packaged food is less than the total calories. For example, if the calorie content on a protein bar is 190 kCal but it has 300g sodium, that's a bit much for the portion size you're eating. Another way to avoid eating sodium is to choose salt-free seasonings, like nutritional yeast or garlic powder.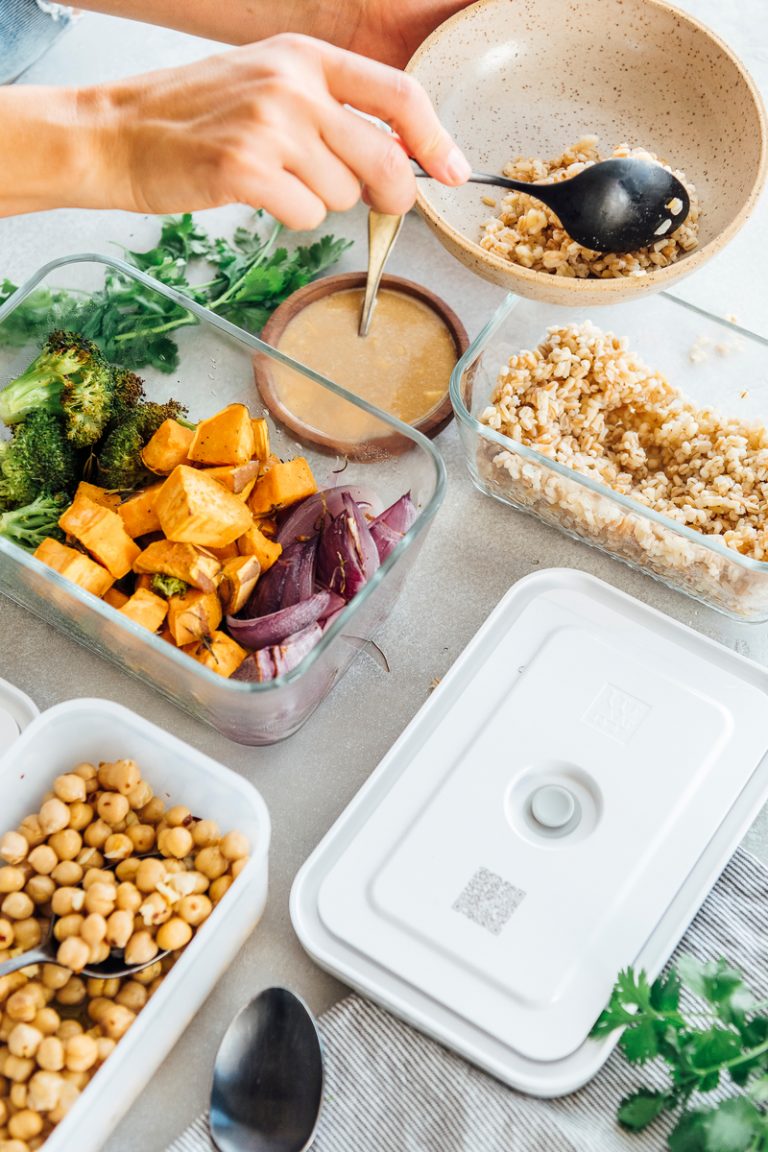 What can I eat on a low sodium diet?
With a low sodium diet, you'll want to focus on whole, minimally processed foods. Some foods to prioritize:
Fruits
Veggies
Plant sources of healthy fats (think: avocados, olives, coconut, hemp seeds, nuts—be sure to buy raw or roasted, unsalted nuts)
Pastured eggs
Organic and/or pasture-raised meat. Pro tip: Cooking meats at home rather than buying pre-cooked meats (like a rotisserie chicken) can help reduce sodium intake.
Grains
Beans
Legumes
What foods should you avoid on a low sodium diet?
Most of the sodium in our standard diet comes from processed or prepared foods. These include bread, pizza, cold cuts and bacon, cheese, soups, fast food, and prepared dinners—pasta, meat, and egg dishes. Pasta sauce, pesto, salted nuts, soy sauce, beef jerky, and BBQ sauce are other sodium-packed contenders.
How much sodium is allowed on a low sodium diet?
The American Heart Association recommends no more than ~2,300mg of sodium a day, but the average American consumes quite a bit more. Sodium intake adds up quickly! However, recent studies demonstrate that consuming more than one teaspoon daily isn't necessarily dangerous. If you aren't sure how much sodium your diet should include, talk to your doctor or dietitian.
19 Nutritionist-Approved Low Sodium Recipes to Beat Bloat
Low Sodium Breakfast Recipes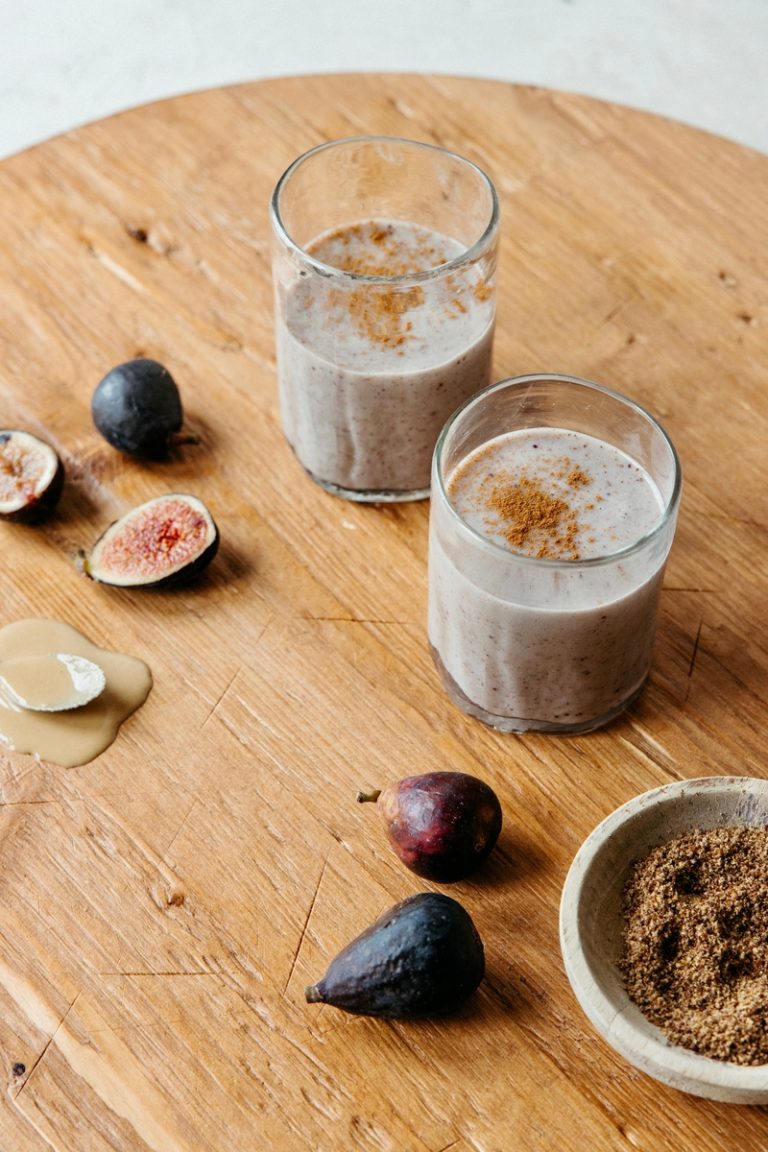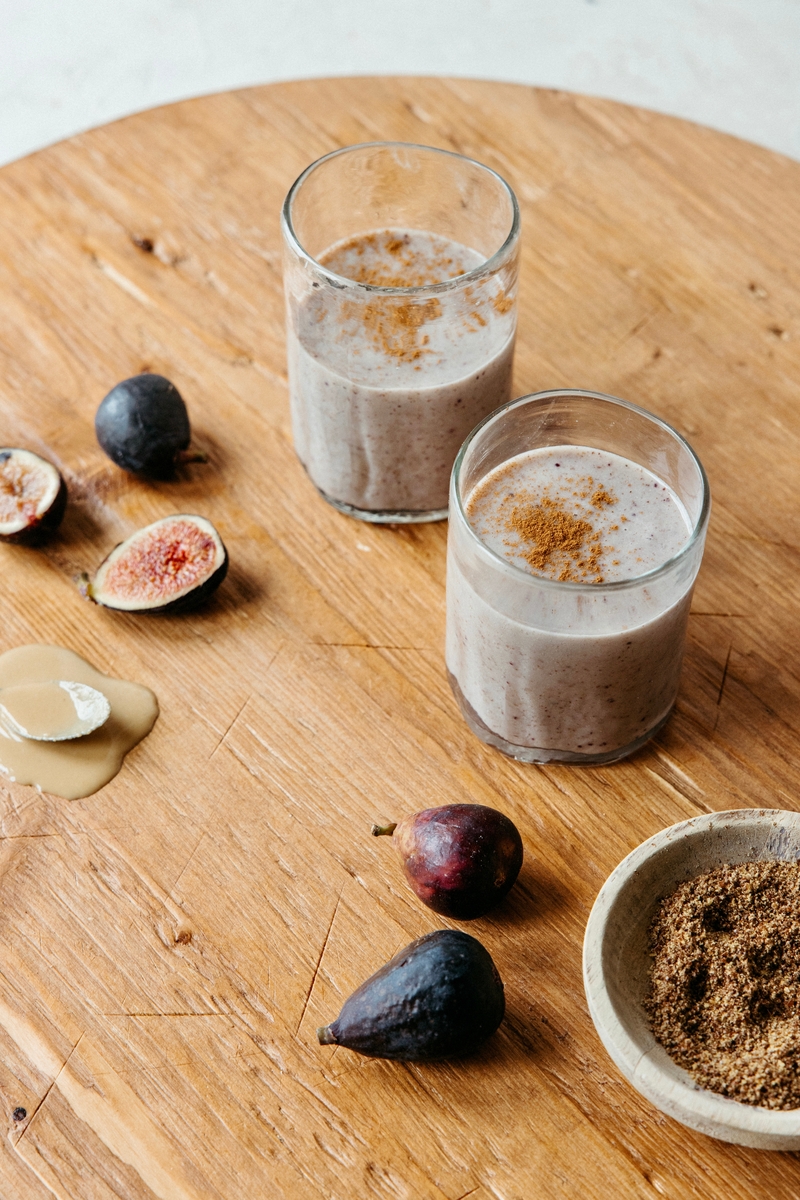 Why We Love It: If the name alone isn't enough of a selling point, allow me to break down why this smoothie belongs in your rotation. To touch on the nutritional aspects, this glass of deliciousness is full of hormone-balancing ingredients that keep you energized and satiated. Not to mention it's sweet, slightly nutty, and full of warming spices guaranteed to help you welcome the day with open arms.
Hero Ingredient: A dash of ginger lets you reap all the anti-inflammatory benefits.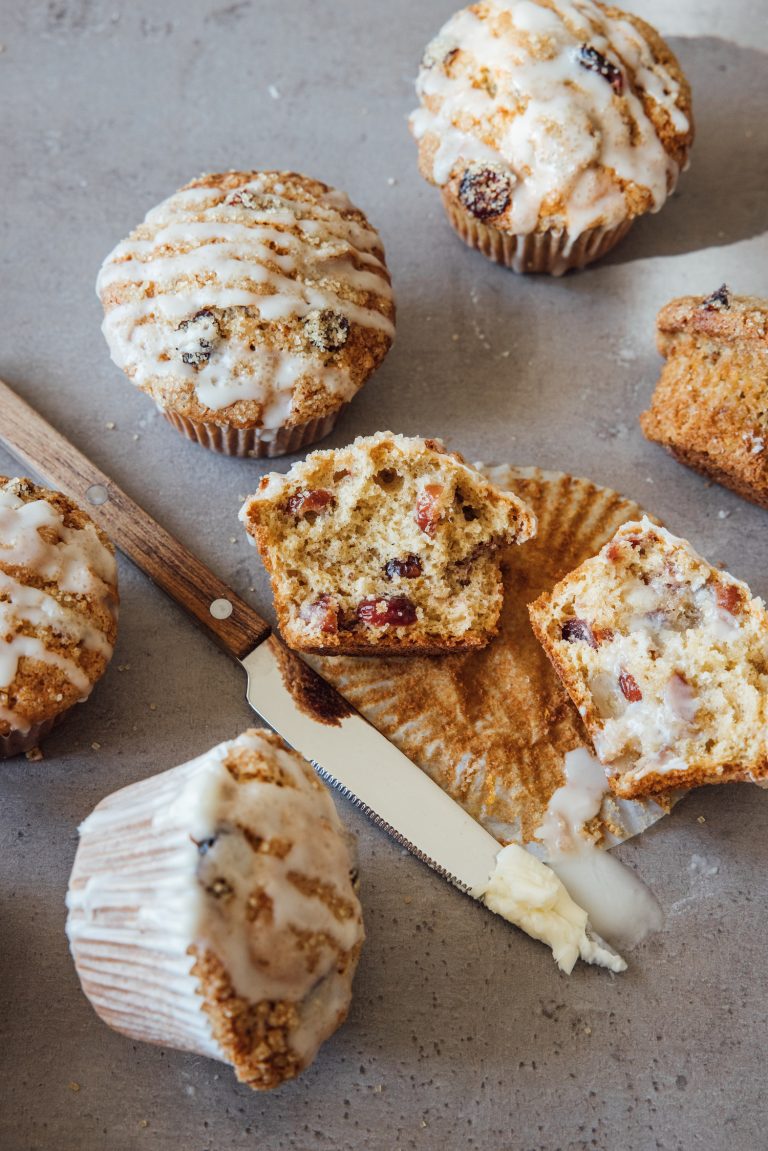 Why We Love It: Hold onto the holiday feeling with these spiced Cranberry Orange Muffins. They're full of wintery flavors and just enough spice to feel cozy and comforting any time of year. Plus, they're so easy to meal prep at the beginning of the week to have on hand for breakfast on the go or lunchbox packing.
Hero Ingredient: Whole-wheat flour and Greek yogurt give these muffins (which are basically mini cakes) a healthier twist.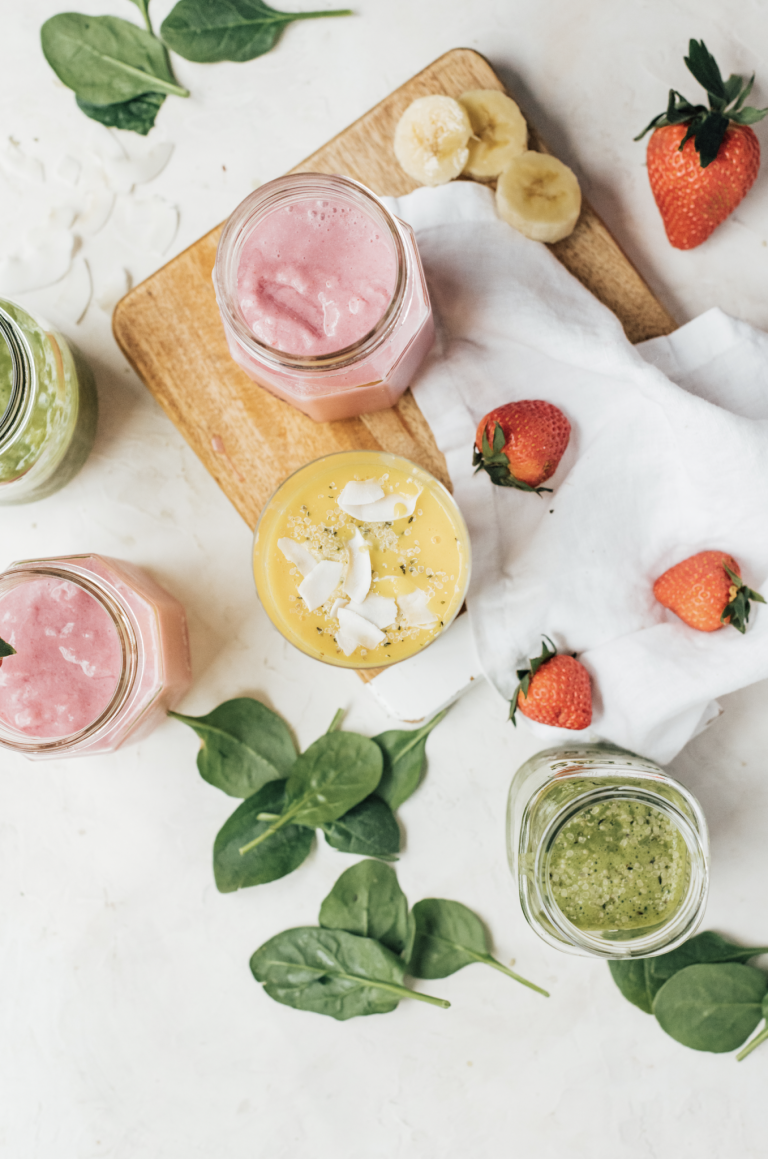 Why We Love It: Tropical Turmeric, Matcha Plant Power, and Strawberries and Cream smoothies offer bloat-free substance for your mornings. Each one is equally delicious and packed with nutrition to start your day off on the right foot. The best part? Absolutely no inflammation in sight.
Hero Ingredient: Feel free to sub in your favorite plant-based milk to keep these smoothies nice and creamy.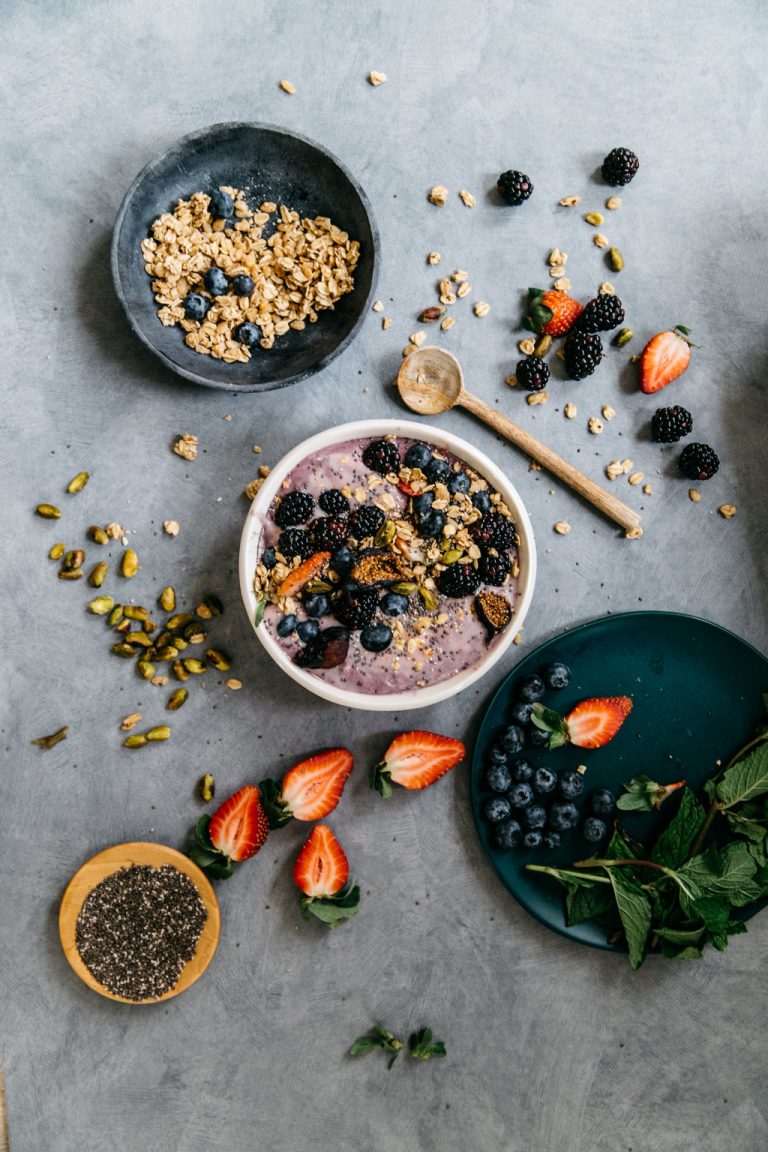 Why We Love It: Frozen fruit, yogurt, and your choice of crunchy toppings make this smoothie bowl a substantial breakfast you'll want on repeat. You have total creative liberty here on flavors—just be sure to make your smoothie extra thick since it's the thickness that gives this bowl its hearty feel.
Hero Ingredient: If plant-based yogurt is your vibe, absolutely sub it in here. Then, swirl your yogurt and smoothie for the bowl version of Hailey Bieber's Erewhon smoothie.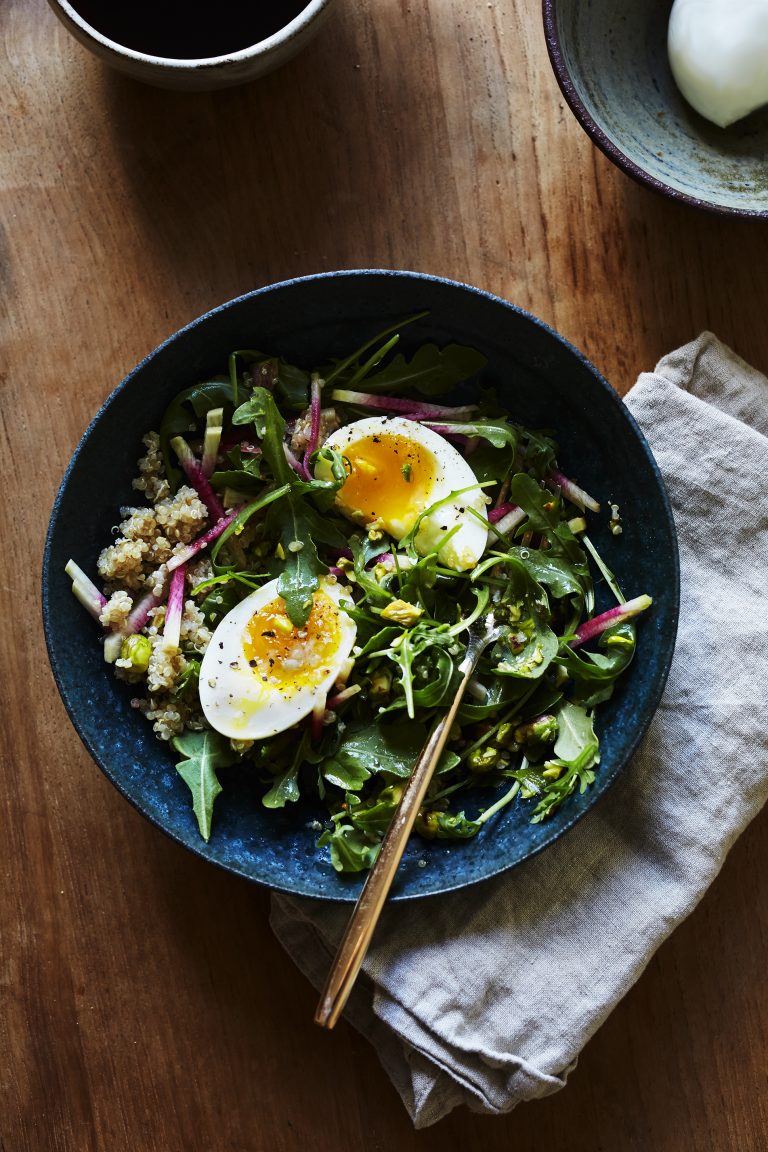 Why We Love It: If you're a stranger to breakfast salads, allow me to introduce you to their endless possibilities. For me, breakfast salads are best enjoyed when I'm craving something that will fill me up without weighing me down. And while I love a chocolate croissant breakfast from time to time, I know it'll lead to a crash later on (sigh). Instead, this veggie-centric salad to start the day is what I'm reaching for this year… or at least trying to.
Hero Ingredient: There's a lot going on here between the arugula, radish, quinoa, and eggs, but it's the toasted pistachios that take the cake.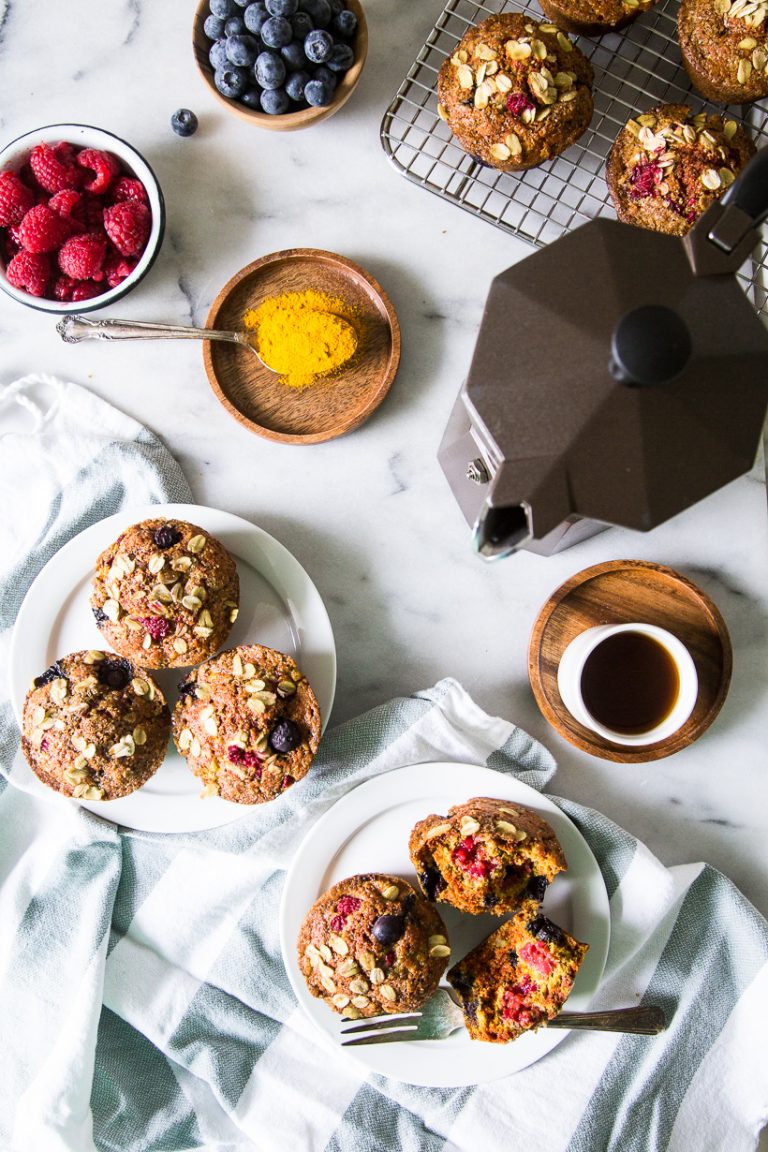 Why We Love It: Low sodium and anti-inflammatory, these berry and turmeric muffins are your new Sunday night project. First of all, they're butter-free, refined sugar-free, and low on gluten (though not totally gluten-free). But don't think that means they aren't completely delicious! Raspberries, blueberries, walnuts, coconut oil, chia seeds, apple cider vinegar, and more lovingly craft a muffin you can feel great about enjoying.
Hero Ingredient: These muffins aren't quite as sweet as, say, a blueberry muffin, but they maintain just the right amount of satisfying sweetness.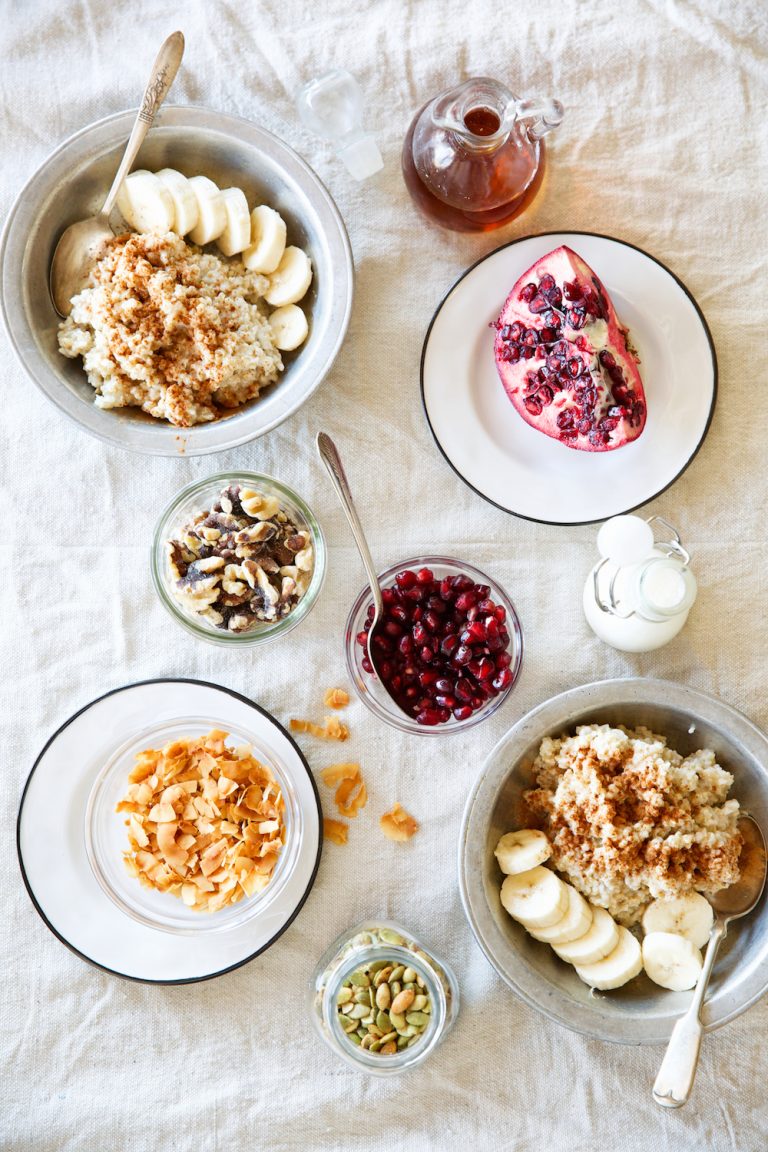 Why We Love It: Oats and quinoa join forces for a bowl that's so substantial and delicious. Plus, it leaves you with a blank canvas for toppings (which are always the best part IMO). A drizzle of almond milk, nut butter, honey, sliced banana, nuts, the list goes on…
Hero Ingredient: Sprinkle some pomegranate seeds over top for a pop of fruity freshness in each spoonful.
Low Sodium Lunch Recipes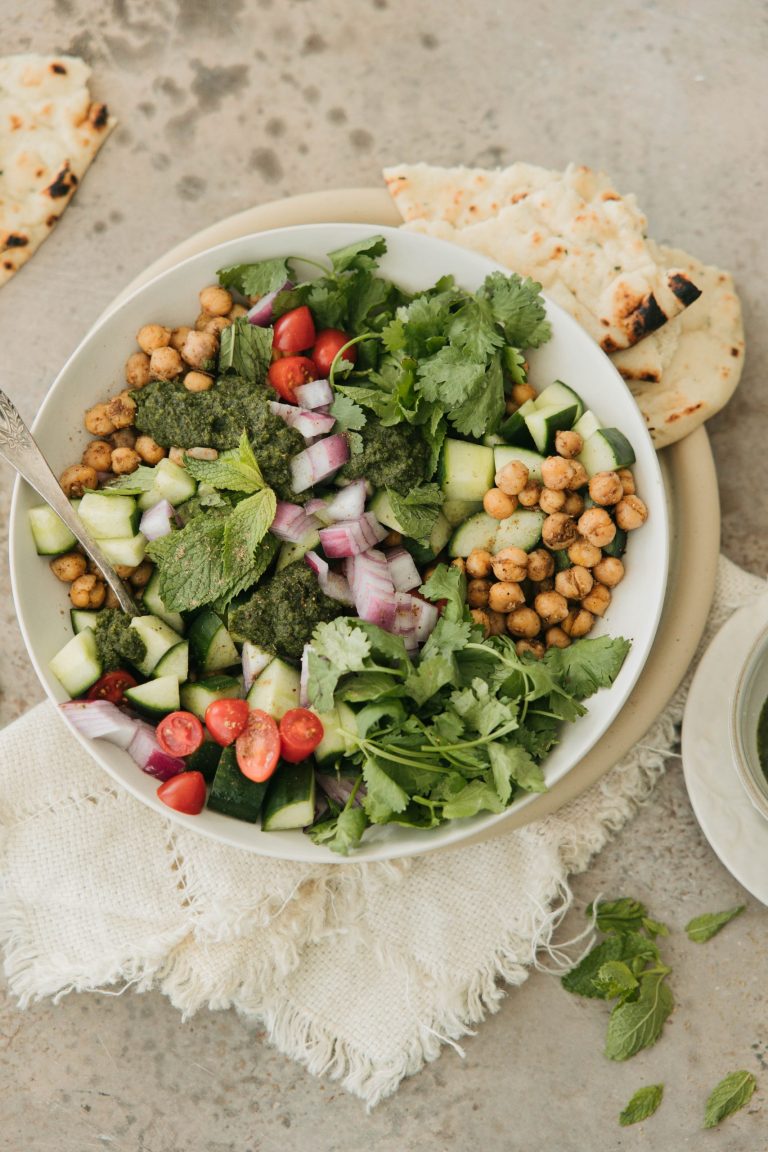 Why We Love It: Chickpeas, cucumber, red onion, tomato, and a whole slew of fresh herbs create this flavor-packed salad that's ideal for your lunch hour. To add some savoriness, the chickpeas are flash-sautéed in toasted spices before topping the salad, which makes a world of difference. From there, a zingy mint chutney coats the veggies in a blanket of flavor.
Hero Ingredient: When it comes to seeding the serrano pepper, go seedless if you're a mild eater. But if you like things spicier, let a few seeds hang around for good measure.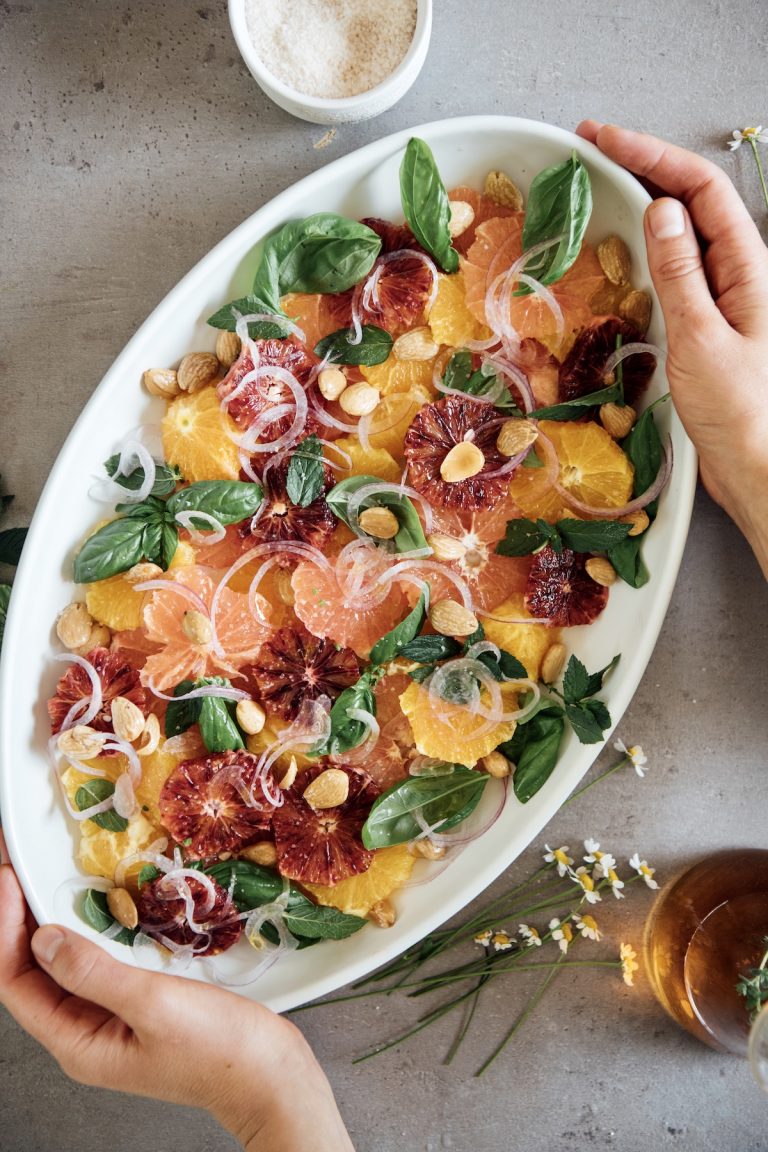 Why We Love It: Sometimes, it's the simplest things that taste the best. And that's definitely the case with this citrus salad. It's literally just citrus, a little red onion, Marcona almonds, herbs, and a drizzle of olive oil… that's it! A five-ingredient recipe that couldn't be easier to make or enjoy.
Hero Ingredient: The Marcona almonds bring the perfect amount of crunch, nuttiness, and salty touch to the party.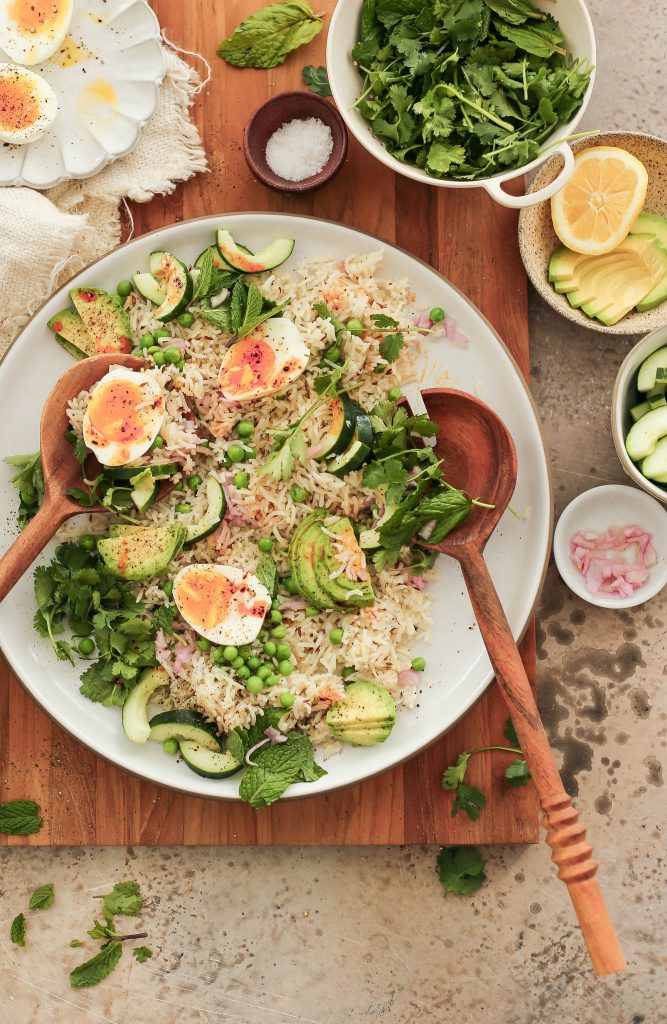 Why We Love It: Our food editor, Suruchi, claims this rice salad is so addictive that she ate it for dinner for seven consecutive days. And I don't know about you, but I'm willing to try anything that promising. In a basic sense, it's veggies and herbs layered with rice, avocado, and eggs. It's packed with protein and satiating ingredients that will satisfy for any meal.
Hero Ingredient: I'm a big proponent of the soft-boiled egg. In this salad, you get just the right amount of jammy yolk to spread over your savory rice.
Low Sodium Dinner Recipes
Why We Love It: This pasta is all about green, all the time. It's loaded with veggie-fueled goodness that will have you glowing from the inside out. The best part? It only takes five ingredients to make this dream a reality. Spinach, asparagus, peas, parmesan, and lemon juice constitute the sauce while a handful of pantry toppings finish it off. It's lovingly simple and oh-so-tasty.
Hero Ingredient: Basil is a great salt-free way to extract flavor from its counterparts. Be sure to give it a smack before tearing it over your pasta to wake up all the aromas.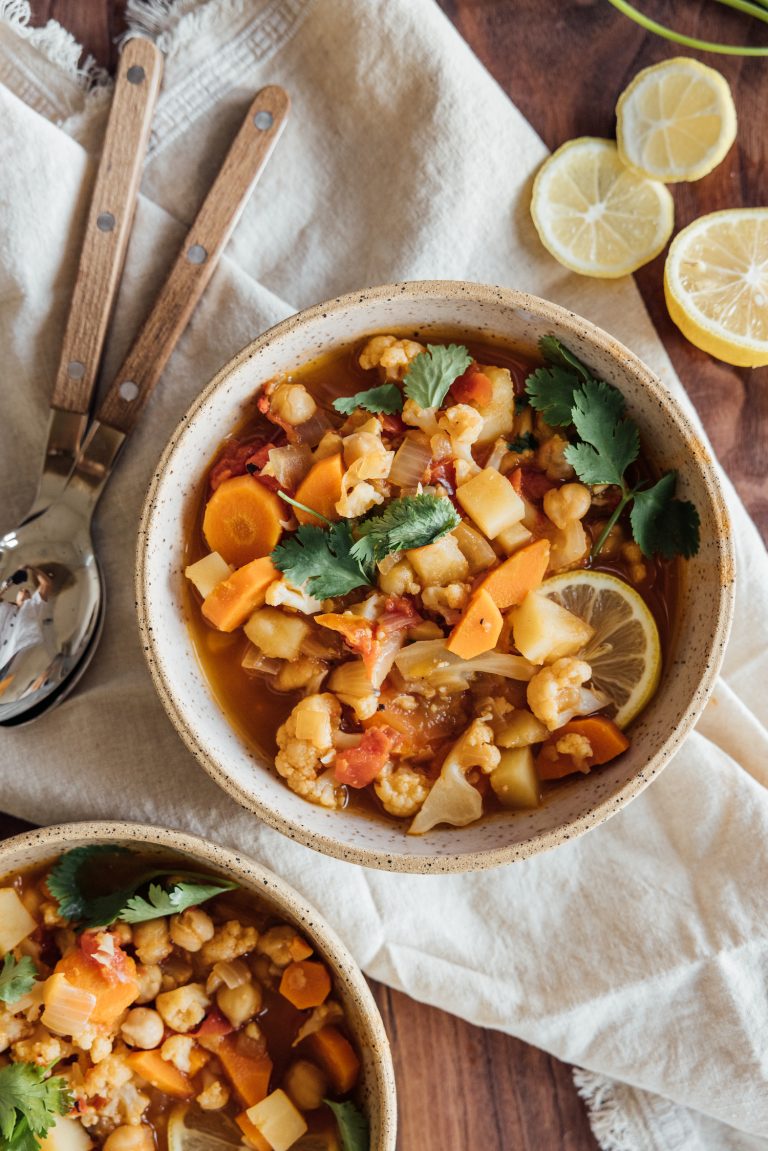 Why We Love It: Not only is this hearty vegetarian stew the ultimate bowl of cozy, but it's chock full of stick-to-your ribs substance, protein, and fiber. Talk about a win-win. It's a meatless main that absolutely deserves a spot in your rotation—especially as the cold weather lingers. Plus, if you're not cooking for the fam, one pot of this tasty stew will last you a few delicious meals.
Hero Ingredient: The chickpeas really "beef" this one up in the best way.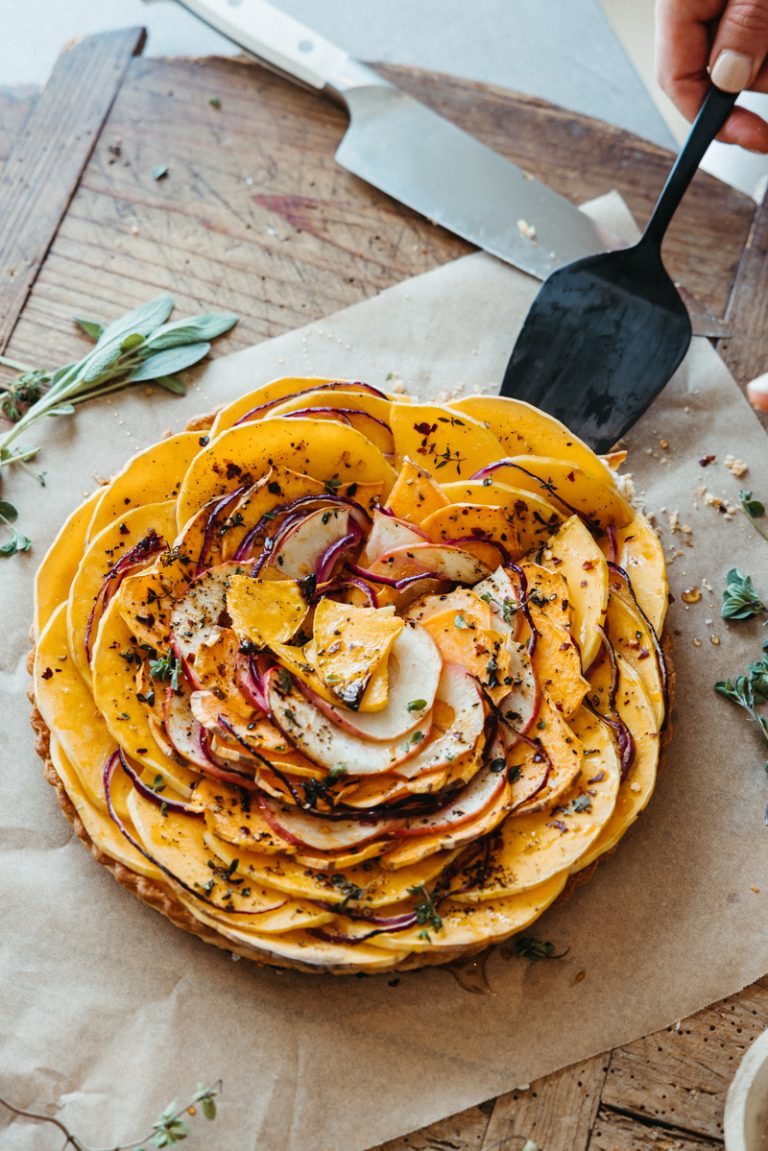 Why We Love It: This gorgeous-yet-simple vegetable tart would make a stunning centerpiece for any table or menu. It uses wintery vegetables (and fruit) like butternut squash, sweet potato, and apple. On the bottom, a silky smooth ricotta spread lays the foundation for all that tender vegetable goodness.
Hero Ingredient: In the cheese world, ricotta contains less salt than many of the other cheeses we know and love. Low sodium recipes, meet your maker!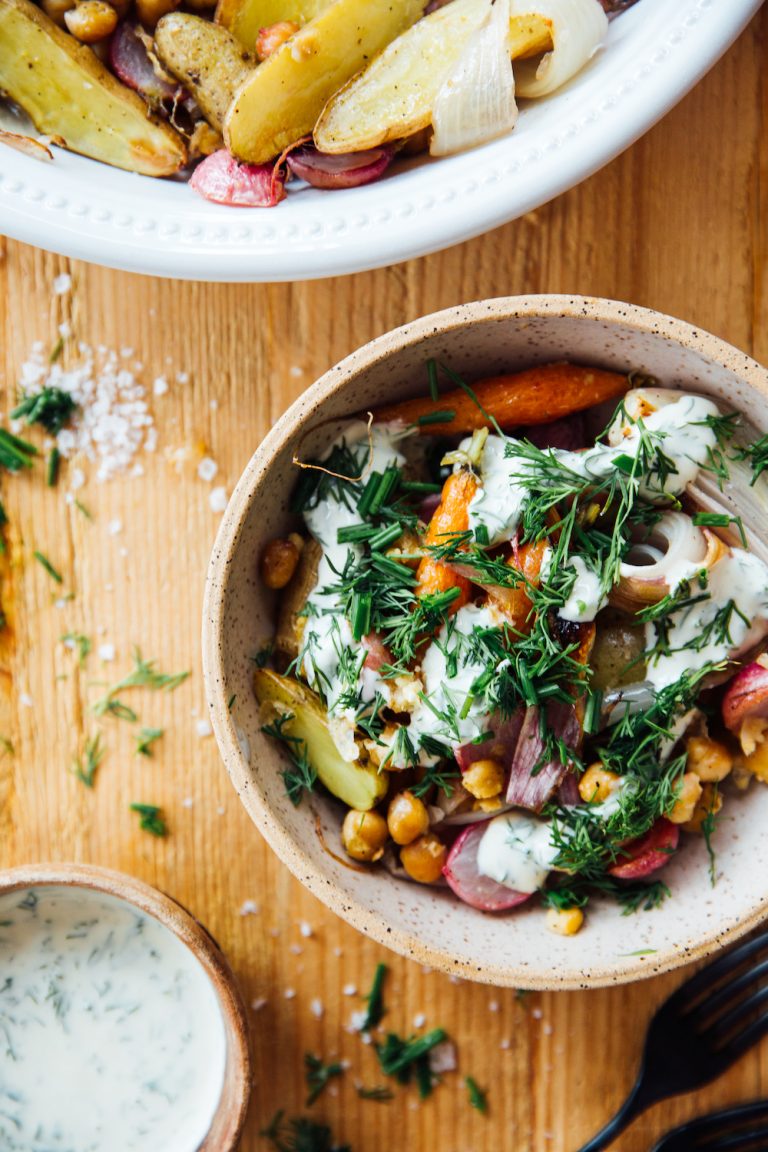 Why We Love It: Savory roasted vegetables come together under the creamiest yogurt and herb dressing to make your busy weeknights a breeze. It's a plant-based dinner that never fails to satisfy and truly couldn't be easier to make. All you have to do is chop up your veggies, toss them in the oven, and patiently wait until the edges are slightly caramelized. Hint: the last step is the hardest!
Hero Ingredient: If you have the ingredients, I highly recommend doubling the yogurt dressing. It's great to have on hand for veggie dipping, sandwich/wrap spreading, meat topping, and more.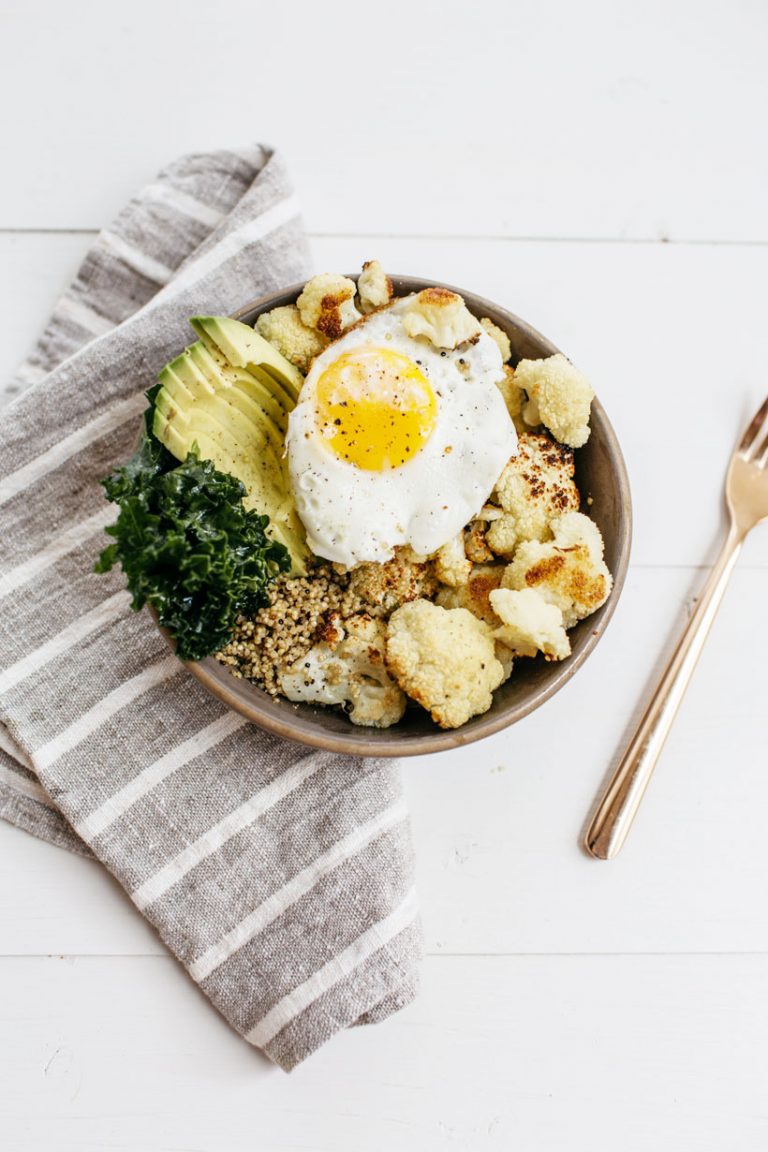 Why We Love It: Quinoa, cauliflower, Brussels sprouts, carrots, avocado, and an any-style egg come together to create a bowl that packs all the flavors and textures you could dream of. Plus, it couldn't be easier to assemble—especially if you've done a little pre-planning! You can actually make this bowl almost entirely in advance by cooking your quinoa and roasting the veggies ahead of time. From there, all that's left to do is reheat, assemble, and top with an egg.
Hero Ingredient: Feel free to layer in any vegetables you have on hand. This recipe is a great way to empty your veggie drawer!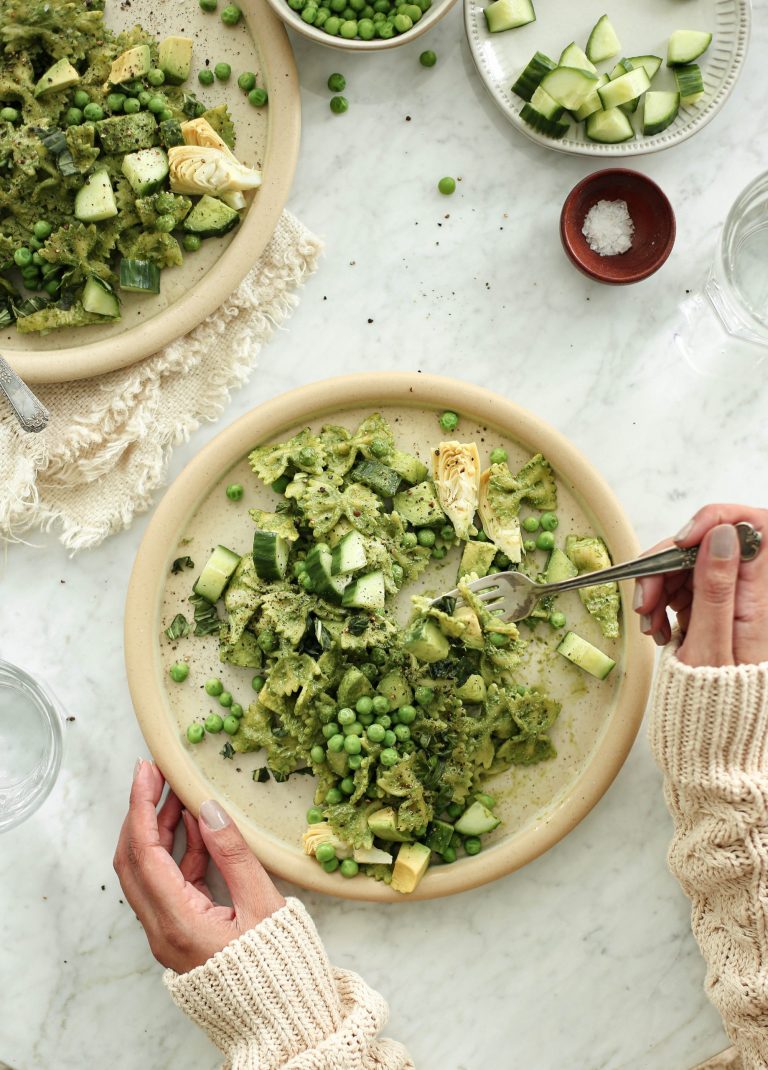 Why We Love It: This pasta salad is just bursting with veggie-packed goodness—I mean, look at it! If its pretty presentation isn't convincing enough, you'll just have to give it a try. The sauce alone is award-worthy, but it's the toppings that really steal the show. While you have absolute creative liberty, I love the green palette this pasta salad adheres to. That means we're topping with peas, artichoke hearts, avocado, cucumbers, etc.
Hero Ingredient: A splash of apple cider vinegar in the sauce keeps things from getting too rich. The result is a perfectly balanced dish.
Low Sodium Snacks and Sweets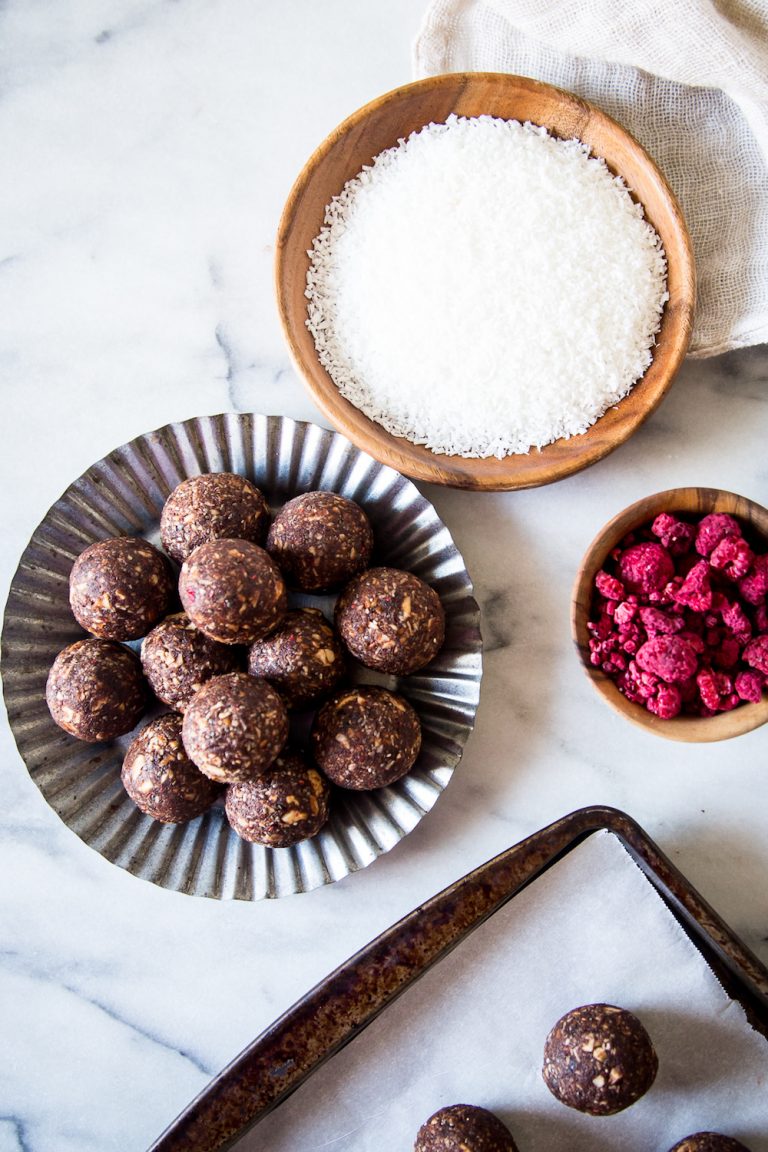 Why We Love It: I don't know who came up with energy balls, but they deserve more credit. These midday snacks are the best excuse to treat yourself to a daytime dessert in good conscience. The sweetening element in these chocolatey treats are dates, which is one of my favorite ways to curb a sweet tooth naturally. Add in some almonds, chia seeds, cocoa powder, and freeze-dried raspberries and you're on your way to a sweeter reality.
Hero Ingredient: The freeze-dried raspberries bring the best tartness to counterbalance the rich cocoa notes.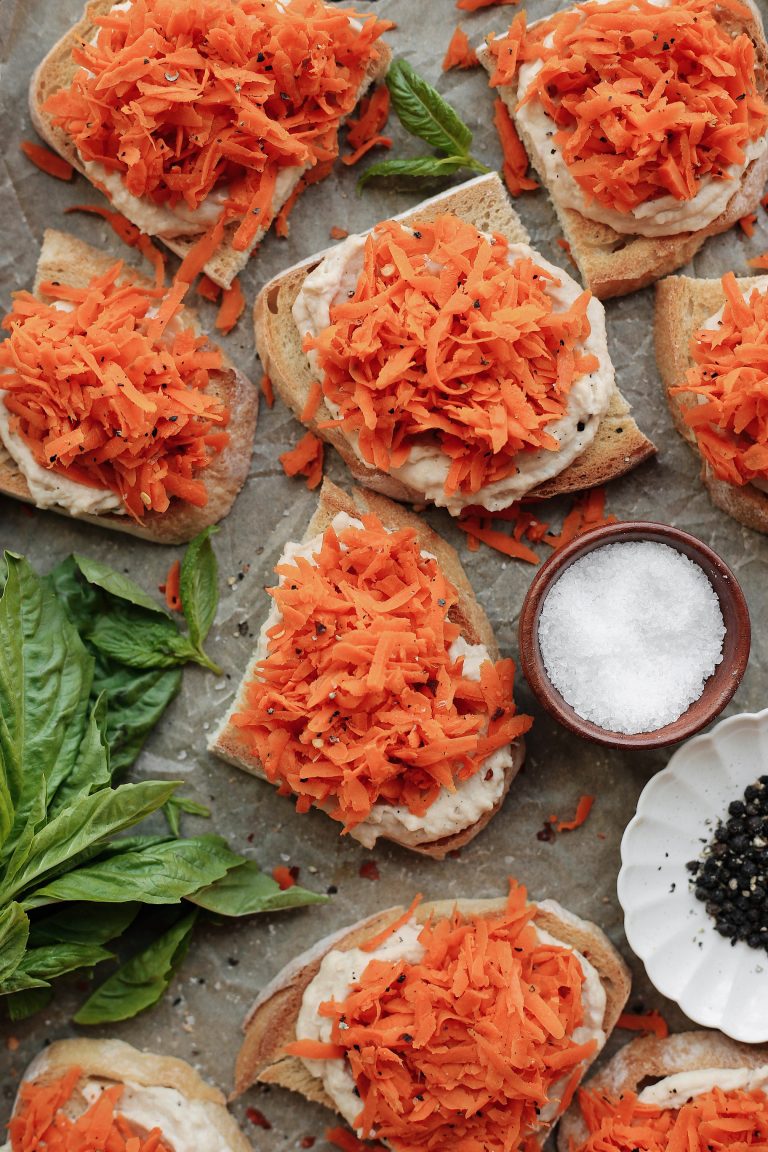 Why We Love It: Healthy-ish and totally satisfying, these addictive Carrot and Hummus Toasts are the snack you didn't know you needed—seriously. If you've ever topped toast with a smear of hummus, you know just how blissfully delicious it is. Then, add the fresh taste of shredded carrots and you're set. They're surprisingly addictive.
Hero Ingredient: To keep the sodium at bay, make sure you're buying a hummus that's not excessively high in sodium. Or, make your own at home! It's actually super easy.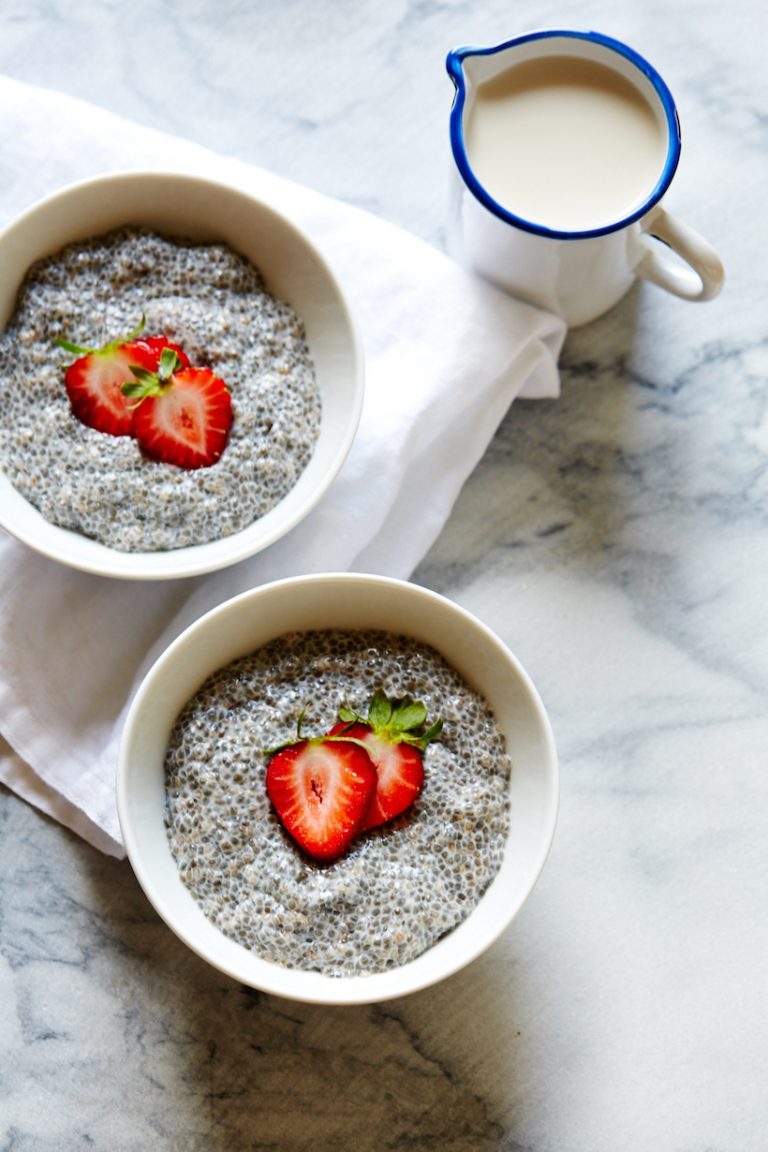 Why We Love It: Switch up your breakfast routine by popping in this chia pudding. It's such an easy and healthy breakfast that doesn't require any cooking and still satisfies nonetheless. The best part? You can top chia pudding with basically anything you want to. Fruit, nut butters, granola, maple syrup, nuts, seeds… all fair game
Hero Ingredient: Hero method here, this overnight breakfast recipe means you get to wake up to a ready-to-go morning meal. And you can thank yourself, too!