I'm blaming it on back-to-school season. Our household has been in a constant rotation of coughs, colds, or sore throats since early September (SOS!). We're doing all the things to stay well as a family, but this time of year—as the weather starts to cool and kids are spending more time in classrooms—it's easier for germs to spread. Along with taking the right supplements, prioritizing sleep, and getting outside, don't forget that food is medicine. Specifically, anti-inflammatory ingredients. Without further ado, let's tuck into the best soups when sick. Whether you have a respiratory infection, cold, or upset stomach, there's a soup for every illness. Let a big pot of nourishment work its magic.
Featured image by Michelle Nash.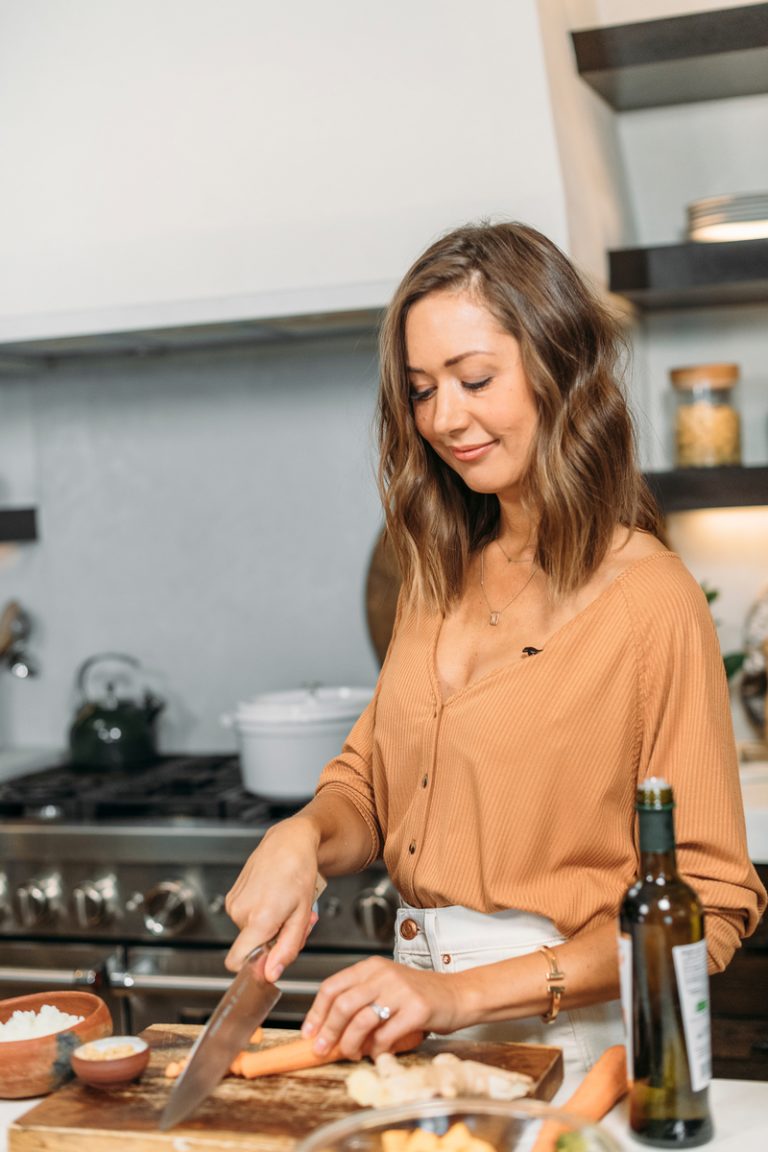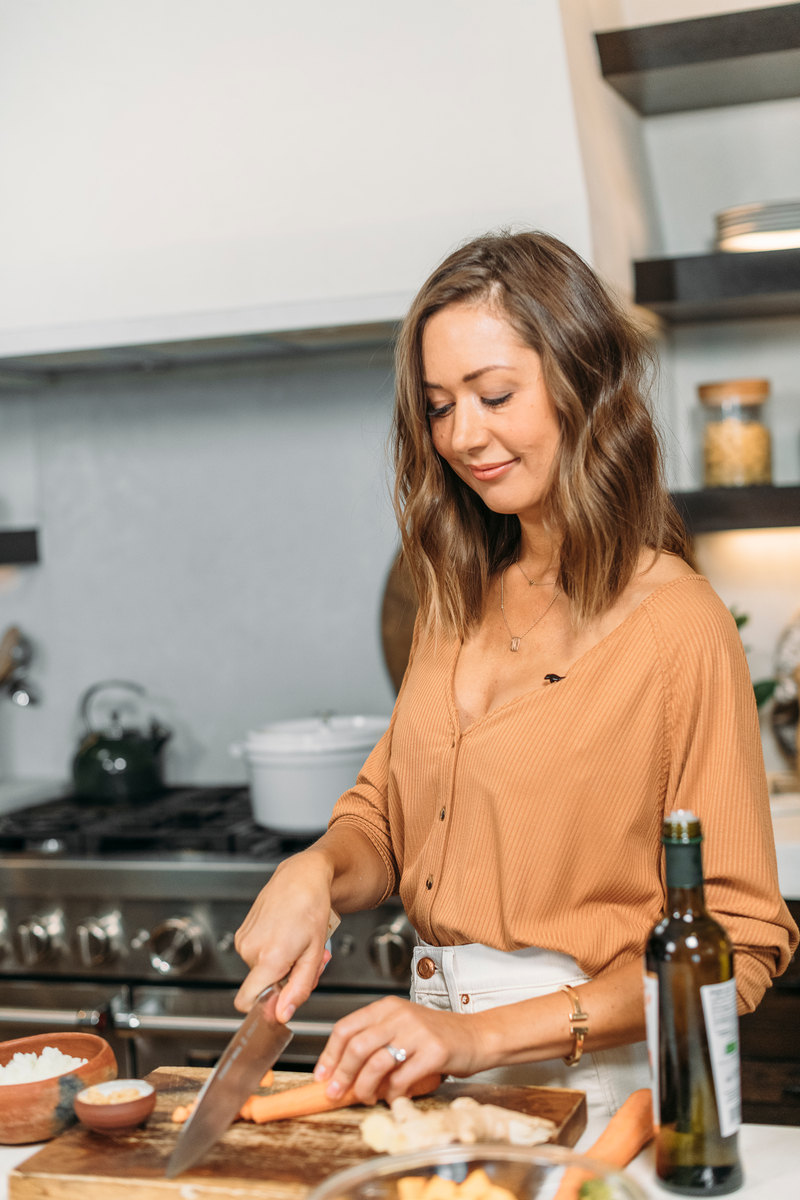 Subscribe
Our Top 10 Recipes
Sign up to receive a FREE E-BOOK of my top 10 most popular recipes of all time!
Thanks for Signing Up!
Oops!
Looks like you're already signed up or your email address is invalid.
Oops!
Looks like you unsubscribed before click here to resubscribe.
Why You're More Likely To Get Sick In the Fall
I hate to break it to you, but it's almost impossible to avoid some type of sickness during the colder months. Doctors' offices and hospitals see an uptick in visitors this time of year, and it's no surprise. There are two main reasons why most of us get sick in the fall and winter.
First, many bacteria and viruses are contagious and easily passed from person to person (a lesson we learned during the pandemic). The more time we spend indoors—in closer quarters—the easier it is for germs to spread. Second, some of these viruses thrive in lower temps. As the weather cools off, the conditions are more ideal for bacteria and viruses to grow and replicate.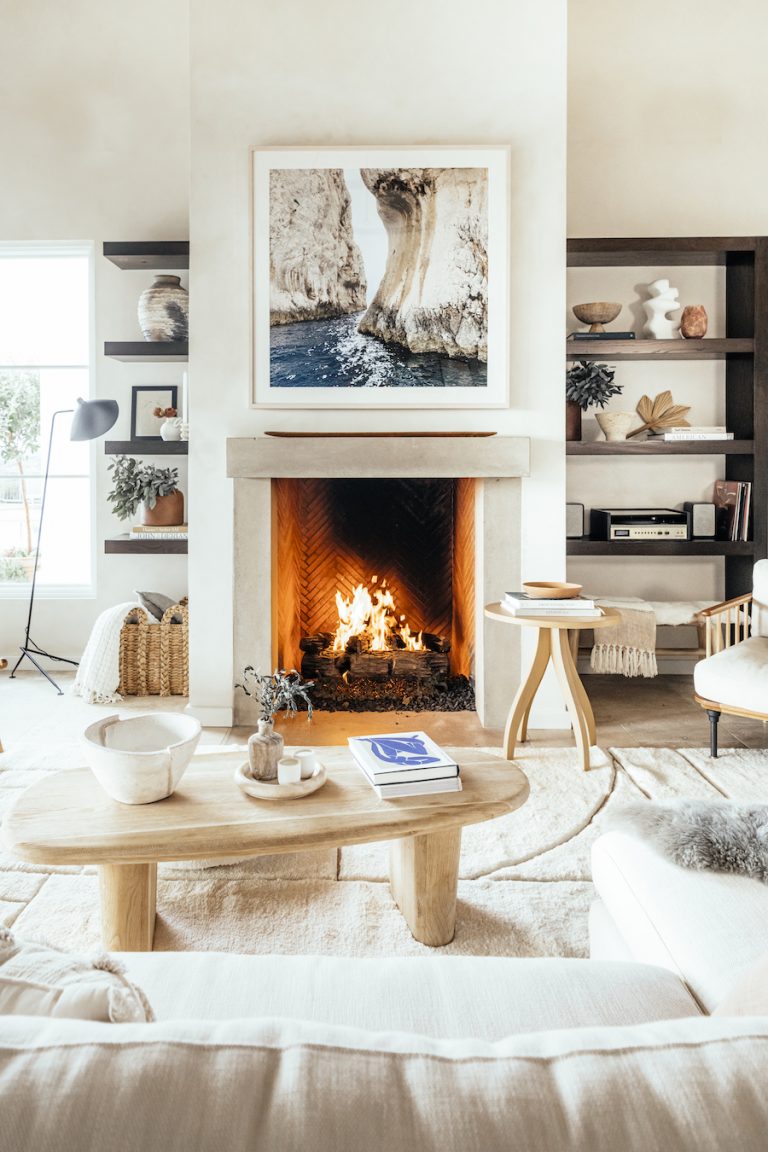 Food As Medicine: Boost Your Immune System
Keep in mind that it's not just those with chronic conditions who are at risk for getting sick during the fall and winter. Anyone who spends more time indoors is at higher risk for catching various germs. Wash your hands often, keep non-toxic hand sanitizer in your bag, and if you prefer, wear a mask—especially during travel. Beyond that, keep a well-stocked fridge and pantry. After all, food is one of the most powerful (and accessible) ways to boost your immune system. Including, the best soups when sick.
Furthermore, consider a daily turmeric latte (loaded with anti-inflammatory compounds!), an adrenal cocktail to support your nervous system, and healthy fats to boost your body's immune response. Stable blood sugar and staying hydrated are also instrumental!
P.S. Are you pregnant? Here are helpful tips to support your immune system during pregnancy.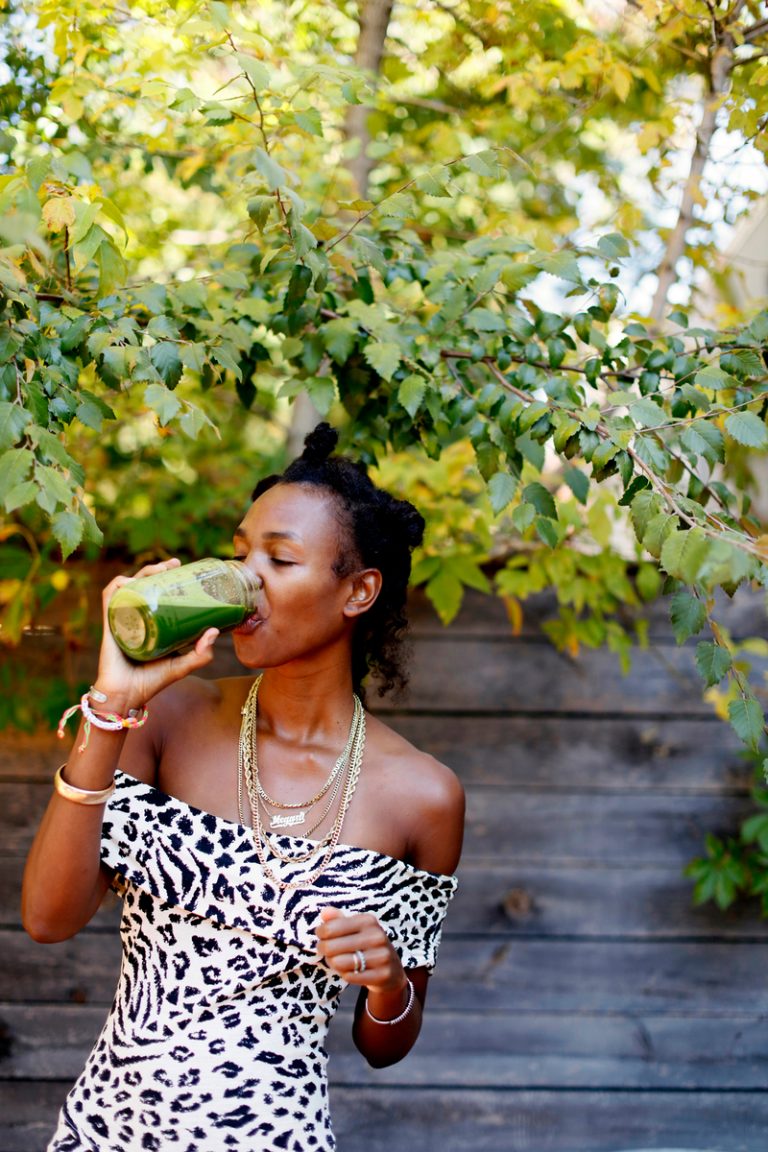 The Power of Anti-Inflammatory Ingredients
Let's take a moment to point out why anti-inflammatory ingredients are so important when you're sick. The benefits of anti-inflammatory foods are endless: they reduce or minimize low-grade inflammation within our bodies, ward off sickness, improve energy, support hormone health, and more. In some cases, they can reverse chronic illness and disease!
Additionally, foods with anti-inflammatory compounds are packed with vitamins, minerals, and antioxidants. These nourish our bodies on a cellular level. In essence, one of the most powerful ways to combat inflammation isn't at the pharmacy—but at the grocery store. Loading up on omega-3 fatty acids, fiber-rich vegetables, and antioxidant-rich leafy greens may protect against unwanted sickness.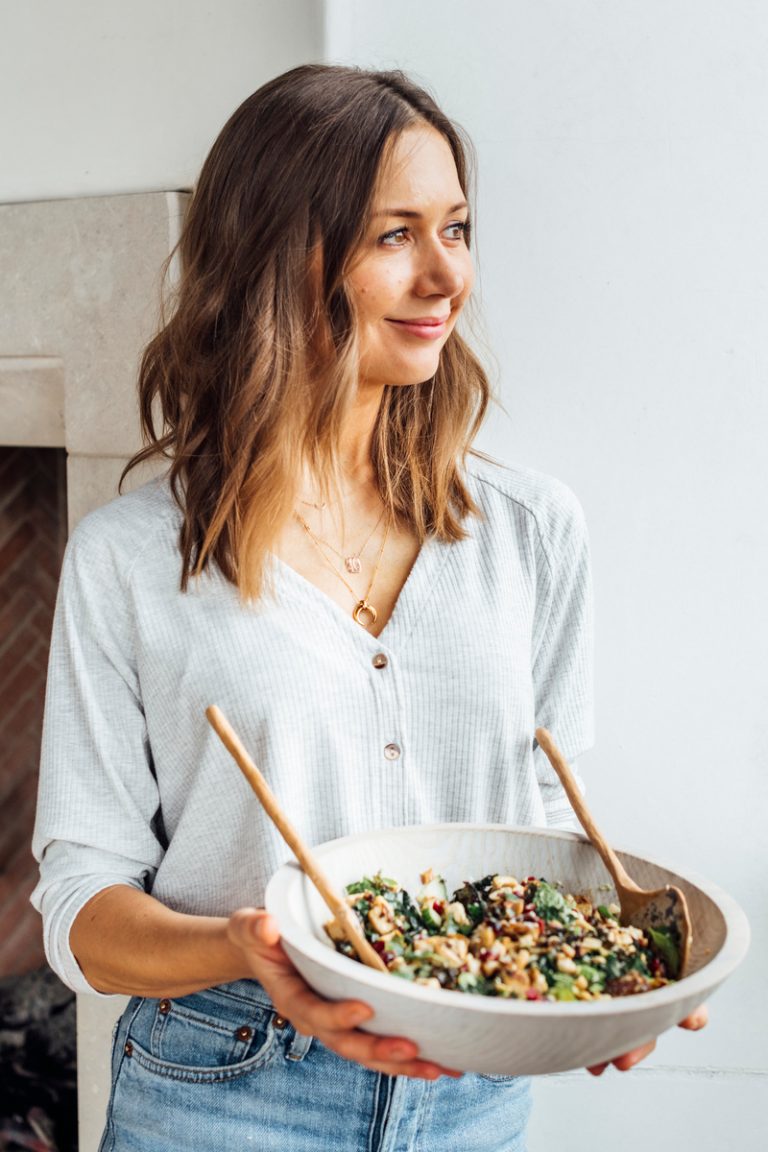 Does soup help when you're sick?
Yes! It's no old wives' tale. In fact, prescribing chicken soup predates your family's oldest soup recipe. In the 12th century, Egyptian-Jewish physician, Moshe ben Maimonides, prescribed chicken soup as a treatment for respiratory tract issues. Fascinating, right? To this day, brothy soup is often the go-to food because it's nourishing, restorative, and easy to digest.
How does soup help heal a cold?
While there's no one-size-fits-all approach to diet, there is scientific evidence to back up the merits of soup—especially for those with a cold. In this study, nasal mucus was compared before and after participants sipped hot water, hot chicken soup, or cold water. Those who ingested the warm liquids were able to blow snot out of their noses quicker than the ones who drank cold water.
At any rate, soup's sodium is known to relieve sore throat pain (the same principle behind gargling warm salt water) and spooning it warm helps clear nasal congestion. Last but not least, the vitamins and minerals in nutrient-dense soups can speed up recovery.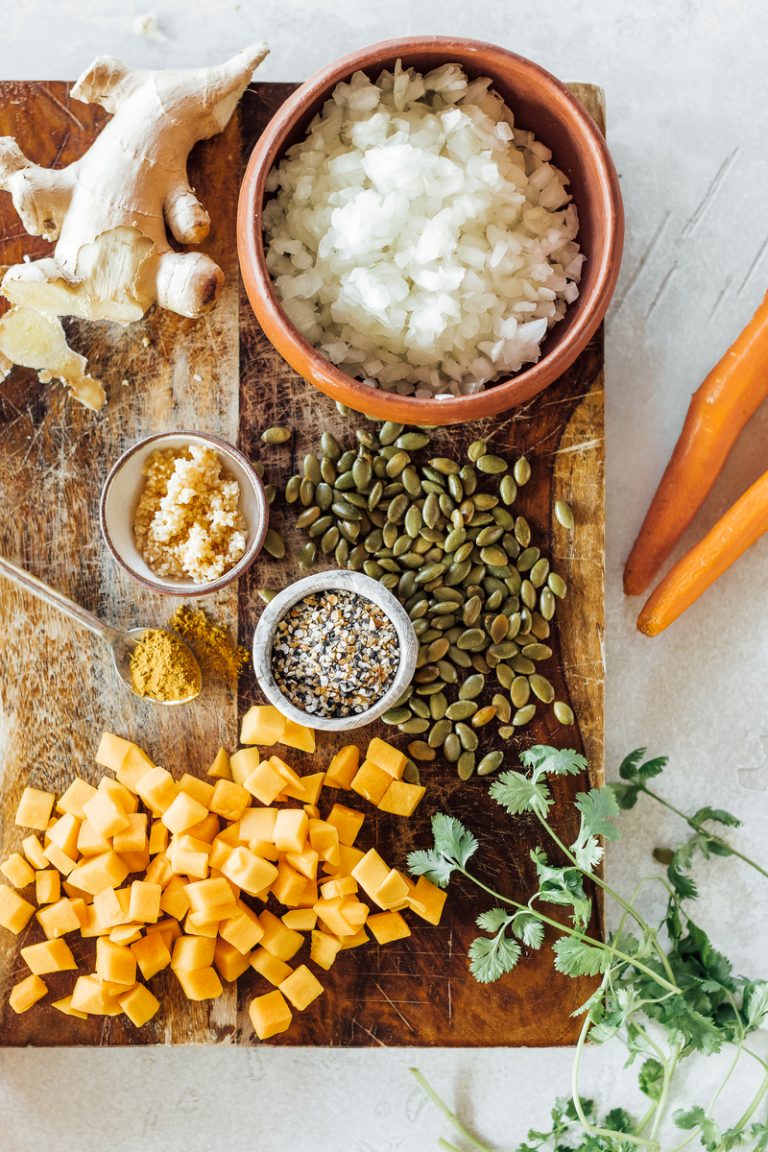 What are the health benefits of bone broth?
Before we ladle out the best soups when sick, bone broth deserves a moment to shine. The base of many soups, bone broth is a nutrient powerhouse. Bone broth—sometimes called stock—is liquid made from boiling animal bones and connective tissue. Chefs use stock as a base for soups, sauces, and more. Tap your local wellness community, and you'll see many people drink bone broth on its own! This is my go-to bone broth brand. In terms of immune health, bone broth improves gut health. And this is important for enabling the immune system to function effectively. Because of its nutrients and compounds, bone broth helps prevent pathogens from moving from your digestive tract into your body.
Best Soups For A Cold
Without further ado, here are the best soups for a cold. They're loaded with ginger, citrus, detoxifying herbs, and more.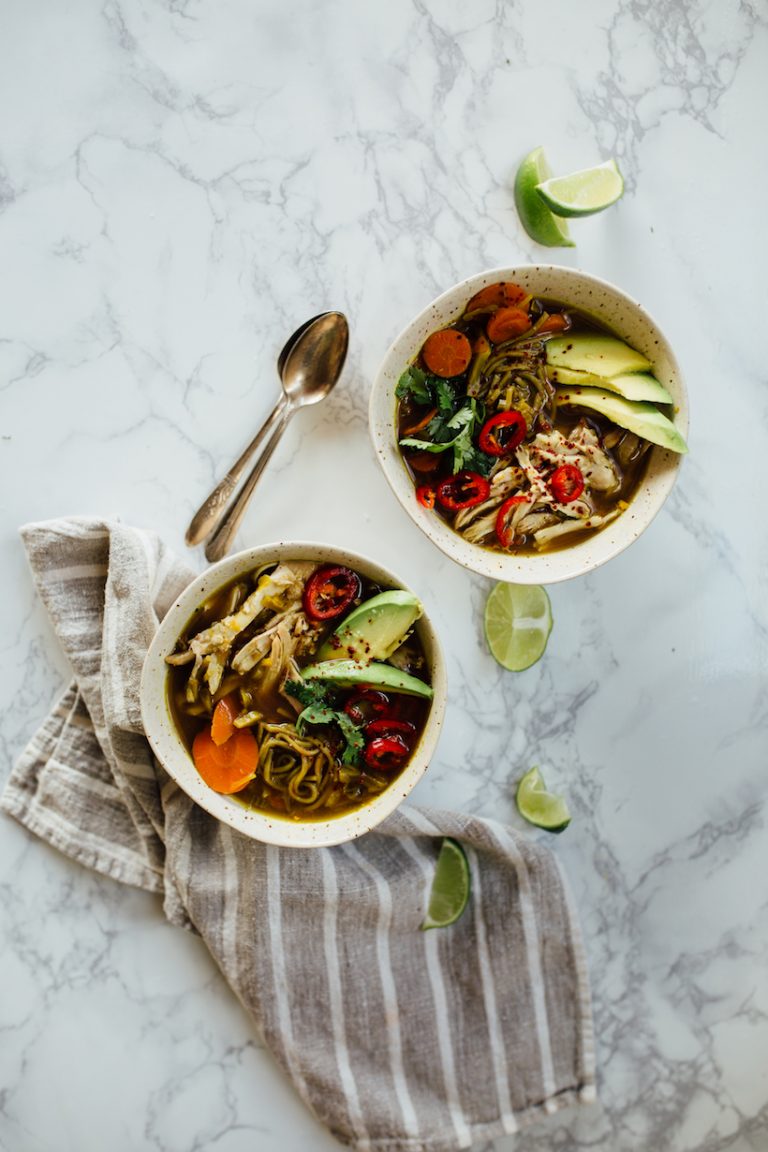 Not only is this recipe insanely delicious, but kids love it too! It's an approachable dinner for non-adventurous eaters—with the added bonus of it's anti-inflammatory ingredients, like turmeric, ginger, and garlic.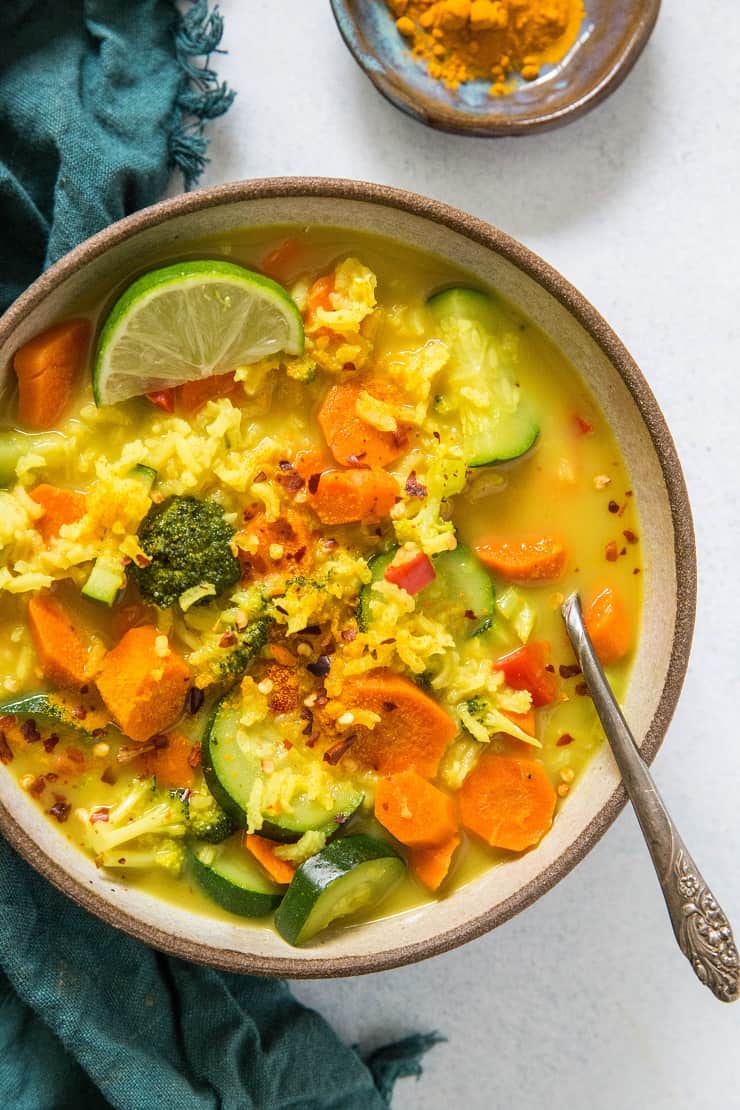 Speaking of turmeric, add this turmeric vegetable soup to your repertoire. Packed with produce and immune-boosting spices, this soup will help you stay healthy through the colder months. You can thank coconut milk for every creamy spoonful and a vibrant medley of vegetables for all the antioxidants you need.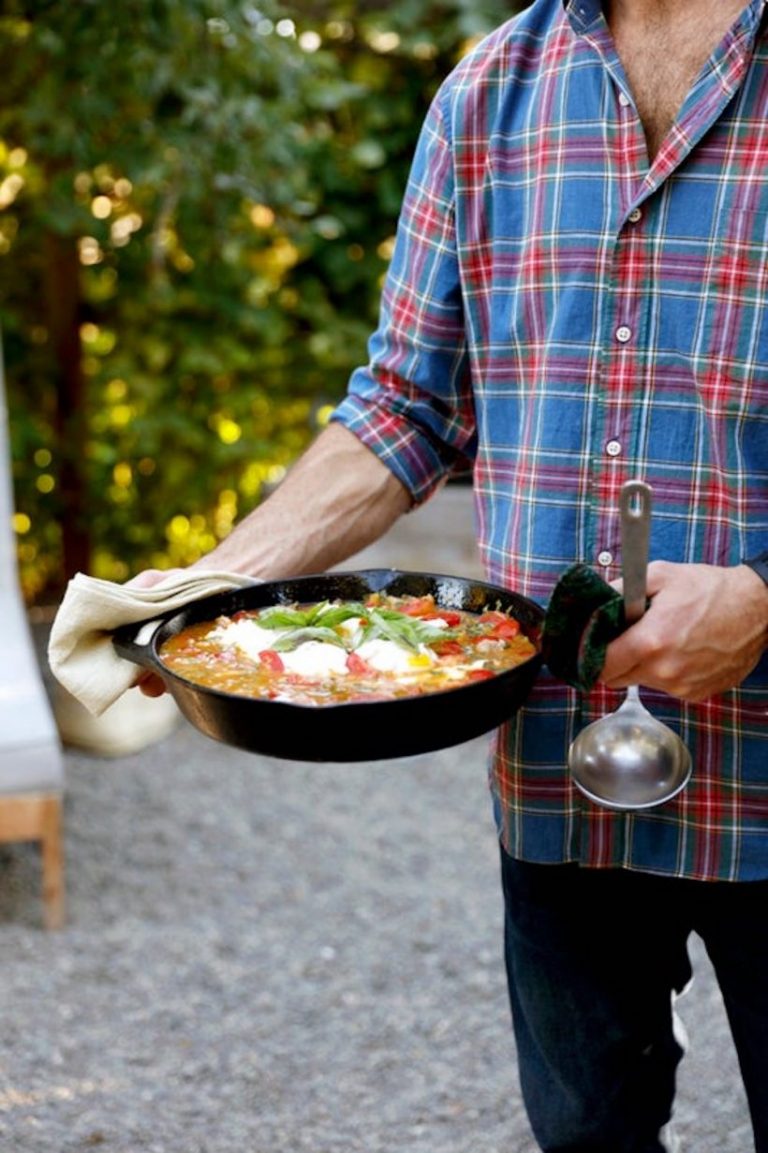 Who doesn't adore a bowl of tomato soup (and a grilled cheese) when you're feeling under the weather? This rustic tomato basil soup is bursting with flavor yet requires very few ingredients. To make it even easier, swap the cherry tomatoes for canned tomatoes. This soup recipe packs a garlic punch, which is ideal for the common cold. Garlic is known to have antimicrobial and antiviral properties, helping relieve the common cold.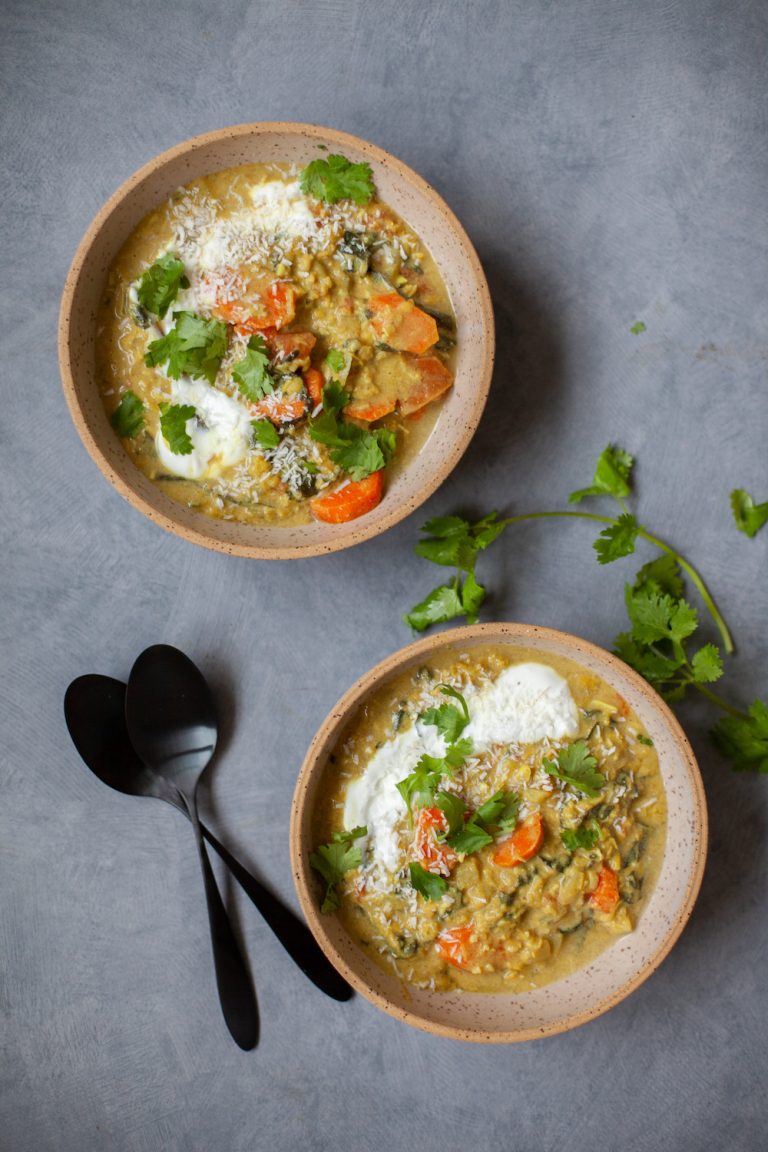 As you recover from a cold (or any illness!), getting enough protein is key—protein helps build white blood cells. Enter: lentils. Lentils are packed with protein and fiber, aiding in immune support and satiation. This coconut curry red lentil soup is a house favorite. It's made completely in one pot, so clean-up is a breeze. Store leftovers in the freezer for when you need a cold-busting soup.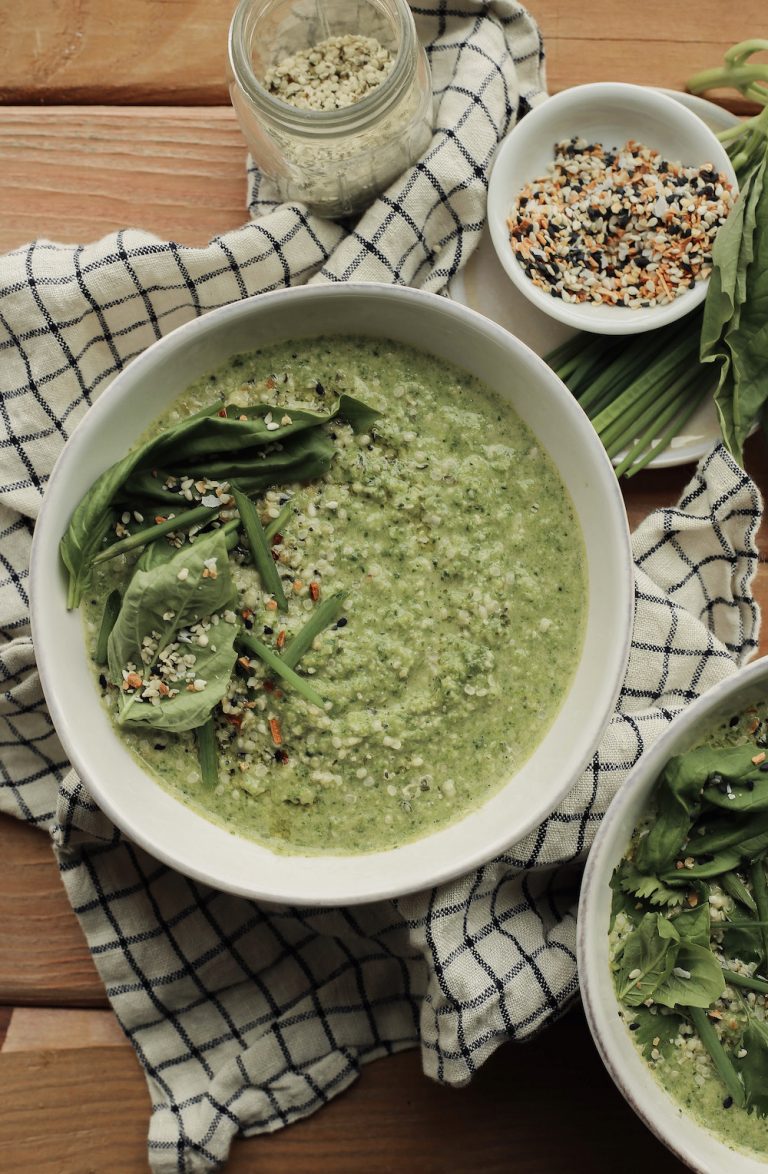 Despite its color, this soup is anything but bland. Including plenty of spices, herbs, and flavor-boosters like onions and garlic, there's a depth of flavor to make it extra satisfying. Plus, you'll find ginger known for its warm spiciness and its myriad therapeutic benefits, including being a powerful antioxidant. Since this is a blended soup, you can just give all the ingredients the roughest chop—perfect when you're feeling under the weather.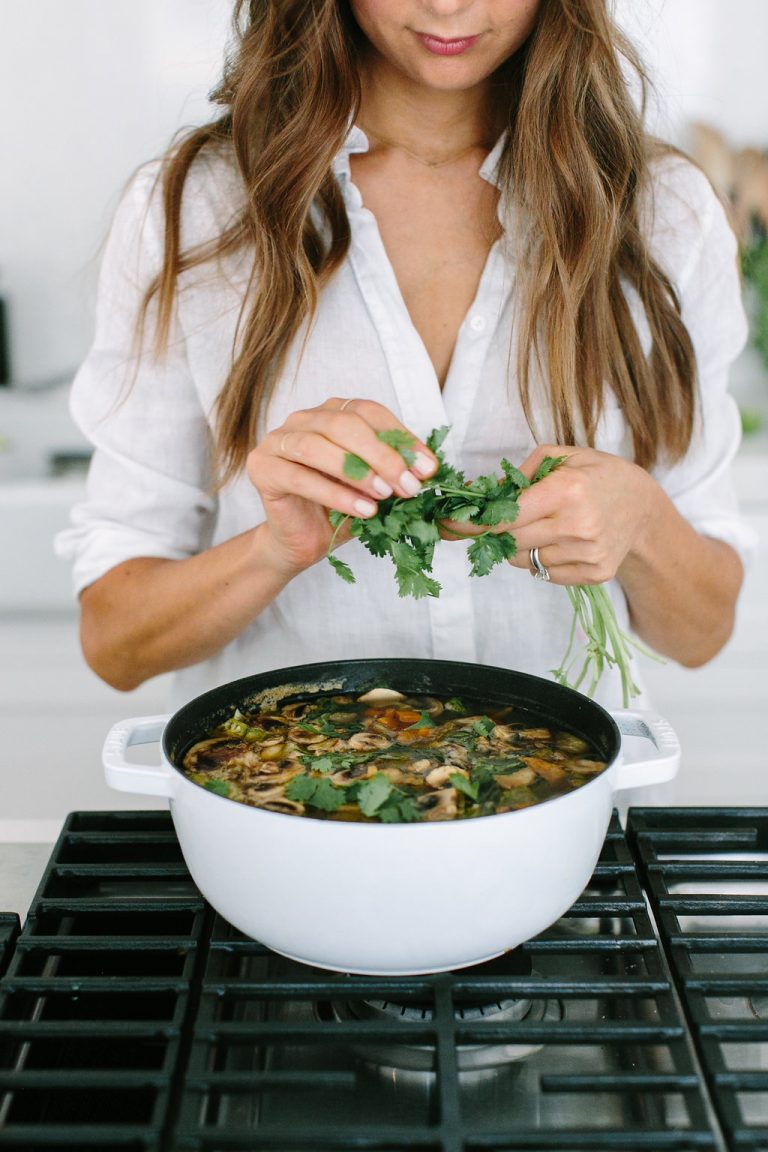 The stock for this soup is ridiculously flavorful and slurp-worthy. Plus, it's packed with nutrients from veggies like mushrooms, okra, and butternut squash. You could leave out the chicken drumstick and make this a delicious veg soup, too. The cilantro helps with natural detoxification, a beneficial boost when you're sick.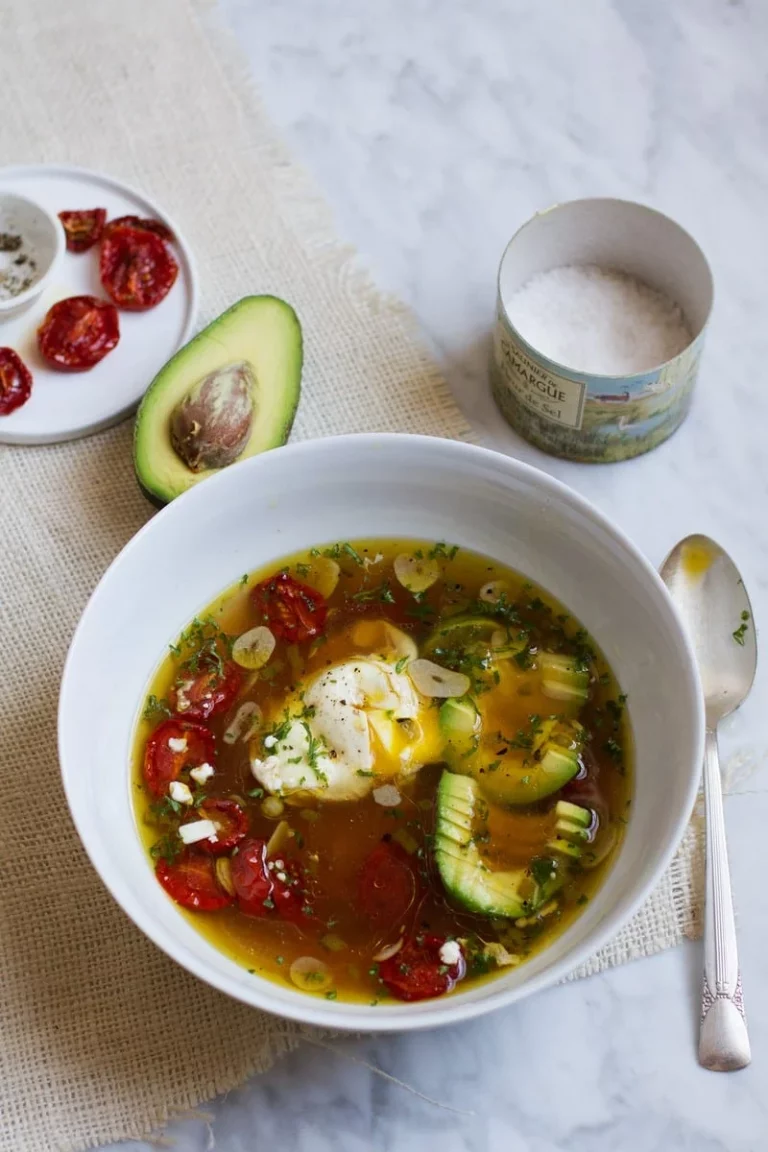 Garlic is a go-to when we have a cold, and this soup recipe is the best way to eat it. The key is in the broth, which is loaded with garlic and flavor. Add in slow-roasted tomatoes, eggs, and avocado for extra nutrients. You can also top it with wilted spinach and herbs. This soup is light yet filling, the best way to fight off the common cold.
Best Soups For An Upset Stomach
When it comes to an upset stomach, soups that have simple yet healing ingredients are best. You want to focus on soups that digest easily while replenishing lost nutrients, like electrolytes.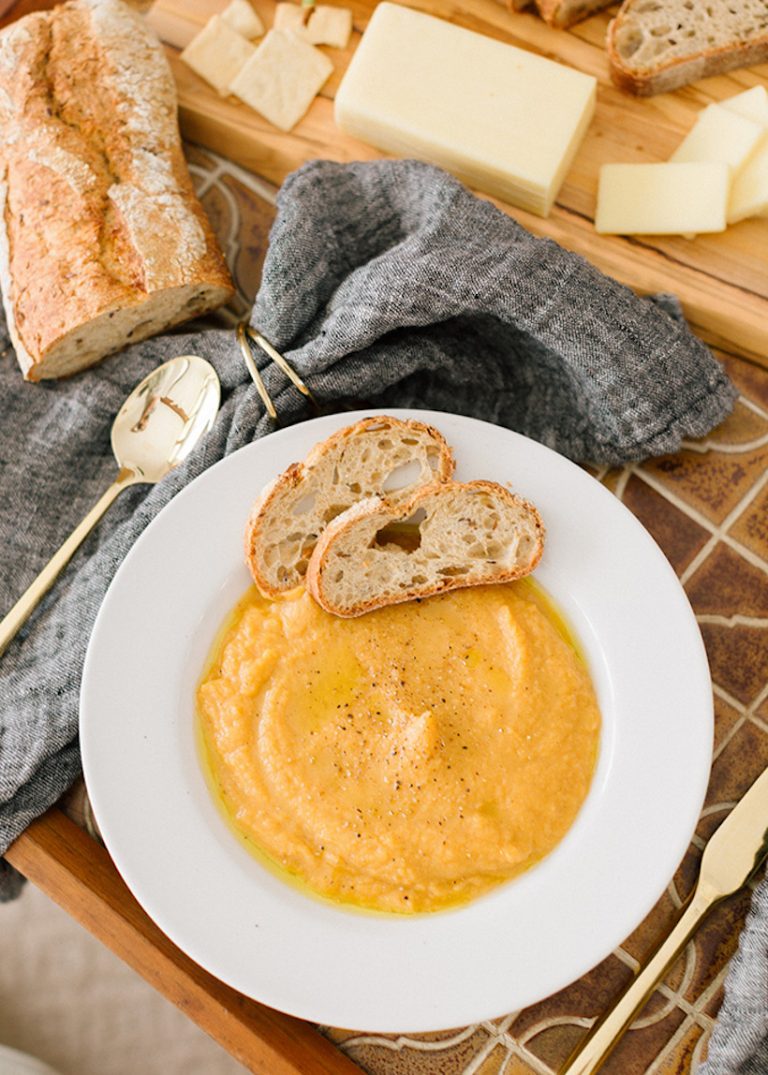 Made with a handful of pantry staples and chicken broth, this sweet potato soup is just what the doctor ordered. It's loaded with nutrients to heal the gut and is easy to digest. Sweet potatoes provide soluble fiber, increasing the good bacteria in your intestines, contributing to a healthy digestive system. Sweet potatoes also contain potassium, an electrolyte that is often lost during digestive woes.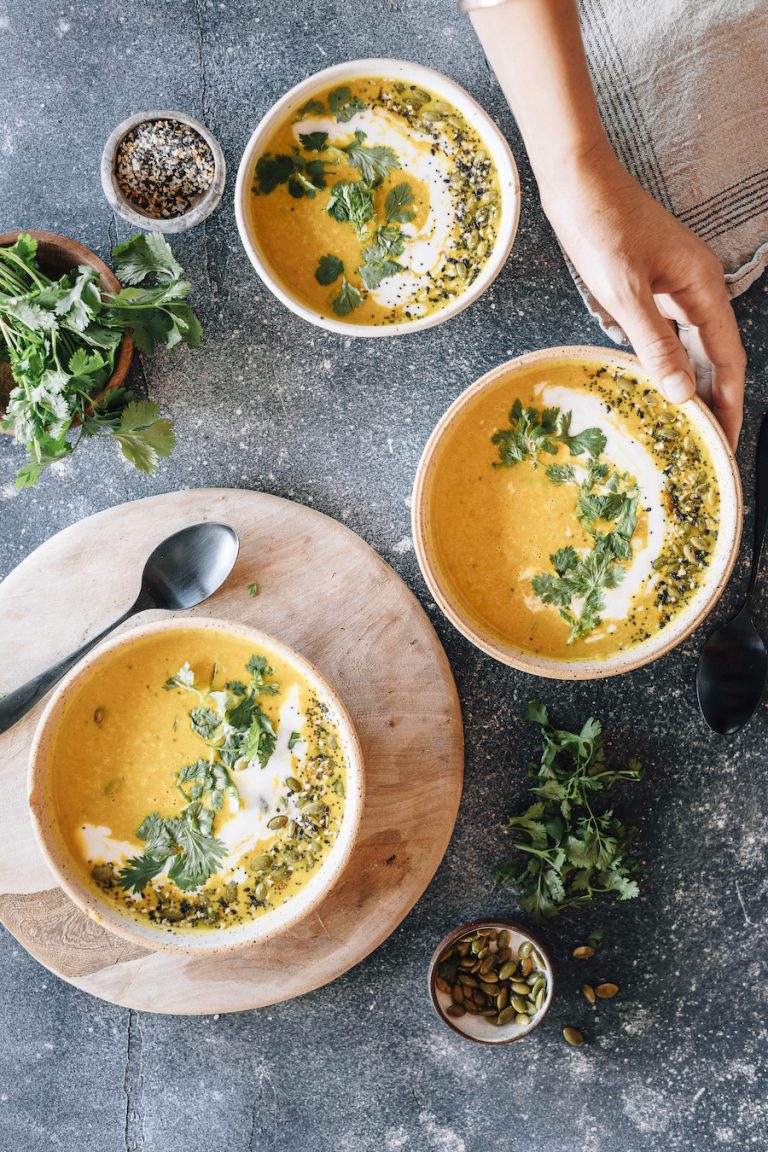 Made with creamy coconut milk, this vegan soup is healthy, delicious, and ideal when you have an upset stomach. Keep it in the fridge for up to a week, or transfer to a gallon-sized freezer bag, press out as much air as possible, and pop in the freezer for up to two months. Thaw and rewarm on the stove whenever your tummy needs a re-set. The soup's ginger can help reduce nausea!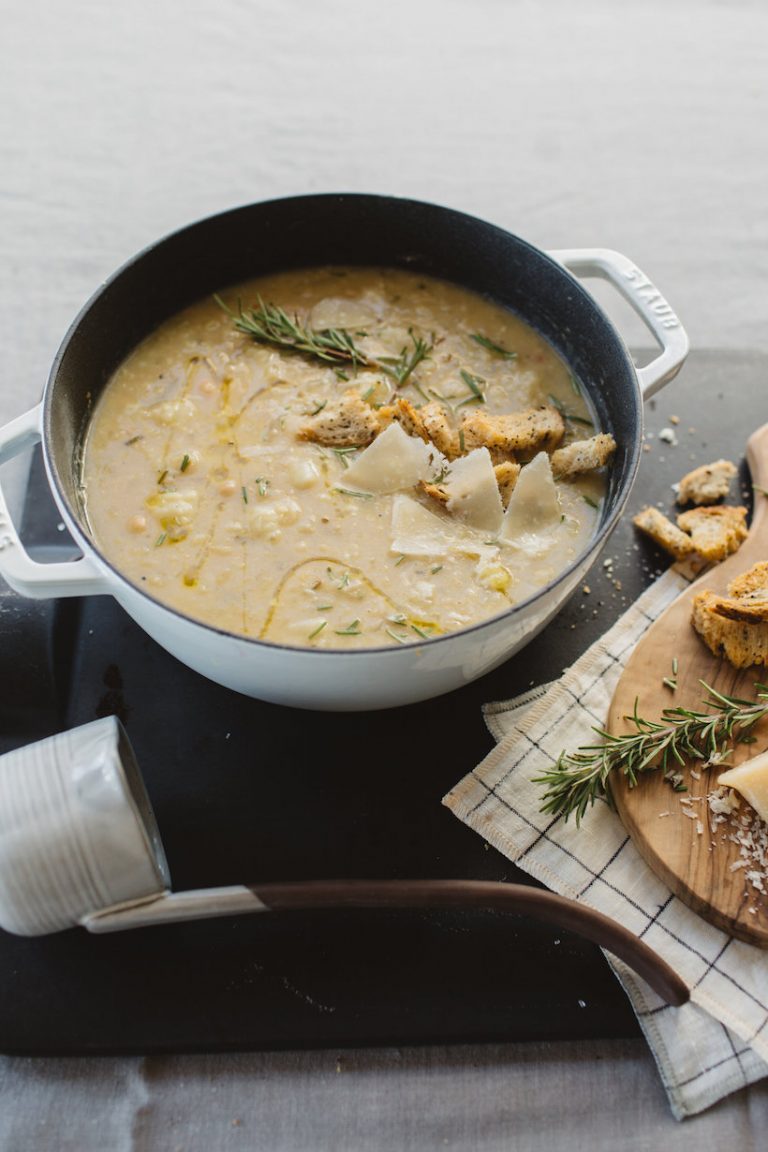 Although cauliflower is rich in fiber, when it's steamed and pureed, it's easy to gulp down when your stomach is upset. This soup is also packed with rosemary, a gas-relieving herb that may be helpful in calming an upset stomach. Carminatives (also called aromatic digestive tonics or aromatic bitters) may be used to relieve symptoms of indigestion, particularly when there is excessive gas.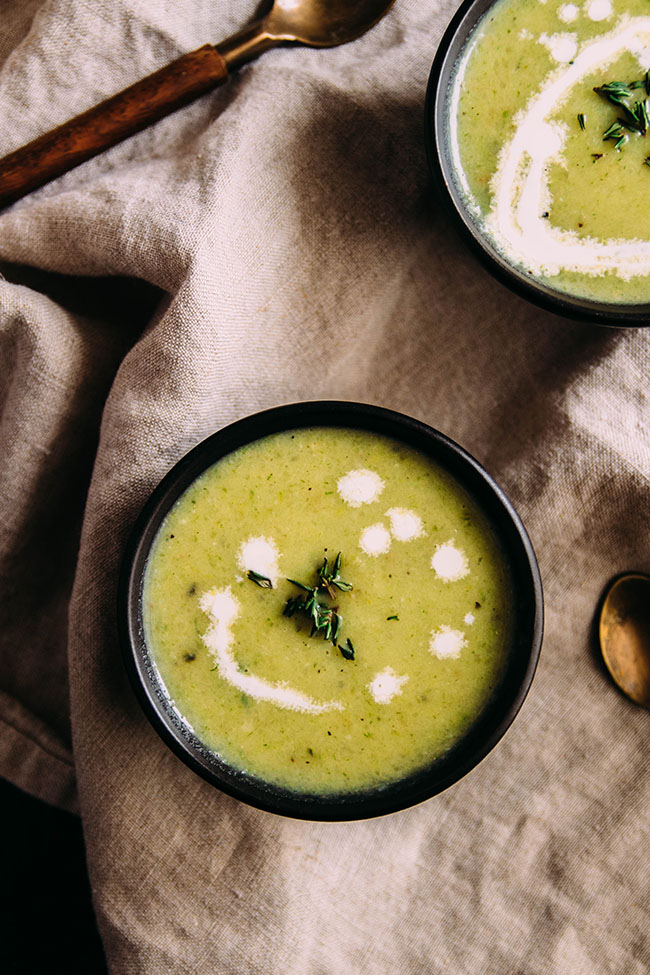 When it comes to keeping food down with an upset stomach, think bland starches: white rice, sourdough toast, and potatoes. Plus, potatoes help make up for potassium depletion and soothe your tummy after a long day of upheavals (literally). This creamy soup is easy to make, naturally vegetarian, and tastes delicious with a slice of crusty bread. It's the perfect meal for an upset tummy.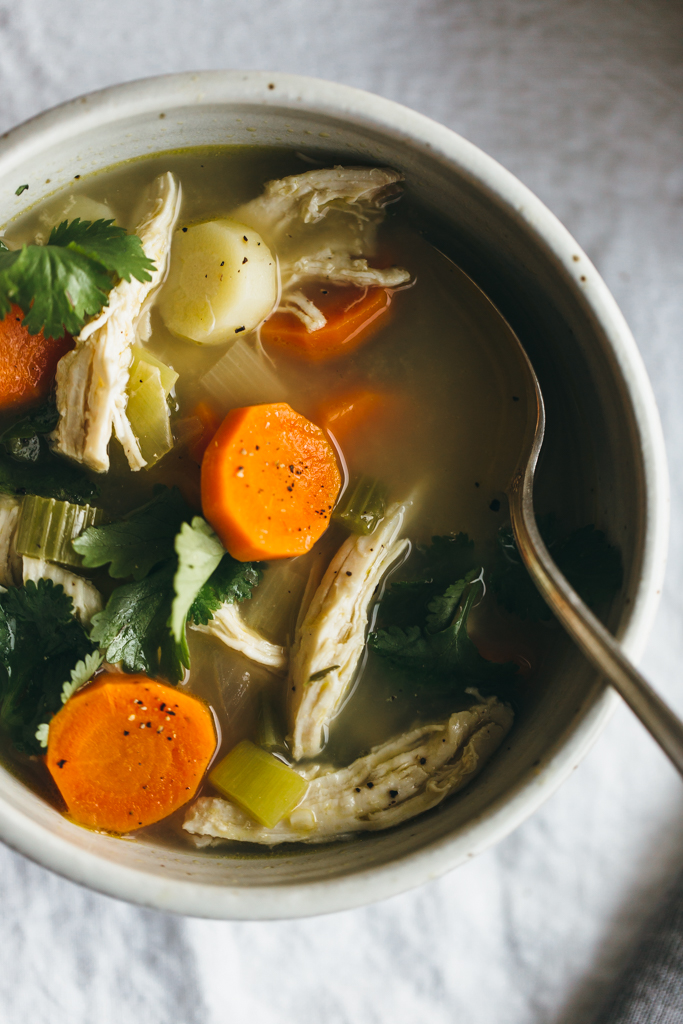 A classic take on chicken soup, this is one of the best soups when sick. It's loaded with protein, vitamins, minerals, and is easy to digest. Keeping a rotisserie chicken on hand helps this soup recipe come together in no time.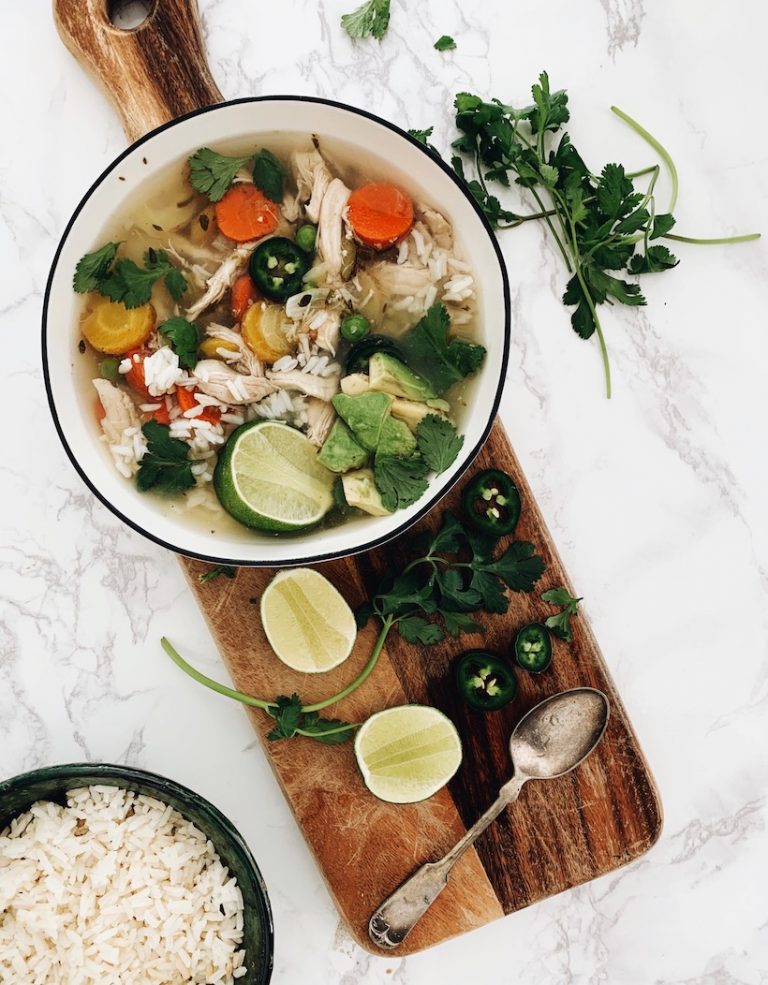 Like the classic chicken noodle soup, this gluten-free alternative contains powerful antioxidants and nourishing ingredients to quell an upset stomach. Not only is this one of the best soups when sick with an upset stomach, but it helps fight off the common cold, too. It easily feeds a crowd and freezes well. Throw all the ingredients into your pot (the chicken cooks on the bone), and relish in a bowl of immune-boosting goodness by dinnertime.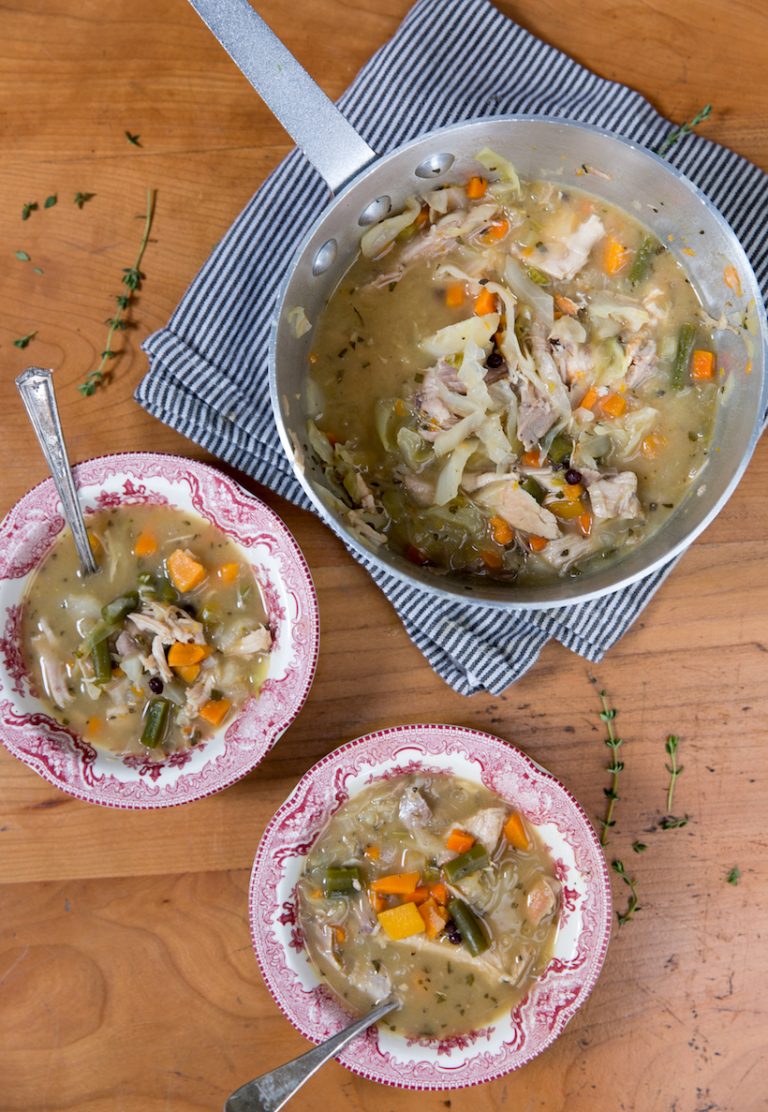 An oldie but a goodie, this turkey soup is brimming with gut-healing ingredients like turkey meat, turkey bones, and chicken stock. There's nothing better than cozying up to a bowl of this turkey soup—be it the day after Thanksgiving or nearing the end of an upset stomach. As mentioned, bone broth is key for immune health, and this soup is rich in bone broth. Plus, it contains glutathione, an incredibly powerful antioxidant—key for improving your digestive health.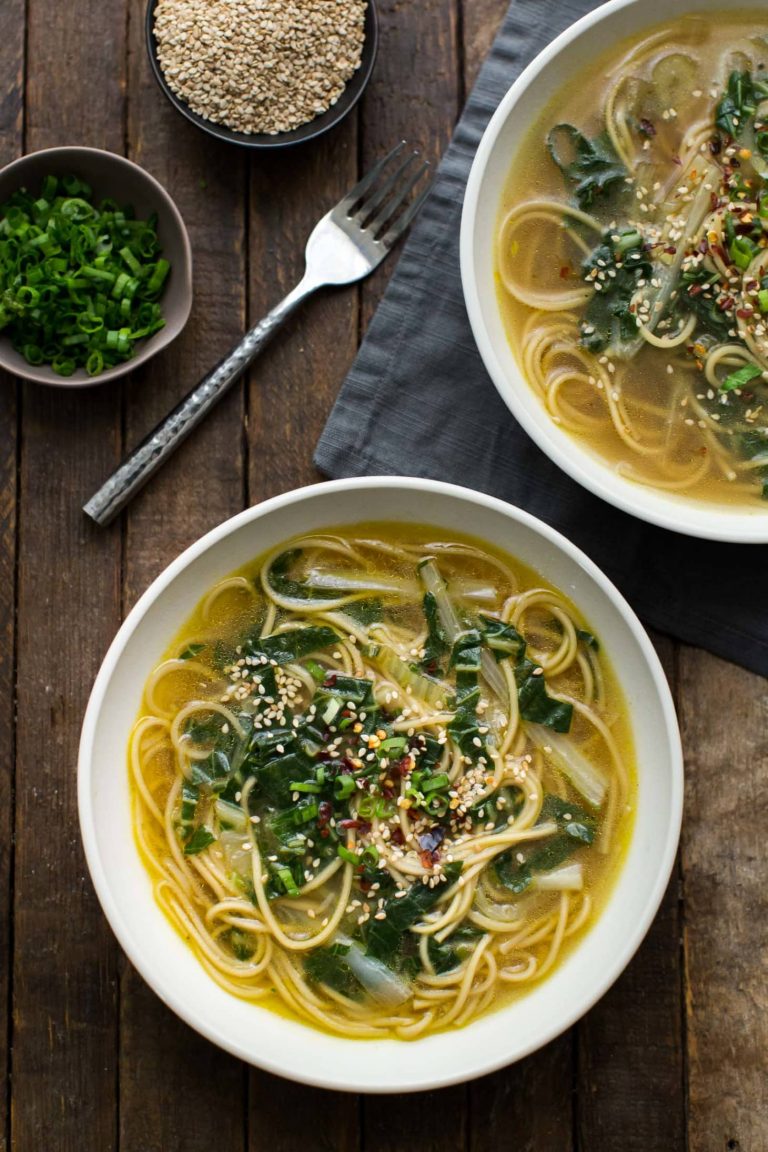 A pick-me-up when you're down with the flu, this ginger soup with noodles is comfort in a bowl. Thanks to the zing of ginger, it helps minimize nausea while boosting overall immune health. Plus,
bok choy contains vitamin C, an antioxidant known for fighting free radicals.