When you think of ginger, what comes to mind? A refreshing, paradise-inspired smoothie? A summer afternoon sipping freshly squeezed lemonade? In some cases, homemade apple pie and crackly, chewy gingersnap cookies paint the palate. Whatever your vibe, ginger is as versatile as it is functional. Although June is underway, ginger deserves year-round applause. Ginger deserves just as much love as our other summer staples: basil and mint. You know it as a delicious kitchen staple, but it's also prized for its myriad of health benefits. From supporting gut health to reducing inflammation, ginger is more than just a crucial ingredient in your favorite curry. It's medicinal. Without further ado, let's dig into why you should eat ginger for inflammation and what to cook with it.
Feature image by Michelle Nash.
Is Ginger a Spice or Herb?
Depends on who you ask! Ginger is often listed as an herb in many culinary recipes, while others classify it as a spice. Some call its dried powder a spice, but its fresh root version an herb. Confused yet? Across the board, most agree it's a spice. But no matter how botanical and culinary experts label it, ginger is a must-have ingredient. There is no shortage of recipes that call for it. Plus, ginger's been used as a healing modality for roughly five centuries. Its roots run deep. Nowadays, it's found its westernized fame with concoctions like ginger beer, ginger ale, and candied ginger.
How to Store Ginger
You can store fresh ginger root a few ways, depending on how (and when) you plan to use it.
Counter: So long as you plan to use the entire ginger root within a few days, you can store ginger in a cool, dark place such as your kitchen counter.
Fridge: If you don't need to use it for a few weeks (or upwards of a month), place your ginger in a resealable plastic bag or an airtight container. Put the bag in the crisper drawer. When properly stored, fresh ginger can last more than a month in the refrigerator. Peeled ginger will only last about 2-3 weeks.
Pickling: You can also pickle fresh ginger! Peel the ginger using a peeler, then slice it thinly. Place the cut ginger in a glass jar filled with equal parts vinegar, sugar, and water (you can adjust this mixture to suit your taste). Store pickled ginger in the refrigerator for up to two months.
For more tips on produce storage, check out our fridge organization hacks.
Can You Freeze Fresh Ginger?
Yes! You can freeze fresh ginger for future use. Peel the ginger, then place it in a freezer bag or a freezer-safe container. When you are ready to use it, mince the frozen ginger using a microplane or grater. You can also purée the ginger in the food processor. Freeze the purée in an ice cube tray, then move the ginger blocks to a freezer bag to prevent freezer burn. You can place the frozen ginger straight into a soup or Pad Thai. If you plan to use ginger in a baked recipe, allow the ginger to come to room temperature first. Use frozen ginger within six months.
Ginger's Medicinal Uses
Along with its culinary uses, ginger has served as a holistic medicine for centuries. From ayurvedic practices to traditional Chinese medicine, ginger is a global healing remedy. Many have described ginger as a 'yang tonifying herb' that warms up the body, and ancient Greeks used to eat it—wrapped in bread—as a post-dinner digestive aid. Fast-forward to the modern-day, and ginger is still being used to treat numerous ailments, like migraines, nausea, and inflammation.
What is Inflammation?
In addition to aiding digestion and nausea, ginger also helps fight inflammation. But, what is inflammation? Inflammation is your body's immune system response to an irritant. That irritant could be anything from a pathogen (a germ) to a splinter. During the process of inflammation, your body's white blood cells protect you from infection. But in some instances, your immune system is triggered without an invader. Like, arthritis. In this instance, your body's defense system triggers inflammation. In turn, this can cause chronic joint pain, swelling, and even flu-like symptoms. When your body has just enough inflammation, it fights off foreign invaders and heals injuries. Moral of the story: Eat more ginger!
What Can You Make With Ginger?
Warm and aromatic, ginger root is slightly peppery and sweet. It's versatile, too. From immune-boosting teas to spicy noodles, it's the ingredient you always want on hand. Much like garlic, ginger mellows in flavor as it cooks, providing a warm bite and subtle sweetness. Across a variety of cuisines, ginger is featured in both sweet and savory dishes. From vegetables to cookies, fresh (or ground) ginger is the pièce de résistance.
Although ginger root looks intimidating, its preparation is easy. A quick peel does the trick. Once peeled and chopped, ginger can easily be thrown into various marinades, sauces, soups, broths, and glazes. You can also grate your ginger. No need to toss or compost the papery skin, either. Ginger's outer layer is richly flavorful. With a bit of creativity, the peel creates a potent broth, deeply nourishing tea. It also elevates any cocktail. The sky's the limit.
6 Ginger Recipes That Fight Inflammation
Armed with the knowledge that ginger can help fight chronic (and acute) inflammation, there's no better time to try new ginger recipes. These are a few of our favorites.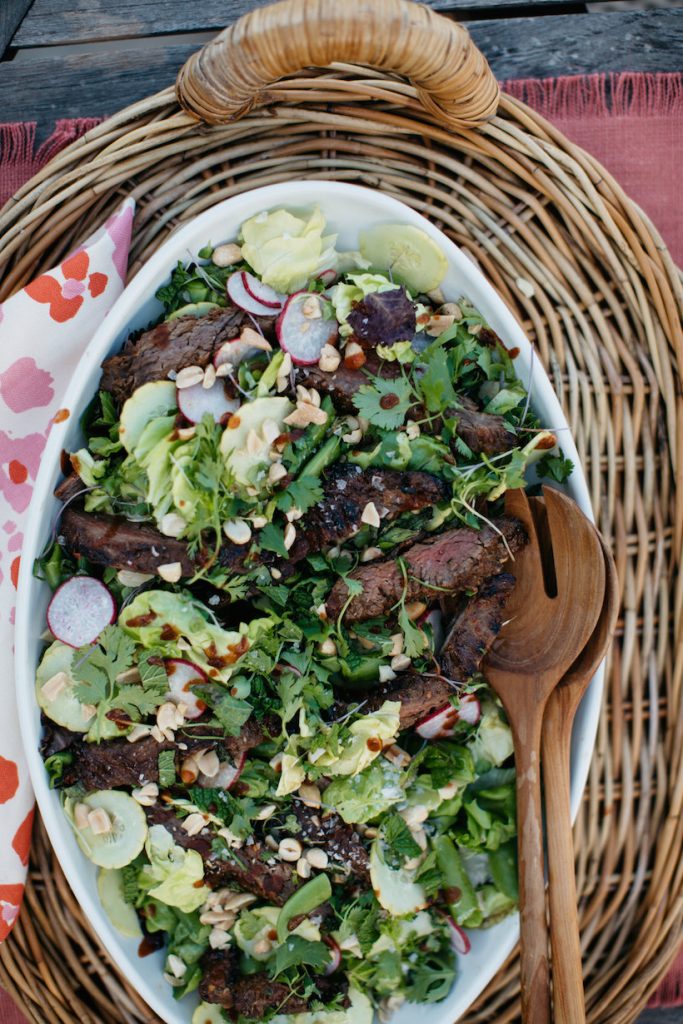 Steak Salad With Spicy Ginger Dressing
It's grilling season, baby. This is the salad to serve at your next backyard barbecue. Loaded with flavor, protein, and vibrant greens, everyone loves it.
Get the recipe for Steak Salad With Spicy Ginger Dressing.
Rosemary and Apple Zucchini Bread With Ginger
When a summer storm rolls in, you can find us making this zucchini bread with ginger. There's something so sentimental and rewarding about baking bread from scratch—grating fresh apples and zucchini into a big bowl with oats and golden raisins. This will fill your kitchen with the scents of rosemary and cinnamon as it bakes.
Get the recipe for Rosemary and Apple Zucchini Bread With Ginger.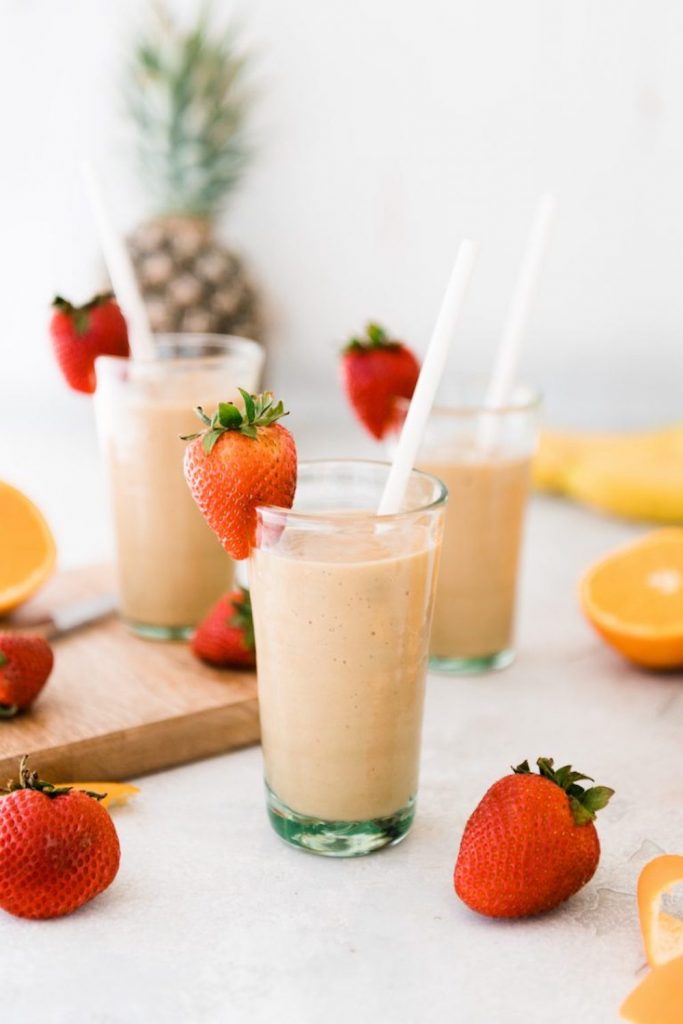 Tropical Pineapple Ginger Smoothie
Have picky eaters? Try this smoothie! After years of struggling to find healthy breakfasts our kids will actually enjoy, we finally settled on this tropical smoothie recipe. It's bursting with crowd-pleasing pineapple, strawberries, and bananas. We snuck in avocado for fiber and healthy fats, plus ginger for a happy zing (and antioxidants).
Get the recipe for Tropical Pineapple Ginger Smoothie.
Apple Ginger Pie
OK, so this isn't your typical health food, but we'd argue it has plenty of joyful ingredients (and an array of benefits, depending on your perspective). Granny Smith apples keep the pie from being overly sweet and the warm spices make this slice the most comfy-cozy dish to curl up with after dinner… and for breakfast the next morning. Don't forget the coffee!
Get the recipe for Apple Ginger Pie.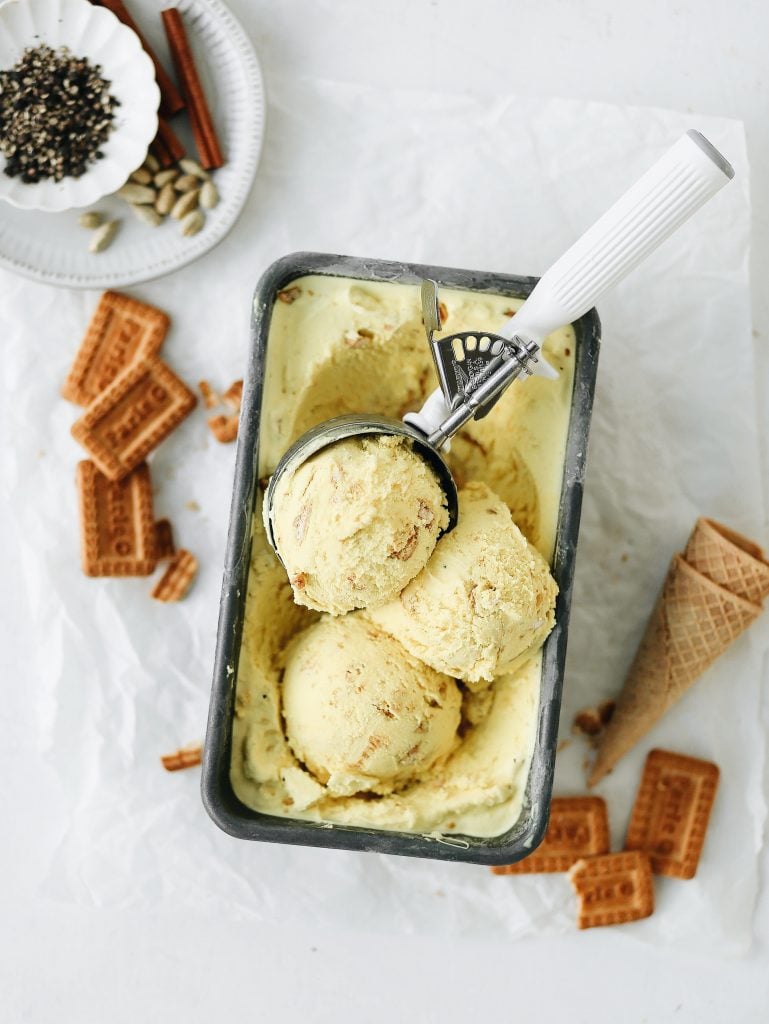 Haldhi Doodh Ice Cream
Just in case you needed another dessert with ginger, look no further than this golden-milk-latte-turned-ice-cream. Packed with delicious, antioxidant-rich ingredients, you'll fall in love with this homemade ice cream. We adore the extra punch from the candied ginger, as well as the crunchy texture that comes from the biscuits. And don't skimp on the ground black pepper! It's the unexpectedly perfect heat to pair with the sweetness of the ice cream.
Get the recipe for Haldhi Doodh Ice Cream.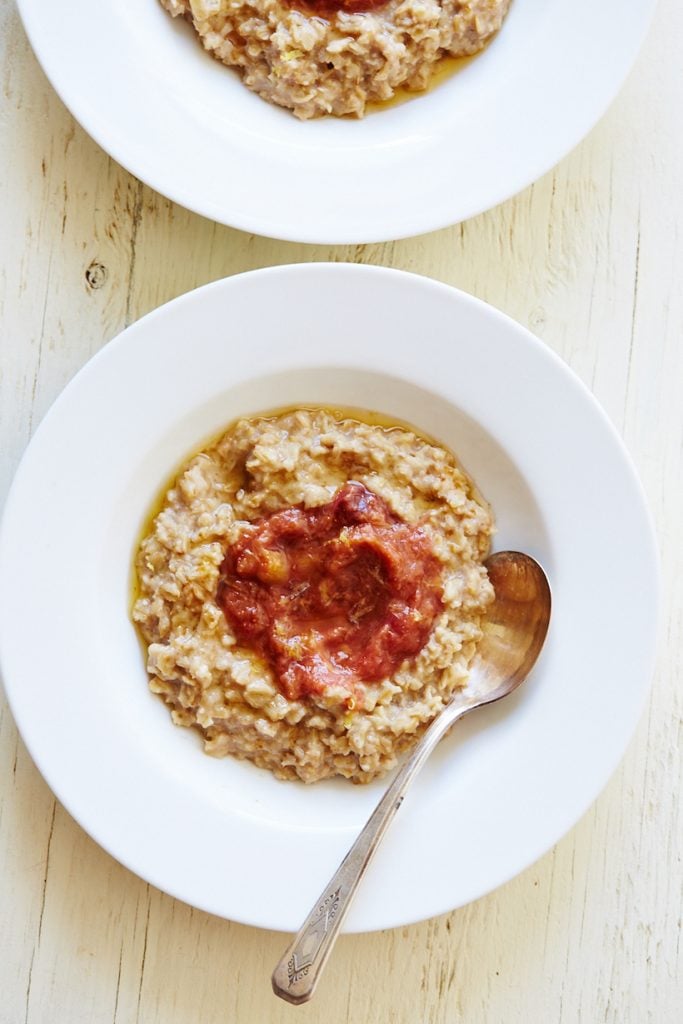 Creamy Oatmeal With Rhubarb and Ginger Preserves
This oatmeal is the perfect bowl to remind you that warm weather has arrived. The rhubarb preserves are so tart and addicting that you'll want to serve them on everything. And bonus… this recipe makes leftovers! If the thought of eating hot oatmeal isn't in the cards, we eat this cold, too.
Get the recipe for Creamy Oatmeal With Rhubarb and Ginger Preserves.