As a general rule, I tend to be skeptical about anything that comes in powdered form. I'd rather get my dark leafy greens by making a colorful salad or sautéing them down for my favorite frittata recipe. I'm happier getting a good night's sleep instead of opting for an energy-boosting, adaptogenic drink blend. So naturally, when I first caught wind of collagen by way of buzzy supplements galore, you can bet my response was a little sus. I'd rather fill my daily diet with foods rich in collagen, for both the nutrition benefits and, of course, the satisfying taste. (But spoiler: In the pursuit of collagen-boosting secrets, supplements and a whole foods approach can happily coexist.)
Thankfully, I have a few nutritionists on speed dial who can break down the ins and outs of infusing my diet with a few collagen-increasing foods. Because you can bet that once I learned about the anti-aging, skin-strengthening power of our bodies' most abundant protein, my interest was piqued.
Today, Mia Rigden, a Los Angeles-based Board Certified Nutritionist and trained chef (and my go-to whenever I have a burning nutrition question) is breaking down the benefits of making collagen a key component of your eating routine, natural ways of increasing collagen, and of course, the best foods rich in collagen that aren't just nutrient-dense, but delicious, too. Because IMO—doing good things for your body should never sacrifice flavor, or the pure joy of indulging in tasty, soul-satisfying meals.
(Psst.. Want even more of Mia's nutrition wisdom? Use code CAMILLESTYLES to get 20% off Mia's courses, Nutrition for Food Freedom or Meal Prep Made Easy*.)
*Discount excludes the bundle
Featured image by Michelle Nash.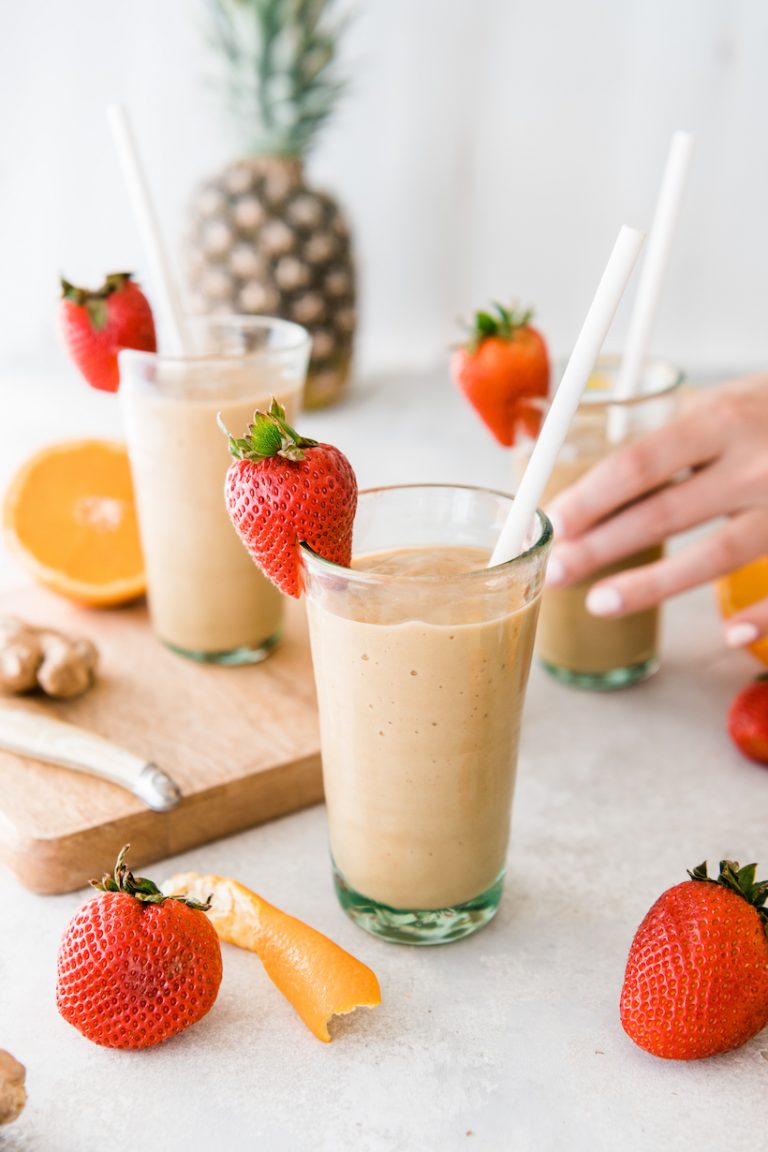 How do you increase collagen naturally?
Again, supplements may be on-trend, feature cute packaging, and are definitely convenient, but my mind prioritizes real, flavorful food and I'm always curious about habits that can help me live a healthier, more energized life. So of course, I tapped Mia to get her thoughts on ways that we could boost collagen both through diet and our lifestyle—before defaulting to the supplement aisle.
Mia's take? It's all about filling your diet with bright, colorful ingredients and ensuring that you're giving your body the rest that it needs. Step 1: Eat foods high in vitamin C. Mia recommends springing for citrus fruits (a cold-weather treat), tomatoes, bell peppers, leafy greens, and broccoli. And while our autumn-obsessed minds might not love the idea of eating an abundance of veggies, the good news is that there are plenty of fall-ified ways to weave these foods into our cold-weather eating habits.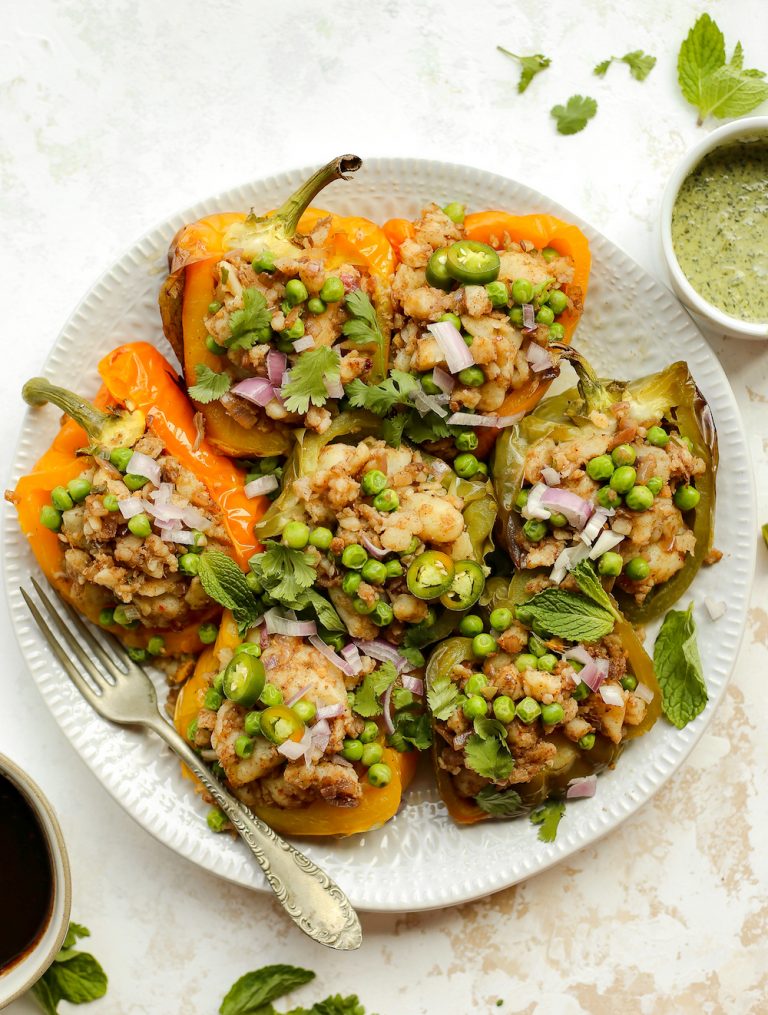 These Samosa Stuffed Bell Peppers are a weeknight dinner recipe wonder and this tropical smoothie is exactly what I want to be sipping on every morning before I dive into work. And if you really want to take your collagen-boosting diet over the top, this roasted chili miso broccoli is absolutely addicting (just ask our food editor, Suruchi).
From there, increasing your omega-3 consumption is key. Mia recommends upping your intake of fatty fish (salmon, sardines, cod, herring, and mackerel are good options), avocados, walnuts, chia seeds, flax seeds, and eggs.
Next up? Prioritize sleep! Getting the recommended 7-9 hours of sleep positively impacts nearly all areas of the body's function—from our metabolism to our immunity to our ability to fight disease. If those reasons aren't incentive enough, tack on collagen production, and perhaps you'll be motivated to power down your devices and turn in by 10.
According to Mia, "Growth hormones activated during sleep stimulate collagen production." If you're all about reducing the appearance of wrinkles and boosting your skin's elasticity and firmness— not to mention countless other benefits associated with collagen—it's time to practice good sleep hygiene.
Lastly, eating foods that are rich in zinc and copper is an important part of naturally increasing our body's collagen production. Mia suggests filling your plate with shellfish, grass-fed beef, and beans as well as snacking on nuts.
Are collagen supplements worth the hype?
When I learned that we produce less collagen as we age, you can bet I went into full-blown, quarter-life crisis mode. Thankfully, as Mia confirms, "the best way to increase collagen is to eat a whole foods diet"—one that includes an abundance of foods rich in collagen as well as "collagen-stimulating foods."
Beyond that, as Mia alluded to above, lifestyle practices play a key role in increasing collagen. In addition to prioritizing sleep, learning to manage and reduce stress as well as working consistent exercise into your schedule are both key habits to maintain.
So, the conclusion on whether or not collagen supplements are worth the hype? As with many areas of health and wellness, there's a bit of nuance. The key thing to remember is that supplements are exactly that—a way to boost the positive impact of healthy lifestyle choices, not a replacement. So if you're tempted to swap in collagen water as a be-all-end-all solution, start with diet and lifestyle first.
What are your favorite collagen supplements?
Once you have your whole foods, collagen eating plan on lock, you're consistently logging enough quality snoozing hours, and you've made a habit out of getting regular exercise, feel free to add in collagen supplements as you please. Mia likes collagen protein powders, like Vital Proteins and Primal Kitchen's Collagen Fuel, adding them to smoothies, dairy-free yogurts, and oatmeals. As she notes, it's an easy way to boost her overall protein intake.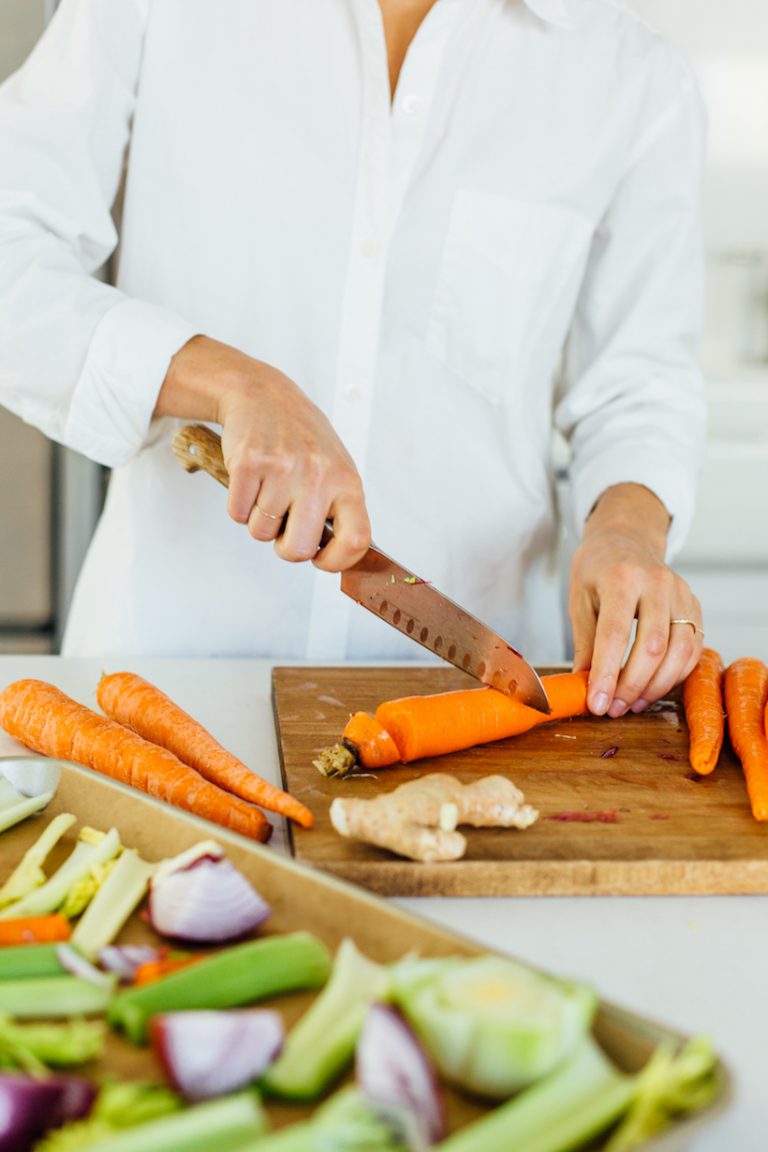 7 Foods Rich in Collagen to Add to Your Plate
Below, Mia shares her insights and breaks down the nuance behind seeking out foods rich in collagen.
"Collagen is a protein found in the skin, bones, tendons, and ligaments of animal products. Only animal products will have collagen in them. But, your body also makes collagen, so in addition to foods with collagen in them, there are foods that help stimulate your body's natural production of collagen even though they don't have any collagen in them."
With that understood, these are the best foods to shop for and add to your plate to support collagen production. Good news: meat-eaters and vegetarians alike can enjoy (and reap the benefits!).
1. Bone Broth
Bone broth has gained traction over the years, and in the case of collagen, it's for good reason. Not only is it a good source of collagen, but it's also one of the most bioavailable sources of collagen (meaning your body is more likely to absorb it). Though it takes a little time and effort, making your own bone broth can be a wonderfully nourishing cold-weather hobby. Save the bones from any meat you cook through the week or hit up the butcher for additional bones. Simmer low and slow on the stovetop with a mix of veggies and scraps, and you'll be set with your own DIY bone broth for sipping.
Of course, there are a few quality bone broths available for purchase as well. Kettle & Fire is a flavorful, trusted brand and Vital Proteins even offers a bone broth collagen in convenient, single-serve packaging for on-the-go use.
Recipe: Homemade Bone Broth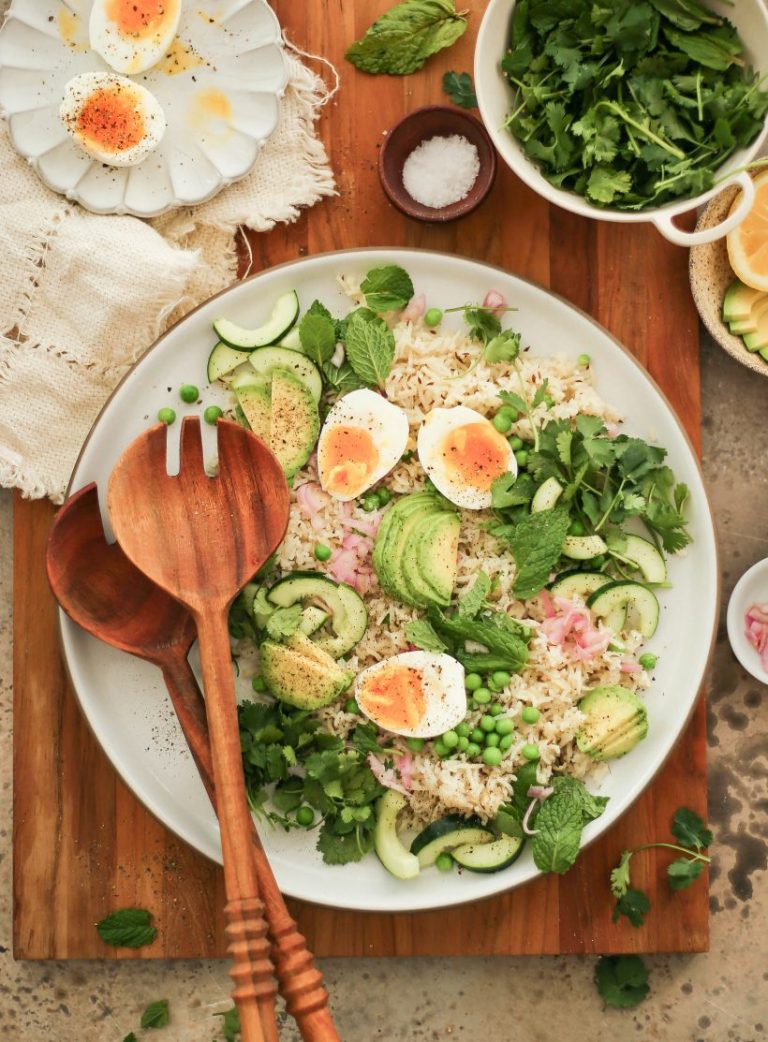 2. Eggs
While eggs don't actually contain collagen, they do offer proline, an amino acid that's required for producing collagen. I live by the rule that anything can be considered a meal if you add a poached or fried egg on top, and they also make a convenient, protein-packed snack. Or, if you want to make a truly addicting showstopper of a salad, this rice dish is it.
Recipe: Spring Rice Salad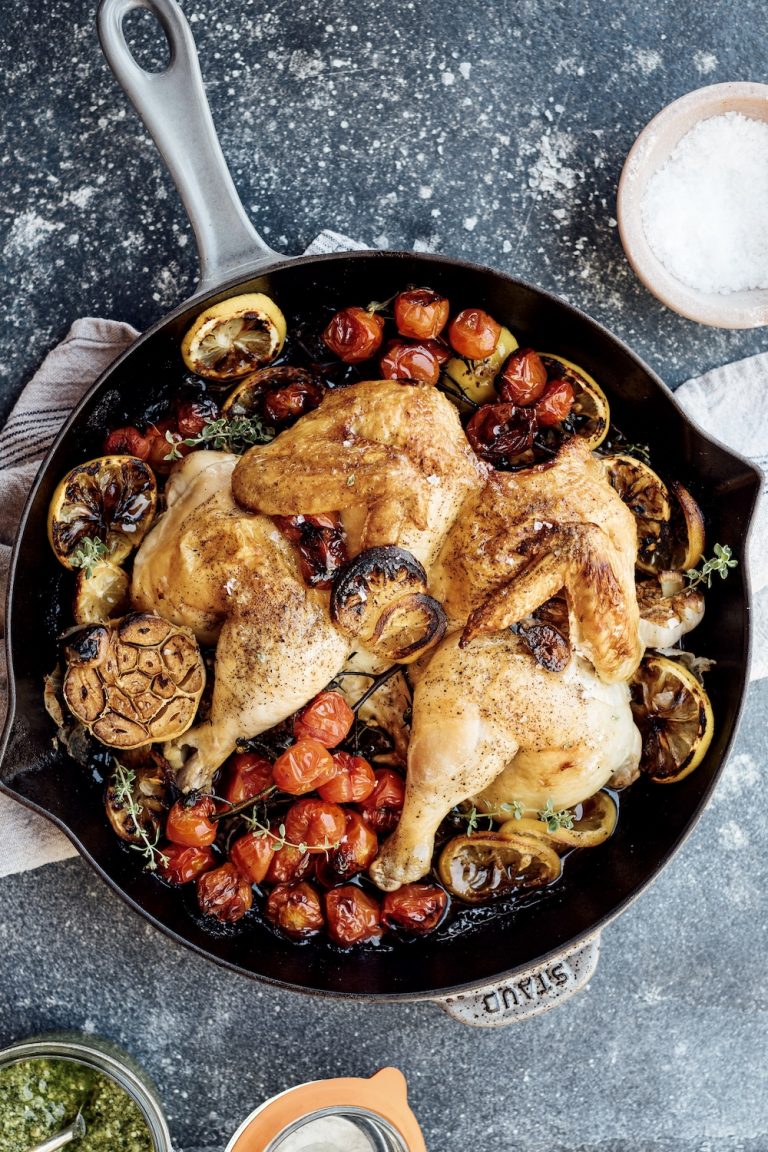 3. Meat
A rich source of natural collagen, chicken is a solid option for people who do meat. If you really want to get a lot of bang for your collagen buck, opting for a recipe or cut that retains the skin is a good way to increase your collagen intake. Camille makes this roasted chicken recipe every Sunday during the fall and winter—it couldn't be cozier, more flavorful, or rich in collagen.
Recipe: Roast Chicken With Tomatoes, Lemons, & Cilantro Salsa Verde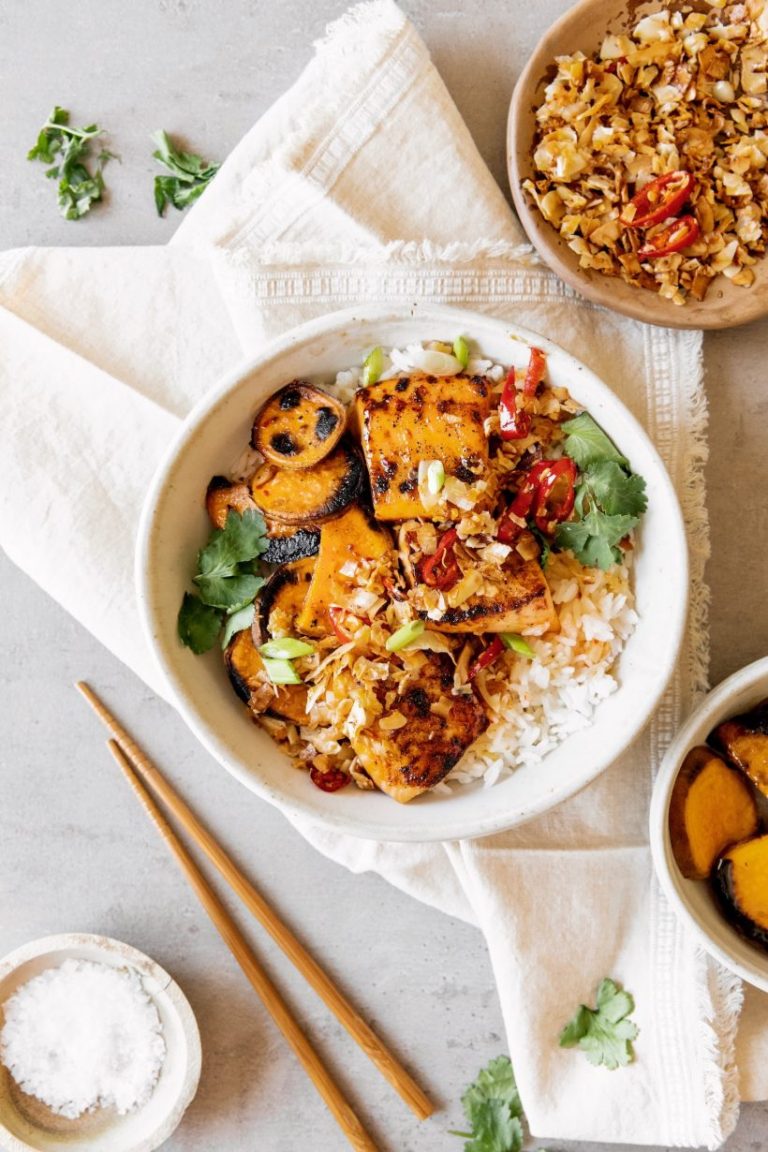 4. Fish and Seafood
Fatty fish like salmon is a good pick if you're looking to increase collagen. This recipe for honey-glazed salmon is one of the latest in our far-reaching salmon repertoire here at Camille Styles, and it's easily one of my favorites. It's the perfect simple, delicious bowl of goodness that you'll be tempted to make a standby in your weeknight dinner repertoire.
Recipe: Hot Honey Glazed Salmon With Coconut Crunch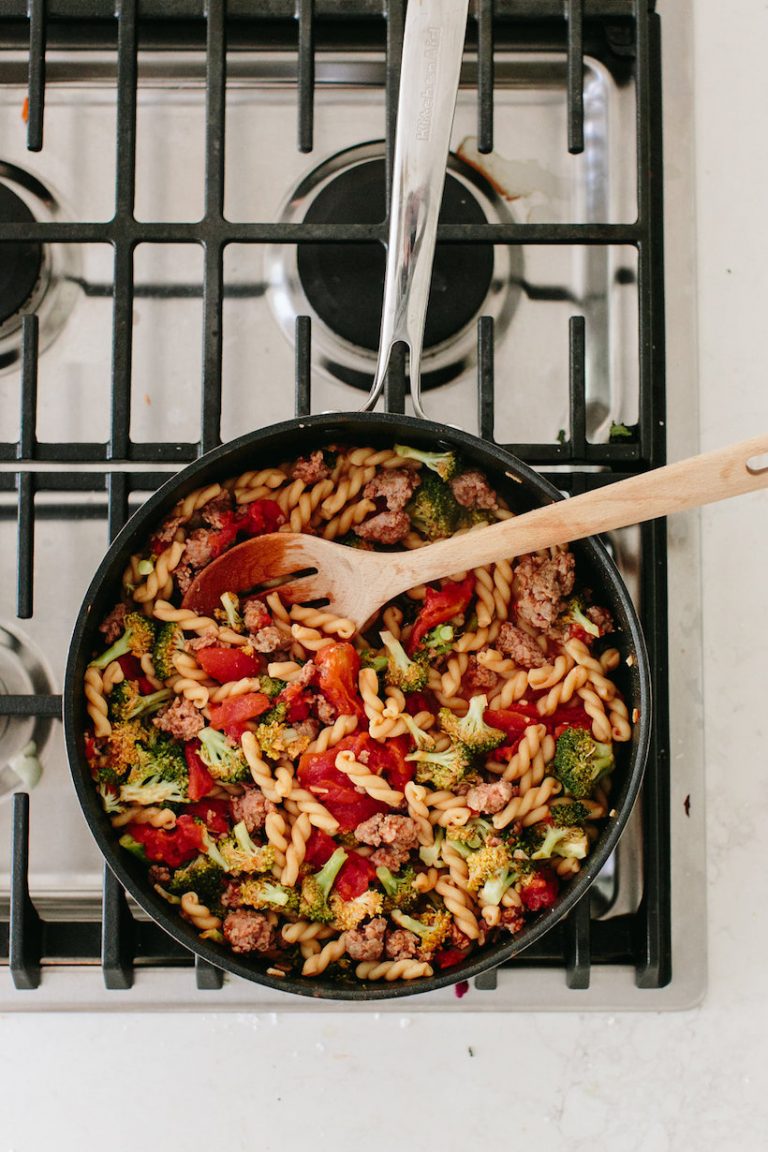 5. Poultry
Like chicken, turkey is also naturally high in collagen. While the turkey sausage used in this recipe works in a pinch, the most collagen-rich parts of the bird will be found in the connective tissue, skin, and sinew (true for every collagen-containing animal product). But take heart, you're getting both proline and glycine when consuming poultry (the two amino acids required for our bodies to produce collagen). You'll never look at your Thanksgiving turkey the same.
Recipe: Gemelli with Turkey Sausage and Broccoli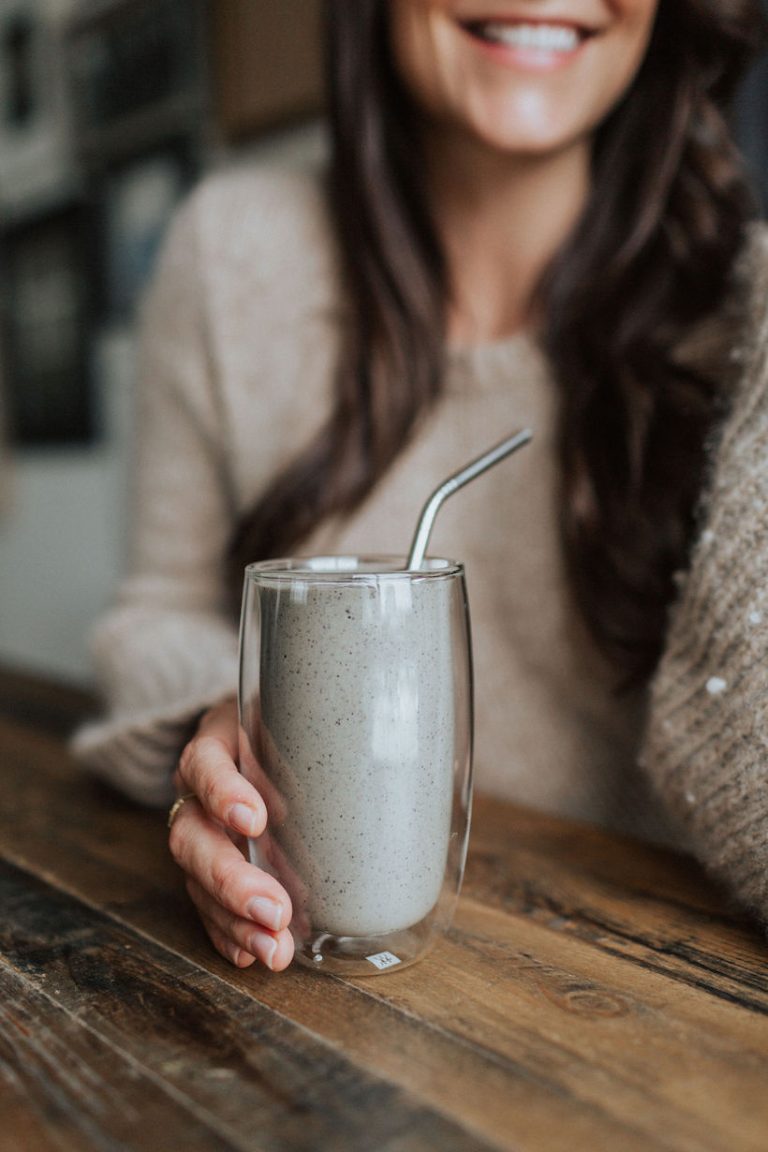 6. Collagen Protein Powder
As Mia shared, collagen protein powder is a great way to supplement a healthy diet and lifestyle. For an added hit of collagen, blend up your protein powder into smoothies like this cookies and cream spin from celebrity nutritionist, Kelly LeVeque. Following her Fab Four Smoothie framework, the satiating combo of healthy fats, greens, protein, and fiber will keep you full and energized all through the morning.
Recipe: Cookies and Cream Smoothie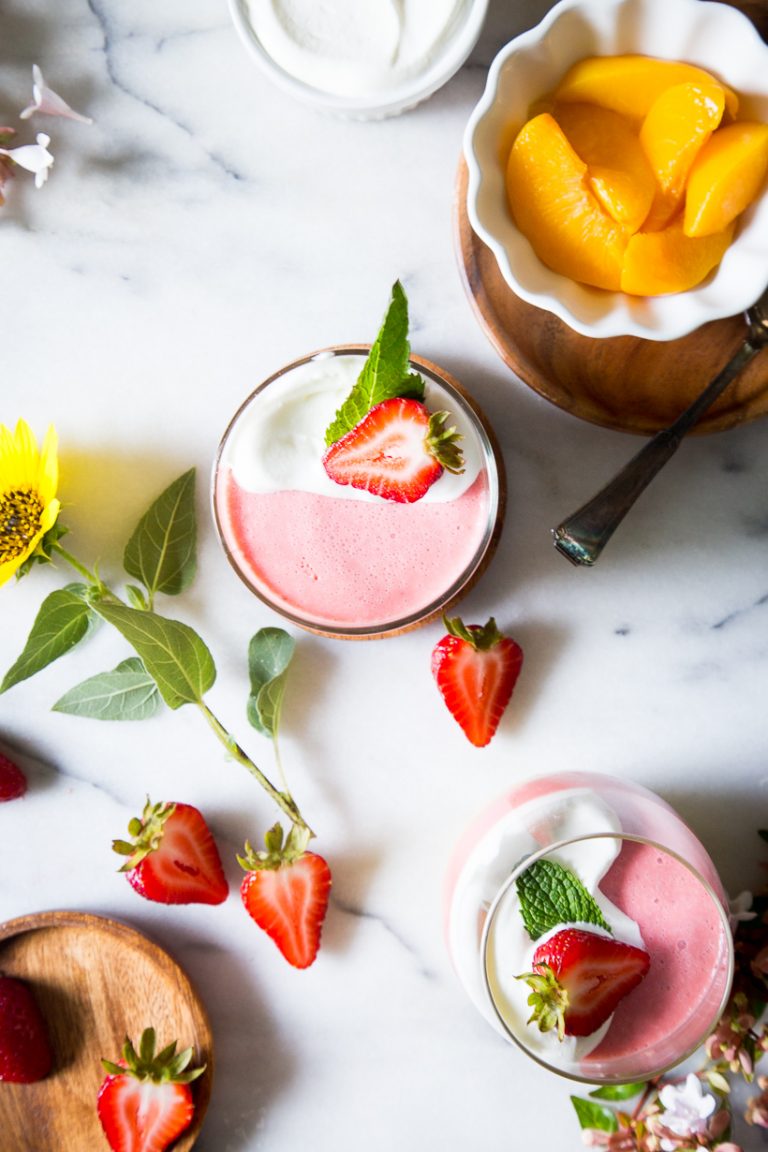 7. Gelatin
Our bodies can efficiently absorb gelatin, making it a solid bioavailable choice for increasing collagen. The only drawback of opting for gelatin as your primary means of boosting collagen is that its application in recipes can result in consuming less gelatin, and therefore less collagen relative to other sources. But, if you're looking for a sweet recipe that comes with a slight added nutritional bonus, this mousse is a great option.
Recipe: Fruit Blender Summer Mousse
Use code CAMILLESTYLES to get 20% off Mia's courses, Nutrition for Food Freedom or Meal Prep Made Easy*
*Discount excludes the bundle