As we celebrate Black History Month, now is a timely opportunity to reinvigorate our commitments to activism. For me, that means intentionally supporting Black creatives in everything I do. I've doubled down on reading more Black authors, supporting Black creatives on Instagram, and filling my beauty shelf with no shortage of Black-owned beauty brands. Being purposeful about focusing on Black-owned brands always reminds me of the vibrant diversity that exists in the beauty space. Though unfortunately, much of it often goes unnoticed.
The best way to bring awareness to cool brands with fascinating stories is to talk about them. A lot. I send skincare recommendations to my friends, crowdsource advice from my group chats, and solicit opinions on my Instagram stories. I've found that the products I'm most excited to share aren't just the trendy buys with pastel packaging. Instead, I value the ones with stories that resonate with me—and many of those are often Black or POC-owned.
It's a common story: Black beauty founders starting new ventures because they were sick of being ignored by the industry. I'm always inspired by founder who decided to create the products they wanted to see themselves. They're each filling a gap that has been ignored by mainstream skincare for too long, and thanks to their work and vision, my list of favorite product discoveries continues to grow. Full disclosure: These aren't just placebos in pretty packaging. They have powerful ingredients which ease the frustrations of marginalized beauty lovers and fill the gaps for other consumers as well.
Feature image by Belathée Photography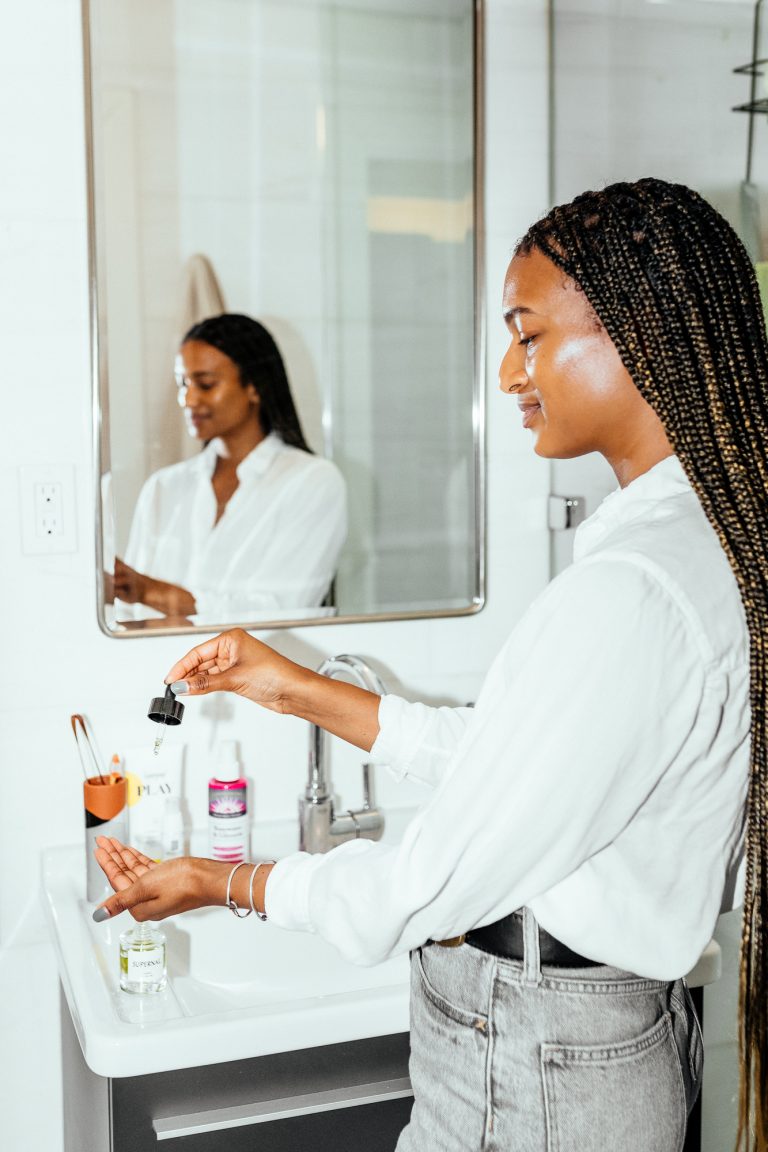 Through my many experiments with different products and ingredients, I learned that shopping for your unique skin is key. What I'm only just realizing is how much my skincare and beauty routines benefit by shopping from brands made by and for people who look like me. To get a full picture of what it means to shop specifically for darker skin, I spoke to Dr. Michelle Henry, a dermatologist in New York City.
What is melanin?
Melanin is a pigment in the skin which determines skin color. Dr. Henry explains it further, saying that "Everyone independent of their skin color has the same number of melanocytes. However, those with darker skin have more melanosomes that are packed with more melanin."
What concerns are common in darker skin?
Hyperpigmentation and melasma are common concerns for anyone with darker skin. Because darker skin is more packed with melanin, dark spots are more frequent and often harder to fade. "Any condition with excess pigmentation may be seen more commonly or present more severely in patients with darker skin types," Dr. Henry adds.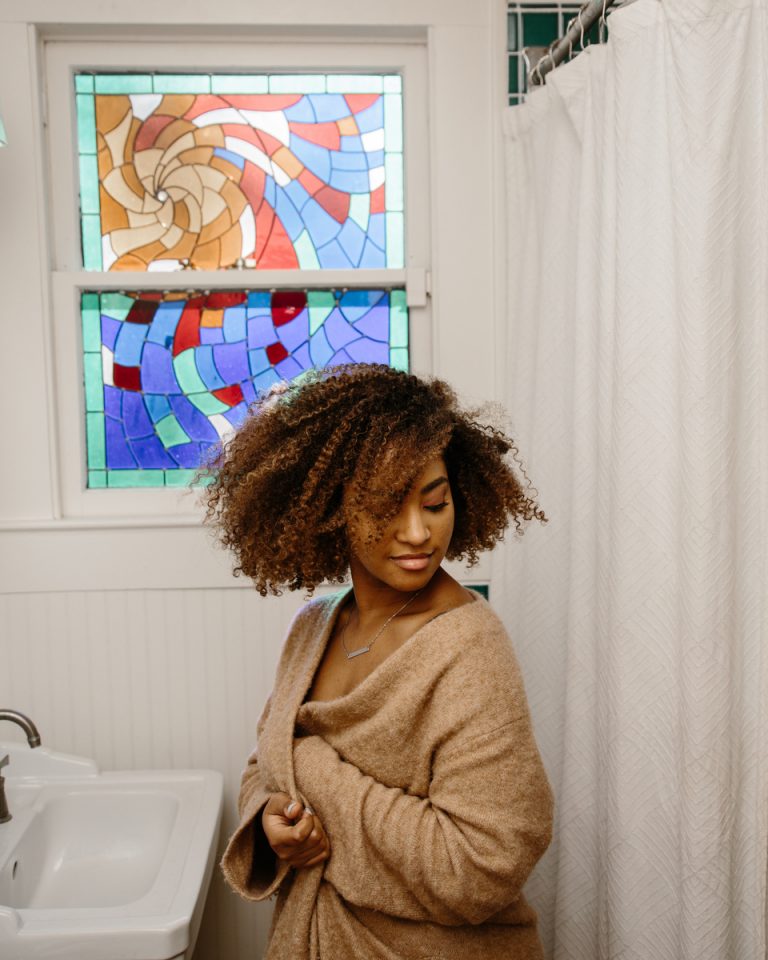 What causes hyperpigmentation? What can you do about it?
To help combat these dark spots, it's important to know where they come from. Dr. Henry breaks it down: "There are many types of hyperpigmentation. The most common is post-inflammatory hyperpigmentation (PIH), which is hyperpigmentation after any inflammatory trauma. Trauma can be from acne, a laceration to the skin, and even eczema." Melasma is another type, found mostly in women and caused by hormonal changes.
For both types, Dr. Henry emphasizes the importance of wearing sunscreen. "Protecting the skin from UV light is a significant way to reduce excess melanin production," she tells me.
In darker skin, the higher concentration of melanin means more frequent dark spots. Black-owned beauty brands to the rescue.
What are the best ingredients to treat hyperpigmentation?
When I first started navigating my own journey with hyperpigmentation, it took weeks before the term was even mentioned. I shopped for products that were supposed to help with acne scars, but many addressed texture rather than discoloration, and most were too weak to fade my scars. Over the past few years, the term hyperpigmentation has come into the common lexicon, and more products have emerged to treat it.
Some ingredients are better than others. "I love ingredients like azelaic acid, kojic acid, niacinamide, hydroquinone, glycolic acid, and retinoic acid to help lighten dark spots in darker skin tones," Dr. Henry recommends. "Most ingredients take anywhere from four to twelve weeks to see significant improvement."
While we have a long way to go for complete inclusion, I'm encouraged by the progress the industry is already making and excited about the products I've found so far. From hair oils to scar-erasing creams, here is a roundup of my favorite Black-owned beauty brands and the inspiring stories behind them.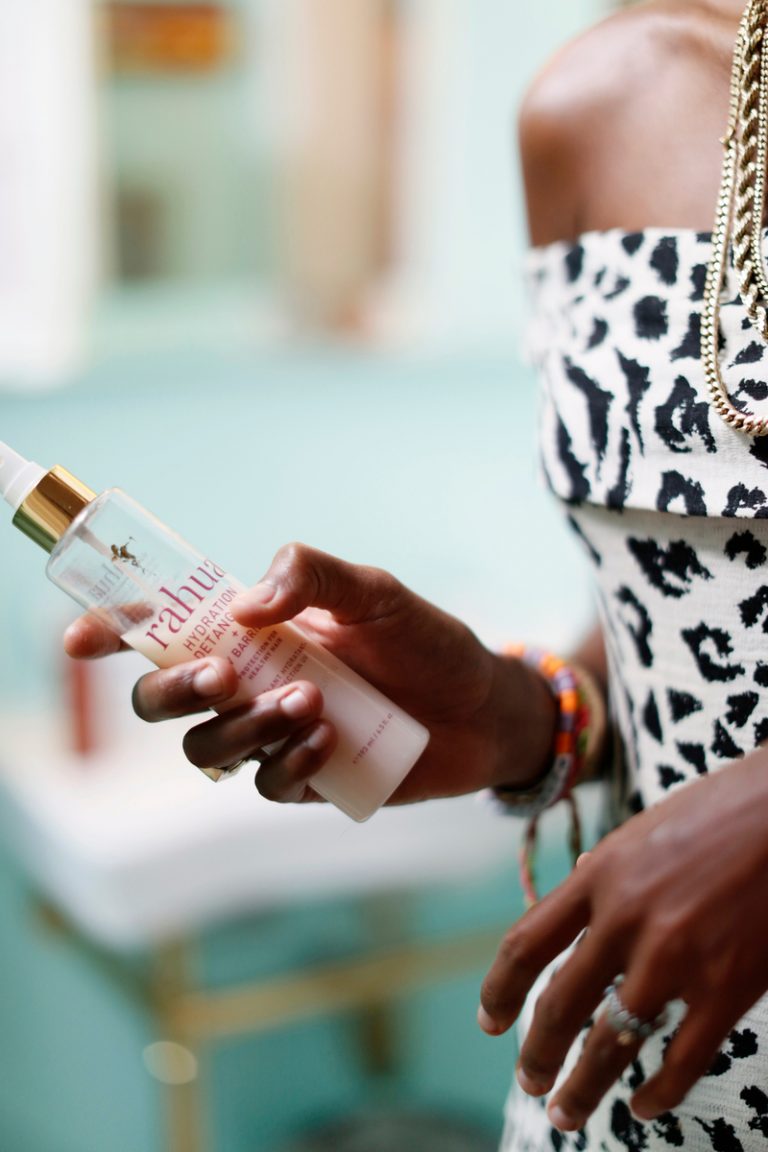 Meet the Black-owned beauty brands your skincare routine needs.
4.5.6 Skin The All-Star Set For Darker Skin Tones
Using customized, science-backed formulas, 4.5.6 Skin creates bespoke products that are tailored to your specific needs. After experiencing hyperpigmentation due to pregnancy, founder Noelly Michoux struggled to find products that were accessible to her and recognized that there was a racial gap in the beauty industry. She created 4.5.6 Skin to educate people with melanin-rich skin about their shared skin concerns and empower individuals by bringing a solution to millions of previously unserved communities.
---
4.5.6 Skin The All-Star Set For Darker Skin Tones, $260
Katini Skin Collagen Facial Oil
Inspired by founder Katini Yamaoka's cultural heritage, Katini Skin makes face oils derived from native ingredients found in Japan, Africa, and Australia. Raised plant-based from birth and educated at a neo-humanistic school, Katini takes a responsible and sustainable approach to emphasizing natural healing and ancient traditions in beauty. Katini Skin uses powerful flora to produce facial oils that will nourish and enhance your natural beauty.
---
Katini Skin Collagen Facial Oil, $115
Common Heir Retinol Serum
Clean beauty brand Common Heir was founded to make radically sustainable products, emphasizing the importance of clean, plastic-free, high-performance skincare. They're reimagining luxury by creating products for all skin tones and types with a gentle-but-mighty 0.2% Retinol Serum. The retinol formula, developed with melanin-rich and sensitive skin in mind, features a holy trinity of super soothing botanicals to boost efficacy. Plus squalane and algae keep skin moisturized and protected, delivering a post-facial glow without the purge.
---
Common Heir Retinol Serum, $88
ANOVÉ The Perfecting Oil
Rooted in the belief that diversity in who creates products is just as important as who the products are made for, Evonna S. Kuehner founded ANOVÉ in 2019 with the intent of creating natural and luxurious skincare products for all skin tones and types. With locally and globally-sourced ingredients, ANOVÉ believes Mother Nature provides everything your skin needs to stay firm, even-toned, and youthful. ANOVÉ products are formulated to reveal true radiance for all skin tones and types, without compromise.
---
ANOVÉ The Perfecting Oil, $102
Hyper Skin Hyper Even Brightening Dark Spot Vitamin C Serum
Hyper Skin has quickly become a cult favorite among people who suffer from hyperpigmentation. The brand is expanding its product line for the first time with the Fade & Glow AHA Mask. The mask features a brilliant AHA-duo of glycolic acid and mandelic acid to clean congested pores and brighten dull skin. Niacinamide and bearberry work as well to fade stubborn dark spots. A one-two punch of salicylic acid and sea buckthorn stop looming breakouts in their tracks.
---
Hyper Skin Hyper Even Brightening Dark Spot Vitamin C Serum, $36
Naturally Drenched Rebalance Pre-Conditioner Treatment
Naturally Drenched is demystifying Black hair care by helping anyone with thick, coily hair dread wash day less. Though there are more Black hair products than I can even imagine (walking into a beauty supply store always overwhelms me), very few of them are made with clean ingredients. Naturally Drenched products make your hair-washing ritual simple, cleaner, and more effective. 
---
Naturally Drenched Rebalance Pre-Conditioner Treatment, $36
Nuele Hair Serum
Another game-changing hair product, Nuele is saving generations of women from relaxers and chemical treatments. The answer to healthy, strong hair is finally here, and it's made of natural oils which all help nourish, detangle, and prevent breakage.
---
Nuele Hair Serum, $34
Topicals Duo
Topicals faded cream changed the game. Their hero product, Hyperfade has earned its title as a scar-fighting powerhouse. Made specifically to target dark spots on darker skin, it has become one of the go-to products for getting rid of stubborn scars.
---
Topicals Duo, $60 (reg. $68)
Unsun Cosmetics Mineral Tinted Face Sunscreen
Unsun is not your average mineral sunscreen. Made of clean ingredients, it's a light, tinted sunscreen made specifically for darker skin tones. With a wide range of dark shades, it protects melanin-rich skin from UV rays without that tacky, white film.
---
Unsun Cosmetics Mineral Tinted Face Sunscreen, $29
The Whistling Thorn Full-Size Set
Founder Jakki Kerubo was inspired to make her line of holistic oils by the beauty rituals of her childhood in Kenya. The Whistling Thorn is named after the evergreen acacia tree, inspired by its water-preserving techniques. It was formed based on Jakki's research on the moisture differences in melanin-rich skin. This spurred her to make a deeply hydrating but lightweight oil formula that brought a little desert calm to her life in the city. Their new line of facial products is all you need for a brightening, anti-pollution routine.
---
The Whistling Thorn Full-Size Set, $200
Please share your recommendations for other Black-owned beauty brands you know and love!